16 Top-Rated Tourist Attractions in Kansas City, MO
We may earn a commission from affiliate links ()
This double city in the Midwest, straddling the border between Kansas and Missouri, lies at the junction of the Kansas River with the Missouri River, extending along the high banks, known as the Bluffs, of both rivers. World-famous for its steaks and barbecue, it is sometimes called the "Barbecue Capital."
The city's legacy in jazz history can be explored in the Historic Jazz District, which was once filled with the sounds of jazz icons like Charlie "Bird" Parker and Big Joe Turner. Another historic area is the Westport Neighborhood, which is full of things to do, including antique shopping and river cruises. Kansas City is also home to several good museums, including the Nelson Atkins Museum of Art, the Arabia Steamboat Museum, and the Toy and Miniature Museum.
Plan the best places to visit in this world-famous city with our list of top attractions in Kansas City, Missouri.
See also: Where to Stay in Kansas City
1. National World War I Museum at Liberty Memorial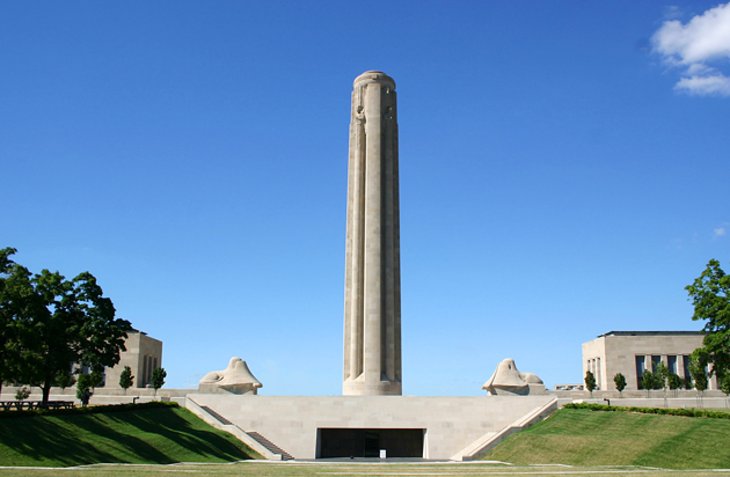 Kansas City's National World War I Museum sits at the feet of the Liberty Memorial, an impressive Egyptian Revival-style monument erected in 1928 in honor of the men and women who served and died in the war. The museum's collections include a wide variety of artifacts, letters, films, and other pieces of historical significance that were gathered between 1920 and today.
The collections and exhibits present a rounded view of the war's global impact, including exhibits like a re-creation of the crater left behind after a French farmhouse is struck by a howitzer shell. Visitors can walk through the crater and can also experience what it looked and sounded like inside the trenches with six reproduced scenes.
2. Nelson-Atkins Museum of Art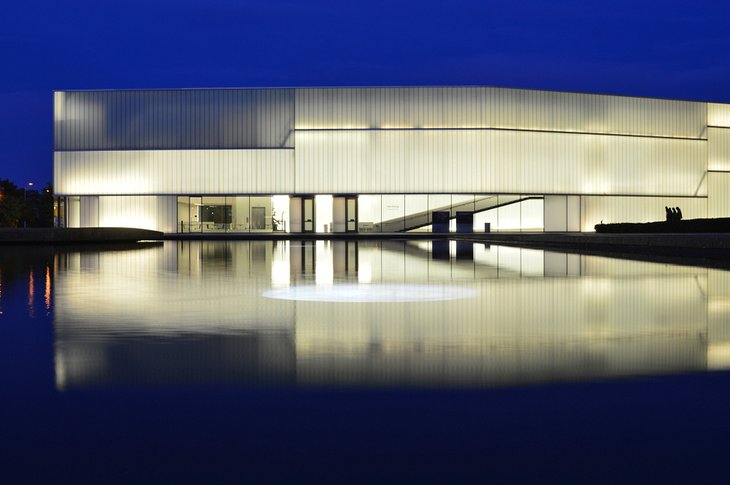 The Nelson-Atkins Museum of Art has impressive collections, which represent North American, European, Asian, and African cultures. The antiquities collection includes Greek, Roman, and Near Eastern pieces from as far back as the 2nd millennium BC, including its newest Egyptian addition, the ornate inner coffin of Meret-it-es.
The collection of African art represents 2,500 years of craftsmanship, containing more than 400 works in a wide variety of media from wood to ivory. Native American artifacts include basket work, pottery, and ornate quill and beadwork. The museum's European art collection spans from medieval times through the 1800s, with emphasis on 19th-century Impressionist and Post-Impressionist paintings and 17th-century Italian Baroque art.
3. LEGOLAND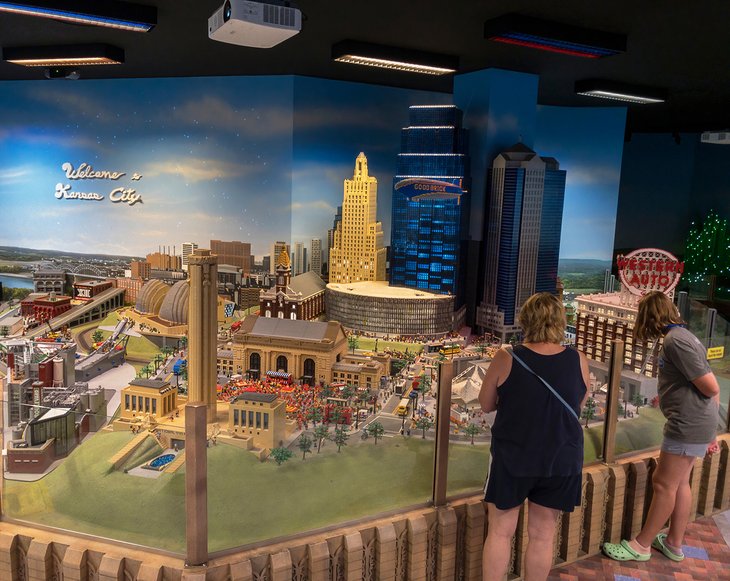 Located within Kansas City's Crown Center, LEGOLAND is one of the city's top family attractions for the young and young-at-heart. Here, you will find a complete replica of the city, built with more than 1.5 million LEGO bricks.
The models include all the city's major landmarks like Arrowhead Stadium, Union Station, Country Club Plaza, the World War I Memorial, and even the Crown Center. Aspiring builders of all ages are also able to talk to master builders and attend workshops for all skill and age levels, and kids can catch photo-ops with their favorite LEGO characters.
4. Arabia Steamboat Museum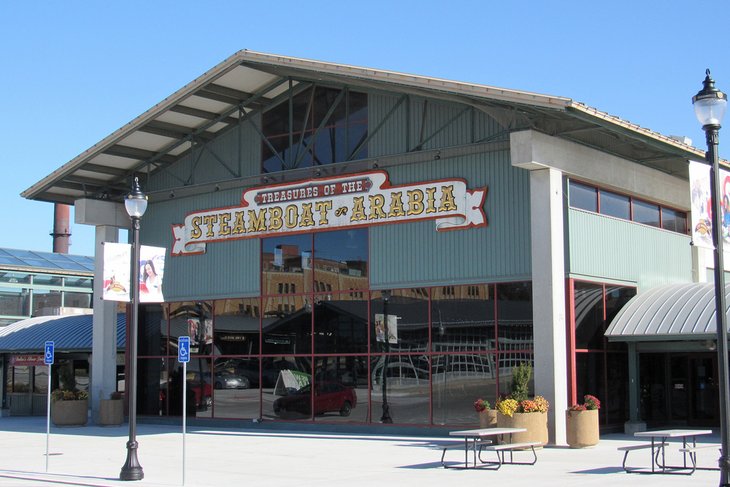 On September 5, 1856, a steamboat carrying 400,000 pounds of supplies destined for general stores in the Midwest sank in the Missouri River, just six miles before reaching Kansas City. The Arabia was lost for more than 130 years before an amateur archaeologist discovered it buried 45 feet beneath a cornfield.
As erosion caused the course of the great river to change, the boat's remains and cargo were encased in soil and preserved as if in a giant time capsule. The result is a massive collection of pre-Civil War artifacts, all examples of the objects and food that were part of daily life for the pioneers. The number of artifacts found was so great, in fact, that museum staff continue to clean the objects today.
5. Kansas City Zoo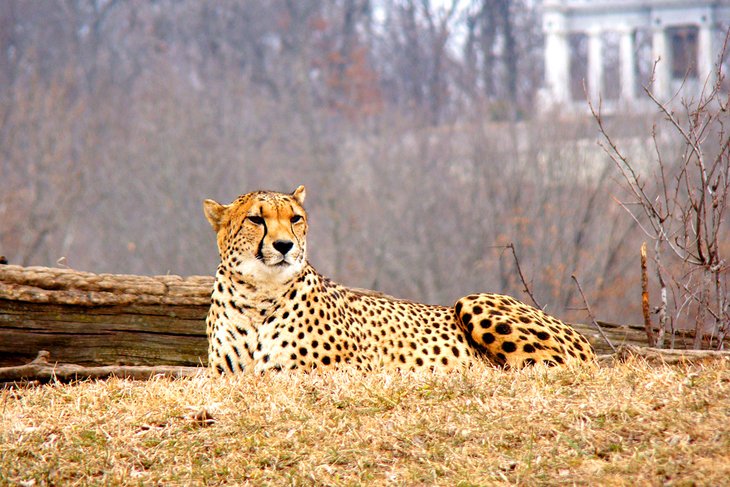 The Kansas City Zoo has become one of the area's top family attractions thanks to major renovations and improvements in recent years. It is filled with wildlife representing over 200 species from all over the world, with a great deal of attention focused on each animal's habitat and quality of life.
Among its 1,700-plus residents are African elephants; rhinos; leopards; giraffes; wallabies; and several species of primate, including Bornean orangutans, blue monkeys, chimpanzees, and more. The zoo is also home to ocean-dwellers, including part-time swimmers like penguins and sea lions, as well as jellyfish, stingrays, and other aquatic life.
One of the zoo's most popular exhibits is the Helzberg Penguin Plaza, an impressive living space formed out of ice and stone that closely resembles their native habitat. Visitors can watch the lively birds slide, swim, and play on the ice, in the water, and in fresh snow that falls from the sky of their habitat. Savvy spectators can also spot eight camouflaged nesting boxes within the rocks where the residents raise their young.
The Kansas City Zoo has also invested a great deal into its primate habitats, and continues to add to the facilities to enrich the lives of their residents. "Orangutan University" is a newer space that provides the orangutans with exercise and educational opportunities. In addition to giving visitors the opportunity to watch them play and learn, specialized computers allow interaction between the primates and their human relatives.
6. Science City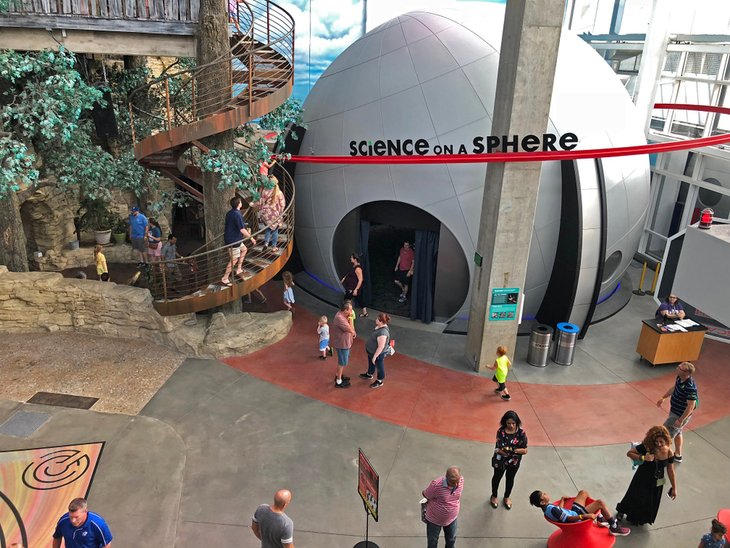 Science City, located in Union Station, is a top attraction for families visiting Kansas City. Exhibits focus on various aspects of science and are all interactive, so that visitors can learn through hands-on experience.
One of its most popular permanent exhibits is Force and Motion, a space where you can test and explore the properties of physics. Similarly, the Every Last Drop exhibit explores the unique properties of water, from its movement and power to the many ways we depend on it, as well as the need for conservation.
7. National Museum of Toys and Miniatures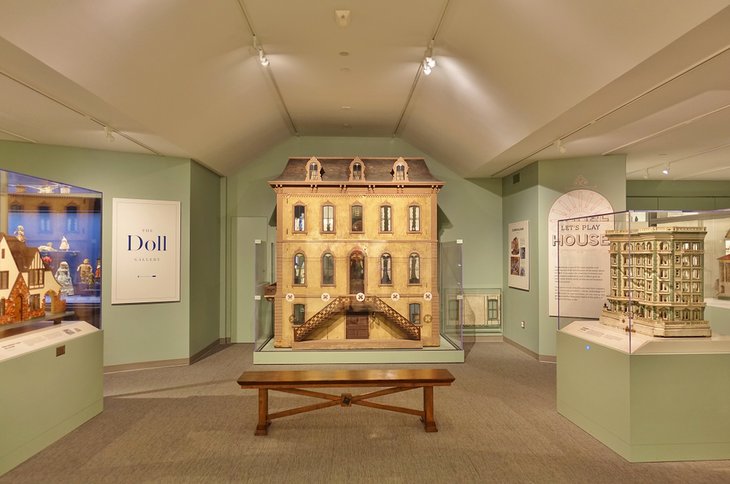 Located on the campus of the University of Missouri-Kansas City, the National Museum of Toys and Miniatures contains more than 72,000 examples of antique toys and scaled miniatures. The museum originated in 1982 from the personal collections of Mary Harris Francis and Barbara Marshall, and since then has grown to occupy 33,000 square feet.
Tourists will find an impressive collection of antique toys that includes dolls, figures, games, model trains, and more. Some of the most nostalgic examples are Ovaltine's 1938 Telematic Radio Orphan Annie Pin, agate marbles, and a set of lead soldiers complete with mold.
8. Kemper Museum of Contemporary Art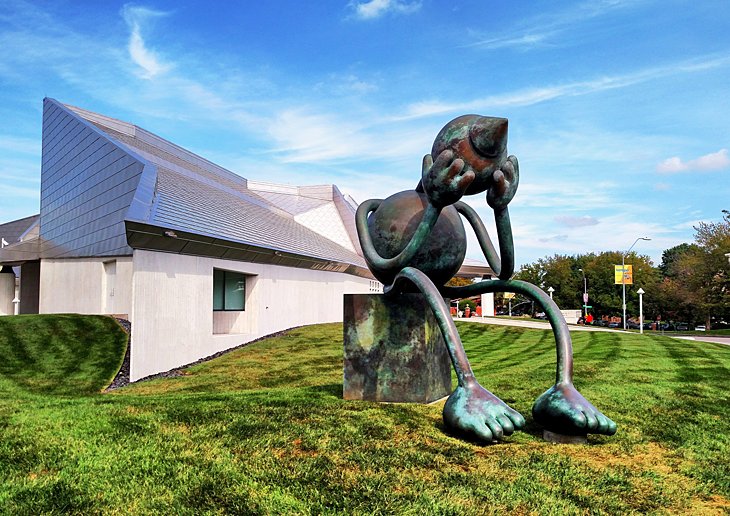 The permanent collection at the Kemper Museum of Contemporary Art began with the Bebe and Crosby Kemper Collection, which includes works by Georgia O'Keeffe, Robert Mapplethorpe, and William Wegman. It now includes a broad range of works, including painting; sculpture; installations; prints; and works on paper, photography, and time-based media.
9. Hallmark Visitors Center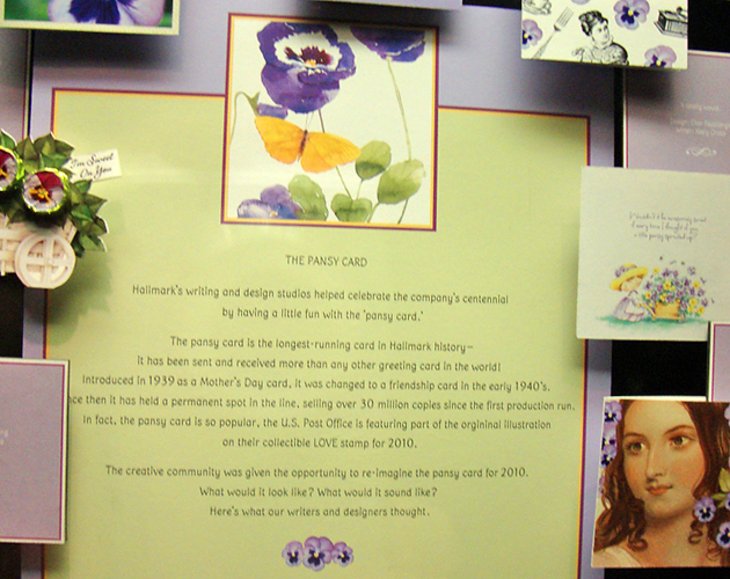 Located in the Crown Center complex, the Hallmark Visitors Center displays the history of the greeting card industry. It tells the rags-to-riches story of how Joyce Hall created an international institution based on caring. The center's exhibits explore the company's history and includes interactive stations, as well as a film. It is also home to Kaleidoscope, a children's creativity center that allows kids to use various materials to create their own art. The sessions last 50 minutes and are free of charge, led by Hallmark's own creative staff.
10. American Jazz Museum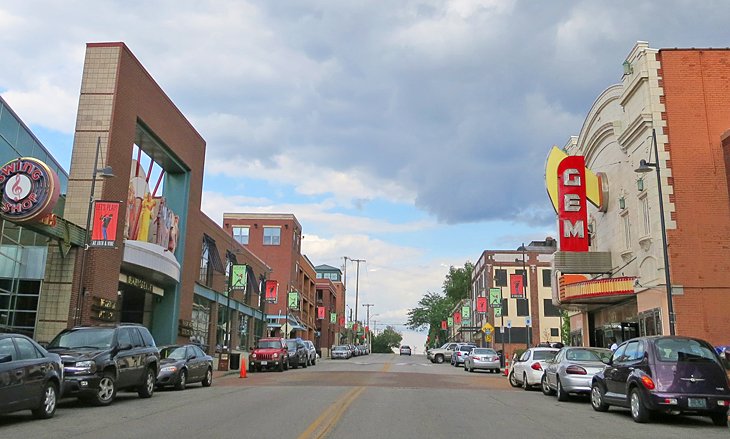 The American Jazz Museum is located in Kansas City's Historic Jazz District, once home to some of the genre's most influential musicians, including Big Joe Turner, Count Basie, and Charlie Parker. Museum visitors will be immersed in every aspect of jazz, from history to an exploration of the music itself. Collections include memorabilia like posters and photos, as well as personal items like Ella Fitzgerald's gown and Charlie Parker's saxophone.
11. Westport Neighborhood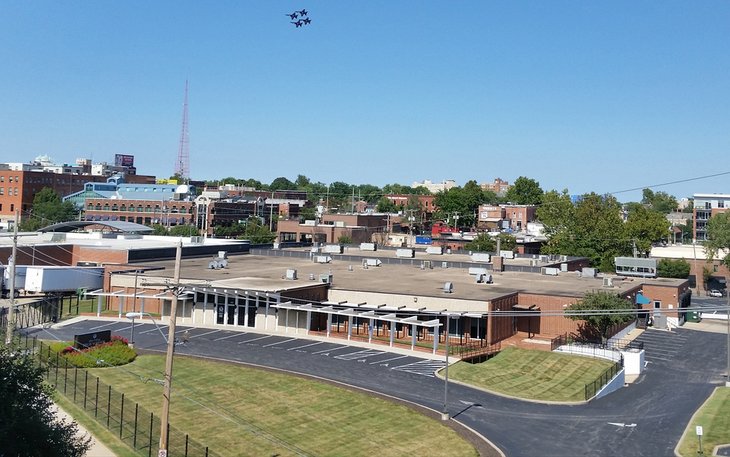 Tourists looking for a nice neighborhood to explore will love Westport, one of the city's oldest and most popular sightseeing destinations. It was named for its position as the "last stop" in Kansas City before pioneers set out on their journey west and is the site of the Battle of Westport, a crucial victory in ending the Civil War.
This neighborhood is also home to the 1855 Harris House Museum. Today, it is a trendy neighborhood filled with the hottest new restaurants and plenty of shopping at its chic boutiques and antique stores. The community also hosts festivals, concerts, and holiday celebrations.
12. Airline History Museum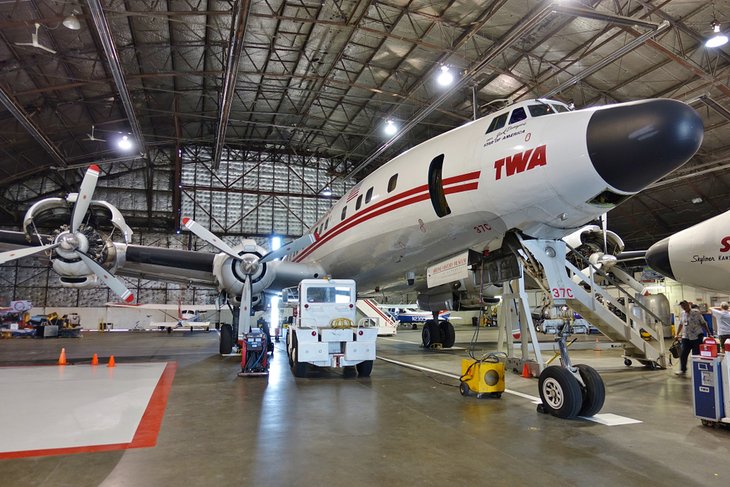 The Airline History Museum at the Downtown Airport on the northern edge of the city is guaranteed to make any flight enthusiast's heart beat faster. Here, you can relive the days when people still flew with propeller machines over the Atlantic, and Kansas City was the TWA headquarters. Flight veterans will be only too happy to tell their stories, and visitors can admire the many aircraft on display.
13. SEA LIFE Kansas City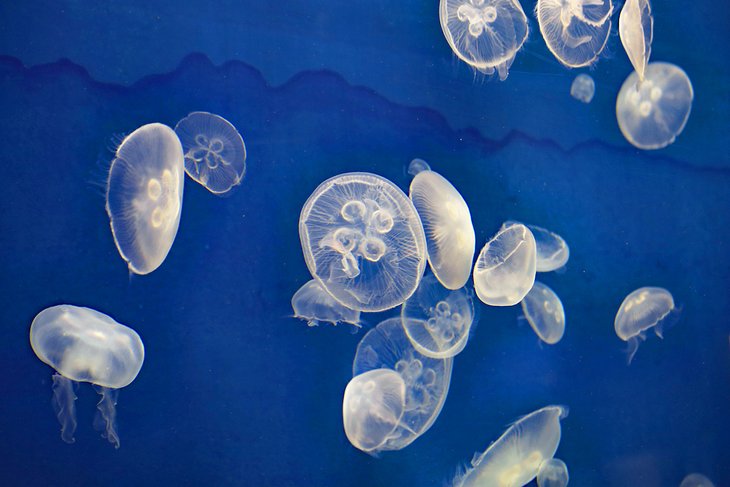 Located in the Crown Center with LEGOLAND, SEA LIFE Kansas City is home to a 260,000-gallon tank that features a walk-through ocean tunnel. From within the transparent tunnel, visitors can see sharks, sea turtles, stingrays, and other aquarium residents of the Tropical Ocean Exhibit all around them.
14. Union Station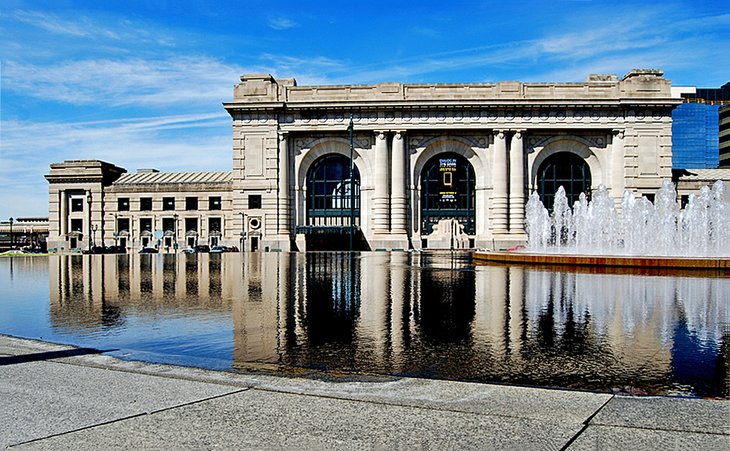 Union Station was built in 1914 and accommodated thousands of passengers. It included a waiting room designed to hold up to 10,000 people. The station closed in the 1980s, underwent major renovations, and reopened in 1999 with shops, restaurants, and other services. It has a much smaller railway service as it now functions as an Amtrak stop.
15. Ewing and Muriel Kauffman Memorial Garden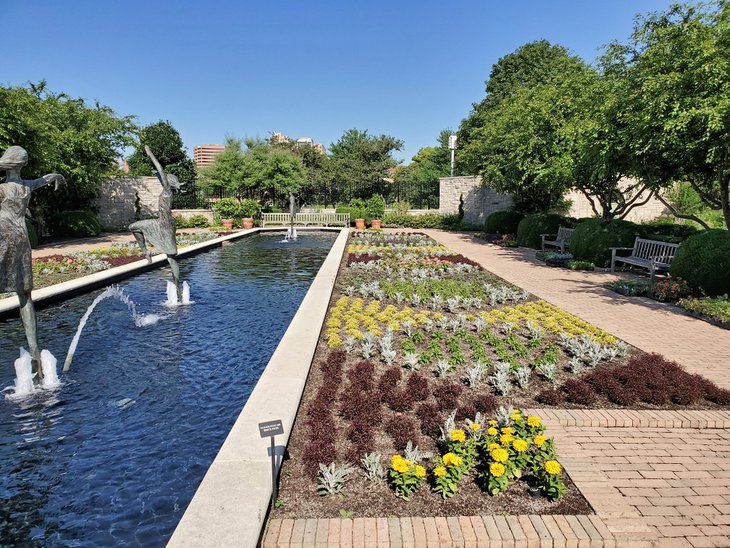 The Kauffman Memorial Garden has provided an oasis to the residents of Kansas City since the spring of 2000, covering two acres within the Kauffman Legacy Park. The gardens include both perennials and annual beds, which are changed each season, as well as a variety of decorative and shade trees. The park is also home to several bronze sculptures created by artist Tom Corbin, as well as fountains and stone landscaping.
Parking and admission to the gardens are free, and tours can be arranged in advance by contacting the Muriel McBrien Kauffman Family Foundation; the entire park is wheelchair accessible.
16. Money Museum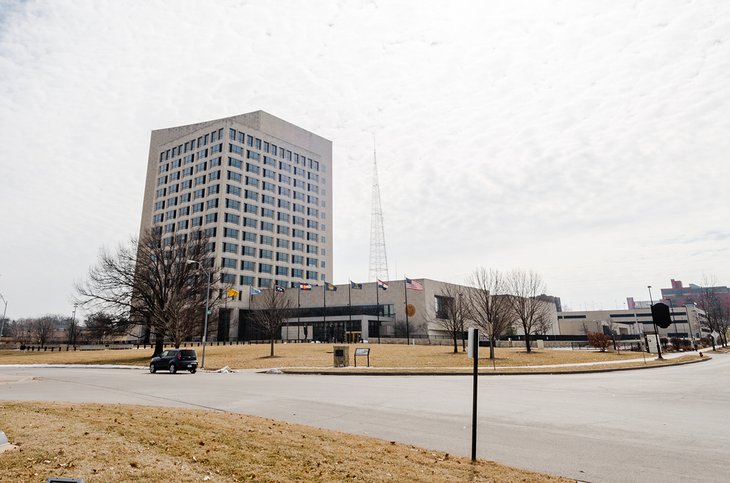 The Money Museum at the Federal Reserve Bank of Kansas City is a great free tourist attraction for anyone interested in the history and evolution of American currency. Permanent exhibits include the Harry S. Truman Coin Collection, an actual gold bar, an informational exhibit about inflation, and an interactive personal finance exhibit.
Where to Stay in Kansas City for Sightseeing
Kansas City's main attractions are in the vibrant city center, and this is also where many of the best hotels are found. The south part of downtown is known for its parks and historical monuments, including the National WWI Museum at Liberty Memorial. Farther north, the Power and Light District is the new entertainment area, with restaurants, shops, and music venues. Below are some highly rated hotels in convenient locations: