12 Top-Rated Attractions & Things to Do in Eureka Springs
We may earn a commission from affiliate links ()
A city steeped in natural and cultural appeal in the extreme northwest of Arkansas, Eureka Springs is a resort city named after the abundance of surrounding mineral pools. The same therapeutic properties that attracted indigenous cultures and settlers to this Ozark Mountains hideaway still attract tourists today, and visitors of all ages often appreciate the history here.
The city's attractive downtown district is lined with historic Victorian buildings, small museums, and the centerpiece Basin Spring Park. Other nearby places to visit include the Eureka Springs and North Arkansas Railway, the inspiring Thorncrown Chapel, and the well-known Passion Play.
For underground attractions and other fun things to do, to the east of town is the inviting Onyx Cave, and to the west is the Blue Spring, one of the most abundant springs in the Ozark Mountains. Learn more about these and other attractions with our list of the top things to do in Eureka Springs.
Note: Some businesses may be temporarily closed due to recent global health and safety issues.
1. Thorncrown Chapel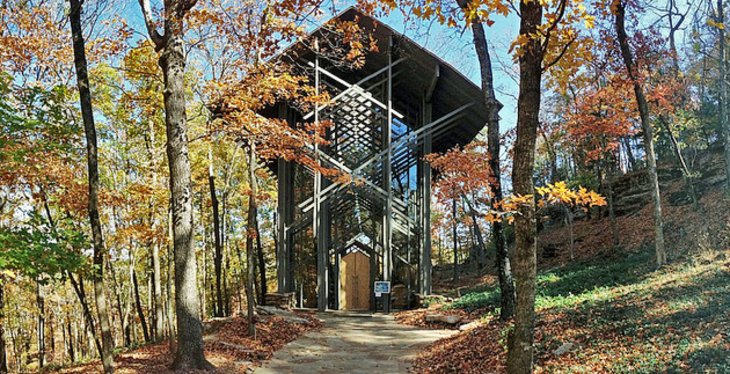 A stunning place of worship and spirituality, the Thorncrown Chapel is a 48-foot-tall wooden structure with 425 windows and 6,000 square feet of glass. This true architectural amazement allows ample light inside and provides an open feeling that really takes in the surrounding Ozark woodland scenery.
Designed by noted architect E. Fay Jones, the chapel hosts public Sunday Services between April and December and is available for weddings throughout the year. Every member of the public is encouraged to check out the impressive design of this woodland chapel, and plenty of parking for RVs and buses can be found nearby.
Address: 12968 Highway 62 West, Eureka Springs, Arkansas
Official site: http://www.thorncrown.com/
2. Downtown Eureka Springs
The historic downtown district of Eureka Springs is a central attraction of the city. The aesthetics of the 1900s Victorian architecture lining Spring and Main Streets makes for an excellent backdrop for many kinds of downtown experiences. Local storefronts, eclectic shops, and specialty boutiques comprise many of the shopping opportunities downtown, which are only rivaled by the generous selection of local eateries and evening entertainment. The downtown Basin Spring Park is a great place to rest between shopping excursions or catch live music from under the bandshell.
Walking tours are a popular way to experience downtown Eureka Springs, varying from historic underground tours to guided trips that explore the haunted side of the city. The Eureka Springs Trolley and an open-air tram tour offered by the city are great ways to see some of the local sights. Festivals, celebrations, and community spirit can also be found downtown, including an annual festival of the arts, seasonal parades, and memorable Mardi Gras celebrations.
3. The Great Passion Play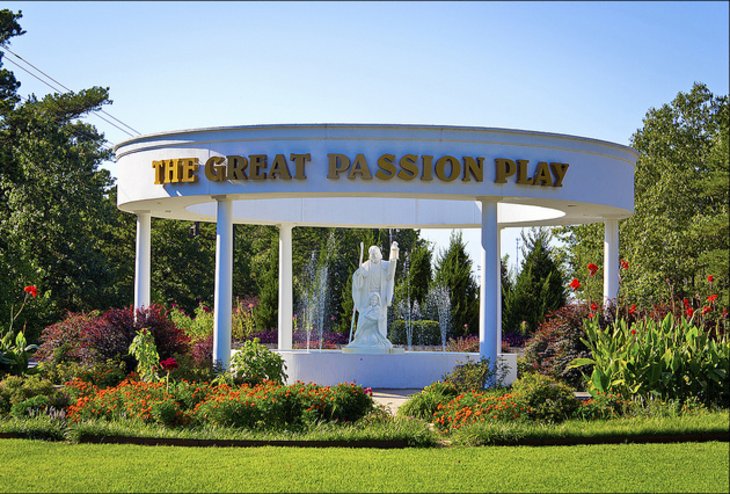 The Great Passion Play brings to life the epic drama surrounding Christ's death and resurrection. Performed in an outdoor amphitheater, the play is based on the Old Testament prophecies and New Testament accounts of the last seven days of Jesus of Nazareth prior to, and including, His ascension. Hosting numerous performances throughout the year, there's plenty of opportunities to catch this Christian attraction comprising a multi-level stage, live animals, and 150 trained actors.
Plenty of other attractions at The Great Passion Play also give it a family-friendly reputation, including the larger than life Christ of the Ozarks monument. Visitors can also participate in an immersive Holy Land Tour complete with a life-size replica of the Eastern Gate in Jerusalem and an authentic Marketplace to explore. Mountain bike trails, a Noah's Ark petting zoo, and a Sacred Arts Museum are also available to experience year-round at The Great Passion Play.
Address: 935 Passion Play Road, Eureka Springs, Arkansas
Official site: http://www.greatpassionplay.org/
4. Turpentine Creek Wildlife Refuge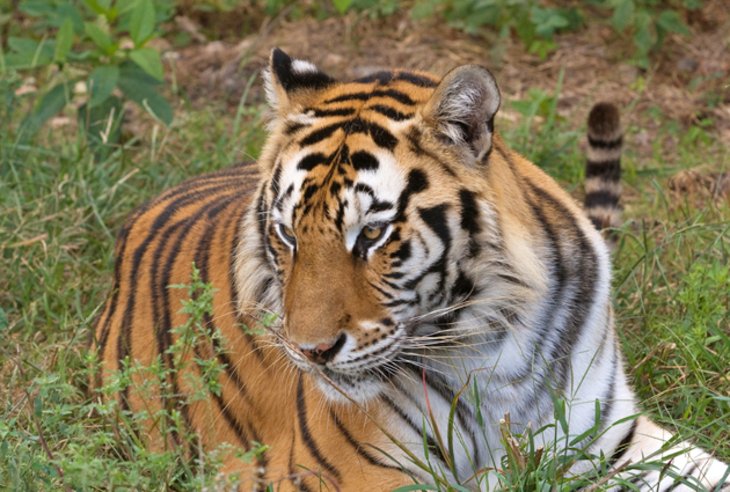 Serving as a sanctuary for big cats and other large animals, Turpentine Creek Wildlife Refuge is home to abandoned, abused, and neglected tigers, lions, leopards, and cougars, as well as bears and bobcats. Visitors to the Wildlife Refuge have many ways to interact with the resident animals and learn more about their species. Guided habitat tours happen daily at Turpentine Creek, and exclusive behind-the-scenes tours occur on the weekends.
The wildlife refuge also hosts numerous special events throughout the year, which help fund Turpentine's efforts, including a kite-flying festival, blues weekend, and various educational programming.
Address: 239 Turpentine Creek Lane, Eureka Springs, Arkansas
Official site: http://www.turpentinecreek.org/
5. Blue Spring Heritage Center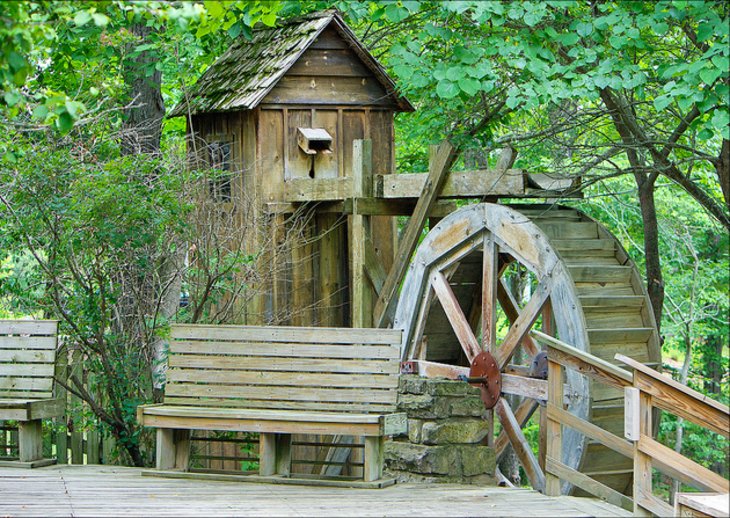 Comprised of beautiful gardens, local history, and a large natural spring, Blue Springs Heritage Center has been a popular tourist attraction for over 70 years. Prior to attracting tourists and Eureka Springs residents, the spring was considered a sacred space for local and traveling American Indian tribes. The history of Blue Spring is on full display with every visit, including historical artifacts, exhibits, and the remnants of an old mill that was once powered by the moving water. The various gardens are also worth the visit, and just over a mile of trails connects the different garden beds.
Address: 1537 County Road 210, Eureka Springs, Arkansas
Official site: http://www.bluespringheritage.com/
6. Basin Spring Park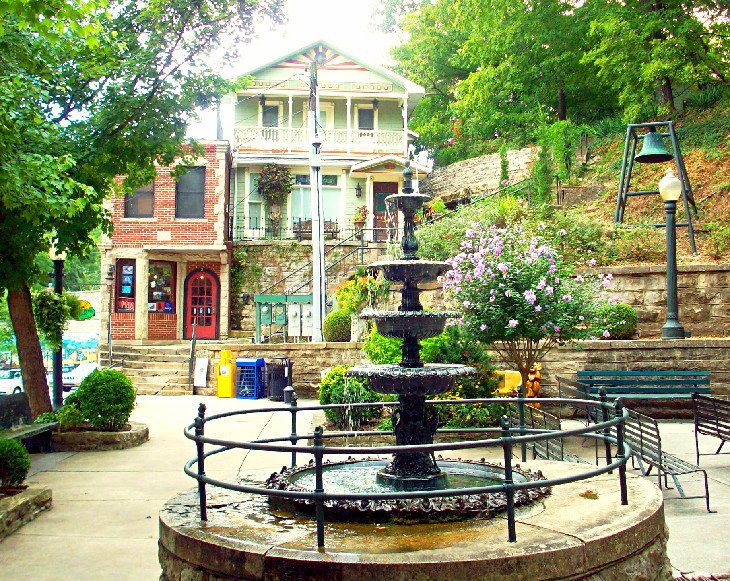 Well before the city was ever incorporated, the mineral water found at the site now known as Basin Spring attracted indigenous cultures and settlers and set the stage for the thriving city found today. Now a central downtown park incorporating benches, a bandshell, and the original spring encased by concrete and a fountain, this city park provides a scenic resting opportunity between downtown excursions and serves as a great jumping-off point for other nearby attractions. Walking tours often start at Basin Spring Park, and the public space hosts community celebrations, including live music and holiday festivals.
Address: 4 Spring Street, Eureka Springs, Arkansas
7. Quigley's Castle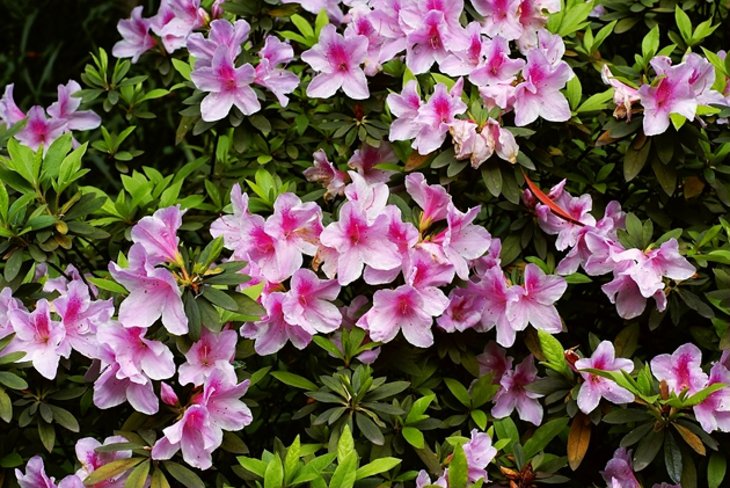 Listed on the National Register of Historic Places and noted as the "the Ozark's strangest dwelling," Quigley's Castle was the dream home of Elise Quigley, an Italian immigrant with a passion for gardening. Perennial gardens surround the home, with lovely paths, benches, and other features. Inside the home are full-size tropical plants and trees, growing from natural ground soil on the first floor. On display within the home are several unique collections, including butterflies, crystals, fossils, glassware, and arrowheads.
Open March through November, visitors can take a self-guided tour of this quaint and memorable residence.
Address: 274 Quigley Castle Road, Eureka Springs, Arkansas
Official site: http://www.quigleyscastle.com/
8. Eureka Springs and North Arkansas Railway Company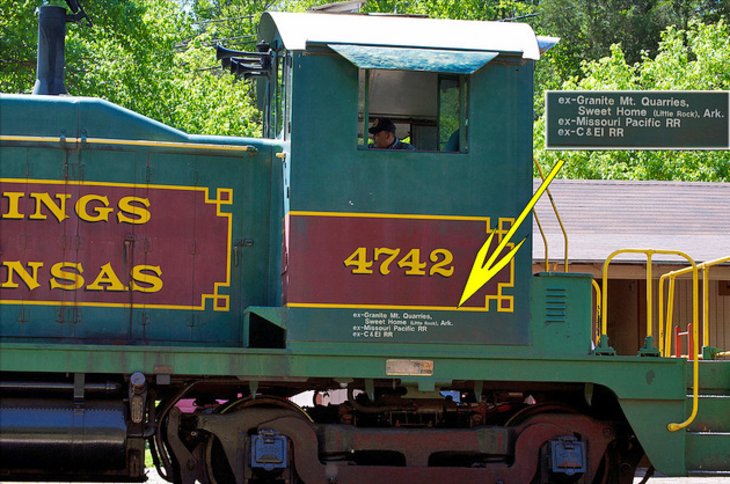 Located a mile from downtown Eureka Springs, this historic depot and passenger line allows visitors a glimpse of what life was like when rail service arrived in Eureka Springs in 1883. Visitors to the depot can view a collection of vintage rolling stock, a restored turntable, handcar, and an automobile outfitted to run on the rails. The real experience of visiting the depot comes from the daily scheduled rides, including an excursion train, lunch train, and special dinner train. A connected Baggage Room Gift Shop is also available at the depot for locomotive-related memorabilia and keepsakes.
Official site: http://www.esnarailway.com/
Address: 299 North Main Street, Eureka Springs, Arkansas
9. Onyx Cave Park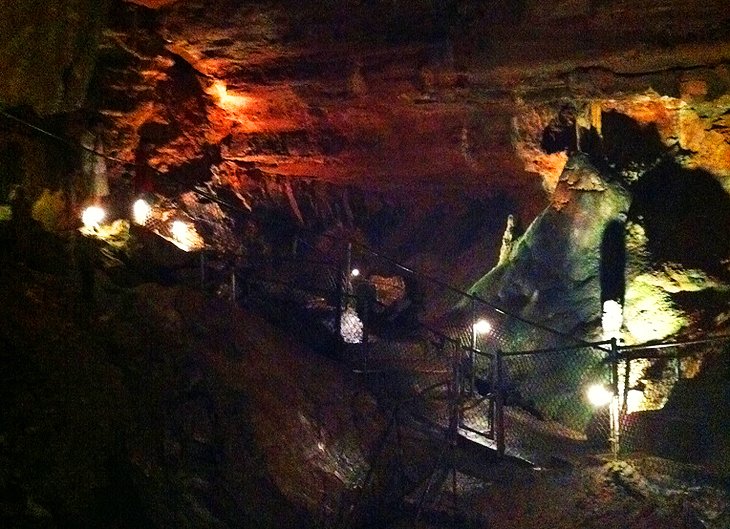 First discovered in 1891 and hosting tours since 1893, the Onyx Cave is located just a short drive east of Eureka Springs and offers a family-friendly opportunity to see some amazing cave features and wildlife. The cave is small, and visitors can walk through it with relative ease on a self-guided tour that takes about a half hour or less.
Onyx Cave also hosts a popular Gem Panning station outside the cave, which entices both children and adults. A newly renovated gift shop at the cave features a variety of gems, jewelry, and photo opportunities with a large set of Amethyst Angel Wings.
Address: 338 Onyx Cave Lane, Eureka Springs, Arkansas
Official site: http://onyxcaveeurekasprings.com/
10. Exploring the Outdoors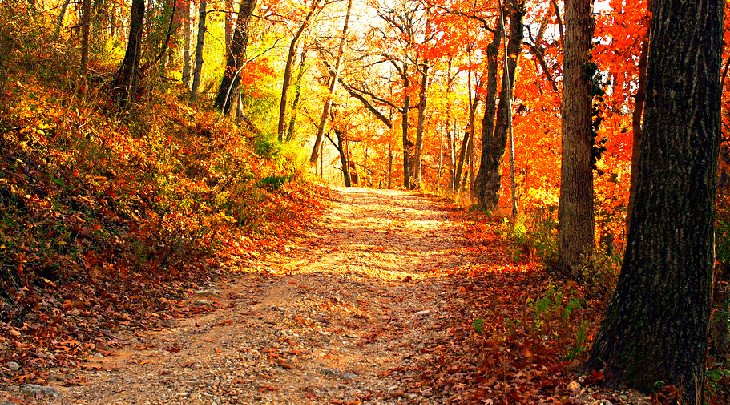 Hiking, biking, and water activities are some of the most popular ways to explore the great outdoors surrounding Eureka Springs, and miles of trails can be found both sprawling throughout the city and immediate surrounding area. The 1886 Crescent Hotel & Spa has one of the densest collections of hiking trails in the city, and the scenic Lake Leatherwood provides both mountain biking and hiking routes and access to the water.
Other prominent places of recreation surrounding Eureka Springs include the Buffalo National River, the Ozark National Forest, and many underground worlds to explore such as Onyx Cave and Cosmic Caverns.
11. The 1886 Crescent Hotel and Spa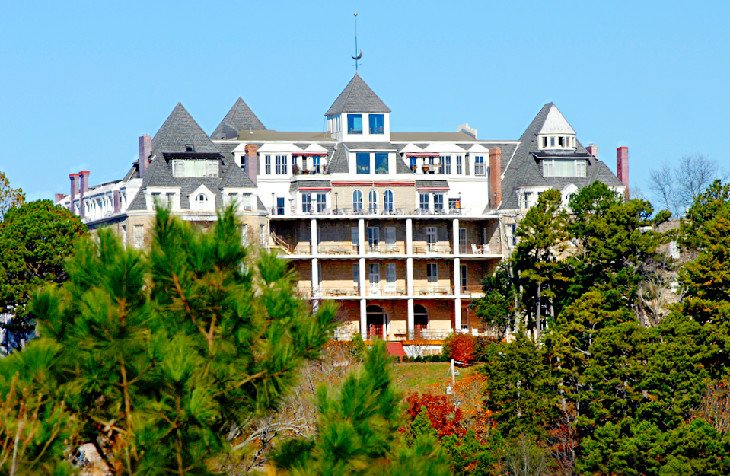 Much more than just a place to stay, the 1886 Crescent Hotel and Spa provides numerous community attractions and things to do. Celebrating over 130 years on a hilltop overlooking the city, this historic hotel provides day visitors and overnight guests with activities ranging from full moon yoga to spooky haunted tours, as well as great places to eat, socialize, and indulge in spa treatments.
The Crystal Dining Room at the Crescent Hotel is a popular venue for special events throughout the year, and gourmet pizza is served on the hotel's balcony, with great views overlooking the Ozark landscape. Many of the events offered by the hotel are complimentary when booking a room, though anyone interested in checking out the entertainment and history is welcomed to peruse the event calendar.
Address: 75 Prospect Avenue, Eureka Springs, Arkansas
Accommodation: 1886 Crescent Hotel & Spa
12. St. Elizabeth Catholic Church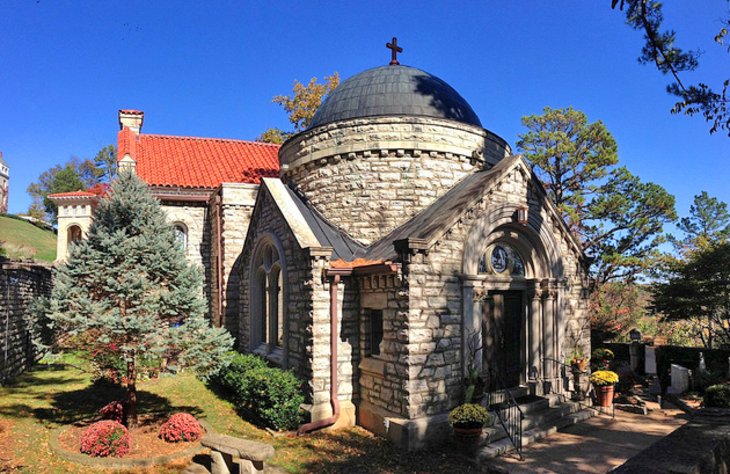 Listed on the National Register of Historic Places and over a century old, the St. Elizabeth Catholic Church is an inspiring landmark of Eureka Springs. The walkway leading to St. Elizabeth Church is lined with the Stations of the Cross, and a small prayer garden can be found at the side of the building. Visitors enter the church through a charming bell tower.
History runs deep in the interior of the church, and visitors to St. Elizabeth can sign up for a self-guided tour or take part in any of the scheduled masses that occur throughout the week. This historic church is also a popular wedding venue, and an attached gift shop features locally made jewelry, inspirational readings, and a wide variety of religious items for sale.
Address: 30 Crescent Drive, Eureka Springs, Arkansas
Official site: http://stelizabethar.org/
Where to Stay in Eureka Springs for Sightseeing
Luxury Hotels: Steeped in history and culture, a few of the most luxurious places to stay in Eureka Springs continue the legacy of attracting visitors from around the world. Besides an outstanding tourist attraction, the 1886 Crescent Hotel and

Spa

also provides a great place to stay. Special programs, balcony restaurants, and a sprawling estate are just a few of the reasons why the Crescent Hotel has prospered for so long. Other features include spa amenities and timeless décor. Near downtown and adjacent to Basin Spring Park, the 1905 Basin Park

Hotel

is another overnight spot that has attracted visitors for well over a century. Highlights include easy access to the historic downtown district and old-fashioned rooms complete with modern amenities.
Mid-Range Hotels: Eureka Springs is filled with many great hotels that provide first-class service for an excellent value. The rates and amenities found at the Palace Hotel & Bath House

Spa

encourage visitors to stay an extra night or two. Featuring comfortable rooms in a historic 1901 building, including antique Victorian furniture, the Palace Hotel delivers a great deal, with friendly front desk staff, an elegant lobby, and a long list of specialty spa services. Also located in downtown with easy access to nearby shops and restaurants, the Grand Central Hotel &

Spa

can be found in a historic building with clean, comfortable rooms and a surplus of spa pampering services. Farther south, Brydan

Suites

is another popular mid-range option, which features modern suites with ample space to spread out your things.
Budget Hotels: For those interested in saving money on lodging, budget hotels in Eureka Springs don't skimp on service. The Trails

Inn

is popular thanks to its friendly rates and excellent customer service. Another affordable hotel near downtown, the Edelweiss

Inn

features a quite location, modern rooms, a well-kept facility, and a trolley stop right outside the front door. The Ozarka

Lodge

is another great budget option near the historic district, featuring a balcony area overlooking a pool, a convenient location, and many repeat guests.
More Related Articles on PlanetWare.com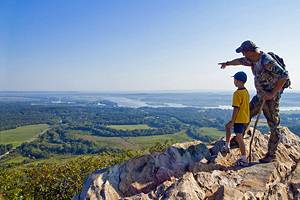 Exploring Arkansas: Outside of all the excitement found in Eureka Springs, the capital city of Little Rock is another popular city worth visiting in Arkansas. Also check out Hot Springs National Park, one of many top tourist attractions in Arkansas.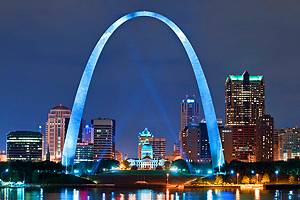 More to Explore in Missouri: The state of Missouri, directly north of Arkansas, also has plenty of fun to explore. From major cities like St. Louis to other fun places to visit including Branson, Missouri provides ample exciting things to do.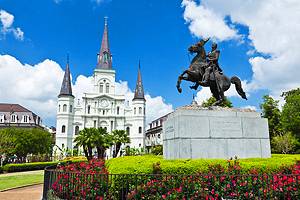 Lots to Discover in Louisiana: To the south of Arkansas, the state of Louisiana is filled with historical and cultural appeal. Perhaps the two best cities to visit are Baton Rouge and New Orleans, each offering their own unique style and many things to do.