Hotel Horrors: Analyzing the Worst Hotels Across the U.S.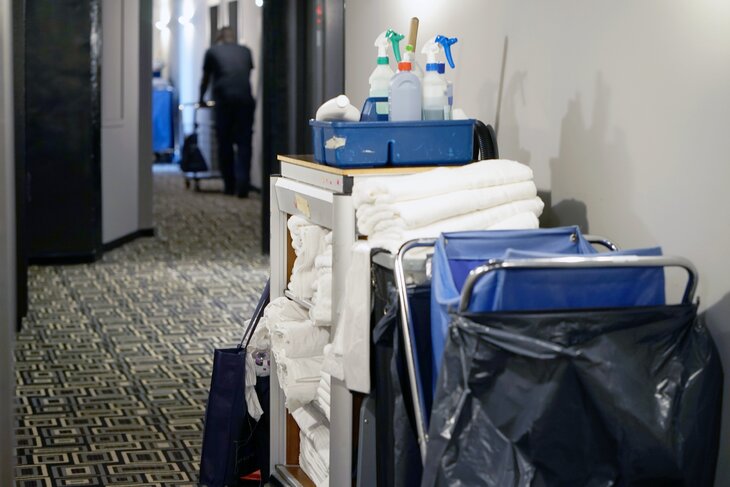 Editor's note: This research was conducted independent of TripAdvisor and in no way expresses its views. All data is based on user-generated content from hotel guests.
You're sitting on the toilet in your hotel room when you see a roach crawling towards you. You reach for some toilet paper to squash it and realize the maids didn't restock the toilet paper. Uh oh, double trouble.
This could happen in any city in America, but according to our latest study, it's most likely to happen in Myrtle Beach, South Carolina.
Our team recently analyzed nearly 8 million hotel reviews on TripAdvisor to determine which U.S. cities have the worst hotels. The reviews come from more than 9,000 hotels across 95 U.S. cities. Cities with the highest percentage of bad reviews (1- or 2-stars out of five) are dubbed the worst. Read on to find which cities you should be wary of when planning future vacations!
Key Findings
Myrtle Beach, SC, Atlantic City, NJ, and Virginia Beach, VA, have the worst hotels in America, with 1 in 5 visitors leaving bad reviews.
When it comes to bad reviews left for hotels across the country, the smell of smoke in the rooms, a lack of toilet paper, bed bugs, and thin walls were the most common.
Miami Beach, FL, and Montauk, NY, have the worst hotel service based on TripAdvisor reviews.
The U.S. Cities with the Worst Hotels, Based on TripAdvisor Reviews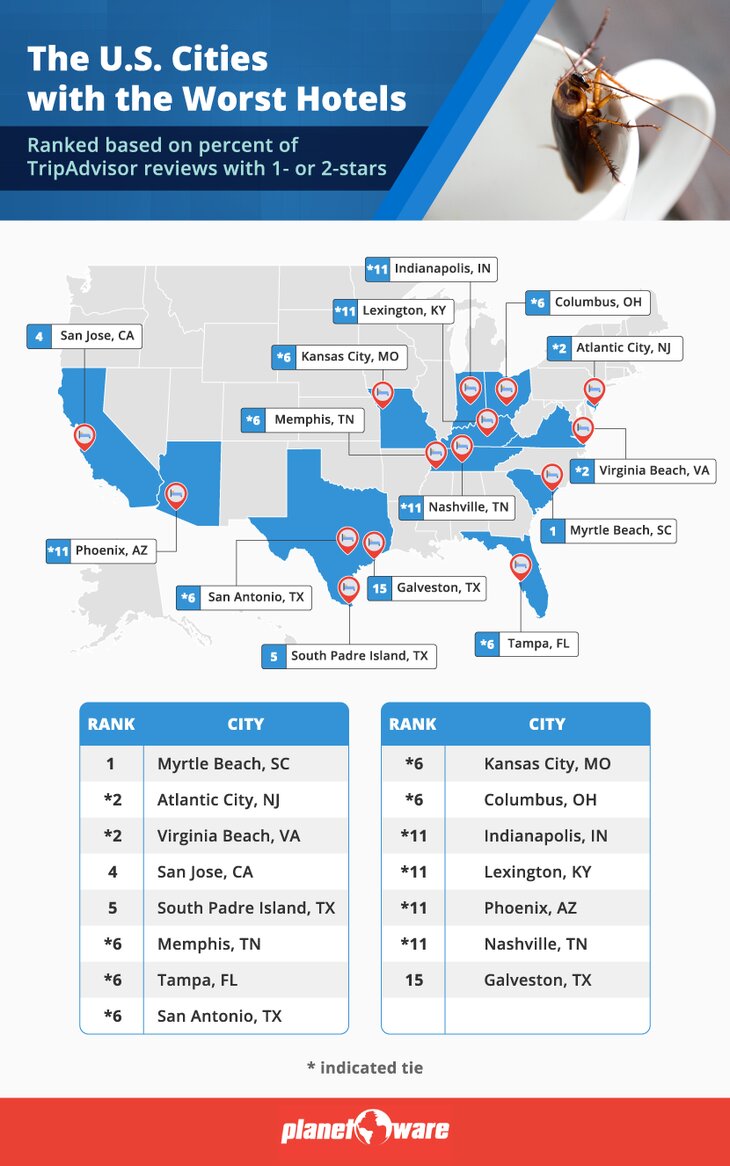 The names on this list represent American cities that had a high volume of low ratings for their hotels. To determine the ranking, we calculated the percentage of all analyzed hotel reviews in a given city to find the percentage that was 1-star or 2-star reviews. Of course, this ranking does not mean all hotels in each city are bad. Don't despair if you have a favorite hotel in one of these cities — may have just found a diamond in the rough!
Topping the list for the most one and two-star reviews at 20%, is Myrtle Beach, SC. This city is a popular destination for those looking to explore its 60 miles of sandy shores. From the live music and golf courses to the restaurants and much more, you can find plenty to do in this east coast city. But while the vacation spot is commonly ranked as one of the best beach towns to visit if you're on a budget, reading more than 130,000 mentions of bed bugs in the local hotels might be a bit of a turnoff.
Second on our list is Atlantic City, NJ, best known for its casinos and boardwalk. With more than 168,000 mentions of bed bugs and nearly 100,000 mentions of having a horrible experience, it's easy to understand why 19% of hotel reviews in this city only have one or two stars.
Virginia Beach, VA, makes third on this list with 19% of their reviews as one or two stars, similar to Atlantic City, NJ, which is about a six-hour drive north. While the beach town has a lot to offer, the hotels seem to be the travel destination's downfall with nearly 30,000 reviews dubbing the lodging as the worst.
The Most Common Complaints in Hotel Reviews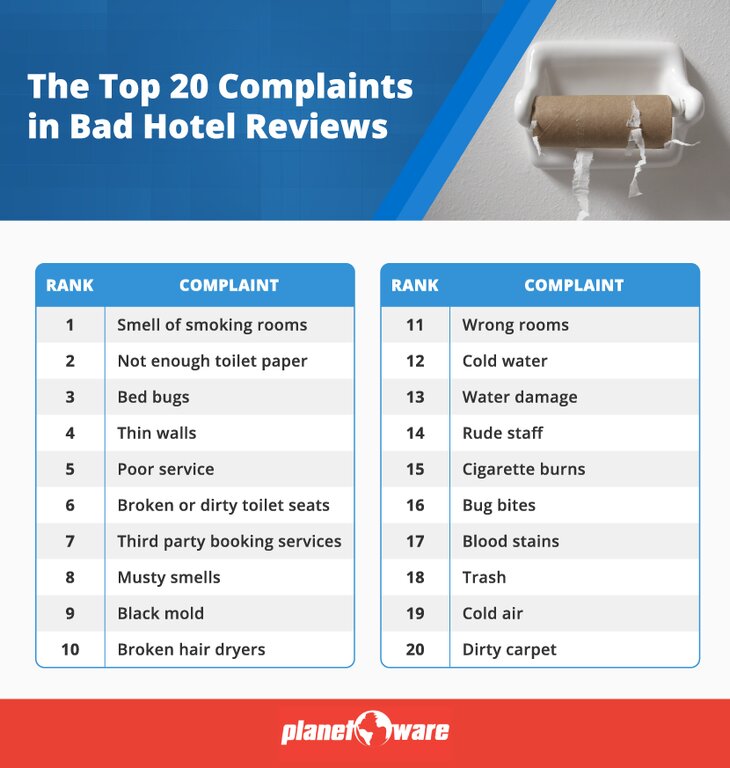 Many of us have experienced our own troubles while traveling, whether it be something simple like forgetting to pack a phone charger or something a bit more serious like finding bugs in your hotel bed. Here's a look at the most common complaints in hotel reviews in cities across the country.
Topping the list is the smell of smoke in the rooms. Smoking rooms were once a common find when staying in hotels, but today most hotels no longer provide the option. And according to a USA Today interview with one hotel chain CEO, even smokers don't want to stay in smoking rooms. Maybe some of the cities in our analysis still have a bit of airing out to do.
The second most common complaint may need to be taken up with housekeeping, as many travelers say there's not enough toilet paper in their rooms. The third complaint on our list is bed bugs followed by thin walls, which means if the bites from the bed bugs don't keep you up, the guests staying in the next room just might!
The U.S. Cities with the Worst Hotel Service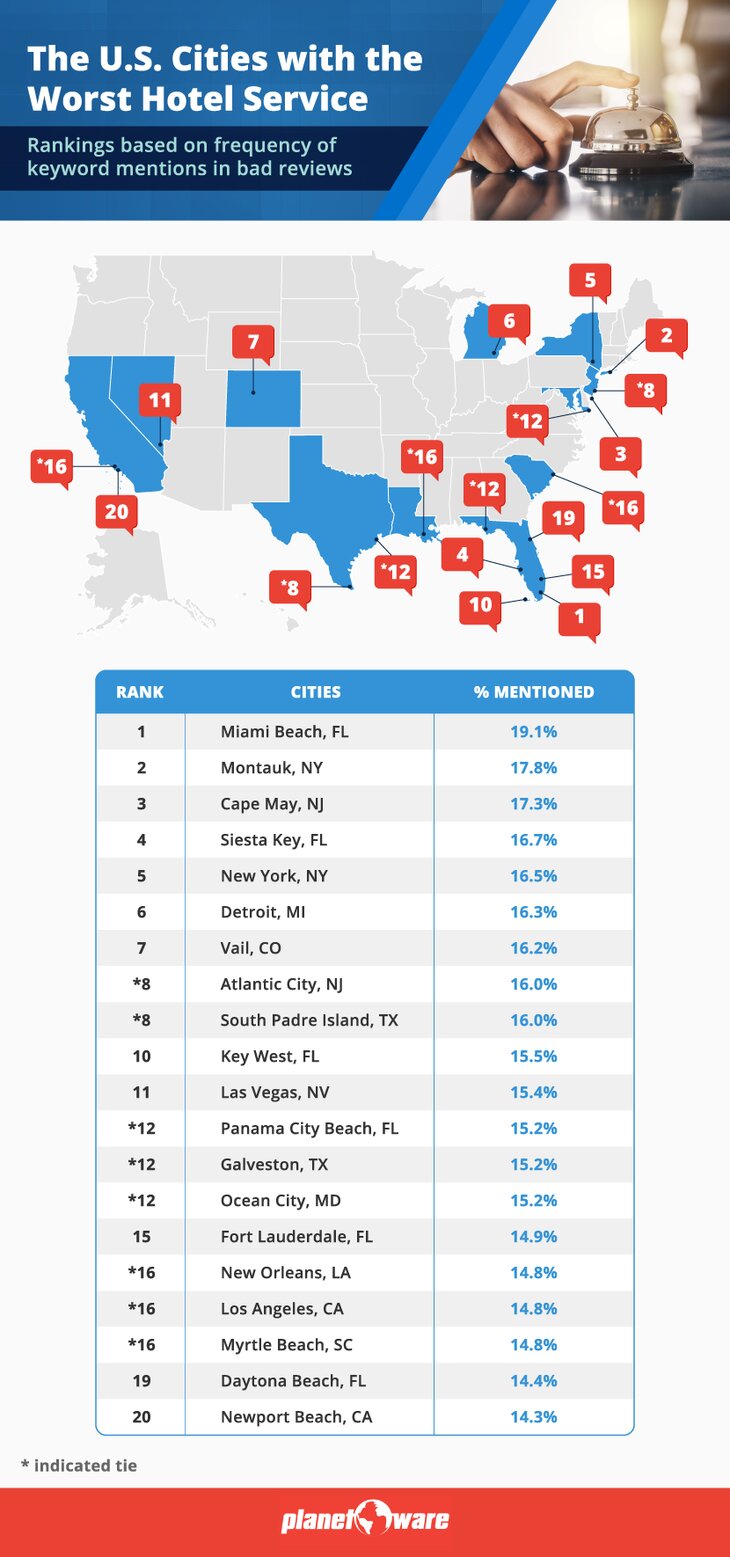 A good hotel stay goes beyond a guest's experience in the room. Those working the front desk can also play a large role in the overall experience. As part of our analysis, we combed through the millions of reviews to find mentions of the staff and customer service. The following are the cities with the most negative service reviews.
Topping the list is Miami Beach, FL, with nearly one in every five reviews (19.1%) containing a negative mention regarding the hotel service. Montauk, NY, (17.8%) and Cape May, NJ, (17.3%) follow closely behind with nearly 4,000 reviews mentioning poor service and rude staff between the two cities.
You don't have to travel far from the number one city on our list before you reach the fourth, Siesta Key, FL, (16.7%). With an average high temperature of 87.7º during the summer, it may be better to avoid hanging inside with the staff and heading out to the beautiful beaches instead.
Seeing the World with PlanetWare
Whether you're just starting to venture out into the world to see your bucket list destinations or setting out on your fourth adventure this year, you can rely on PlanetWare to provide you with travel guides for locations around the world. Be sure to check out our featured articles to find the top-rated things to do in the next city you plan to visit!
Methodology
In April 2023, we analyzed 7.8 million TripAdvisor hotel reviews across more than 9,000 hotels in 95 U.S. cities. On average, we analyzed 94 hotels per market and 870 reviews per hotel.
To establish the cities with the worst hotels, we calculated the percentage of all analyzed hotel reviews in a given city that were 1-star or 2-star reviews.
To establish cities with the worst hotel service and top complaints, we focused on 800,000+ bad reviews, meaning those with one or two stars out of five possible.
For top complaints we assessed the most frequently used words and phrases. For worst service, we analyzed the frequency of the following keywords in each city's sample of reviews: poor service, poor customer service, rude staff, rude, bad service, worst customer service, poor management, bad attitude, horrible service, terrible, customer service, horrible customer service, worst service, rude front desk, bad customer service, and terrible service.