17 Top-Rated Tourist Attractions in Oklahoma State
We may earn a commission from affiliate links ()
Oklahoma is an authentic gateway to the west – a land of red dirt, where buffalo roam the plains, and oil rigs pump riches. But the largest cities, Oklahoma City and Tulsa, also have a distinctly refined air, having been built on the proceeds of an early-1900s oil boom.
Modern museums, galleries of international art, and lavish gardens, among other cultural attractions, all give the state a more cosmopolitan edge, but many tourists choose to experience Oklahoma with the simple pleasures of a road trip, and no highway is more iconic than the state's stretch of Route 66.
For more ideas on the best places to visit, read our list of the top tourist attractions in Oklahoma State.
1. Route 66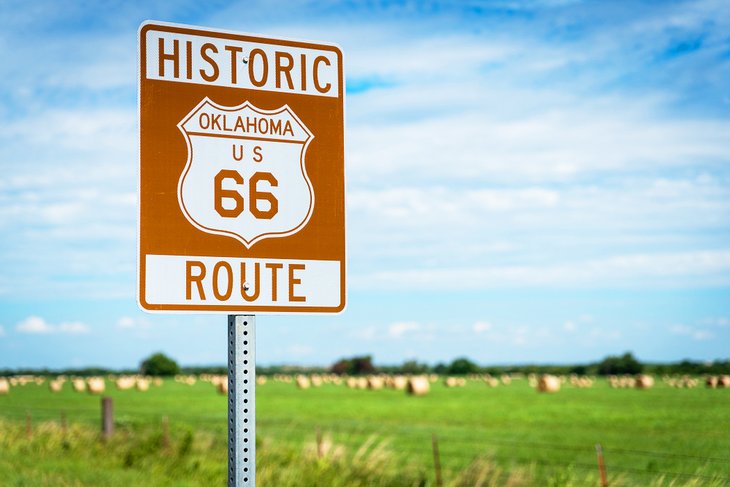 The full stretch of Route 66 runs from Chicago to Los Angeles, but the longest run of miles cuts diagonally through the state of Oklahoma. This OK length begins in the northeastern corner of the state and travels through Tulsa and Oklahoma City before crossing the border into Texas.
Roadside attractions range from the historical, such as Oklahoma Route 66 Museum in Clinton and National Route 66 and Transportation Museum in Elk City, to the odd, like the Blue Whale of Catoosa or Golden Driller in Tulsa.
The Oklahoma Route 66 Museum in Clinton is a great way to learn about the road's history, with immersive experiences like a 1950s diner and changing exhibits that celebrate the Route 66 experience.
2. Oklahoma City Zoo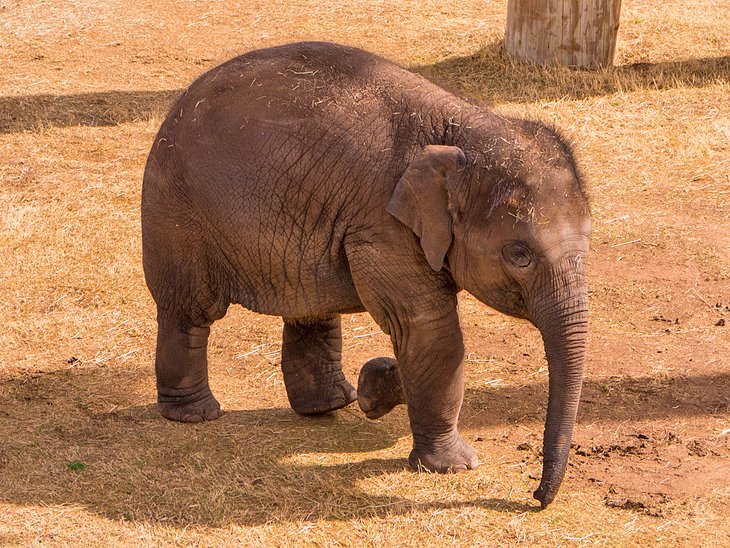 Ambling pathways take visitors through many ecosystems at the Oklahoma City Zoo, from African plains to tropical jungles. One of the top things to do in Oklahoma City, the zoo and botanical gardens were established more than a century ago and have since nurtured 500 species of animals, including some endangered, as well as a grand garden landscape.
3. Philbrook Museum of Art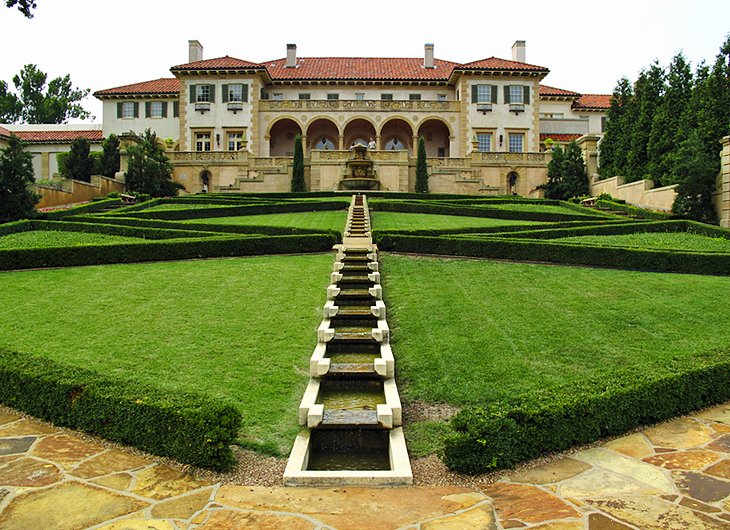 Collections at the Philbrook Museum of Art include works from Africa, Asia, and Europe in a variety of media, as well as the work of American artists and craftspeople.
One of the highlights of Tulsa, this Italian Renaissance-style villa turned art museum sits on 23 acres of picturesque formal and informal gardens along Crow Creek. It has the elegance and wealth of oil-rich Tulsa in the 1920s, while the art collection has a decidedly international scope.
4. Science Museum Oklahoma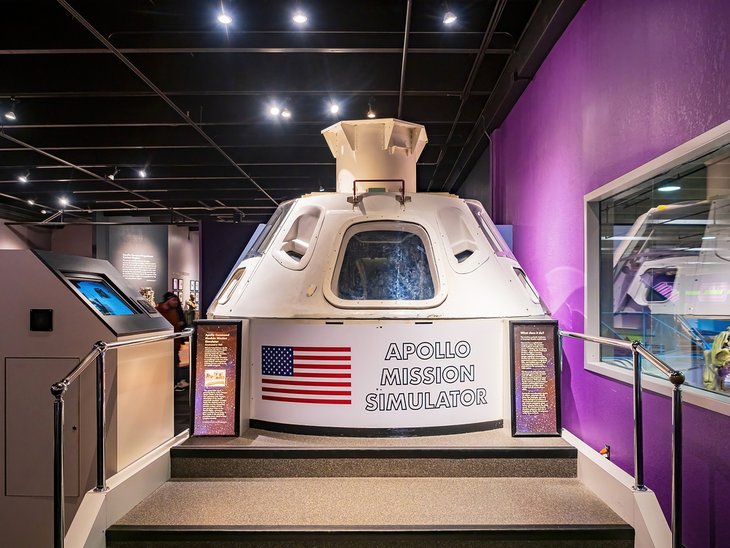 The Science Museum of Oklahoma is home to an astounding number of exhibits that engage curious visitors of all ages. The main exhibit hall of the museum is filled with hands-on activities and interactive exhibits that teach about all aspects of scientific study, from biology to physics.
Visitors can also enjoy a range of live shows, including the planetarium shows and movies shown on the dome, a Tesla coil show, and a lights and shadows show.
Younger kids can get in on the fun in "CurioCity," an activity-packed indoor city with a variety of challenges and endless opportunities for learning, or design and create their own inventions using a variety of materials from paper and string to Lego bricks and then test their new inventions against wind, gravity, and each other.
Visual and artistic minds can explore the technology studio that includes coding, animation, and sound mixing, or combine art and science in the Tinkering Garage.
The museum is also home to an extensive exhibit on Oklahoma's long-standing connection to the country's space program, including not only artifacts and actual space craft but also an actual Mercury Capsule Simulator, which is used by astronauts to train.
5. Woolaroc Museum & Wildlife Preserve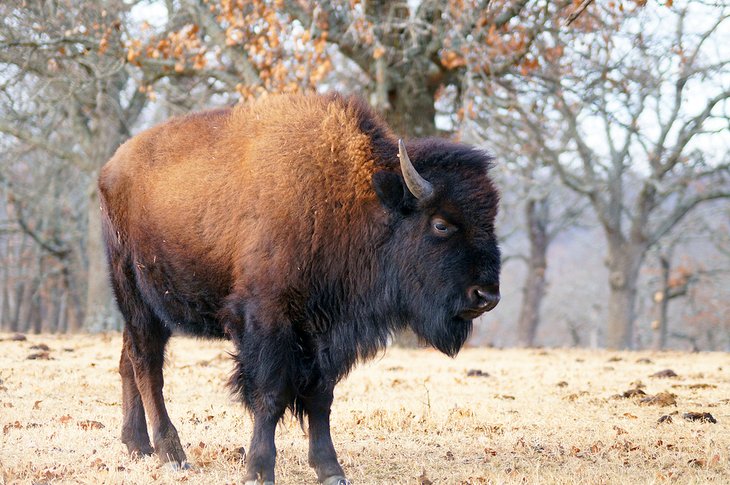 Woolaroc Ranch covers 3,700 acres where American bison, longhorn cattle, and elk roam free on the wide-reaching landscape. Visitors can safely see and photograph these magnificent beasts from their vehicles.
6. Myriad Botanical Gardens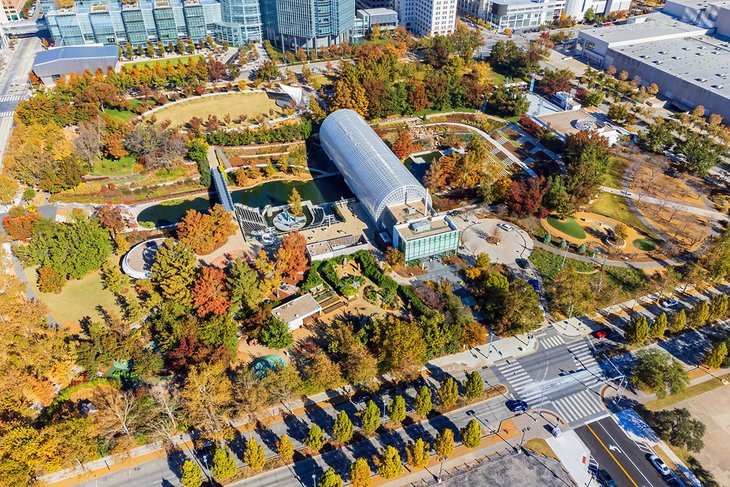 Myriad Botanical Gardens provides an oasis in Oklahoma City's downtown for residents, families, and tourists. The space and facilities are free to use, covering 15 acres with walking paths, a large lawn, and small lake. There is also a playground, an off-leash dog park, and a visitor center.
The gardens include a children's garden, ornamental gardens, and the impressive Crystal Bridge Conservatory, which is undergoing major renovations in the summer of 2022. Here, visitors can explore the plants of two climates, the Tropical Wet Zone and the Tropical Dry Zone, and the desert plant area.
7. University of Oklahoma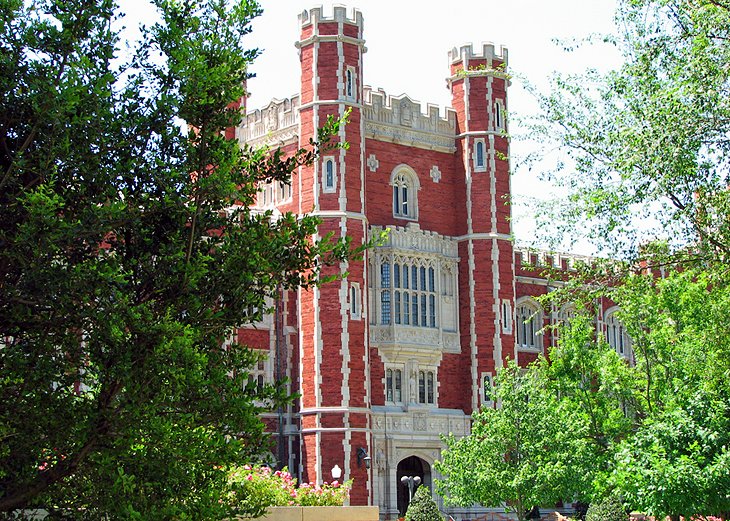 In Norman, on the southern fringes of Oklahoma City, the University of Oklahoma is home to many tourist attractions as well as strong sports programs. The school was established in 1890 and has since grown into a 3,000-acre campus.
8. Woody Guthrie Center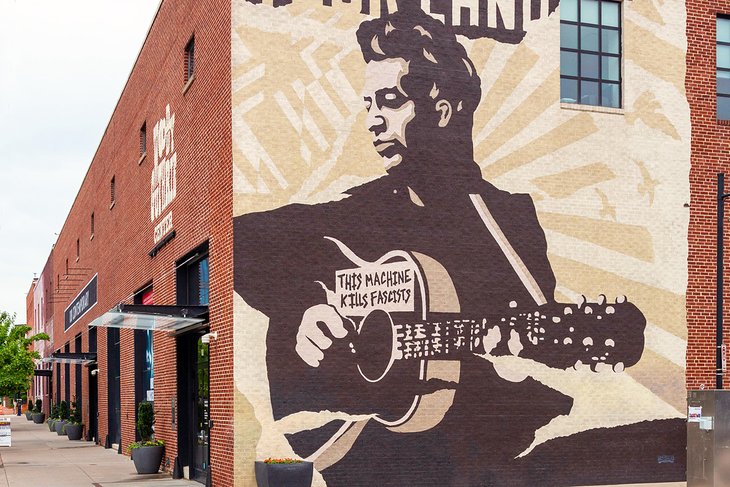 The Woody Guthrie Center contains a comprehensive collection of exhibits, which celebrate the life and work of this artist, including not only his music but also his contributions to social and political discourse.
Visitors are walked through his life by way of film presentations, audio experiences, timelines, and of course an extensive collection of his musical instruments and personal items.
9. Museum of the Great Plains, Lawton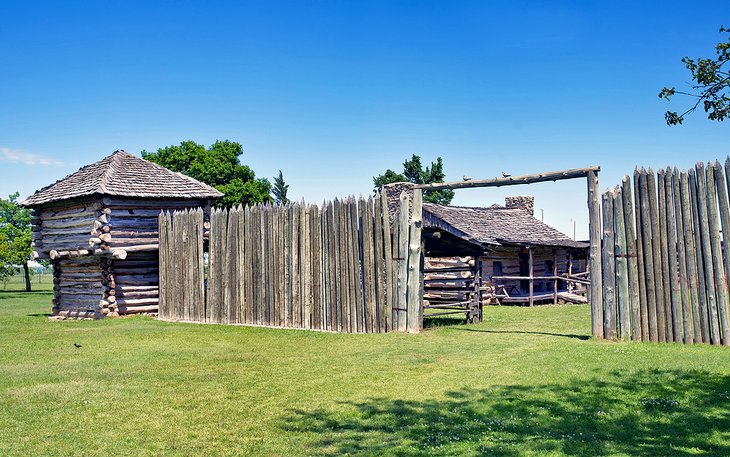 The Museum of the Great Plains in Lawton features hands-on and interactive natural history exhibits that unveil life in the west for Native Americans and pioneers. Venture outdoors to see a number of historic buildings, including a train depot, trading post, and schoolhouse.
10. Oklahoma City Museum of Art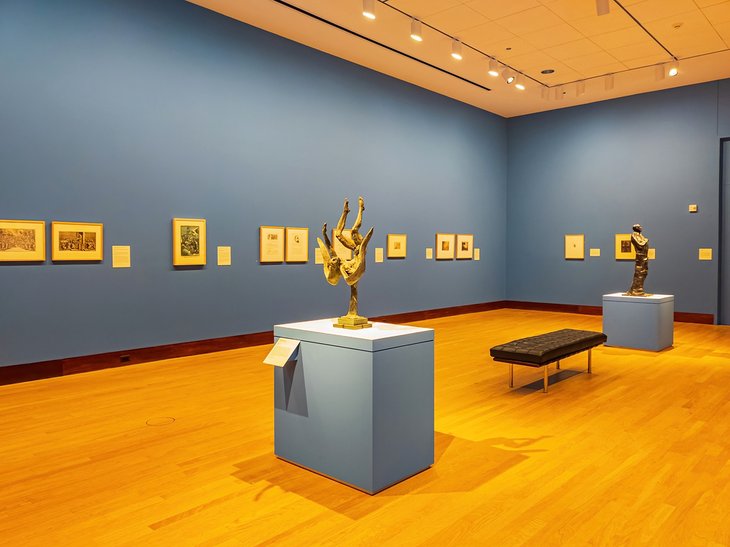 The museum's collection is diverse, featuring all mediums of visual art including photography, drawing, painting, sculpture, textiles, film, glass, and mixed media. Genres are equally inclusive, with examples of pop art, abstract art, American & European art, post-war and contemporary works, and others.
Among the museum's most popular exhibits are those focused on the work of renowned glass artist Dale Chihuly. Installations rotate the museum's large collection of Chihuly's work, as well as the rest of its expansive collection, and the museum hosts traveling exhibits as well.
11. JM Davis Arms & Historical Museum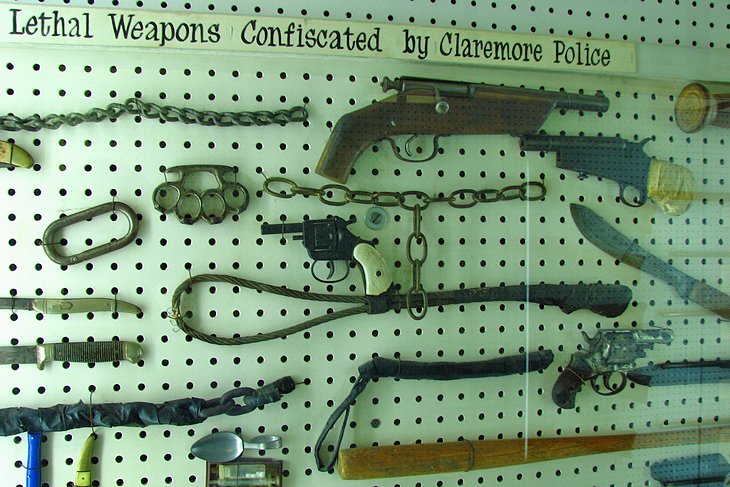 The collections at the Jim Davis Arms & Historical Museum in Oklahoma City include 50,000 items. The main exhibit is Davis' massive private collection of more than 12,000 firearms that date as far back as the 14th century.
12. Gilcrease Museum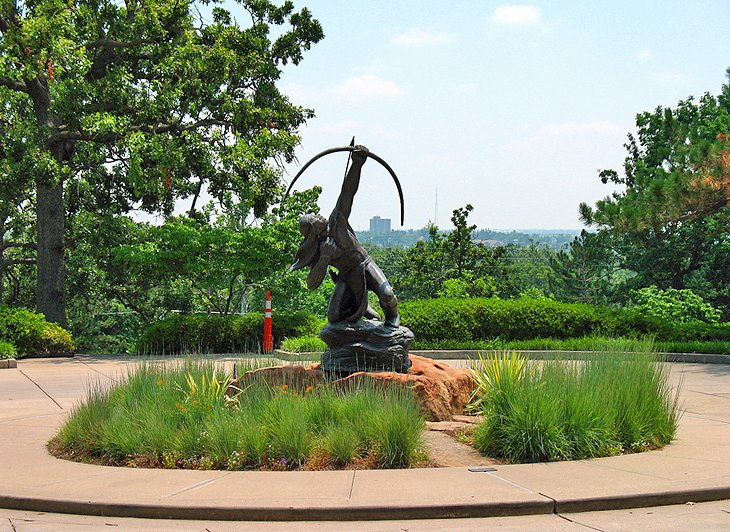 The Gilcrease Museum in Tulsa presents an extensive art and history collection from the American West, exploring both frontier settlement and Native American cultures. Collections include art, historical manuscripts, and anthropological artifacts.
13. Oklahoma Aquarium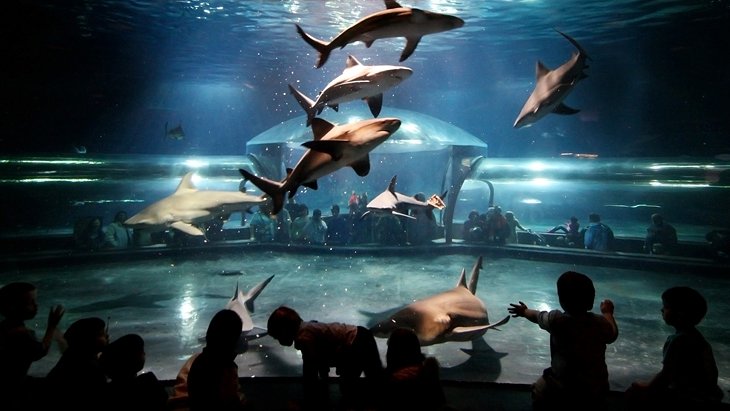 Located in Jenks, just south of Tulsa, the Oklahoma Aquarium is renown for having the world's largest collection of bullhead sharks. You can see them in the Shark Adventure exhibit, where you can watch these beautiful creatures glide gracefully from the walk-through glass tunnel.
14. National Cowboy & Western Heritage Museum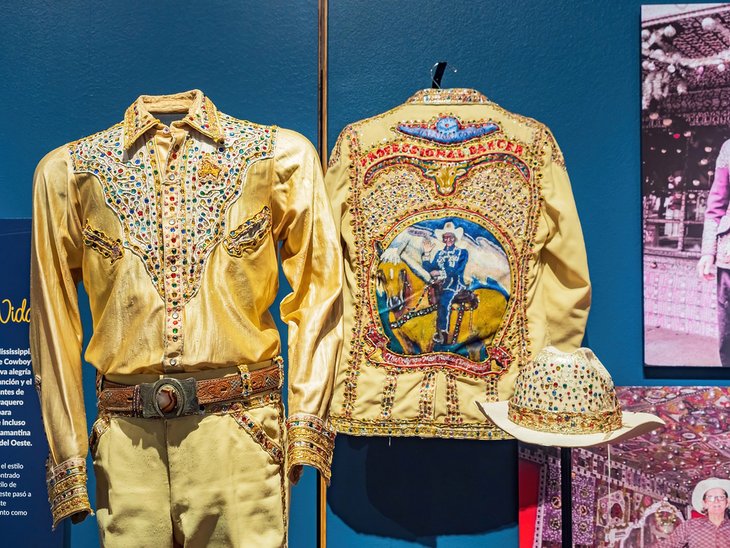 The National Cowboy & Western Heritage Museum in Oklahoma City began in 1955 as a "Hall of Fame" dedicated to American cowboys, and has grown to be the country's foremost archives of Western art, artifacts, and cultural history.
Galleries display a variety of Western art that includes painting and sculpture, as well as interactive exhibits about the people and culture of the Old West. Areas of focus include military and firearms, the tradition of rodeos and Western performers, and Native American culture.
15. National Weather Center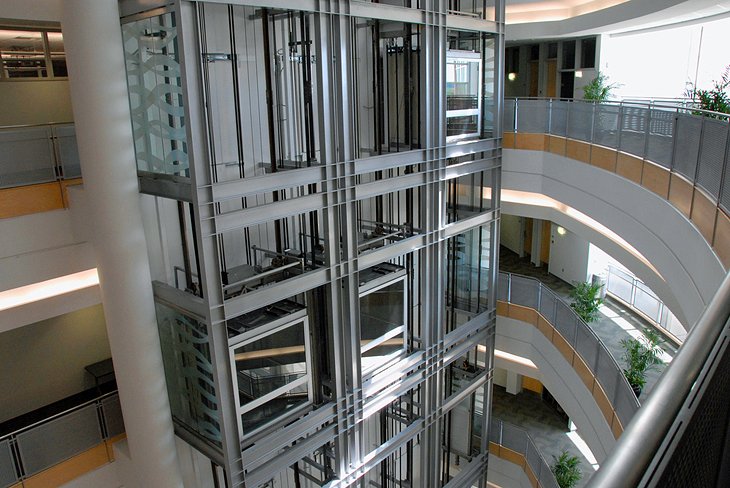 Oklahoma State has some of the most severe weather occurrences of anywhere in the world, with powerful tornadoes, sky-splitting lightning, and searing heat. These extreme conditions are what makes a tour of the National Weather Center in Norman (south of the capital) so interesting.
16. Oklahoma City National Memorial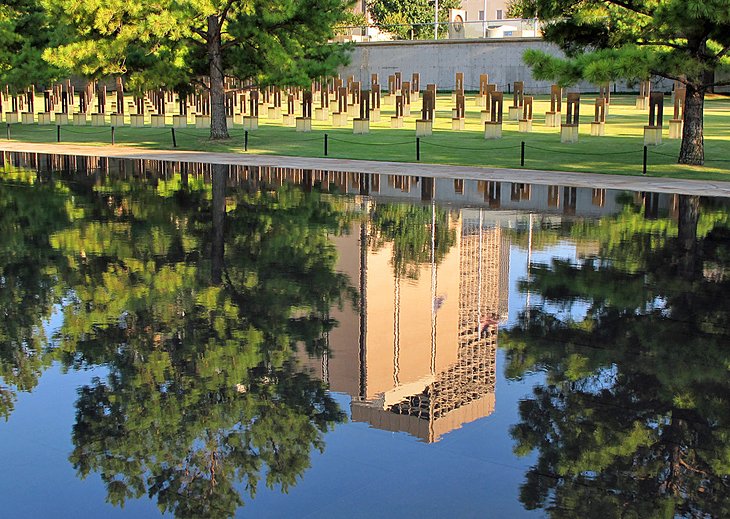 The 1995 bombing of the Alfred P. Murrah Federal Building is poignantly remembered at this outdoor memorial and museum in Oklahoma City. Victims, survivors, and rescuers are honored within the grounds, which include a reflection pool, gardens, and symbolic sculptures. It's become a landmark of the state capital.
17. Marland Estate Mansion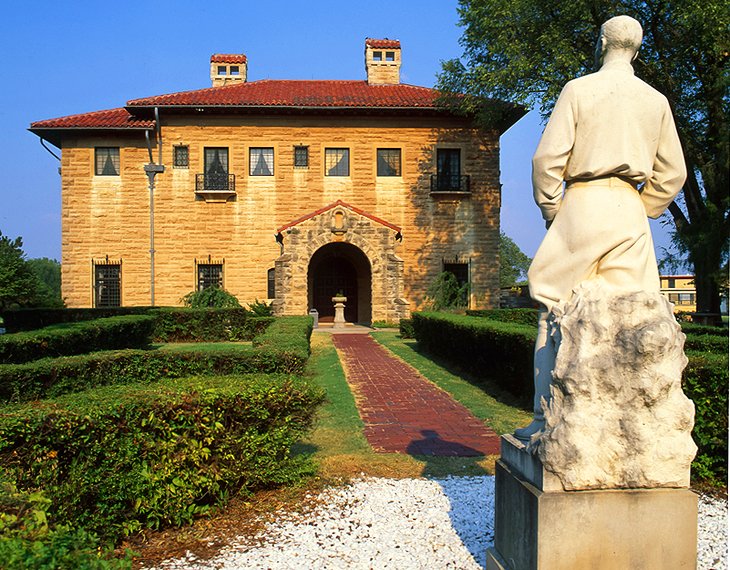 Near the Kansas border to the north, Ponca City is another Oklahoma oil-boom town. The grand Marland Estate Mansion dates to 1928, ordered as a second home for millionaire oilman and 10th governor of Oklahoma, E. W. Marland. The palatial home has 55 rooms, including three kitchens, plus expansive grounds with a swimming pool, artist studio, and boathouse.