10 Top-Rated Attractions & Things to Do in Branson, MO
In the Ozark Mountains of southern Missouri, Branson has earned its nickname as the Live Music Capital of the World. Stretching down Highway 76 at the center of the city, the different marquees and colorful storefronts of Branson's Entertainment District cater to memorable vacations and visits.
The 100-year history of Branson is tied to its ability to draw tourists from across the nation. Much of what has garnered so much attention over the last century is still very much of interest today.
Alongside ample live music venues, Branson is brimming with other attractions and things to do, like museums, giant Ferris wheels, and water parks. Ozark Mountain scenery is also in abundance in Branson, both above and below ground.
Caverns like Talking Rocks encourage underground adventure, while several stunning natural spaces are a short drive away. Summer is the best time to go to Branson for the full range of things to do, and the spring and fall are slightly less busy.
Discover the best places to visit with our list of the top attractions in Branson.
1. Live Shows and Musical Performances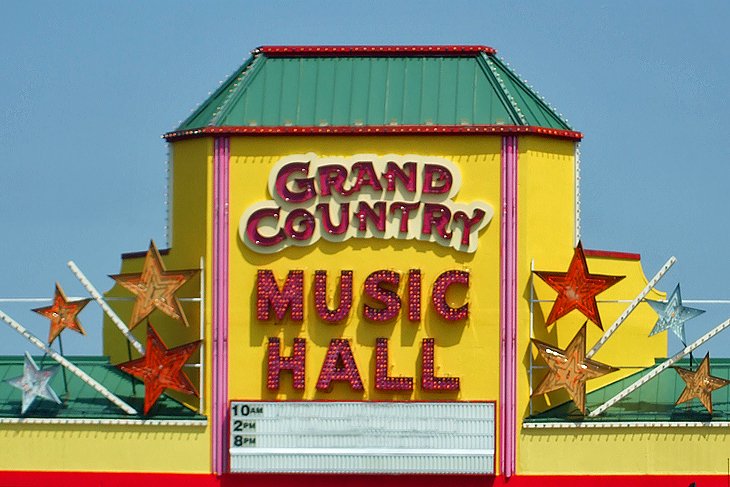 This city of Branson is synonymous with live music performances. From a cappella to musical theater and covering genres such as country, classical, and special Christmas performances, Branson delivers with professional shows. Every night of the week throughout the summer, the downtown Entertainment District is alive with colorful marquees advertising lively shows.
A few of the most popular shows in Branson include the multi-ensemble Presley's Country Jubilee, or the special effects show from The Haygoods. One of the most popular of Branson's live performances, Dolly Parton's Stampede, also provides dinner alongside live horse riding, music, and comedy.
Other live performances include acrobats, illusionists, tribute shows, variety acts, and religious theater. The Christmas holiday season in Branson is jam-packed with professional shows that will inspire, including the acclaimed Branson's Christmas Wonderland. For visiting during the peak summer season, it's recommended to browse online and purchase tickets ahead of any visit.
2. Silver Dollar City and Marvel Cave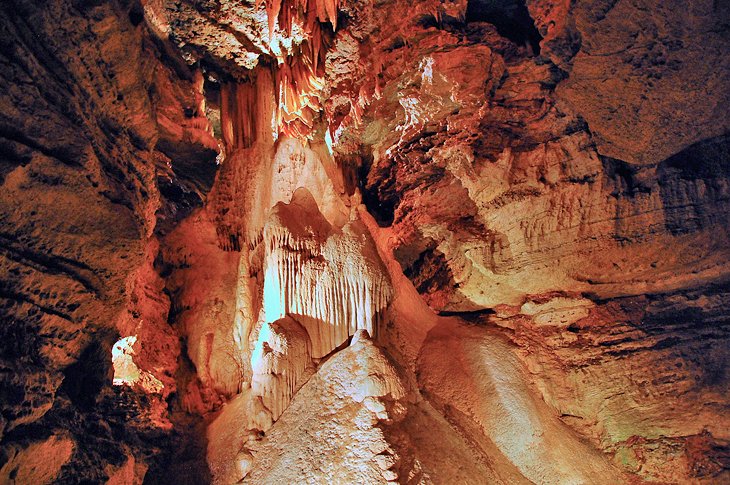 Silver Dollar City is a massive amusement park and entertainment space located between Branson and West Branson. The park encompasses over 100 acres and features an intricate 1880s theme with over 40 different rides and attractions.
Silver Dollar City also encompasses restaurants, shows, and shopping opportunities. The park puts on different culinary classes and artisan demonstrations as well.
Able to facilitate large events, Silver Dollar City is also home to seven world-class festivals throughout the year, including the annual Harvest Festival.
Interest in the area first began with the discovery of what was quickly named Marvel Cave. The deep wonders of the cave eventually generated aboveground attractions as well, leading to a thematic mining town complete with costumed characters and amusement rides.
As interest grew further, roller coasters and first-class facilities were added to the mix alongside Marvel Cave. Today, with the cost of admission, guests are granted guided entry into the cave. Whether it's part of your fun at Silver Dollar City, or the reason you go, Marvel Cave still stands as the cave that helped build Branson into what it is today.
Address: 399 Silver Dollar City Parkway, Branson, Missouri
Official site: https://www.silverdollarcity.com/theme-park
3. Branson Scenic Railway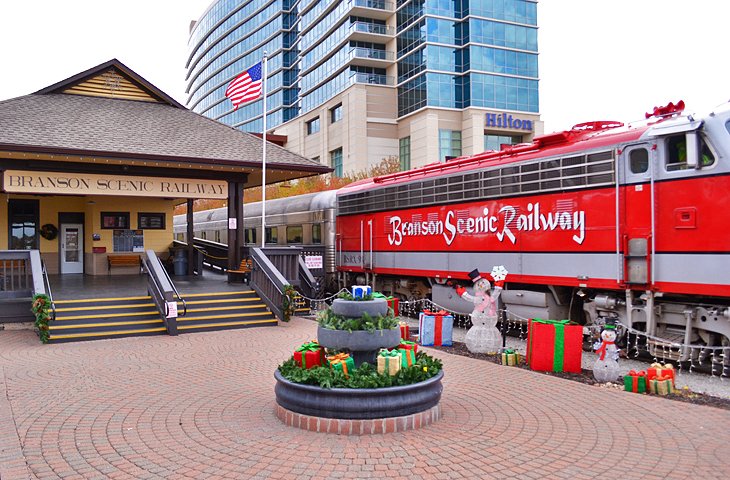 The Branson Scenic Railway takes patrons through the Ozark foothills and down the historic tracks of the transportation era. The Depot is located near the Historic Downtown District on the east side of the city. Traveling either north or south from this historic 1905 Depot, the Branson Scenic Railway navigates lush scenery complete with tunnels, trestles, and true Ozark wilderness.
The restored passenger cars are a part of the story of the Branson Scenic Railway. All ticketholders are encouraged to check out the connected collection of classic railcars during the nearly two-hour ride. The 40-mile round trip also comes with a friendly narration that points out the most scenic attractions along the way.
The Branson Scenic Railway offers special events throughout the year in addition to their regular rides, including a Polar Express Train Ride during the holidays. The railway also features a dinner train offered on Saturdays from April through October. Trains run daily from the depot, except select Sundays.
Address: 206 E. Main Street, Branson, Missouri
Official site: http://www.bransontrain.com/
4. Branson Landing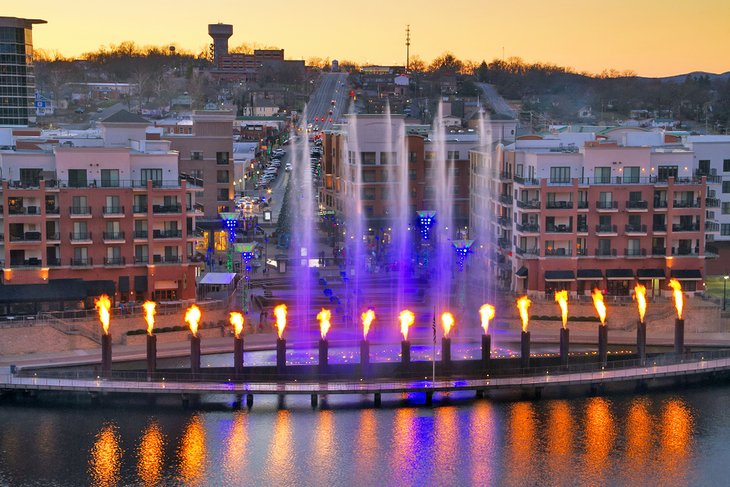 In Historic Downtown Branson, on the shores of Lake Taneycomo, Branson Landing is a one-stop spot for dining, entertainment, and shopping. Next to the Branson Scenic Railway Depot, this engaging public space features over 100 storefronts adjacent to a charming promenade.
The most eye-catching feature of Branson Landing is the Branson Landing Fountains near the shore of Lake Taneycomo. These 120-foot geysers combine with pyrotechnics and music to make for a dazzling show. Also known as Branson Landing's Crown Jewel, these family favorite displays occur everyday on the hour between noon and 10pm.
5. Museums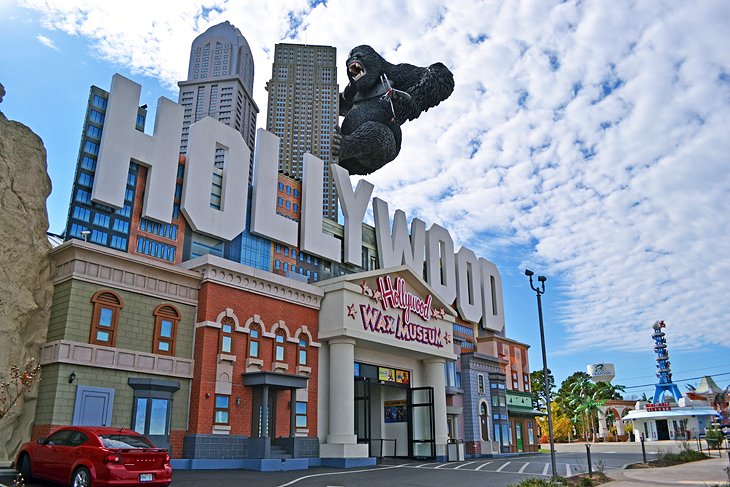 Family friendly museums are stacked to the brim all along Highway 76 and Branson's Entertainment District. Ranging from a massive replica of a Titanic ship to a Hollywood-style Mount Rushmore, the different museum options in Branson go beyond the ordinary and appeal to everyone who visits.
The Veterans Memorial Museum is a must-see and features 10 show halls that cover 20th-century American combat. Less than three miles down the highway, the Ripley's Believe It or Not Branson Odditorium displays a different slice of life and features a wide array of hard-to-believe artifacts from across the world.
Other popular museums to visit in Branson's Entertainment District include the Titanic Museum, entered through an artificial iceberg, and the Hollywood Wax Museum, complete with a big collection of replica pop icons.
Other memorable museums in Branson include World's Largest Toy Museum, the Celebrity Car Museum, and the Ozark-related Ralph Foster Museum at Lookout Point.
6. Talking Rocks Cavern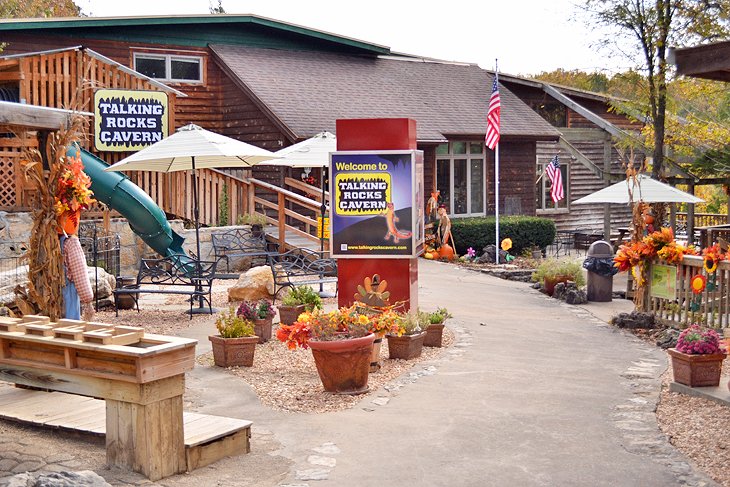 Located in West Branson, 10 miles west of Branson's Entertainment District, Talking Rocks Cavern provides subterranean excitement. This popular family-friendly establishment also features plenty of above-ground things to do, too.
The absolute highlight of any visit to Talking Rocks Cavern is the one-hour tour of the namesake attraction offered throughout the day. The guided tours at Talking Rocks take patrons deep into the cavern, navigating stairs and exploring the ancient features that have defined the area for thousands of years. Tours cater to most members of the family, and there is no crawling of any kind.
Aboveground activities at Talking Rocks Cavern include mini-golf, gemstone mining, and nature trails. The facility also features two challenging "Spelio-Boxes," which are wooden-box mazes constructed to simulate the tight environments encountered while cave exploring.
Address: 423 Fairy Cave Lane, Branson West, Missouri
Official site: http://www.talkingrockscavern.com/
7. Table Rock State Park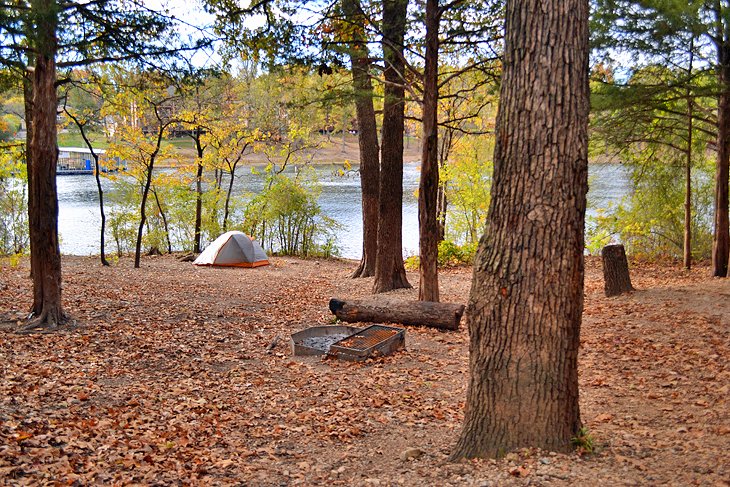 Just south of the city and on the shores of Table Rock Lake, Table Rock State Park is a great natural getaway into the Ozarks. This expansive state park features second-growth oak forests intertwined with multi-use trails, and plenty of access to the sprawling waters.
Table Rock State Park offers popular activities, such as mountain biking, fishing, and spending the night under the stars. The 2.25-mile Table Rock Lake Shore Trail is a great way to appreciate the lake from land, and thanks to the State Park Marina and full line of boat rentals, appreciation can be found on top of the water as well.
To extend your stay at Table Rock, the state park also provides two campgrounds complete with non-electric and electric campsites, shower facilities, and flushing toilets. A two-night minimum is required when booking a weekend campsite in advance. Table Rock also features a premium yurt complete with two bedrooms, televisions, and a kitchen with an electric stove.
Address: 5272 MO-165, Branson, Missouri
Official site: https://mostateparks.com/park/table-rock-state-park
8. Family Fun in Branson's Entertainment District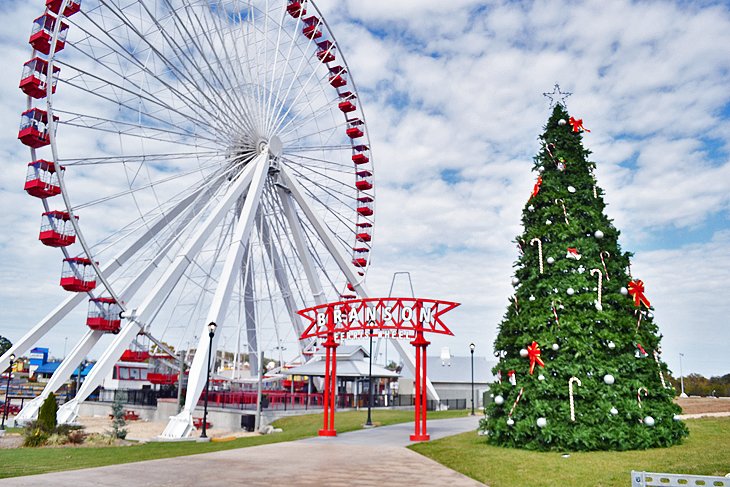 In addition to the many live shows and museums to check out in Branson's Entertainment District, other family friendly activities easily catch your attention. Whether you feel the need for some speed on a corkscrew go-kart track, or you want to sink the winning putt on the 18th-hole of a thematic mini-golf course, the Entertainment District of Branson offers endless days of activity.
Bigfoot on the Strip is easily seen from the street, including its 200-foot tower amusement ride. Across the highway, the White-Water waterpark is a popular destination during the summer, as well as the neighboring Track Family Fun Parks and their epic go-kart tracks. For a great view of everything Branson's Entertainment District has to offer, the giant Ferris wheel found off Highway 76 can give you a good sense of all there is to do.
9. Lakeside Forest Wilderness Area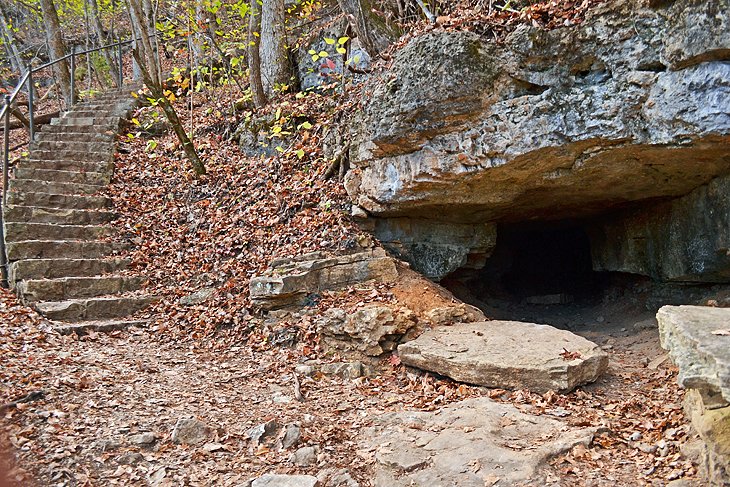 Just south of Highway 76 and Branson's Entertainment District, Lakeside Forest Wilderness Area showcases the Ozark formations that define the region of southern Missouri. Spanning more than 140 acres, Lakeside Forest is lined with hiking trails that vary from smooth pathways to extensive staircases. Many of these trails lead to small underground caves, which are fun and safe to explore.
Visitors to Lakeside Forest can opt for the Owens Drive Trail, which leads to the remains of a historic homestead. Another option is the Lake Taneycomo Trail, which covers some elevation to reveal rock grottos, caves, and great views across the wide shores of Lake Taneycomo. Lakeside Forest Wilderness Area is also popular for family picnics thanks to a large picnic shelter next to a nature-themed playground set.
Address: 412 Owen Ln, Branson, Missouri
Official site: https://www.bransonparksandrecreation.com/684/Lakeside-Forest-Wilderness-Area
10. The Butterfly Palace and Rainforest Adventure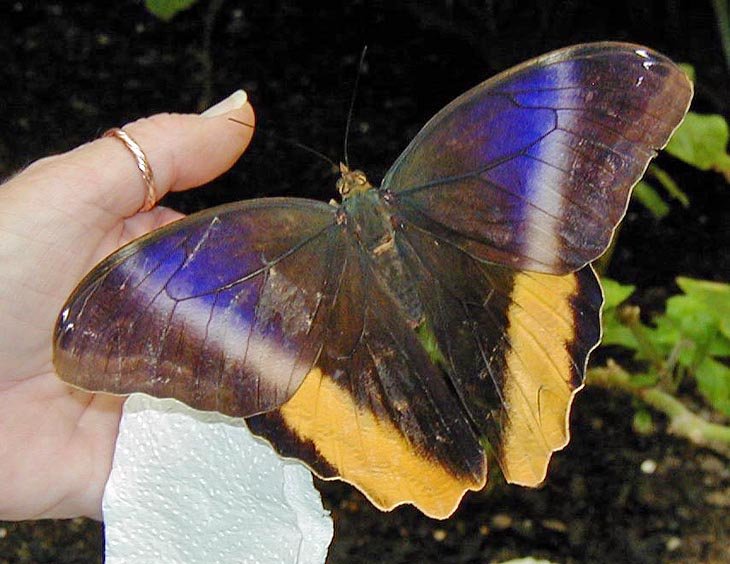 Overlooking Branson's Entertainment District on the west side of the city, The Butterfly Palace & Rainforest Adventure opens a whole new world of excitement for the entire family. Featuring a living Rainforest Science Center, exotic critter encounters, and thousands of live butterflies imported from across the world, the Butterfly Palace provides educational and fun adventures for all ages.
Patrons of The Butterfly Palace have many activities to choose from with each visit. An always favorite activity is the daily butterfly release events. Visitors to the The Butterfly Palace also have access to the interactive Great Banyan Tree Adventure and Emerald Forest Mirror Maze. No matter how you spend your time at this rainforest-inspired educational space, the Butterfly Atrium provides an experience found nowhere else in Branson.
Address: 4106 W. 76 Country Boulevard, Branson, Missouri
Official site: http://www.thebutterflypalace.com
Where to Stay in Branson for Sightseeing
Luxury Hotels:
Branson's most upscale hotel is the Chateau on the Lake Resort Spa & Convention

Center

, which is set atop a hill overlooking Table Rock Lake. The AAA Four Diamond resort features contemporary rooms and suites that are popular with families. There is a seasonal kids' club on-site, as well as a year-round nature trail, indoor swimming pool and hot tub, and multiple restaurants. In summer, a second outdoor pool and hot tub is open and there is also a marina.
The Hilton Branson Convention

Center

is a 4-star property in the historic downtown. It is connected to the Branson Convention Center and just across the street from its sister property the Hilton Promenade at Branson

Landing

, where you'll also finding a retail and entertainment district. Rooms and suites are modern and colorful. The hotel is dog friendly and amenities include a restaurant, heated pool, hot tub, and a workout room.
Mid-Range Hotels:
The Keeter Center at College of the

Ozarks

is a lovely mid-range choice right on the college campus. Located about 10 minutes from downtown Branson, it features 15 suites of varying sizes and styles. The Loft Suites have hewn-log vaulted ceilings, rich wood and leather furnishings, and a neutral color scheme. Amenities include an excellent restaurant with live music on weekends and at Sunday brunch.
In a country setting just outside downtown, the Savannah

House

has pretty views of the Ozark Mountains. The rooms and suites are modern and comfortable and there are interconnected rooms available for families. A hot breakfast is served each morning and at night a dessert spread including hot cobblers and soft-serve ice cream is offered. There is also a swimming pool on-site.
Branson's

Best

is a good value, family-owned and operated motel in a central location with easy access to downtown. Rooms and suites are clean and comfortable with crisp white linens and duvets. A hot breakfast is included, and kids stay free here. There is also a swimming pool on-site.
Budget Hotels:
The Shady Acre

Motel

is a top budget choice. The reasonably priced motel is family run and offers tidy and comfy rooms with microwaves, fridges, and coffee makers. The motel is located next to the Silver Dollar City theme park and just a few minutes away from Table Rock Lake. There is a swimming pool and BBQ facilities on-site. Kids stay free.
In a central location just off the main strip, Seven Gables

Inn

is another good choice in this price bracket. Rooms were recently renovated and have pillow-top mattresses, microwaves, and fridges. A hot breakfast is served complimentary each morning. There is also a swimming pool and free parking.
More Related Articles on PlanetWare.com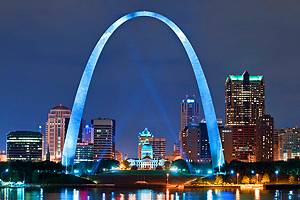 Other Cities in Missouri: For other cities in Missouri that deliver with cultural attractions and a small-town feel, the collegiate city of Columbia is a fun place to visit. Likewise, Springfield, Missouri provides several fun things to do like Fantastic Caverns and the Wonders of Wildlife National Museum. For a taste of the bigger cities in Missouri, check out our guides on Kansas City and St. Louis.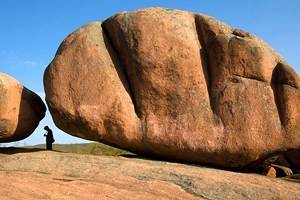 More to Explore in Missouri: The top attractions in Missouri range from beautiful natural landscapes to an impressive arch rising above St. Louis. Postcard beauty is also found across the state, and our guide to Missouri in Pictures: Beautiful Places to Photograph highlights the best places to point a camera. For a guide to the most popular vacation destinations in Missouri, check out our best things to do at Lake of the Ozarks article.