14 Top-Rated Tourist Attractions in Arkansas
Culturally rich and endowed with abundant natural resources, Arkansas offers a blend of historical and outdoor attractions. Hot Springs National Park has a long history almost as steamy as the water that fills its bathhouses, and visitors to the Crystal Bridges Museum can't help but notice the lush Ozark landscapes that surround the five decades of American art.
From the wild waters of the Buffalo River to the hallways of Little Rock Central High School, along with the replica Oval Office at the William J. Clinton Presidential Library, you'll find interesting places to visit and things to do spread throughout Arkansas.
1. Hot Springs National Park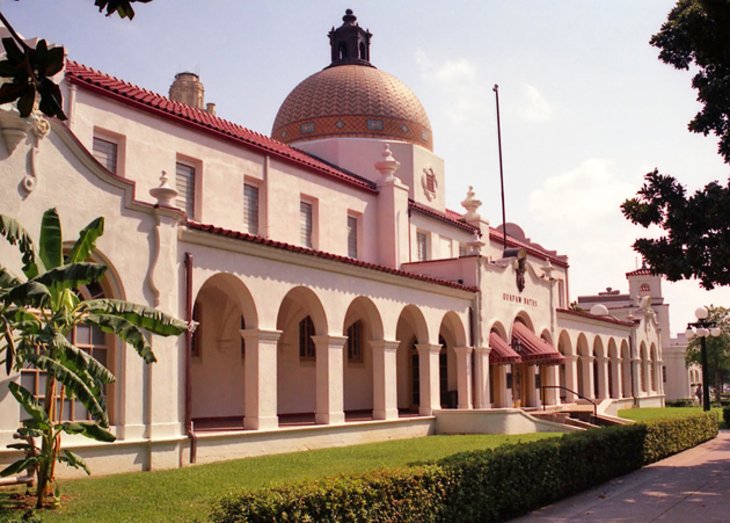 These hot springs in the Ouachita Mountains have long been a source of interest to people living in the area, and were believed by American Indians to have healing properties. The park was established in 1921, but visitors have been coming here for much longer.
The park contains lovely old bathhouses that are still in use today in various forms, including the historic Fordyce Bathhouse, which is now the park's visitor center. There are several other attractions within the park, including an observation tower, hiking trails, and plenty of opportunity to experience the different hot springs that define this natural retreat.
Address: 369 Central Ave, Hot Springs, Arkansas
Official site: https://www.nps.gov/hosp/index.htm
Accommodation: Where to Stay near Hot Springs National Park
2. Little Rock Central High School National Historic Site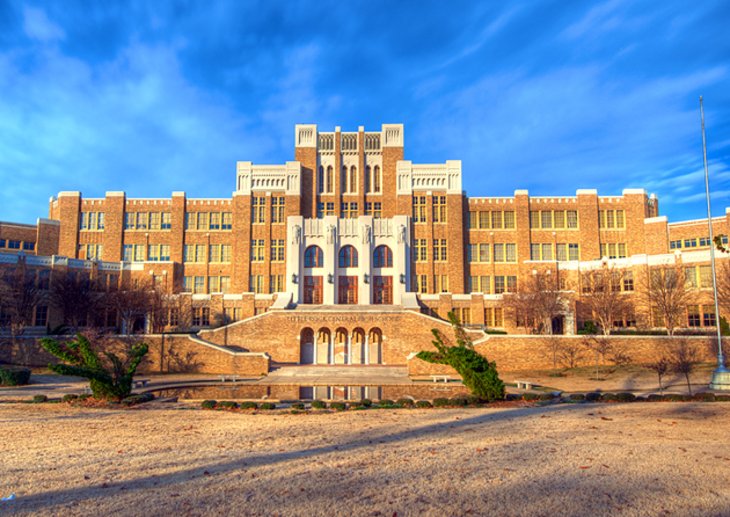 This historic school was where desegregation began. The army escorted nine black teenagers to their first day of school here in 1957, without incident. The event was noted as being an important moment in the Civil Rights Movement.
Besides a historic site, Little Rock Central High School is still an active education space with more than 2,500 students enrolled. The only way to tour Little Rock Central High School is with a ranger-led tour that must be reserved at least 24 hours in advance.
Address: 2120 West Daisy L Gatson Bates Drive, Little Rock, Arkansas
Accommodation: Where to Stay in Little Rock
3. William J. Clinton Presidential Library and Museum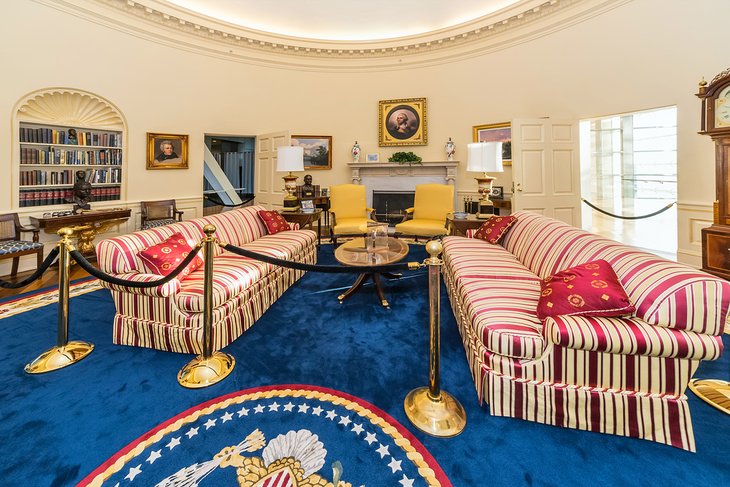 The Clinton Presidential Center stands on the edge of the Arkansas River in Little Rock, surrounded by a 28-acre public park. It serves as a presidential library and museum, as well as an occasional venue for local events.
Permanent and rotating exhibits include insights on the life and career of the 42nd president and first family, including artifacts, photos, and a full-scale replica of the Oval Office. The concept behind the building, which is meant to resemble a bridge, came from the six bridges over the Arkansas River. Metaphorically, it stands as a bridge between the past and future.
Address: 1200 President Clinton Avenue, Little Rock, Arkansas
Official site: http://www.clintonlibrary.gov/
4. Buffalo National River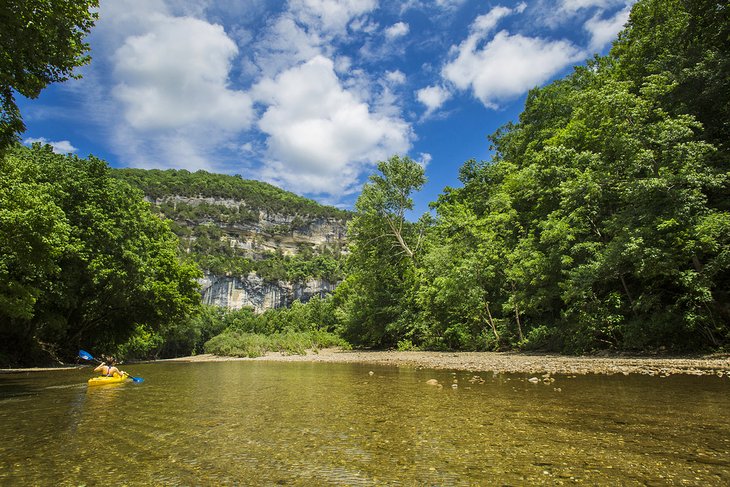 Buffalo National River is an unpolluted, free-flowing river. It has three designated wilderness areas within its boundaries. Running through the Ozark Mountains, Buffalo National River is a protected area and home to deer, bobcats, and a variety of other wildlife.
Popular things to do around the lake include hiking, camping, and horseback riding, while kayaks, canoes, and tubes can be found floating in the water throughout the summer and shoulder-season months. Information on the area can be obtained from the Tyler Bend Visitor Center.
5. Christ of the Ozarks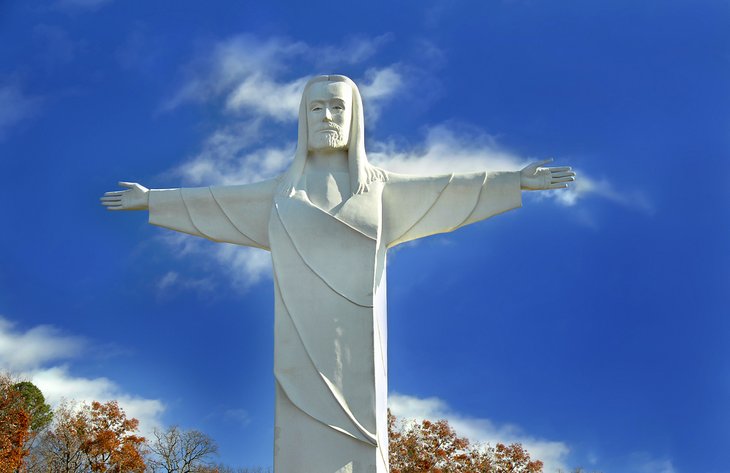 The Christ of the Ozarks is one of the most popular tourist attractions in Arkansas, standing tall on Magnetic Mountain in Eureka Springs.
The 67-foot-tall monument has been a landmark in northern Arkansas for more than 50 years. You can see the statue, with its 65-foot arm span, from nearly every corner of the town.
The complex where the statue stands has a park-like atmosphere, with plenty of parking spaces and pedestrian paths above and below the monument. There are other points of interest nearby, including a section of the Berlin Wall that is on display.
Another attraction close to the Christ of the Ozarks that many tourists combine into one visit is the Great Passion Play. The outdoor theater is a popular experience, and runs from Good Friday in the spring through October. The outdoor amphitheater is the backdrop for the Great Passion Play performances that include dramatic lighting, live animals, and more than 100 actors.
Address: 935 Passion Play Road, Eureka Springs, Arkansas
Official site: https://www.greatpassionplay.org/christ-of-the-ozarks.html
6. Arkansas Air Museum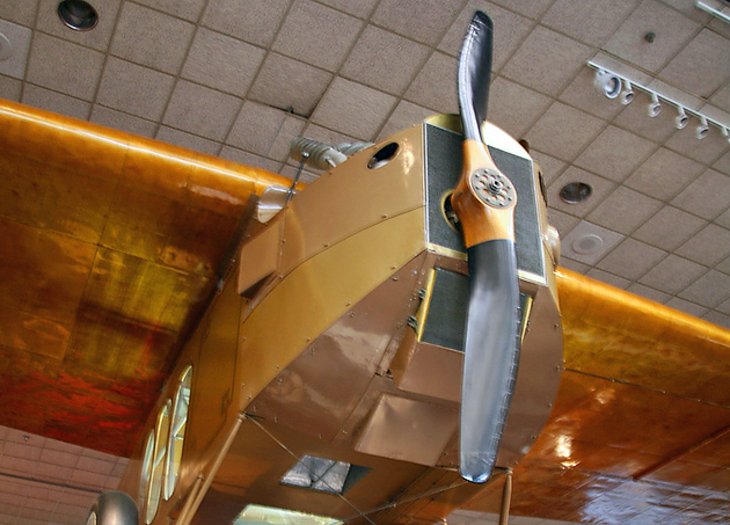 On display at the Arkansas Air Museum in Fayetteville are 1920s and 30s racing planes, biplanes, and information on the history of military aviation and civilian air travel. The building that houses the museum is a 1940s-era aircraft hangar.
Many of the vintage aircraft on display at the museum are in flying condition. Besides the massive airplanes that are hard to miss, permanent exhibits here include a large collection of military ground vehicles and artifacts from the Golden Age of air racing.
You will also find a tribute to the second-most famous American female pilot, Louise McPhetridge, who was born in the nearby city of Bentonville.
Address: 4290 South School Avenue, Fayetteville, Arkansas
Official site: http://www.arkansasairandmilitary.com/
7. Mammoth Spring State Park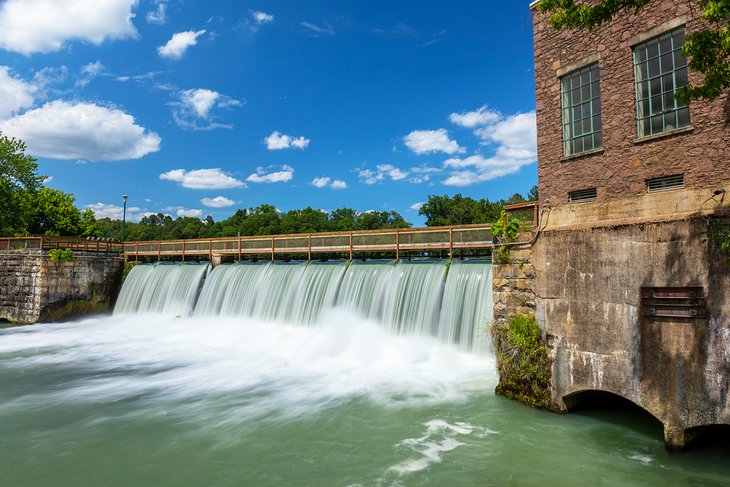 Located within the town of Mammoth Spring, the Mammoth Spring State Park is home to one of the largest springs in the USA. Water flow is approximately nine million gallons per hour.
Also located in the park is a restored 1886 train depot and a Frisco Railroad caboose.
The park is one of the best places to take a fall foliage road trip to soak in the gold and red colors of the changing leaves that blanket the dense forest. Fall foliage reports are available from the park as leaves start to change in late September through the peak color in late October.
Check out most of the action via an interpretive hiking trail, including a pathway across the dam and an out-of-service hydroelectric station. Covered pavilions are available for use, and can be rented ahead of time for large groups.
Address: 17 US Hwy 63, Mammoth Spring, Arkansas
Official site: http://www.arkansasstateparks.com/mammothspring/
Accommodation: Where to Stay near Mammoth Spring State Park
8. Crater of Diamonds State Park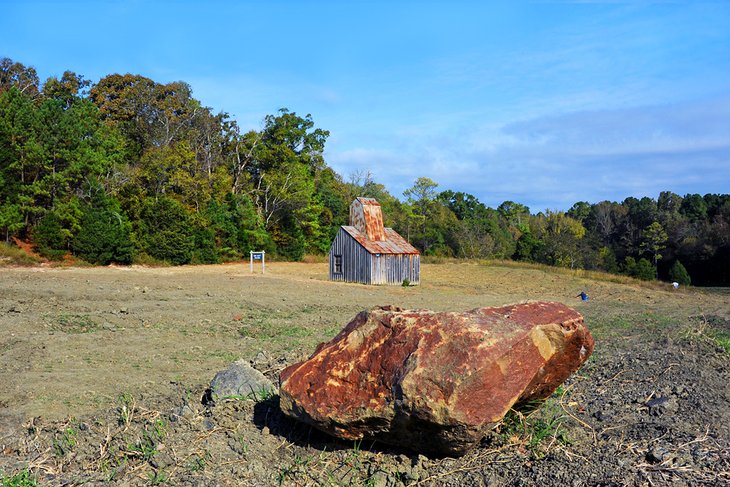 Crater of Diamonds State Park, in southwestern Arkansas, a short drive from Murfreesboro, is the only source of natural diamonds in the United States that is open to the public. Since 1906, more than 75,000 diamonds have been uncovered, including the Strawn-Wagner Diamond.
You can still find diamonds here today ranging in color from white and brown to yellow. Whatever you find at Crater of Diamonds is yours to keep. The site became an Arkansas state park in 1972. The park also features a museum, a water playground, and a tree-shaded campground with 52 sites, 47 of which are fully serviced with water/hydro/sewer hookups.
Address: 209 State Park Road, Murfreesboro, Arkansas
Official site: http://www.craterofdiamondsstatepark.com/
Accommodation: Where to Stay near Crater of Diamonds State Park
9. Thorncrown Chapel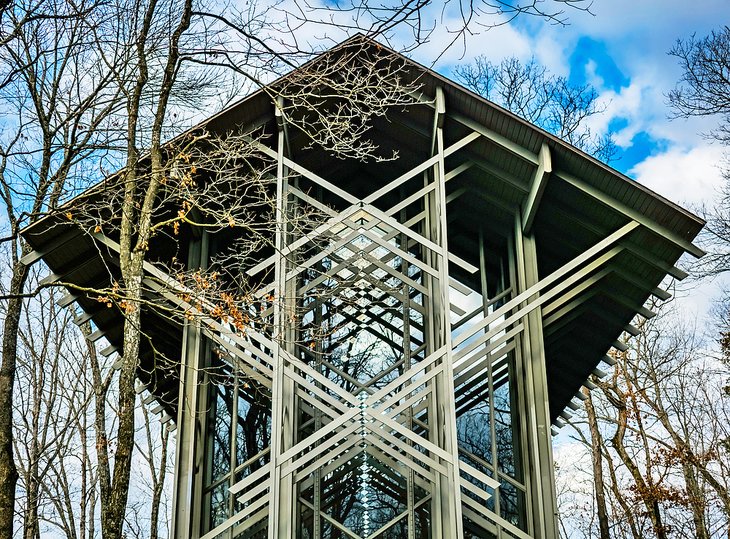 One of the top attractions in Eureka Springs, Thorncrown Chapel is a uniquely designed glass and wood structure located in a beautiful natural woodland setting. The high glass walls look out on the surrounding forest, giving the feeling of being right in the woods. This is a popular location in Arkansas for weddings.
The chapel is 48 feet tall and has more than 6,000 square feet of glass spread across 425 windows. Sunday services are held at 9am and 11am throughout the summer, with one 11am service in the winter.
Admission is free, with donations gratefully accepted. Tourists are encouraged to visit during operating hours.
Address: 12968 Highway 62 West, Eureka Springs, Arkansas
Official site: http://www.thorncrown.com/
10. Mount Magazine State Park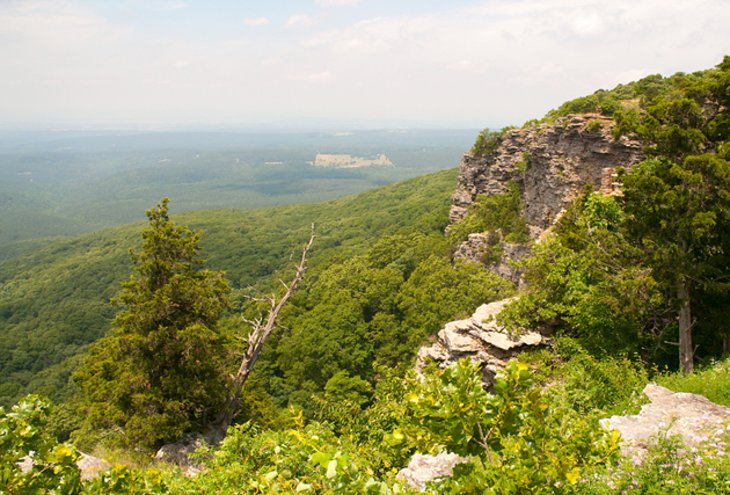 On the state's tallest mountain in northwest Arkansas, Mount Magazine offers a wide variety of outdoor activity and indoor comfort. Popular outlets for adventure include a campground, hiking trails, overlooks, and a picnic area.
The visitor center and lodge at Mount Magazine features an exhibit gallery, gift shop, and the Skycrest Restaurant complete with large bay windows that look outside. A variety of interpretive programs on the flora, fauna, and natural and cultural history of Mount Magazine are available at the visitors center.
Extreme sports enthusiasts also find their fill at Mount Magazine, and the more adventurous can go rock climbing, hang-gliding, mountain biking, or horseback riding.
Address: 577 Lodge Drive, Paris, Arkansas
Official site: http://www.mountmagazinestatepark.com/
Accommodation: Where to Stay near Mount Magazine State Park
11. Crystal Bridges Museum of American Art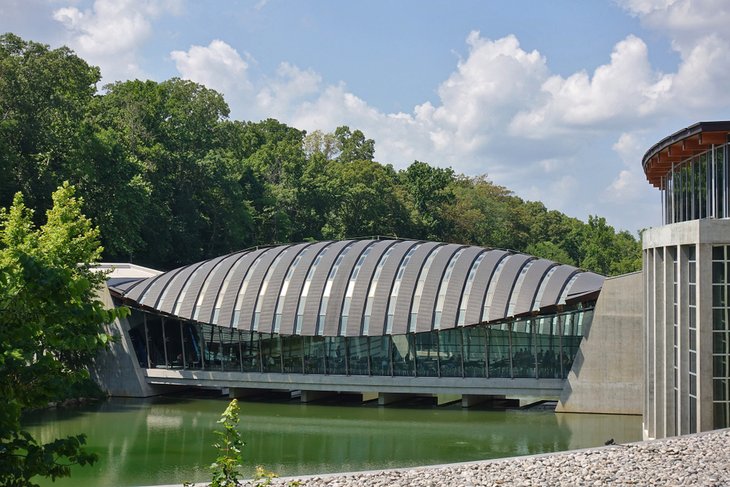 This museum in northwest Arkansas was founded in 2011 by Alice Walton and the Walton Foundation. Featuring one of the largest collections of American art under one roof, the temporary and permanent exhibits span the last five decades of American art.
Notable pieces include works by Andy Warhol, Norman Rockwell, and Georgia O'Keeffe. The architecture and surrounding natural space at Crystal Bridges blend together for an aesthetically pleasing viewing experience.
Crystal Brides maintains more than three miles of trails throughout their 120-acre forested property that are worth exploring, including a leisurely stroll along the aptly-named Art Trail.
Address: 600 Museum Way, Bentonville, Arkansas
Official site: https://crystalbridges.org/
12. Garvan Woodland Gardens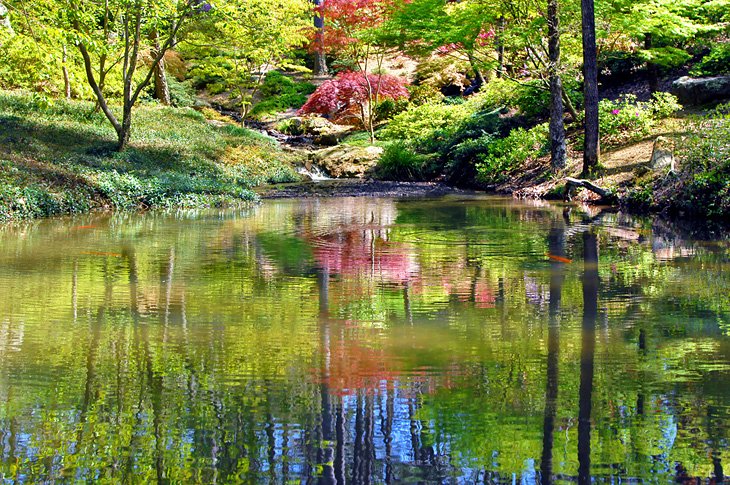 About 10 miles south of Hot Springs National Park, Garvan Woodland Gardens is the botanical garden of the University of Arkansas.
Originally spurred to life in 1956 by Verna Cook Garvan, an influential business leader of Hot Springs, the gardens have grown to include a wide array of different plots, overlooks, and scenic structures.
The Pratt Welcome Center is a great place to begin exploring the grounds and a fun spot to appreciate the resident peacocks. Other visitor favorites include the Evan Children's Adventure Garden, the on-site Chipmunk Café, and the Anthony Chapel with floor-to-ceiling windows.
Address: 50 Arkridge Road, Hot Springs, Arkansas
Official site: https://www.garvangardens.org/
13. Blanchard Springs Caverns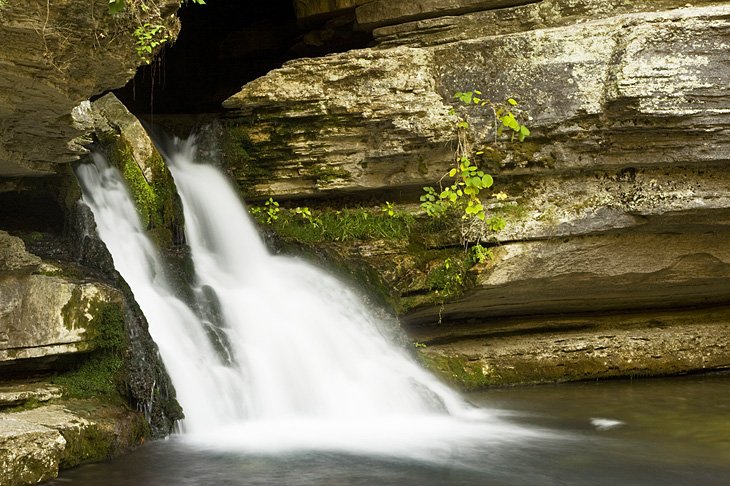 Located in northern Arkansas and within the Ozark-St. Francis National Forests, Blanchard Springs Caverns are a great example of the dynamic natural systems found underground. The caverns themselves have been growing and changing for thousands of years, and visitors today can witness moving water still carving its way through the cave.
The only way to explore Blanchard Springs Cavern is through one of three ranger-led tours, including the popular 1.2-mile Discovery Trail. Outside the cave and above ground, the surrounding landscape is also fun to explore, especially Blanchard Spring itself, which is a picturesque Ozark Mountain waterfall.
Address: 704 Blanchard Springs Road, Fifty-Six, Arkansas
Official site: https://www.fs.usda.gov/detail/osfnf/specialplaces/?cid=stelprdb5351305
14. The Walmart Museum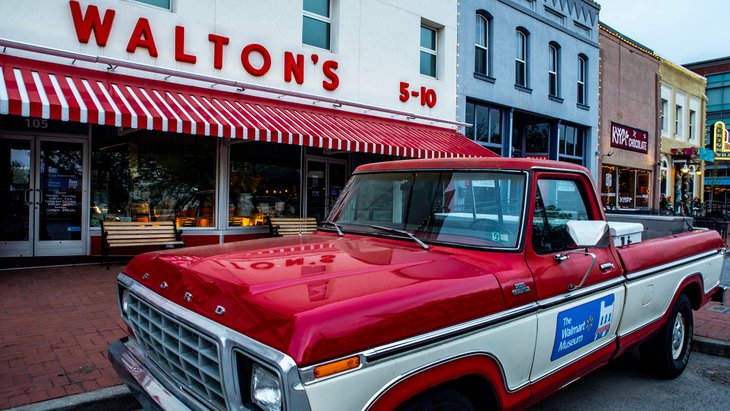 Located in the hometown of Sam Walton, Bentonville, the Walmart Museum is a must-see for anyone interested in the history of this powerhouse retailer. Fascinating displays trace the history of how it all began, and lead up to the present day.
Behind glass panels, Sam Walton's office is forever preserved just the way it was, complete with wood paneling and other fixtures from times past. Right next door is the original Walton's 5&10, complete with tin ceilings and mismatched red and green floor tiles.
For a sweet treat stop in at the Spark Café next door and grab an ice cream, float, coffee, or soda. The ice cream menu is extensive, with offerings from banana splits right through to the 16 scoop Supercenter sundae. For an eye-popping experience, try the Spark flavor, it comes in the Walmart colors of blue and yellow. The ice cream is supplied by Yarnell's, a local dairy company.
Address: 105 N Main Street, Bentonville, Arkansas
Official site: https://www.walmartmuseum.com/content/walmartmuseum/en_us.html