14 Top-Rated Beaches in Missouri
Missouri is not necessarily known for its beach scene, but the landlocked state has many sandy spots that are great for a swim and a day in the sun. There are many public beaches in the state parks throughout Missouri around the Lake of the Ozarks. There are also quite a few resort communities, like Sunrise Beach, with beaches to use.
Some of the top swimming spots and beaches in the state are on popular lakes that are also great for water recreation, like boating and fishing. So, pack a picnic lunch and plan your day by the water with our list of the best beaches in Missouri.
1. Fugitive Beach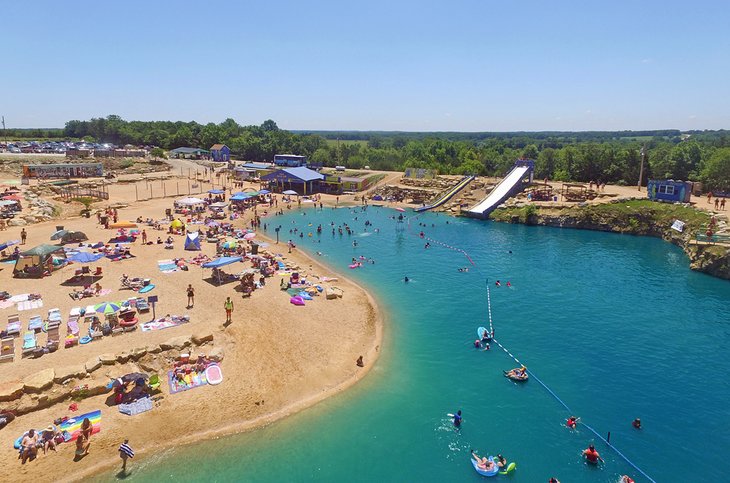 One of the most exciting beaches in Missouri is Fugitive Beach in Rolla, Missouri not far from Springfield. The area is a former quarry that has been turned into a top summer water destination in the state. You can swim or play on one of the large inflatable waterslides or join in a game of beach volleyball.
For the brave, there are 10- to- 20-foot cliff jumps around the beach from the steep ledges of the quarry. The beach park has all the amenities you need for the day, including cabanas, picnic, tables with grills, and concessions.
Due to the deep water of the quarry, guests must sign a waiver agreeing to the beach rules upon entering. Life jackets are available.
There are several campgrounds and RV parks located close to the beach, or you can stay in Rolla, which is just a few miles away.
Address: 16875 County Road 5285, Rolla, Missouri
Official site: https://www.fugitive-beach.com
2. Public Beach #1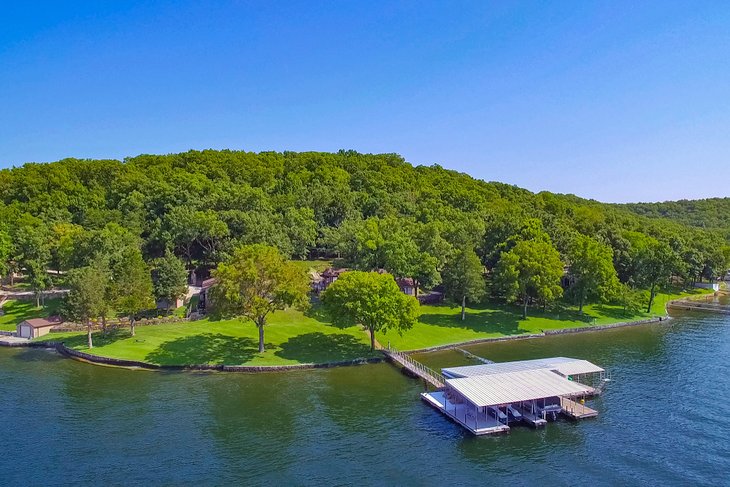 Public Beach #1 in the Lake of the Ozarks is one of a few public beaches that are easily accessible. The beach is located in Lake of the Ozarks State Park, just off Highway 134.
This is a nice sandy beach, with several picnic areas with tables and outdoor grills, restrooms, and changing facilities nearby. There is also playground equipment near the beach for children who need a break from water activities.
There are great picturesque views of the Lake of the Ozarks whether you are relaxing on the beach or swimming in the water. If you want to extend your day outdoors, you can rent a kayak or paddleboat at the marina and paddle along the designated aquatic trail.
3. Moonshine Beach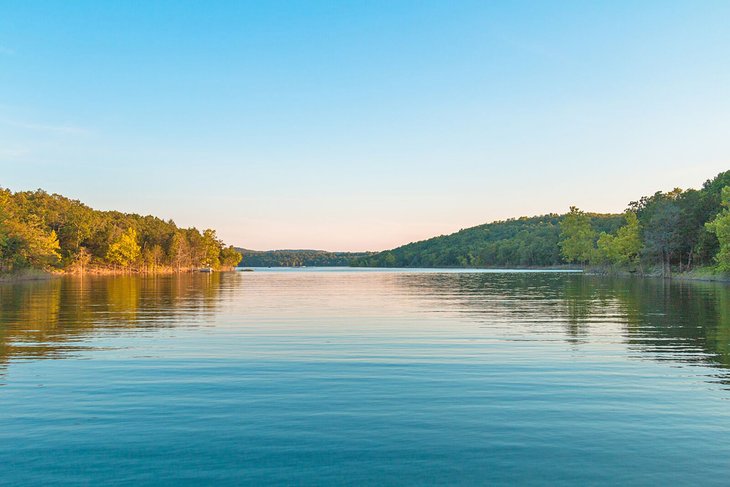 Moonshine beach at Table Rock Lake in southwest Missouri is a popular swimming beach near Branson and about 25 minutes from the Rockaway Beach resort community. This beach is nice because there is a lot of space, picnic areas, and volleyball courts. It is also a scenic beach because of the clear water and the surrounding forest.
Table Rock Lake is a popular place for scuba divers because of the dramatic rock formations. Visitors also like this beach because of the diversity of recreation available, from swimming and boating to fishing and hiking on the Table Rock Lakeshore Trail, which is easily accessible from the Dewey Short Visitor Center.
Address: Highway 165, Branson, Missouri
4. Grand Glaize Beach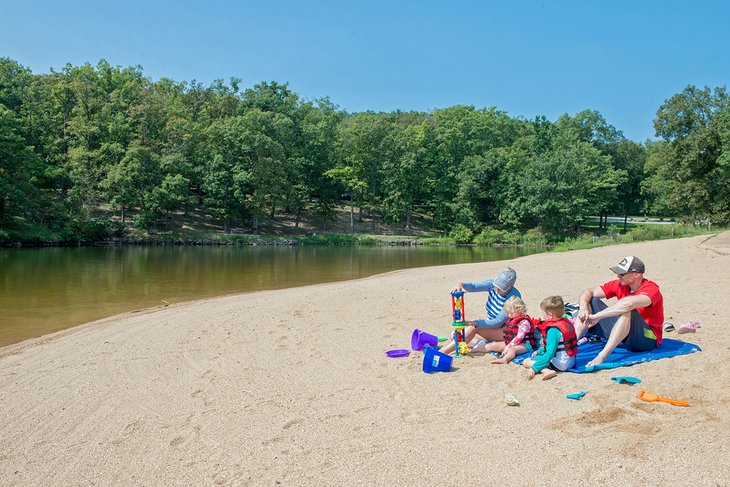 Grand Glaize Beach is also referred to as Public Beach #2 in the Lake of the Ozarks State Park near Osage Beach, Missouri. It is located just off Highway 54 near the Grand Glaize Bridge.
If you are new to Missouri and looking for an easy swimming spot while on vacation, Grand Glaize is a nice pick. The beach is a sandy public beach with many picnic areas. There are tables and grills, restrooms and changing facilities, and a children's playground nearby.
Grand Glaize is a popular beach for swimming, but the state park has many other things to do and outdoor recreation if you want to add other activities to your stay. Boating is popular, and there are a number of hiking trails to explore.
If you're looking for somewhere to stay, you'll find inns and hotels a few miles from the state park, including the LakeHouse Hotel with a pool, waterslide, and free breakfast; and the Lodge of Four Seasons, a pet-friendly hotel with a spa, golf course, and suites.
5. Stockton Lake Public Beach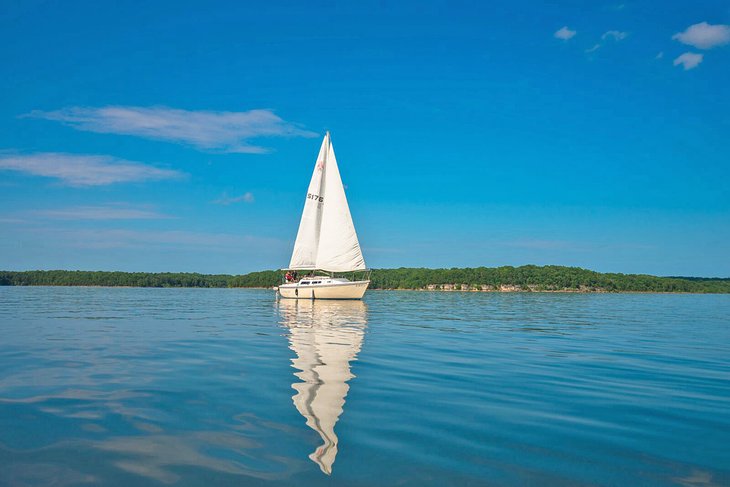 One of the most popular spots during the summer at Stockton Lake State Park in southwest Missouri is the Stockton Lake public beach. The water here is great for swimming. The Stockton Lake beach is located close to the marina, where you can find snacks and rent boats for a day on the water.
The consistent breeze on Stockton Lake makes it one of the most popular places for sailing in the state. There is a sailing school at the marina.
Stockton Lake is also a top place in the state for scuba divers. Because of the clean and clear water in the lake, beginning divers often come here to practice their skills.
6. Long Branch Beach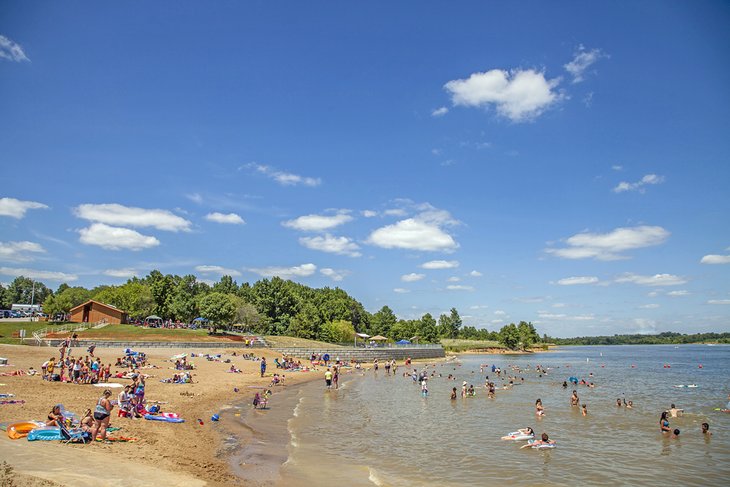 Long Branch State Park near Macon is popular with families, with a nice sandy public beach for swimming in the lake. There is a day-use area near the beach, with picnic areas and changing facilities. The marina has boat ramps and a store where you can pick up sunscreen and snacks for the day.
The public beach is a comfortable gathering spot for vacationers and locals because of the conveniences nearby and activities like the sand volleyball that gives those who are not swimming something to do.
Long Branch Lake has three boat ramps around the lake for water access. Other activities include kayaking and exploring the many hiking trails through the prairies in the state park. A modern campground in the park is a nice option for overnight stays.
Address: 28615 Visitor Center Road, Macon, Missouri
7. Pomme de Terre Lake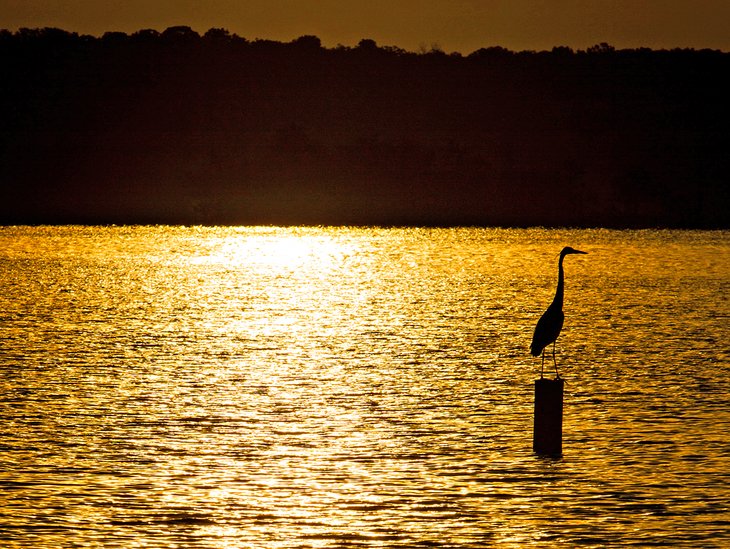 The beaches at the central Missouri Pomme de Terre Lake in Pittsburg are smaller but nice if you are planning a camping trip or just want a smaller beach experience for the family. There are two swimming beaches open for the public in the Pomme de Terre State Park that are quieter than some other popular beaches in Missouri.
The park has several hundred campsites, hiking trails, and a marina with boat ramps, so you can stay active for several days on the water. For an added activity, you can look for some of the 149 species of birds that have been spotted in this park.
Address: 23451 Park Entrance Road, Pittsburg, Missouri
8. Creve Coeur Lake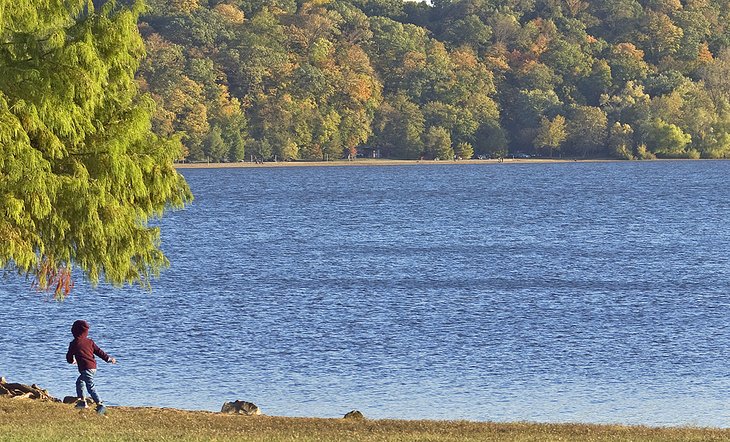 The closest beach to St. Louis is at Creve Coeur Lake, which is a large natural lake in Missouri. It is easy to get to in the Creve Coeur Memorial Park in Maryland Heights community, which is about 20 miles outside of St. Louis. Swimming is not allowed at the beach, but it is a popular place to relax with a picnic or take up a game of sand volleyball.
Creve Coeur Lake is a great lake for renting a canoe, kayak, or paddleboard and enjoying the calm waters. There are also a number of hiking and biking trails. For kids that want to cool off, there are several spray fountains in the park.
Address: 13236 Streetcar Drive, Maryland Heights, Saint Louis, Missouri
9. Mark Twain Lake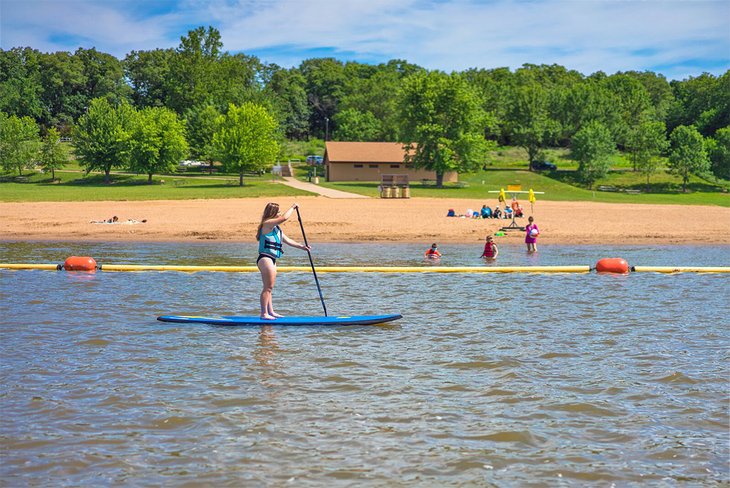 One of the best and most popular beaches in Missouri is at Mark Twain Lake in Mark Twain State Park near the village of Florida, which is the birthplace of the famous American author. The park is in northeast Missouri and has a great public recreation area including a sizable public beach on the north side of the park.
Mark Twain Lake beach allows public swimming and has a changing facility, so you can mix in some walking or biking before or after playing in the water. There is usually a good amount of activity at the beach and the park in the summer months because it has many picnic areas, boat ramps, and green space that both locals and vacationers like to use.
Address: 37352 Shrine Road, Florida, Missouri
10. Finger Lakes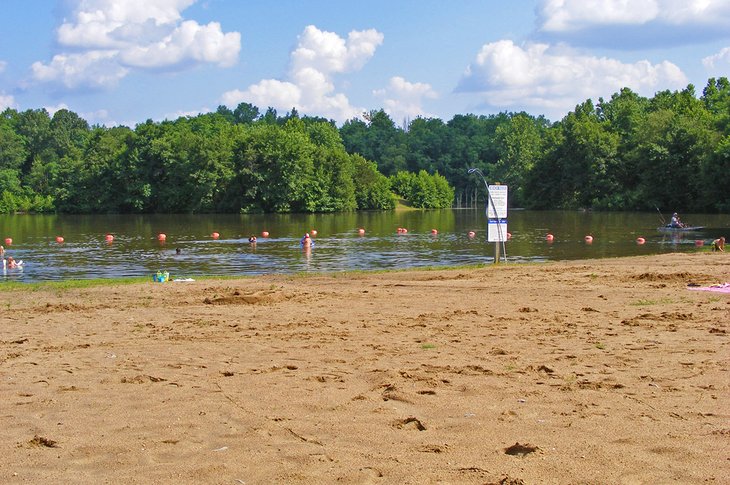 The beach at Finger Lakes State Park near Columbia, Missouri is just one of the many popular activities in this public recreation area. The public beach has a sandy area and is a nice swimming beach. Besides swimming, other popular activities here are canoeing, fishing, and scuba diving. There is also a 4.5-mile water trail for kayaking that connects several lakes.
The park was built in an area once used for coal mining, so there are rolling hills great for ATV trekking and a unique scenic landscape.If you want to stay for several days and take advantage of the 70 miles of dirt off-road trails and other water activities, you can book a campsite on the property.
There are picnic areas throughout the park if you just plan to stay for the day.
Address: 1505 Peabody Road, Columbia, Missouri
11. Truman Lake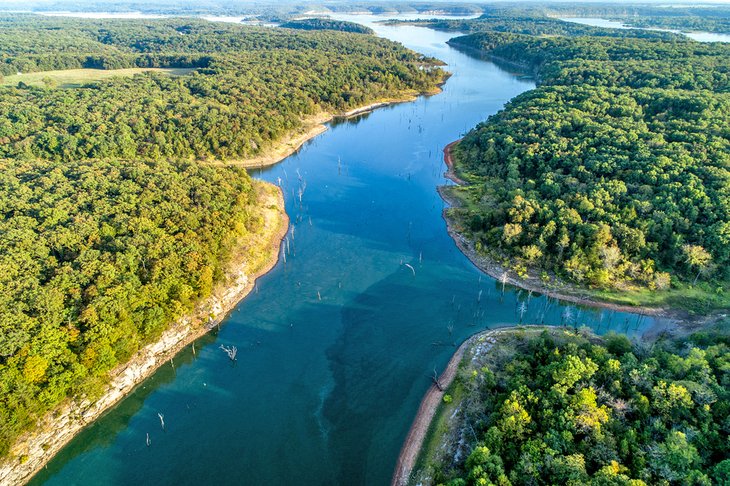 Truman Lake, officially called the Harry S. Truman Reservoir, is a 56,000-acre water playground, including a public beach, in Warsaw, Missouri. There is more than 958 miles of shoreline in the Harry S. Truman State Park, with spectacular views of forests and steep bluffs surrounding it.
There are two public swimming beaches at Truman Lake, both with changing facilities and restrooms.One public beach is located at the campground and designated for use by campers only, but there is also a day-use beach.
If you are looking for a Missouri beach where you can spend a couple of days or a full vacation, this one is it. There is an abundance of wildlife to see at the park, as well as recreation like boating, fishing, and hiking. You can book a campsite or stay in a cabin or vacation rental near the lake.
12. Rocky Falls Beach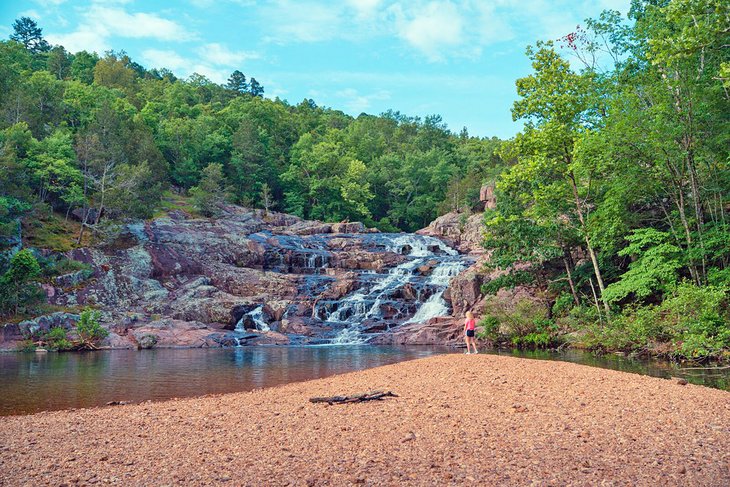 One of the most unique beaches in Missouri is Rocky Falls Beach near Winona in southeast Missouri. The rock surrounding the water is more than 1.5 billion years old, creating the most exciting backdrop for one of Missouri's best swimming holes.
The small gravel beach is not the wide sandy experience that you will have at some state park beaches, but your swim at Rocky Falls will feel like a refreshing summer dip in a small natural swimming pool.
Rocky Falls is a segment of the Ozark National Scenic Riverways, which protects river systems. The swimming spot at Rocky Falls is located at Rocky Creek in the Stegall Mountain Natural Area. The natural water area is made even more beautiful by the waterfall, which creates a natural waterslide for swimmers at the bottom.
Address: County Road NN-526, Winona, Missouri
13. Lake Boutin Beach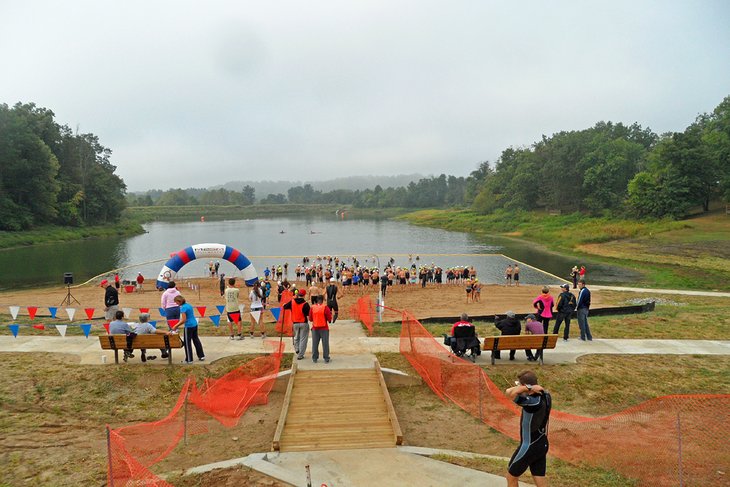 The large public recreation area in the Trail of Tears State Park includes a nice public beach on Lake Boutin near Jackson, which is popular in the summer. This beach is great, especially for families, because it is sandy enough to build castles and play, and the water is calm.
The beach has great swimming areas and plenty of picnic tables for a full day near the water. Lake Boutin Beach is a popular spot for local triathlons and swimming events. This beach is nice for anyone looking for a little something extra to do beyond swimming.
There is a great interpretive center where you can learn about the Trail of Tears and the native Cherokee Indians. Lake Boutin is where the public beach is located, but you can also canoe and fish along the shoreline. There are campsites in the park.
Address: 429 Moccasin Springs Road, Jackson, Missouri
14. Shady Beach
Shady Beach is a popular swimming spot, especially on summer weekends. The actual beach is approximately a quarter-mile long, but this location is nice because of the access to the Elk River near Noel, Missouri.
Many people enjoy swimming at the beach and also taking a float trip down the river, so you can tackle two types of activities in one location. There is ample lodging at Shady Beach, with a nearby campground, cabins, and vacation homes available for rent.
Address: 136 Shady Beach Lane, Saint Clair, Missouri
More Related Articles on PlanetWare.com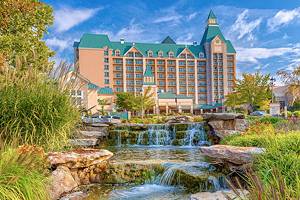 Where to Stay: If you are looking for a more pampered vacation, there are many resorts in Missouri, from the quiet Ozark Mountains to the tourist center of Branson. Mainstream lodging is easy to find in places like St. Louis, where you can stay and do activities in the city, then make day trips to the state parks for swimming. If you are planning a more rustic vacation, there are many great campgrounds at Lake of the Ozarks that keep you close to outdoor activities like fishing and hiking.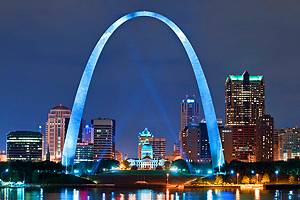 Things to Do: While finding the best beaches in Missouri might top your list, there are some other great activities in the state that you might want to work into your itinerary. St. Louis has great free activities, like the public zoo and the famous St. Louis Arch. Springfield, in southern Missouri, has great historical sites and natural areas, including caverns. Another option is Columbia in the center part of the state. It's a nice college town, with modern museums to visit.