12 Top-Rated Things to Do in Paducah, Kentucky
Built upon and surrounded by major American waterways, Paducah is at the heart of the Four Rivers Basin in western Kentucky. Historic downtown Paducah abuts the confluence of the Ohio and Tennessee Rivers, and the wide banks of the Cumberland and Mississippi Rivers can be found nearby. This strategic shipping and steamboat port location, also a central hub in railroad transportation, has attracted explorers, industry, and tourists to Paducah for more than 200 years. Today, the rivers and rich landscapes surrounding the city are forever entwined in the community of Paducah and its many fun things to do.
The Floodwall Murals separating the historic downtown district and the river's edge best exemplify the city's connection to the water, and the many different illustrations paint a bright picture of Paducah's storied past. Across from the murals, the historic downtown district provides a dense collection of cultural establishments, including the central artistic outlet of the National Quilt Museum with hundreds of colorful artworks on display. Other downtown attractions include the River Discovery Center, the Yeiser Art Center, and public events like the Paducah Farmers' Market. Surrounding the city, natural spaces like the Shawnee National Forest and Land Between the Lakes National Recreation Area provide even more to explore when visiting Paducah. Plan your sightseeing adventures with our list of the things to do in Paducah, Kentucky.
1. The National Quilt Museum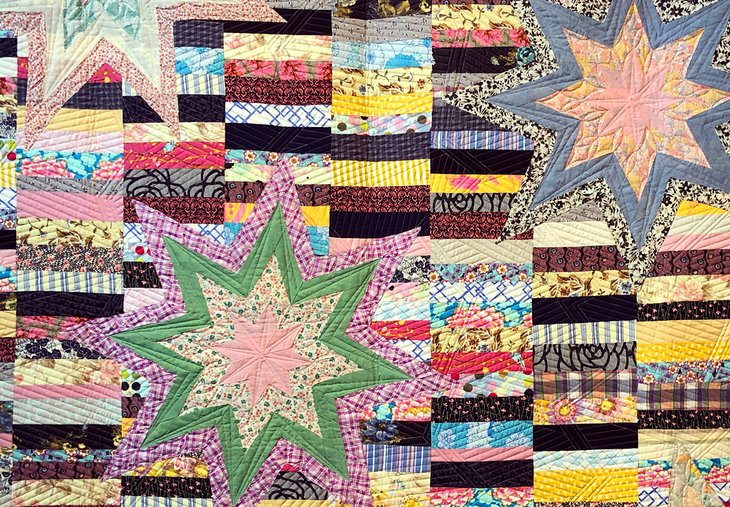 Adjacent to the historic downtown district, this world-renowned museum displays the creative thread that winds its way throughout the rest of the city. As a leading institution of quilting and fiber artworks, more than 100,000 patrons visit the National Quilt Museum each year, including many international tourists. Adorning all 13,000-square feet of the museum, stunning quilts and other fine fiber artworks draw the diverse crowd, and the regularly rotating galleries ensure something new to see with each visit.
The brainchild of two passionate quilters in Paducah, the National Quilt Museum and American Quilters Society strive to educate and advocate for the artwork. Offering adult workshops, junior quilters clubs, and multi-day retreats, the museum inspires creativity in many ways. Other fun attractions at the museum include a free lobby area adorned with stained glass windows and various sculptures. Great for a group visit, the museum offers a program called "The Museum Experience," which provides a guided tour and a hands-on quilting activity.
Address: 215 Jefferson Street, Paducah, Kentucky
Official site: http://www.quiltmuseum.org/
2. Historic Downtown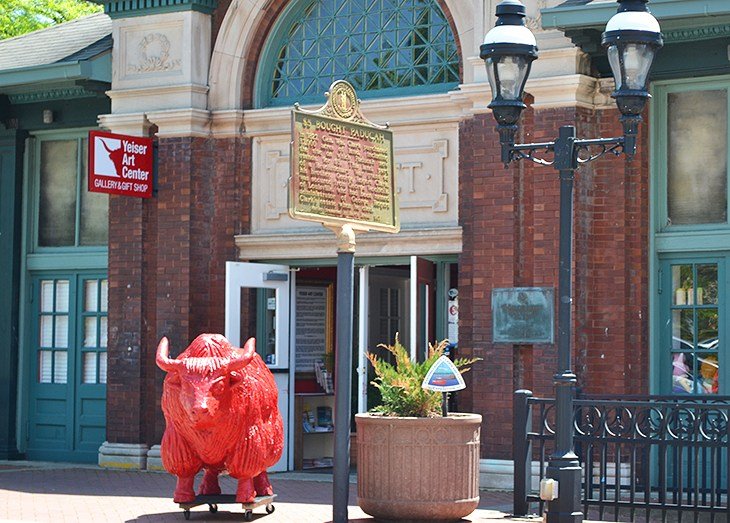 Separated by the iconic Floodwall Murals, the brick-laid sidewalks of historic downtown attract the footsteps of tourists and residents alike. Throughout the narrow and shaded streets, different art galleries, museums, and local eateries provide many reasons to visit, and the laid-back atmosphere of this pedestrian quarter encourages a slowed-down pace.
A few recommended places to check out include the William Clark Market House Museum, which is made to resemble a 19th-century drugstore. Nearby, the Yeiser Art Center displays a great collection of local artworks. The downtown Market House Theatre is a great place to catch a live show, and the nearby Maiden Alley Cinema and Gallery is a unique movie house screening classic, foreign, and independent films. Many of Paducah's other prominent attractions, including the National Quilt Museum, can be found adjacent to this designated historic downtown district.
3. Portraits of our Past Floodwall Mural
Editor's Pick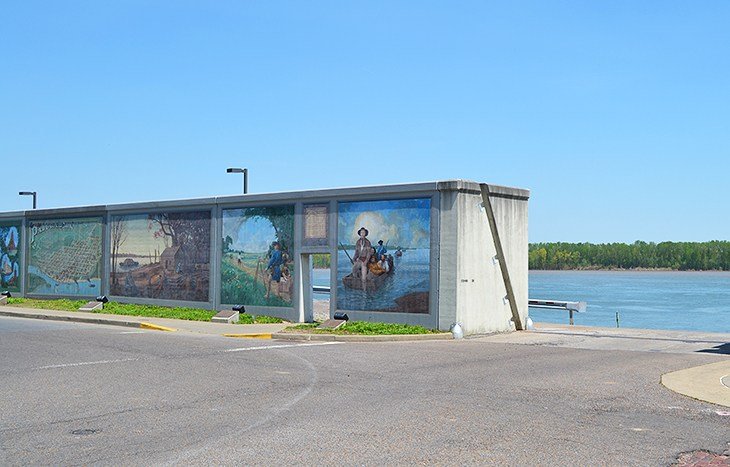 Separating the confluence of the Tennessee and Ohio Rivers with historic downtown, the floodwalls of Paducah are adorned with a little more color than your average water barrier. Across the entire concrete structure, 50 different murals depict a vibrant picture of Paducah's past. Ranging from native inhabitants of the region to Paducah's introduction as an "Atomic City," this eye-catching public art project was created by renowned muralist Robert Dafford. Each mural is a work of detailed art to appreciate, and they make an impressive display lining the river.
Address: 2613 North Water Street, Paducah, Kentucky
4. River Discovery Center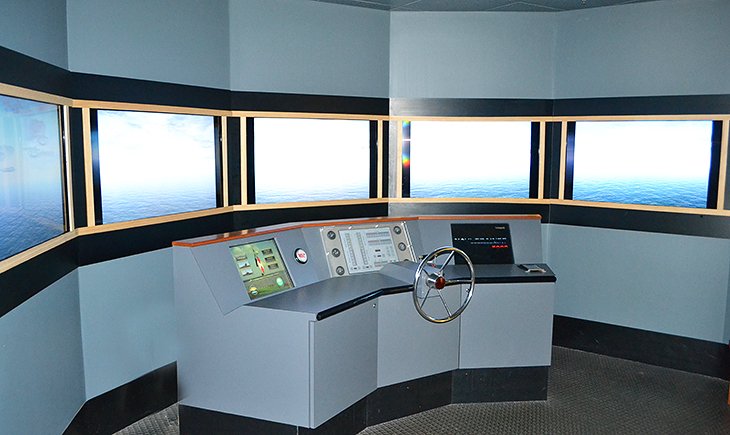 Across the street from the Floodwall Murals, this all-ages museum highlights the heritage and importance of the surrounding Four Rivers Basin. Hands-on exhibits and interactive displays at the museum relate to the natural, cultural, and historical attributes of the nearby watershed. Different galleries are dedicated to river basins and rainwater, historic steamboats and their captains, as well as the water's role in the Civil War. A five-monitor Boat Simulator at the museum allows for an immersive audio-visual experience behind the wheel of a steamboat. The museum also sponsors many educational programs and events, including animal encounters, career days, and the annual Paducah Dragon Boat Festival.
Address: 117 South Water Street, Paducah, Kentucky
Official site:http://riverdiscoverycenter.org/
5. Land Between the Lakes National Recreation Area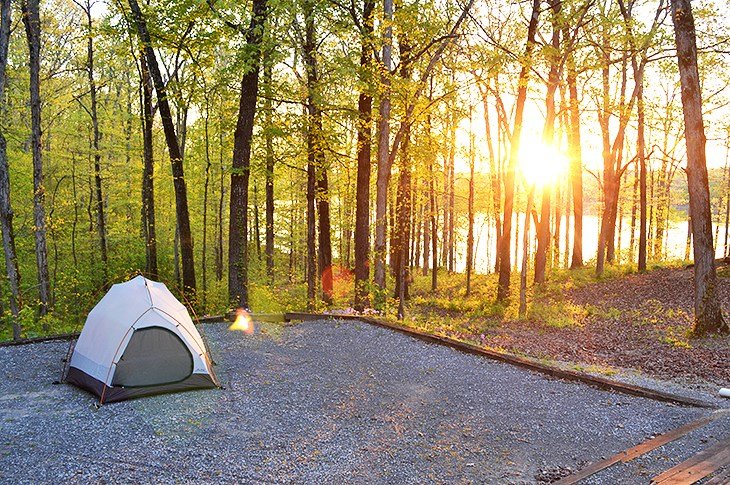 Encompassing more than 170,000 acres, Land Between the Lakes National Recreation Area is administered by the U.S. National Forest Service (USFS). Surrounded by two massive man-made reservoirs, one of which is created by the Kentucky Dam only 20 miles from Paducah, this world-renowned natural space is popular for hiking, cycling, hunting, camping, fishing, and water sports. Other popular things to do include wildlife watching, geocaching, and packing a picnic to enjoy a meal with a view.
A popular spot to visit within this federal recreation area, the Woodlands Nature Center features a rehabilitated animal viewing area, guided nature walks, and other child-oriented nature programs. The designated Elk & Bison Prairie is also fun to visit, allowing patrons to slowly drive through a 700-acre enclosure where the animals live. For a look into some of the heritage of the area, The Homeplace 1850s Working Farm is a living-history museum complete with period clothing and seasonal events throughout the year.
Address: 238 Visitor Center Drive, Golden Pond, Kentucky
Official Site: Land Between the Lakes National Recreation Area
6. Bob Noble Park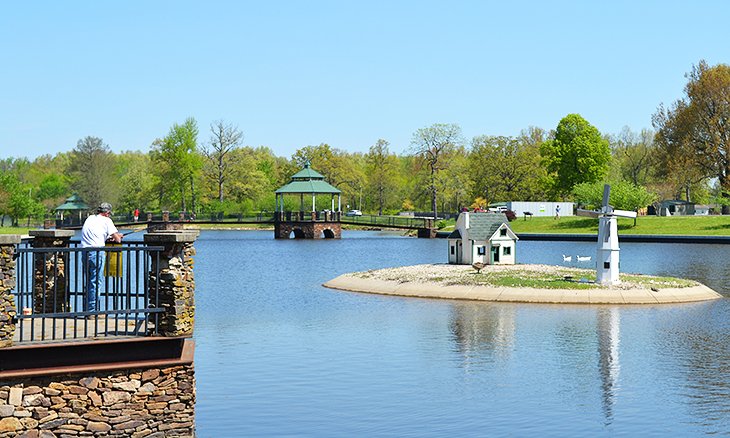 On the north side of the city, west of the downtown district, this 135-acre park offers many family-friendly things to do. The centerpiece attraction is a five-acre lake complete with fishing piers, a fountain, and a scenic walking path. Other popular recreation outlets at Bob Noble Park include a swimming pool, skate park, and playground equipment. The Clyde F. Boyles Greenway Trail is a popular attraction in Bob Noble, where users can hop on and head downtown. A variety of athletic fields and courts are also often used within the park.
Address: 2801 Park Avenue, Paducah, Kentucky
7. Clyde F. Boyles Greenway Trail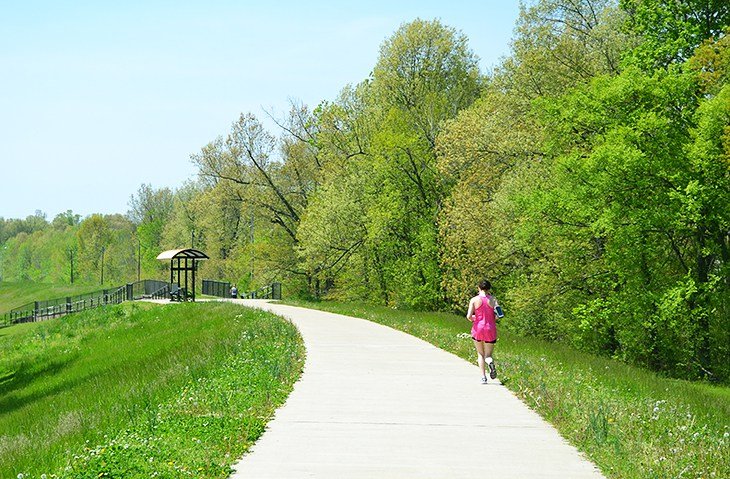 Connecting downtown with Bob Noble Park, the Clyde F. Boyles Greenway Trail is a non-motorized pedestrian path, which links together cultural and natural attractions. Great for walkers, cyclists, strollers, and rollerbladers, this Greenway Trail is planned to expand over the next decade, and the current 4.6 miles of pathway offers a great way to get around without a car. Benches, community bike tools, and a wide array of natural landscapes line the trail, including scenic bridges and viewpoints. Stuart Nelson Park is another prominent stop along the trail, and includes a dog park and disc golf course.
Official site: http://www.paducahky.gov/greenway-trail
8. Shawnee National Forest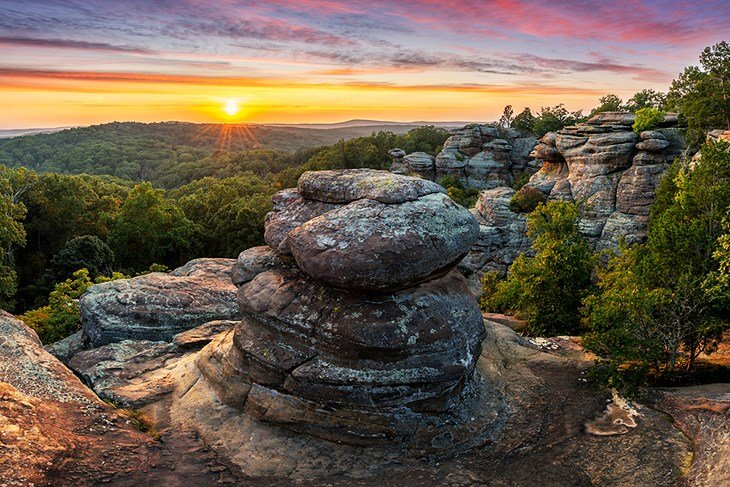 Abutting the Kentucky border in Illinois, the Shawnee National Forest is an immense natural playground filled with many recreational outlets. Encompassing nearly 300,000 acres of southern Illinois, all of this federally designated play-space can be reached from Paducah in an average hour-long drive. Shaded campgrounds, towering rock formations, and a plethora of water activities can be found in Shawnee, always with something new to explore.
Lake Glendale Recreation Area is one of the closest designated areas within the forest to Paducah, and provides opportunities for hiking, camping, swimming, and boating. Farther north in the national forest, places like Garden of the Gods and Bell Smith Springs Scenic Area are worth the 60-mile drive. For some in-person information about the forest, the Hidden Springs Ranger Station can be visited in the nearby city of Vienna, Illinois.
Location: Herold, Illinois
Official site: https://www.fs.usda.gov/main/shawnee/home
9. Paducah Railroad Museum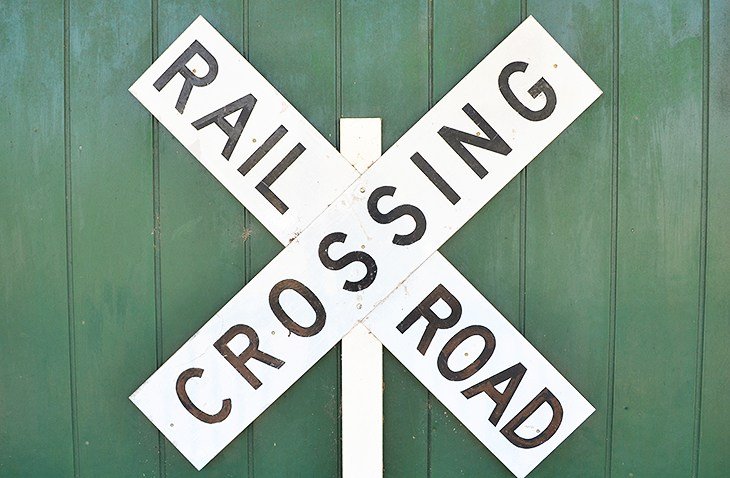 Located downtown and near the river, the Paducah Railroad Museum dives into the rich locomotive history that helps define the city. Great for train enthusiasts and general interest, the museum contains a wide range of displays, models, and artifacts of the locomotive age. The popular Train Simulator at the museum allows visitors to feel what it's like to guide a train down the tracks. The Railroad Museum is open Wednesday through Friday from 12 to 4pm, with extended hours on Saturday. Guided or group tours can be scheduled ahead of time.
Address: Washington Street & Marine Way, Paducah, Kentucky
Official site: http://www.paducahrr.org/
10. Paducah Farmers' Market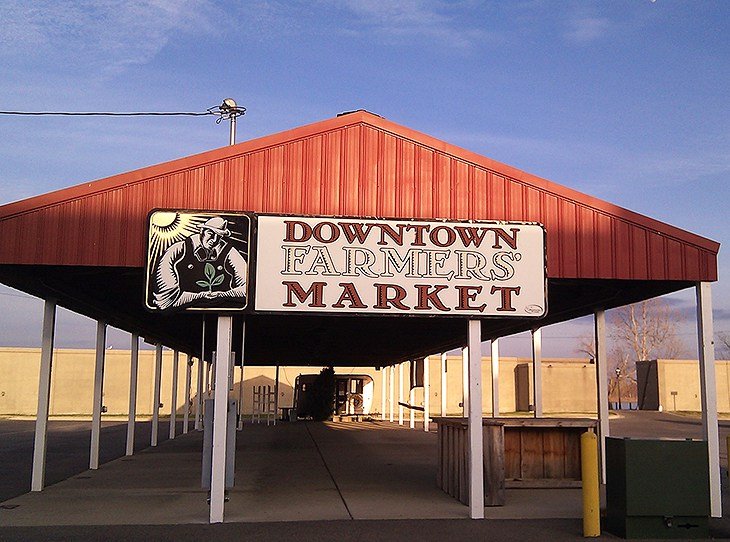 Within eyesight of the Floodwall Murals and the National Quilt Museum, the large open-air pavilion of the Paducah Farmers' Market is always bustling with activity on Saturdays between April and October. Local fruits and vegetables, farm-raised meats and eggs, and a wide variety of artisan and homemade goods can be found for sale, including vendors serving fresh-made breakfast and lunch entrees. The many great locally sourced items found at the Farmers' Market are only half of the appeal of this outdoor event, with the other half coming from the strong sense of community. Live music, face painting, and different "Celebration Saturday" events make the Farmers' Market fun for the whole family.
Address: 306 North Second Street, Paducah, Kentucky
11. Lloyd Tilghman House & Civil War Museum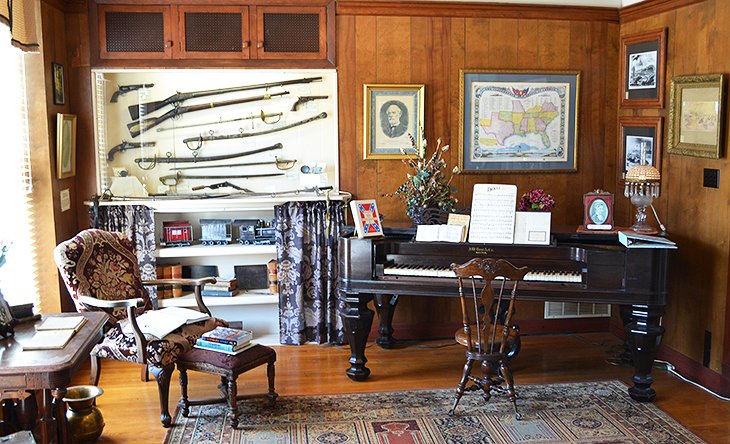 Just outside of downtown and a few blocks from the McCracken County Public Library, this Civil War museum is housed within an 1852 Greek Revival home once belonging to General Lloyd Tilghman of the CSA. Inside this quaint and historic residence, the museum contains many artifacts and displays describing Kentucky's role in the Civil War. Antique firearms, soldier uniforms, original correspondence, and a look into the life of a decorated Civil War General all provide an immersive visit into the past. Open to the public between April and November, the museum also provides tours by appointment throughout the year.
Address: 631 Kentucky Avenue, Paducah, Kentucky
12. Whitehaven Welcome Center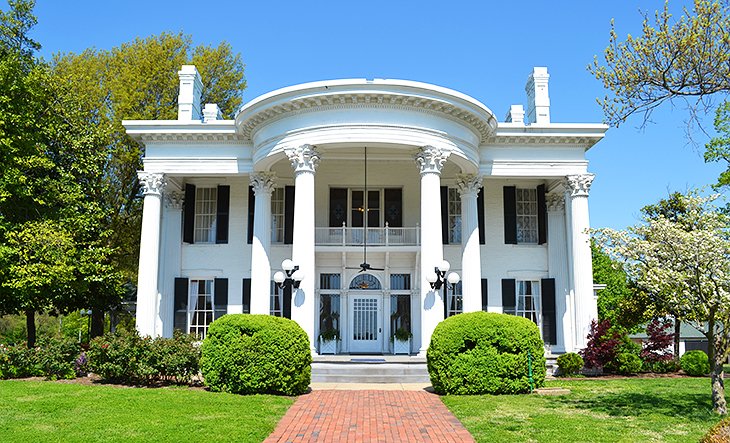 An easy stop off Interstate 24, the Whitehaven Welcome Center is a historic mansion now serving as an interstate tourist welcome area. Dubbed as the Gateway to the South, this 1860s southern mansion goes well beyond an ordinary rest stop, with historical displays, period furniture, and welcoming grounds for a picnic or play space. The many artifacts inside can only be seen with a free guided tour offered most afternoons. The lobby with restrooms and vending machines is open 24 hours a day, and any groups who want to make an educational rest stop as they visit Kentucky should call ahead to schedule a tour.
Address: 1845 Lone Oak Road, Paducah, Kentucky
Where to Stay in Paducah, Kentucky for Sightseeing
A few mid-range and modern hotels can be found at the heart of the city near the river, and a mix of hotels is located west of this downtown area.
Mid-Range Hotels: For riverfront views and instant access to many of Paducah's top attractions, Holiday Inn Paducah Riverfront is a longstanding favorite hotel in the city. With a full-service restaurant, large fitness center, and plenty of space for a conference, the Holiday Inn is a popular place for business, family, and vacation travel. The biggest appeal of this riverfront hotel comes from the outdoor courtyard overlooking the nearby water. Also in the downtown district, The 1857 is another popular option, which features historic accommodations and modern rooms, as well as easy access to the surrounding downtown area. One of the top-rated hotels in Paducah, La Quinta Inn & Suites Paducah is located west of downtown and has a great reputation for clean rooms, friendly front desk service, and a dependable good night's sleep.
Budget Hotels: Many of the most affordable hotel options in Paducah can be found west of the downtown district near Interstate 24, and places like the Pear Tree Inn Paducah provide a great rate and good service. Well-known for its accommodating staff, the Pear Tree Inn receives many repeat visits thanks to its clean, spacious, and modern rooms. Just a few miles north on I-24, America's Best Value Inn Paducah also provides a low cost place to spend the night, as well as clean rooms and a deluxe continental breakfast. On the south side of town, near the Whitehaven Welcome Center, Travelers Suites provides larger rooms at a great rate, perfect for bigger families or anyone that likes more space.