14 Top-Rated Things to Do in Clarksville, TN
Clarksville is the fifth largest city in Tennessee, located less than an hour north of Nashville and less than half an hour south of the closest town in Kentucky. Founded in 1784, this historic city shares the same scenic Cumberland River that flows past downtown Nashville, and features 30 parks and two state parks. This makes Clarksville a place where visitors are drawn to enjoy outdoor pleasures such as walking, hiking, biking, and having a picnic.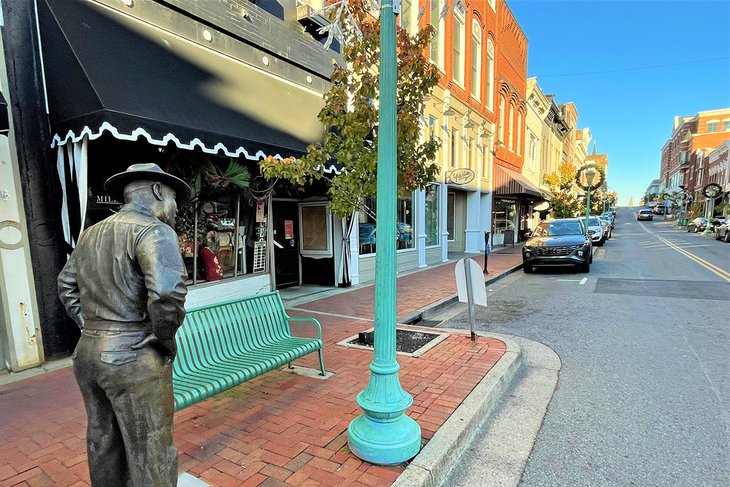 As a visitor to this university town, you might not have a bike. No problem, you can rent one from one of several stations located in the major parks.
If you time your visit in the fall, be sure to catch Riverfest, the community arts and recreation festival that happens during the weekend after Labor Day. From touring a cave (that was once a venue for big band concerts) to signing up for a painting lesson, your biggest challenge as a tourist in Clarksville isn't about what to do. It's about finding enough time. Start your sightseeing tour of this attractive destination with our list of the top things to do in Clarksville.
1. Tour a Cave at Dunbar Cave State Natural Area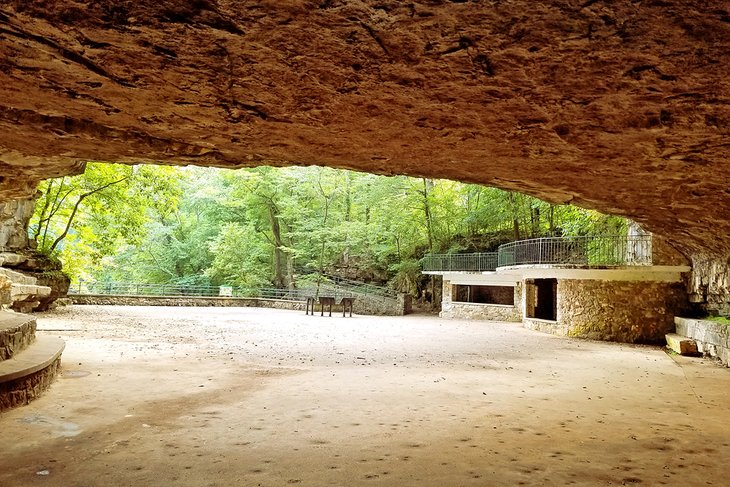 Dunbar Cave State Natural Area has seen it all during more than 1,000 years of evolution. In pre-historic days, sometime around 1260 CE, people left proof of their presence by inscribing art on the walls of the eight-foot-long cave.
Fast forward to 1948, and the cave was purchased for $150,000 by country music star Roy Acuff and transformed into something akin to a pleasure palace. This was the era of big bands, square dances, and radio shows–all of which unfolded within the naturally air-conditioned entrance of the cave.
As a visitor to Clarksville, your experience could not possibly be different from the extravaganzas of the 1950s. Go on a ranger-guided tour of the cave, which was taken over and restored as a state natural area in 1973. In some ways, life is still pretty wild around here but that's because of all the wildlife that has come back: turkeys, woodpeckers, and swans.
One more thing you can do, not far from the cave, is play a round of golf. The 18-hole golf course established by Roy Acuff is known as Swan Lake Golf Course.
Address: 401 Dunbar Cave Road, Clarksville, Tennessee
Official site: https://tnstateparks.com/parks/dunbar-cave
2. Visit Fort Defiance Civil War Park & Interpretive Center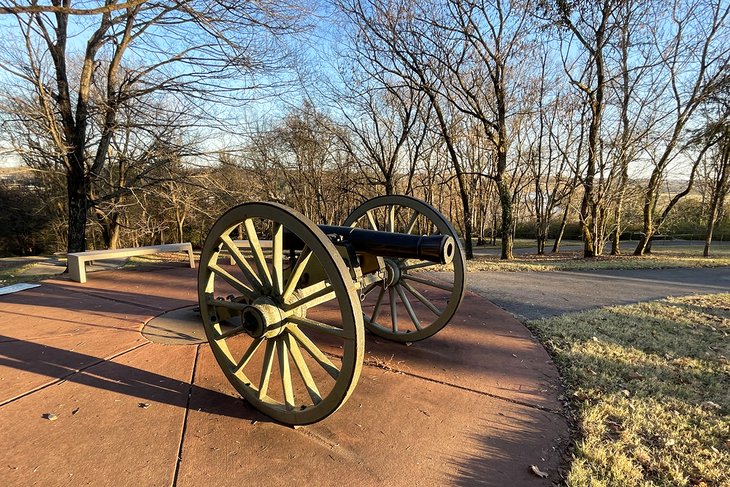 Fort Defiance Civil War Park & Interpretive Center is a memorial park and 2.5-mile trail with scenic glimpses of downtown Clarksville and the Red and Cumberland Rivers. Visit the interpretive center, located on a hilltop 200 feet above the rivers, to learn about the important role this fort played during the Civil War. Since its construction in 2008, the 1,500-square-foot center displays weapons, clothing, and other artifacts to educate visitors about the historic fort that was named Defiance.
Built by the Confederate Army to defend Clarksville, the fort surrendered to Union control in 1862. This event ushered the fall of Nashville. Freed and runaway slaves set up camp at Fort Defiance and signed on here as the United States Colored Troops. Aligned with the Union Army, they fought for the abolition of slavery and the emancipation of slaves.
Apart from gun mounts and other remnants of its tumultuous past, visitors to the park will find a gift shop, picnic tables, and washrooms.
Address: 120 Duncan Street, Clarksville, Tennessee
Official site: https://www.cityofclarksville.com/facilities/facility/details/fortdefiancecivilwarparkinterpretivecenter
3. Stroll McGregor Park & RiverWalk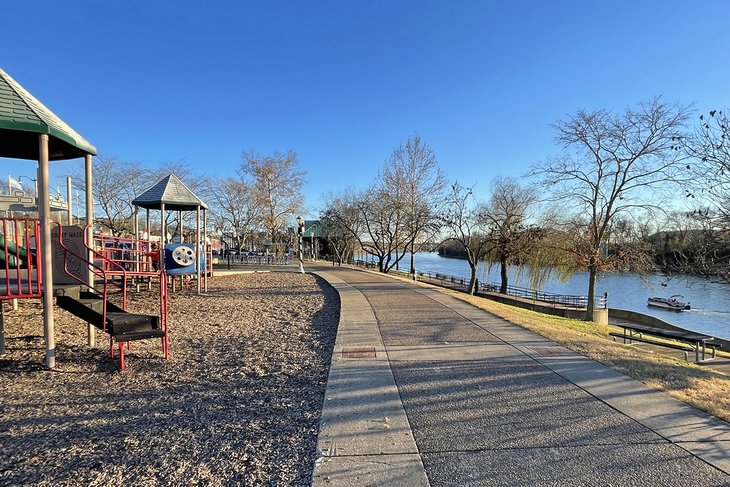 McGregor Park & RiverWalk is one of the best parks and walkways to enjoy the fresh air of Clarksville. This is where you can escort your leashed dog along the 1.7-mile promenade that follows the scenic Cumberland River. Bring a picnic and enjoy the charming ambience at one of the picnic areas. There's a playground for the kids, a boat ramp, and washrooms.
Rent a bike at McGregor Park if you'd rather cycle than walk. The city has five BCycle stations where you can rent a bike, and McGregor Park is one of them. To learn about the history and contribution of Clarksville's rivers, visit the 12-panel exhibit at the museum entitled "As the River Flows." The museum is open year-round above the Cumberland.
Address: 640 N Riverside Drive, Clarksville, Tennessee
4. Fish, Hike, Bike, and Go Boating at Liberty Park & Clarksville Marina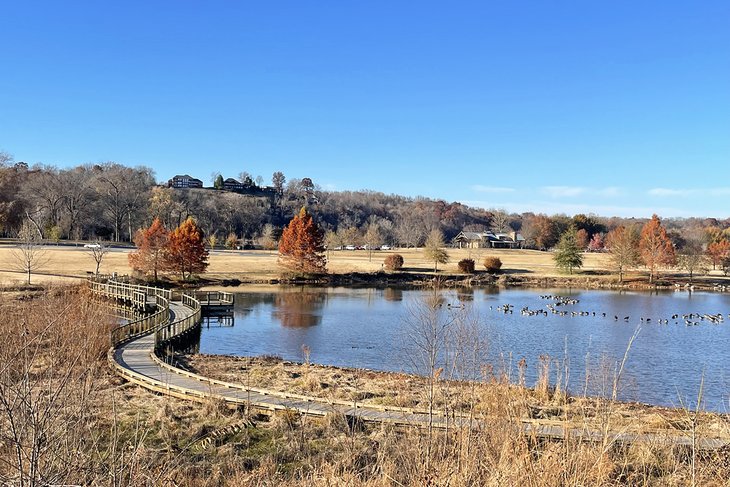 Liberty Park and Clarksville Marina could easily keep you busy all day. How many attractions and things to do can you pursue in a single urban park? Spend a few hours fishing at the 10-acre fishing pond, launching your boat from the four-lane ramp into the Cumberland, and hiking the 1.8-mile walking trail.
Your canine companion will enjoy the dog park, and children will have a ball at the community built playground. Play a variety of sports at the athletic fields. Refuel with a picnic at one of four pavilions.
Another thing you can do is rent a bike from the Liberty Park BCycle stations, one of five in Clarksville. Once you're done cycling, bring the bike back to where you started, or drop it off at another station: Cumberland Riverwalk, Downtown at Public Square, the Clarksville Greenway's Pollard Road Trailhead, and downtown at the corner of Public Square and Franklin Street.
Address: 1190 Cumberland Drive, Clarksville, Tennessee
Official site: www.cityofclarksville.com/facilities/facility/details/Liberty-Park-Clarksville-Marina-36
5. Go Treasure Hunting at Miss Lucille's Marketplace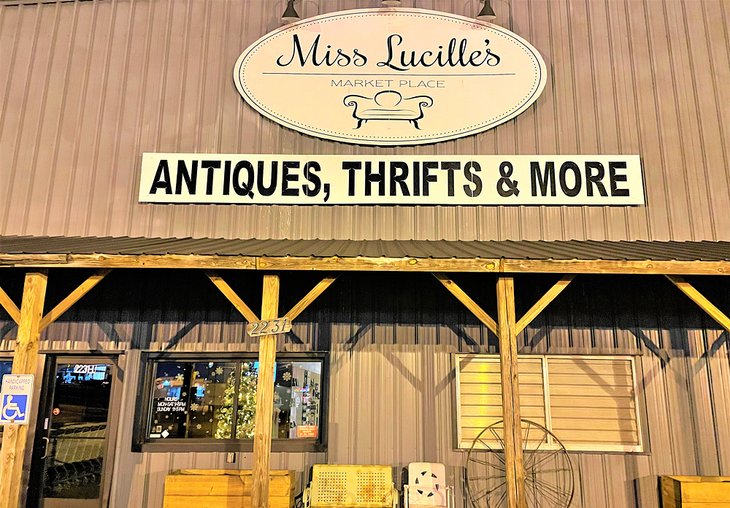 Miss Lucille's Marketplace is all about antiques, coffee, and more! It's an unbeatable combination, and if you've never put the two together, you'll get the opportunity when you go treasure hunting at Miss Lucille's 52,000-foot "eclectic" marketplace. Before you embark on the adventure of browsing and bartering your way through the offerings of 200 vendors selling everything you can imagine, grab a java or one of the "signature drinks."
Sally forth into one of the broad alleys, designed with special needs customers in mind, and see what tempts you. Maybe it will be a vintage item or a piece of newly upholstered furniture from Miss Lucille's Furniture Design Room. Maybe it will be something off the menu at Miss Lucille's Café, so you can keep going and see what's around the next bend.
Address: 2231-L Madison Street, Clarksville, Tennessee
Official site: www.misslucillesmarketplace.com
6. Admire and Explore the Customs House Museum & Cultural Center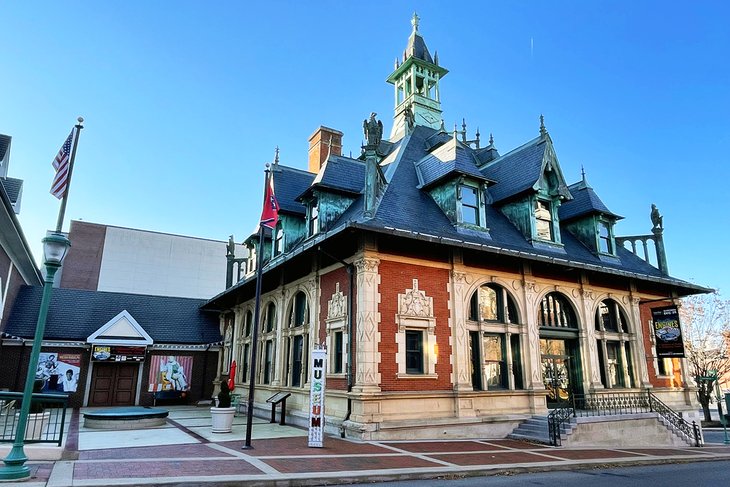 Visit the Customs House Museum & Cultural Center and imagine it as a former federal post office and customs house. Walk along South 2nd Street in downtown Clarksville, and you'll experience a "wow" moment when you see this architectural gem built in 1898.
On the National Register of Historic Places since 1972, this impressive structure combines several styles of architecture. Its dramatic design features include four eagles at each corner, pitched gables, and decorative flourishes. Back in the day, Clarksville traded internationally in tobacco, and this was the place for foreign mail and customs. Before becoming a museum and cultural center, the building served for 40 years as home to the city's department of electricity.
With 35,000 feet of space for exhibits and special events, this stunning building is the second largest general interest museum in Tennessee. Check it out for fine art, children's exhibits, and everything you want to know about local history. The Heimansohn Gallery houses a model railroad. At the family art studio, collaborate with your kids to create a masterpiece out of Lego blocks.
Address: 200 S 2nd Streeet, Clarksville, Tennessee
Official site: www.customshousemuseum.org
7. Catch a Show at Roxy Regional Theatre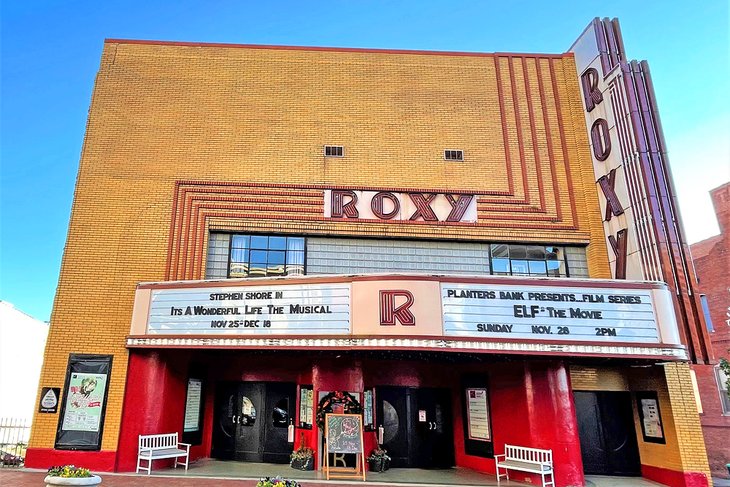 Art Deco theaters are an eye-catching but disappearing design, so take notice when a community decides to keep one around. Clarksville's Roxy Regional Theatre is a special piece of architecture not only because it survived two fires, an economic depression, and wars. It went on to become an eclectic entertainment venue–a theater for all stages and ages.
Beyond serving as a screening house for movies and a stage for live performances, the Roxy brings drama class alive for teens. This is their regional arts school and summer training camp, where they can acquire skills and experience in live theater. From the Lillian Theatre of 1915 to the Roxy Regional Theatre of today, performing arts has dominated this corner of Franklin and First in the downtown public square. Peruse the website before your visit, and enjoy a show at the enduring Roxy Theatre.
Address: 100 Franklin Street, Clarksville, Tennessee
Official site: http://roxyregionaltheatre.org/
8. Stop by Rotary Park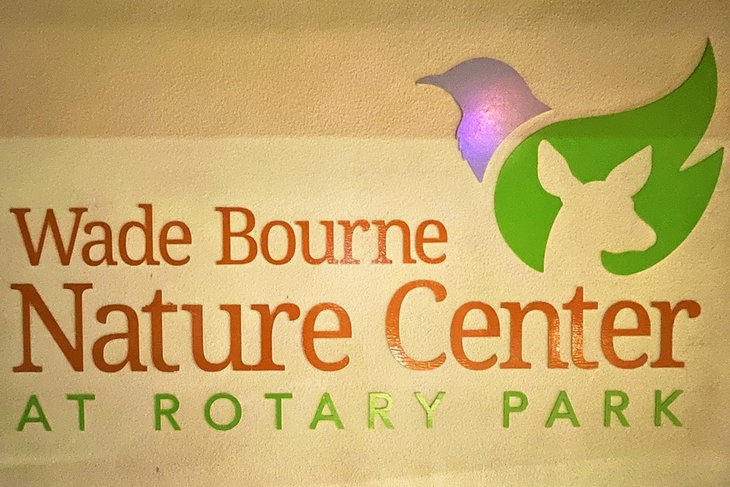 Rotary Park, a 111-acre nature park, is a playground that has something for everybody. For visitors seeking serious exercise, there are more than six miles of hiking and biking trails. For groups wanting to have fun while they kick up their heels, there's a sand volleyball court. Families can enjoy a picnic at one of the pavilions and a rousing game on the 18-hole disc golf course. Older folks might fancy throwing a few ringers around ye olde horseshoe pit–a throwback to an earlier era. Kids will gravitate to the playground and large open space area.
At Wade Bourne Nature Center, a 4,200-square-foot complex, visitors learn from displays and hands-on activities about plants and animals. Before or after your hike, this is the place to visit to deepen your appreciation of the natural world. Rotary Park has pavilions available for rent and two buildings with restrooms. Two local Girl Guides create the scavenger hunts that may present yet another way to engage in play at Rotary Park.
Address: 2308 Rotary Park Drive, Clarksville, Tennessee
9. Take an Art Class at Swirlz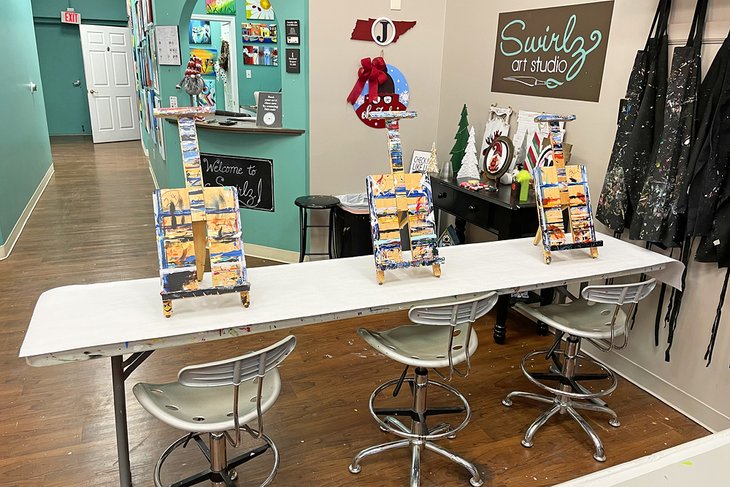 Make your mark as an artist at Swirlz. If you've always wanted to pick up a paintbrush, sign up for a class at Swirlz art studio. You don't need any previous experience. Just bring your curiosity and let one of three skilled art teachers guide you into a creative exercise. Find out if you've got talent or high hopes. Maybe you'll produce a painting that's worthy of a frame, or a colorfully decorated wooden sign (all supplies provided).
You can reserve a spot for yourself, or bring members of your family, age 10 and older. Book time for an art date with your son or daughter–paint on canvas during the week, or get creative with wood on the weekend. Even if you don't create a masterpiece, you're likely to have fun making memories.
Address: 29 Warfield Blvd, Clarksville, Tennessee
Official site: www.swirlzart.com
10. Meet Your Muse at the Downtown Artists Co-op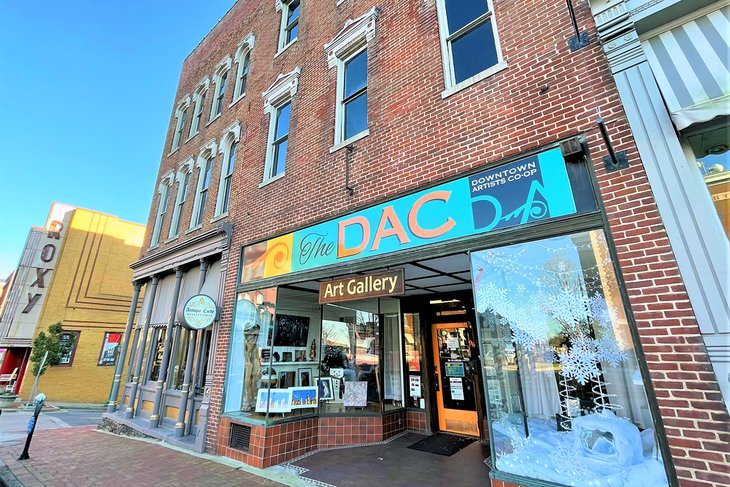 The Downtown Artists Co-op enables you to connect with Clarksville artists. If you've got a creative flair or you're a supporter of the arts, this place is designed with you in mind. You don't have to look far to find an exhibit of fine art or try your hand at an art class in this vibrant arts community. The co-op is a retail homeplace for many artists and their works in Clarksville.
Time your visit to coincide with a special event such as the annual holiday Christmas bazaar and exhibit. Here, you'll see not just paintings but jewelry, pottery, woodcraft, photography, and upcycled art–reusing and repurposing to create new works.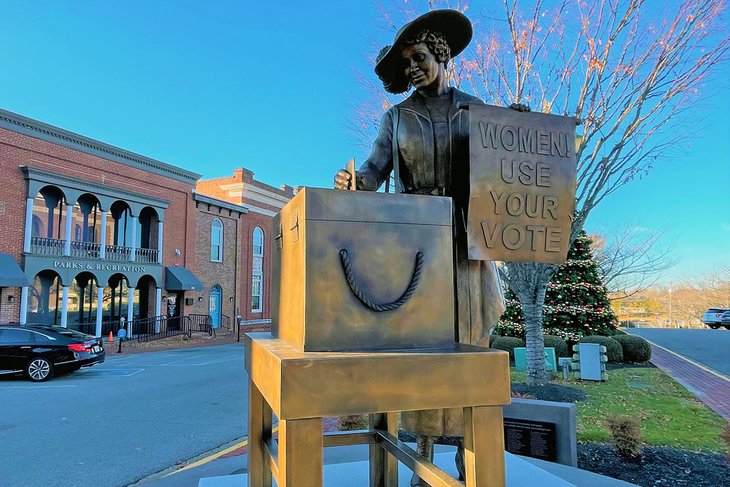 Fittingly, two bronze statues grace the area near the Downtown Artists Co-op. One is "Tennessee Triumph," a tribute to the hard work of suffragettes. The other is a bronze salute to local actor Frank Spencer Sutton. If you're a fan of the late 1960s TV series "Gomer Pyle USMC," you'll recognize Frank as his classic character–Gunnery Sergeant Vince Carter.
Address: 96 Franklin Street, Clarksville, Tennessee
Official site: www.dac.gallery
11. Rent a Bike and Ride Creekside on the Clarksville Greenway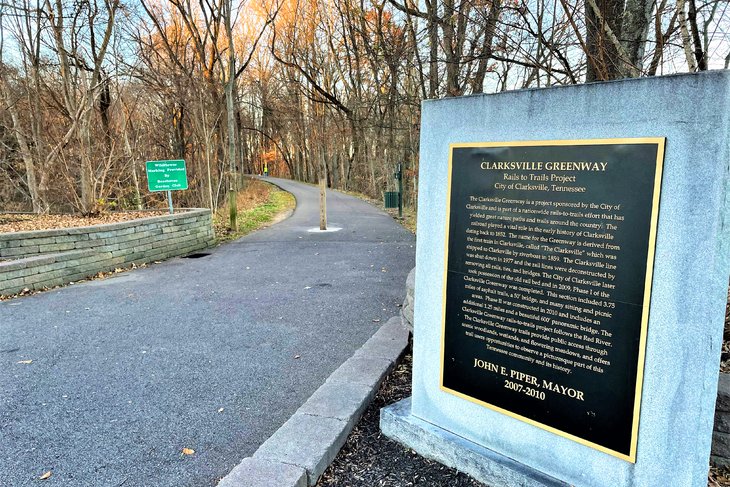 Clarksville Greenway is a nine-mile paved trail that takes you through the countryside. The BCycle station at the Pollard Road Trailhead of the greenway invites you to explore the trail on one of the city's rental bikes. Nine miles is a long jaunt on foot, but the cycling option delivers moderate exercise with a generous side of scenery in a fraction of the time.
You'll bike an abandoned rail bed and meander beside the Red River and West Fork Creek on a forested trail. Upon your return, you will find modern restroom facilities beside the large lot where you parked your car.
Address: 1101 Pollard, Clarksville, Tennessee
12. Play Blacklight Mini-Golf in 3D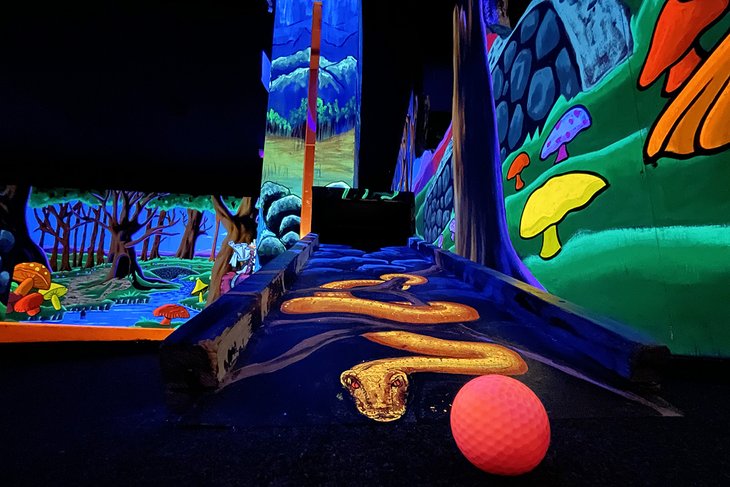 D & D Blacklight Mini Golf reimagines the way you've always played mini-golf, but under black lights in 3D with a fantasy forest theme. This is just one of the colorful scenarios that awaits you. At this place of amusements on aptly named Holiday Drive, you may feel pulled in many dazzling directions.
Some of them you will recognize, such as the arcade, pool table, paint room, and laser maze. With everything glowing in the dark, a surreal vibe puts a new spin on old themes. Balladium is a game in which two opposing teams blast each other with foam balls from air cannons.
Any one (or all) of these activities are an excellent choice for youngsters, families, and groups of friends. You'll need a reservation to play on a busy day, such as a rainy Saturday or Sunday.
Address: 211 Holiday Drive, Clarksville, Tennessee
Official site: www.ddminigolf.com/clarksville-home
13. Imagine Pioneer Life in Historic Collinsville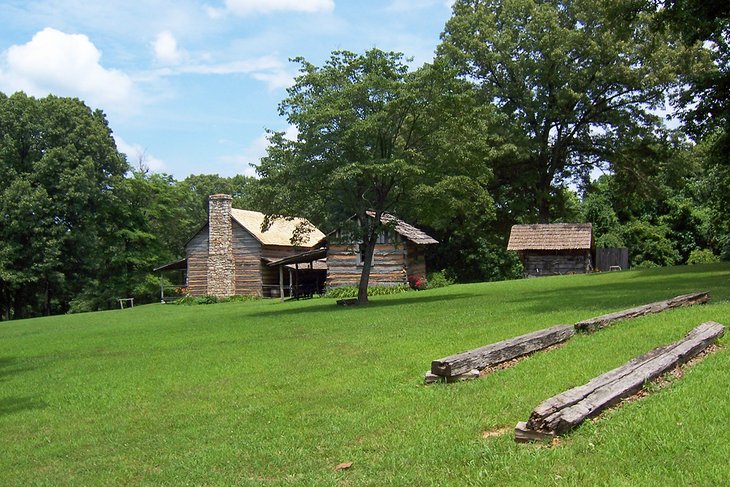 Historic Collinsville was settled by pioneers during the 40-year period from 1830 to 1870. Within a half-hour drive from Clarksville, you can go back in time to wander through 18 restored log homes and outbuildings on the 40-acre grounds, and view furnishings from bygone times. You'll come away with eye-opening insight into the challenges of life for people who lived here during the Civil War.
At the wildlife center, learn about the plants and animals of this region and beyond. Watch for seasonal events such as spring homecoming, the fall pilgrimage, and Christmas festivities. After touring the exhibits, enjoy a Southern-style lunch or picnic. Reflect on the character of the people and livestock that resided here while strolling the nature trails.
Address: 4711 Weakley Road, Southside, Tennessee
Official site: http://historiccollinsville.com/
14. Go Hiking at Port Royal State Historic Park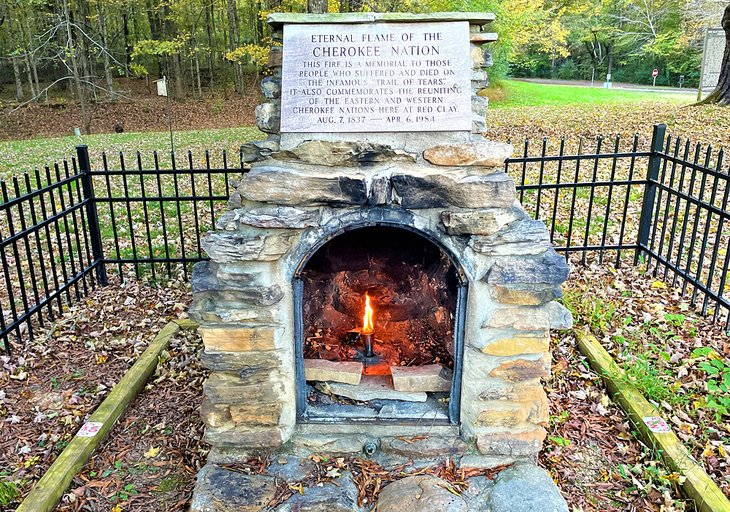 Port Royal State Historic Park, located 14 miles east of Clarksville, was one of the first communities and trading centers in the state. Tennessee became a state in 1796, only 20 years after the founding of the nation. Just as the post office and customs house in Clarksville was important to the international trade in tobacco, Port Royal played a pivotal role as a regional inspection checkpoint. Learn all about this chapter in local history during the one-hour weekend tour, "From Commerce to Collapse."
An interpretive program is offered at the 26-acre park to teach school children about the sad chapter of history known as the Trail of Tears. This traumatic route was followed by Cherokee Indians on their forced relocation from Georgia and Tennessee to Oklahoma.
Another thing to do on your visit to Port Royal are two easy trails: Half-mile River Bottom Trail follows a section of the Trail of Tears beside the Red River. Hopson Spring Branch Trail begins at Main Street and follows Sulphur Fork Creek and the Hopson Spring Branch.
Address: 3300 Old Clarksville Hwy, Adams, Tennessee
Official site: www.tnstateparks.com/parks/port-royal
Map of Things to Do in Clarksville, TN
Clarksville, TN - Climate Chart
Average minimum and maximum temperatures for Clarksville, TN in °C
J
F
M
A
M
J
J
A
S
O
N
D

7

-4

11

-2

16

2

22

7

26

12

30

17

32

20

32

18

28

14

22

7

16

2

9

-2

PlanetWare.com
Average monthly precipitation totals for Clarksville, TN in mm.

104

107

137

108

127

113

109

85

96

83

117

131