10 Best Beaches in Tennessee
Thinking about what Tennessee is known for, several things come to mind—country music, barbecue, mountain scenery, and Southern hospitality. Fortunately for visitors to this state, there is plenty of choice if beach is on your wish list.
Nashville is close to Percy Priest, Old Hickory, and Cheatham Lakes, all of which have beaches connected to their campgrounds or day-use areas. Knoxville, gateway to the Appalachians, has access to beaches in nearby beautiful Cherokee Lake. The other beaches on our list are scattered throughout the state: Obey River on the Kentucky border in the north, Dry Creek Beach in the south, and Chickasaw's Lake Placid beach in the west.
A beach is what makes all the difference when you emerge from a swim, and that's why so many "swimming beaches" were created in Tennessee. Except for Reelfoot, a natural lake in the northwest corner of the state, Tennessee lakes are man-made reservoirs, just like the beaches created to go with them.
No matter what direction you go, you'll find a beach on our list, and it won't be rocky or muddy. Every one of our beaches is sandy. When the temperature is soaring, there's no better place to catch up on summer reading, dig your toes into the sand, and have fun making a castle with the kids. Find out where to go with our list of the best beaches in Tennessee.
1. Cherokee Lake Beach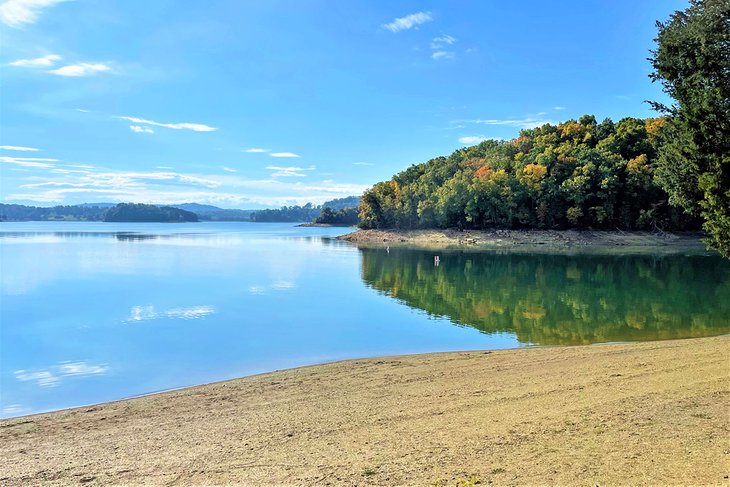 With 463 miles of shoreline and 30,300 acres, Cherokee Lake is one of the largest in Tennessee. Head for the beach that is located near the campground at Cherokee Dam. Bring your blanket, sun umbrella, and swimming attire for a few hours or a day lakeside. The entire swimming area is enclosed within a restricted area that has no motorized watercraft.
Above the beach, expect a shady retreat beneath towering, leafy trees where you can relax in sheltered comfort from the hot sun. This lakeside meadow features picnic tables, benches, a play area, and the Cherokee Dam Visitor Center. Take a stroll on nature paths that share the same expansive view of the lake. When you are ready for even more exercise, walk the entire length of the mammoth Cherokee Dam.
Cherokee Lake Beach is situated beside a large boat ramp and 48-site modern campground. The lake is located in the foothills of the Clinch Mountains, 30 miles northeast of Knoxville.
Address: Cherokee Marina, 9499 Hwy 11 W., Mooresburg, Tennessee
Official site: https://camprrm.com/parks/tennessee/tva-6/cherokee-dam-campground/?it=parks/cherokee-dam-campground/
2. Rock Island State Park Beach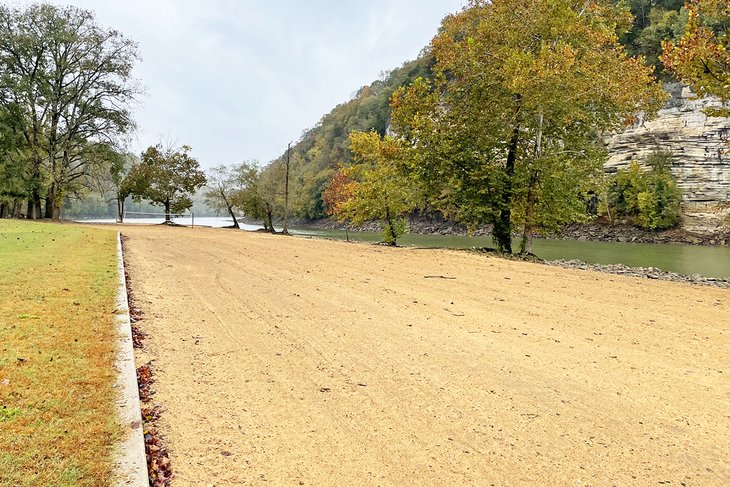 Visitors to Rock Island State Park will be delighted to find a natural sandy beach not far from the main campground and deluxe rental cabins. The beach is located on the headwaters of Center Hill Lake in one of the most beautiful of Tennessee's state parks.
There is ample parking and a bathhouse. Set up your umbrella on a warm sunny day and hang out on the sand. Read a book or admire the passing of a great blue heron descending from the limestone cliffs of the Caney Fork Gorge across the water.
More active types come here to play a game of beach volleyball on the court within spiking distance of the lakeshore. Your kids will delight in the small children's playground. Launch your boat from the ramp beside the beach. The Badger Flat Picnic Area is located nearby when you are ready to set up an outdoor cookout. As the day comes to a close, enjoy the sunset while sitting on a beachside bench around a cozy campfire.
Rock Island State Park is one of the most popular in the state system due to its 870 acres of rugged beauty, waterfalls, and other natural features. It's located 15 miles southwest of McMinnville and 70 miles beyond that to Nashville.
Address: 82 Beach Road, Rock Island, Tennessee
Official site: https://tnstateparks.com/parks/rock-island
3. Douglas Headwater Public Swimming Beach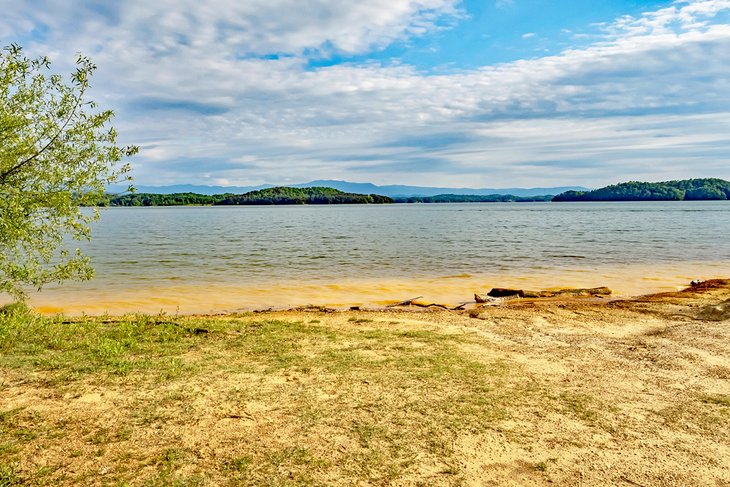 Douglas Headwater Public Swimming Beach is the place to cool off after your hot and dusty day of touring attractions in and around Great Smoky Mountains National Park. It's the designated swimming area on Douglas Lake that comes with a small beach and boat ramp. Whether you're a day tripper or a camper, enjoy views of the beach and 28,000-acre Douglas Lake across to the foothills of the Appalachian Mountains.
The beach is the perfect place to chill, play, or take to the water on your choice of pleasure craft. Launch a stand up paddleboard on the serene mountain-fed waters, glide along the surface in a kayak, or carve sharp turns on water skis.
This beach provides all the amenities and ample shade needed for a day in the sun. If you are camping, sites for your RV or tent come with picnic tables. After a swim or beach time, amble back to your campsite to munch lunch.
There's a boat ramp close to the beach to reposition your boat onto the lake. You can also rent a motorized pontoon boat from nearby Mountain Cove Marina for a couple hours of fun on the open water. The great thing is that you won't need to drive all day for time on this beach. It is 30 miles equidistant to Gatlinburg and Knoxville.
Address: 1680 Boat Launch Road, Sevierville, Tennessee
Official site: https://camprrm.com/parks/tennessee/tva-6/douglas-headwater-campground/?it=parks/douglas-headwater-campground/
4. Anderson Beach on Percy Priest Lake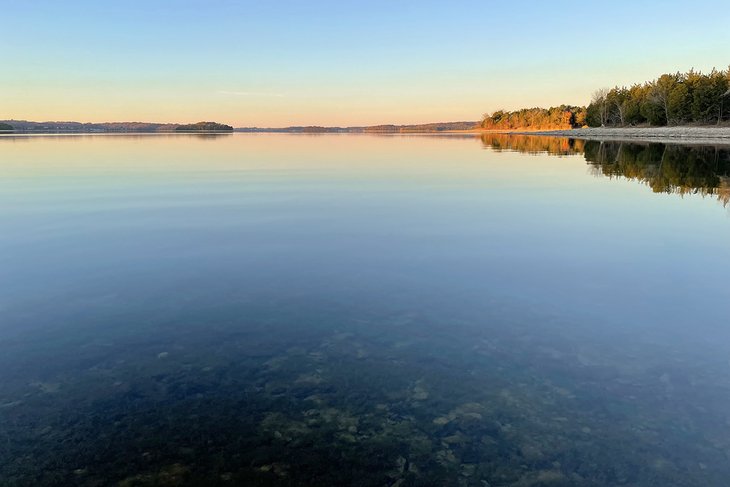 Anderson Beach on Percy Priest Lake is close to Nashville—within 16 miles—and beach time is a popular getaway from the city during hot summer days. This beach in the Anderson Road Recreation Area is the best strand on the 14,000-acre lake and conveniently located along the west side when coming from downtown.
Anderson Beach offers plenty of sandy access to the water for kid-safe swimming. You will also find picnic tables, cooking grills, and plenty of natural shade. Nearby is Anderson Road Campground featuring all the modern conveniences for a lakeside camping experience following a day on the beach. This is also the location where you can launch your boat to make an even bigger splash for the whole family.
Address: 4010 Anderson Road, Nashville, Tennessee
Official site: www.recreation.gov/camping/campgrounds/232515
5. Seven Points Campground Beach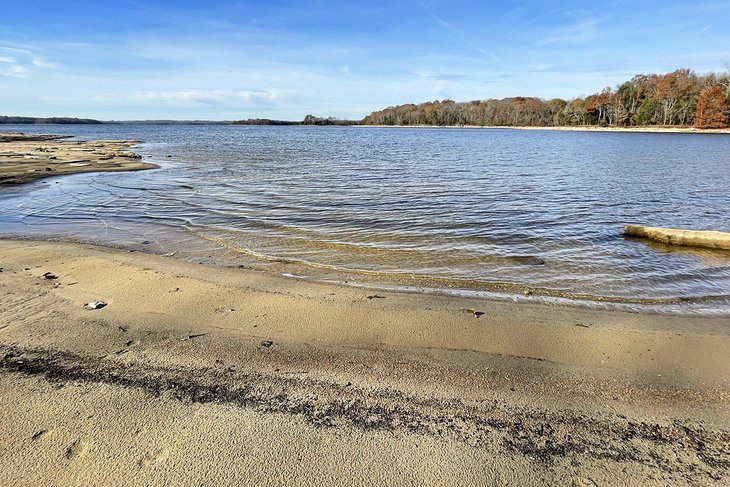 Seven Points Campground is 16 miles from downtown Nashville yet feels a world away from the hustle and bustle of city life and bright lights. Even if not a camper at Seven Points, you're welcome to share the beach and the facilities with other visitors in this park-like setting by paying a day-use fee. It's worth every penny.
The beach at Seven Points is a protected gem along the shores of Percy Priest Lake. After you've enjoyed resting on the sand, explore the sandstone shelves nearby that jut out into the water. Keep an eye out for marine birds, including ducks and herons. Take a walk in the grassy meadow—a place where you will likely see resident deer.
In addition to beach time, you may have come to Seven Points to launch your boat from the boat ramp to go trolling for fish or engage friends and family in hours of tubing. Whatever your pleasure on the open water, the tranquil sandy beach will be waiting for you back on shore at Seven Points.
Address: 1810 Stewart's Ferry Pike, Hermitage, Tennessee
Official site: https://www.recreation.gov/camping/campgrounds/232702
6. Cedar Creek Beach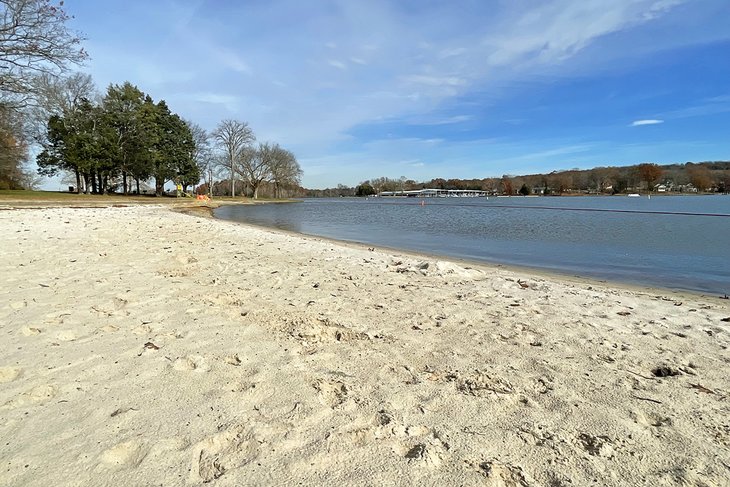 Cedar Creek Recreational Area on Old Hickory Lake has a sandy swimming beach with shade protection from the sun during summer afternoons. Day trippers from Nashville are only 24 miles northeast from this cottage country landscape that draws families to the water with beach blankets, beach balls, and sandcastle-making kits.
Beach lovers will find their happy place in the white sand of Cedar Creek Beach. Swimming in Old Hickory Lake is encouraged with a safety zone cordoned off from boating traffic. The grassy meadow beside the beach features a deluxe children's playground. Don't forget to bring your energy, skills, and ball to play a game or two of beach volleyball—a single court is waiting for you and your gang.
Boaters can satisfy their thirst for aquatic adventure by launching boats at the concrete launch. A small dock is handy when you want to tie up your craft and head back to the beach. Access to the covered picnic shelter and modern restrooms is included with payment of a day-use fee. The 60-site campground adjacent to the beach might motivate you to stay overnight or longer in this idyllic setting for summertime R&R.
Address: 9264 Saundersville Road, Mt. Juliet, Tennessee
Official site: https://www.recreation.gov/camping/campgrounds/232545
7. Cheatham Lake Beach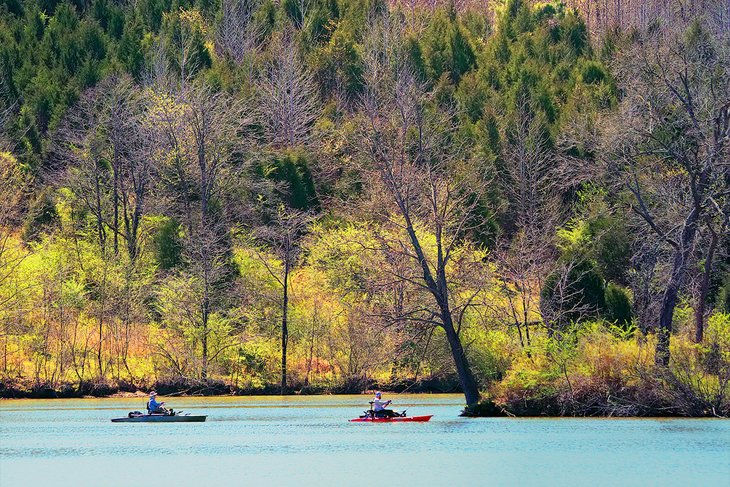 Cheatham Dam Right Bank Recreation Area is an open grassland park setting along the mighty Cumberland River. A 30-minute drive to Nashville and featuring many recreational amenities, Cheatham Lake Beach helps set the mood for rest and relaxation.
A designated swimming area here extends out from sandy Cheatham Lake Beach. The atmosphere is ideal for family fun, with plenty of space for children to play and adults to kick back. There's a children's playground and tidy beach for building sandcastles. Take a seat at a sheltered picnic table to enjoy your lunch and surrounding lakeside scenery. Bring your boat to the available launch to explore beyond the beach.
Cheatham Wildlife Management Area is just north of Harpeth River State Park, which is a must-do for visitors to the area. Right Bank, also known as Cheatham Dam, is located 11 miles northwest of Ashland City.
Address: 1798 Cheatham Dam Road, Ashland City, Tennessee
Official site: www.recreation.gov/camping/campgrounds/256349
8. Dry Creek Beach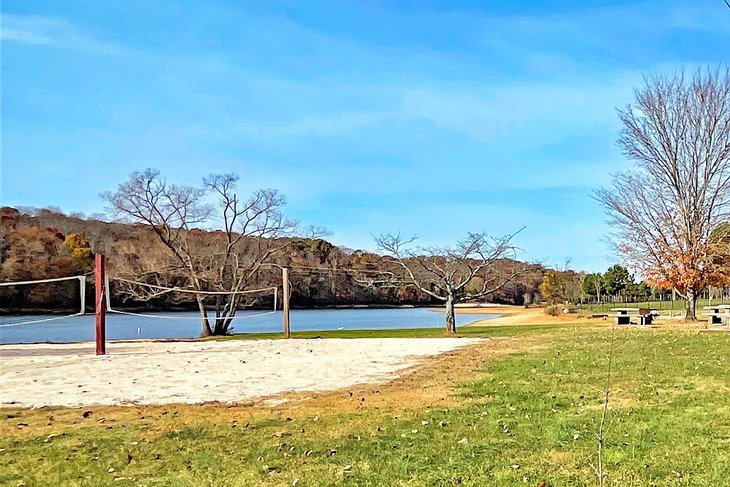 Dry Creek Beach is an attractive, sandy beach located in an offshoot of Tims Lake Reservoir, one of the most picturesque lakes in Tennessee. You and your family can expect to spread out your picnic blanket and umbrella. The consistency of the sand will enhance your chances of constructing the perfect sandcastle. If you are seeking a place to practice your volleyball skills with friends, two white sand courts are ready for action.
Expect restrooms and tables to spread out your fixings for lunch. A couple of covered picnic shelters at the beach are available for you to use on hot sunny days or to take cover during a summer shower. A large children's playground is completely fenced in for added safety.
This beach is located in Winchester, 90 miles southeast of Nashville.
Address: 3 Dry Creek Ramp Road, Winchester, Tennessee
9. Chickasaw State Park Beach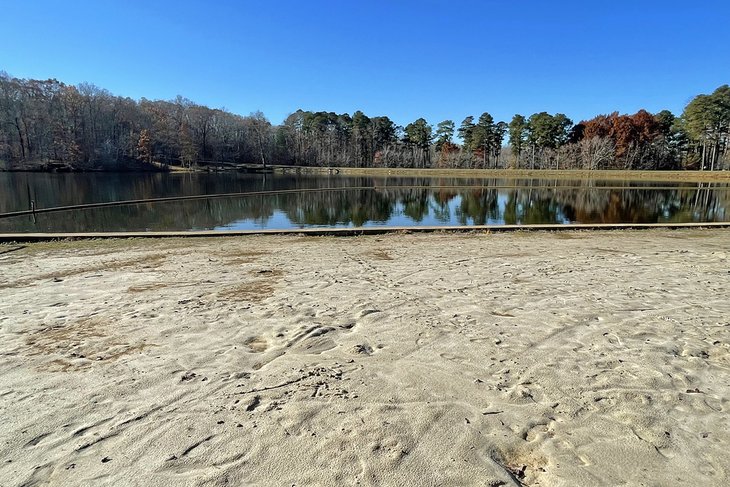 You don't have to think twice about coming to a beach when it's on the shore of a body of water called Lake Placid. The sandy beach here is one of the few in the western half of Tennessee, so it's worth making the 90-mile drive east from Memphis. The beach has views to the 700-foot pedestrian bridge that spans the lake. Beside the beach, rent a canoe or pedal boat to explore the shores of the lake.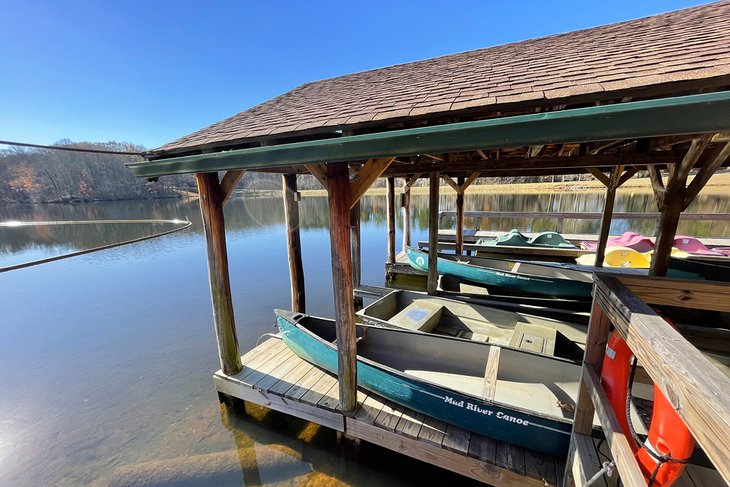 From one of the rental cottages close to the beach, you and your family will be just steps away from running out the door and getting your feet in the sand. Lake Placid lives up to its name, and that means easy paddling to enjoy the tranquil waters and birdlife.
Address: 20 Cabin Ln #4128, Henderson, Tennessee
Official site: https://tnstateparks.com/parks/chickasaw
10. Obey River Campground Beach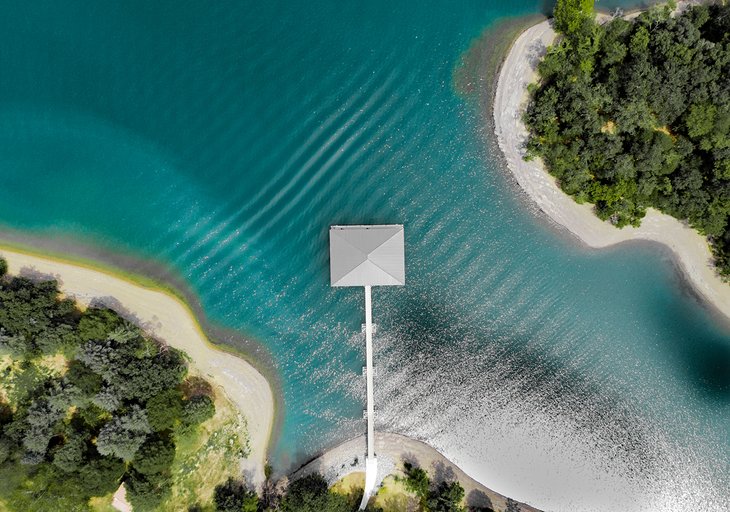 With the largest swimming beach on Dale Hollow Lake and the largest campground in the area, you might want to stay a while at Obey River. The swimming area is buoyed off to keep swimmers and boaters apart. No pets are allowed on the beach. Restrooms are located near the swimming area. There are 130 sites at this campground, managed by the US Army Corps of Engineers, located next door to Sunset Marina and Resort. If you don't have your own boat, you can rent one here.
Other recreational amenities include a children's playground and tennis courts. Dale Hollow Lake is a recreational area that straddles the border of Kentucky and Tennessee.
Address: 100 Obey Park Road, Monroe, Tennessee
Official site: https://dalehollow.com/obey-river-campground