14 Best Campgrounds near Nashville, TN
From RVing to tenting and glamping, you'll find the right camping venue for your visit to Nashville. Some campgrounds, such as Grand Ole RV Resort in Goodlettsville, offer live music, so you're never far from a stage and a group of musicians. Three of our picks are clustered on Music Valley Drive. From that name, you might correctly surmise that the Grand Ole Opry is close enough to be almost within hearing range.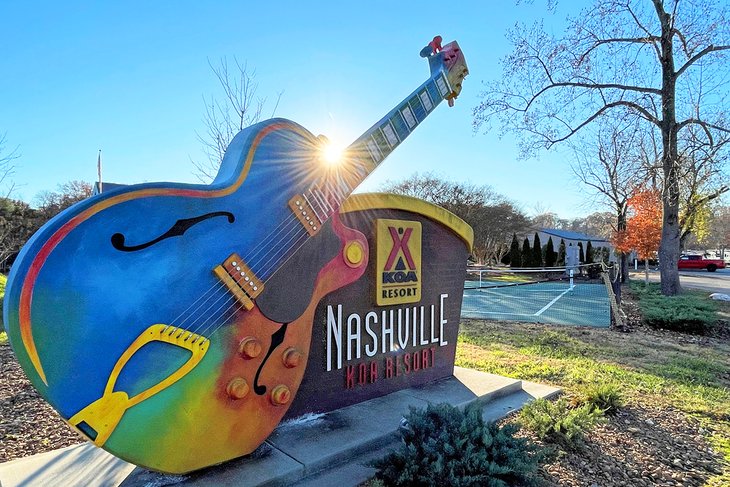 If you don't need or want to be in the heartland of country music, you can camp without the noise of highway traffic. Best options for peace and quiet include state park campgrounds, private operators, and seasonal campgrounds operated by the US Army Corps of Engineers. These campgrounds are all within half an hour's drive from Nashville. In quiet settings near lakes and rivers, it's easy to find a campground that feels a million miles from Music City. No matter what time of year you want to visit, choose your spot from our list of best campgrounds near Nashville.
1. Nashville KOA Resort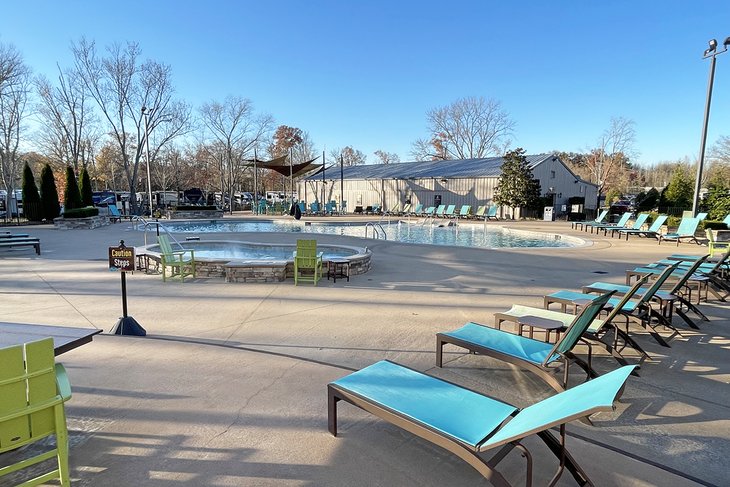 Nashville KOA Resort offers all the amenities. The deluxe pet site, for example, is the cat's meow: It provides a 12- by 18-foot private dog run, a large patio with "deluxe" patio furniture, gas grill, and stone fire pit.
If you don't need all the extras, no problem, because there's something here for everybody. Full hookups without patios and back-in sites are available. All this, and Nashville KOA is within three miles of the Grand Ole Opry.
Tenters camp in a shaded area with a layer of soft mulch on the ground to accommodate a comfy sleep. During inclement weather, a shelter is provided for food preparation and storage. Every tent site has water, electricity, a picnic table, and fire pit. If you don't have a tent or RV, a rustic cabin is available for rent. Deluxe cabins with towels and linens fit the glamping bill.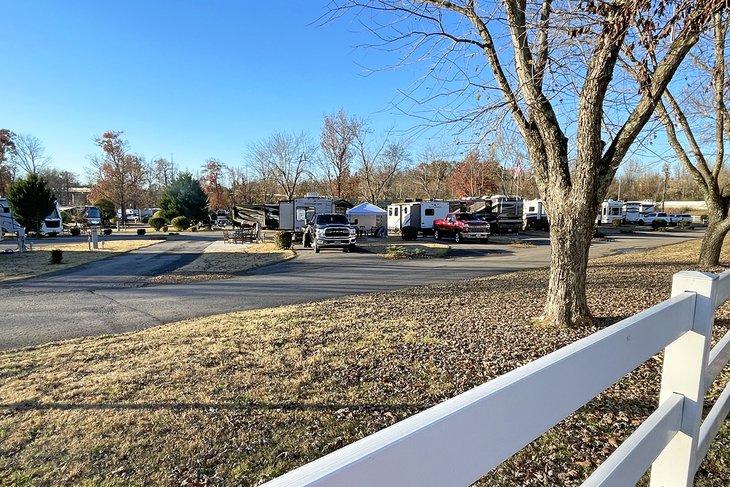 2. Elm Hill RV Resort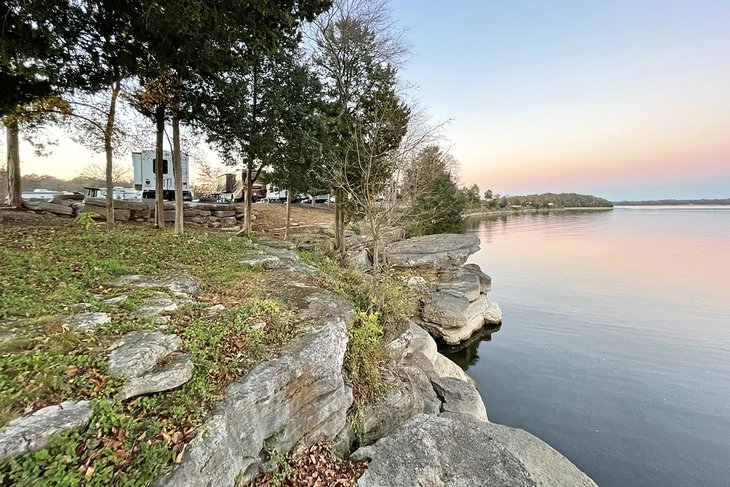 Treat yourself to a waterfront home-away-from-home on the island peninsula at this deluxe property on Percy Priest Lake. The concrete pads located on the elevated section fronting the lake have the choicest location of 131 full-service hookup sites. Choose from back-in and pull-through sites, all with brick firepits and picnic tables. Enjoy the seasonal outdoor pool, pavilion area, sandy beach, clean washrooms, and the best unobstructed water view anywhere in the Nashville area.
If you're camping during the summer, go for a refreshing dip. Check in with the helpful staff about renting a kayak or paddleboard that you can launch from one of the docks. A marina with boats for rent is located next door.
3. Two Rivers Campground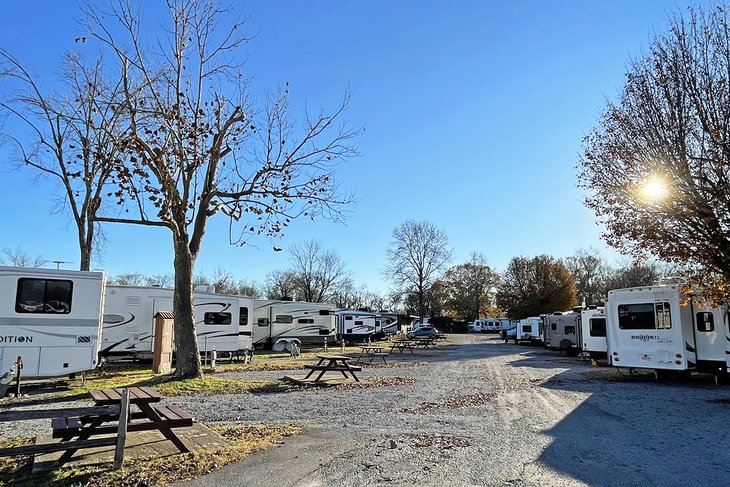 As soon as you walk into the office of Two Rivers Campground, you know you're in the hands of people who will look after you. If you've never been to Nashville, this is a good place to start. The friendly concierge will make reservations for dinner shows, restaurants, tours, and car rentals.
Your campsite is conveniently located less than three miles north of the Grand Ole Opry and 14 miles to downtown by car or shuttle. Cock of the Walk Restaurant, specializing in catfish, is right next door.
4. Nashville RV Resort & Cabins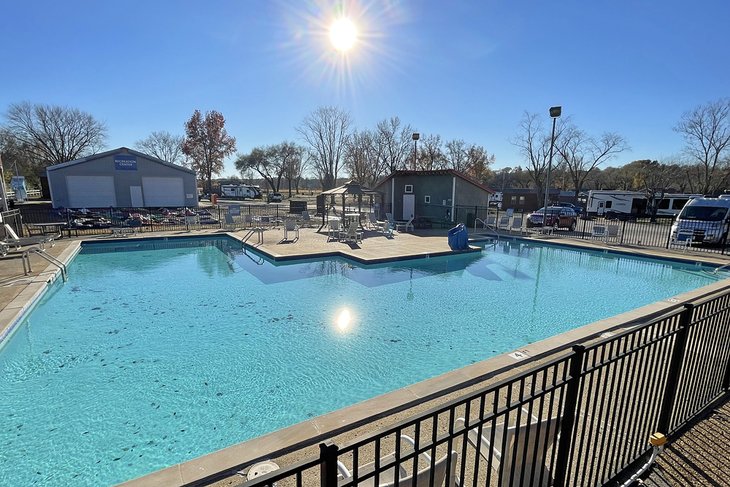 Nashville RV Resort & Cabins has a large seasonal pool flanked by a recreation center, mini-golf course, and jumping pad. The property also includes a playground for children and a dog park.
The campground accommodates motorhomes of all sizes, to a maximum length of 80 feet. With more than 230 pull-through spaces with 50- and 30-amp service, there is plenty of space. Tent sites–five with water and electric and 10 without hookups–are clustered on a quiet row with a field view.
5. Cedars of Lebanon State Park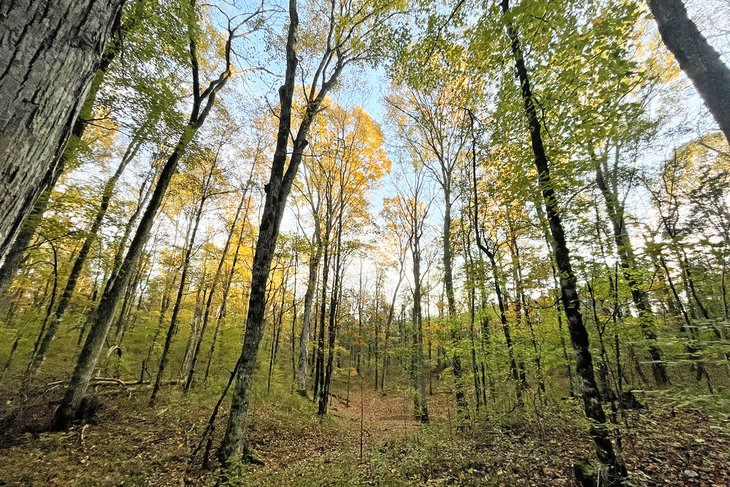 Cedars of Lebanon State Park is 33 miles from Nashville and open all year. While exploring eight miles of hiking trails, you'll discover hidden springs buried deep below the ground. You can hear the water but not see it. Watch for sinkholes amid the limestone outcroppings. Don't be surprised to see dramatic overhangs and deep caves. Hikes vary in length and are easy to challenging. A dozen miles of trails await campers who wish to go horseback riding.
Staff assign you to one of 87 campsites in three areas. Sites have 20-, 30-, and 50-amp service and water, supplemented by a dump station. Campers enjoy hot showers, flush toilets, and outdoor wash-up stations in three bathhouses. Every site has a picnic table and fire pit. Firewood and ice are available for sale. You can do laundry here and shop for essentials at the visitor center.
6. Grand Ole RV Resort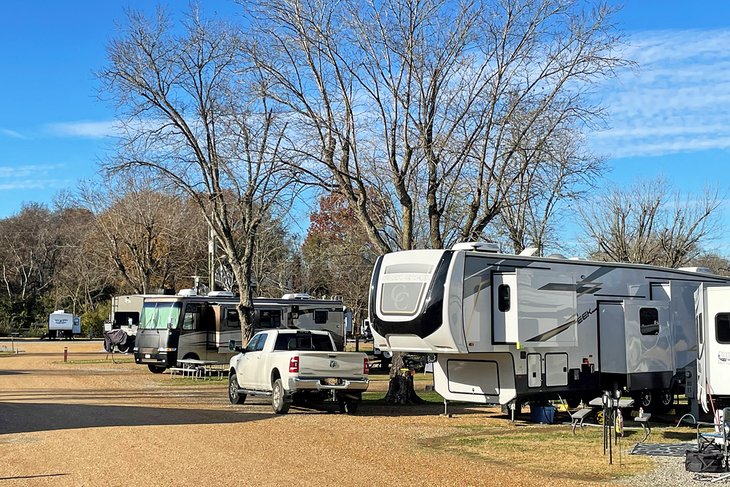 Grand Ole RV Resort is indeed a grand homey kind of place to camp if you're RVing in the Nashville area. Take your cue from the names of its "streets," including Welcome Lane and Relax Road. At this friendly family-run campground, only 18 miles north of Nashville, staff aim to please with their service pledge: "You will never be appreciated more anywhere else." The campground has 140 full-service hookup sites on 13 shaded and landscaped acres.
7. Nashville I-24 Campground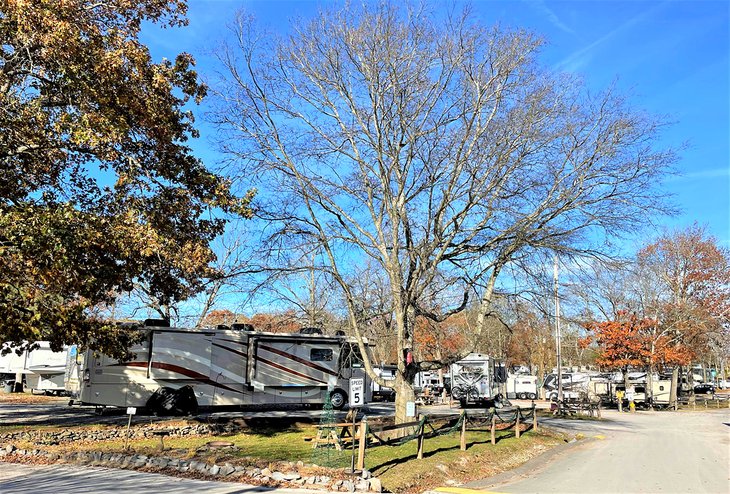 Nashville I-24 Campground is 26 miles southeast of Music City and welcomes you with its friendly staff. The place has 100 sites for RVers and tenters, but be sure to reserve a spot during high season. RV campers have full-service hookups, pull-through sites with shade. Tent campers can request propane fire rings. Campers without an RV or tent can book a cabin. Amenities include a propane fill-up station, dump station, and Wi-Fi.
During the summer, campers cool off in the large swimming pool. Shoot a few basketball hoops while the kids are next door in the playground. Coin-operated laundry and bathhouses with hot showers are available. A recreation room is on-site plus a convenience store for RV supplies, gifts, and souvenirs. Check out the women's clothing for sale.
8. Montgomery Bell State Park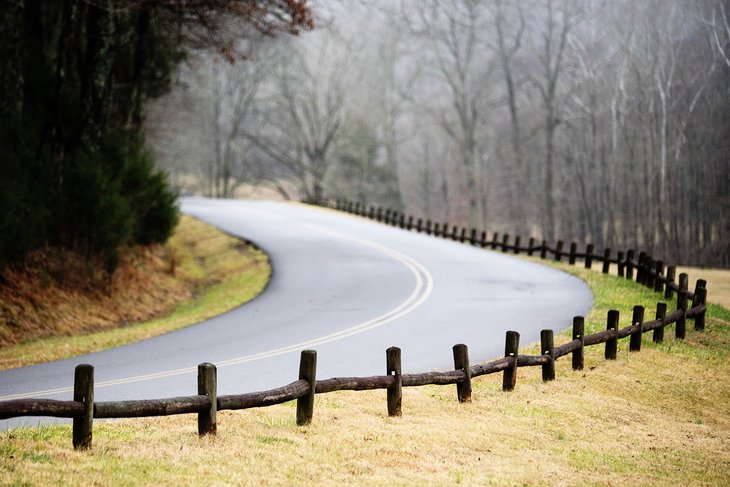 Campers at Montgomery Bell State Park benefit from all the programs and tours that are offered. One-hour wildlife programs focus on the birds of prey, mammals, and reptiles of Tennessee. Campers can participate in two after-dark programs: a night hike and an owl prowl. Three water programs are also available: Lake Acorn canoe float, basic kayaking, and creek exploration free of charge. Take an interpretive tour by golf cart, or a history tour by park van and carpool.
Open year-round and located 40 minutes from Nashville, 3,850-acre Montgomery Bell State Park has 94 RV campsites and 22 sites for tenters. Full-service hookup sites are available. Motorhomes up to 60 feet in length can be accommodated.
9. Bledsoe Creek State Park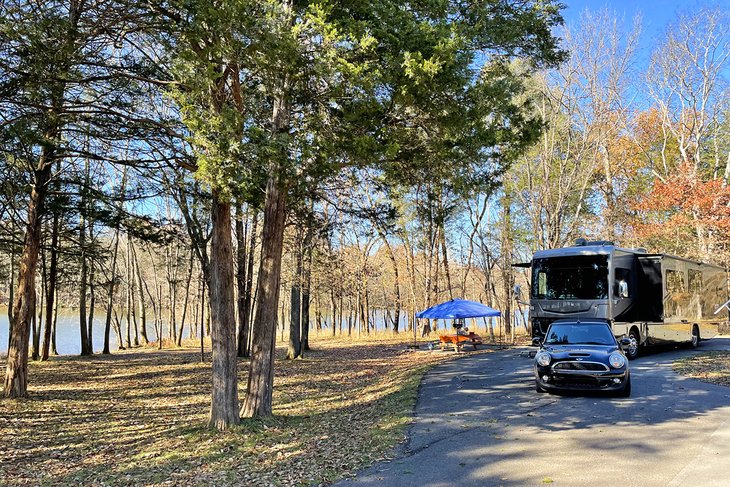 Bledsoe Creek State Park is well worth the 37-mile drive from Nashville if you fancy a water site with all the fixings. Reserve or arrive early for the choicest locations on Old Hickory Lake. The 169-acre park is located 10 minutes east of Gallatin, north of the Cumberland River.
The campground has 57 level sites that can accommodate large RVs (sites are 65 feet long and 25 feet wide). Services include 50 and 30 amps of power, water hookups, a dump station, modern restrooms with flush toilets and hot showers, and a laundromat. Campers can pitch their tents and hammocks on 19 primitive sites with water access. Picnic tables, grills, and fire pits are provided at each site. Firewood is available for sale. Park staff are friendly and happy to explain such mysteries as the large yellow-green balls you find on the ground (fruit of the osage orange tree).
10. Anderson Road Campground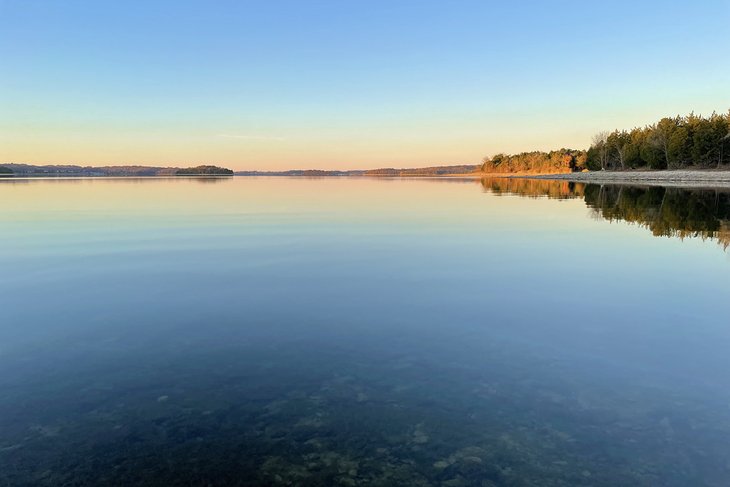 Anderson Road Campground is a well-established camping area on 14,200-acre Percy Priest Lake with an unusual but welcome attraction: a sandy swimming beach. The 37 shady and spacious campsites beside the lake are managed by the U.S. Army Corps of Engineers. Drinking water, a dump station, and a boat ramp are available. The day-use area located next to the campground augments the camping experience with picnic tables, grills, a shelter and playground.
11. Seven Points Campground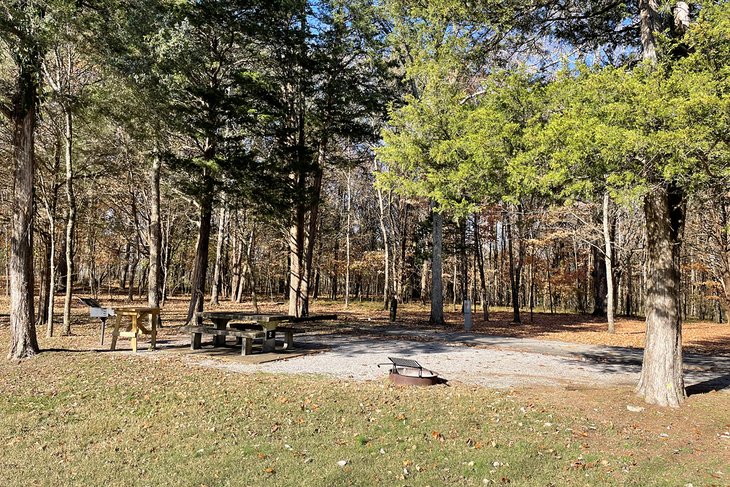 Seven Points has an idyllic setting on Percy Priest Lake that invites campers to enjoy all kinds of water activities, including jet skiing, water skiing, tubing, rowing, canoeing, kayaking, sailing and fishing. Best of all, during warmer months, there is a sandy beach where you can have a refreshing dip.
12. Cedar Creek Campground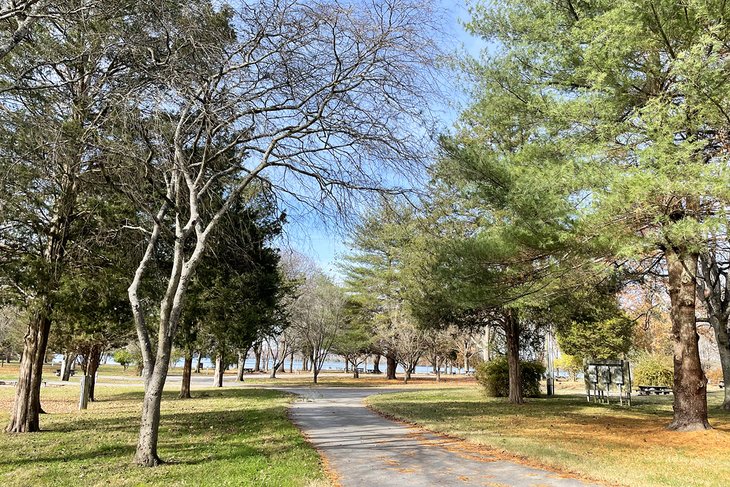 Discover Cedar Creek Campground on Old Hickory Lake. Managed by the US Army Corps of Engineers, the 22,500-acre reservoir flows from the Cumberland River–both bodies of water attract migratory birds. Open from April to October, the campground is 23.5 miles northeast of Nashville.
13. Cages Bend Campground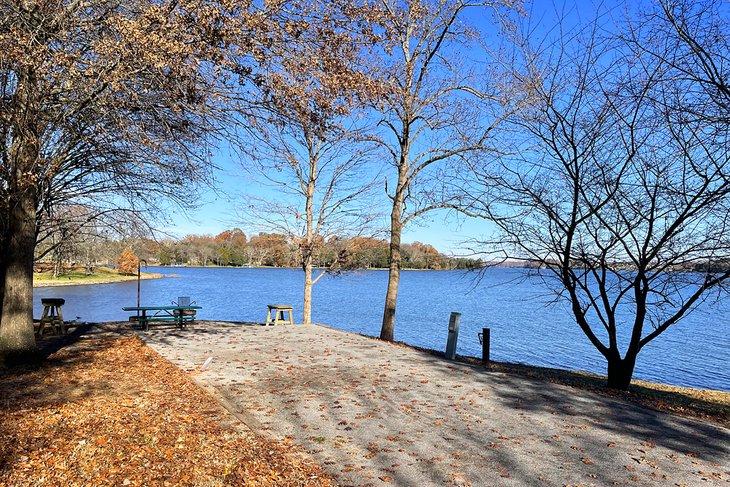 If you're into nature observation or wildlife photography, or you're a camper who wants a site by the water, Cages Bend is an excellent campground. Due to its location on the north shore of Old Hickory Lake, the lake attracts songbirds, shorebirds, and wildlife such as white-tailed deer. Located 26 miles northeast of Nashville, this setting feels like a world away from Music City.
Managed by the US Army Corps of Engineers, Cages Bend has 43 sites for RVs and tents, including many choice locations beside the lake. Water, electric hookups, and a dump station are available. Each site is equipped with a picnic table, food prep table, and BBQ grill.
14. Poole Knobs Campground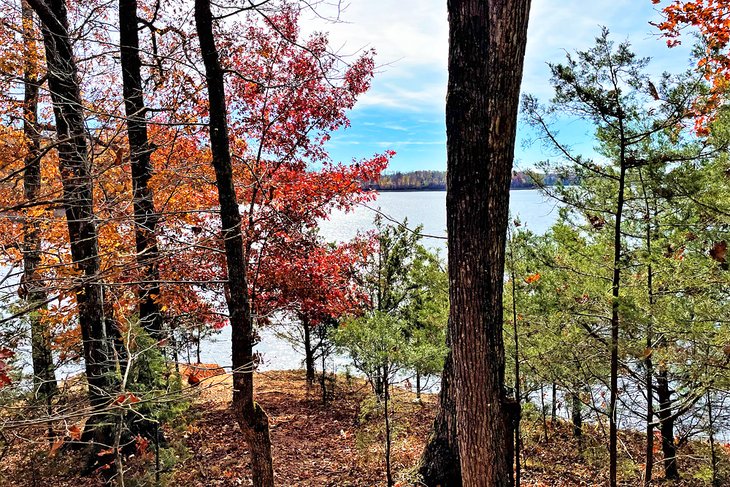 Poole Knobs Campground is an outdoor adventure playground. Located on Percy Priest Lake 34 miles southeast of Nashville, you can go fishing for large and small-mouth bass, catfish and trout. There's boating and paddling, wildlife viewing and photography, horseback riding, and picnicking.