13 Best Hiking Trails near Nashville, TN
Hiking might not first come to mind when thinking about things to do in Nashville, but there are plenty of options for stretching your legs in and around the city. Among the most popular and accessible green spaces for hiking trails are Percy and Edwin Warner Parks (aka Warner Parks), located just a few miles from downtown.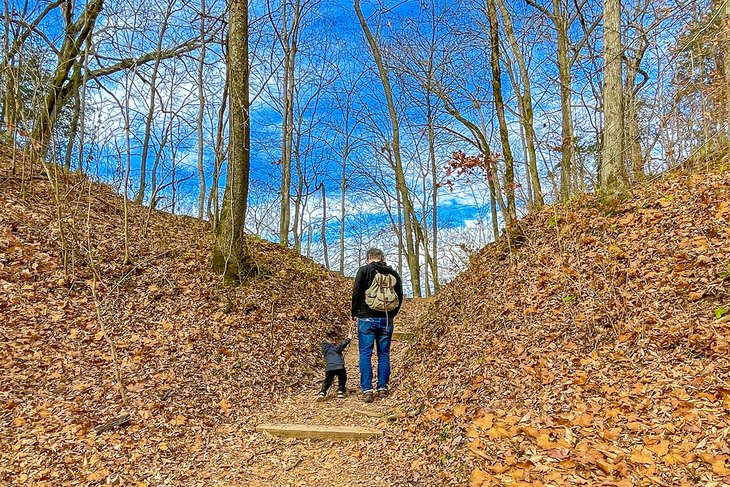 The city has an impressive network of trails organized under the banner of "greenways." Three of these greenways are featured on our list of best hiking trails: Shelby Bottoms, Stones River, and Richland Creek. For non-urban hiking options, consider getaways just outside the city, such as Beaman and Bells Bend Parks.
Within a 30- to 45-minute drive from Nashville, visit the four state parks on our list for more options to hike while communing with nature. Take in the stunning geology (limestone cliffs and sinkholes) and sparkling waterways (lakes, rivers, and creeks). Embrace each encounter with wild creatures and birds, always more abundant whenever intrusive human activities are kept to a minimum.
Imagine if you could click your heels together and be transported to another world. Our list of the best hiking trails near Nashville will help you get there.
1. Radnor Lake Trail in Radnor Lake State Park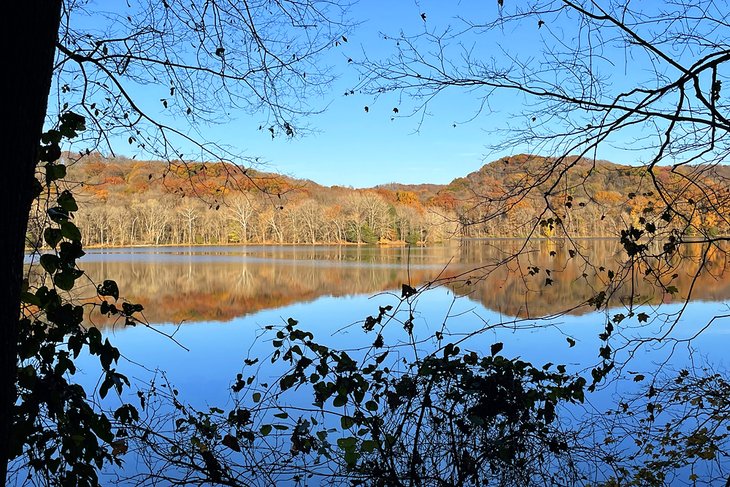 Radnor Lake Trail is an easy hike accessible by all-terrain wheelchair. The trail enables hikers to circumnavigate the lake on a mostly flat loop covering 2.4 miles. Crossing wooden bridges and wandering in the shade of forested portions, Radnor Lake Trail is good for all skill levels. Accessible year-round, the trail is used for hiking, running, and bird-watching. Add on South Cove Trail and Ganier Ridge Trail for considerably more challenge.
Of all the state parks near Nashville, Radnor Lake State Park is the closest–about 11 miles away in nearby Brentwood. There are eight miles of trails in this day use park, covering a range of terrain (easy to difficult) and scenery (lakeside to steep hills). Hikers, photographers, and people viewing birds and wildlife are allowed on the trails. Pets, cyclists, and joggers are not permitted. Radnor Park is home to owls, herons, coots, mink, and otter.
At the trailhead, make a stop at Walter Criley Visitor Center. In addition to restrooms and natural history exhibits, you can obtain the local bird checklist and trail maps. The center also supports environmental education programs conducted by park rangers about what you might experience out on the trail.
Address: 1160 Otter Creek Road, Nashville, Tennessee
Official site: https://tnstateparks.com/parks/radnor-lake
2. Harpeth Woods Trail in Edwin Warner Park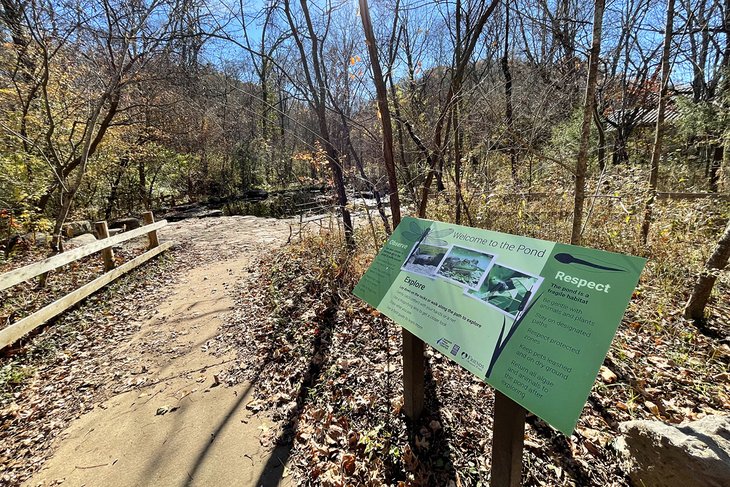 Harpeth Woods Trail is one of three designated trails in 626-acre Edwin Warner Park. This 2.5-mile moderate, forested loop trail has a slight elevation of 350 feet. The trailhead is conveniently accessed from the parking lot at the Warner Park Nature Center. Here, you will meet locals who use this popular route for daily walks and runs. The nature center also organizes guided hikes year-round on this trail and others in the park.
When picking up a free trail map at the nature center, spend time exploring the center's fascinating wildlife exhibits. Learn about the trees and plant life you will see on your hike. This is a lovely place to enjoy a picnic before or after your hike. Restrooms and drinking water are available.
Start out on the Nature Loop Trail and follow the blue markers to the Harpeth Woods Trail. A rich variety of trees are seen along the path, including mature cedar, oak, and beech.
The first portion of the trail is the most strenuous, so reward yourself by taking a break halfway around the loop beside the Little Harpeth River. On your return, watch for evidence of a small rock quarry that dates to the 1930s, when public works used stone for road building in the park. The last stretch of trail takes you along a straight, flat corridor that is a portion of the historic Natchez Trace byway.
Address: Warner Park Nature Center, 7311 Highway 100, Nashville, Tennessee
Official site: www.nashville.gov/departments/parks/parks/warner-parks
3. Mossy Ridge Trail in Percy Warner Park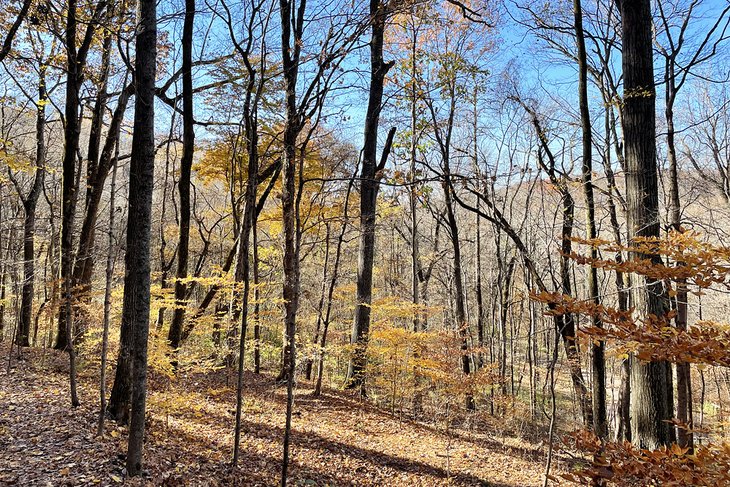 Located in Percy Warner Park, Mossy Ridge Trail is a 4.5-mile moderate loop that can be accessed by the easy one-mile Cane Connector Trail from the Warner Park Visitor Center. The Cane Connector leads you from Edwin Warner Park into Percy Warner Park. With its 2,060 acres and 10 trails, Percy Warner Park offers hiking, equestrian, and biking trails.
Mossy Ridge Trail is five miles of mostly shaded up-and-down terrain with an elevation gain of 880 feet. It features a moss-covered forest, steep ascents, and natural springs and open meadow areas. Benches are available for resting and reflecting as you make your way along the trail.
Address: Warner Park Nature Center, 7311 Highway 100, Nashville, Tennessee
4. Shelby Bottoms Trail at Shelby Bottoms Greenway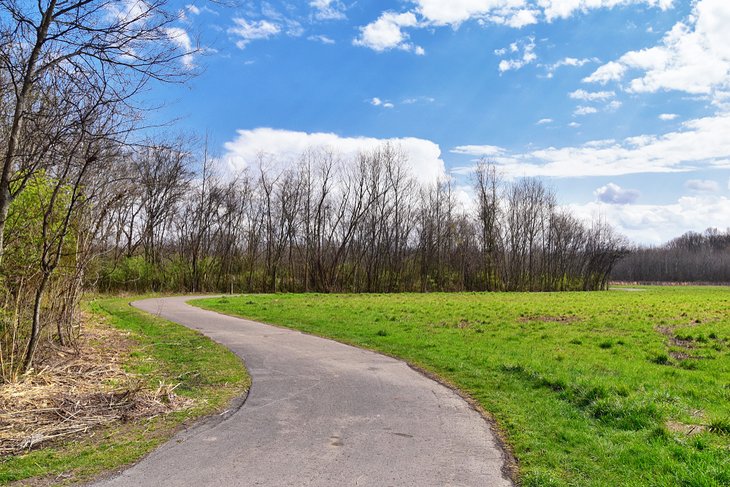 Shelby Bottoms Trail is one of the most popular places to connect with nature in Nashville's network of greenways throughout the city. This 8.1-mile paved greenway trail is mostly flat with marginal elevation gain. The trail is popular because of its scenic route along the Cumberland River. Not only a favorite for people who like to walk, the trail gives visitors access to active bird-watching in this rich riparian zone.
Towards the northern end of the trail, Shelby Bottoms connects with Stones River Greenway at the photogenic Cumberland River pedestrian bridge. The main trailhead is closer to downtown at Shelby Bottoms Nature Center, which provides trail maps and interpretation about local natural history. You can also access the Forrest Green trailhead at 2032 Forrest Green Drive.
To cover the entire distance of the trail or include connecting greenway trails into your plans, consider renting a bike from Nashville B-Cycle station at the nature center. The Shelby Bottoms Trail is suitable for people in wheelchairs or parents walking with a stroller.
Address: Shelby Bottoms Nature Center, 1900 Davidson Street, Nashville, Tennessee
Official site: www.nashville.gov/departments/parks/parks/shelby-park
5. Stones River Greenway of Nashville Trail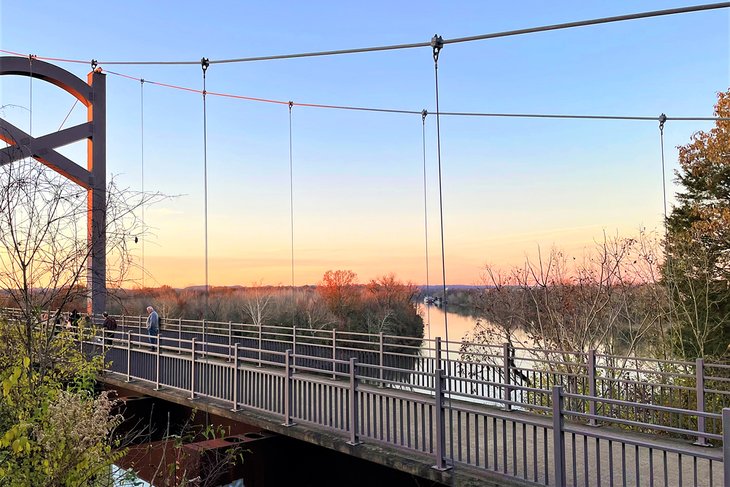 Stones River Greenway of Nashville Trail is located 12 miles east of downtown and follows Stones River for much of its 10.7-mile one-way route. Hop on and off this trail at several trailhead access points and parking areas. It's a multi-use trail, so you can choose to walk or cycle its paved surface.
This trail is the longest segment of the Nashville Greenway system. The trail runs from the scenic Cumberland River pedestrian bridge (where it connects to Shelby Bottoms Greenway) and ends at Percy Priest Dam and Lake–the large reservoir southeast of the city. Enjoy the combination of shade and open sky.
Official site: https://greenwaysfornashville.org/individual-maps/
6. Volunteer Trail Day Loop at Long Hunter State Park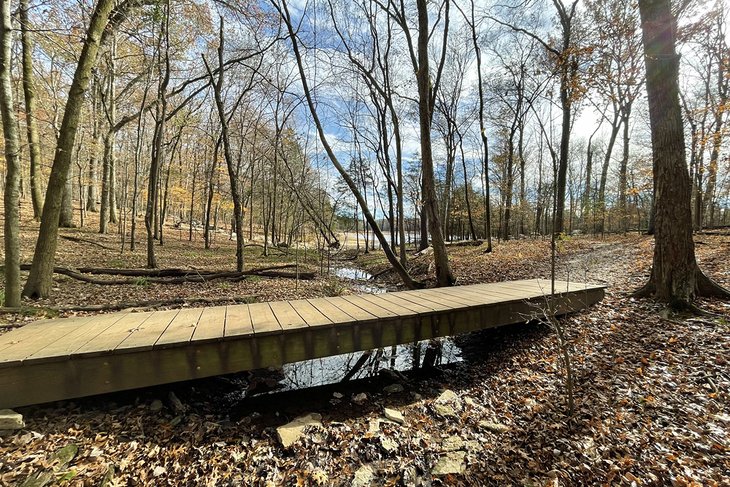 Located within half an hour of Nashville, Long Hunter State Park is a popular hiking destination with 25 miles of trails. A favorite hike is Long Hunter's Volunteer Day Loop. This moderate 3.9-mile loop connects to a one-way spur that takes you to a primitive campsite on J. Percy Priest Lake.
The Volunteer Trail Day Loop is a popular choice that skirts the lakeshore. The scenery rewards you with water views from bluffs overlooking forests of cedar and oak. Don't be surprised if you see deer on the way, and if you're really lucky, a fox or bobcat. Pileated woodpeckers, osprey, and hawks make their home here, and common loons are seen on the lake. Enjoy the grand mix of limestone formations with shoots of prickly pear, forested hills, creeks, and Nashville's largest lake.
Address: 1650 Granny Wright Lane, Hermitage, Tennessee
Official site: https://tnstateparks.com/parks/activity-detail/long-hunter-hiking
7. Couchville Lake Arboretum Trail at Long Hunter State Park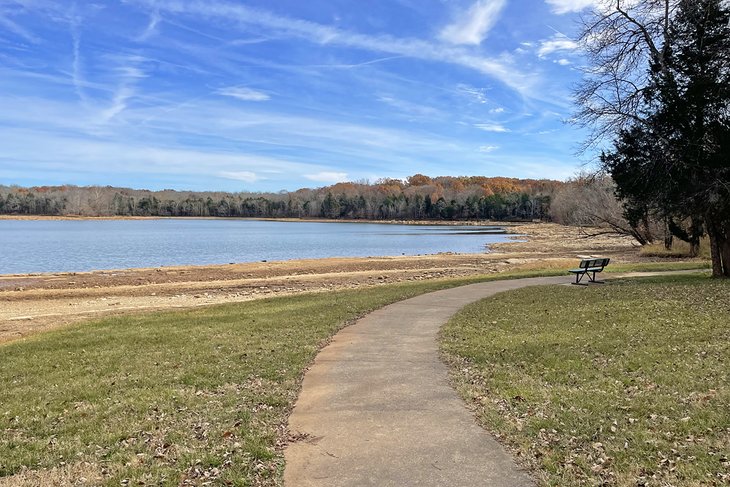 Couchville Lake Arboretum Trail is the easiest trail to walk in Long Hunter State Park. This 2.2-mile paved loop gives you access to the scenery all along the lakeshore on foot or wheelchair. Watch for white-tailed deer in the forest and mink on the shoreline from one of the fishing platforms.
Bird-watchers and photographers will delight in seeing wild turkeys, herons, and osprey. Plants and trees in the arboretum–the first to be certified in a Tennessee state park–are identified along the way. Learn about southern trees such as sycamore and sassafras.
Address: 2910 Hobson Pike, Hermitage, Tennessee
Official site: https://tnstateparks.com/parks/activity-detail/long-hunter-hiking
8. Bryant Grove Trail at Long Hunter State Park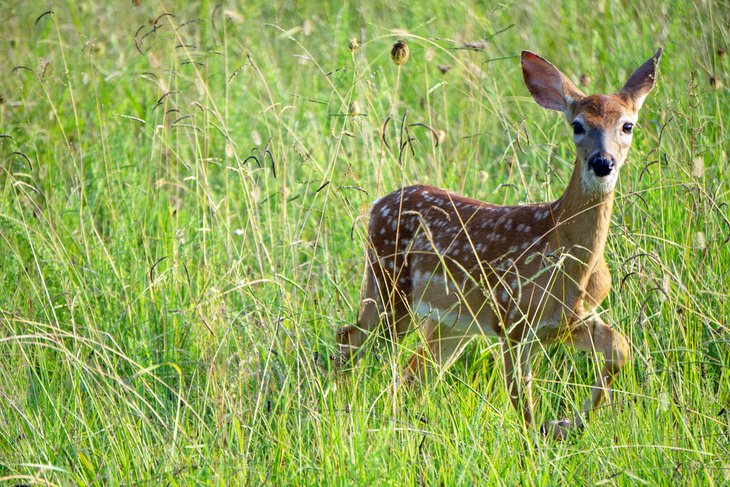 Bryant Grove Trail is eight miles round trip. Your four-mile turnaround point is one of the rare swimming areas in Long Hunter State Park. The trail is rated easy to moderate with a 218-foot elevation gain.
This flat, winding route connects the dots between J. Percy Priest Lake and Couchville Lake. Pets aren't allowed on this mixed forest and meadow trail, so chances are good you'll see birds and wildlife. Prickly pear grows here, along with wildflowers such as the perennially gorgeous coneflower.
Address: 2910 Hobson Pike, Hermitage, Tennessee
Official site: https://tnstateparks.com/parks/activity-detail/long-hunter-hiking
9. Richland Creek Greenway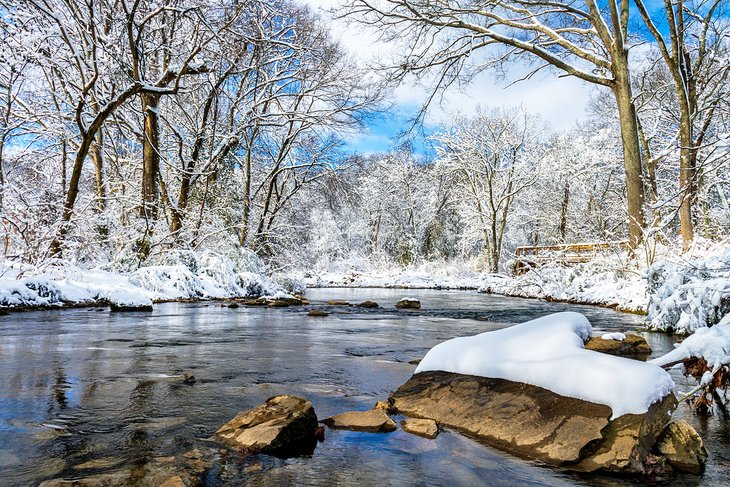 This popular fitness walk can be done by hikers, walkers, joggers, and cyclists–often all at once, so pick your time to avoid congestion. Accessible year-round, the Richland Creek Greenway trail, also known as the McCabe Golf Course Loop, is 2.8 miles long and rated easy. The route follows Richland Creek and features numerous scenic creek crossings that your canine companion will enjoy on a hot day.
10. Sedge Hill Trail at Beaman Park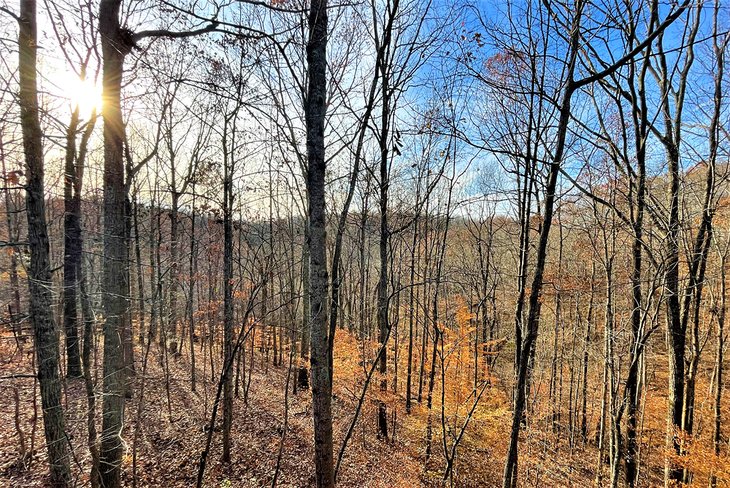 Sedge Hill Trail is a short two-mile round-trip energetic hike in the woods that drops from Beaman Park Nature Center along Henry Creek to Little Marrowbone Creek. If you wish to extend your hike, take the 2.5-mile Henry Hollow Loop. Otherwise, turn around and complete 242 feet of elevation to the nature center. Enjoy the center's nature exhibits and relax in an Adirondack chair on the deck looking into the forest canopy.
Beaman Park comprises 2,370 rugged acres, with almost 15 miles of designated hiking trails. These trails are less busy than hiking areas in the city, yet the short trek to the country delivers so much more in terms of scenery and serenity. If you have time for more hiking, continue south on Old Hickory Blvd to the open pasturelands of Bells Bend Park.
Address: Beaman Park Nature Center, 5911 Old Hickory Blvd, Ashland City, Tennessee
Official site: www.tn.gov/environment/program-areas/na-natural-areas/natural-areas-middle-region/middle-region/beaman-park.html
11. Bells Bend Loop Trail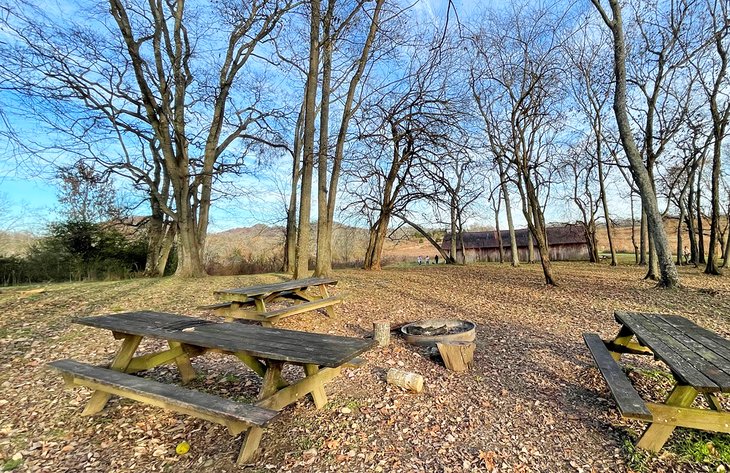 Bells Bend is an 800-acre pastoral park west of Nashville named for a bend in the Cumberland River. The five-mile loop trail is rated easy with a 213-foot elevation gain. Be aware that much of the terrain is a meadow with little shade, so go early or late on a hot day. Take your leashed dog, but monitor your canine friend for ticks.
Enjoy the comfortable chairs and view from Bells Bend Outdoor Center when you complete your walk. The center features a demonstration garden and outdoor mini climbing wall to safely practice hand and foot holds. The property includes historic Buchanan House, built in 1842, and a primitive tent site. Start your hike at the nature center, which is equipped with restrooms.
Address: Bells Bend Outdoor Center, 4187 Old Hickory Blvd, Nashville, Tennessee
Official site: https://www.nashville.gov/departments/parks/nature-centers-and-natural-areas/bells-bend-outdoor-center
12. Narrows of the Harpeth at Harpeth River State Park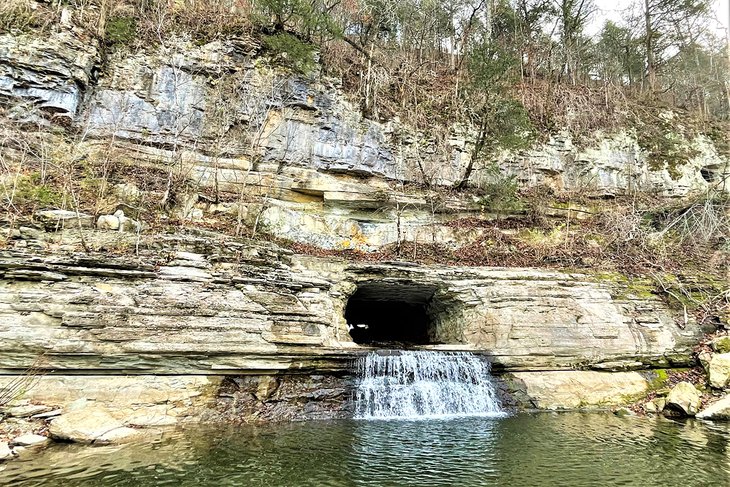 Harpeth River State Park, located 26 miles west of Nashville, is well worth the drive to see the scenic combination of river and limestone. This combo is especially striking at one of the most popular trails, Narrows of the Harpeth. Short and sweet at 1.1 miles long and 223 feet elevation, this easy to moderate trail features rock formations. Most famously, a waterfall emerges from a man-made hole in the rocks. This is the former site of the Montgomery Bell Pattison Forge.
13. Montgomery Bell Trail at Montgomery Bell State Park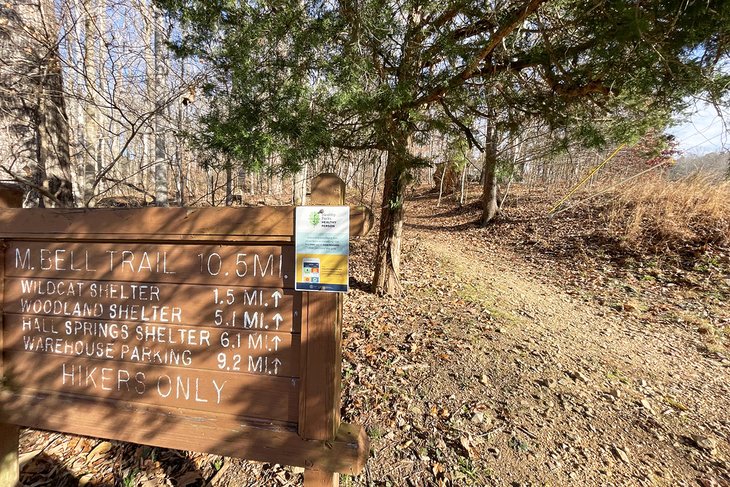 Montgomery Bell Trail, 10.5 miles long, has an elevation gain of more than 1,000 feet and is rated moderate. Once you have completed the entire loop, you will have seen most areas of the park and many of its natural features. After leaving your vehicle at the park visitor center, the trail will lead you to stream crossings, waterfalls, three lakes, an 18-hole golf course, and a historic log cabin.
If you are looking for a shorter hike, consider doing the six-mile North Loop Trail, which navigates around Acorn Lake and the perimeter of the golf course. You will then link up with the Creech Hollow Trail back to the visitor center.
Montgomery Bell State Park is located 38 miles west of Nashville. Consider an overnight stay before or after your hike in one of eight deluxe cabins, or a room in the lodge that has a restaurant and other resort amenities. The 94-site campground is an attractive option for provisioned hikers.
Address: Montgomery Bell State Park, 1020 Jackson Hill Road, Burns, Tennessee
Official site: https://tnstateparks.com/about/park-trail-maps/#montgomery-bell