10 Best Romantic Getaways in Tennessee
It's not difficult to come up with places for romantic getaways in Tennessee. That's because the entire state is a romantic destination. Think of Tennessee, and what comes to mind? Award-winning country music, misty mountains and waterfalls, mouthwatering food, and a vibrant culture of Southern hospitality. All the components needed to inspire a couple to escape together converge in Tennessee.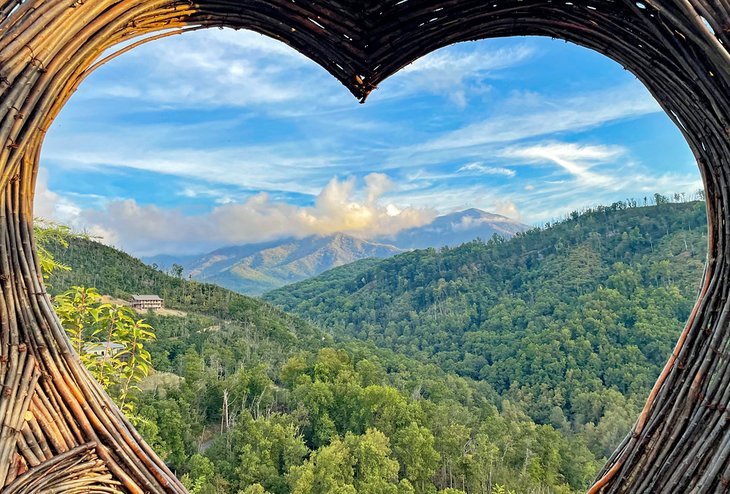 Romantic getaways are not only destinations but the journeys to get there. That's why some of the items on our list are drives, rides, and conveyances. These modes of transport take couples to settings that are rapturously above and beyond.
We've included the most spectacular venues we can think of—the Grand Ole Opry, World's Fair Park, and the Tennessee Aquarium—where you can skedaddle with your beau or belle. Flowers are an essential ingredient of any courtship, so we've suggested a botanical garden and tropical indoor forest. Just for fun, cuddle up for an adventure at Anakeesta and a day at Dollywood.
Up the romance with our list of the best romantic getaways in Tennessee.
1. Great Smoky Mountains National Park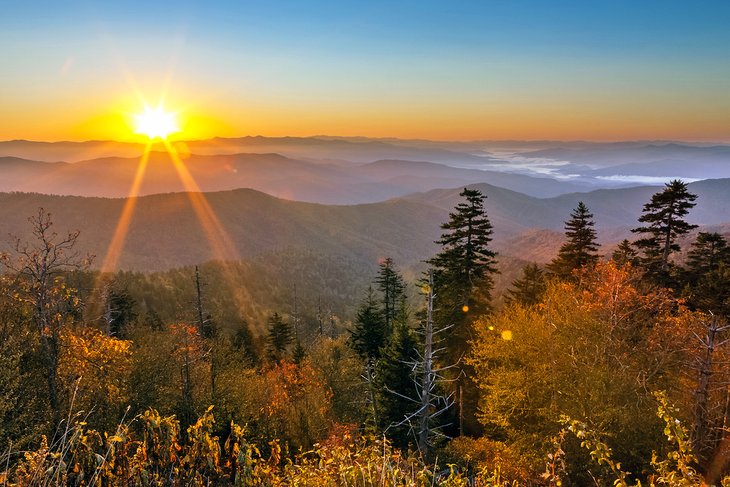 Highlights: Cuddle under the stars, hike hand-in-hand, take a horse-drawn carriage ride
Great Smoky Mountains National Park is the ultimate romantic getaway destination. Overnight in one of the hotels in Gatlinburg, Pigeon Forge, or Townsend, or cuddle under the stars in a local campground. Choose from the selection of restaurants nearby or pack the camper pantry with delectable treats for a gourmet cookout.
Reach for the top in Great Smoky Mountains National Park—as well as the highest peak in Tennessee—at Clingmans Dome. During sunrise or sunset, the Top of Old Smoky is a lofty backdrop to any romantic adventure: A warm embrace to beat back the mountain chill; a selfie to capture a moment of bliss; a hike to the top of Old Smoky Observation Tower for a 360-degree panorama.
Be sure to include Clingmans Dome as part of this getaway with your sweetheart. This perch above the clouds at sunrise feels surreal when you witness the slow reveal of mountain peaks emerging in the mist. Radiant sunsets at Clingmans Dome may also reflect the energy that draws you closer to each other.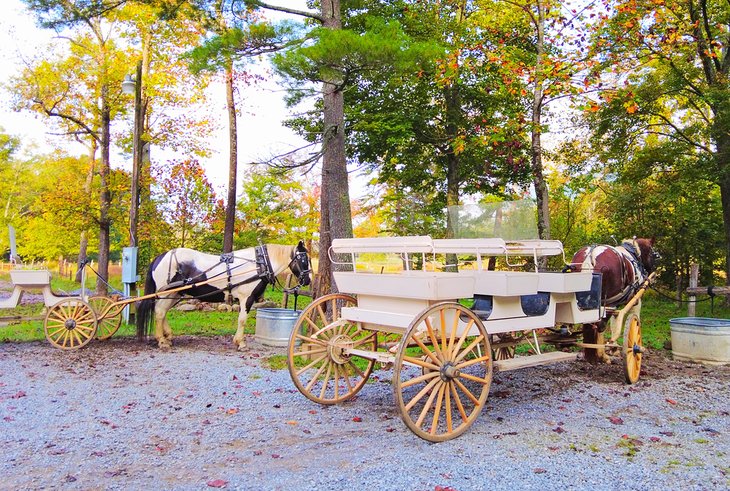 Some people feel like royalty when chaperoned in a horse-drawn carriage. Don't miss the chance to escort your "princess" aboard a carriage in the picturesque meadow of Cades Cove in Great Smoky Mountains National Park. Surrounded by serene countryside, you and your mate will traverse pioneer pathways and pasturelands. Experience a landscape inhabited by wildlife such as deer, wild turkeys, and black bears.
Your carriage driver will guide you through a leafy suburb of nature on a tour that takes less than an hour. Through entertaining anecdotes, you will get a deeper appreciation of this neck of the woods. Step back into the lives of families that carved a wholesome livelihood from this land over generations. All the while, feel the comfort of being with someone who stirs your deepest affections.
Prepare for the one-hour drive up the north side of the mountains to Clingmans Dome from Gatlinburg. Dress in layers, and bring a blanket large enough to tuck around you and your snuggle bunny.
Address: Great Smoky Mountain National Park, Tennessee
2. Dollywood, Pigeon Forge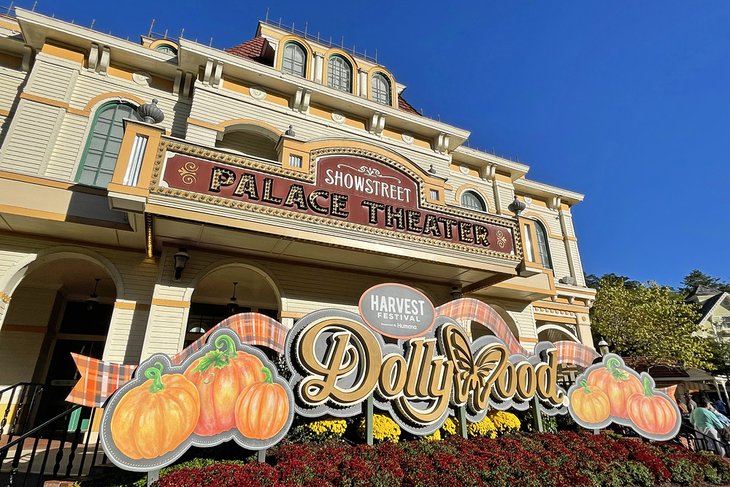 Highlights: Enchanting amusement park with roller coasters and mystical pathways
"Love is Like a Butterfly" is a Dolly Parton tune from the 1970s. This could easily be the theme song for Dollywood, the colossal world-famous theme park in Pigeon Forge, Tennessee. Images of butterflies are at every turn in Dollywood.
Dollywood is 150 acres of enchantment in the Great Smoky Mountains. Stay close to this romantic haven in one of the many resorts or hotels in Pigeon Forge. Dollywood welcomes everyone, including lovebirds on a first date or celebrating a 25th anniversary. Hop aboard the Dollywood Express for a scenic railroad overview of the park.
Follow the sounds of music that take you to venues where first-rate entertainers perform. Traipse mystical pathways at dusk, lit by LED firefly lights. Visit the replica of Dolly's two-room mountain home where she was raised in the hills near Dollywood. Observe the creation of one-of-a-kind crafts such as glassblowing. Munch on freshly made cinnamon bread from the Grist Mill.
Before you go, feel the thrill of a roller-coaster ride that will bring you and your date closer in seconds. Hold on and don't let go!
Address: 2700 Dollywood Parks Blvd, Pigeon Forge, Tennessee
3. Gatlinburg's Romantic Escape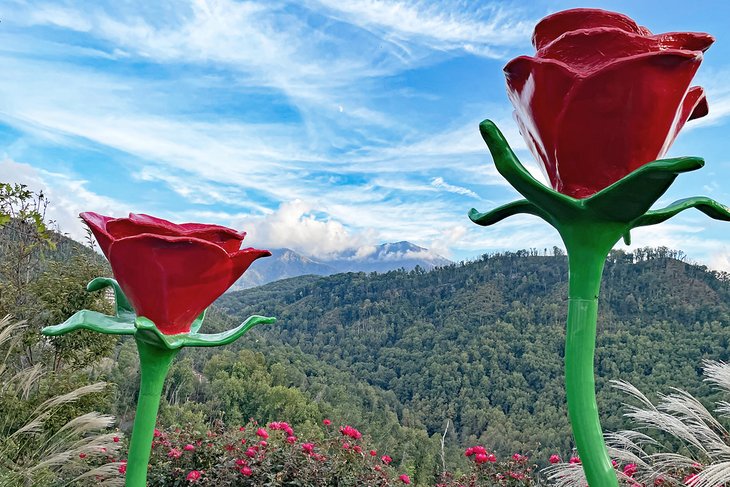 Highlights: Cozy chairlifts, treetop skywalks, swaying rope bridges, and ziplines for two
The temperate climate of Tennessee and the Smoky Mountains will motivate you to take romance to the great outdoors and new heights in Gatlinburg. There are so many things to do in this busy tourist town that you and your true love are bound to reprise your first romantic getaway here. Book a stay in a mountainside lodge or convenient condo, and reserve a table for two for a special dining experience.
For a daytime outing, look no further than Anakeesta—a theme park with heart. Make your way to the chairlift that elevates you and your sweetie from the Gatlinburg Strip to the park. Upon arrival at this magical playground in the sky, climb to the top of AnaVista Tower — the apex of downtown Gatlinburg. For a romantic date, the view of the mountains from Anakeesta is made in heaven.
Before settling into your loveseat with a killer view, step onto the treetop skywalk. Swaying 60 feet above ground, this jungle-like rope bridge spans 880 feet. Be a hero and catch your beloved at any time, for any reason!
Boost the passion with a little friendly competition at Anakeesta's "dueling zipline." Take off at the same time, soar together, and reach the end in a fit of laughter.
Like mountain lovebirds, cuddle at sunset with the best view in town, or dine at the Cliff Top restaurant. The end of your time at Anakeesta will be much like how it started on a chairlift, but this time falling back to earth and in love all over again.
Address: 576 Parkway, Gatlinburg, Tennessee
4. Downtown Nashville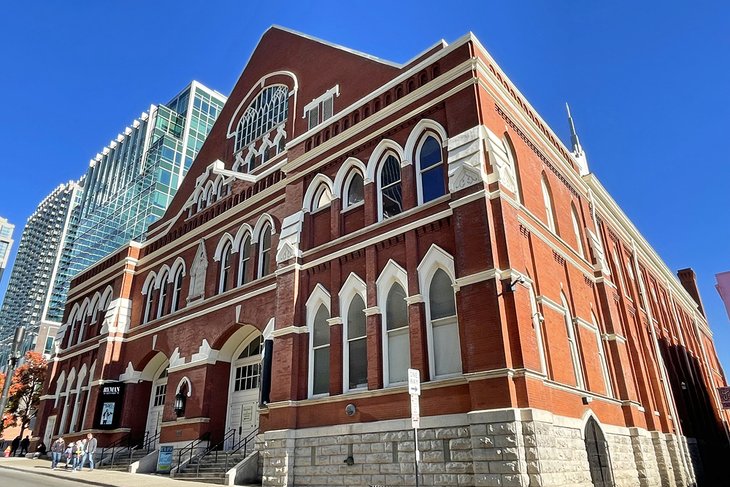 Highlights: Live shows in venerated venues and romantic parks with 4th of July fireworks
Listening to music can elevate your mood, put a dance into your shuffle, and stimulate love in your heart. What could be better for a romantic getaway than a trip to Music City?
The buzz you hear about Nashville is all music related, so surprise your beloved with tickets to a show at the Ryman, the original Grand Ole Opry. This 2,362-seat live performance space was the Opry's home from 1943 to 1974. If you choose the Ryman for a date, it doesn't really matter what is happening on stage. Just sitting in the venerated seats of this famous venue is enough to kindle romantic thoughts.
Imagining the debut act of Johnny Cash and the first meeting of Johnny with June Carter, you can't help but feel in a romantic mood. Drift along memory lane reviewing the role of the Ryman as Mother Church of Country Music, and the Carnegie Hall of the South.
Thinking about its heady history, you reach out and touch the hand of your sweetie in the seat next to you. Both of you are caught in a reverie of what this place means and what you mean to each other. You don't have to say a word—another reason why the Ryman is perfect for a first date or recharger. The language of love needs no words.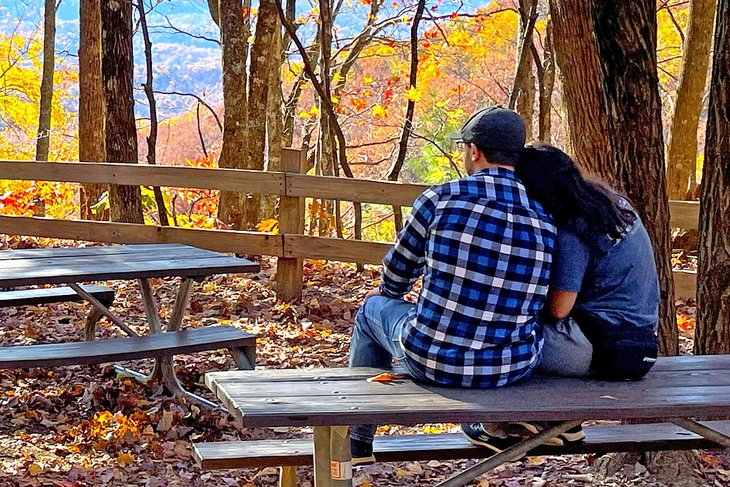 In the old days, romantics might have referred to Love Circle as lover's lane or, less romantically, as Bald Hill. To get there, follow a steep hill to a parkette overlooking Nashville. Perched 744 feet above the city, it's the perfect place to visit for couples to hang tight while ooh-ing and ah-ing over 4th of July fireworks. It's also a spot for smooching, in or out of the vehicle that brought you here.
The view from the top isn't unobstructed, and parking might be at a premium. But sightseeing is not likely to be on the minds of everyone looking for this romantic getaway. Find this residential street near the West End neighborhood, Vanderbilt University, and Natchez Trace Parkway.
Short on time? You can see more than 100 points of interest in just 90 minutes on the Nashville Hop On Hop Off Trolley Tour. It includes 14 stops at major attractions, including the Nashville Farmers' Market, Centennial Park, and the Tennessee State Capitol.
Read More: Top-Rated Tourist Attractions in Nashville
5. Memphis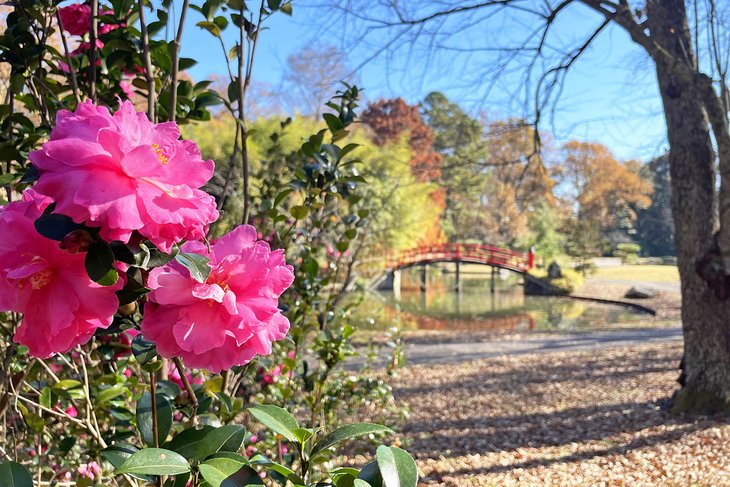 Highlights: Graceland, live music, botanic gardens, and dinner cruises on the Mississippi River
Memphis inspires passionate rhythms in the genres of gospel, blues, soul, and rock & roll. These American music traditions made this city famous. Lead with your heart and choose Memphis as the destination for your romantic getaway. Soon you and your sweetheart will be walking along Beale Street, experiencing live music and Southern hospitality, or touring Graceland and other top sights.
A visit to Memphis Botanic Garden offers a retreat from busy urban energy. Here, you can find tranquility at the Japanese Garden with its Moongazing Pavilion, Red Drum Bridge, and pond with multi-colored koi fish. More than a place that engages the senses of sight and smell, the scene is a tonic to the spirit.
People get engaged and married at the 96-acre botanic garden in Audubon Park. No surprise that this urban oasis of beauty is a romantic place to visit to get away from it all.
Ramble among two dozen specialty gardens with your sweetheart and find your favorites. Perhaps it will be the rose garden or the sensory garden or Audubon Lake. Maybe it will be strolling through gardens, followed by a concert at the lakefront pavilion. Watch for events such as the teddy bear picnic. Bring your own romantic picnic and join in the fun.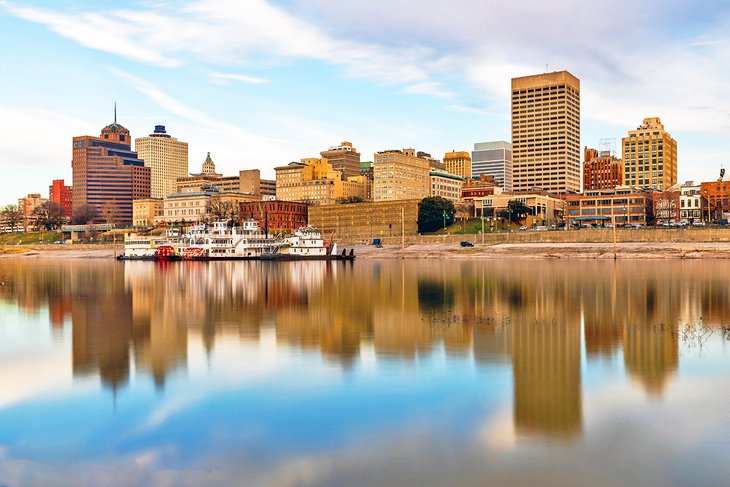 Pick a night with a silvery moon for a romantic evening on the Mississippi River in downtown Memphis. The seasonal two-hour dinner and music cruise on Memphis Riverboats will cost more, but it won't require you to listen to sightseeing information. You and your sweetheart can focus on the delicious barbecue dinner and ask the live band to play your favorite song. Go on a Friday or Saturday night and let the cares of the week melt away like dripping candle wax. If the timing is right, opt for a Valentine's Day cruise.
Other special cruises are the sunset cruise on the Saturday before Memorial Day and the fireworks cruise on the 4th of July. Cruises on authentic Mississippi River paddleboats deliver a 10-mile round trip.
6. Chattanooga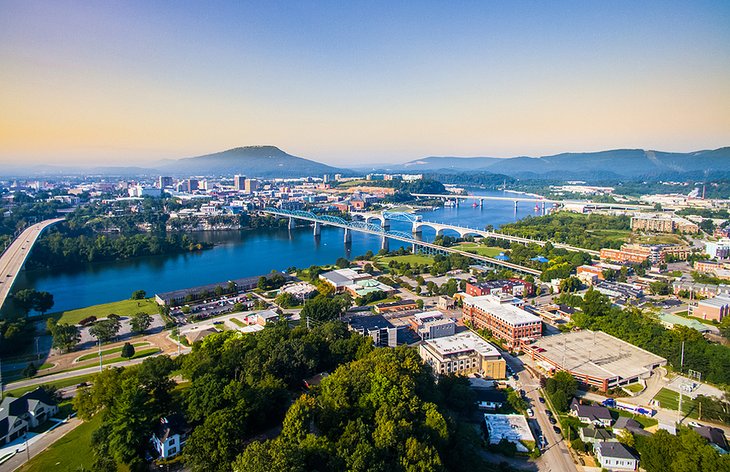 Highlights: Arts scene, upscale dining, waterfront walkways, and the Tennessee Aquarium
The name Chattanooga is often associated with Glenn Miller's 1941 hit single Chattanooga Choo-Choo about a young man coming home to marry his childhood sweetheart. Chattanooga is also a romantic destination on the Tennessee River to inspire your own sweet nothings.
Downtown Chattanooga offers comfortable hotels, a thriving arts scene, cosmopolitan dining options, and waterfront walkways for intimate strolls at sunset. At the center of it all is the much-celebrated Tennessee Aquarium.
The Tennessee Aquarium will immerse you and the one you love in two environments along the Ocean Journey and River Journey. Within two hours, take a virtual trip on the River Journey from the headwaters of the mountains in Tennessee to the Gulf of Mexico. Feel the exotic blend of rainforest mist and sea swells that await you on the Ocean Journey. These two journeys may arouse your own voyage together while connecting you to animals that make your hearts smile.
Head to the River Otter Falls, the highest point in the Appalachian Cove Forest of the River Journey. Otters are whimsical creatures that love to play. These curious animals will encourage the best love medicine: laughter.
For the ultimate date, take the Private Helicopter Lookout Mountain Tour from Chattanooga. The romantic helicopter flight offers a bird's-eye view of local landmarks, the Tennessee River, and Lookout Mountain.
Read More: Top-Rated Attractions in Chattanooga, TN
7. Tellico Plains and the Cherohala Skyway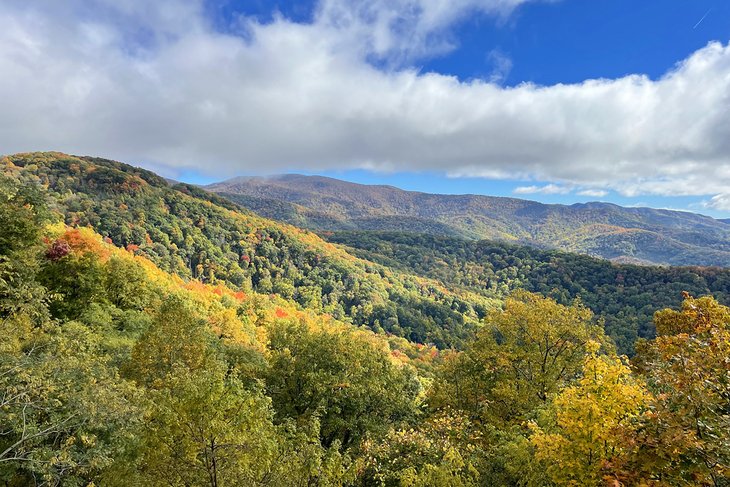 Highlights: A romantic road trip with brilliant fall foliage and waterfall excursions
Gas up, pack a picnic, and head for the hills. In Tennessee, you have several options for a scenic road trip, but there's something special about the drive up the Cherohala Skyway from Tellico Plains—one of the best small towns in Tennessee.
Heading southeast from town, miles of unsurpassed views of the Great Smoky Mountains and national forests of the Cherokee and Nantahala greet you around every corner. With your sweetheart secure in the seat beside you (or holding you tight on a motorcycle), you feel free and in love.
Cherohala Skyway is the winding stretch of Highway 165 that climbs to 5,400 feet before sliding into North Carolina. In the fall, this is one of the best byways to catch brilliant changes in autumn foliage. Combine your blast up Hwy 165 with a side trip to Bald River Falls—a spectacular cascade that's easy to access and only minutes off the skyway. Kick your romance into gear by going one mile high into the sky.
8. Knoxville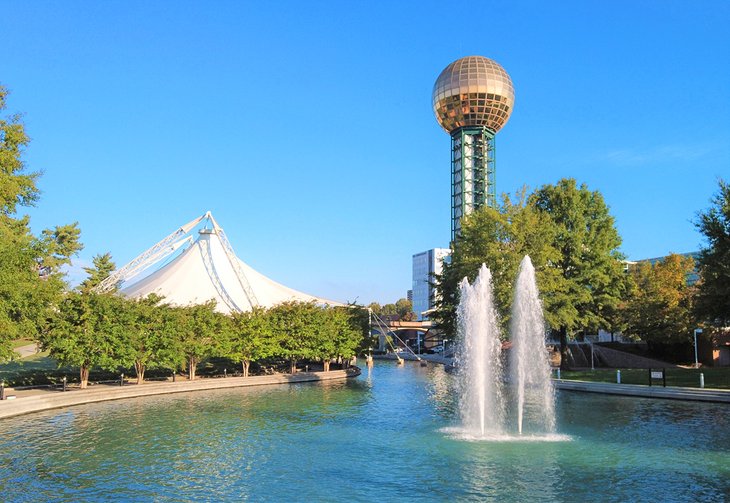 Highlights: Biking, paddling, strolling through historic Market Square, and live music at World's Fair Park
Just north of the Great Smoky Mountains and along the banks of the Tennessee River, Knoxville combines urban charm with the gifts of nature for couples who enjoy the country in the city. In addition to arm-in-arm walks in historic Market Square and along South Gay Street, you and your mate can just as easily hop on a bike for a ride in Knoxville's Urban Wilderness or go for a paddle in Mead's Quarry Lake.
Plan a visit to Knoxville for a concert or music festival on the sprawling performance lawn of World's Fair Park. An outdoor concert might not sound like a romantic date, but many lovebugs, hipsters, and hippie wannabes would disagree. Recall images of couples wrapped in blankets during festivals of the 1960s. Going to a concert gives you an excuse to snuggle and share the love vibe. Let the music rock your boat.
To cool down during a summer concert, run through the Court of Flags Fountain. This interactive water park is where you and your playmate can let loose and have fun together in the heart of the city.
9. Tour the Tennessee Valley Railroad along the Hiwassee River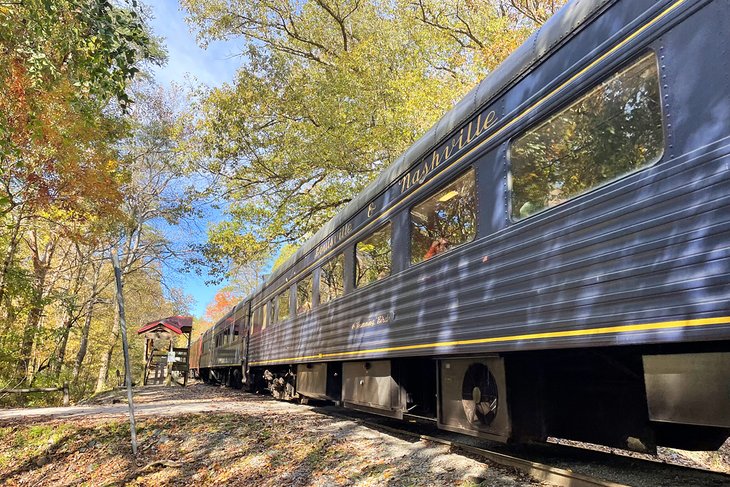 Highlight: Get cozy in dome cars of a restored vintage railcar and take in the views
How about something novel for a date that showcases the natural beauty of the Smoky Mountains? The Tennessee Valley Railroad (TVR) has just the ticket. Book two seats in the dome car, wrap an arm around your sweetheart, and soak in the views. You'll chug comfortably along the shore of the Hiwassee—one of Tennessee's wild and scenic rivers.
Complete the celebrated 50-mile Hiwassee Loop aboard TVR's beautifully restored vintage railcar with unobstructed dome views of the sky, mountains, river, and mature forest. Bring a picnic basket of fancy drinks and treats for the journey or purchase snacks. The round-trip itinerary starts and ends near Delano, 60 miles northeast of Chattanooga, where you can stay and dine during your romantic getaway.
Take advantage of TVR's special excursion on Valentine's Day. Created for romantic souls like you, this two-hour trip includes multi-course dining and the convenience of departing from—and returning to–—Chattanooga's Grand Junction Station.
Address: 4119 Cromwell Road, Chattanooga, Tennessee
10. Check into the Gaylord Opryland Resort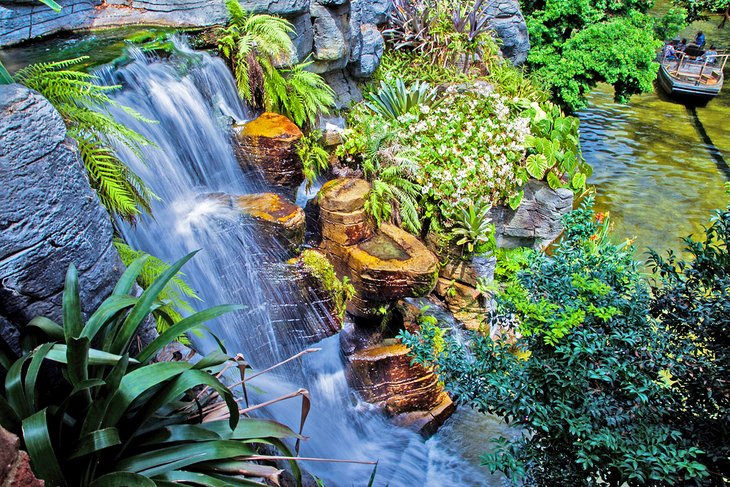 Highlights: Marvel at 50,000 plants in three atriums at a celebrated resort
Smell the roses and walk beneath 60-foot palms. If you plan your romantic getaway surrounded by the enclosed gardens of Gaylord Opryland Resort, you won't need a bouquet of flowers. Depending on the time of year, you could be basking amid blossoms of orchids. There's nothing like immersion in the beauty of nature to enhance the experience of getting away with your darlin' one.
Behold the majestic canopy of tall trees imported from Florida. Marvel at the spectacle of 50,000 plants filling three atriums over nine acres. See dancing fountains and waterfalls; go for a boat ride. Among the exotica of botanica, you may feel emboldened in your expressions of affection.
Amid the lights and sparkles, no one needs to mention there's magic in the semi-tropical air. Breathe deeply the heady perfume and see where it takes you. Book a stay at Gaylord Opryland Resort for a sumptuous getaway destination under one roof.
Address: 2800 Opryland Drive, Nashville, Tennessee