15 Best Free Things to Do in Nashville, TN
Nashville has things to do that are not just low-budget but absolutely free. Discover how easy it is to attend events, see the sights, and sample the good life in Music City without walloping your wallet.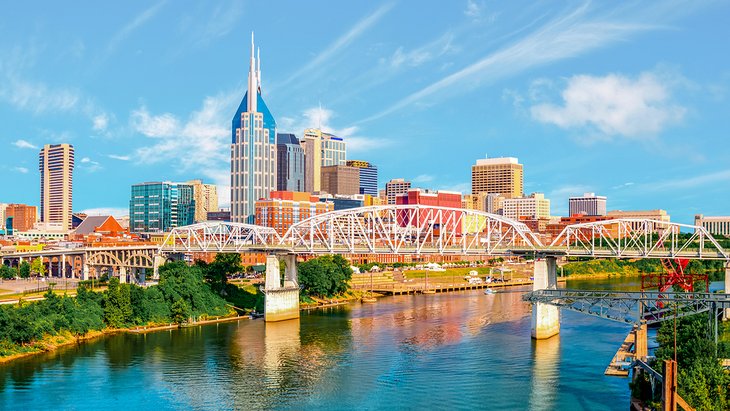 Attend a free concert, courtesy of the music department at Vanderbilt University. Attend free practice sessions of the Tennessee Titans NFL team. Become a living work of art when photographed with the wings of Kelsey Montague's 23-foot-tall mural What Lifts You.
Fortunately, many free activities can be grouped together. One cluster is the Tennessee State Capitol, Bicentennial Mall, farmers market, and Tennessee State Museum. Combine the John Seigenthaler Pedestrian Bridge with The District, Downtown, and Music City Walk of Fame.
You might be surprised to discover that best and free may be one and the same when you check out our list of the best free things to do in Nashville.
1. Go Sightseeing Downtown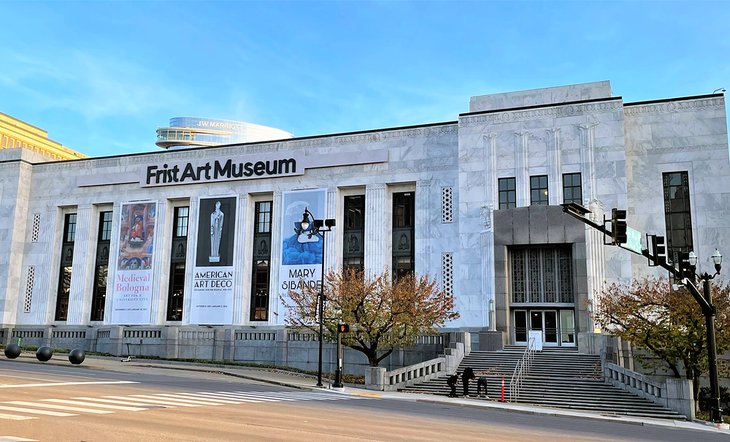 Downtown Nashville is a compact core to explore with no end of eateries to keep you in fuel, including free samples from Savannah's Candy Kitchen. Downtown is where you'll find fellow tourists. You can do a lot of wandering and people-watching, and it doesn't cost a thing.
On the main thoroughfare of Broadway, watch for notable places to visit and beautiful eye-catching architecture. At 701 Broadway, you'll see a prominent building with a clock tower. This fine example of Victorian Gothic architecture is the former Customs House, which dates back to the 1870s. It earned a spot on the National Register of Historic Places in 1972.
Frist Art Museum—an attraction that is free to visitors age 18 and under—is located at 919 Broadway. It occasionally offers free admission days for everyone, organized through partnerships with sponsors and in conjunction with special exhibitions.
Music City Center is the massive curved-roof building on Demonbreun. The 2.1-million-square-foot convention center is home to more than 100 pieces of public art.
Another fun free thing to do in Downtown Nashville is stop by the Gibson Garage. The guitar store has museum-like exhibitions of historic instruments, music-inspired artwork, and 200 guitars floating on a spinner above the retail area.
2. Marvel at the Tropical Plants at Gaylord Opryland Resort Gardens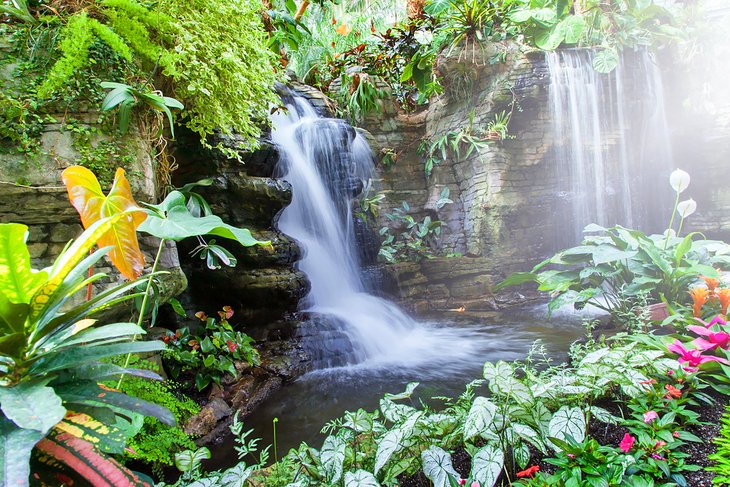 Gaylord Opryland Resort Gardens is a botanical bonanza of 50,000 tropical plants spread over nine acres of indoor gardens. Rain or shine, buoy your spirits with floral splendor, including rare and exotic specimens. Even if you're not a gardener, you will be impressed by the blooms. A staff of 20 horticulturalists takes care of this magnificent collection.
Ten thousand plants, including palm trees 60 feet high, thrive in the Garden Conservatory. Cascades Atrium sourced most of its 8,200 plants, including a 40-foot palm, from Florida. The entrance to the Delta Atrium is graced by two equally tall southern magnolias.
Adding to the Southern feel of this garden, notice the Spanish moss draping from some of the trees. There are 1,500 plants, including 30 varieties of camellias, in the steamy fragrant Delta.
Don't miss the mesmerizing fountain and atrium show. The dancing water streams are perfectly choreographed with accompanying music and lights.
Address: 2800 Opryland Drive, Nashville, Tennessee
3. See the Parthenon at Centennial Park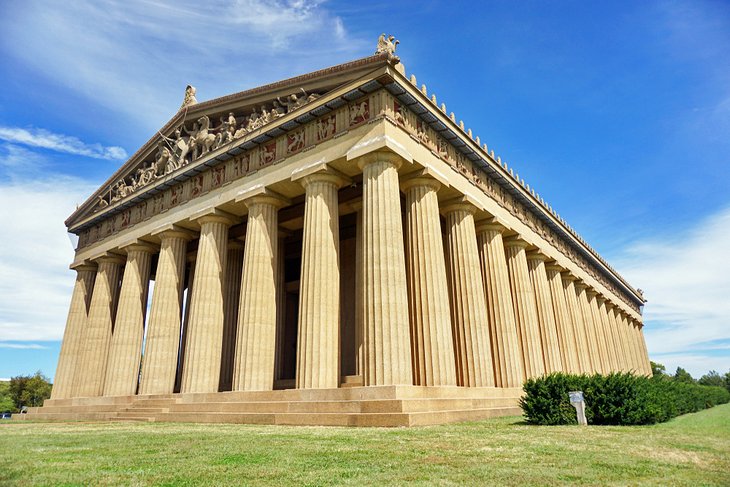 You could spend a day doing free things at the 132-acre Centennial Park. See the iconic Parthenon of Nashville, which was built in 1897 for the Tennessee Centennial Exposition. It's a replica of the original in Athens completed in 438 BCE. There's also a one-mile walking trail, sand volleyball courts, an exercise trail, and a park for your pooch.
During the summer, swim and enjoy water sports on Lake Watauga. Explore the sunken garden. Admire the monuments.
Centennial Park is the setting for If Trees Could Sing, an installation by the Nature Conservancy, Nashville Parks, and Nashville musicians. Use your smartphone to view 18 web videos of artists talking and singing about trees. The exhibit prompts you to think about what's special about trees and how to care for them. There's no charge to listen and learn.
Address: 2500 West End Avenue, Nashville, Tennessee
4. Behold the Views from John Seigenthaler Pedestrian Bridge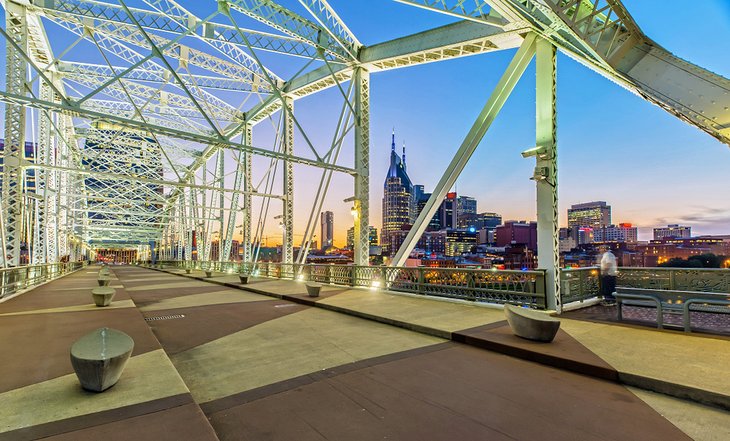 The John Seigenthaler Pedestrian Bridge spans 3,150 feet, making it one of the longest pedestrian bridges in the world. The bridge connects the historic district and Riverside Park with East Bank Greenway and the hip residential area of East Nashville. Featuring 48 spans, four steel trusses, and two reinforced concrete trusses, it was closed to vehicle traffic in 1998—the same year it was placed on the National Register of Historic Places.
Once known as Sparkman Street Bridge and Shelby Street Bridge, it was renamed in 2014 to honor Tennessee journalist and civil rights activist John Seigenthaler. Built between 1907 and 1909, the bridge was updated to include an elevator, ramps, stairways, and a 15-foot center lane for cycling, flanked by 10-foot sidewalks. Four overlooks deliver impressive views of the Cumberland River and Nashville skyline.
Park at Lot R, Nissan Stadium (on the north side of the Cumberland) to walk across the bridge.
Address: 408 S 1st Street, Nashville, Tennessee
5. Catch a Ranger Program at Radnor Lake State Park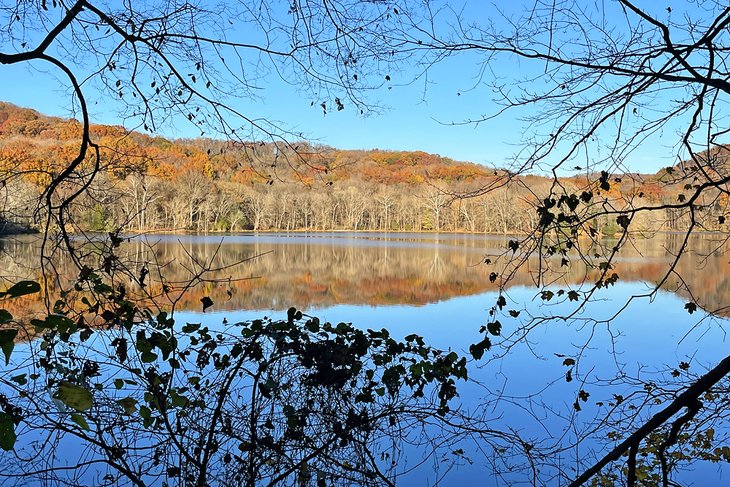 Radnor Lake State Park is a 1,368-acre day-use park that is perfect for hiking, nature study, photography, bird-watching, and observing wildlife. In addition to nearly eight miles of trails, there's an aviary for birds.
Birds (such as owls, herons, and waterfowl) and animals (including mink and otter) are more frequently seen here because joggers, cyclists, and dog walkers are restricted to the Otter Creek Road trail. Watch for frogs and reptiles that blend into the natural environment to avoid detection.
Free programs are led by rangers on topics such as birds of prey, wildflowers, snakes, and astronomy. Rangers also lead activities such as canoe floats. The visitor center is open from Thursday to Monday; it's closed on Tuesday and Wednesday.
Address: 1160 Otter Creek Road, Nashville, Tennessee
6. Explore The District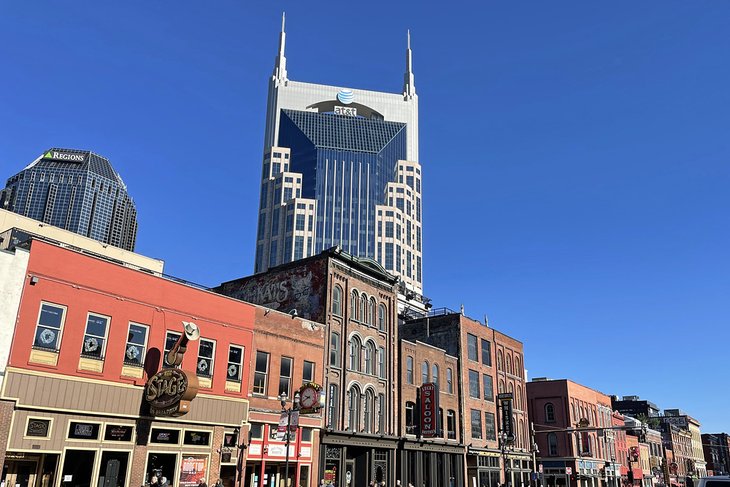 Abutting downtown, alongside the Cumberland River, is The District—an area that comprises three important historic areas. It includes the entertainment districts of Printer's Alley and 2nd Avenue North (being restored after the Christmas Day 2020 explosion), along with Broadway. More than a century ago, Printer's Alley—now a dynamic area of restaurants and entertainment venues—was once home to 13 publishers and 10 printers.
Off or close to Broadway, discover many famous Nashville attractions. Begin at Riverside Park and go south along the first few blocks of Broadway. This is Honky Tonk Row. Just off Broadway and Fourth Avenue North, walk past the Ryman Auditorium, which was the original home of the Grand Ole Opry.
In the other direction, look for your favorite crooners on the Music City Walk of Fame Park (with stars in the sidewalk) opposite the Country Music Hall of Fame & Museum. (While not typically a free thing to do in Nashville, the Country Music Hall of Fame offers complimentary admission to youth, along with two accompanying adults, from seven Tennessee counties through the Community Counts program.)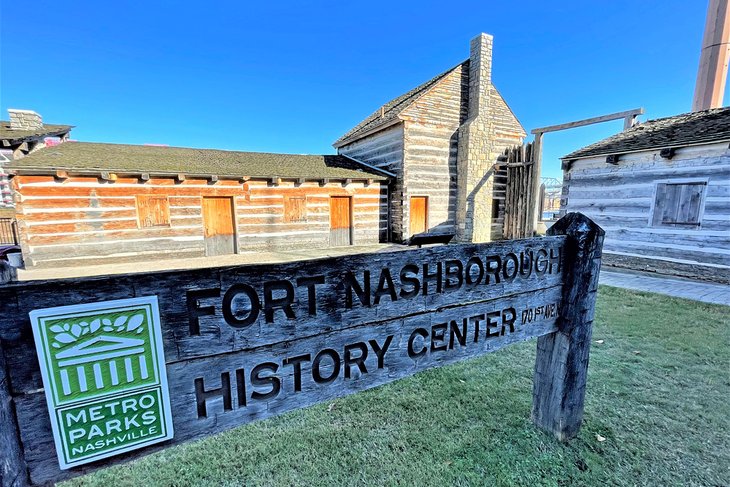 Riverfront Park, beside the Cumberland River, is part of the District. On July 4th, enjoy free fireworks choreographed by the Nashville Symphony, winner of a Grammy award. At Riverfront Park, you can visit the Ascend Amphitheater, which has capacity for nearly 7,000 people. Another free attraction to explore is a replica of Fort Nashborough (the first shelter built in Nashville) and the adjacent interpretive center.
7. Tour the Tennessee State Capitol & Wander Bicentennial Capitol Mall State Park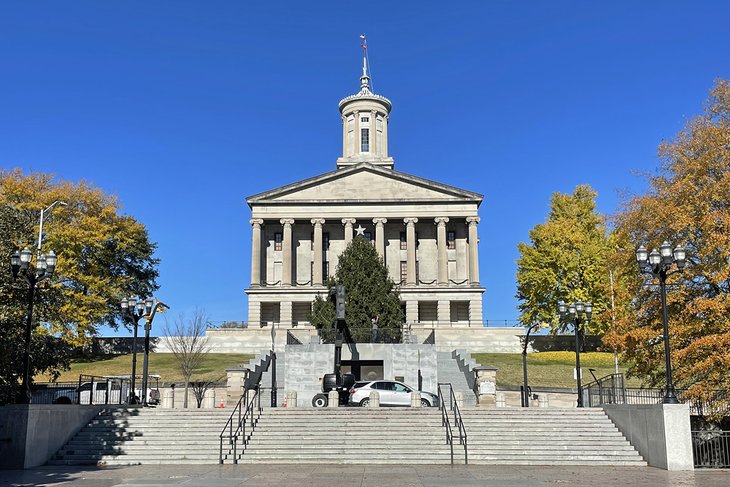 Take a self-guided or free guided tour of the Tennessee State Capitol, a commanding Greek Revival building erected on a hill above the city. This majestic monument, completed in 1859, houses the governor's office and state government. Below it to the north, is Bicentennial Capitol Mall State Park. The 11-acre grounds are a showplace that honor the people who created and served Tennessee throughout its history.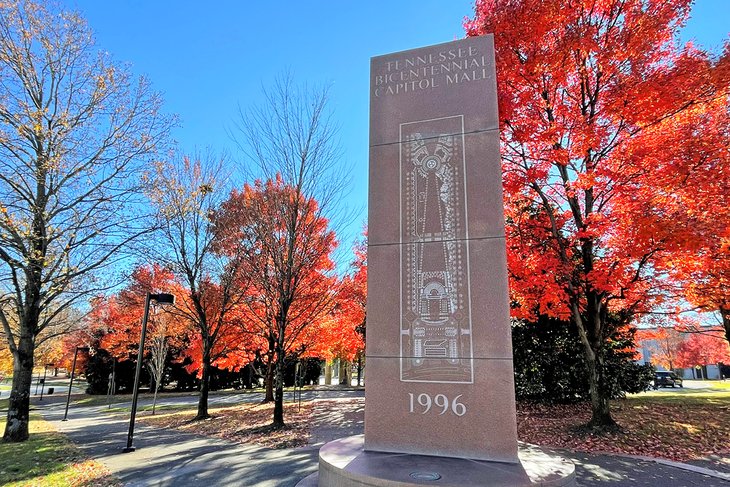 A 200-foot granite version of the state map, the Pathway of History, and Walkway of Counties provide lessons in geography, history, and botany. There's a memorial to World War II veterans, a 95-bell carillon, and fountains that celebrate the rivers of Tennessee. Soak up the grandeur of this state monument, which you can explore at no charge.
Address: 600 James Robertson Parkway, Nashville, Tennessee
8. Take a Hike in Warner Parks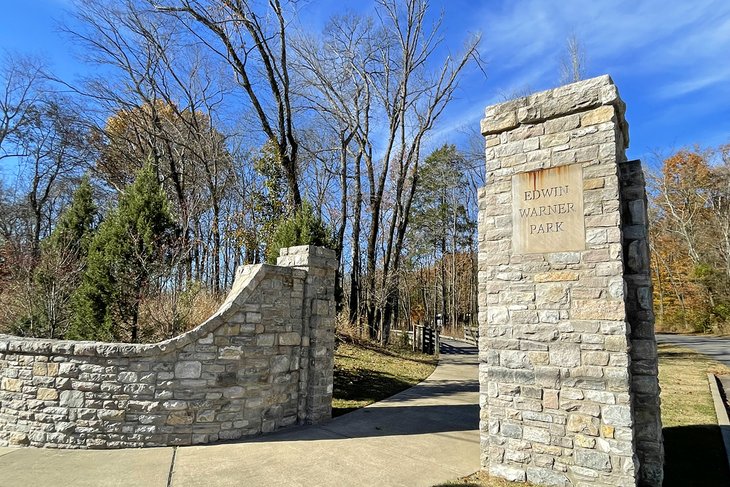 Edwin and Percy Warner Parks (aka the Warner Parks) attract nearly one million visitors annually to walk the trails, go mountain biking, escort the family mutt to the dog park, enjoy a picnic, and visit the Nature Center.
If you're up for a day of outdoor recreation that doesn't cost anything, head for Warner Parks—more than 3,100 acres of meadows and forest—listed on the National Register of Historic Places.
Located nine miles from Nashville, Warner Parks is one of the largest urban parks in Tennessee. One of the simple things you can enjoy here is watching the variety of visitors to the bird feeders.
Address: Warner Parks Nature Center, 7311 Hwy 100, Nashville, Tennessee
9. Go East or West from Cumberland River Pedestrian Bridge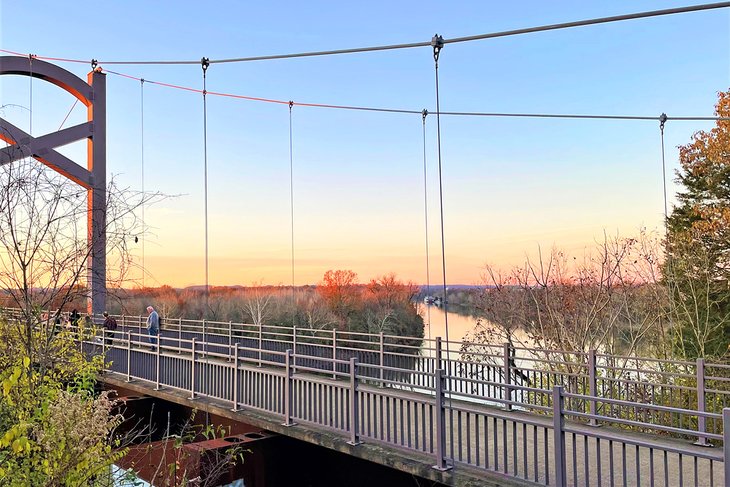 The 745-foot Cumberland River Pedestrian Bridge connects Shelby Bottoms and Park to Two Rivers Park. It's the puzzle piece in the Nashville parks system linking almost 22 miles of biking and hiking trails.
Go west on the bridge to the 1,150-acre greenway to explore wetlands, play ball, and visit the nature center, which offers free public nature and environmental education programs. Go east through a tunnel and walkway to 384-acre Two Rivers Park to play. The golf course and water park charge admission, but you can hang out at the skate park and play disc golf for free.
Address: 2300 Two Rivers Parkway, Nashville, Tennessee
10. Drive or Stroll along Music Row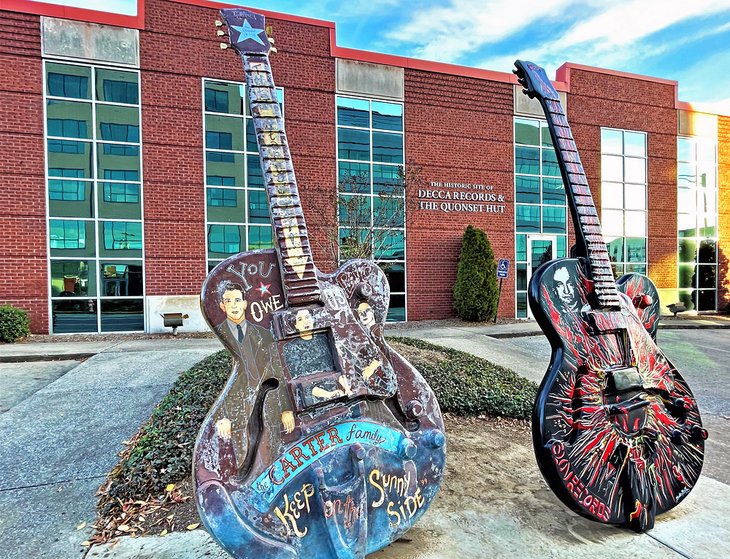 Music Row is the heartland of Nashville's music industry, comprised of recording studios, radio stations, and record companies. RCA Studio B, on the National Register of Historic Places, is famous for recording Elvis Presley, Willie Nelson, and Dolly Parton.
At Columbia's Quonset Hut, established in 1954 by producer Owen Bradley and his musician brother Harold, Patsy Cline became famous for Crazy in 1961, and Bobby Vinton crooned Blue Velvet in 1963. BMI (Broadcast Music Inc) handles licensing and rights to more than 20 million compositions. Curb Records is another fixture.
In Owen Bradley Park, you'll find a bronze statue of the legendary music producer playing a grand piano. The bronze bench is the perfect place to stage a selfie with this titan of country music and rockabilly.
Musica, another notable bronze statue, is at the roundabout. Nine nude oversized figures celebrate the interplay between dance and music.
Address: 16th and 17th Ave. S., aka Music Square East and West, Nashville, Tennessee
11. Tour the Time Tunnel at Tennessee State Museum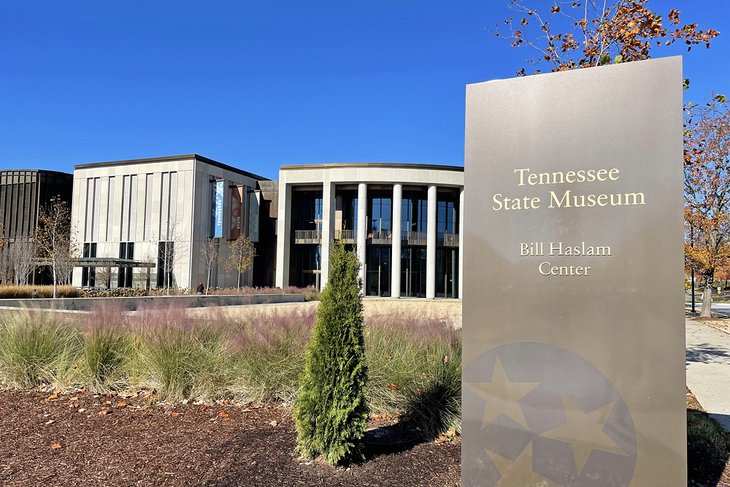 The story of Tennessee's history is brought to life through the "time tunnel" at Tennessee State Museum. Starting with the geological time before people to First Peoples and the arrival of Europeans, the timeline moves into statehood, the Civil War, and reconstruction. Ending with the state's contributions to the nation and beyond, this is a story that covers about 13,000 years.
Tour the permanent collection that contributes to the time tunnel. Visit the rotating galleries and the interactive exhibit for children three to eight years of age. See an impressive array of artifacts related to the Civil War. All of this and more await you at no charge.
If you're interested in farming, there's another free museum you can visit in Nashville—the Tennessee Agricultural Museum. This museum features more than 3,000 artifacts from the era before electricity, a garden of heirloom plants, and historic cabins. Admission is free, Monday to Friday 9am to 4pm.
Address: 1000 Rosa L. Parks Blvd., Nashville, Tennessee
12. Go People Watching at Nashville Farmers' Market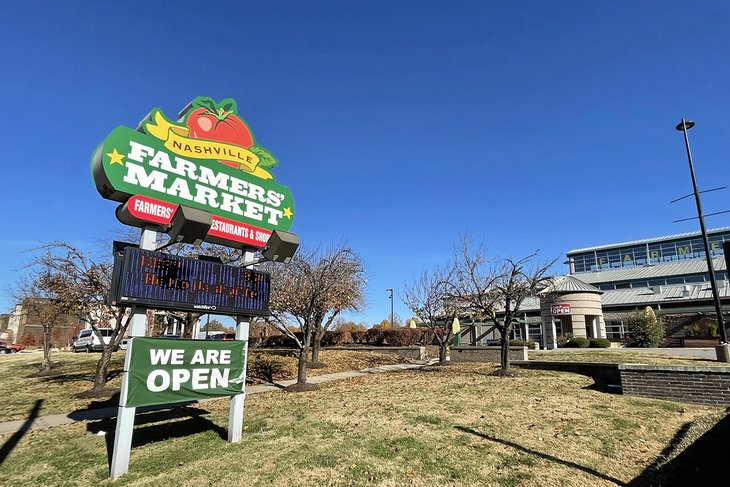 There's no charge for people watching at Nashville Farmers' Market, open year-round. Located near Bicentennial Capitol Mall State Park and the Tennessee State Museum, the market has three components. Around 150 farmers and vendors at two "sheds" sell everything from Tennessee apples and Alabama oranges to artisan soap and honey—no charge for looking, chatting, and whatever free samples you can score. The well-stocked garden center covers 18,000 square feet.
Events, such as chef demonstrations, are free. Market House, which sells international good eats (from curry to pizza and crepes) and Gardens of Babylon are open daily, from approximately 8am to 6pm. Farm sheds are open Saturday to Sunday from December through April, and Friday to Sunday from May through November.
Address: 900 Rosa L. Parks Blvd., Nashville, Tennessee
13. Join a Live Radio Audience at Ernest Tubb Midnight Jamboree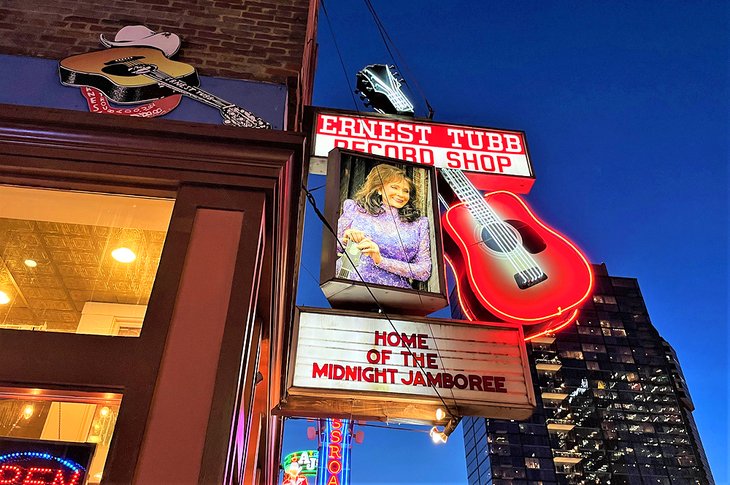 Ernest Tubb, aka the Texas Troubadour, opened his record shop on Honky Tonk Row in 1947. A mentor to up-and-coming country musicians, Tubb created a star-dusted path to stardom with a radio show called the Ernest Tubb Midnight Jamboree. Performers would run off the Grand Ole Opry stage at nearby Ryman Auditorium and record their songs for live radio.
Midnight Jamboree is famous for being the second longest-running radio show in the country. Claim a seat in the audience if you happen to be in Nashville on a Tuesday night. The live show is broadcast on Saturday night (technically Sunday morning at midnight) on AM 650 WSM–radio, home of the Grand Ole Opry. Show up and have fun; no charge!
It's worth noting that the historic record shop was sold in 2020 and again in 2022 and is now undergoing renovations.
Address: 417 Broadway, Nashville, Tennessee
14. Make the Scene at the Bluebird Café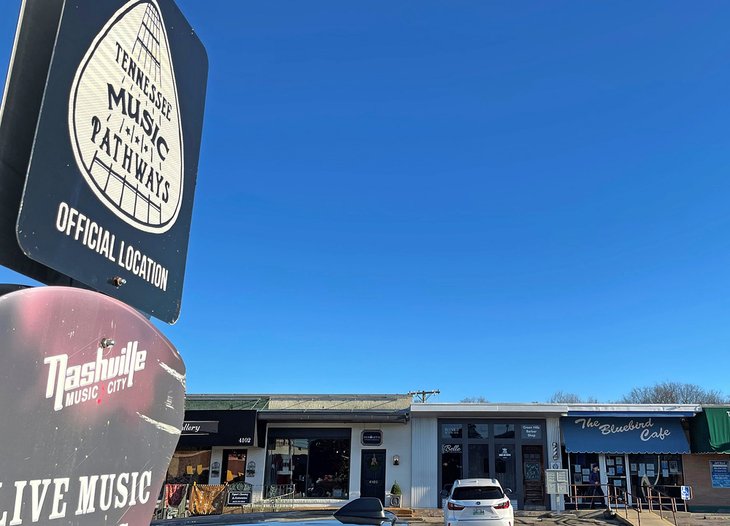 The bluebird is a symbol of happiness and a fitting name for an unassuming café in a strip mall. This is where musicians play in the hope of getting known. It happened here for Taylor Swift, Garth Brooks, and Keith Urban. Established in 1982, the 90-seat Bluebird Café is a direct route to happiness for would-be musicians who make it, and lucky folks in their audience.
While some shows charge admission and require an advanced ticket purchase, others (like open mic nights) are free. Get there early for your best shot at getting one of the coveted seats.
Address: 4104 Hillsboro Pike, Nashville, Tennessee
15. Catch Free Concerts at Live on the Green and Symphony Under the Stars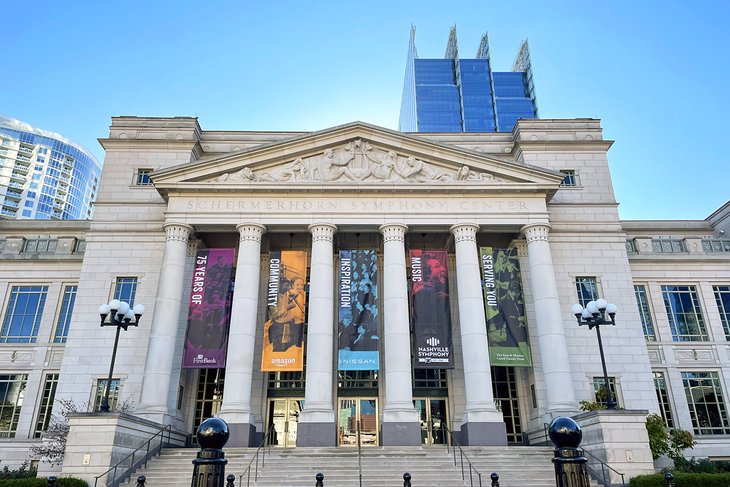 Music is the lifeblood of Nashville, a gift that often presents itself at no charge. Consider Live on the Green festival, featuring concerts by national and local musicians. These concerts happen at Public Square Park on Labor Day Weekend.
Symphony Under the Stars, featuring the award-winning Nashville Symphony, is another free summer event. Popping up at city parks, you can hear everything from the classics to pop music. The vibe is casual, so don't hesitate to bring fixings for a picnic.
Map of Free Things to Do in Nashville, TN