12 Top-Rated Day Trips from Nashville
Once you've exhausted the many delightful world-class attractions in Nashville, be sure to allow time to explore the area around Tennessee's famous "Music City." You'll be rewarded with everything from historic homes and perfectly preserved plantations to countless Civil War sites.
Other day trip options include visiting one or more of Tennessee's quaint small towns within an easy drive of Nashville. They include destinations such as picturesque Franklin and Gallatin. Make longer journeys to see popular tourist spots such as Chattanooga and Gatlinburg, the gateway to the Smoky Mountains.
Elvis fans must consider making a pilgrimage to explore the sightseeing highlight of Memphis: Graceland, home of The King of Rock 'n Roll. Follow this up with a journey back in time to other music-related points of interest.
Getting Around: While most people do these day trips by driving, it is possible to reach some of these destinations on public transport. Nashville's WeGo public transit offers a reliable local bus service that will get you to some of the closest daytrip dstinations featured below, while Greyhound has services that will get you to the rest. The bus is an affordable option but may add considerable time to your journey and will still leave you having to find a way to get around once you arrive.
Whether you're interested in music, history, or nature, plan your sightseeing excursions and discover the best places to visit with our list of day trips from Nashville.
1. Franklin's Carter House and Carnton Plantation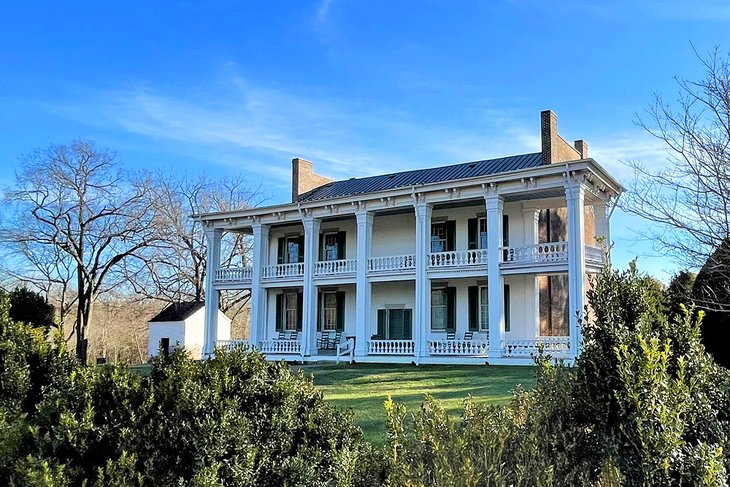 Franklin is a community 20 miles south of Nashville with a number of attractions that figured prominently in the Civil War. Despite its proximity to downtown Nashville, you'll definitely need a car or a taxi to make the approximately 45-minute drive (traffic-depending) as city bus services don't connect the two destinations.
Two of the most important sites on any day trip to Franklin must include the Carter House and the Carnton Plantation. Both were caught up in a desperate struggle between defending Union troops and attacking Confederates that took place on November 30, 1864.
Even today, Carter House bears the scars of more than a thousand bullet holes. Apart from these battle scars, the house is notable for its original period furniture. It also houses a museum of Civil War relics that recount the deadly conflict.
Built in 1826 by Randal McGavock, a former mayor of Nashville, nearby Carnton Plantation was used as a field hospital during the battle. Hundreds of Confederate troops were treated here, including four generals who died of their wounds.
After the battle, more than 1,500 Confederate soldiers were interred in McGavock Confederate Cemetery, two acres of land adjoining Carnton. Plan to spend at least an hour touring each site, plus time to see the cemetery, grounds, and outbuildings. Guided tours shed light on the significant role of these historic homes.
Address: 1140 Columbia Ave, Franklin, Tennessee
2. The Hermitage: Home of President Andrew Jackson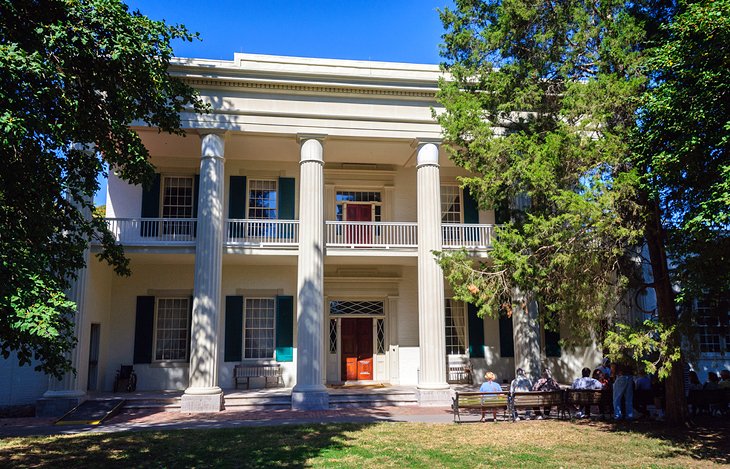 The Hermitage, the former home of Andrew Jackson, the seventh President of the United States, is an easy day trip only 15 miles east of Nashville. While a car can cover this distance in around 30 minutes, those taking the bus from downtown Nashville will need to allow an hour travel time each way. And be prepared to walk the last mile from Lebanon Pike and Tyler Drive South to the property, part of it through the grounds of the estate itself.
Built in 1819 and rebuilt in 1834 after a fire, this magnificent mansion opened as a museum in 1889. It has been restored to look as it did when Jackson lived here during his retirement (1837-1845).
Highlights of a visit include the informative museum, with displays and artifacts related to Jackson's time in government, as well as his personal life. Guided tours and special-themed tours are available, including ghost tours and wagon rides. The on-site restaurant will keep you going.
Address: 4580 Rachels Lane, Hermitage, Tennessee
3. Charming Chattanooga and its Famous Train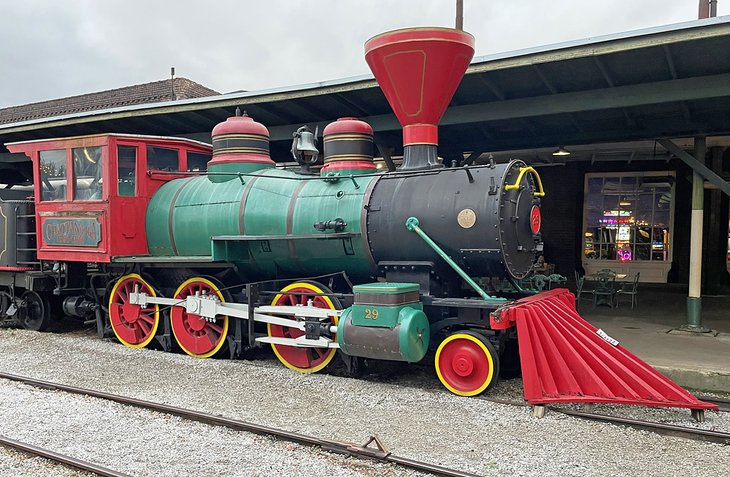 Chattanooga, a two-hour drive along Interstate 24 southwest of Nashville in southeastern Tennessee on the border of Georgia, is well worth a day of exploration. Bus services are also available, and only take around 30 minutes longer than a car to cover the 134 miles between these two popular city destinations.
Chattanooga is best known for the 1941 song Chattanooga Choo-Choo, immortalized by the Glenn Miller Orchestra. Relive the experience by hopping aboard the Tennessee Valley Railroad. This heritage railway offers a variety of fun rail adventures, including dinner and lunch packages. Be sure to also visit the original 1909 Terminal Station, where you can arrange accommodation in old carriages.
Another way to experience Chattanooga is from the water. Pick up a paddleboat tour to view the city from the wide Tennessee River. Explore on foot along the trails of the Tennessee Riverpark, a 10-mile greenbelt extending from Chickamauga Dam to the downtown core.
The most important Chattanooga tourist attraction is the Tennessee Aquarium, one of the best of its kind in the country. Featuring more than 10,000 animals, it is organized according to two themes in separate buildings: a River Journey and an Ocean Journey.
Another attraction for travelers with an interest in the Civil War is Lookout Mountain, the scene of the battle of Chattanooga.
4. Gatlinburg and the Great Smoky Mountains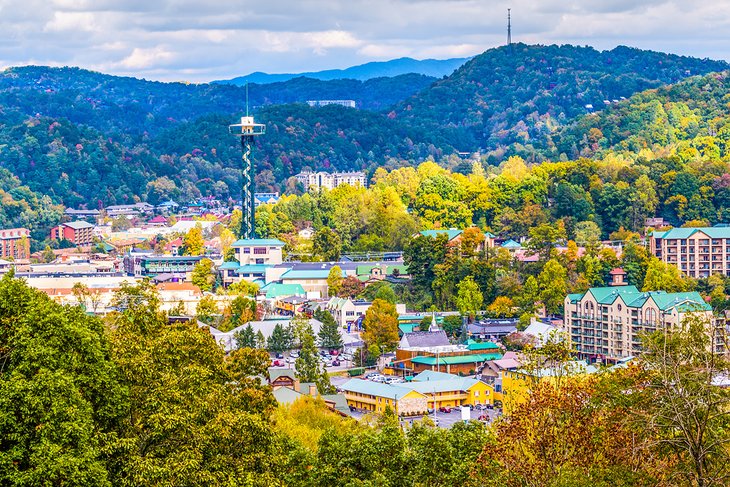 No visit to Tennessee is complete without a drive through the beautiful Great Smoky Mountains, the most visited national park in the US. The place to visit first is the town of Gatlinburg. Although it's located close to four hours and 220 miles east of Nashville, you'll be rewarded with the best scenic routes into the spectacular Smokies.
Expanses of forests and tall mountains, some reaching as high as 6,500 feet, attract outdoors enthusiasts to Great Smoky Mountains National Park. Hikers and bikers come here, spring to fall, to explore its network of more than 900 miles of trails. When the snow flies, the area is abuzz with skiers. The best time to visit the Smoky Mountains really depends on your interests.
Stop in at one of the many visitor centers to find the best places to enjoy the splendid flora and fauna. Among the native flowering plants you'll see are mountain magnolias and orchids.
Address: 107 Park Headquarters Road, Gatlinburg, Tennessee
5. Memphis and Graceland, Home of "The King"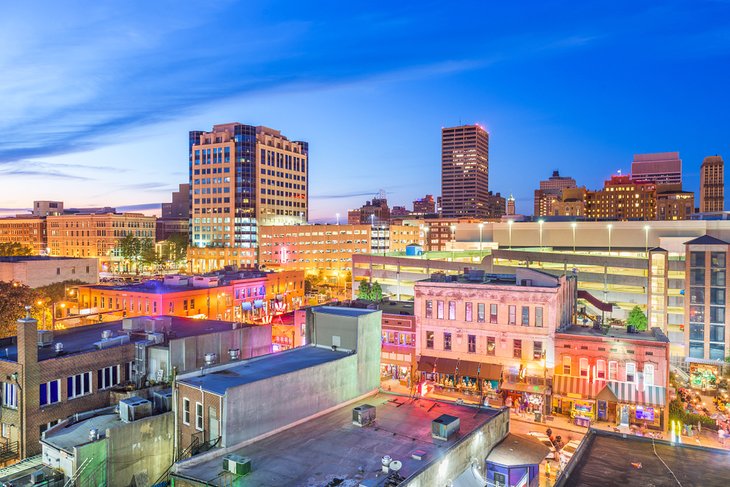 Although it makes for a long day – it's a 200-mile, three-hour drive each way along Interstate 40 – the trip from Nashville to Memphis is worth considering, especially if Graceland is on your bucket list.
Elvis Presley's Memphis includes an audio-guided tour of Graceland Mansion, showcasing a dazzling array of costumes. You can also opt for a tour to view The King's private jets and luxury car collection.
Head next to the famous Beale Street in downtown Memphis. Exploring music-related attractions, including the Rock 'n' Soul Museum, Memphis Music Hall of Fame, and WC Handy Home and Museum, are among the top attractions in Memphis. Sun Studio, where Elvis and so many other stars recorded, is more than a mile away on Union Avenue.
6. Stones River National Battlefield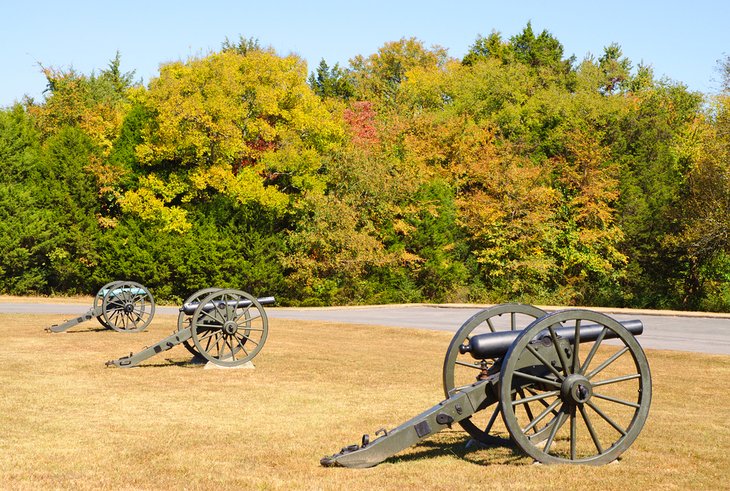 Stones River National Battlefield commemorates one of the bloodiest battles of the Civil War. It began on the last day of 1862 and continued until the second day of 1863. Casualties were significant, numbering around 23,000. The battle resulted in the defeat of Confederate soldiers and Union control of the central part of Tennessee.
The site includes a 600-acre battlefield and the Stones River National Cemetery with 6,000 Confederate graves. The Hazen Brigade Monument is reputed to be the oldest monument of the Civil War still standing. Stones River National Battlefield is managed by the National Parks Service.
Just 33 miles away, it's a 50-minute journey by car, depending on traffic. While it's possible to get to Murfreesboro by bus from downtown Nashville, you'll need to add at least an hour each way for a total travel time of around four hours, which includes a connecting bus from Murfreesboro.
Address: 3501 Old Nashville Hwy., Murfreesboro, Tennessee
7. Rock Island State Park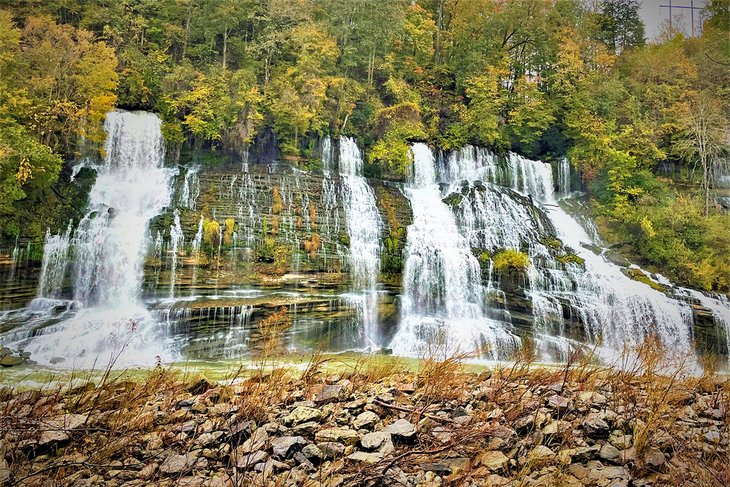 Rock Island State Park is so ruggedly beautiful and dangerous that you're asked to read a safety brochure before you go off exploring. Visitors are cautioned about sirens that signal a sudden rise in water levels. Rocks are slick, and currents are swift. Wildness is part of the appeal of 916-acre Rock Island State Park. And at 85 miles away, it's also close enough to Nashville to get here in just over 90 minutes by car.
Rock Island is located at the headwaters of Center Hill Lake and the confluence of three rivers: Caney Fork, Collins, and Rocky. Dramatic Caney Fork Gorge is below the Great Falls Dam, a cascade of more than 30 feet. If you visit, get ready for scenic overload–overlooks, Twin Falls, the Blue Hole, limestone paths, and a natural sand beach.
Day-trippers can hike the trails and launch a boat. There's a visitor center and the remains of an old cotton mill. If you want to extend your day trip, cabins and a campground are available.
Address: 82 Beach Road, Rock Island, Tennessee
8. Old Stone Fort State Archaeological Park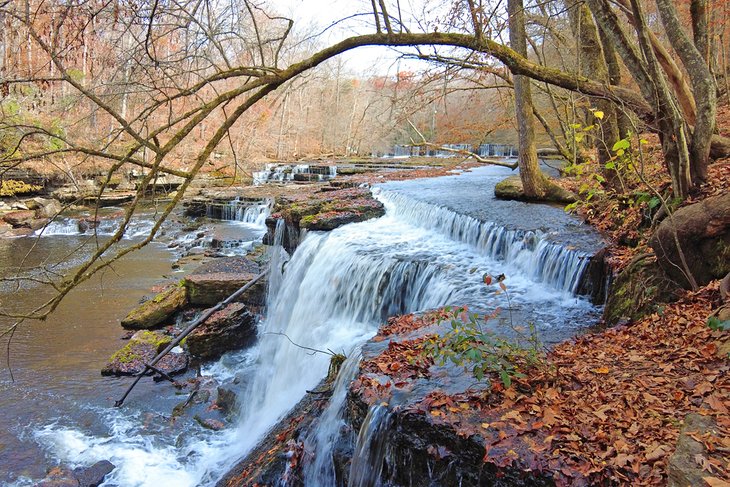 One of Tennessee's two archaeological parks, Old Stone Fort is 64 miles southeast of Nashville along Interstate 24. While approximately a one-hour drive, you can expect to add at least 30 minutes or more to a bus journey along the same route.
Original settlers didn't know what they were looking at and misnamed it an old stone fort. The riverside rock walls and mounds are now identified as a 50-acre "hilltop enclosure" used as a gathering place and ceremonial site for Native Americans, dating back 2,000 years. You will also see the remains of a grist mill and paper mill from the 19th century.
Among the scenic features are waterfalls along the Duck River and Little Duck River. Thirty-foot Big Falls is the tallest; Bluehole Falls plunges into an aquamarine pool; Step Falls is a multi-tiered cascade. The cliffs are dramatic – beware of steep drop-offs!
The trails are mostly rated easy. Access the 1.4-mile Enclosure Trail from the Stone Museum. Signage directs you to historical and archaeological features. All the waterfalls and several deep gorges can be seen from this scenic trail. Should you want more time to explore the park, stay over at the 50-site campground.
Address: 732 Stone Fort Drive, Manchester, Tennessee
9. The City of Gallatin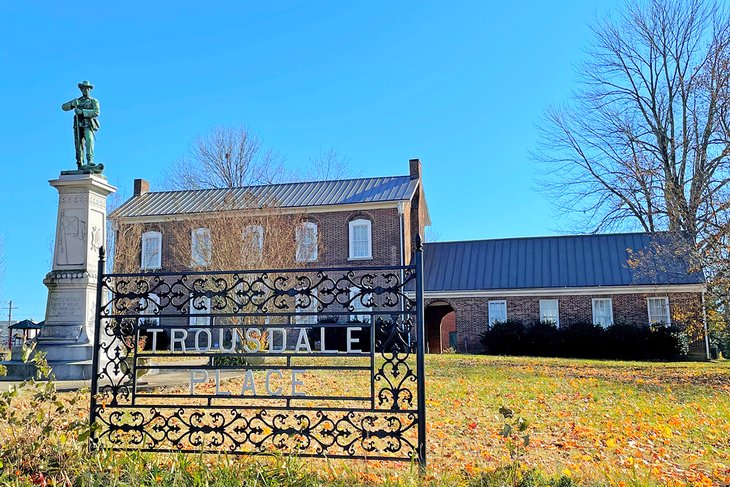 Just a 40-minute scenic drive northeast of Nashville, the city of Gallatin makes for an excellent choice for a day trip from Nashville. This 30-mile trip is also one that's relatively easy by bus, too, with a total travel time of about 50 minutes each way making it doable.
Gallatin was founded in 1802 and named after Albert Gallatin, Secretary of the Treasury to Presidents John Adams and Thomas Jefferson. In addition to its quaint central square and many pleasant tree-lined streets, Gallatin is home to Trousdale Place, the city's oldest mansion.
Although open only for tours by appointment, this fine two-story brick home is worth a visit. Built in 1813, it has been listed on the National Register of Historic Places since 1975. One of the best features of the mansion is its fine period furniture. The library has a collection of books and documents related to the Confederacy.
On the same property, visit the Sumner County Museum. It features Native American and African American displays and more than 250,000 artifacts. These objects include fossils, antique toys, tools, and relics from pioneer days.
Address: 183 W. Main Street, Gallatin, Tennessee
10. Historic Knoxville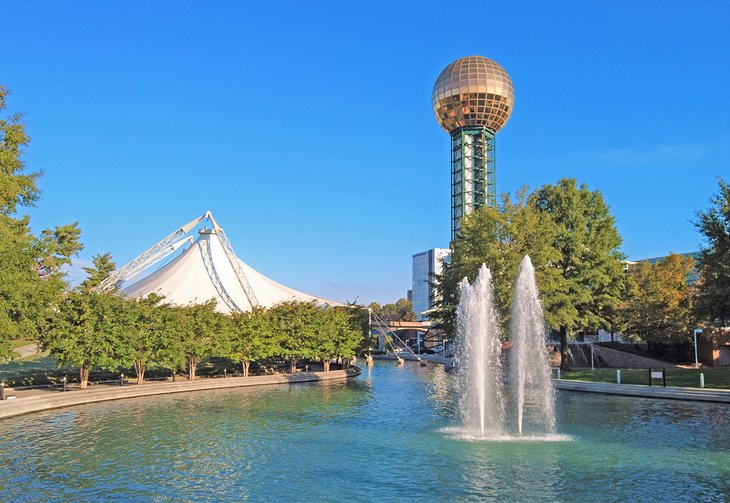 Less than three hours and around 180 miles from Nashville by car, historic Knoxville is famous as the home of the University of Tennessee. Founded in 1794, the establishment is worth visiting for its splendid gardens (UT Gardens), open daily to the public from sunrise to sunset. Guided tours are available.
It's easy to explore the rest of downtown Knoxville from the university. Topping the highlights is the iconic Sunsphere Tower, with superb observation deck views. Confederate Memorial Hall (aka Bleak House) was the Confederate headquarters during the Union siege of the city in 1863.
Other things to do in Knoxville include visiting the East Tennessee History Center with its displays and documents, and Market Square. Established in 1854, the square is home to a farmers market, shopping, and live entertainment.
While getting to Knoxville from Nashville is doable by public transit, the 4-hour journey each way makes it a little less appealing as a day trip option for visitors traveling by bus. That said, why not make a weekend break of it with an overnight stay in Knoxville?
Address: 2518 Jacob Drive, Knoxville, Tennessee
11. The Pioneers of Murfreesboro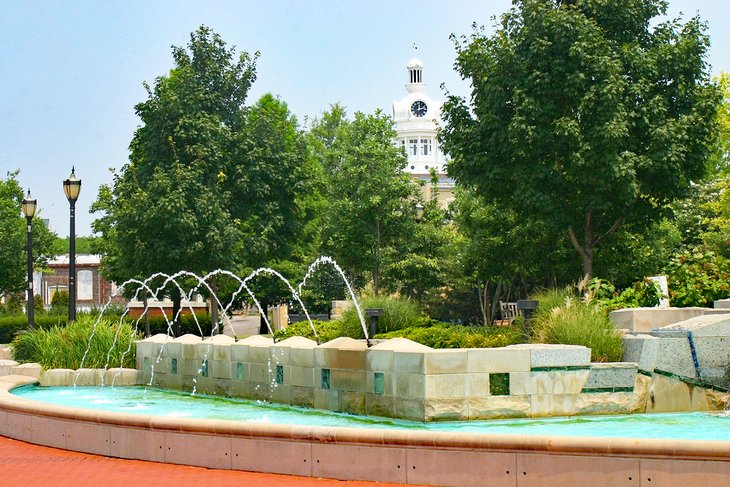 Murfreesboro, an easy 40-minute drive southwest of Nashville along I24, was the state capital of Tennessee from 1818 to 1826 when it lost its status by a single vote. Highlights of a tour of this historic city include the Rutherford County Courthouse, notable as the site of an attack by Confederate troops on Union soldiers who were camped nearby.
Oaklands Mansion is a restored Italianate-style plantation built in 1815. Both Union and Confederate forces occupied this former plantation during the Civil War. It was later the site of the surrender of Murfreesboro and now serves as an interesting museum.
Cannonsburgh Village is a reconstructed Southern pioneer settlement that includes a blacksmith shop, one-room schoolhouse, general store, grist mill, and chapel. This fun family attraction hosts popular pioneer days and Christmas festivals.
Address: 900 North Maney Avenue, Murfreesboro, Tennessee
12. Historic Sam Davis Home & Plantation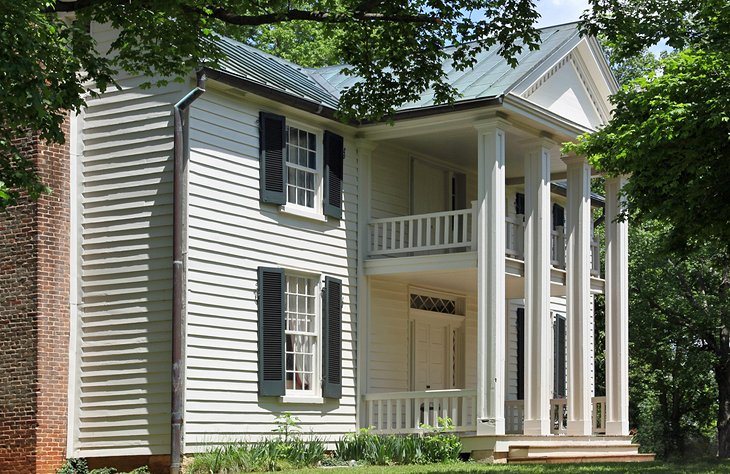 Sam Davis is the boy hero of the Southern Confederate Army who was captured by the Northern Union Army and executed as a spy at the age of 21. Take a tour of his restored mid-19th-century home located in Smyrna, an easy 40-minute day trip southwest of Nashville. The 168-acre Historic Sam Davis Home & Plantation attraction includes two historic homes, period gardens, slave quarters, a smokehouse and kitchen, and the family cemetery.
More than 100 artifacts are on display that will take you back in time. Ghost tours and Easter egg hunts are among the popular activities that take place on the property. You are welcome to enjoy a creekside picnic and walk the nature trail.
An easy 30-minute drive from Nashville International Airport (add at least another 15 minutes from the city's downtown core), this is a day trip that can be done via a bus ride. Buses depart regularly from downtown Nashville and take under an hour to cover the 26 miles between the two.
Address: 1399 Sam Davis Road, Smyrna, Tennessee