9 Top-Rated Day Trips from Nashville
We may earn a commission from affiliate links ()
Once you've exhausted the many delightful world-class attractions and things to do in Nashville, be sure to allow time to explore the area around Tennessee's famous "Music City." You'll be rewarded with everything from historic homes and perfectly preserved plantations to countless Civil War sites.
Other great day trip options include visiting one or more of the quaint small towns within an easy drive of Nashville. These include such destinations as picturesque Franklin and Gallatin, or perhaps taking a slightly longer journey to popular tourist spots like Chattanooga and Gatlinburg, the gateway to the Smoky Mountains.
And for diehard Elvis fans, consider heading even further afield to explore the sightseeing highlights of Memphis, home of the "King's" stunning Graceland Mansion. Follow this up with a journey back in time to some of the city's many other music-related points of interest.
Whether you're interested in music, history, or nature, plan your sightseeing excursions and discover the best places to visit with our list of the top-rated day trips from Nashville.
Note: Some businesses may be temporarily closed due to recent global health and safety issues.
1. The Hermitage: Home of President Andrew Jackson
Editor's Pick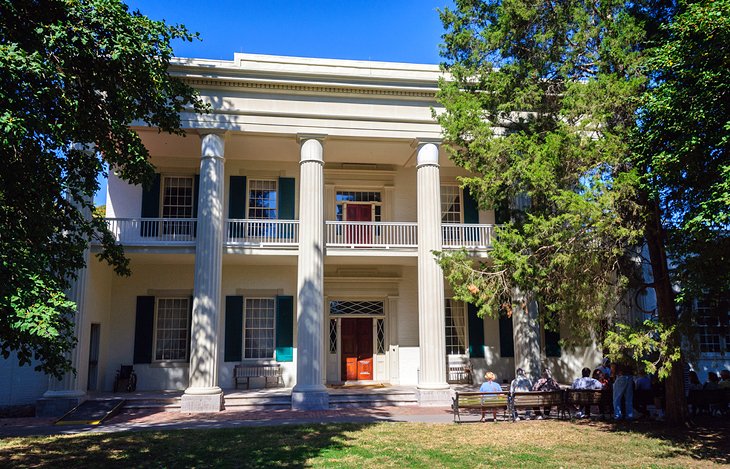 The Hermitage, former home of Andrew Jackson, seventh President of the United States, is an easy full- or half-day trip thanks to its location just a few miles east of Nashville. Built in 1819 and rebuilt in 1834 after a devastating fire, this magnificent mansion opened as a museum in 1889 and has been authentically restored to look just as it would have when Jackson lived here during his retirement (1837-1845).
Highlights of a visit include the informative museum, with its numerous displays and important artifacts relating to Jackson's time in government, as well as his personal life. Guided tours are available; try to join a tour by one of the museum's informative in-character interpreters.
Special themed tours are also available, including ghost tours and wagon rides (you can learn more about these and other special events from the official website link below). An on-site restaurant is available and provides a great picnic lunchbox option.
After exploring the property's beautiful park-like surroundings, including the graves of Jackson and his wife, Rachel, pop into nearby Tulip Grove. This elegant mansion once served as home to Jackson's niece and White House hostess, Emily, and her husband Andrew Jackson Donelson, his presidential secretary.
Address: 4580 Rachels Ln, Hermitage, Tennessee
Official site: www.thehermitage.com
2. Carter House and the Carnton Plantation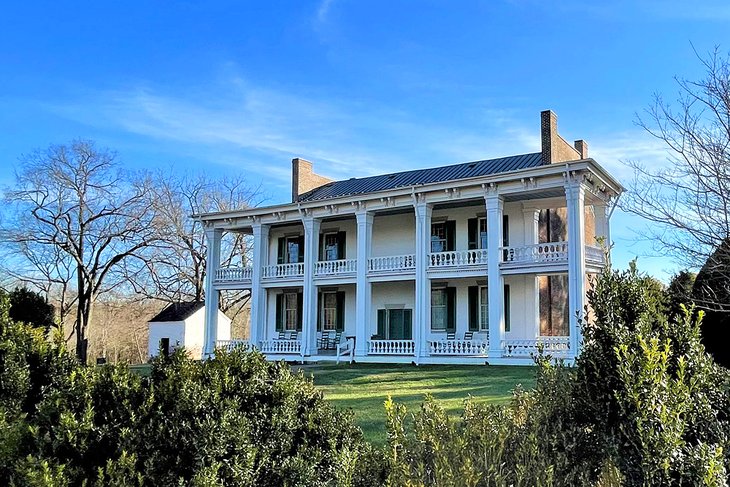 This simple farmstead, an easy 20-mile drive from Nashville, became synonymous with the Civil War when, on November 30, 1864, it was caught up in the middle of a desperate struggle. Later known as the Battle of Franklin, brutal fighting took place here between the defending Union troops and the attacking Confederates.
Even today, Carter House bears the scars of more than a thousand bullet holes. The house itself is notable for its original and period furniture and houses a museum of Civil War relics that help recount the deadly conflict.
Built in 1826 by Randal McGavock, a former mayor of Nashville, nearby Carnton Plantation was used as a field hospital during the battle. Hundreds of Confederate troops were treated here, including four generals who were to die of their wounds (tour guides will even point out bloodstains on the porch where they and other soldiers were placed before burial).
After the battle, more than 1,500 Confederate soldiers were interred in an adjoining two acres of land, now known as the McGavock Confederate Cemetery. Expect to spend at least an hour touring each site, as well as an additional hour or so exploring the cemetery, the grounds, and outbuildings. Guided tours are available and shed light on the significant role these two buildings played in a devastating conflict.
Address: 1140 Columbia Ave, Franklin, Tennessee
Official site: www.boft.org
3. Charming Chattanooga and its Famous Train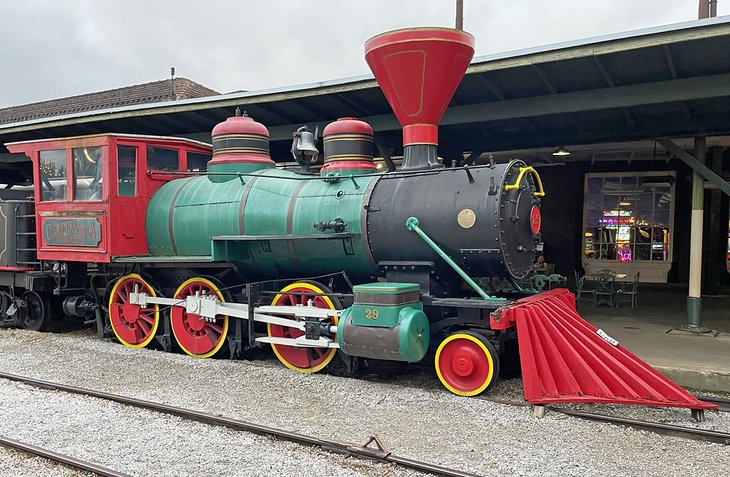 Chattanooga, a pretty two-hour drive southwest of Nashville in southeastern Tennessee on the border with the state of Georgia, is well worth spending a day exploring.
Located on the wide Tennessee River, it's the perfect place to pick up a paddleboat tour to view the city and its surrounds from the water. It's also fun to explore on foot, especially along the trails of the Tennessee RiverPark, a 10-mile-long park extending all the way from Chickamauga Dam to the city's downtown core.
Chattanooga is, however, best known for another important mode of transport: the railway. In addition to paying a visit to the city's original 1909 Terminal Station (which also offers great accommodations in some of the old carriages here), you can relive the famous Chattanooga Choo-Choo experience as immortalized by Glenn Miller aboard the Tennessee Valley Railroad. This heritage railway offers a variety of fun rail adventures, including dinner and lunch packages.
Other Chattanooga tourist attractions of note include the Hunter Museum of Art (they offer free admission on the first Thursday of each month), the Houston Museum of Decorative Arts (check out their frequent antique shows), and for those with an interest in the Civil War - not to mention great views - there's Lookout Mountain, scene of the battle of Chattanooga.
Address: 1400 Market Street, Chattanooga, Tennessee
Accommodation: Where to Stay in Chattagnooa
4. Gatlinburg and the Great Smoky Mountains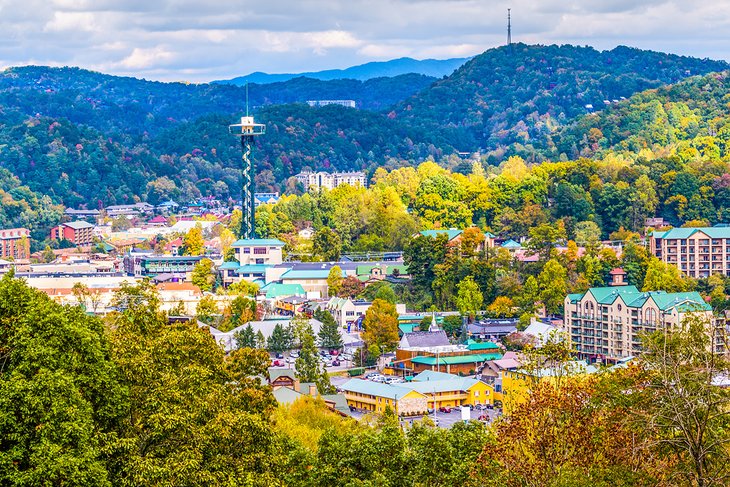 No visit to Tennessee is complete without a drive through the beautiful Great Smoky Mountains, the most visited national park in the US. The best place to visit first is the small town of Gatlinburg. Although it's located some three hours east of Nashville, you'll be rewarded with some of the best scenic routes into the spectacular "Smokies."
Thanks to its large expanses of forests and tall mountains, some reaching as high as 6,500 feet, the Great Smoky Mountains National Park is popular sports enthusiasts, including hikers and bikers (spring to fall), who come here to explore its vast network of more than 900 miles of trails. When the snow flies, the area is abuzz with skiers. The best time to visit the Smoky Mountains really depends on your interests.
Be sure to stop in at one of the many visitor centers located around the park to find the best places to enjoy its splendid flora and fauna. Among the many native species of flowering plants you'll see here (depending on the season, of course) are mountain magnolias and orchids.
Address: 107 Park Headquarters Road, Gatlinburg
Accommodation: Where to Stay in Gatlinburg: Best Areas & Hotels
5. Memphis and Graceland, Home of the "King"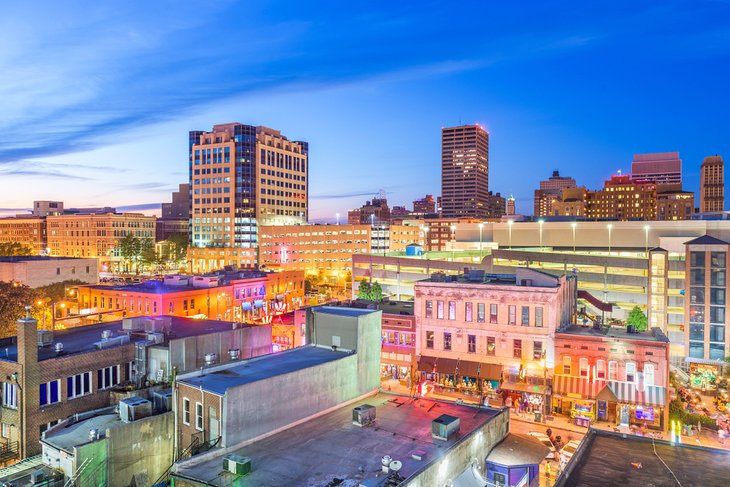 Although it makes for a long day - it's three hours drive away - a trip to Memphis from Nashville is certainly worth considering, especially if a visit to Graceland is on your bucket list. The state-of-the-art Elvis Presley Memphis Complex includes an audio-guided tour of the Graceland Mansion, a chance to see the King's private jets and luxury car collection, as well as other exhibits, including his famous costumes.
Afterwards, head over to famous Beale Street in downtown Memphis. Here, you'll have the chance to explore a variety of must-see music-related attractions, such as the famous Sun Studio, where Elvis and so many other stars recorded.
A great option for those who enjoy letting someone else do the driving and planning is to consider an organized tour. The Nashville to Memphis Day Trip with Graceland VIP Tour includes everything from transportation, admission fees, and a food credit to preferred access (no line-ups, yeah!).
Accommodation: Where to Stay in Memphis
6. Historic Sam Davis Home & Plantation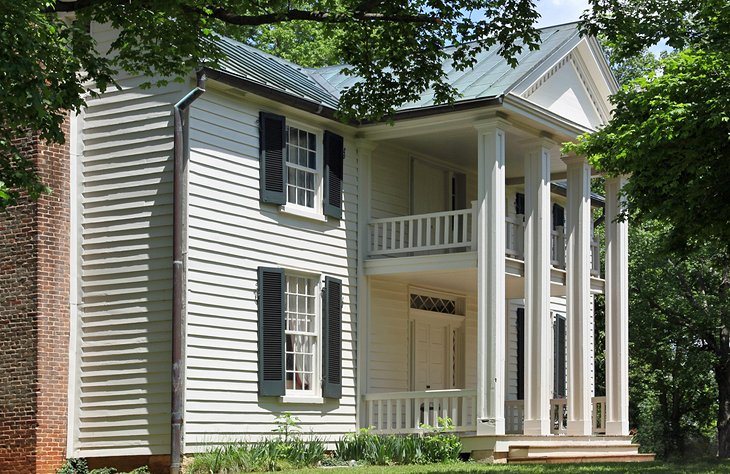 The restored mid-19th-century home of Sam Davis, the Boy Hero of the Confederacy who was captured by the Union and executed as a spy at the age of 21, is located in Smyrna, an easy 40-minute day trip southwest of Nashville. The house and grounds feature outbuildings, period gardens, a family cemetery, and a museum, and are often the scene of fun activities, including ghost tours and Easter egg hunts.
Also of interest is the Stones River National Battlefield, a 570-acre battlefield, including the Stones River National Cemetery with 6,000 Confederate graves, and the Hazen Brigade Monument, commemorating one of the bloodiest fights of the Civil War fought in 1862.
Address: 1399 Sam Davis Road, Smyrna, Tennessee
Official site: www.samdavishome.org
7. The City of Gallatin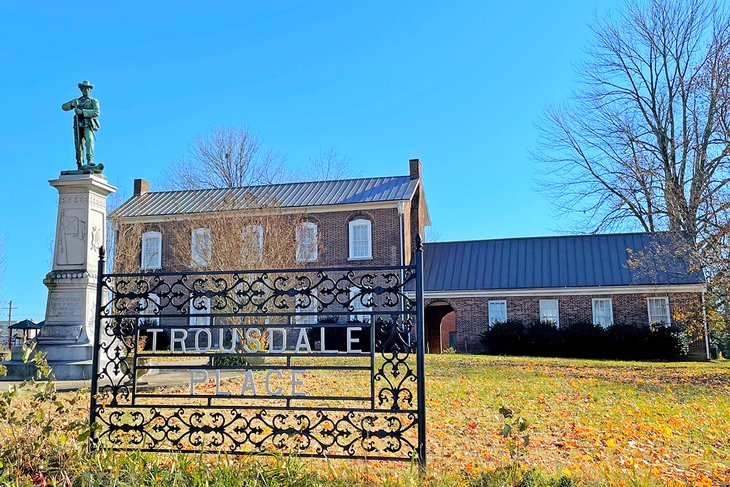 An easy 40-minute drive northeast of Nashville, Gallatin was founded in 1802 and was named after the Secretary of the Treasury under Presidents John Adams and Thomas Jefferson, Albert Gallatin. In addition to its quaint central square and many pleasant tree-lined streets, Gallatin is home to Trousdale Place, the city's oldest mansion.
Although open only for tours by appointment, this fine two-story brick home - built in 1813 and listed on the National Register of Historic Places since 1975 - is well worth a visit for its fine period furniture and library, which boasts a collection of books and documents related to the Confederacy.
On the same property and also a fun thing to do is pay a visit to the Sumner County Museum. The museum features a large collection of more than 250,000 artifacts, including fossils, Native American and African American displays, antique toys, pioneer and early settler goods, as well as tools of various trades.
Address: 183 W. Main Street, Gallatin, Tennessee
Official site: www.sumnercountymuseum.org
8. The Pioneers of Murfreesboro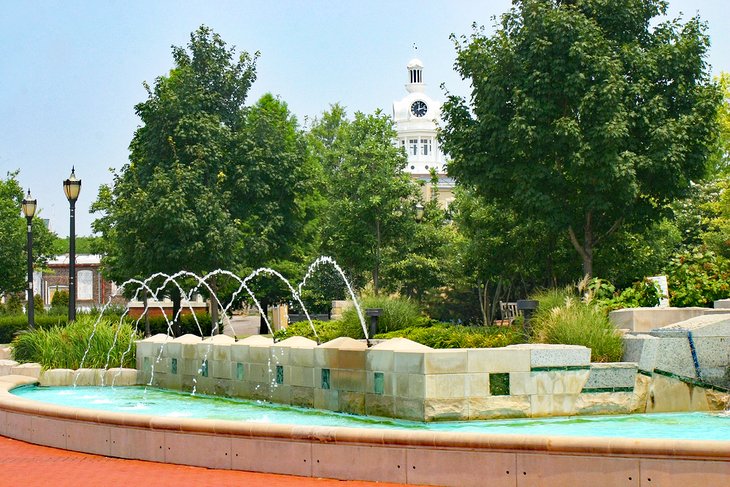 Murfreesboro, an easy 40-minute drive southwest of Nashville, was the state capital of Tennessee from 1818 to 1826, when it lost its right to remain the seat of government by a single vote. Highlights of a tour of this historic city include the Rutherford County Courthouse, notable as the site of an attack by Confederate troops on Union soldiers camped nearby.
It's also where you'll find the Oaklands Historic House Museum, a restored Italianate-style plantation built in 1815. Both Union and Confederate forces occupied this former plantation during the Civil War, and it was later the site of the surrender of Murfreesboro.
Other notable attractions include Cannonsburgh Pioneer Village, a reconstructed Southern pioneer settlement that includes a blacksmith shop, one-room schoolhouse, general store, gristmill, and chapel. This fun family attraction also offers popular events, such as its pioneer days and Christmas festivals.
Address: 900 North Maney Avenue, Murfreesboro, Tennessee
Official site: www.oaklandsmuseum.org
9. Historic Knoxville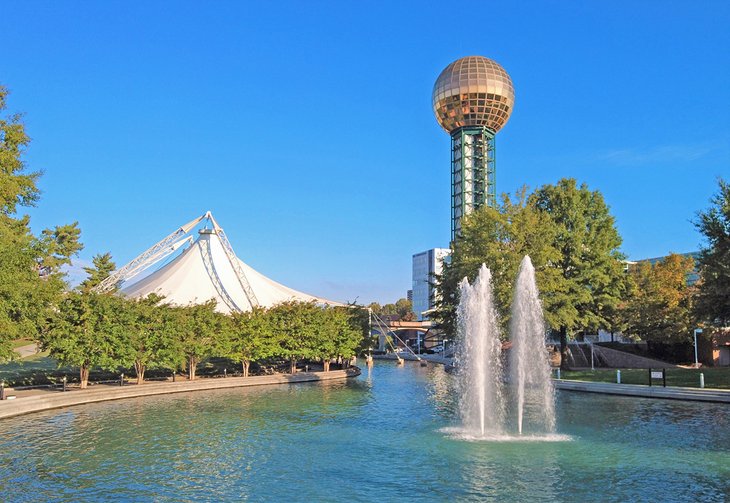 Another great day trip from Nashville is to the historic city of Knoxville. Just under three hours from Nashville, Knoxville is famous as the home of the University of Tennessee. Founded in 1794, the establishment is worth visiting for its splendid gardens (UT Gardens), open daily to the public from sunrise to sunset. Guided tours are available and are well worth it.
Thanks to its central riverside location, it's easy to explore the rest of downtown Knoxville from the university. Highlights include the iconic Sunsphere Tower, with its superb observation deck views, and the Confederate Memorial Hall, used in 1863 as Confederate headquarters during the Union siege of the city.
Other historic sites worth visiting are the Museum of East Tennessee with its displays and documents, and the wonderful Market Square. Established in 1854, the square is now home to a farmers market, great shopping, and live entertainment.
Address: 2518 Jacob Drive, Knoxville, Tennessee
Accommodation: Where to Stay in Knoxville