16 Best Hiking Trails near Gatlinburg, TN
Hikers near Gatlinburg benefit from close encounters of the best kind with the Great Smoky Mountains National Park in its backyard. Surrounded by forested inclines and spring-fed streams and rivers, visitors come to Gatlinburg to hike in nature. You can follow in the footsteps of early Cherokee hunters who blazed one of the first walking paths in The Smokies: Indian Gap Trail.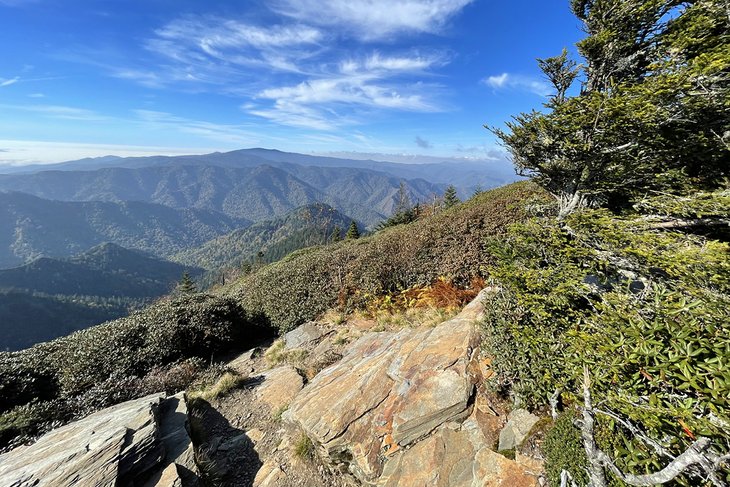 The best trails near Gatlinburg are inside Great Smoky Mountains National Park. Because there's no charge to go hiking in the park, your sense of freedom on the trail takes on new meaning. All designated trails offer something different. Some of these paths–such as the Appalachian Trail–are so long that they cross the park and keep on going. Start with a few easy trails to build your confidence and stamina before taking on more strenuous hikes.
Accessing hiking trails near Gatlinburg is easy. Our list of hiking trails makes it even easier by helping you decide where to go according to your interests and abilities. With trail map in hand, assess hiking and weather conditions on your trail of choice by stopping into the Nantahala Outdoor Center in town or the Sugarlands Visitor Center just inside the park.
Once you get a handle on how far you'll hike and what you need to wear and bring, you are ready to hit the trail! Choose a suitable route with our list of the best hiking trails near Gatlinburg, Tennessee.
1. Clingmans Dome Observation Tower Trail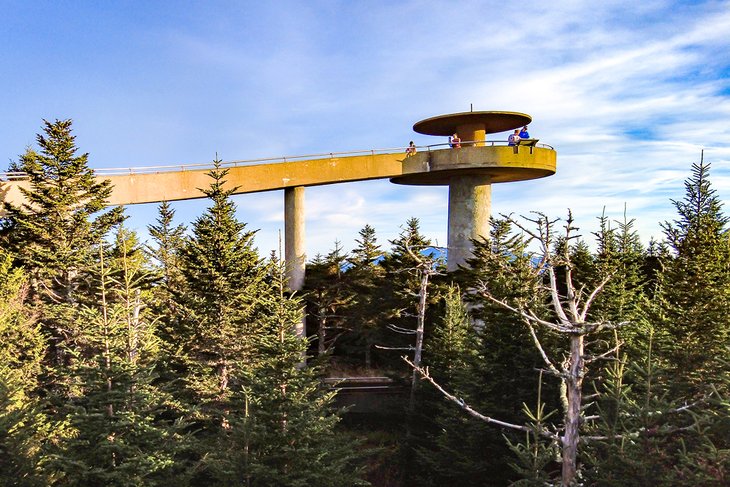 Let's consider some of the most impressive facts about Clingmans Dome. It's the third highest point in the eastern United States and the highest in Tennessee. It holds the greatest elevation in the Great Smoky Mountains and all along the 2,200-mile Appalachian Trail, from Maine to Georgia. Climbing the Clingmans Dome Observation Tower Trail to 6,443 feet above sea level is one hike you do not want to miss.
Whatever motivates you to hike Clingmans Dome, you are certain to share the trail with many other visitors carrying cameras on the trail. When the sun is shining, the sweeping view of the clouds and hills below the observation tower will take your breath away.
Many of us recognize Clingmans Dome by its better-known moniker, Top of Old Smoky. An hour's drive straight up the mountain from Gatlinburg brings you to a large parking lot. From your car, take the half-mile steep climb up a wide paved path to the 45-foot-high observation tower where–on a clear day–you can see all the way to Alabama, Georgia, Kentucky, North Carolina, South Carolina, and Virginia. Interpretation signs indicate some of the places you might spot in the distance.
2. Abrams Falls Trail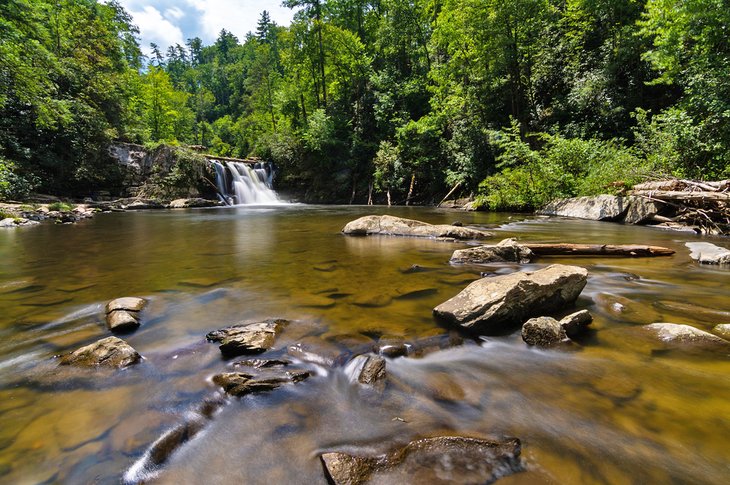 Restored in November 2021, Abrams Falls Trail is a popular moderately strenuous hike with an elevation gain of 675 feet that follows a 5.2-mile loop. The trail leads to the 20-foot small and mighty Abrams Falls, which many consider a favorite in Great Smoky Mountains National Park. The hike descends to the falls and ascends back to the trailhead. You will appreciate walking alongside Abrams Creek for much of your hike.
Abrams Falls Trail is the only hiking trail accessed from the 11-mile, one-way Cades Cove Loop Road Trail, the most popular designated auto route in the park. The trailhead for Abrams Falls is halfway around the loop road, which takes two to four hours to complete by vehicle. Many hikers start early in the morning to beat the traffic lineup around Cades Cove.
3. Alum Cave Trail to Mount LeConte to Myrtle Point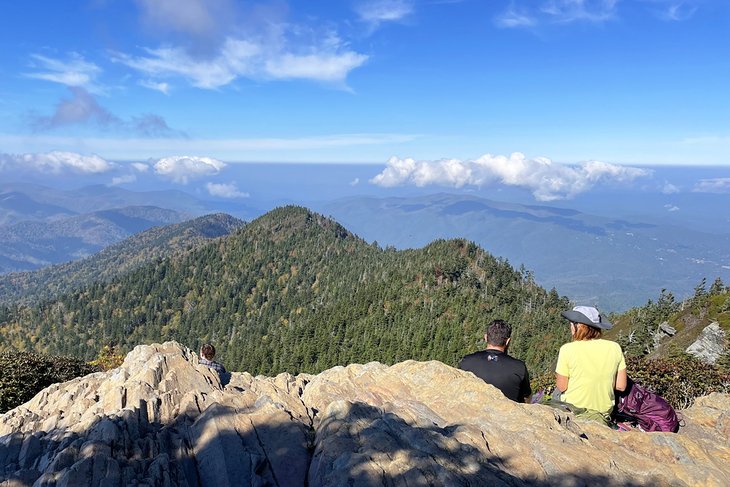 A hike to the top of Mount LeConte immerses you in possibly the best hiking experience near Gatlinburg and in Great Smoky Mountains National Park. With an elevation gain of almost 3,000 feet, you are rewarded with astounding 360-degree views. The name of the hike–French for "the count"–nobly fits with the scenery.
The most popular route to the top starts with the trail to Alum Cave from Newfound Gap Road, 8.5 miles south of Sugarlands Visitor Center. Before heading out, consider your options: Make the ascent of LeConte a full-day outing, stay overnight at LeConte Lodge near the summit of 6,593 feet, or start out before dawn and return to Gatlinburg for a late lunch. Given its length and moderate-to-difficult trail rating, you can complete the 13-mile round trip in a way that best suits your schedule, ability, and budget.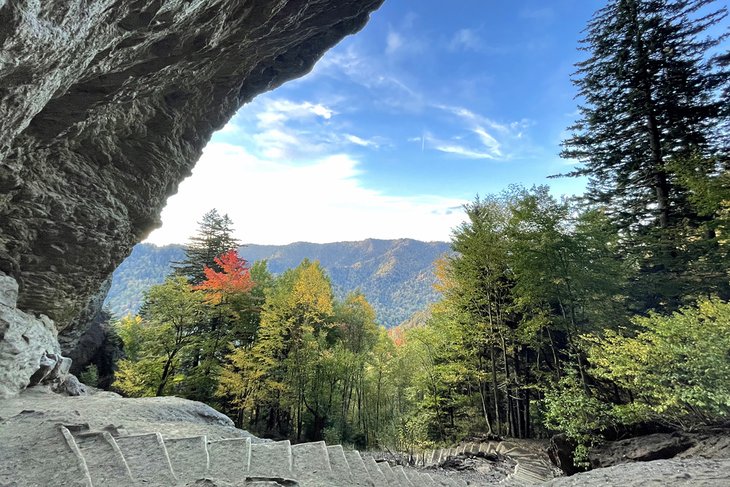 The first section of the trail heads up Alum Creek to Arch Rock–a natural gateway you pass through to reach Inspiration Point. Here, you feel suspended above an immense photogenic view. At Alum Cave Bluffs, catch your breath while imagining mining activity way up here during the 1800s. There are public restrooms at LeConte Lodge.
Nearby Cliff Tops is an impressive perch to enjoy lunch on the rock ledge. Less than a mile up the trail brings you to Myrtle Point, which offers the best panoramic view on the entire trail.
4. Rainbow Falls Trail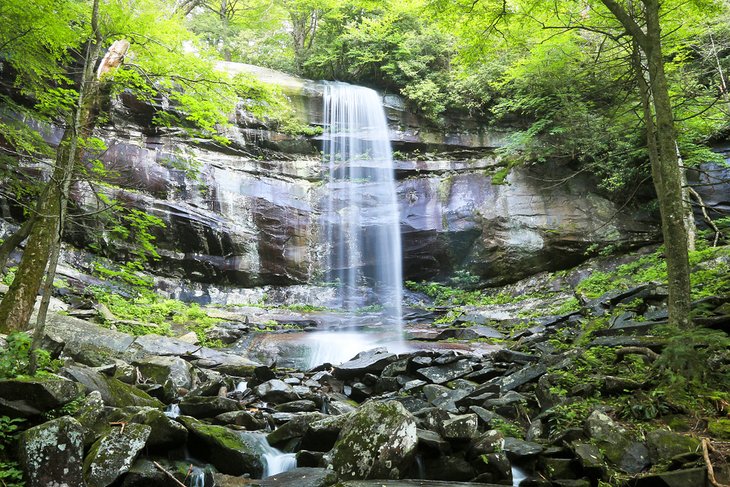 Rainbow Falls Trail is a moderate to strenuous 5.4-mile trail return. Only 4.2 miles south of downtown, the trailhead is located off Cherokee Orchard Loop Road, which connects with the Roaring Fork Motor Nature Trail. With an elevation gain of more than 1,500 feet, this well-trod trail leads hikers to a misty reward: a waterfall that is 80 feet high.
Experienced and provisioned hikers include the Rainbow Falls Trail in their routing to the top of Mount LeConte. The summit is an additional four miles from Rainbow Falls.
5. Grotto Falls via Trillium Gap Trail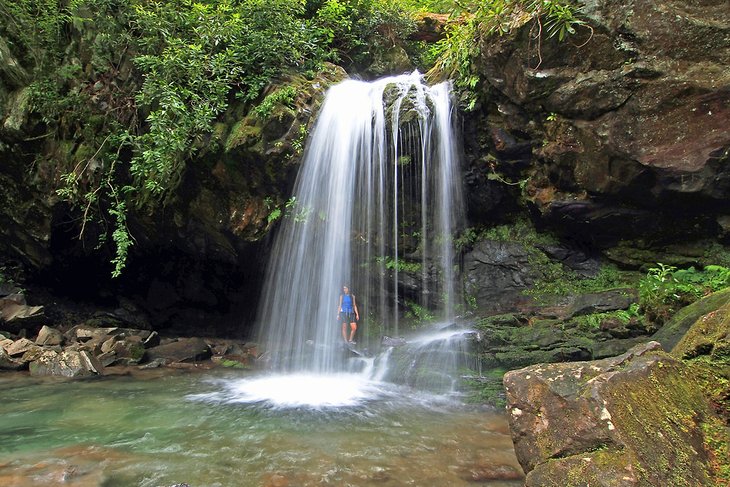 While touring the popular Roaring Fork Motor Nature Trail, many visitors opt to stretch their legs halfway along this loop road by hiking to Grotto Falls. Arrive early to assure yourself a parking space. Follow signs to the falls along the Trillium Gap Trail.
The hike to Grotto Falls is easy to moderate for most people. You will walk a distance of 2.6 miles return with an elevation gain of less than 600 feet. Enjoy this wander through old-growth stands. Cross meandering mountain creeks until you arrive at a cascade and the 25-foot-high Grotto Falls nearby. Immerse yourself in the power of nature from the ledge behind the falls.
6. Laurel Falls Trail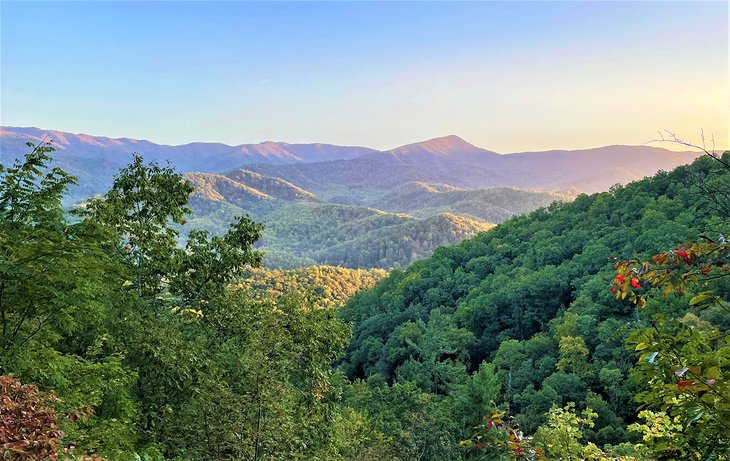 Laurel Falls Trail is located off Fighting Creek Gap Road between Sugarlands Visitor Center and Elkmont Campground. Because it's an easy seven-mile drive from Gatlinburg and leads to a graceful waterfall, the trail is a popular outing for families.
Prepare for a steady climb to the falls on a well-groomed trail. Trail length is 2.6 miles round trip and the elevation gain is 400 feet. Once you reach the highest point of the trail, you are rewarded with scenic views of the Great Smoky Mountains.
A short concrete bridge with a railing crosses in front of Laurel Falls. This provides a safe location to capture a photo of the semi-tropical cascade surrounded by mature rhododendrons. Turn away from the falls to look down on the dramatic water pour-off over the cliff below.
7. Andrews Bald Trail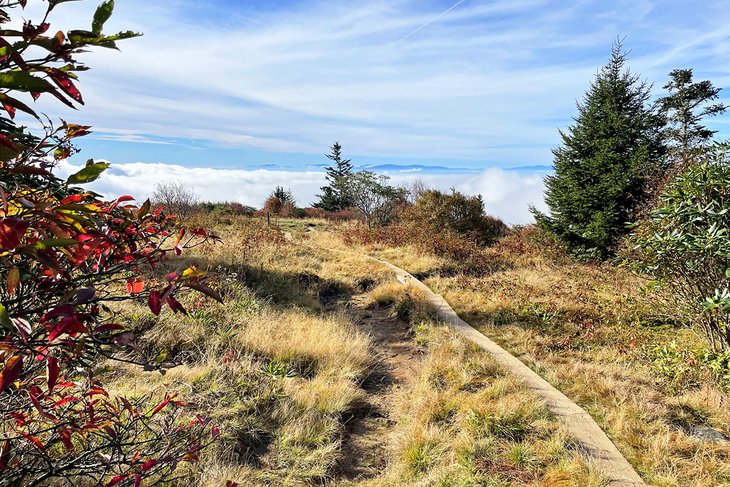 Some visitors to Clingmans Dome take advantage of hiking the Andrews Bald Trail following a visit to the observation tower. Dropping down from the Clingmans Dome parking lot, the trail follows a forested ridge that juts south and crosses the state line into North Carolina.
The trail leads to an open grassy meadow–or "bald"–above the clouds. Once you arrive at Andrews Bald–the highest bald in Great Smoky Mountains National Park–find a place to sit and enjoy the lunch or snack you brought with you.
This 3.6-mile round-trip hike involves an elevation gain of 900 feet. Most of the elevation you feel happens while returning up the hill to the parking lot from Andrews Bald.
8. Jakes Creek Trail to Avent Cabin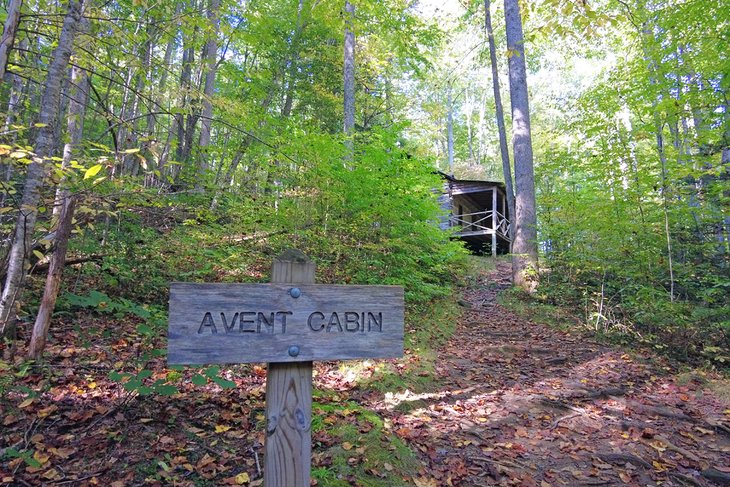 The Jakes Creek Trail to Avent Cabin is tailor-made for families who like to walk in an open forest, along a pretty creek, on a wide trail. Over a distance of 2.7 miles round trip, you will experience an elevation gain of 500 feet.
Before stepping out on the trail, ask a ranger at Elkmont Campground about the final spur off Jakes Creek Trail to Avent Cabin. The trail is rated easy for hiking. It's also easy to miss the turnoff to the cabin because it's not signposted. Visiting Avent Cabin is the highlight of this trail, especially for creative types who imagine what it was like for Paris-trained artist Mayna Treanor Avent to use this place as her live-in studio.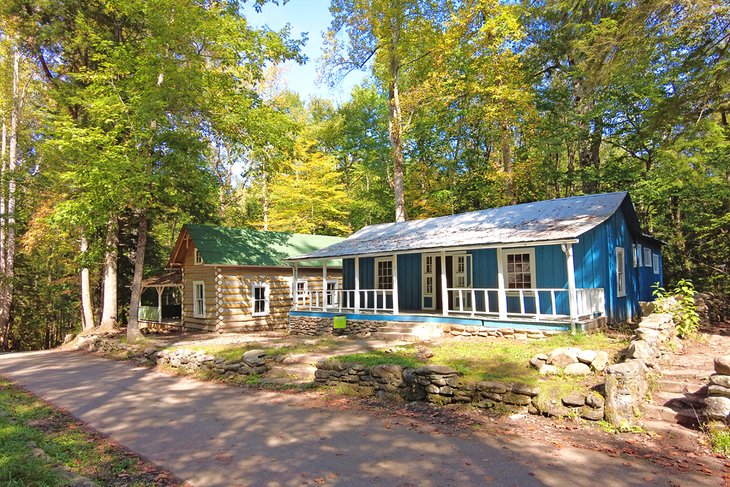 On the way to your car or campsite at Elkmont Campground, stroll through the colorful, restored cottages of Daisy Town. Rangers might be available to answer your questions about this exclusive holiday enclave before the creation of the national park.
9. Spruce Flats Falls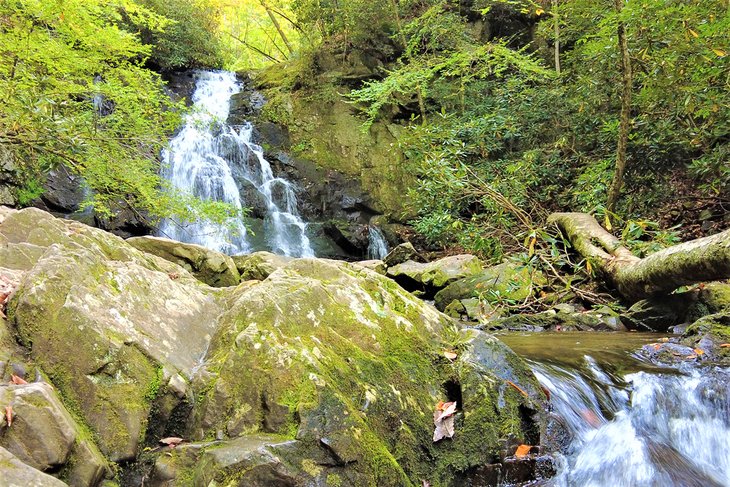 To reach the trailhead for Spruce Flats Falls from Townsend–a top town in Tennessee–drive Tremont Road, which is one of the most scenic side roads in Great Smoky Mountains National Park. From the parking lot at Tremont Institute, hike the 1.8-mile round-trip trail to the base of Spruce Falls. While this hike is a favorite for families, it requires careful stepping over exposed rocks and tree roots for an elevation gain of 413 feet.
10. Tremont Logging History Auto Tour to Middle Prong Trail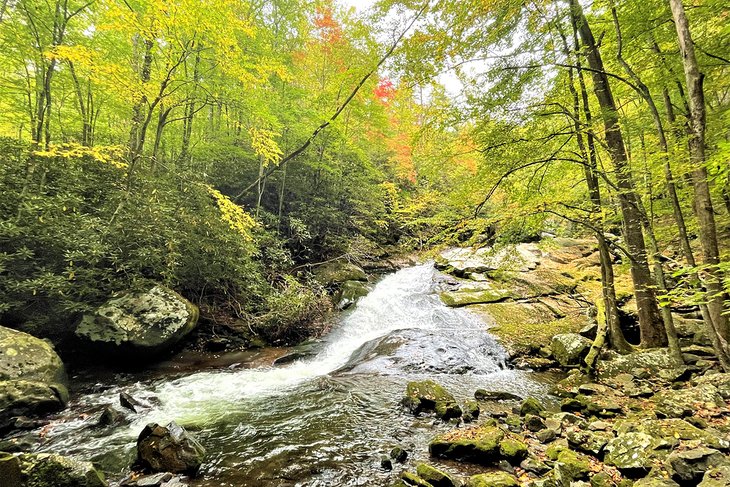 After hiking to Spruce Flats Falls, take the visually stunning three-mile Tremont Logging History Auto Tour along Little River to the end of Upper Tremont Road. Take advantage of pull-offs to stop and gaze down into water holes set in a verdant temperate rainforest.
Park your car near the pedestrian bridge where Lynn Camp Prong merges with Thunderhead Prong. Cross the bridge to start the 4.6-mile Middle Prong Trail, occupying a former railway bed that is wide and easy for walking. The trail is ideal for families with small children or a couple looking for a romantic hideaway. Enjoy the cascades and sound of the rushing river as you wander through this open forest.
11. Newfound Gap to Indian Gap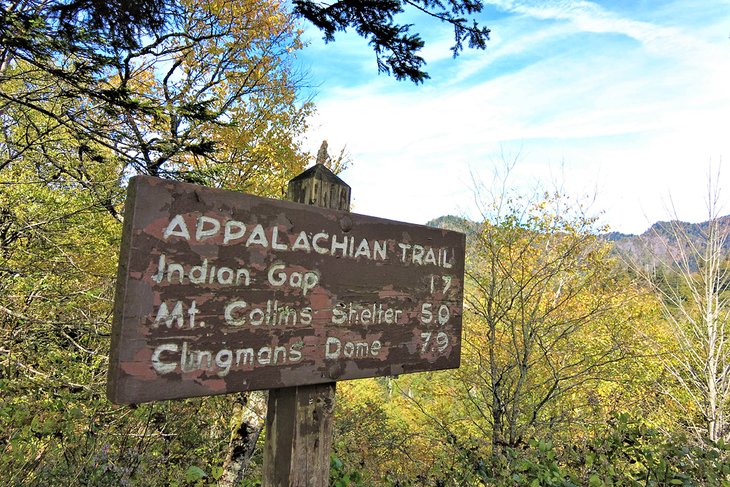 Many visitors to the Great Smoky Mountains National Park make the drive to the Newfound Gap Overlook, which sits on the Tennessee-North Carolina state line. The hike to Indian Gap from Newfound Gap follows part of the Appalachian Trail that leads to the Top of Old Smoky at Clingmans Dome.
The trail to Indian Gap is 3.3 miles return. With an 843-foot elevation gain, this moderate hike has steep sections that lead to your turnaround point, the historic Cherokee route across The Smokies. Over centuries, Indian Gap Road was used by early explorers, Civil War soldiers, farmers, and traders. By the 1930s, Newfound Gap Road replaced Indian Gap Road, which returned to nature.
12. Gatlinburg Trail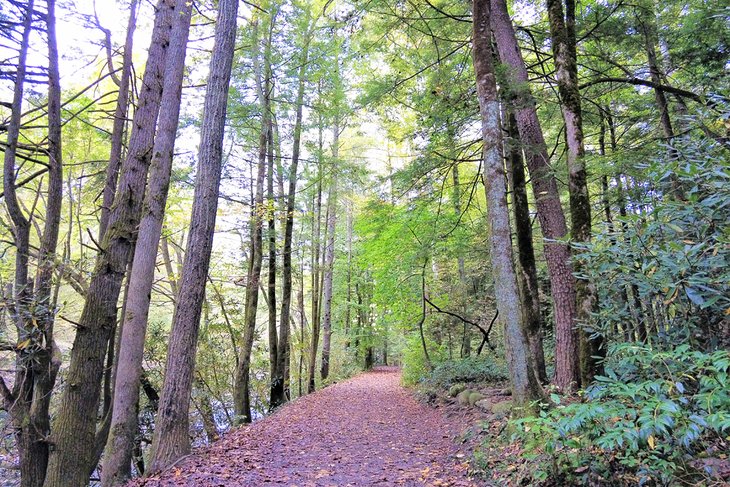 From the south end of town, the Gatlinburg Trail follows and crosses the West Prong Little Pigeon River. Covering a one-way distance of four miles with no discernible elevation gain, the trail ends at Park Headquarters Road. Sugarlands Visitor Center is a short walk away.
The Gatlinburg Trail is used extensively by walkers, runners, and mountain bikers. The well-used path is the only trail in Great Smoky Mountains National Park near Gatlinburg where visitors can walk their leashed dog.
13. Sugarlands Valley Trail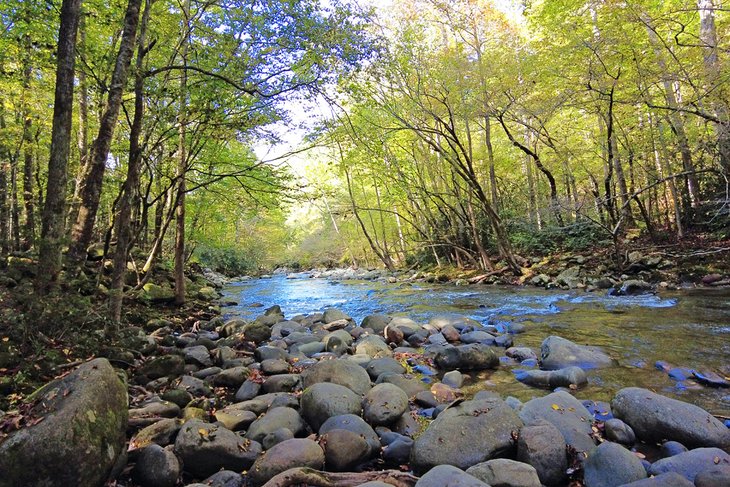 The Sugarlands Valley Trail is a flat half-mile loop that is paved, allowing unfettered passage of wheelchairs and strollers. It's one of the easiest and closest trails to Gatlinburg and the Sugarlands Visitor Center. Half the loop follows alongside the creek of Bullhead Branch, providing a peaceful place to rest. Throughout your walk, you hear the soothing sound of running water. Keep your eyes open for frogs and other amphibians that live here.
Winding your way through the forest, read signs about what was once a thriving farming and logging community in the Sugarlands Valley. Harvesting corn, grain, and trees eventually gave way to recreation and leisure. Look for evidence of human settlement such as stone chimneys and rock walls that supported summer cottages dating back to the 1930s. Since 1940, when Great Smoky Mountains National Park was established, nature has restored the forest that surrounds you today.
14. Elkmont Nature Trail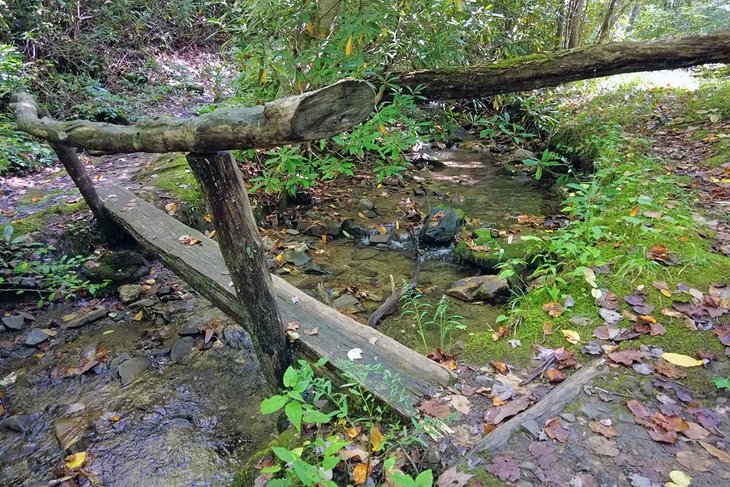 Across the park road from Elkmont Campground, one of the best campgrounds near Gatlinburg, Elkmont Nature Trail might be the first path you enjoy after pitching your tent. At slightly less than a mile, hikers of all skill levels can walk this loop trail. In season, you will see wildflowers and flowering rhododendrons. The trail passes through Indigenous shrubs and trees. An assortment of ferns covers the ground.
At the start of the trail, cross the gently flowing Mids Branch that you will see again later in the loop. The trail slowly rises in elevation of less than 100 feet. At times, the path tunnels through mature rhododendrons that sap light from the pine and oak forest canopy.
15. Fighting Creek Nature Trail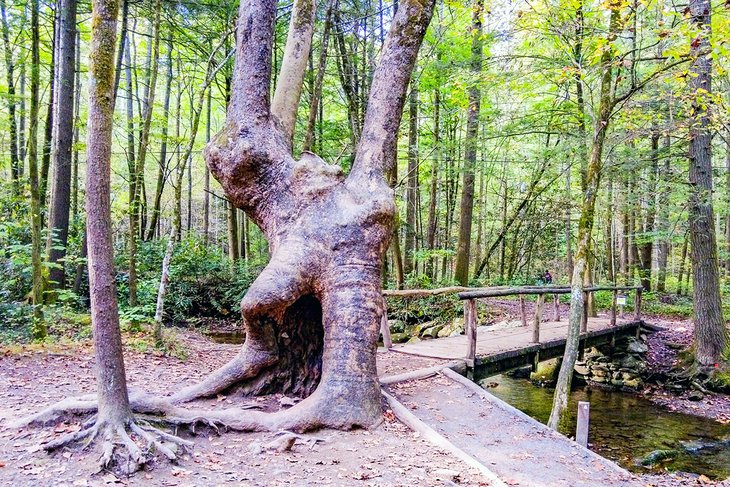 Behind Sugarlands Visitor Center, Fighting Creek Nature Trail is a gentle 1.4-mile self-guided interpretation walk in the forest. It's a suitable hike for families and a good way to introduce children to the natural world and social history of the area. You see a restored cabin and the remains of a farming homestead.
Ask kids to imagine what it was like to live and play here. Notice what attracts their attention, and encourage them to find enchantment in an environment that may be foreign to their usual experience.
16. Cataract Falls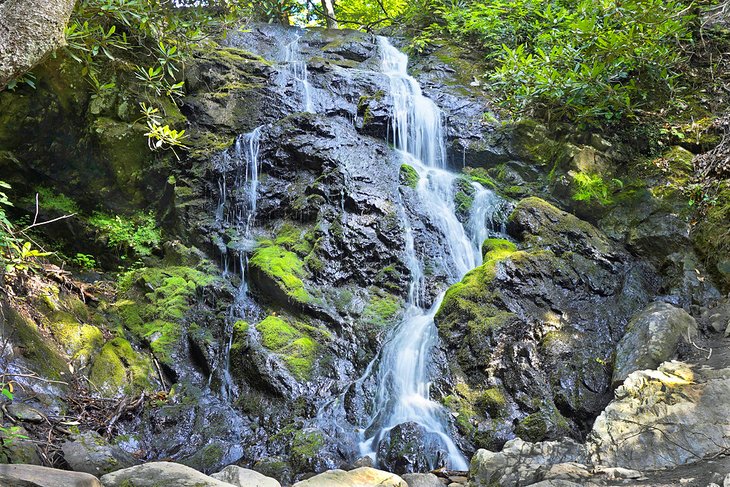 Given its proximity to downtown and its namesake waterfalls feature, Cataract Falls Trail is a popular trail in Great Smoky Mountains National Park.
Cataract Falls Trail is a 1.1-mile walk from Sugarlands Visitor Center. Combine it with Fighting Creek Nature Trail to extend an easy hike for visitors of all ages.
To reach the small and much photographed Cataract Falls, expect to walk on a flat, hard surface with negligible elevation gain. The trail follows the flat banks of Cataract Branch, which flows into the upper reaches of Little Pigeon River, the major riparian corridor for Gatlinburg and Pigeon Forge.
Gatlinburg, TN - Climate Chart
Average minimum and maximum temperatures for Gatlinburg, TN in °C
J
F
M
A
M
J
J
A
S
O
N
D

9

-4

11

-3

16

1

21

4

24

9

28

14

29

17

29

16

26

12

21

6

16

1

11

-2

PlanetWare.com
Average monthly precipitation totals for Gatlinburg, TN in mm.

124

108

141

111

142

148

154

117

117

75

102

114