11 Top-Rated Things to Do in Helen, GA
The town of Helen, Georgia has certainly had a curious history. Only a few decades after its founding in 1913, this former logging town found itself struggling to survive as revenues and its population, already small, dwindled. Things looked bleak. Until, that is, the 1950s, when inventive townsfolk pulled together with an idea that, as crazy as it seemed at the time, would end up making Helen one of the most popular weekend getaways in Georgia.
That idea was to make use of the town's pretty river and hillside setting, covering the unattractive yet functional shops and businesses of Main Street with new façades, and rebranding the whole community as a Bavarian-themed village. And it worked. Within days of announcing the town improvements to the world, curious visitors began trickling in.
Today, that trickle is a flood of visitors each and every year, here to enjoy a little bit of Europe in the heart of the Georgia Mountains. From Bavarian-styled eateries and Swiss-themed chocolatiers to riverside tourist attractions, it's extremely easy to forget that you're really not in Europe.
To learn more about what has become one of the best places to visit in Georgia for a little fun and relaxation, be sure to read through our list of the top things to do in Helen, GA.
1. Explore Georgia's Little Bavaria: Downtown Helen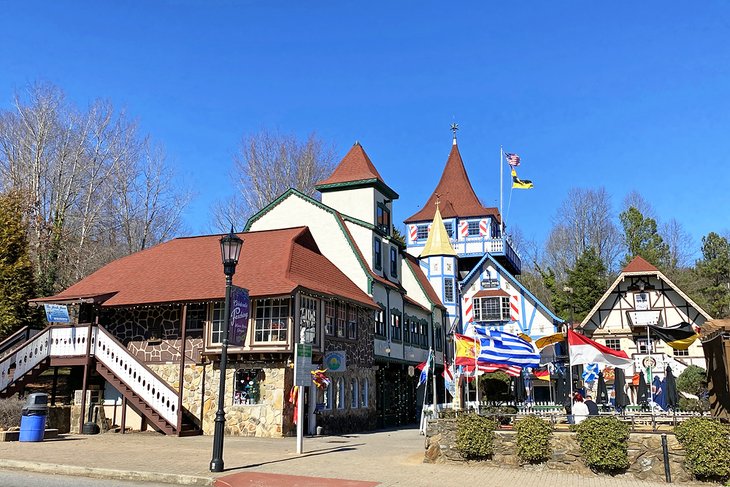 There's no better way to start your exploration of "Little Bavaria" than with a walking tour of Downtown Helen. While the Main Street here is long, and divided into North and south sections, you'll want to park as close as possible to the town bridge over the Chattahoochee River, where the two sections meet (there's ample space available in the town's public parking lots).
A pleasant yet short stroll follows a portion of the river before placing you in the heart of the Alpine Village itself, where the real fun begins. Here, you'll find stores and businesses selling everything from Bavarian-themed souvenirs to popular European sweet treats. Be sure to pop into the Hansel & Gretel Candy Kitchen for fresh-made chocolate and fudge, and the excellent Hofer's Bakery and Café for straight-out-of the oven donuts, cookies, and pastries.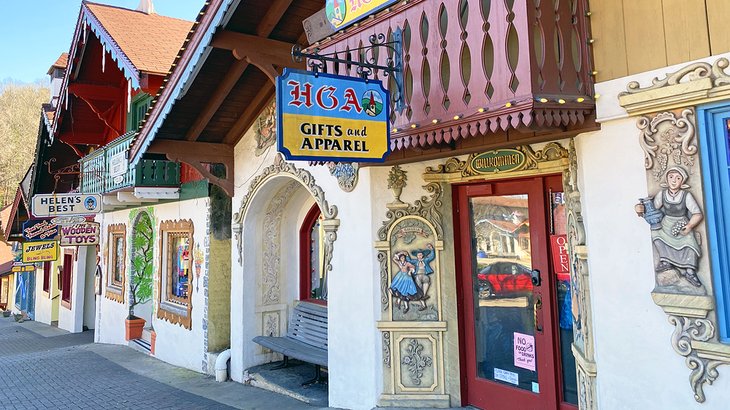 There are enough eateries and fun things to do in Helen, as well as frequent seasonal festivals and events, to warrant a night or two's stay.
2. Anna Ruby Falls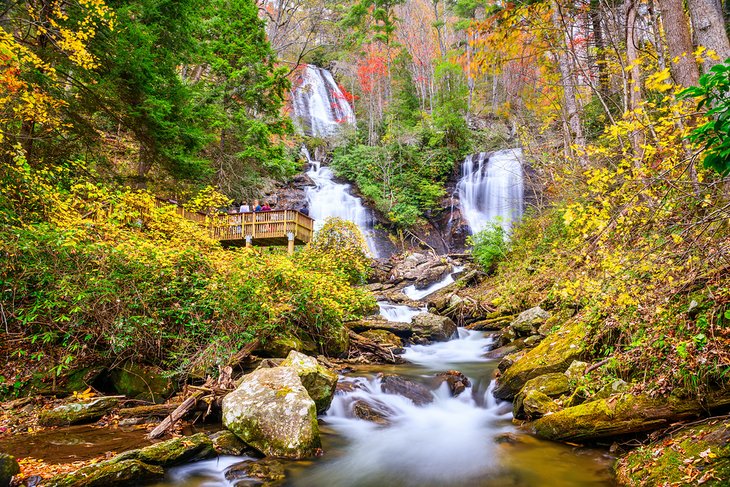 Take an easy hike to Anna Ruby Falls. Located a 15-minute scenic drive from downtown Helen, this falls is a must-see when in this part of the Georgia Mountains. Located within Chattahoochee-Oconee National Forest, the falls are easily accessible by a level, paved, half-mile-long trail from the parking area.
Anna Ruby Falls is, in fact, quite unique, as it consists of two separate waterfalls created by two streams that meet up at their base to form Smith Creek. The tallest, Curtis Creek, plummets 153 feet to the base, while the shorter York Creek drops 50 feet. The combined force makes for a spectacular photo or selfie.
Be sure to also allocate a little time for a visit to the Anna Ruby Falls Visitor Center adjacent to the parking area. In addition to useful information regarding the falls, there's an on-site gift shop, picnic area, and a mobility-friendly interpretative trail. A number of special guided nighttime hikes and geology walks are available that depart from the visitor center, too.
If visiting during peak season from March to December, be sure to arrive early to snag a parking space, as parking is limited, and the attraction does get busy, especially during the spring flow, and again when the leaves change color in the fall.
Address: 3455 Anna Ruby Falls Road, Helen, Georgia
3. Ride the Georgia Mountain Coaster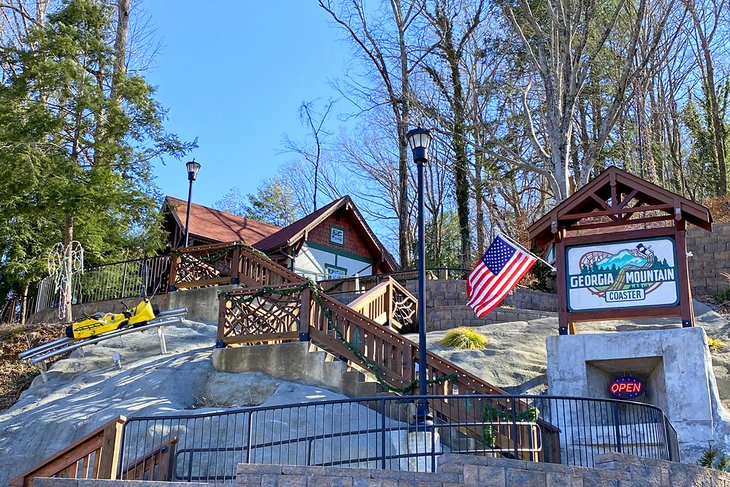 A relatively new addition to the growing list of attractions in Helen, the Georgia Mountain Coaster is a must-do. Located in the heart of the downtown core overlooking the Alpine Village and Chattahoochee River, this thrilling ride makes the most of the town's hilly setting.
Riders are pulled up the steep incline on their one- or two-seat coaster cart, an experience in itself that's quite fun and offers great views over the town. Once at the top, gravity does its thing and sees you barreling down the winding track at speeds of up to 25 miles per hour.
While it's a heart-thumpingly fun, mile-long ride for young and old alike, your coaster cart comes with a hand-operated brake in case you're feeling a little nervous during the four-minute descent. If available, consider taking them up on any offers for reduced rate second rides. The ride is also open later in the evening in peak season.
The same business also operates a fun tubing experience. Cool River Tubing provides visitors with an inflatable tube and basically sets you loose to wind your way along the gently flowing river, providing lifejackets as well as pickup and return to your starting point.
Address: 8409 S Main Street, Helen, Georgia
Official site: www.georgiamountaincoaster.com
4. Go Retro Shopping in Nacoochee Village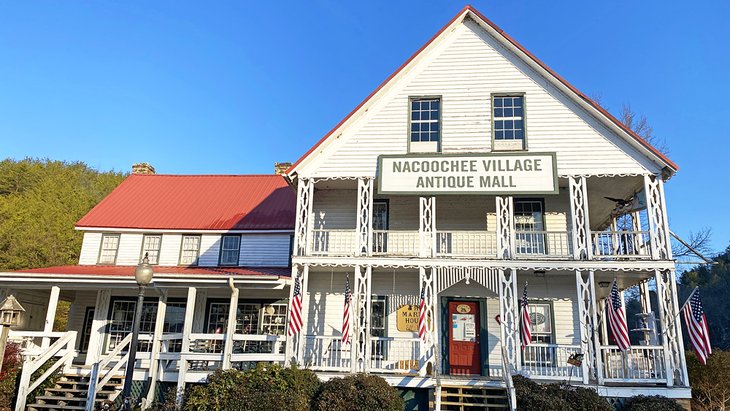 Just a few minutes' drive farther along South Main Street, and you'll find yourself in historic Nacoochee Village. This century-old collection of old homes and commercial buildings, while small, is a delightful spot to spend a few hours exploring – and shopping.
Start your retro-shopping spree at Nacoochee Village Antique Mall. Set up on a small hill overlooking the rest of the community, this popular antique store is a great place to visit to browse for old treasures, with rooms in this former historic home from 1876 set up by theme or period. Antiques from more than 50 different vendors are on display, so be prepared to spend some time here.
Directly opposite is another historic building, the Nora Mill Granary. Also built in 1876, this grist mill is still in operation, with a visit offering a chance to see its massive, original 1,500-pound stones in action as they grind grain into flour. A variety of products can be purchased at the on-site store, including porridge, pancake, and biscuit mixes that are well worth taking home with you.
The Willows Pottery, a working gallery and studio, is also worth a visit. And for those needing a caffeine fix, JumpinGoat Coffee Roasters can fix you up real good with a coffee and treat to go.
Address: 7091 S Main Street, Helen, Georgia
Official site: http://nacoocheevillage.com
5. Take a Break in Unicoi Hill Park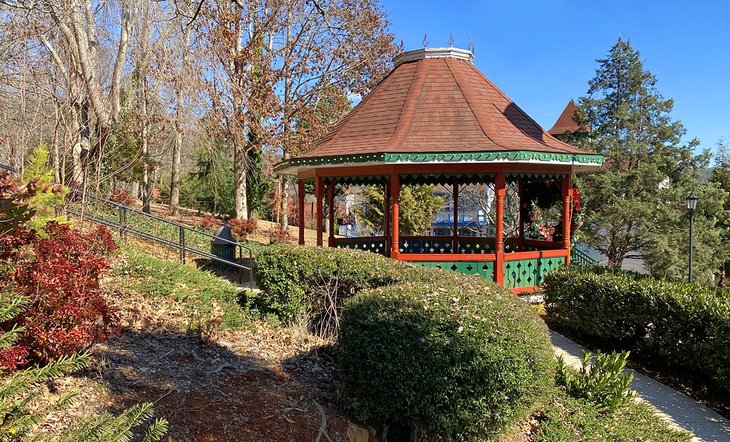 Situated at the top end of the downtown core's shopping and dining opportunities, Unicoi Hill Park makes for a great place to stop for a rest. Covering some 2.5 acres, this pleasant park offers great views over the Alpine Village from its slopes. Better still, if it's vacant, claim a spot in the cute photo-worthy gazebo, with its great views over the downtown area.
Available facilities include picnic tables and BBQ grills, as well as a playground area for the kids. Those looking for a longer walk from the downtown area can pick up a trail that leads into Unicoi State Park, a 1,050-acre state park with numerous hiking and biking trails that surrounds Unicoi Lake. It's an especially pleasant walk in the fall when the trees change color.
Address: N. Main Street, Helen, Georgia
6. See the Historic Stovall Mill Covered Bridge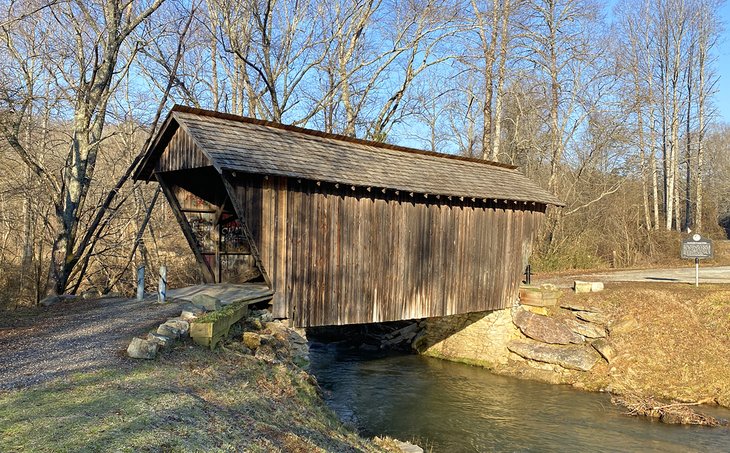 A scenic 10-minute drive from Hellen, a visit to Stovall Mill Covered Bridge makes for a fun diversion from all that sightseeing in Little Bavaria. Georgia's smallest surviving covered bridge, it was constructed in 1895 and measures only 33 feet in length and is still sometimes referred to as the Helen Bridge by locals.
Made entirely of wood and just wide enough to have allowed a horse and wagon to cross Chickamauga Creek, it's now open for pedestrians only. Its picture-perfect setting makes it a popular post for a selfie or a wedding photo. It's famous for also having made an appearance in the 1951 film, I'd Climb the Highest Mountain.
Parking is available, and the bridge and its river setting make for a pretty backdrop for a family picnic. A historic plaque provides details of the old gristmill and sawmill that once stood nearby.
Address: 2617 GA-255, Sautee Nacoochee, Georgia
7. The Mystery of the Nacoochee Indian Mound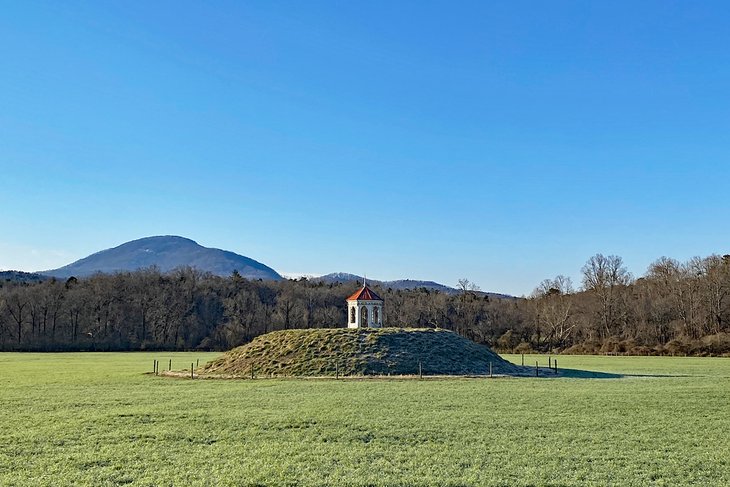 Located just two miles outside Helen and on the way to Stovall Mill Covered Bridge, the Sautee Nacoochee Indian Mound is a curious landmark that's difficult to miss. Standing exposed in a field, the mound is easy to spot for the gazebo perched atop it.
The area is known to have been settled by South Appalachian Mississippi Native Americans, with the mound being constructed around the 14th century as a place of burial for 75 people. Local legends for years described it as a burial place for a Romeo and Juliet love affair between members of two warring tribes, but as good a story as it is, it has been largely debunked over the years.
As for the gazebo, it was added by the owner of the nearby Hardman Farm in the 1800s. It's believed he knew nothing of the significance of the site, nor what lay beneath it.
Address: 7086 Unicoi Turnpike, Helen, Georgia
8. Helen Arts & Heritage Center and History Museum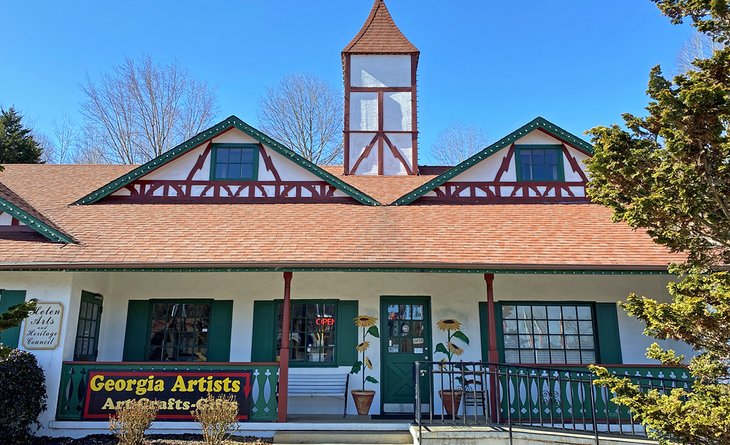 Art buffs are well-catered to in Helen. Located on Chattahoochee Strasse in the downtown core and established in 2007, Helen Arts & Heritage Center (HAHC) features regular exhibits of works by local and regional artists and is well worth a visit. The group also organize a number of seasonal art shows, as well as regular art workshops.
In addition to its exhibits, the facility houses pottery and artist studios and a gift shop, along with a great little history museum. The museum also features fascinating displays relating to the town's unique history, along with displays of historic memorabilia and artifacts. Admission is at no cost, making it one of the top things to do for free in Helen.
Address: 25 Chattahoochee Strasse, Helen, Georgia
Official site: www.helenarts.org
9. Enjoy an Outdoor Adventure at Headwaters Outpost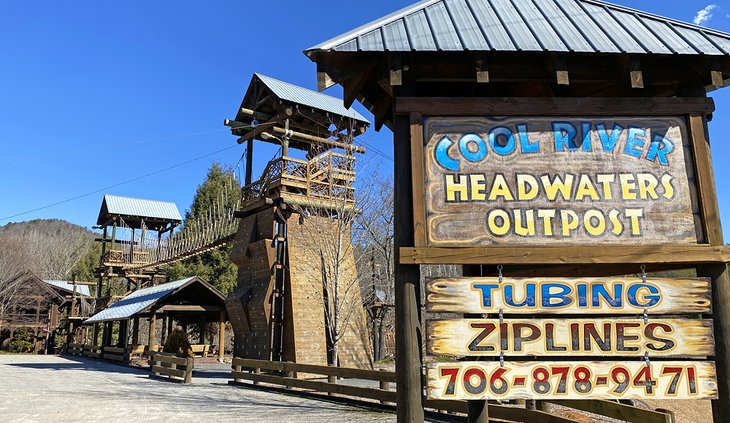 For those seeking fun outdoor activities, you'll want to schedule a visit to Headwaters Outpost. Family-friendly activities include ziplining adventures along with ropeways to tackle. Three levels are available that cater to different abilities, including kid-friendly experiences. All equipment and the services of professional guides are provided.
The facility also features a climbing wall, as well as a patio area, picnic areas, and riverside tables. There's also a gift shop and a café, as well as washrooms and change facilities.
The same company owns and operates Cool River Outpost. Here, guests can enjoy what's become something of a must-do in Georgia: river tubing. These ultimate lazy river experiences include your tube and bus transport to and from the departure or pickup spot. For a super-fun family experience, be sure to request the special ties that can group tubes together to make a family-sized raft.
Address: 112 Poplar Stump Road, Helen, Georgia
Official site: https://coolriveradventures.com
10. Visit Hardman Farm Historic Site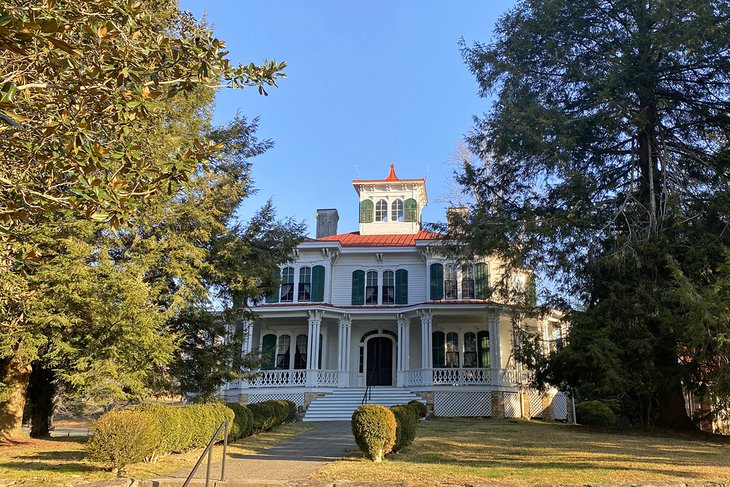 Located directly opposite the Nacoochee Indian Mound stands the Hardman Farm State Historic Site. The focal point here is the historic home itself. Built in 1870 in an Italianate style, this impressive mansion is best viewed as part of an hour-long guided tour, which includes a look at period furnishings and memorabilia, as well as its preserved and still functioning original kitchen and décor.
The property is well worth exploring, too. In addition to its lush gardens, you can wander around its outbuildings, including a horse barn and a spring house once used to gather water. The property was once an important dairy producer, and the cattle barn contains interesting displays related to this facet of its history.
The on-site visitor center also provides an interesting look at the home and its original owners. A gift shop is also located on the property.
Address: 143 GA-17, Sautee Nacoochee, Georgia
Official site: https://gastateparks.org/HardmanFarm
11. Folk Pottery Museum of Northeast Georgia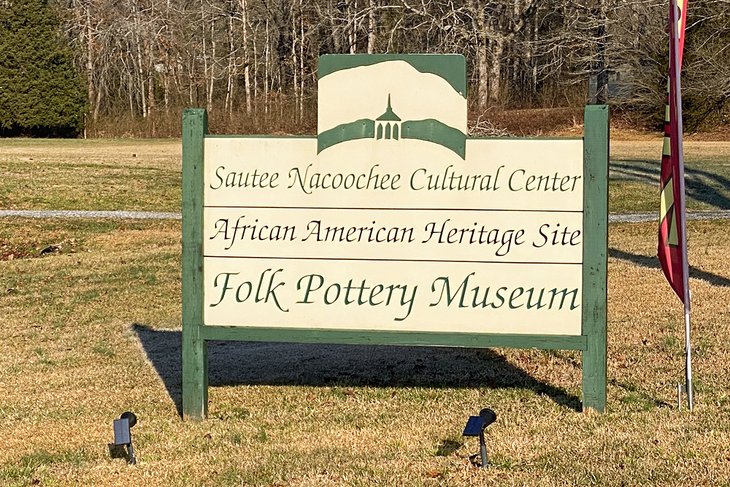 A short drive beyond Hardman Farm and on the same road as the Stovall Covered Bridge is the little community of Sautee Nacoochee. Located in the community center, the Folk Pottery Museum of Northeast Georgia is a new and beautifully designed facility that features exhibits and displays relating to one of the region's most important art forms.
Highlights include displays of Meaders pottery, known for its unique depictions of human faces, as well as many other examples of pottery from across the Appalachian region of Georgia. Guided tours are available by advance reservation on Fridays and weekends. A gallery shop is located on-site.
Address: 283 GA-255, Sautee Nacoochee, Georgia
Official site: www.snca.org/fpm/home.php
Map of Things to Do in Helen, GA
Helen, GA - Climate Chart
Average minimum and maximum temperatures for Helen, GA in °C
J
F
M
A
M
J
J
A
S
O
N
D

9

-3

12

-2

16

2

21

6

24

11

28

16

30

18

29

18

27

14

21

7

16

3

11

-1

PlanetWare.com
Average monthly precipitation totals for Helen, GA in mm.

181

163

193

134

166

125

142

134

140

110

154

158