13 Top-Rated Things to Do in Johnson City, TN
Johnson City is encircled by rolling foothills of the Great Smoky Mountains that beckon your attention every time you gaze skyward. You might hear the strum of an old-time banjo that harmonizes with these surroundings. Johnson City boasts a heritage of music and culture inspired by the rugged and remote Appalachian landscape. It's the fifth largest city in the state and part of the amalgamated Tri-Cities area with neighboring Kingsport and Bristol.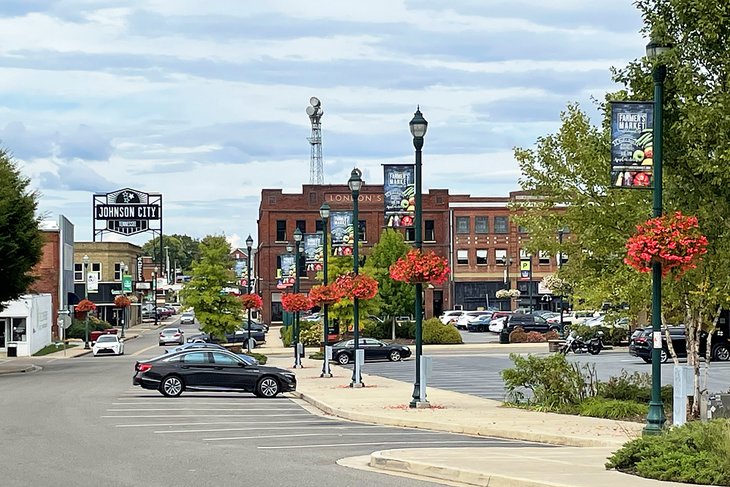 Despite its size, Johnson City feels more like a town than a city. Its appeal comes from the minds and energy of thousands of youth who attend East Tennessee State University and three local colleges. This community is steeped in the history of small-world charm while it harnesses the potential of the future.
You will see remnants of railroad steam-era days from the mid-1800s, when the town was first called Johnson's Depot. Today, you can walk or cycle along forested paths where powerful locomotives once pulled box cars of coal. Leave your car at Founders Park, and walk the rest of the way into the historic downtown. From here, visit some of the city's top tourist attractions and get your engine rolling with our list of things to do in Johnson City.
1. Stroll into Town at Founders Park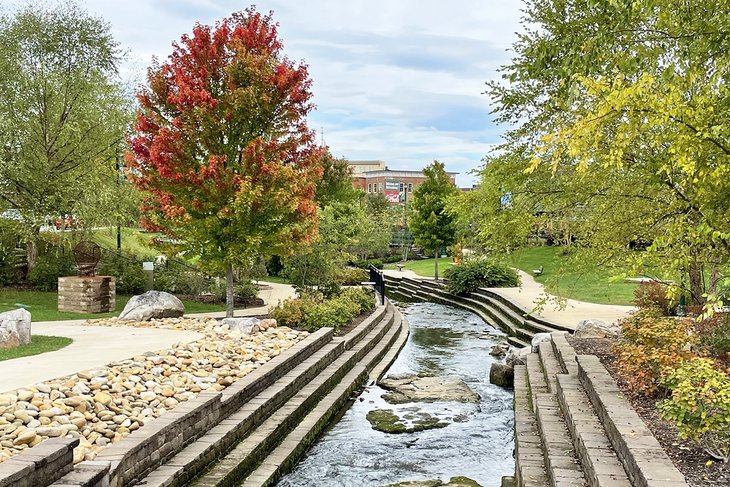 An exhibition of more than 20 permanent multimedia artworks lines the landscaped stream and barrier-free concrete walkway of Founders Park. A free carpark at the beginning of the trail leads to an uncovered amphitheater and gathering place. At the far end of the park is an attractive replica train station pavilion, reminiscent of Johnson City's historic connection as a transportation hub to early industry.
Founders Park is a captivating pedestrian corridor and green space that is suitable for all ages. Expect to see parents with baby strollers mingling with neighbors sitting on a bench. People are lounging on the grass by the stream while enjoying a morning coffee. During summer months, the park and pavilion become a public gathering place for music and art events.
Its proximity across the railway tracks to downtown shops and eateries makes it a perfect place to start your visit to Johnson City.
2. Hike the Tweetsie Trail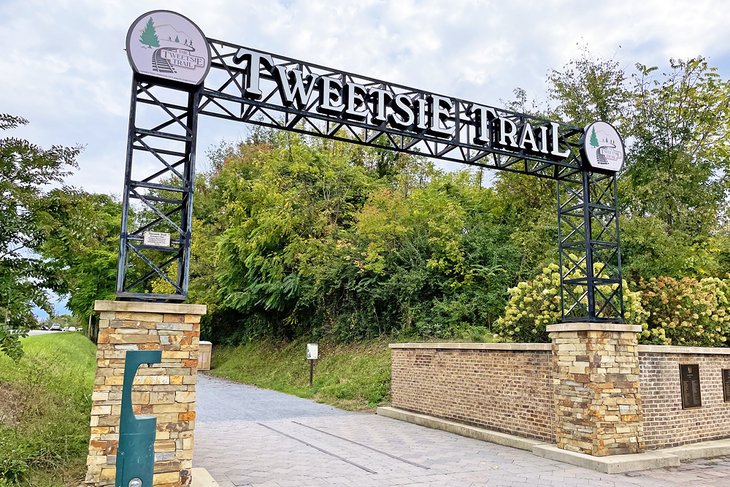 Named after the iconic sound of locomotive whistles that once traveled the rails through Johnson City, Tweetsie Trail has become the most popular rail-to-trail corridor for urban walkers, runners, and cycling enthusiasts. The trail runs 10 miles through forested neighborhoods in Johnson City to Elizabethton.
Tweetsie Trail is a flat hard-surface trail that is ideal for strollers and people with mobility issues. There are numerous trail access points and parking areas. The main trailhead parking lot in Johnson City is a bike shop where you can rent a bike. Choose from a conventional pedal bike or an electric bike to get you on the trail.
Official site: http://www.tweetsietrail.com/
3. Get Active at Winged Deer Park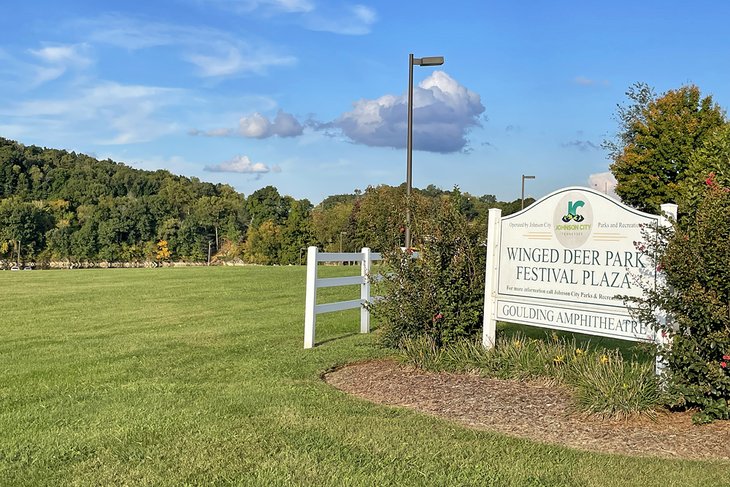 The best place to play disc (frisbee) golf in Johnson City is the 18-hole tree-lined course at Winged Deer Park. The course is part of the 200-acre waterfront park at the north end of the city, seven miles from downtown.
Winged Deer Park is a multi-purpose recreational area that accommodates many interests and activities. On its sports fields, teams compete in softball, soccer, and beach volleyball. Many locals come here to exercise on the paved walking track and fitness trails. Leisurely activities such as fishing take place on docks, platforms, and an elevated boardwalk. You can also fish from your boat after launching it from Kinch Landing.
During the summer, concerts and other events are staged at Festival Plaza and Goulding Amphitheater. While the large children's playground is a draw for families, the huge green space and lakefront is popular for group picnics and romantic strolls at sunset.
4. Visit Hands On! Discovery Center at Gray Fossil Site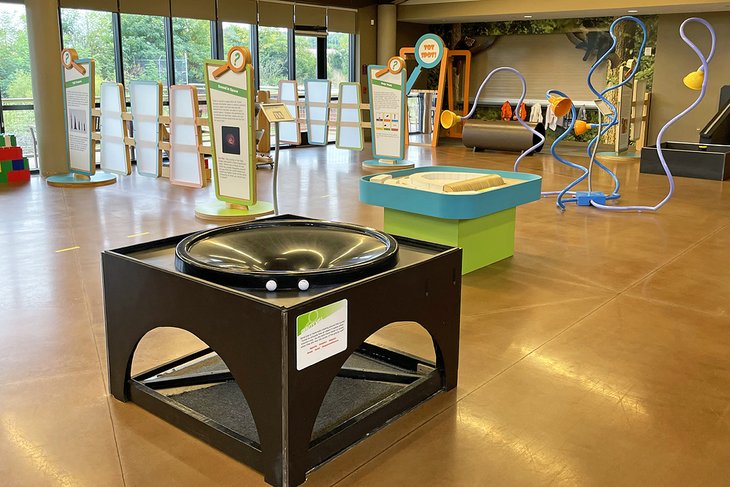 You could say that Hands On! Discovery Center at Gray Fossil Site happened by accident. Twenty years ago, the construction crew preparing for the expansion of a highway ran into what became one of the most significant paleontology finds in Tennessee. The Gray Fossil Site remains an ongoing dig and laboratory, while the Hands On! Discovery Center was built to engage kids of all ages in the exploration of science.
During your visit, you can't help but get excited about the ongoing discoveries at the Gray Fossil Site. As a visitor, look outside to see paleontologists brushing away soil to reveal fossilized fragments of a mastodon or tapir. Inside, observe scientists and volunteers examining these finds in the Don Sundquist Center of Excellence in Paleontology. This work helps us comprehend life in Appalachia millions of years ago.
Hands On! Discovery Center is as tactile as the name suggests. Here, you build, shape, visualize, and interact with installations that meld science with play. The main hall of 20 exhibits introduces you to marvels of science and technology that require your hand to set them in motion. You learn by doing and experience many wow! moments along the way.
In a nod to Nikola Tesla, a bi-polar Tesla coil is fused with a sound machine to produce a light and sound show that you will hear, see, and feel with amazement.
Official site: https://visithandson.org/
5. Take to the Hills of Willow Springs Park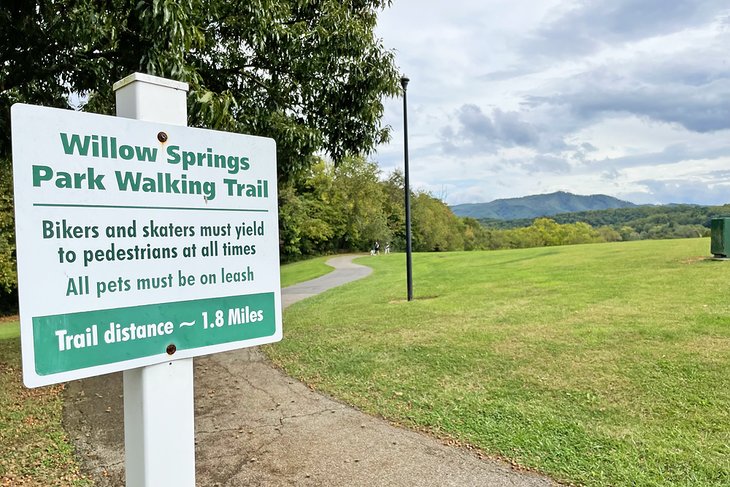 With the backdrop of the Great Smoky Mountains in the distance, Willow Springs Park is as remarkably scenic as it is accessible for visitors to exercise and get fresh air. The paved walkway loops around and incorporates hilly terrain to add a challenge to workouts and strolls. The park has a community feel for walkers of all ages and physical abilities.
A themed children's playground is fenced to improve safety and security for young folk. Sports courts draw players and pickup games of beach volleyball and basketball. With picnic tables, benches, and restroom facilities, Willow Springs Park is one of the top places to visit on weekends and summer evenings. Miles from highways and traffic, this park is a place to escape urban energy.
Official site: https://www.johnsoncitytn.org/residents/parks_and_facilities/willow_springs_park.php
6. Enjoy the Views at Buffalo Mountain Park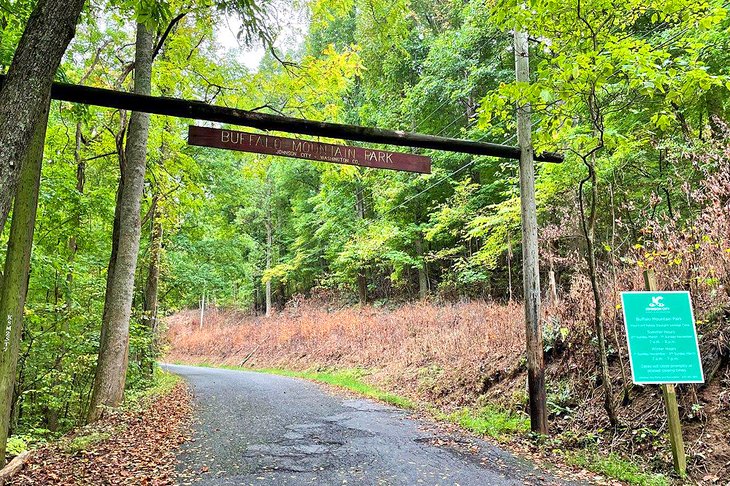 Buffalo Mountain Park is located three miles outside downtown. Take Highridge Road up the steep hill alongside Catbird Creek to the park for the best views of Johnson City and the surrounding area. When overlooks have names such as White Rock, Tip Top, and Huckleberry Knob, how can you go wrong?
There's a multitude of hiking trails and social paths, so bring a trail map before you go. The park features a dense canopy of hardwoods. Mature rhododendrons are plentiful in the forest, guaranteeing colorful blossoms in the spring. Your most enjoyable hiking days in Buffalo Mountain Park will be on clear, sunny days when you can appreciate the view.
Address: 570 Highridge Road, Johnson City, Tennessee
7. Get on Board at L. Carter Railroad Museum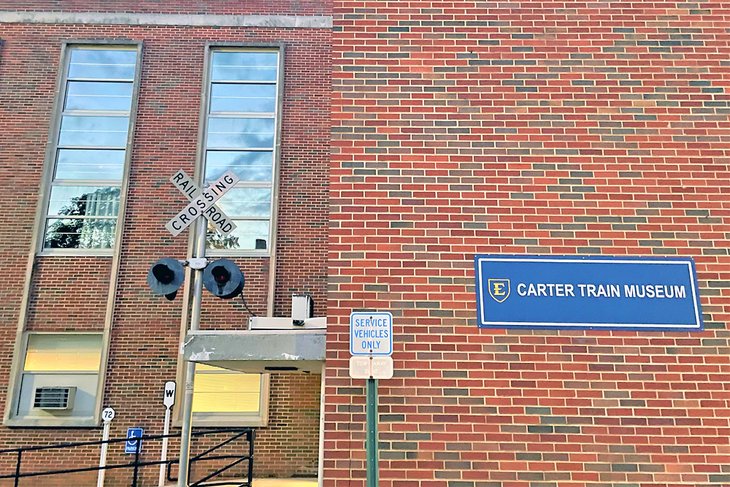 The George L. Carter Railroad Museum is an important whistle-stop for anyone interested in model railways and railway history. If you happen to be in Johnson City on a Saturday between 10am and 3pm when the museum is open, head to the East Tennessee State University campus to see for yourself. The museum is spread over 5,000 square feet of exhibition space.
You will see historical artifacts and memorabilia related to railroad industry and culture. Enjoy the buzz of model locomotives pulling rolling stock on a labyrinth of tracks through miniature versions of the Tennessee countryside.
Address: 113 Campus Center Building, East Tennessee State University, Johnson City, Tennessee
Official site: https://www.etsu.edu/railroad/default.php
8. Step Back in Time at Tipton-Haynes State Historic Site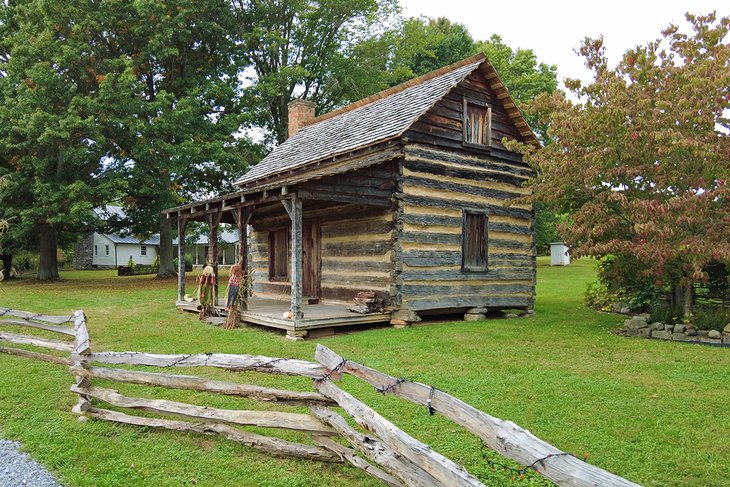 Tipton-Haynes State Historic Site freeze frames the way of life before Johnson City became a town. Within its hilly 45 acres, this history site includes interpretation and a living museum of 11 restored homes and barns. These buildings date back to the late 1700s, after Colonel John Tipton purchased the property in 1784. Features of natural history–including a limestone cave and spring–add to the sense of peace, and hint at pioneering life in Appalachia.
You might wish to enjoy a picnic while visiting the pastoral grounds at this historic site. Staff host seasonal celebrations that help the community celebrate in the style of yesteryear. The site preserves history with more than 1,000 artifacts on display, the Mary Hardin McCown Archives with its treasure trove of written and photographic records, and a library that welcomes visiting researchers.
Official site: http://www.tipton-haynes.org/
9. Take to the Water at Warriors' Path State Park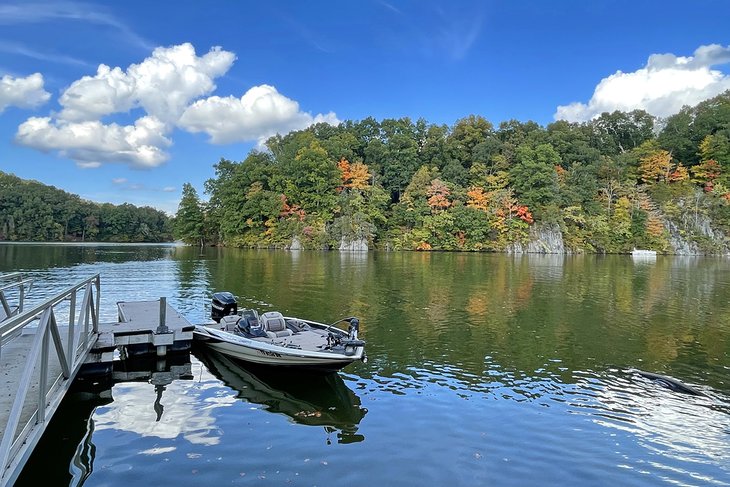 Warriors' Path State Park is less than 20 miles from Johnson City and boasts more things to do than most state parks. Spread over 950 acres, the park borders the Holston River that supports water-based activities on the Patrick Henry Reservoir.
The park's notable facilities include a lush lakefront 18-hole golf course; a challenging 22-hole frisbee golf course; 12.5 miles of nationally recognized mountain-bike trails; an Olympic-size swimming pool; separate pools for diving and wading for kids; fishing platforms; and groomed trails for hiking, birding, and horseback riding.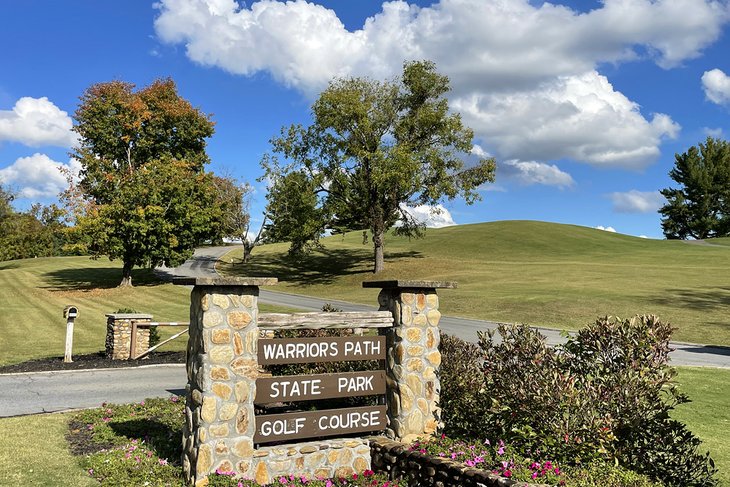 You'll be pleased with the services and facilities when you camp at Warriors' Path State Park. In addition to modern bathhouses, water and electric hookups are featured at each of the 94 campsites. Attractive day-use areas are equipped with picnic tables, barbecue grills, and covered pavilions.
After lunch, consider renting a paddleboard, canoe, kayak, or pedal boat from the marina. You and your family will enjoy cruising in the protected waters of the park.
Official site: https://tnstateparks.com/parks/warriors-path
10. Shift into High Gear at Tannery Knobs Mountain Bike Park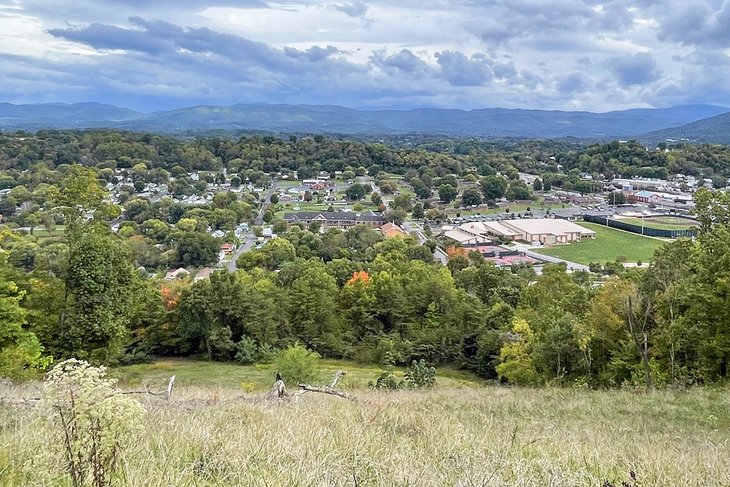 Like an eagle's perch 300 feet above Johnson City, Tannery Knobs Mountain Bike Park covers 40 acres with biking and hiking trails. The knobs refer to rocky outcrops at the top of the mountain that give you superior views. Downtown shops, cafés, and restaurants are minutes away following an exhilarating downhill descent.
You do not need to be an expert rider to take advantage of the 3.7 miles of groomed and wooded trails at Tannery Knobs. Seven trails are designed to help riders build skills and confidence, from beginner runs to advanced. Adjacent to the parking lot at the top of the mountain is a paved skills park or "pump track." Beginners learn the basics of mountain biking, and skilled riders warm up before hitting the trails.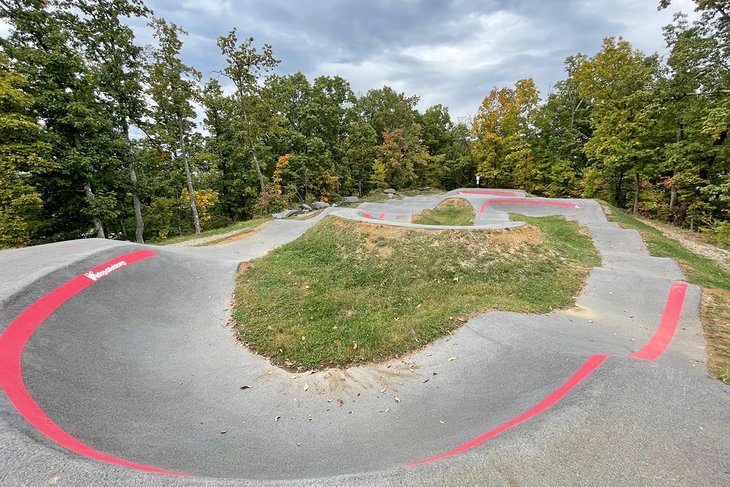 The bike park is free to visitors who want to rent a bike from a local shop. It's also a resource to hikers and trail runners who wish to enjoy the trails and views on foot. Less than a mile from the base of the mountain is the start of the Tweetsie Trail and 10 miles of rail-to-trail pathways for more biking fun.
Official site: https://www.ridetk.com/
11. Experience the Birthplace of Country Music Museum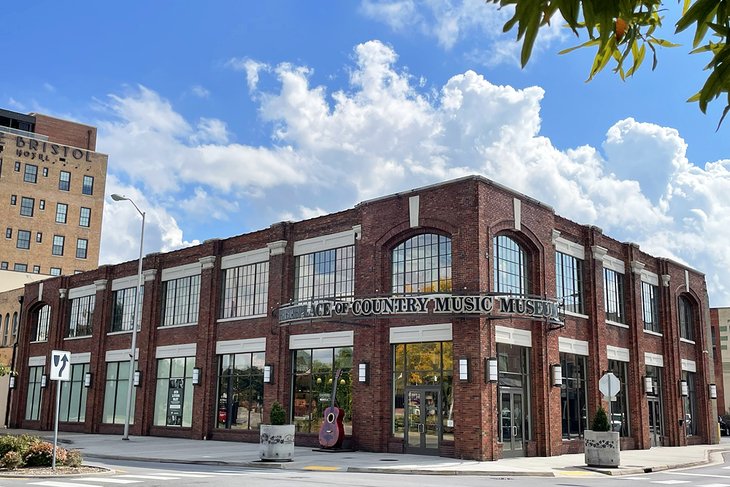 Popular American country music is indebted to Tri-Cities musicians who recorded in the late 1920s in Johnson City and Bristol. "Johnson City Sessions" and "Bristol Sessions" inspired the music's popularity almost 100 years ago. In 2014, the Smithsonian-affiliated Birthplace of Country Music Museum opened in Bristol, 25 miles northeast of downtown Johnson City. Make your way to this museum if you want to understand the roots of country music that flowered in the modern sounds of Tim McGraw and Carrie Underwood.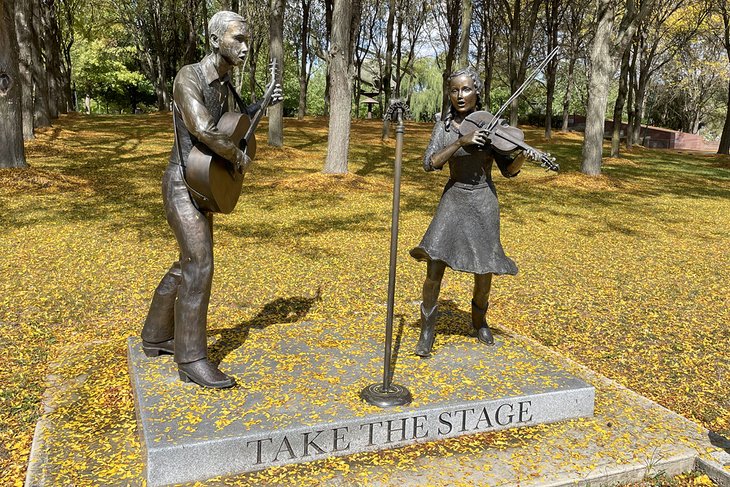 The museum features interactive permanent exhibits that highlight contributions of country music founders, such as Jimmie Rodgers and the Carter Family. To amplify your interest in the genre, the museum curates temporary exhibits. It also preserves an extensive archive of musical recordings, artifacts, and printed and digital photographs and documents for research purposes.
Official site: https://birthplaceofcountrymusic.org/
12. Tour the Oldest Town in Tennessee: Jonesborough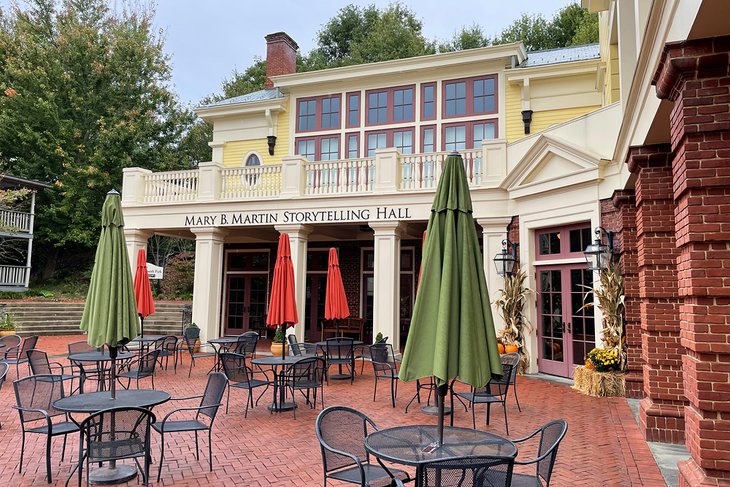 Back in 1784, Jonesborough was established and became the first registered town in what would become the State of Tennessee. Less than eight miles west of Johnson City, Jonesborough is the ideal escape into a bygone era of quaint shops, preserved architecture, and Appalachian folklore. Grab an ice-cream cone, and wander up and down Main Street. You might just feel like you're in an old-time movie set come to life.
Stop into the one-of-a-kind Smithsonian-affiliated International Story Telling Center and buy a gift from its charming gift shop. With advance planning, you will want to time your sightseeing visit for a storytelling performance or a live show at the Jonesborough Repertory Theater nearby. Within the same block is Chester Inn State Historic Site, which was constructed in 1797 and provided hospitality to U.S. presidents.
13. Go for It at Just Jump Trampoline Park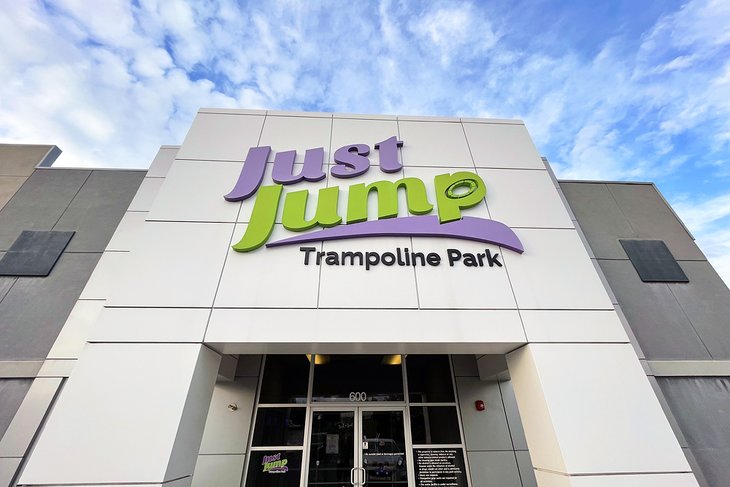 If your idea of fun is to jump for joy, head to Just Jump Trampoline Park. This attraction is built to accommodate all physical abilities and fitness levels. Every inch of the 22,000-square-foot park is filled with places to bounce, spring, and leap with abandon.
You may already know what to expect from an obstacle course and dodge ball, but what action awaits you in a gladiator pit or air bag jump? Whether it's just you and one of the kids, or a group of friends, there's nothing like the exhilaration of landing feet first in a pool of colorful foam cubes. Staff are on hand to help supervise your children, ensure safety, and encourage play during your visit.
After burning through so much energy, you'll be ready to fuel up at the on-site snack bar. If you are not into bouncing around like Tigger, watch for free from the observation deck which is equipped with big-screen televisions.
Official site: https://johnsoncity.justjump.com/
Best Time to Visit Johnson City, TN - Historical Climate Averages
Average minimum and maximum temperatures for Johnson City, TN in °C
J
F
M
A
M
J
J
A
S
O
N
D

7

-4

9

-3

14

1

19

5

23

11

27

16

29

18

29

17

26

13

20

6

14

2

9

-3

PlanetWare.com
Average monthly precipitation totals for Johnson City, TN in mm.

91

95

100

84

130

112

121

88

76

53

77

89