12 Top-Rated Things to Do in Richmond, KY
Author Bryan Dearsley traveled to Kentucky in the fall of 2022 where he spent time exploring its many communities, including the picturesque city of Richmond.
An easy 35-minute drive south of Lexington along the I75, the city of Richmond offers plenty of things to do for travelers who include it on their Kentucky travel itinerary. In addition to its attractive old downtown core, this city of just over 36,000 people is well known for its cultural and entertainment experiences.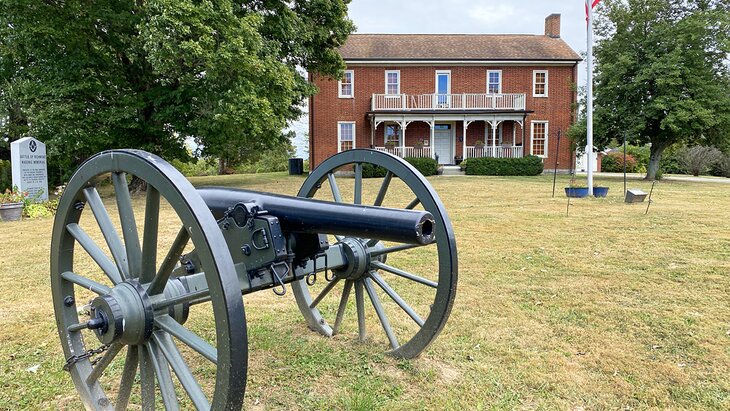 The city's busy events calendar regularly features everything from fun family-friendly festivals occupying the entire downtown core to popular seasonal events such as Christmas parades and harvest celebrations. Add to this a number of important attractions, including Civil War battle sites, old forts, and stately historic homes, and it's also a great place to learn more about Kentucky's role in shaping the USA.
Its central location in the state makes Richmond an ideal base from which to explore other parts of Kentucky. For example, some of the most popular small towns in Kentucky, such as picturesque Danville, are easy to get to along the picturesque Kentucky Scenic Byway.
To learn more about these and other great places to visit, read through our list of the top things to do in Richmond, Kentucky.
1. Explore the Past at Historic Fort Boonesborough State Park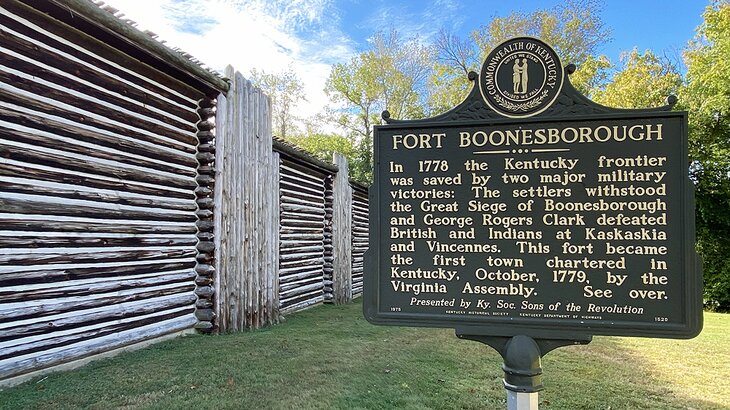 A scenic 20-minute drive north of Richmond on the left bank of the Kentucky River, Fort Boonesborough State Park offers history buffs and families a fascinating glimpse into the state's early years.
Though little of the fort has survived since it was established in 1775, a great deal of effort has been placed on preserving its history through fun interpretive exhibits and realistic reproductions of its original buildings.
Tour guides and staff wear authentic period costumes, with many of them offering demonstrations of traditional skills their characters would have had at the time.
Other park highlights include a playground and splash pad for the kids, a mini golf course, hiking trails, as well as a large campground for those wanting to make a weekend of their visit. The park is also popular for birders and wildlife spotters, and is home to an abundance of pileated woodpeckers and wild turkeys.
Address: 4375 Boonesboro Road, Richmond, Kentucky
2. Bring a Picnic to White Hall State Historic Site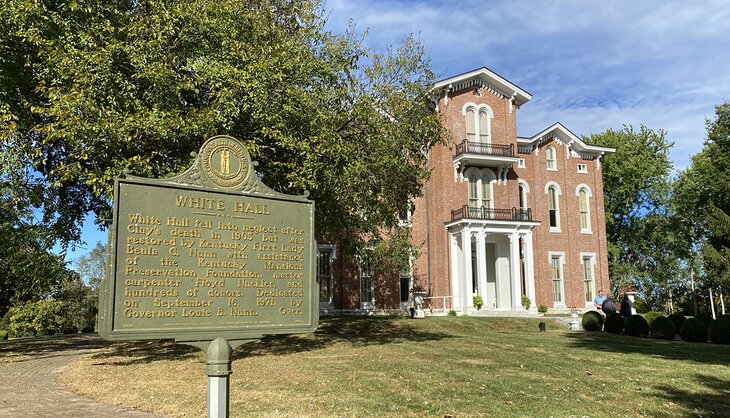 Just a few minutes off the I75 between the city of Lexington and downtown Richmond stands one of the best-preserved country homes in Kentucky: White Hall.
Now designated an official Historic Site, this majestic redbrick mansion was built in 1791 and boasts commanding views over the surrounding rolling Kentucky farmland.
Boasting no less than 45 rooms and 10,000 square feet of living space, White Hall now serves as a museum offering fascinating insights into the lives of the upper classes and their servants, as well as the slaves forced to work here. Displays of mementos and artifacts tell their compelling stories, as well as those of later owners who played a role in the county's emancipation and suffragette movements.
In addition to offering guided tours, the site now offers function space for events such as weddings. A gift shop and washrooms are located on the premises, and visitors are encouraged to bring a picnic and enjoy the extensive grounds.
Address: 500 White Hall Shrine Road, Richmond, Kentucky
3. See a Show at EKU Center for the Arts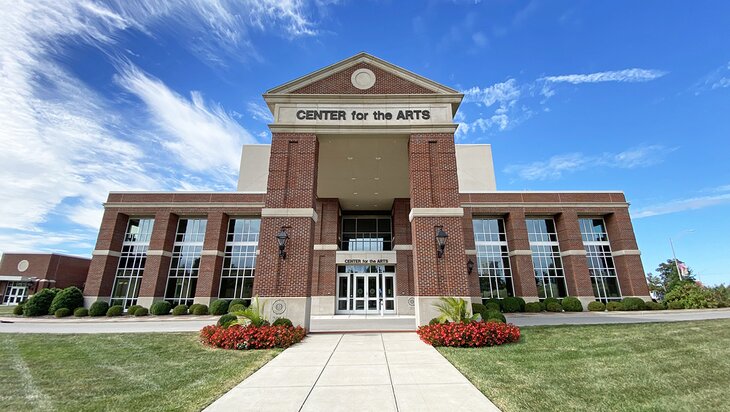 Part of the sprawling Eastern Kentucky University complex located a mile south of downtown Richmond, the EKU Center for the Arts is a world-class performing arts venue that offers a wide variety of cultural events, festivals, and shows.
Opened in 2011, the center features comfortable seating for audiences of up to 2,000 people and is a must-stop venue for some of the greatest names in music. Notable examples include such legendary performers as BB King, Aretha Franklin, and Willie Nelson.
In addition to hosting some of the top Broadway shows and musicals, it is also known for its comedy shows, attracting the likes of Jerry Seinfeld, among others.
Address: 822 Hall Drive, Richmond, Kentucky
4. Stop in at the Battle of Richmond Visitors Center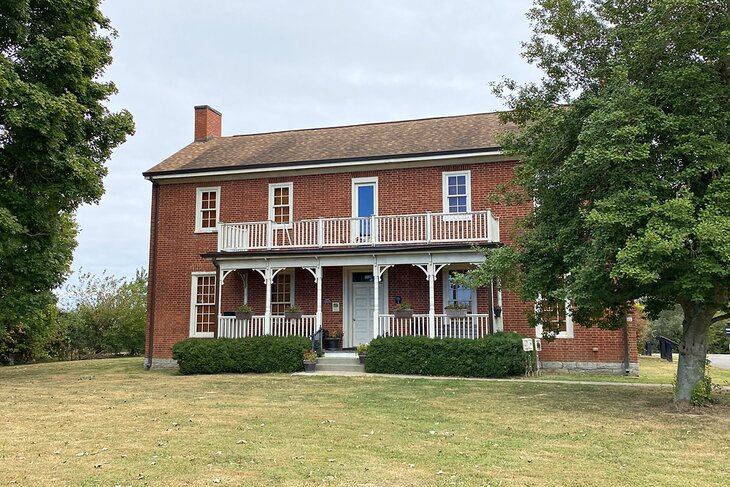 Commemorating some of the most intense fighting of the American Civil War, the Battle of Richmond Visitors Center is a must-see when visiting this part of Central Kentucky.
Built near the site of the Battle of Richmond, which took place here on August 29 and 30, 1862, it portrays the events leading up to, during, and after what was to be the second-largest Civil War battle to take place in the Bluegrass State.
Housed in Rogers House, a historic home built in 1811, the visitors' center features a large topographical map detailing the conflict, showing everything from key buildings caught up in the fighting to the movement of both Union and Confederate troops. Adding to this informative display are exhibits and artifacts, as well as an accompanying documentary movie.
Address: 101 Battlefield Memorial Hwy, Richmond, Kentucky
5. Take the Kids for a Splash at Paradise Cove Aquatic Center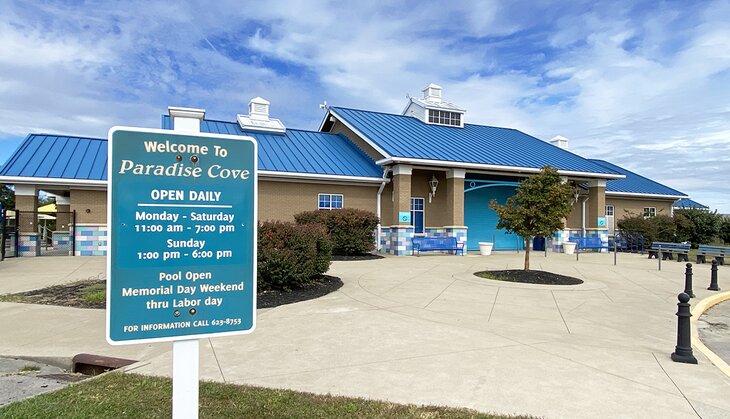 Since it opened in 2006, Paradise Cove Aquatic Center has been offering parents and kids alike a fun excuse to get outside — and get wet. Part of the city's Lake Reba Park leisure area, this fun-for-all-ages aquatic center features a good-sized public swimming pool complete with diving boards and lifeguards.
Activities: Other fun things to do here include tackling a unique "aqua climb" climbing wall and climbing nets. The pool area boasts a shallow entrance for younger kids, a dedicated toddler pool, as well as water sprays and a small slide.
For teens and adults, there's a larger, longer family slide that's suitable for multiple riders. Other highlights include a whirlpool, washrooms with lockers, and a concession stand. Lounge chairs are also available, some of them located under shady canopies, along with picnic tables.
Address: 274 Lake Reba Drive, Richmond, Kentucky
6. Visit Richmond Battlefield Park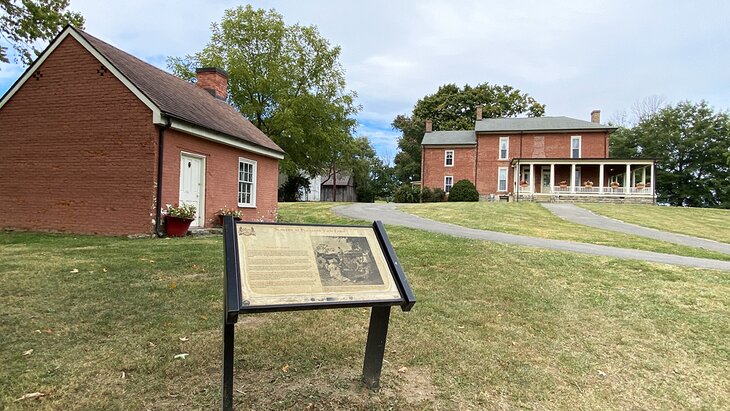 Battlefield Park is another important Civil War site worth visiting in Richmond. Encompassing nearly three miles of level paved walking trails marked with easy to follow interpretive signs, the park does a great job of portraying the significance of what was to be one of the biggest Civil War battles to occur in Kentucky.
Other amenities include washrooms, a picnic area, and the recently renovated Pleasant View house. Built in 1824, this attractive redbrick home was used as a hospital for wounded soldiers after the battle.
If you're visiting in August, try to time your visit to coincide with the popular Civil War re-enactment of the battle.
Address: 1546 Battlefield Memorial Hwy, Richmond, Kentucky
7. Take the Kids to Baldwin Farms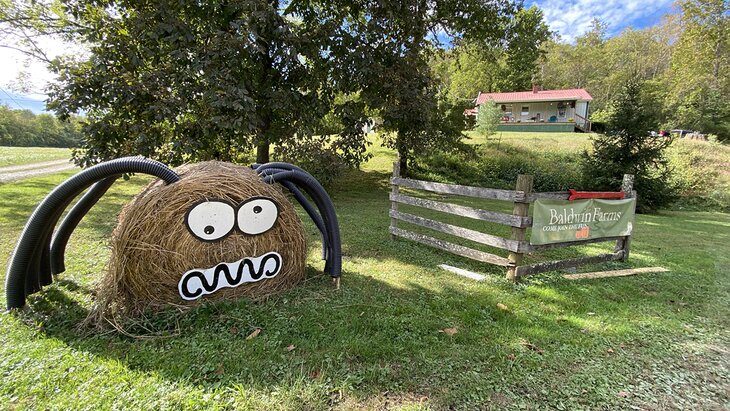 A visit to Baldwin Farms is undoubtedly one of the top things to do in Richmond for families. Located just five minutes' drive west of the city center, this working farm offers a variety of seasonal fun-filled activities for kids.
Topping the list of events here is their popular "Pumpkins & More Festival," which takes place each fall. In addition to exploring the farm's natural setting, kids can interact with domesticated critters including chickens and goats.
It's also a fun place to visit in the lead up to Christmas, with a variety of themed offerings, from tree sales to festive hot drinks.
Address: 1113 Tates Creek Road, Richmond, Kentucky
8. Get Artsy at the Richmond Area Arts Center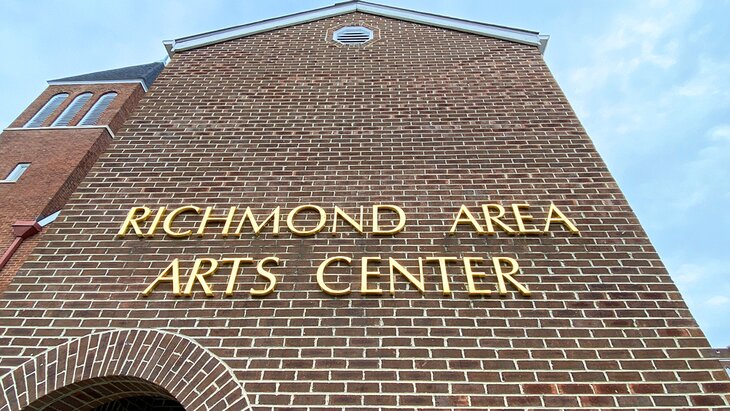 Steps away from the city's vibrant Main Street, the Richmond Area Arts Center offers a variety of art-related programming for visitors and residents to enjoy. It's known locally as the RAAC, and its activities offer young and old alike the opportunity to flex their creative talents through workshops and educational experiences.
In addition to its art classes, the work of local artists is regularly on display in its bright galleries. The building itself is certainly of interest. It was built in 1887 as a church for a local Baptist congregation.
Address: 399 W Water Street, Richmond, Kentucky
9. Visit Irvinton House Museum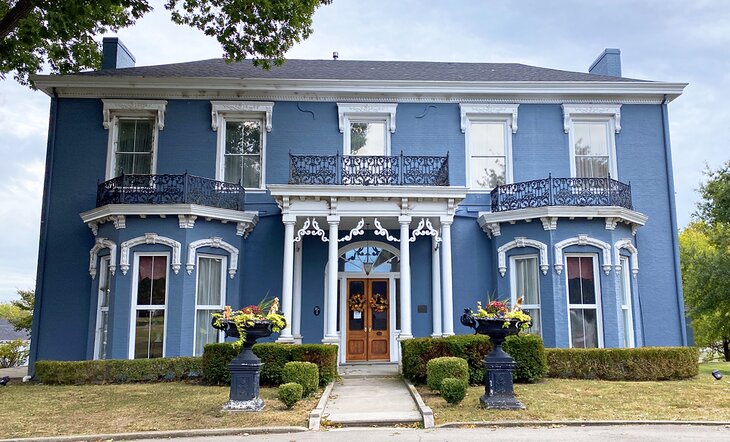 An easy 10-minute walk from Downtown Richmond, Irvinton House Museum offers interesting insights into the history of the city and the surrounding region since its founding in 1798.
Built in 1820 and the former home of a successful local businessman, the building originally served as a city hospital before becoming a museum and the city's first public park.
A visit today includes the opportunity to see rare artifacts along with exhibits relating to the home's past, as well as other interesting details of Richmond's rich past. Highlights include Civil War relics, including artifacts and mementos, as well as surviving uniforms dating all the way back to the Revolutionary War of 1775
Private tours of the home are available.
Address: 345 Lancaster Ave, Richmond, Kentucky
10. Take a Drive to Danville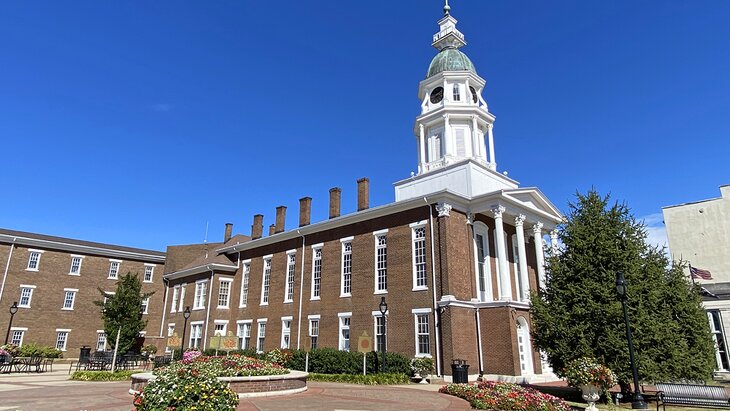 When you do eventually run out of fun things to do in Richmond, hop in the car and take a drive to the pretty small town of Danville. Though a 45-minute journey, it's extremely attractive and offers a taste of Central Kentucky's stunning rolling countryside.
Founded in 1792 and originally known as Crow's Station, Danville features a charming downtown district that's chock-full of historic points of interest and tourist attractions. Topping the list for most visitors is the unique Great American Dollhouse Museum. One of the top attractions in Kentucky, this fun-family museum features over 200 dollhouses, including a scale model of an early 20th-century USA main street complete with shops — and, of course, dolls.
11. Hike through Lower Howards Creek Nature and Heritage Preserve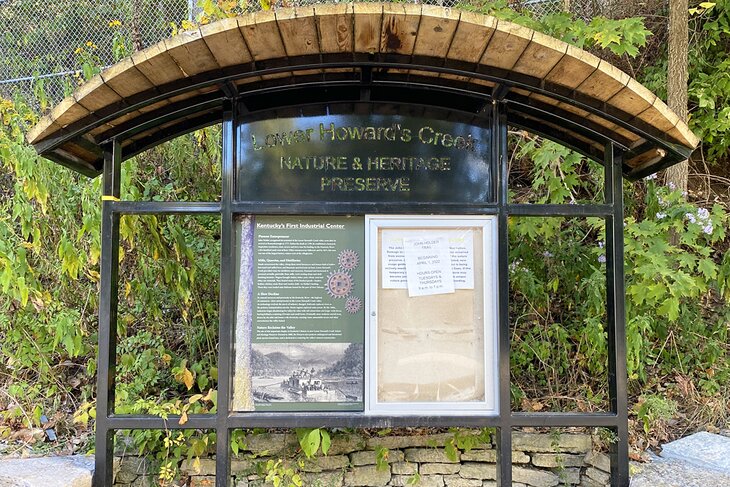 You'll find Lower Howards Creek Nature and Heritage Preserve only a five-minute drive by car from Fort Boonesborough. Set amid 441 acres centered around Lower Howard's Creek, a tributary of the Kentucky River, the park aims to preserve the flora and fauna of this important watershed area.
While access to the preserve is usually via guided tours only, the nearly three-mile John Holder Trail is open for public self-guided walking tours on Tuesdays and Thursdays. If you'd like to see more of the park and you enjoy hiking and nature, it's well worth including one of their official guided tours on your Richmond itinerary.
Location: Winchester, Kentucky
12. Drive along the Kentucky Scenic Byway to Richmond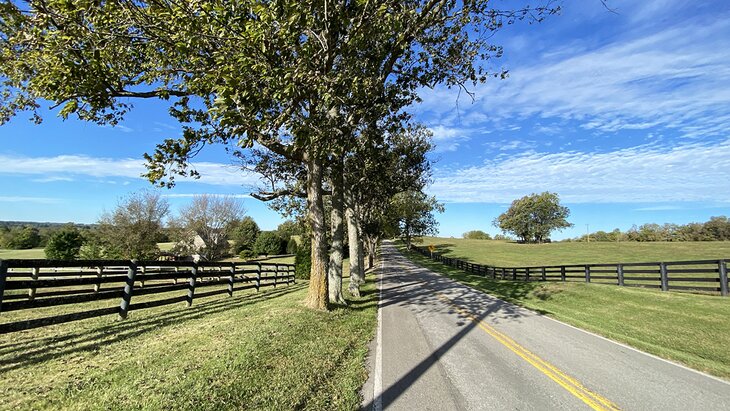 While adding significantly to the travel time from Lexington, a leisurely drive along the Kentucky Scenic Byway to Richmond is certainly time well spent. Traveling the I75 will get you to Richmond from Lexington in around 35 minutes, and this relaxed scenic route can take anywhere from an hour or more depending on how often you're tempted to stop and admire the scenery.
The route follows Tates Creek Road almost its entire length, taking in a variety of pretty vistas along the way.
In addition to admiring that famous rolling countryside so popular among Kentucky thoroughbred horse breeders, the route also includes a fun ferry ride. Just a few miles into your journey, you'll find yourself having to drive aboard the Valley View Ferry, which crosses the Kentucky River. This unique ferry service runs every day except Christmas day.
It's an especially pleasant drive to take during the fall months, with a spectacular display of colorful leaves rivaling similar displays in other parts of the country.
Richmond, KY - Climate Chart
Average minimum and maximum temperatures for Richmond, KY in °C
J
F
M
A
M
J
J
A
S
O
N
D

5

-6

8

-3

13

1

19

6

23

12

28

16

30

19

29

17

26

13

20

7

13

2

7

-3

PlanetWare.com
Average monthly precipitation totals for Richmond, KY in mm.

92

94

112

87

117

115

120

93

73

78

91

105