12 Top-Rated Things to Do in Florence, KY
Author Bryan Dearsley visited Florence as part of an extensive trip through Kentucky in the fall of 2022.
You'll know you've arrived in Florence when you catch your first glimpse of the city's most famous landmark: the Y'all Water Tower. Perched adjacent to the popular Florence Mall and overlooking Interstate 71, the tower gives passersby a warm welcome to the second largest city in Northern Kentucky.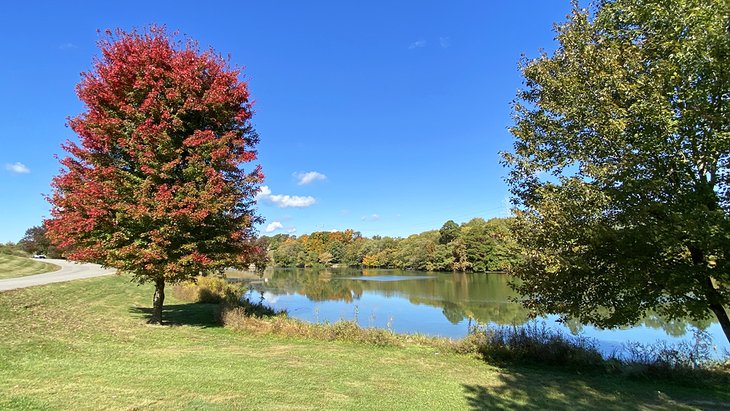 Just 15 minutes' drive from the metropolis of Cincinnati, Ohio, Florence, along with the surrounding smaller communities like Burlington, offers travelers plenty of fun things to do. Popular places to visit in Florence include the city's attractive parks and gardens, its shopping and entertainment opportunities, as well as nearby major tourist attractions, including the Ark Encounter and Big Bone Lick State Historic Site.
To learn more about these and other fun sightseeing opportunities in Boone County Kentucky, be sure to read through our list of the top things to do in Florence.
1. Grab a Photo of the Florence Y'all Water Tower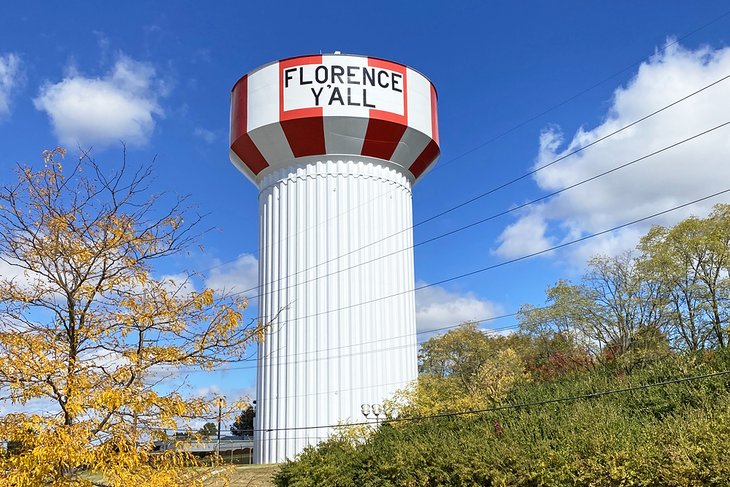 Florence Y'all Water Tower is not only the best known of the city's attractions, it's also one of the more curious. It was constructed in 1974 before the neighboring Florence Mall was built. The land on which it stands was given to the city by the developers, with the condition that the shopping center's name be painted on it to help attract the attention of passing motorists.
No sooner were the words "Florence Mall" emblazoned on its side, it was brought to the city's attention that it could be liable for promoting something that wasn't as yet built should the project fail. After a little brainstorming, changing the "M" in "Mall" to a "Y" solved the problem and saved an expensive repainting job. And so the legendary "Florence Y'all" greeting was born.
To grab a great photo of this iconic structure, simply follow Mall Circle Road to the parking area in the shopping center's northeast corner and snap away.
Address: 500 Mall Circle Road, Florence, Kentucky
2. Experience Noah's Flood at the Ark Encounter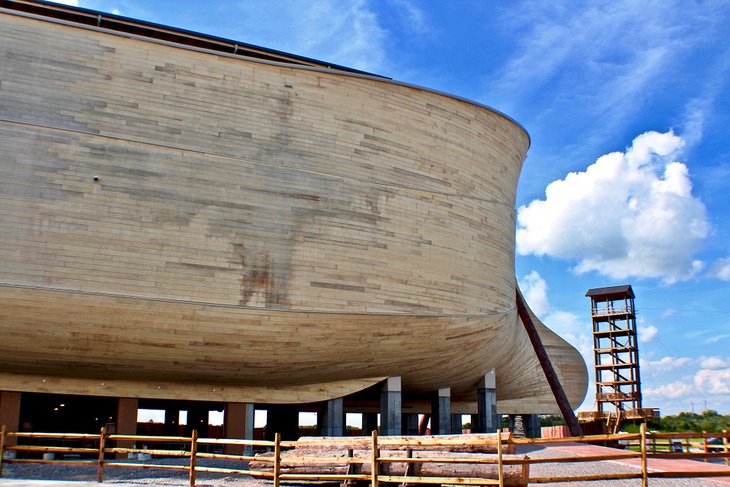 One of the top attractions in Kentucky can be found just a 25-minute drive south from Florence along the I71. The Ark Encounter in Williamstown offers a fascinating look at the biblical story of Noah.
Opened in 2016, this popular attraction portrays the Christian faith's telling of Noah's being tasked to build a ship large enough to hold two of every animal on Earth, along with Noah and his family, in order to survive an impending flood.
The scale of this mammoth replica certainly impresses. Built as specified in the Bible at 510 feet in length and 85 feet in width, it literally towers above you when you stand at its base.
Made entirely of wood, this reproduction ark consists of three decks featuring exhibits relating to the flood as described in the Bible, as well as stories of some of the animals that the original vessel may have carried.
Other highlights include a visit to a 17-story tall zipline, an adventure playground, and a fun petting zoo. A restaurant and gift shop are located on-site.
Address: 1 Ark Encounter Drive, Williamstown, Kentucky
3. Pay a Visit to the Boone County Fair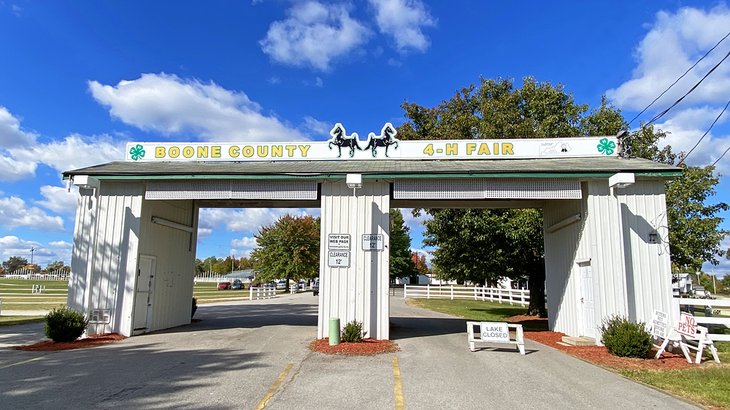 A visit to Boone County Fair is a must if you're planning on visiting Florence in August. The fairgrounds are located in the pretty town of Burlington, an easy 15-minute drive west of downtown Florence.
Held the second week of the month, the Boone County Fair is a fun family outing that attracts visitors from across the region.
Highlights include displays of farm and other domesticated animals, a horse show, and tractor pulls. In addition to the agricultural themed events, the fair includes a thrilling demolition derby, as well as a fun fair. The week-long event is also known as a draw for foodies, especially those interested in tasty, sweet treats.
Even if you're not visiting during the fair, check out the fairground website for details of other events, including everything from concerts to antique shows.
Address: 5819 Idlewild Road, Burlington, Kentucky
4. See the Ancient Beasts at Big Bone Lick State Historic Site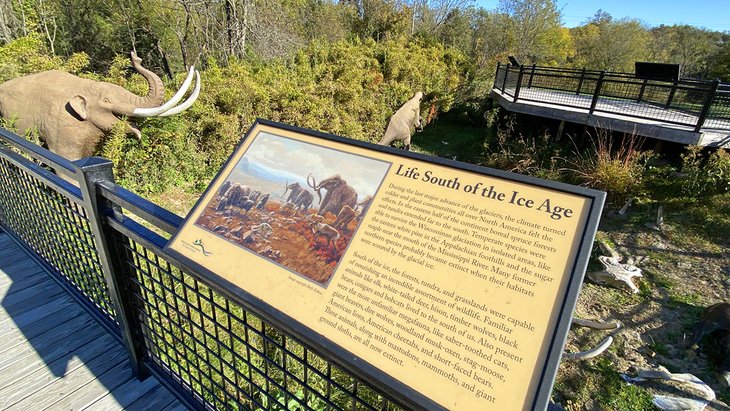 A visit to Big Bone Lick State Historic Site offers a fascinating look at the early history of this area of Kentucky during the time of the last ice age some 15,000 years ago, known as the Pleistocene Epoch. At that time, herds of now extinct creatures, including woolly mammoths and mastodons, were known to live here on what was then the edge of a massive ice sheet that extended as far as northern Canada.
Attracted to Big Bone Lick by its salty marshlands, some of these prehistoric animals were known to have become stuck and perish here, their bones being revealed centuries later by archaeologists. Many of these intact skeletons are on display in the park's visitor center, along with fascinating displays relating to the rich treasure trove of ancient relics found here.
One of the top things to do for free in Florence, the park's grounds are open year-round and include a discovery trail that passes a diorama pit depicting life-size models of some of the ancient beasts whose bones were found here. And keep an eye out for the bison herd that's been reinstated in the park.
Address: 3380 Beaver Road, Union, Kentucky
5. Get Outdoors at Florence Nature Park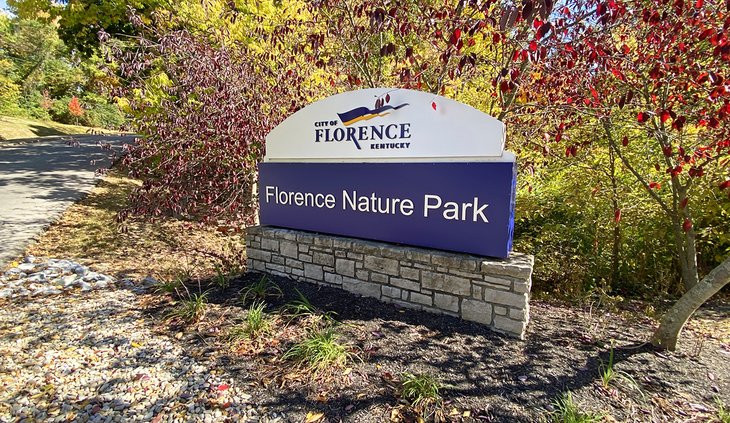 Florence Nature Park offers a variety of fun outdoor activities for young and old alike to participate in. Set on 15 acres of land to the south of the city center, this treed park is perfect for a family stroll and picnic. Picnic tables, a gazebo, and level paved walking paths have also been made available for free use by visitors.
Home to a variety of wildlife species, it's also a great destination for bird-watchers.
The park is also home to a state-of-the-art events center, which can be rented out for events and family gatherings.
Address: 7200 Nature Park Drive, Florence, Kentucky
6. Take a Shady Stroll through Boone County Arboretum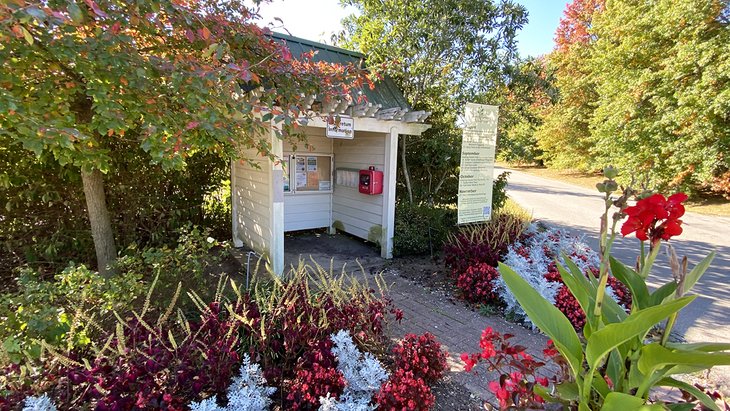 Set on 121 acres just 15 minutes' drive away from the Florence Y'all water Tower, Boone County Arboretum features a diverse collection of plants, shrubs, and trees. One of the state's largest arboretums, it's connected to a neighboring recreation area by a two-mile-long path that's fun to hike.
All told there are over 3,600 shrubs and trees to explore, including both native and non-native species. Of special interest to birding enthusiasts is the bird blind. Set amid three acres of native Kentucky grassland, it overlooks a wetland area that attracts a wide variety of bird species.
A handy map and useful information to guide your exploration are provided at the four information kiosks dotted around the site.
The arboretum is pet-friendly, so leashed dogs are welcome. There's ample parking, and admission is free. Classes and workshops are also on offer year-round.
Address: 9190 Camp Ernst Road, Union, Kentucky
7. Follow the Barn Quilt Trail of Boone County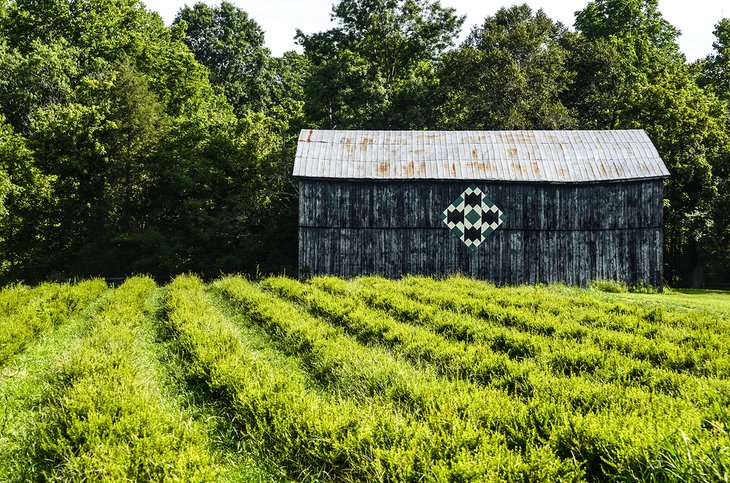 As you drive around Boone County crossing the best Florence attractions off your must-visit list, keep an eye out for some of those pretty old barns that dot the countryside. Chances are you'll notice a brightly painted quilt board attached to them.
The result of a project of the Florence Woman's Club, more than 60 of these attractive designs are included on the Barn Quilt Trail of Boone County.
A public art project that's been popular since the early 2000s, these colorful markers are not only pleasing to look at but serve as a tribute to the farmers of Kentucky.
Address: 6282 Burlington Pike, Burlington, Kentucky
8. Take a Drive to Historic Downtown Burlington
Located six miles west of Florence, the town of Burlington boasts a must-visit downtown core that's among the prettiest in the state. Founded as Craigs Camp in 1799 on a 74-acre parcel of land donated for the purpose, it was renamed Burlington in 1816, and today is often cited as one of the best places to live in the state.
With ample parking behind the historic buildings lining North Jefferson Street, it's easy to get out and about and explore. Among the most attractive historic buildings you'll see are the original Boone County Courthouse, a handsome redbrick building on the corner of North Jefferson and Washington Streets; a historic home that now houses the Motley Home antique store; and the preserved old town offices off East Gaitlin Street.
After exploring these historic old buildings, cross Washington Road and pay a visit to Burlington Commons. This attractive, modern take on the traditional town square opened in 2020 and covers an acre of land adjacent to Boone County Courthouse. In addition to sheltering gazebos and terrace seating with tables that are perfect for picnickers, there's plenty of grassy spots to relax on, too.
9. Go Fishing at Camp Ernst Lake Park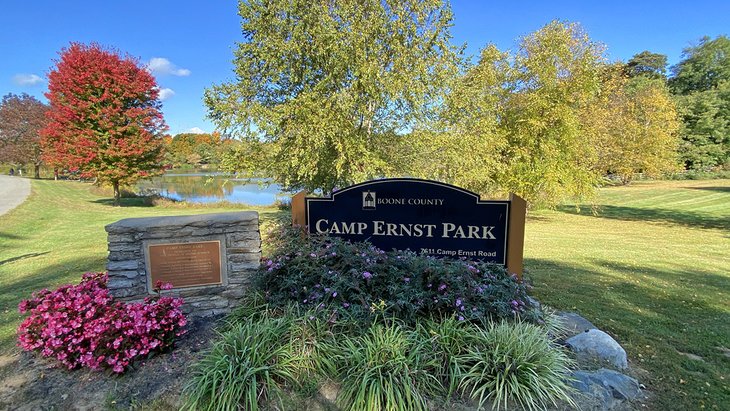 The 22-acre Camp Ernst Lake Park is another fun park to visit for those who enjoy activities outdoors. Highlights of a visit include casting a line off the dedicated fishing pier and trying your hand at catching species including catfish and bluegill (permits are required).
If you're planning on spending a few hours here, claim a table or shelter for a fun family picnic. Those bringing their own watercraft can make use of the provided boat launch; while trolling motors only are allowed, the lake is perfect for canoeing and kayaking.
Address: 7611 Camp Ernst Road, Burlington Kentucky
10. Step Back in Time at the Dinsmore Homestead
Located west of Florence near Belleville, the historic Dinsmore Homestead offers a fascinating glimpse into Kentucky living during the 1800s. Built in colonial style in 1842, this attractive white wood-clad home is set on 70 acres and is fun to explore.
Much of the home has been kept intact, with original furnishings and artifacts that belonged to the Dinsmore family. Other notable exhibits include original diaries and papers, as well as information relating to slavery, women's rights, and local events and history. Guided tours are available.
Address: 5656 Burlington Pike, Burlington, Kentucky
11. Get Your Speed Fix at Florence Speedway
A must for fans of NASCAR and racing, Florence Speedway is located just a few minutes' drive from Big Bone Lick Historic State Park and offers a fun-filled program sure to appeal to car enthusiasts. Constructed in the 1950s to satisfy local demand for muscle car racing, it's well-respected today for its "Dirt Late Model" race programs.
From March through October, a number of important races are held here on the half-mile-long, oval clay track. They draw drivers and enthusiasts from across Kentucky and neighboring states.
In addition to late model race cars, events regularly feature "Modifieds" and "Pure Stocks" category vehicles.
Address: 12234 US-42, Walton, Kentucky
12. Shop 'til You Drop at Florence Mall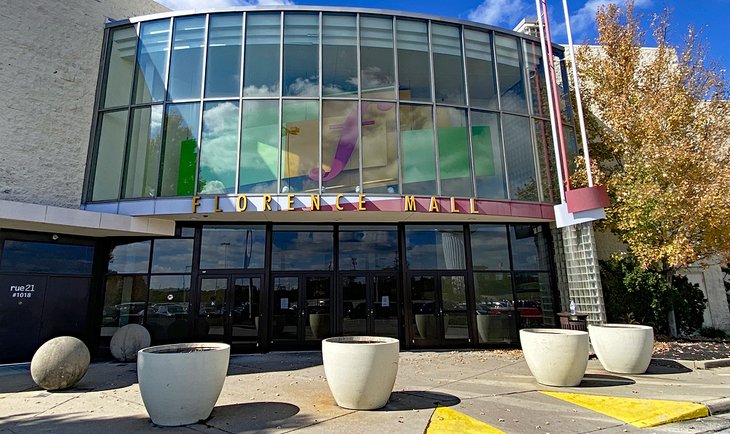 Easy to find thanks to its location adjacent to the iconic Y'all Water Tower and Interstate 71 from Cincinnati, Florence Mall is a paradise for shoppers. It was constructed in 1976 and boasts over 100 stores.
Shoppers will find everything needed to satisfy that shopping urge, from luxury goods to sporting goods and fashion, with JCPenney serving as the anchor department store.
The food court was renovated in the early 2000s and offers a variety of food experiences, and a kids' play area and stroller rentals are available. Free Wi-Fi and comfy lounge seating for those needing to rest their weary legs can also be enjoyed.
Address: 2028 Florence Mall, Florence, Kentucky
Map of Things to Do in Florence, KY
Florence, KY - Climate Chart
Average minimum and maximum temperatures for Florence, KY in °C
J
F
M
A
M
J
J
A
S
O
N
D

3

-6

6

-4

12

1

18

6

23

12

28

17

30

19

29

18

26

14

19

7

12

2

6

-3

PlanetWare.com
Average monthly precipitation totals for Florence, KY in mm.

74

70

99

101

117

112

95

96

72

75

88

83

Average monthly snowfall totals for Florence, KY in cm.

18

15

10

1

0

0

0

0

0

1

5

9
Average minimum and maximum temperatures for Florence, KY in °F
J
F
M
A
M
J
J
A
S
O
N
D

38

21

43

25

54

34

65

43

74

53

82

62

86

66

85

64

78

57

66

45

54

36

43

26

PlanetWare.com
Average monthly precipitation totals for Florence, KY in inches.

2.9

2.8

3.9

4.0

4.6

4.4

3.8

3.8

2.8

3.0

3.5

3.3

Average monthly snowfall totals for Florence, KY in inches.

7.1

6.1

4.1

0.5

0

0

0

0

0

0.3

1.8

3.7