14 Top-Rated Things to Do in Bardstown, KY
Author Bryan Dearsley visited Bardstown in fall of 2022.
Widely considered one of the most beautiful small towns in Kentucky, Bardstown is an easy 45-minute drive south of Louisville and is a must-do for anyone planning on visiting the "Bluegrass State."
Established in 1780, it's also one of the state's oldest towns. Its attractive old downtown core is home to around 200 well-preserved buildings that have been included on the National Register of Historic Places, and sightseeing here is one of the top things to do in Bardstown.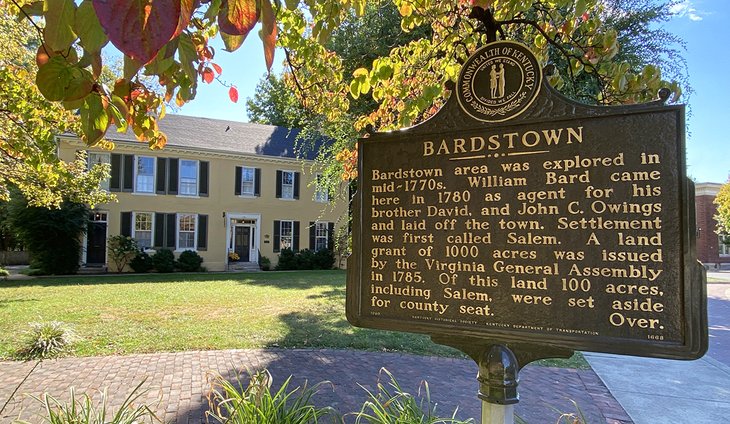 Most of the best places to visit in Bardstown are located within easy walking distance of the iconic Old Courthouse in the heart of the town's Historic District. From here, it's a pleasant stroll past elegant boutique shops, historic old inns and B&Bs, as well as countless great places to dine as you explore Bardstown's many tourist attractions.
To learn more, read through our exhaustive list of the top things to do in Bardstown, Kentucky.
1. Take a Walking Tour of Historic Downtown Bardstown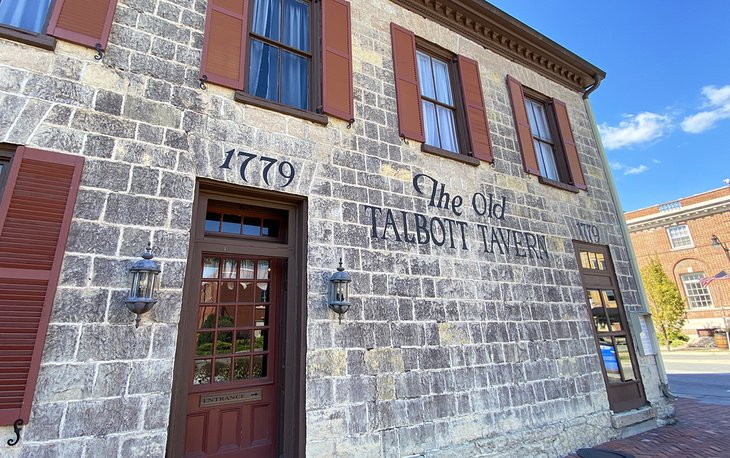 Like many smaller towns in the Southern USA, Bardstown's focal point is its Old Courthouse. Built in 1892, this elegant red brick building dominates the town center, with all major roads in and out of Bardstown fanning out from this central location. Built on the foundations of its predecessor on Court Square, it's an impressive sight from any direction.
Start your self-guided walking tour of Bardstown by picking up a sightseeing map from the Welcome Center in the Old Courthouse.
Across the road, on West Stephen Foster Avenue, you'll see the town's oldest surviving building, the Old Talbott Tavern. Built in 1779 as a stagecoach stop, the tavern today serves hearty comfort food for lunch and dinner, and also features a souvenir shop that's worth a visit.
Those wanting to make a stay of it should consider booking into the Jailer's Inn Bed & Breakfast. Located next door to the tavern, the building actually served as a jail between 1797 and 1987 and offers excellent accommodation in the heart of Historic Downtown Bardstown.
Carry on along on West Stephen Foster Avenue to visit Bardstown Art Gallery, the Basilica of Saint Joseph Proto-Cathedral, and Spalding Hall, before looping back along West Broadway Avenue to the town's fascinating Civil War museums.
Address: One Court Square, Bardstown, Kentucky
2. Explore the Past at the Civil War Museum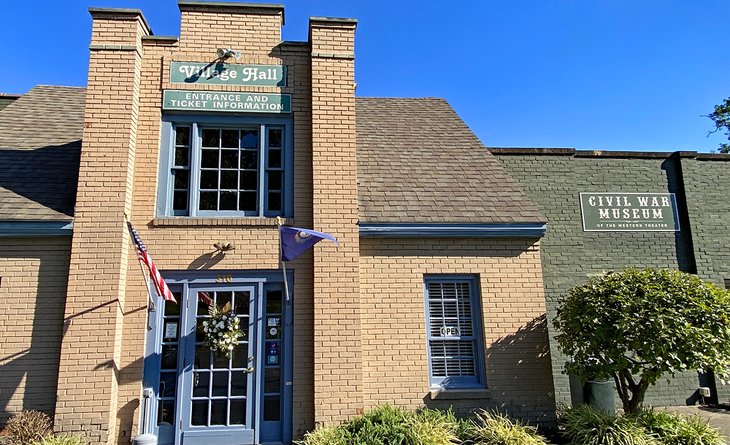 Part of the Bardstown Museum Row collection of cultural attractions, Bardstown's Civil War Museum is a must-visit for those interested in history. Just a short walk away from the Historic Downtown area, this impressive museum boasts the country's largest collection of material related to the Civil War's Western Theater.
Highlights include exhibits portraying the war from both sides of the conflict, as well as artifacts such as flags, uniforms, and weaponry. Other displays relate to important issues like slavery and the politics that led to this devastating war.
Address: 310 East Broadway Street, Bardstown, Kentucky
3. See a Different Perspective at The Women's Civil War Museum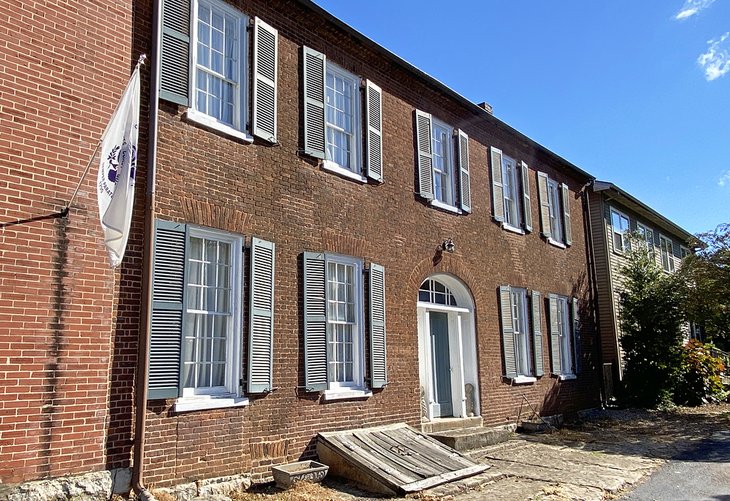 Also part of Bardstown Museum Row, The Women's Civil War Museum opened in 1999 and offers a fascinating look at the role of women during the conflict. Displays of artifacts and exhibit materials share the stories of women from all walks of life before, during, and after the Civil War, including their achievements in everything from science to medicine.
Set in Wright Talbott House, a historic home built in 1840, this unique museum also shares details of the suffragettes, as well as the important role women played in the civil rights movement.
Other displays feature information related to women's role in the military, as well as details of women who made their mark as writers and journalists, fields once dominated by men.
Address: 204 East Broadway Street, Bardstown, Kentucky
4. Experience the Pioneer Days at Old Bardstown Village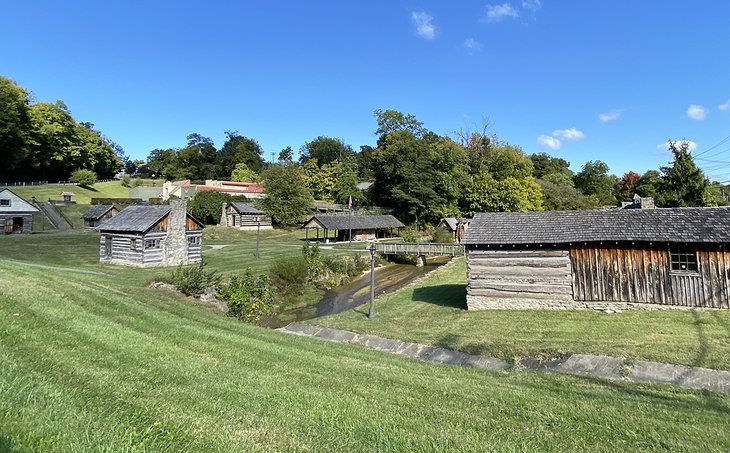 A short stroll from the Civil War Museum will bring you to Old Bardstown Village. Also referred to as the Civil War Village, this impressive collection of original buildings has been set out to represent a Kentucky village as it would have appeared in colonial times.
Dating from 1776 and 1820, these original and well-preserved structures paint a compelling picture of what life was like for the first settlers to the region. While open only seasonally from March to November, the village also offers a good impression of what life would have been like in Kentucky during the Civil War.
Address: 310 East Broadway Street, Bardstown, Kentucky
5. The Basilica of St. Joseph Proto-Cathedral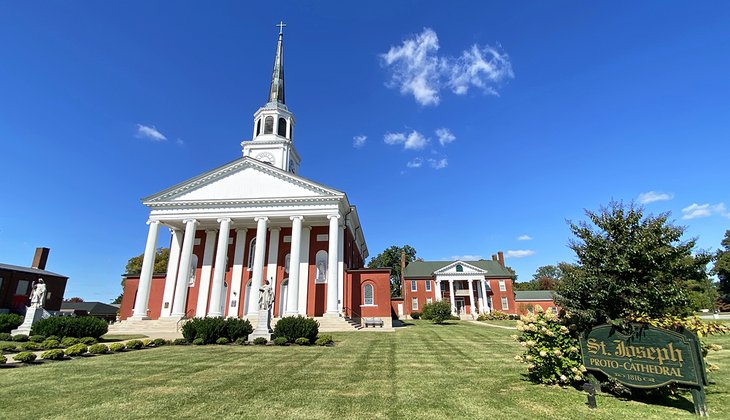 While construction of the attractive Basilica of St. Joseph Proto-Cathedral began in 1816, the structure wasn't ready for its first service until three years later, in 1819. It's surrounded now by buildings, but the land it was built on was, at the time, relatively isolated, a fact that didn't deter its visionary founder, Bishop Flaget.
Flaget's majestic place of worship, designated a proto-cathedral by the Catholic church, soon captured worldwide attention, with Catholics and protestants alike donating funds and materials to assist in its completion. Notable donors included the King of France; Charles X; and his successor, King Louis-Phillippe, both of whom presented a number of historic artworks that can still be seen today.
Address: 310 West Stephen Foster Avenue, Bardstown, Kentucky
6. Visit the Town Museum at Spalding Hall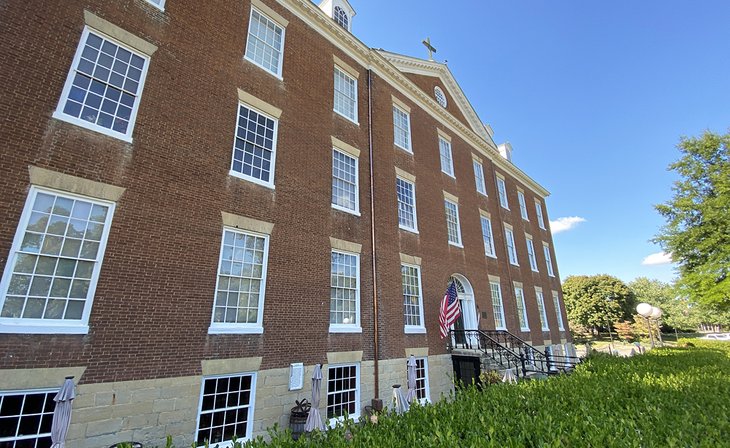 Located near St. Joseph cathedral, Spalding Hall is an extremely photo-worthy building. Constructed in 1826 as a seminary and college for the cathedral, it later served both sides of the combatants of the Civil War.
Today, the building is home to Bardstown Historical Museum. Located on the main floor, the museum contains a variety of displays relating to its use as a hospital during the Civil War, as well as the town's role in the conflict. The lovely grounds are also fun to explore.
Address: 114 N 5th Street, Bardstown, Kentucky
7. Get Back to Nature at Bernheim Arboretum and Research Forest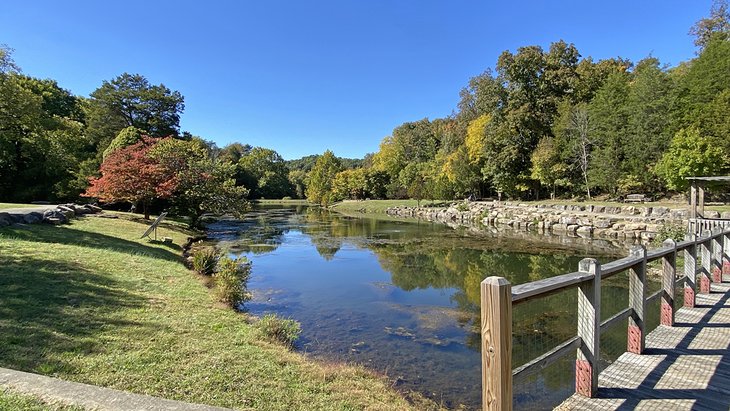 Set on over 16,000 acres just 20 minutes' drive northwest of Bardstown, the Bernheim Arboretum and Research Forest is well worth including on your Kentucky travel itinerary. Established in 1929 by a successful businessman and philanthropist of German descent, it was created to be a place where people could reconnect with nature.
It was certainly a noble undertaking, as the land at the time was nearly devoid of trees due to heavy industrialization and mining. Fast forward to today, and this stunning scenery would be unrecognizable to anyone from that time period. Over 600 acres of the site has been planted with 8,000 tree varieties, among them 300 different species of holly.
Three lakes were also added at the time, and now offer pleasant vistas and wildlife habitats. Fishing is also available to enjoy.
Outdoors enthusiasts also have over 40 miles of trails to explore, some of them made available to cyclists, too. Guided tours are available, and a café is located on-site.
Address: 2075 Clermont Road, Clermont, Kentucky
8. Enjoy the Show at The Stephen Foster Story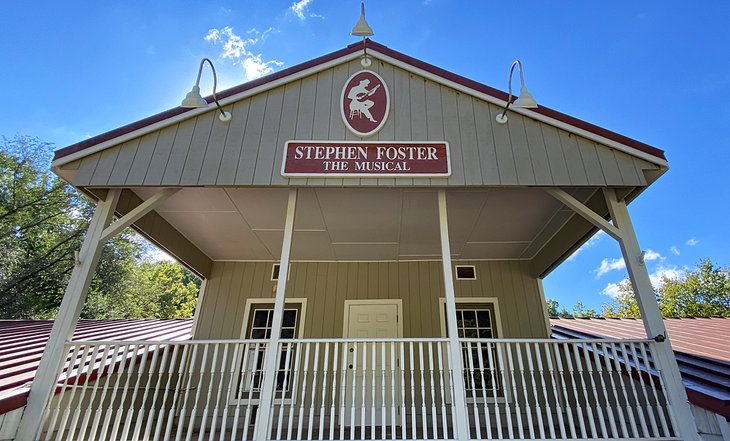 A must-do when in Bardstown, The Stephen Foster Story has been telling the tale of the town's most famous resident since 1959. Hosted in the J. Dan Talbott Amphitheatre a few minutes' drive from downtown Bardstown, this musical production includes an original score and classic tunes penned by the famous songwriter himself.
Set in the 1800s, the show follows Foster's journey from his early years to his rise as America's first and possibly greatest composer and songwriter. The tap-along performance lasts for around an hour and includes such greats as My Old Kentucky Home and Old Folks at Home.
A number of festivals and events in and around Bardstown also celebrate the town's musical legacy, including the popular Live at the Park Concert Series held each summer.
Address: 411 East Stephen Foster Ave., Bardstown, Kentucky
9. Take a Tour of My Old Kentucky Home State Park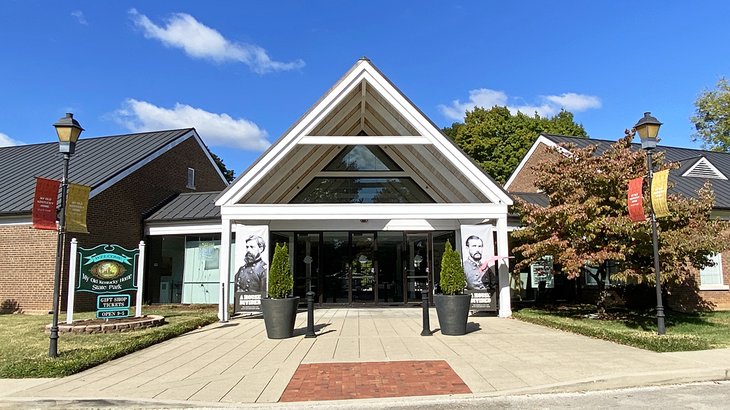 Named after Stephen Foster's most famous tune, My Old Kentucky Home State Park is a former plantation and mansion that's strongly tied to some of Bardstown's most colorful history. Tales of everything from horse races to fame and deadly duels are shared during the park's excellent guided tours.
Other highlights include taking a peek inside the early 19th-century mansion. Along the way, you'll see a large collection of original antiques and artifacts, some well over 200 years old, and an impressive collection of artwork.
The grounds and gardens are also fun to explore.
Address: 501 E Stephen Foster Ave, Bardstown, Kentucky
10. Wickland, Home of Three Governors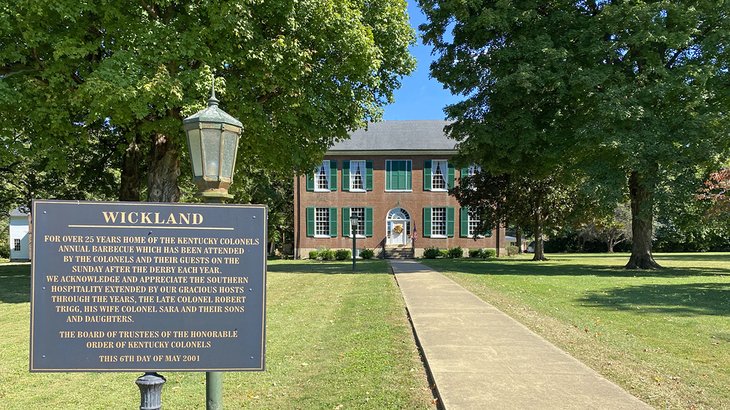 For so small a community, Bardstown has certainly produced more than its fair share of influential residents. Wickland, the Home of Three Governors, celebrates this impressive legacy with a focus on the two Kentucky senators and one Louisiana senator who made their mark on the USA's political stage.
Highlights of a visit to this elegant Georgian-style mansion, built in 1825, include an informative guided tour that reveals fascinating details of its history, architecture, and the three governors themselves.
Address: 550 Bloomfield Road, Bardstown, Kentucky
11. Get Artsy at Bardstown Art Gallery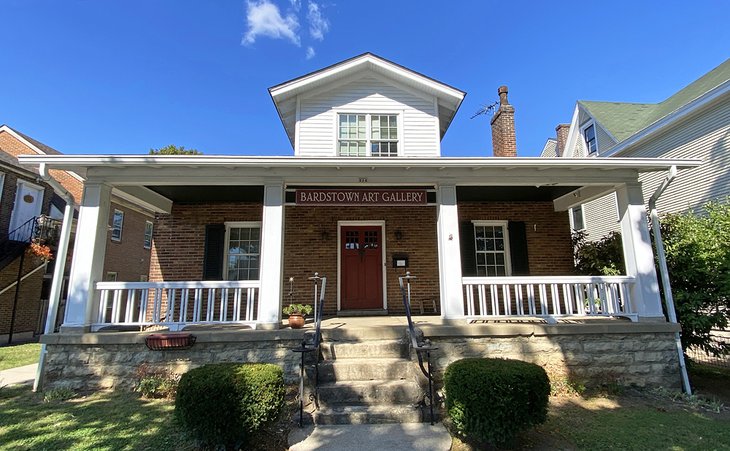 Within easy walking distance of the Old Courthouse, Bardstown Art Gallery features displays of crafts and artworks from more than 30 local artists. It was founded in 1971 and is Kentucky's oldest private art gallery.
Works on display feature a variety of disciplines, from painting, photography, carving, and sculpture along with jewelry and fibers.
Numerous works by artist Jim Cantrell form the basis of the collection, and many of the artworks by other exhibitors are available for purchase. Tours are available.
Address: 214 W Stephen Foster Ave., Bardstown, Kentucky
12. Take a Drive to the Abbey of Gethsemani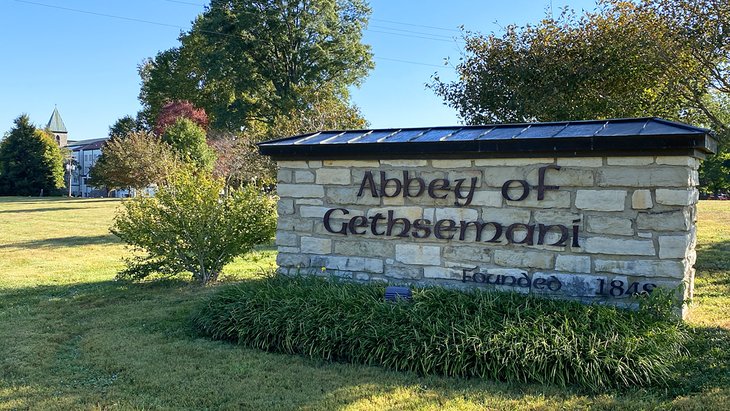 Located a picturesque 20-minute drive south of Bardstown, the Abbey of Our Lady of Gethsemani makes for a fun diversion. Established in 1848 by Trappist monks, it's the Catholic faith's oldest still-operating monastery in the United States.
It's set on a 2,000-acre working farm amid rolling Kentucky countryside. Passersby can visit the on-site shop to purchase a variety of baked goods and sweet treats, including their famous fudge. Visitors can also interact with the very accommodating and friendly monks.
Address: 3642 Monks Road, Hwy 247, Trappist, Kentucky
13. The General Hal Moore Military Museum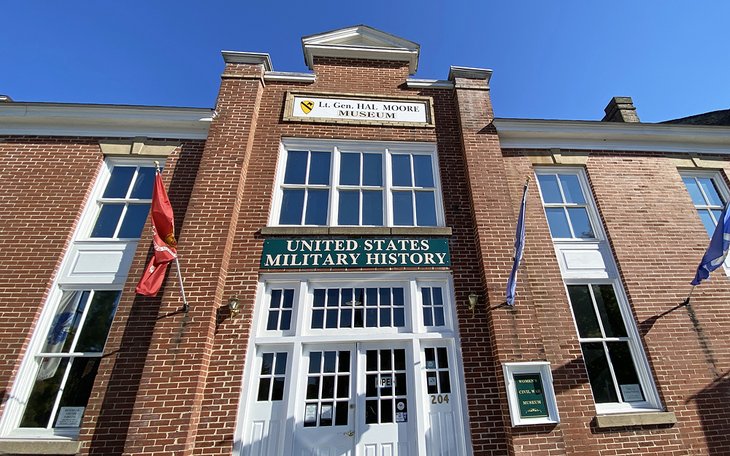 Another "Museum Row" military attraction that should be included on your Bardstown travel itinerary is the General Hal Moore Military Museum.
Located next door to the Women's Civil War Museum, this museum focuses on American soldiers who fought in various campaigns, from the Revolutionary War to Iraq.
Particularly interesting is the role Kentucky's men and women played in WW1 and WW2. Guided tours can be arranged with advance notice.
Address: 310 East Broadway, Bardstown, Kentucky
14. All aboard the Kentucky Railway Museum
Train enthusiasts are certainly spoiled for choice when visiting Bardstown. Located in the small town of New Haven 13 miles southwest of Bardstown, the Kentucky Railway Museum was established in 1954 and has done a stellar job of preserving Kentucky's railroad history.
Highlights of a visit include an array of railway-related memorabilia and artifacts, a replica of the town's original depot, and a variety of restored rolling stock. Fun rail excursions aboard the museum's historic locomotive take visitors through the picturesque Rolling Fork River Valley route.
If you have time for a second scenic ride, check out the schedule of the famous My Old Kentucky Dinner Train. These fun excursions run regularly in the peak travel months from the old Bardstown railway depot.
Address: 136 S. Main Street, New Haven, Kentucky
Map of Things to Do in Bardstown, KY
Bardstown, KY - Climate Chart
Average minimum and maximum temperatures for Bardstown, KY in °C
J
F
M
A
M
J
J
A
S
O
N
D

5

-4

9

-2

14

2

19

7

24

12

28

17

31

19

29

18

26

14

20

7

13

3

8

-2

PlanetWare.com
Average monthly precipitation totals for Bardstown, KY in mm.

91

97

122

112

134

117

122

87

93

75

102

119