17 Top-Rated Small Towns in Kentucky
Author Bryan Dearsley visited many of Kentucky's small towns in the fall of 2022.
Known affectionately to visitors and locals alike as the "Bluegrass State," a reference to the iconic folk music that permeates its culture, Kentucky is well known for its hospitality. Nowhere is Kentucky's Southern hospitality more evident than in its many charming small towns.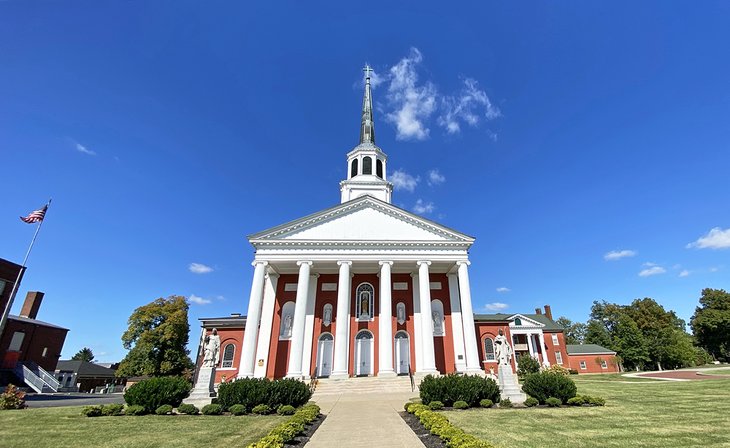 Dotted across this mid-sized state are some of the most attractive small towns in the USA. Many of the prettiest feature well-preserved and vibrant historical downtown areas usually dominated by the local county courthouse. Even those that don't have a courthouse will have many impressive old homes in their leafy neighborhoods and on their main streets.
To get the most out of your trip, be sure to include at least some of these top small towns in Kentucky on your Bluegrass State travel itinerary.
1. Bardstown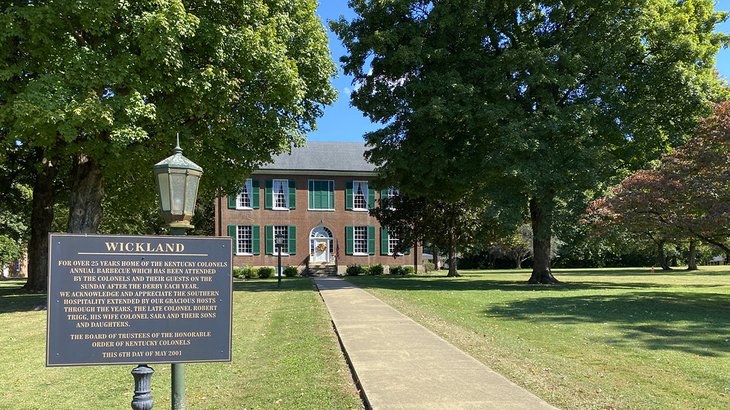 Kentucky's second oldest town, Bardstown has plenty of things to do for curious travelers. Founded in 1780 and considered one of the most beautiful small towns in the entire USA, Bardstown features no less than 200 homes and buildings that are included on the country's National Register of Historic Places.
Many of the best of these can be seen on a fun walking tour of the town's historic downtown area. Highlights include the attractive late-19th-century redbrick Old Courthouse on Court Square; the Old Talbott Tavern, once a stagecoach stop built in 1779; and the Basilica of Saint Joseph Proto-Cathedral, an attractive Catholic church built in 1819.
2. Elizabethtown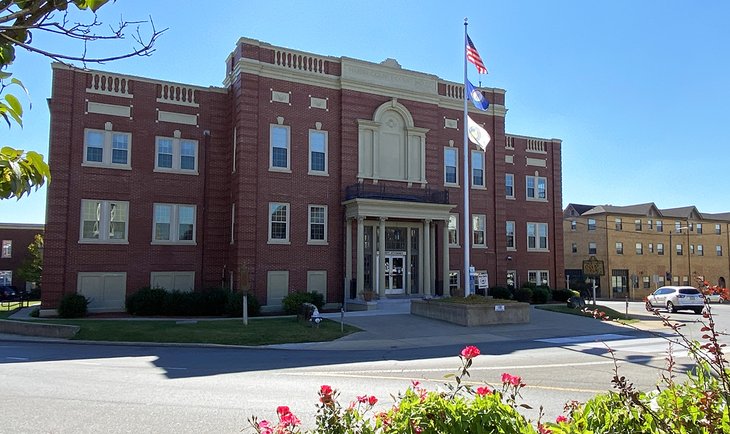 An easy 45-minute drive south of Louisville, Elizabethtown dates back to 1779 and boasts another very walkable historic downtown core.
Along the way, you'll pass historic Hardin County Courthouse on Public Square; an attractive former mansion now known as Brown-Pusey House that once famously housed General Custer; as well as one of Elizabethtown's most curious attractions, its Civil War Cannonball. Fired by besieging Confederate troops positioned on a hillside in Elizabethtown Cemetery, it has been embedded in the same spot almost continually since the war.
Elizabethtown also makes a great jumping-off point to explore other points of interest in Kentucky, such as Fort Knox and Abraham Lincoln's boyhood home and birthplace in nearby Hodgenville.
3. Berea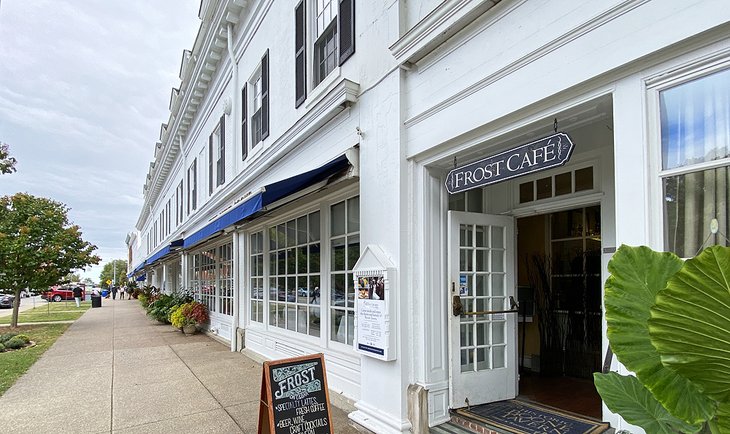 A quick 20-minute drive down the I75 from Richmond, and you'll find yourself in the attractive town of Berea. Although a bit of a latecomer compared to many other Kentucky small towns, as it was only incorporated in 1890, Berea is certainly attractive.
Surrounded by lush green spaces and parks, this college town lays claim to being Kentucky's arts and crafts capital. Galleries and boutique shops feature the work of local artists and artisans. Many of the best are located in the old town area around the attractive colonial styled Boone Tavern Hotel.
Berea is also a popular stop for hikers. Some of Kentucky's best hiking trails are located here in the Pinnacles, an area of over 9,000 heavily treed acres just waiting to be explored. The Daniel Boone National Forest is another nearby trail network that's popular with hikers.
4. Danville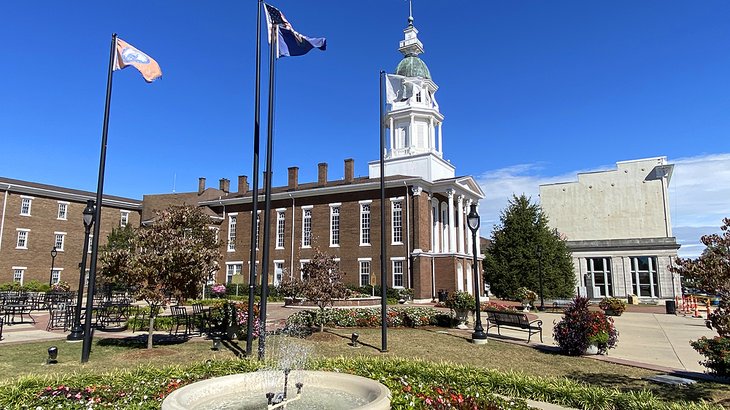 It's for good reason Danville ranks highly on so many lists of the best places to visit in Kentucky.
This picturesque small town between Richmond and Bardstown was established in 1792 and makes for a great driving destination. Highlights of a visit include a picturesque main street chock-full of great shopping and dining experiences, as well as a number of other fun places to visit.
If traveling with children, be sure to include the Great American Dollhouse Museum on your list of places to visit. This famous attraction contains around 200 dollhouses, including miniature versions of historic shops and businesses.
5. Burlington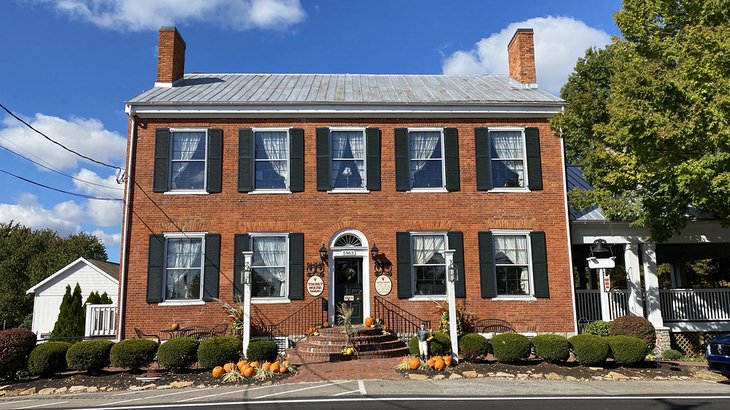 Just a few minutes west of the city of Florence, Kentucky, and considered a part of the greater Cincinnati area 16 miles to the northeast, the small picturesque town of Burlington makes for a fun and easy day trip from its larger neighbors.
Burlington was established in 1816, and a number of historic old buildings survive from the town's early days, including the original township offices. Other highlights include the original Boone County Courthouse, and the recently built park and green space known as Burlington Commons.
6. Harrodsburg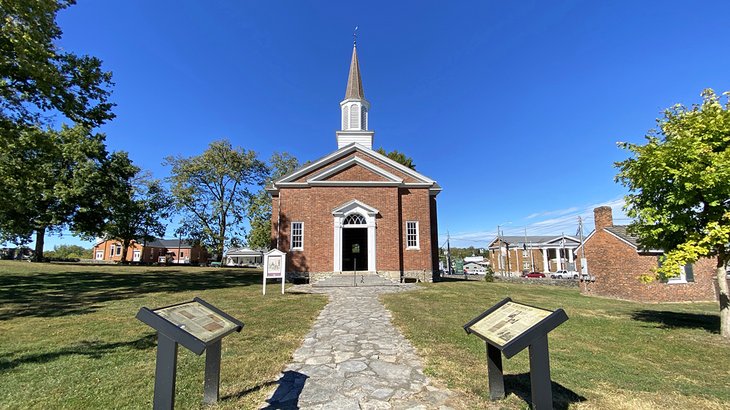 Less than an hour's drive southwest of the city of Lexington, Harrodsburg is well worth including in your Kentucky travel itinerary. Founded in 1774 and named after adventurer James Harrod, Harrodsburg has the distinction of not only being Kentucky's oldest town, but also boasts the distinction of being the oldest permanent American settlement west of the Appalachian Mountains.
You can learn more about these early years and the town's strategic importance at Fort Harrod State Park, a must-visit attraction located close to the downtown area. Set on 15 acres of land, it features a number of replica buildings from the 1700s and offers fun interpretive tours.
7. Hodgenville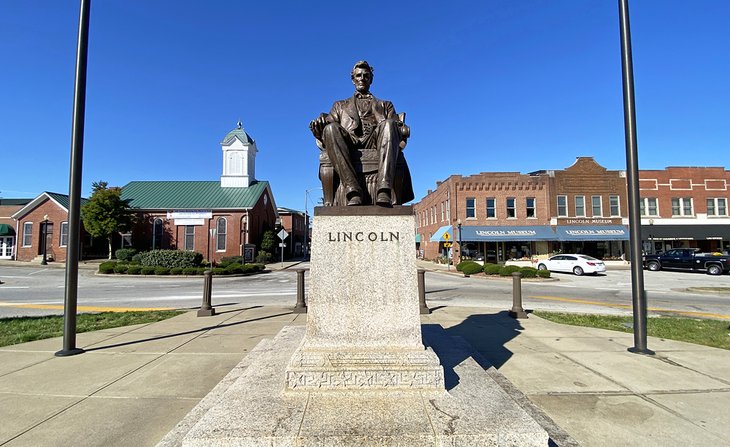 Although it only has a population of around 3,000 residents, Hodgenville bears the distinction of having played a major role in US history. It was near here that the country's most revered President, Abraham Lincoln, was born in 1809 and where he spent some of his childhood years.
Hodgenville's deep connections with the 16th president are celebrated at the Abraham Lincoln Birthplace National Historical Park and Abraham Lincoln's Boyhood Home at Knob Creek.
Be sure to also visit the town center and cross carefully over to Lincoln Square, where you'll find statues of the man as president and as a young boy.
8. Owensboro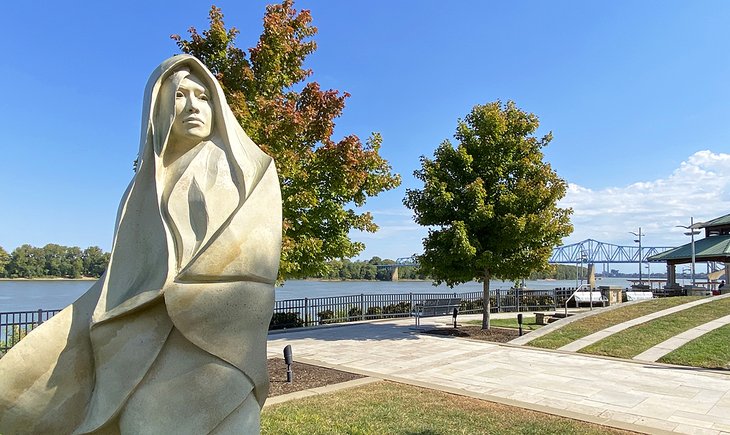 Though strictly speaking not a small town as it's home to over 60,000 residents, Owensboro's historic downtown district certainly has a small-town vibe. From the warm hospitality of its store owners and restaurateurs (check out the historic Miller House Restaurant) to its charming boutique storefronts, you can easily be mistaken for thinking you've landed in a much smaller Kentucky community.
Highlights of a visit to Owensboro include Smothers Park on the banks of the Ohio river, the excellent Bluegrass Music Hall of Fame, and the world-class Owensboro Museum of Fine Art. Plus, of course, a sweet treat and coffee from Gramps Coffee & Donuts.
9. Frankfort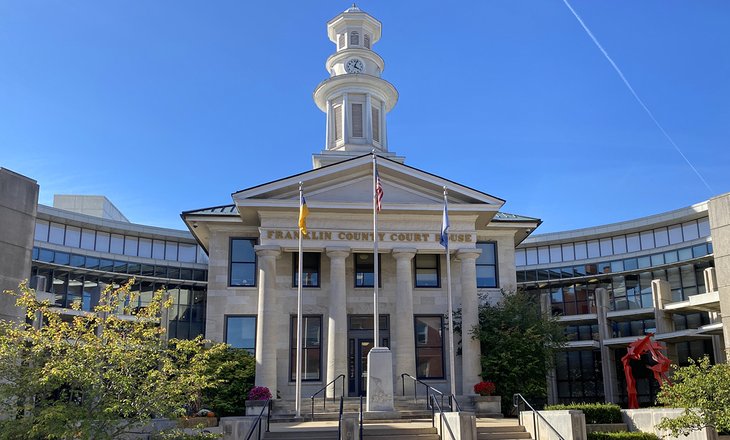 While officially a city, Kentucky's capital of Frankfort manages to boast a charming small-town feel. And with a population of only around 28,000 souls, it's certainly not big.
Frankfort was founded in 1786, and references to the city's importance on Kentucky's political stage are everywhere.
Park close to the downtown core on St. Clair Street and enjoy a stroll to the Old State Capitol Building and, thanks to a near absence of through traffic, you'll feel you're anywhere but the state's capital. Numerous old heritage homes in the surrounding neighborhoods exude a cozy small-town feel, too.
Read More: Things to Do in Frankfort, Kentucky
10. La Grange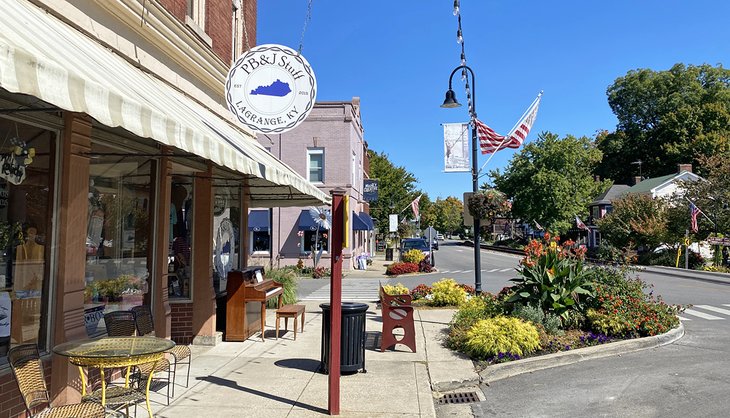 La Grange is one of those smaller, older Kentucky towns that wouldn't look out of place on a postcard. Home to just 8,000 residents, it also has the unique distinction of being home to one of the state's top train attractions with a historic rail line that travels right down its main street.
La Grange is billed as the "Kindness Capital of Kentucky" for its hospitality, and the town's railroad history is celebrated at the La Grange Railroad Museum & Learning Center.
11. New Haven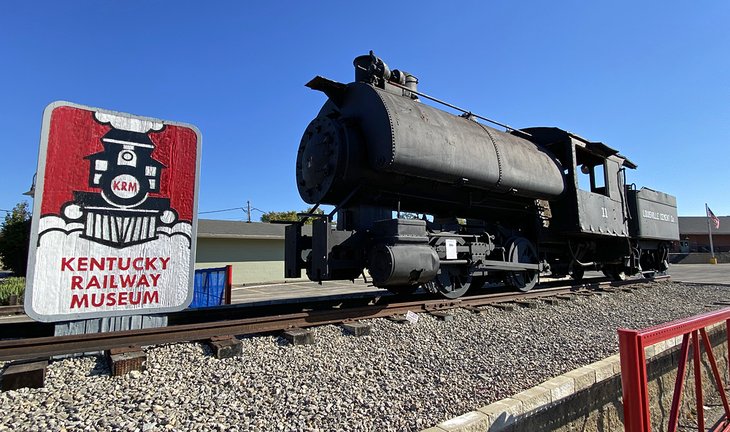 The tiny town of New Haven south of Bardstown, population just 855 people, is another community boasting a strong connection to the state's railroading history. At the Kentucky Railway Museum, visitors can even enjoy a fun train ride through some of the prettiest countryside in Central Kentucky.
Be sure to explore the museum, too. Highlights include displays of artifacts relating to the town's role in the rise of the railways in this part of the world, along with a number of original rolling stock.
12. New Castle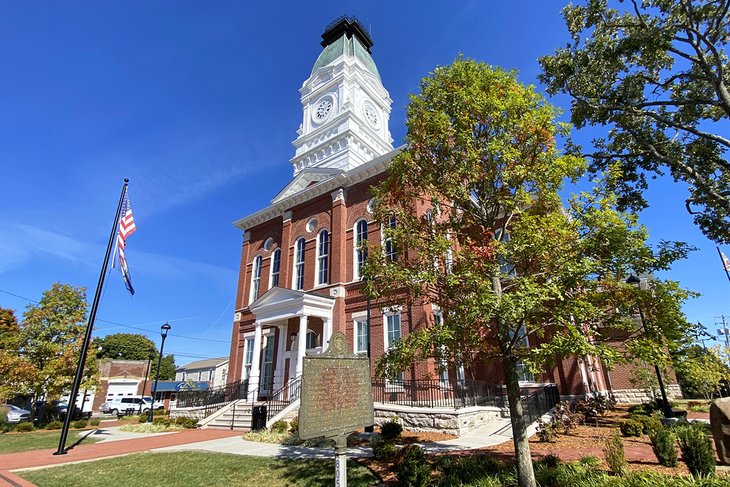 New Castle is located midway between Louisville and the state capital of Frankfort. New Castle's population of just 900 people are justifiably proud of their pretty little Kentucky town. Although only incorporated in 1817, it was first settled in the early 1790s and as such is another of the state's oldest towns.
Highlights of a visit include the attractive redbrick Henry County Courthouse and a number of attractive heritage homes built in the early 1800s. Other fun things to do in New Castle include visiting during one of its seasonal celebrations, including the popular Spring Fling.
13. Richmond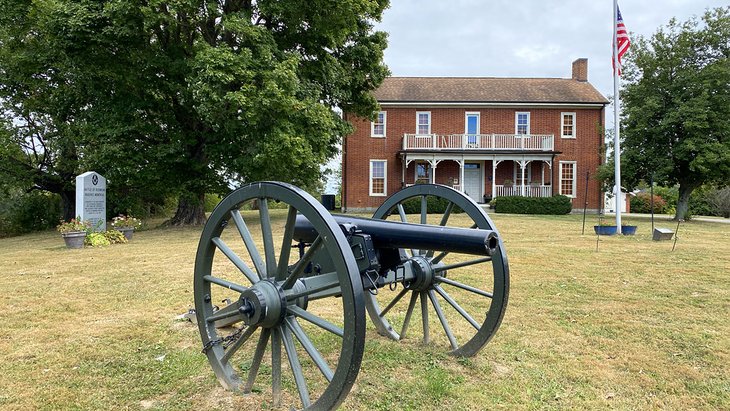 While not as small as some of the other towns included on this list, Richmond has done a great job of maintaining its small-town feel. This is most apparent along its broad Main Street, which is home to a number of attractive heritage homes and buildings.
The best of these, including the Old federal Building, Madison County Courthouse, and the attractive Battle of Richmond Visitor Center, along with some 70 other historically significant buildings, can be enjoyed as part of a fun self-guided walking tour.
Start your walking tour at the visitor center, where you can pick up a map of Richmond's top sites and plan your route.
14. London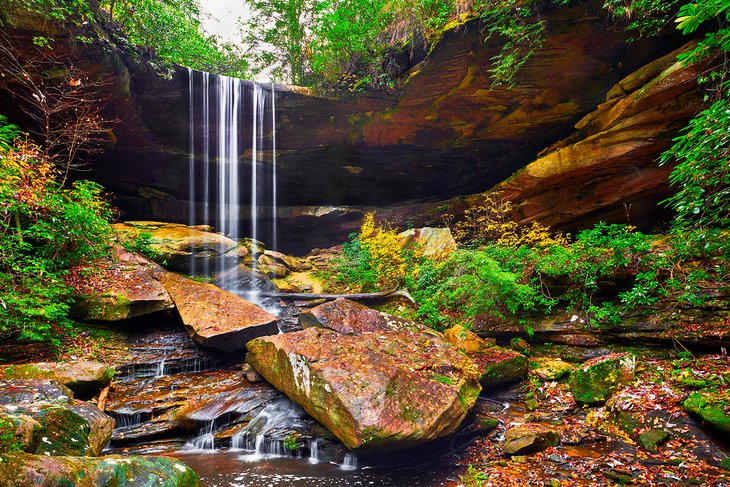 Although the fourth largest city to bear the "London" name outside of its namesake in the UK, London, Kentucky, is only a fraction of the size. In fact, its population of under 8,000 people makes it a clear contender for our list of the top small towns in Kentucky.
London, Kentucky was founded in 1826, and its leafy main street is a delight to explore on foot, with many great shopping and dining experiences.
London has also earned a reputation as the cycling capital of Kentucky, boasting an extensive trail network that attracts mountain bikers from across the USA. Many of these same trails double as hiking routes, too, with some of the best centered around Van Hook Falls, a short drive west of the downtown core in the Daniel Boone National Forest area.
15. Midway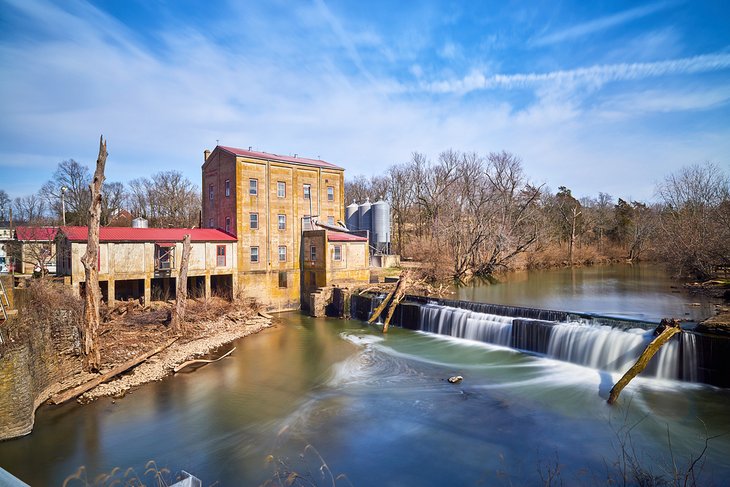 Located "midway" between Lexington and Frankfort, Midway has a deep connection to Kentucky's famous thoroughbred horse industry. A number of the state's best-known breeding farms are located here, including Airdrie Stud and Lane's End Farm. Little surprise, then, that the town is the birthplace of numerous Kentucky Derby winners.
Midway was settled in the early 1800s, and a number of attractive old buildings line the town's well-preserved Main Street. Dissected in two by a still active railway line, the downtown offers many great photo and selfie opportunities, especially when a train passes through.
Try to include a visit to the historic Weisenberger Mill, a short drive to the east of the town center. Established in 1865 and still going strong, this old mill is famous for its pancake and bread mixes.
16. Shelbyville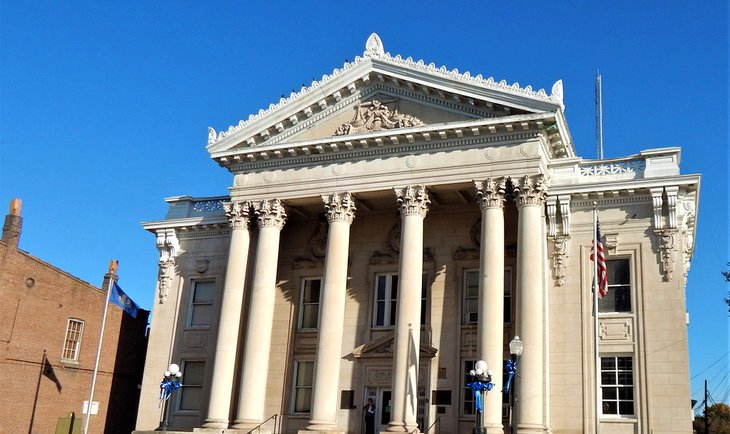 An easy 40-minute drive due east of Louisville on the main road to Frankfort, Shelbyville is another small Kentucky town with a strong connection to the equestrian world. No less than 80 farms are located in and around Shelbyville that specialize in American Saddlebred horses, some of them offering tours and other experiences based around this popular breed.
The old town center is also worth exploring, with many of the older storefronts now renovated and housing a wide variety of retail experiences and eateries. Enjoy a walking tour, and you'll see other historic buildings from the town's early years, including the original Shelby County Courthouse.
17. Campbellsville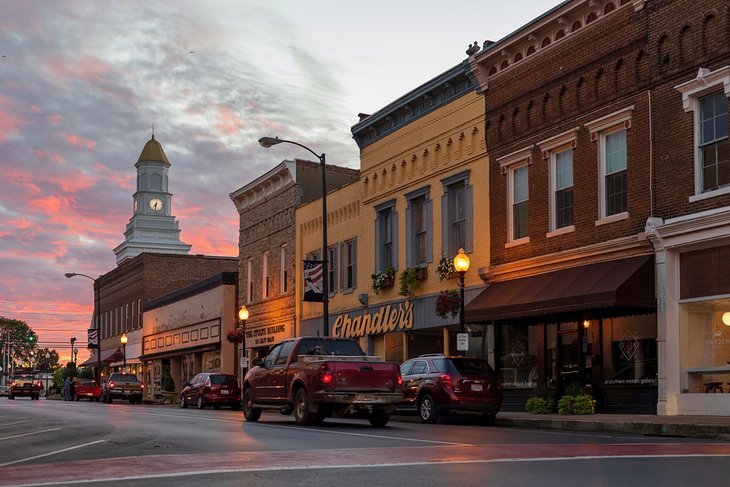 Although one of the larger communities in the sparsely populated south central section of Kentucky, Campbellsville is every inch a "small" town. With a population of only around 11,500, its downtown area is a vibrant shopping destination. It's also where you'll find many great dining experiences offering an eclectic mix of food styles.
The area is also immensely popular with outdoor enthusiasts. Popular destinations for hikers and bikers alike include Green River Lake State Park, an area of outstanding natural beauty just an easy 10-minute drive south of Campbellsville.
Map of Small Towns in Kentucky