14 Top-Rated Weekend Getaways in Kentucky
As you travel through Kentucky, you cannot help but embrace the history and culture that defines it. From the rolling pastures of bluegrass to the revelry that surrounds the Kentucky Derby, there is a peaceful and playful energy throughout the state.
Kentucky lends itself to great weekend getaways, from one of the most impressive cave systems in the world at Mammoth Cave National Park to the family-friendly Newport of the Levee. The state's major cities offer plenty of things to do, too, from shopping and gallery-hopping in Louisville to scenic and romantic drives near Lexington.
Plan your sightseeing with our list of the top weekend getaways in Kentucky.
1. Kentucky Derby Weekend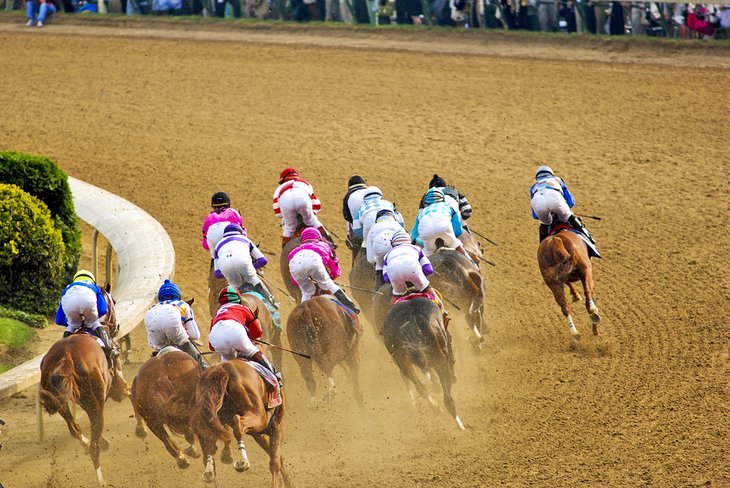 Planning a weekend trip around the famed Kentucky Derby is one of the best getaways in the state.
The Kentucky Derby horse racing takes place at Churchill Downs in Louisville in May. There are so many exciting events that surround Kentucky's premier event that you can fill several days enjoying the pageantry and social scene.
The festivities and events surrounding the Kentucky Derby last for about a month, so even if you do not attend the weekend of the race, you can still enjoy the revelry in the weeks prior. There is usually a paddle-wheeler race on the Ohio River, parades, fireworks, a marathon, and a hot-air balloon display.
It is essential to know that if this is a priority for you, then you will need to book lodging and tickets far in advance and know that everything will cost a premium. Booking a year in advance is not too soon. Of course, if you plan a Kentucky Derby weekend, you cannot forget to pack your derby hat.
2. Family Weekend in Newport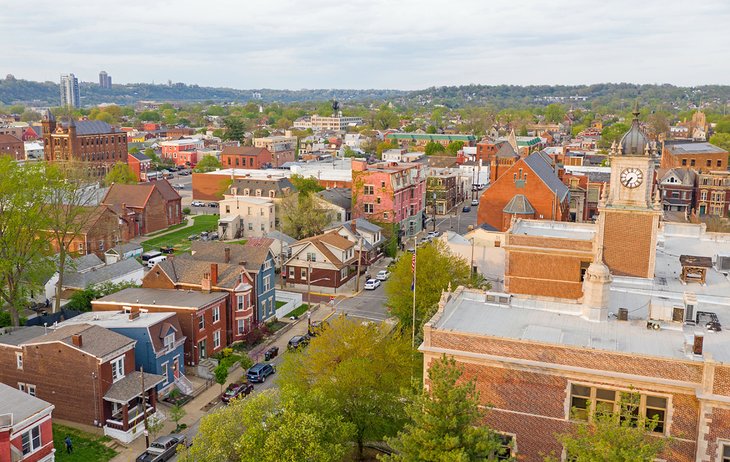 One of the best getaways for families in Kentucky is in the city of Newport. There are so many things to do, especially at the Newport on the Levee complex. Several hotels, like the Hampton Inn & Suites Newport / Cincinnati, are within walking distance of the complex.
You can plan several days to visit the Newport on the Levee on the Ohio River, starting with the world-class Newport Aquarium. It is known for its interactive exhibits, like touching a shark and the Penguin Encounter.
Spend an afternoon at Rotolo, where you can enjoy bowling in a boutique-style bowling alley or playing bocce ball. Newport on the Levee also has a GameWorks and a movie theater, depending on the amount of time you have to fill.
There are always events happening in Newport near the riverfront, so check out the seasonal festivals for the time that you plan your getaway. Newport is just across the bridge from Cincinnati, so it is easy to plan for an additional day taking in a Cincinnati Reds baseball game while you are enjoying your Kentucky weekend.
3. Louisville Weekend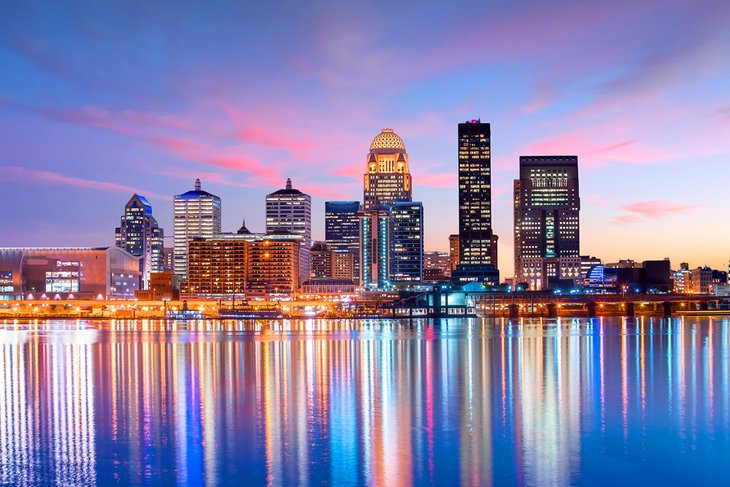 While many people know Louisville for Churchill Downs and the Kentucky Derby, the city has so much more to experience, with plenty of things to do on a weekend getaway.
That being said, you should spend one of your mornings at Churchill Downs, where you can watch the thoroughbred horses during their morning workouts. You can also stop by the Kentucky Derby Museum while you are here to learn about the history of the Derby.
Explore some of the arts scene in Louisville at the Louisville Stoneware gallery, which has been a staple in the city for more than 70 years. You can also visit some of the local glass shops, where artisans make one-of-a-kind vases and blown-glass artwork.
Plan an afternoon at the Speed Art Museum, which has artwork that depicts Kentucky's ties to horses. You can even stay in Louisville's 21c Museum Hotel for a fully art-themed weekend.
Bardstown Road is worthy of some of your Louisville itinerary, as it is a fun place to visit for strolling, shopping, and tasting some of the local fare. Fourth Street Live District is where you will go for nightlife and music.
Wrap up your weekend with a performance at Actors Theatre or a baseball game at Slugger Field featuring the Louisville Bats.
4. Outdoor Getaway at Red River Gorge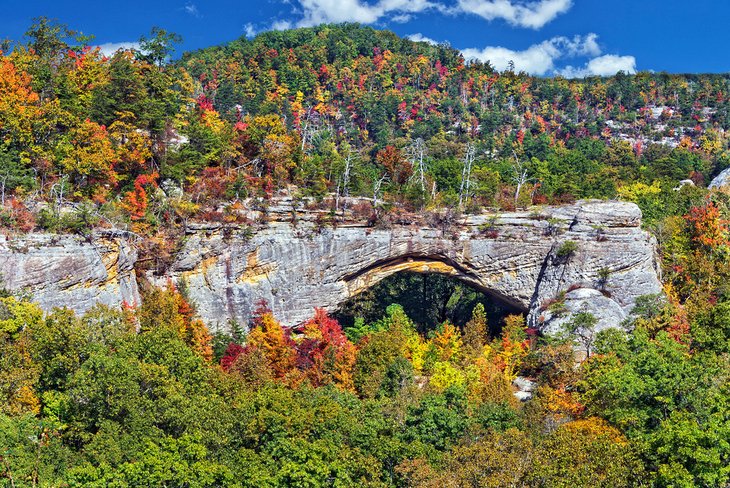 Besides thoroughbred horses, Kentucky is known for its stunning natural scenery. That makes it easy to plan an outdoor-focused weekend getaway at Red River Gorge in south-central Kentucky.
The Red River Gorge has stunning cliffs, sandstone arches, and unusual geological formations. You can rent a cabin or treehouse for the weekend, or stay at the campground.
One day of your getaway should be spent hiking through the Daniel Boone National Forest, which has several million acres. There are 600 miles of hiking trails for all skill levels. There are also many lakes and streams that can fill part or all of a day with swimming, kayaking, or even scuba diving.
Another day on your itinerary should include the Gorge Underground, where you explore an underwater lake and cavern by kayak.
If you want to up your outdoor adventure quota on the weekend away, the Red River Gorge has some incredible rock climbing areas. Never tried it? No problem–there are local guides you can hire to teach you some of the basics about climbing and safety.
5. Couple's Weekend in Lexington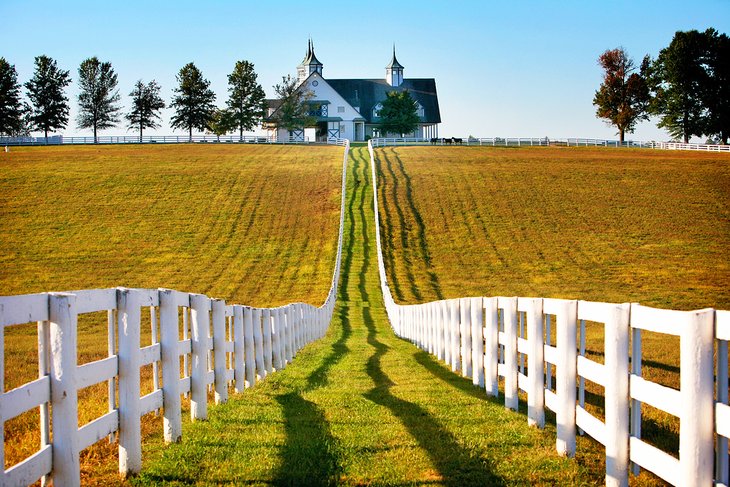 Spending a weekend in Lexington is one of the best romantic getaways in Kentucky.
Sprawling horse farms surround the area making for a nice drive for a day, especially along the self-guided Bluegrass Country Driving Tour. You can also book a guided tour that will take you past some of the most scenic areas, making stops at several farms.
Another part of your weekend should be spent in downtown Lexington, where you will find small romantic inns that are a nice break from chain hotels. Victorian Square is where you can spend some time shopping and find some Bluegrass fare to eat at the local restaurants.
Before departing Lexington, you will want to visit the Kentucky Horse Park and the Keeneland race track, one of the most famous horse-racing tracks in the world.
6. Cumberland Falls Getaway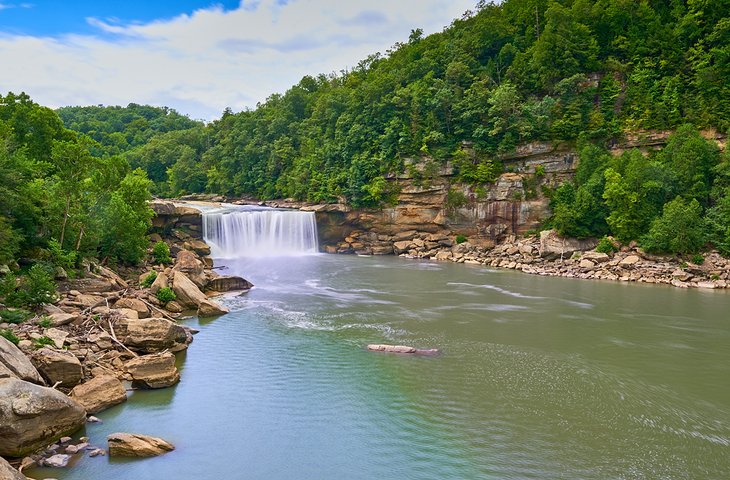 A weekend at Cumberland Falls in southeastern Kentucky near Corbin is great for families, couples, and solo travelers.
You can stay right on the property at the Cumberland Falls Resort in the state park, making it convenient for dining and for heading outdoors for the day.
While Cumberland Falls has 17 miles of hiking trails, this park has a number of other outdoor activities that are not as common for state parks.
Since you are in horseback country, Cumberland Falls is a great place to learn how to do horseback riding. There are guided trips that you can take on the trails (even with children as young as six) for a leisurely ride through the forest.
Another day can be for taking a guided rafting trip on the Cumberland River. If you want to try something new on your getaway, you can learn about birding, as Cumberland Falls is a prime location for migrating species.
7. Bowling Green Weekend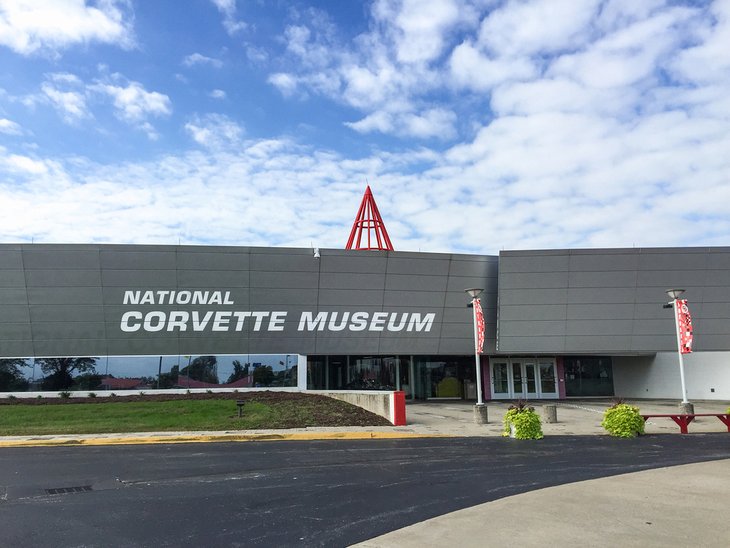 Many of Kentucky's towns are quiet and laid-back, but if you are looking for an energetic weekend away, the scene in Bowling Green is a good fit.
It is a college town and an easy weekend trip from Louisville since it is only two hours away. Bowling Green is an especially great getaway for people who enjoy trains and cars.
You will want to visit the Historic RailPark and Train Museum. You can take a historic railcar tour and learn about the passenger trains that were common through Bowling Green in the early 1900s. There is also a museum and gift shop.
Plan part of a day to visit the National Corvette Museum and see displays and models of one of the most iconic sports cars in American history.
The rest of your weekend, you can head to another major Kentucky attraction that is just 30 minutes outside of Bowling Green, the Mammoth Cave National Park.
It has the world's longest cave system, with more than 400 miles of natural passageways to explore. You can choose from several tours through the caverns and see rock formations that are several million years old.
Read More: Top-Rated Things to Do in Bowling Green, Kentucky
8. Kentucky Fried Chicken Weekend in London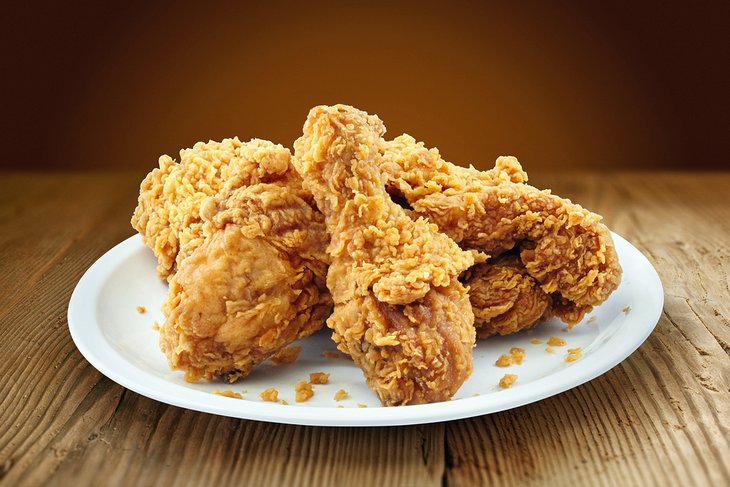 For a quirky weekend getaway, you can plan a trip to London, Kentucky to celebrate the roots and contributions of Colonel Sanders and Kentucky Fried Chicken. London had the first KFC restaurant in the 1940s before the chain became a staple in countries around the world.
Your best option is to visit during the annual World Chicken Festival, usually held in the fall, which commemorates the town's fried chicken fame with events and, of course, tasty chicken cooked on the world's largest skillet.
On non-chicken festival weekends, you can still indulge in this famous London attraction by visiting the Colonel Sanders Museum and café.
More time can be spent at some of the other nearby attractions in London, including the Levi Jackson Wilderness Road State Park and the historic Camp Wildcat Civil War Battlefield.
9. Frankfort Weekend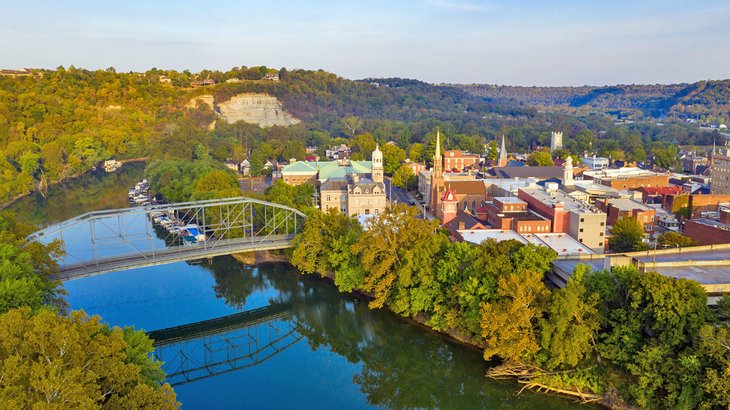 The Kentucky capital of Frankfort is a nice getaway, especially if you are looking for a mix of the city scene and outdoor activities on the water.
Frankfort is located on the Kentucky River, where you can spend a day on the water canoeing or kayaking. You can even book a vacation rental near the water for some of the most scenic views in the city.
You can spend another part of your weekend exploring some of the historic spots, like the capitol building and the grave of American frontiersman Daniel Boone at Frankfort Cemetery. Then, you can take a self-guided walking tour of some of the beautiful historic properties in the area or take a tour of the L&N Depot to learn about Frankfort's railroad history.
Leave ample time in your Frankfort itinerary to visit and tour the Rebecca Ruth Candy Museum, a famous candy maker in the state.
10. Equine Weekend in Georgetown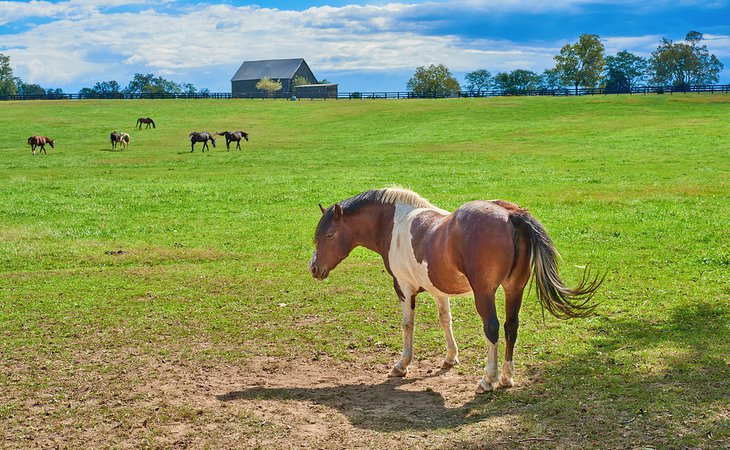 Georgetown is considered horse country in Kentucky–it is the place to go to see all things related to horses in the state.
One of the best places to visit in Georgetown is the Old Friends Thoroughbred Retirement Farm. This is a retirement farm for Thoroughbred horses, where you can spend a day getting up close to these amazing animals. On a tour of the facility, you will see horses who have been featured in movies like Seabiscuit and Kentucky Derby winners.
Spend another part of the weekend at the famous Kentucky Horse Park. Part of this working horse farm is located in Georgetown, so it is easy to take part in the daily equine demonstrations and visit the museums on-site.
Wrap up your weekend by going to Evans Orchards to pick fresh fruit to take home.
11. An Adventure Weekend in Cave City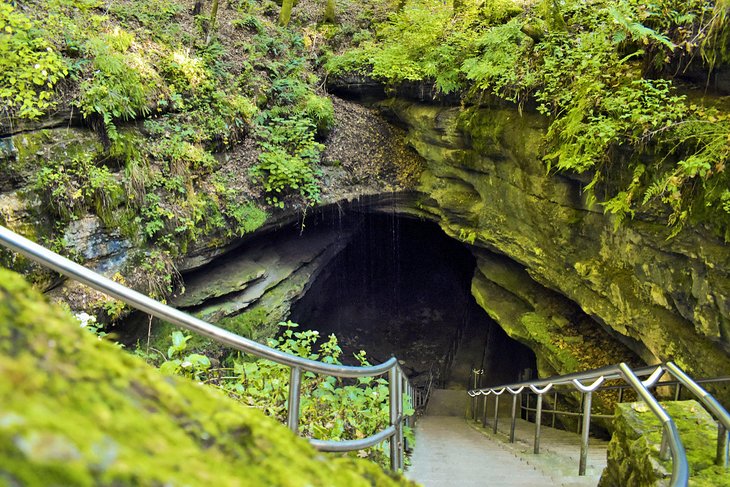 Adventure weekends are fun, and Kentucky lends itself to that with so many great natural features, and there are several in Cave City.
You can start with a full day at nearby Mammoth Cave National Park, which is only a few miles from Cave City. After a good night's rest, you can spend another day or two exploring several of the other caves in the area.
Crystal Onyx Cave is a terrific cave system in Cave City that offers one-hour tours explaining the many crystal and rock formations inside. Onyx Cave is a different attraction, which also has cave tours featuring the underground geology of the area.
If you have extra time to fill, or just need some above-ground entertainment, the Dinosaur World attraction is fun–especially for kids, who can take part in a fossil dig.
12. History Weekend in Elizabethtown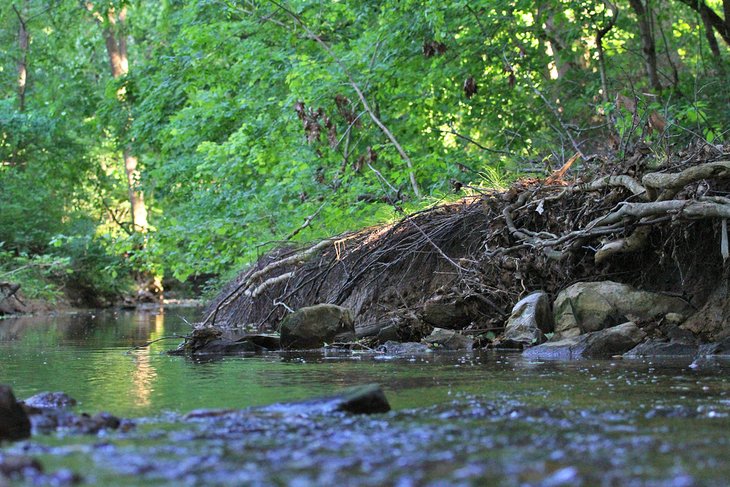 For a weekend wrapped in history, Elizabethtown is a fun getaway.
The Swope's Cars of Yesteryear Museum is a fascinating walk through time. The museum has original cars dating back to the early 1900s. You can plan for a matinee or evening then make your way to the renovated Historic State Theater Complex.
On another day of your weekend, you can explore other interesting historical sites in the area, like the Hardin County Museum, the Lincoln Heritage House, Brown-Pusey House, Vietnam Veterans Memorial Wall, and the Cannonball.
The downtown area itself is also nice to peruse. It has many old buildings and fascinating stories. You can also take a guided walking tour.
13. Scenic Kentucky Train Ride Weekend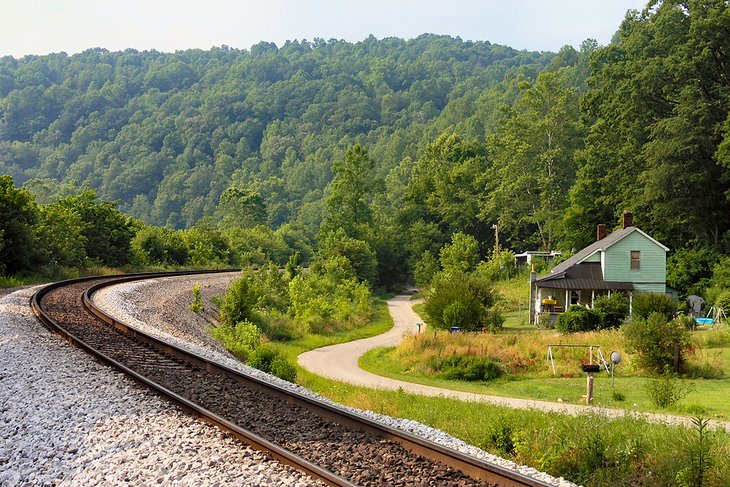 Seeing Kentucky by train is a fun way to work in some of the best scenery without having to drive.
There are several train excursions available throughout the state. Some offer themed excursions like dinner train rides, and others have routes that can fill an afternoon or a full day rolling through the Kentucky countryside.
Climb on board My Old Kentucky Dinner Train for a weekend journey that takes you from Bardstown to Limestone Springs while enjoying a lunch or dinner in your railcar. You will have a gourmet meal prepared right in the kitchen car on board the train.
Rides offered out of the Kentucky Railway Museum in New Haven take you through the Rolling Fork River Valley. This 22-mile ride is offered on weekends from March through November, in addition to special event themed rides throughout the year.
Shorter train rides that are great for families depart from the Bluegrass Scenic Railroad and Museum in Versailles. These seven-mile rides go through Woodford County and end back at the museum where you can spend the rest of an afternoon.
One of the most scenic train rides in Kentucky is on the Big South Fork Scenic Railway that departs from Stearns. This 3.5-hour journey goes through the Big South Fork National River & Recreation Area and the Daniel Boone National Forest. This ride takes you through forest land with views of wild streams and steep gorges.
14. Romantic Weekend in a Cumberland Gap Cabin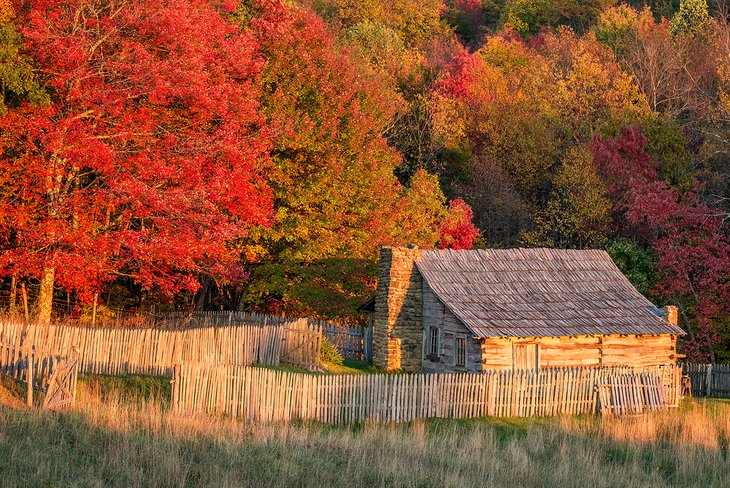 The kind of natural scenery that Kentucky offers lends itself to a secluded cabin weekend near Cumberland Gap. With more than 24,000 acres of quiet wilderness, you can spend a weekend being as active on the trails or as lazy on the front porch of your cabin as you like.
Get up early with the sunrise to catch panoramic views of the vistas and forests. Take a leisurely stroll on some of the dozens of trails through the mountains to watch local wildlife and take in the undisturbed natural scenery.
Enjoy the atmosphere that called to the early settlers and pioneers of the region, which has been preserved for visitors to enjoy today. One of the best times to immerse yourself in this beautiful landscape is during the fall when leaves are changing colors on the trees.
There are many types of cabin rentals available around the Cumberland Gap National Historical Park. You can get a remote cabin or base closer to the towns of Middlesboro or Pineville.
Map of Weekend Getaways in Kentucky
More Related Articles on PlanetWare.com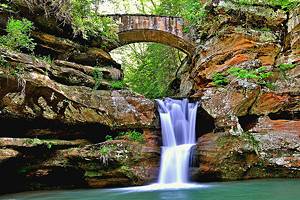 Exploring Ohio: If you are looking for other ideas close to Kentucky, there are some great weekend getaways in Ohio. For culture, dining, and shopping, you can spend some time in the capital city of Columbus. Nature lovers can plan some outdoor adventures like ziplining and fishing, or enjoy some of the best state and national parks.