13 Top-Rated Tourist Attractions in Cincinnati, OH
The city of Cincinnati lies in a beautiful location in a wide basin on the north bank of the Ohio River, surrounded by hills, which is how it became known as the "Pearl of the West" and the "Queen City."
Today, this largely industrial city in Ohio has a wide range of cultural and recreational facilities, as well as revived neighborhoods like Over-the-Rhine and Mount Airy that are expanding the city's social scene.
Cincinnati is booming with sports, entertainment, culture, and history. It also has a great culinary scene, and offers a range of outdoor opportunities. The city makes a wonderful place to visit for a weekend getaway in Ohio.
Plan your time here with our list of attractions and things to do in Cincinnati.
1. Cincinnati Zoo & Botanical Garden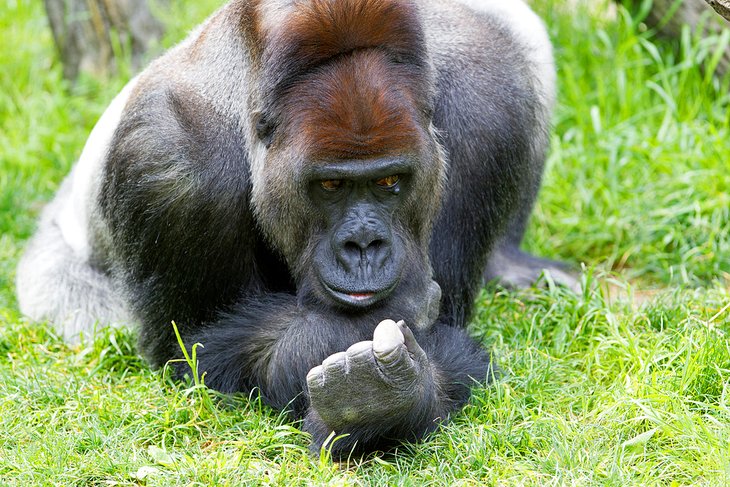 The Cincinnati Zoo and Botanical Garden is famed for its white Bengal tigers and gorillas. It also contains one of the largest insectariums in the world. A visit to the zoo is a full day, with rides, a 4D theater, and animal encounters and shows.
Get up-close to the animals in the zoo's world-class exhibits, like Gorilla World, Africa, Cat Canyon, and Wings of Wonder Bird Encounter. Family programs are available as well as special events throughout the year.
Stroll the botanical garden and cast an eye over the many exhibits that are also educational. Here, you can learn about the best plants for pollinators, native plants, or take part in one of the many symposiums and classes offered throughout the year.
Address: 3400 Vine Street, Cincinnati, Ohio
Official site: http://cincinnatizoo.org
2. Take in a Cincinnati Reds Baseball Game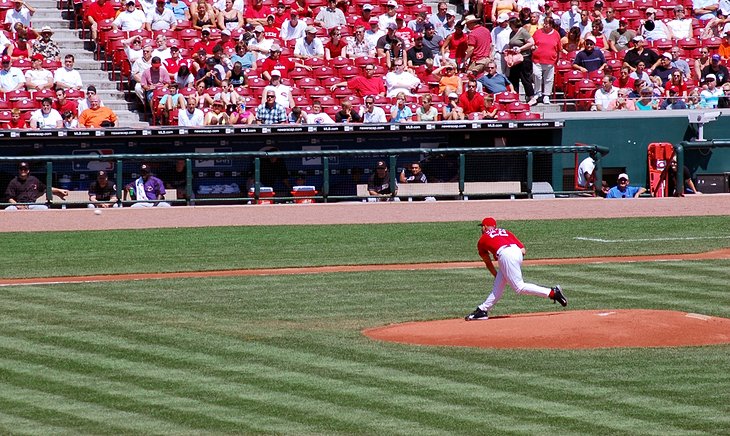 A visit to Cincinnati is not complete without taking in an iconic Reds baseball game at the Great American Ball Park in the heart of downtown. As baseball's first professional franchise, the Reds are a household name in Cincinnati and an important part of the community.
While baseball games are seasonal, the Cincinnati Reds Hall of Fame & Museum is open year-round, and you will often find Reds-related events throughout the year.
Address: 100 Joe Nuxhall Way, Cincinnati, Ohio
Official site: https://www.mlb.com/reds
3. Cincinnati Art Museum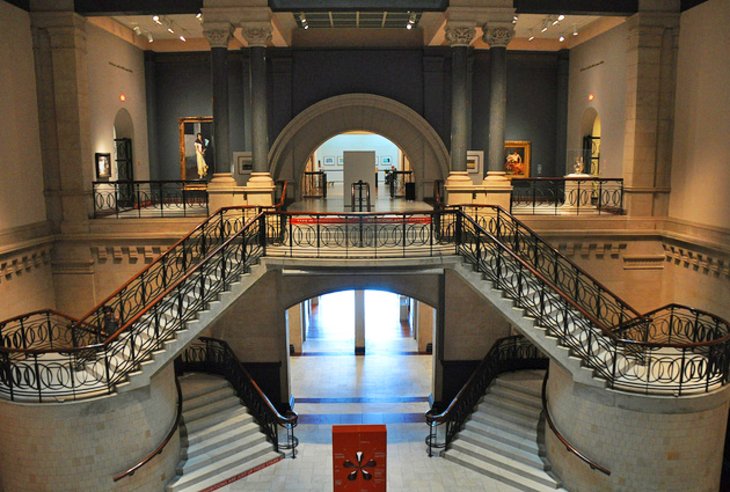 In Eden Park, the Cincinnati Art Museum features prominent works of art, including sculpture, ceramics, and pictures from great civilizations of five millennia. On display is the permanent collection, along with temporary national and international exhibitions.
Highlights of the collection include American and European painting and sculpture, Far East and African art, decorative arts, textiles, and photographs. The museum is also popular for its art-related programs and special events held throughout the year.
Address: 953 Eden Park Drive, Cincinnati, Ohio
Official site: http://www.cincinnatiartmuseum.org
4. Cincinnati Museum Center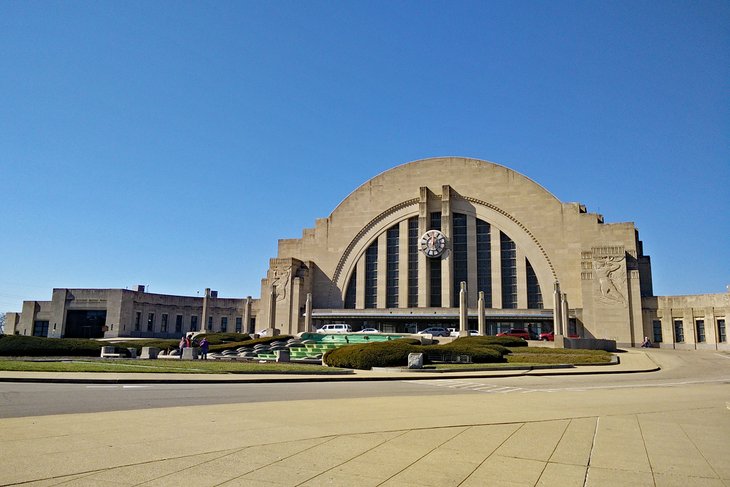 The Cincinnati Union Terminal, an Art Deco railroad station built in 1933, has been occupied since 1990 by the Cincinnati Museum Center.
The center is a Cincinnati icon and features three museums at its one location at Union Station. These include the Cincinnati History Museum, Duke Energy Children's Museum, and the Museum of Natural History and Science.
Other tourist attractions here include the Robert D. Lidner Family OMNIMAX Theater, the Nancy & David Wolf Holocaust & Humanity Center, and the Cincinnati History Library and Archives. The Museum Center has an active schedule of traveling national and international exhibits.
Address: 1301 Western Avenue, Cincinnati, Ohio
Official site: http://www.cincymuseum.org
5. Fountain Square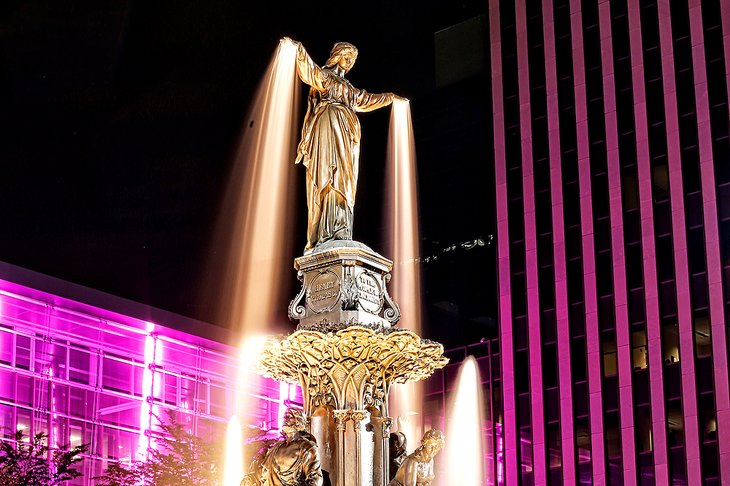 The focal point of the Cincinnati city center, with its modern tower blocks, is Fountain Square. At the heart of the square is the impressive Tyler Davidson Fountain, which was cast in Munich and erected in 1871.
Fountain Square is a social center surrounded by a great assortment of restaurants, and is an ideal spot for grabbing a bite to eat, especially in the summer. Be sure to snag a table at one of the patios.
In winter, skating on the outdoor ice rink is one of the most popular things to do here. Once a week, the crazy sport of ice bumper cars takes over the ice rink and is a hilarious spectacle.
Address: 520 Vine Street, Cincinnati, Ohio
Official site: http://myfountainsquare.com/
6. National Underground Railroad Freedom Center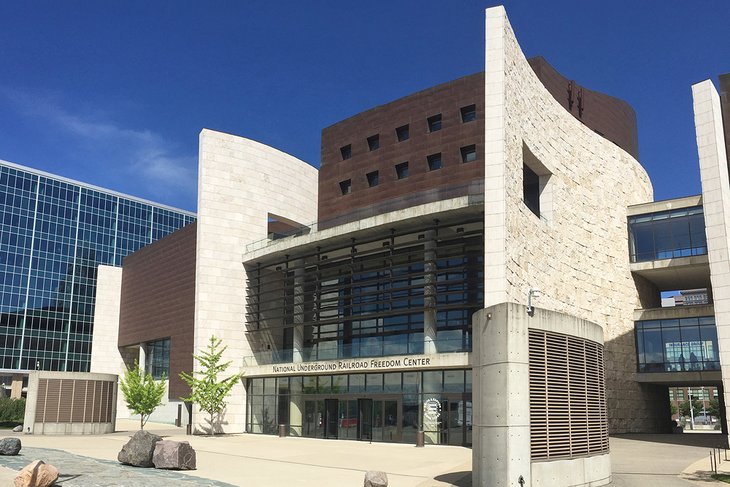 Sitting in the center of the downtown Cincinnati skyline is the National Underground Railroad Freedom Center, one of the most important cultural institutions in Ohio. Its physical location is both symbolic and significant, with the Ohio River once marking the natural barrier between slavery and freedom.
Museum exhibits showcase artifacts and stories from former slaves and the heroes that helped in the Underground Railroad movement. There is also an exhibit on modern-day slavery and the issue of human trafficking.
Some of the most powerful pieces in the museum include an 1800s slave pen that was recovered from an Ohio farm and the powerful re-enactments and storytelling in the ESCAPE! exhibit.
The center has many visiting exhibitions throughout the year that feature artwork, photography, lectures, and artifact collections. Be sure to start your visit to the center in the Suite for Freedom, which provides an introduction on what you will experience during your journey through the museum.
Address: 50 E Freedom Way, Cincinnati, Ohio
Official site: https://freedomcenter.org
7. Eat a 5-way Cincinnati-Style Chili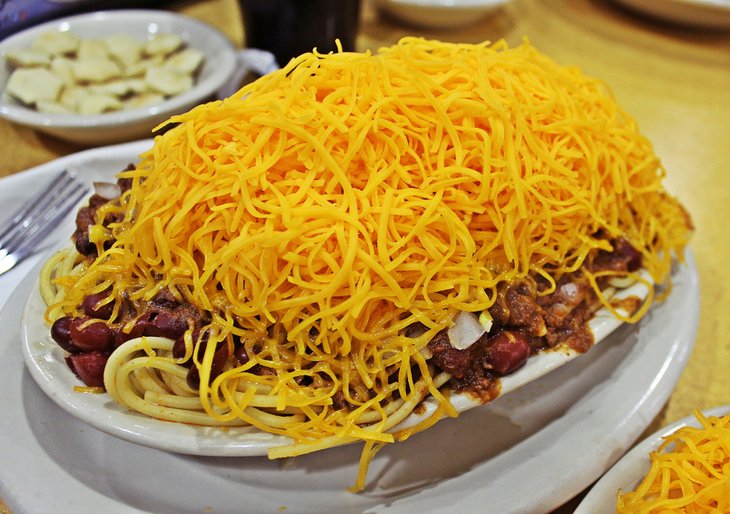 You haven't lived until your taste buds have experienced a 5-way Cincinnati-style chili. The dish has a cult following and fans come from all over the country just to satisfy their cravings.
What makes it so special? The pile of ingredients includes spaghetti, chili, onions, beans and cheese. There is a specific hierarchy to the layering system and a proper protocol for eating it so that you get each of the layers onto the fork. If you are not too adventurous but still want to see what all of the fuss is about, you can also order 3-or-4 way chili.
There are many chili restaurants in the city that serve this Cinci delicacy, so take your pick from a fast-food option or a generations-old family-owned location like Empress Chili, which has been dishing it out for a century.
8. Catch a Performance at the Music Hall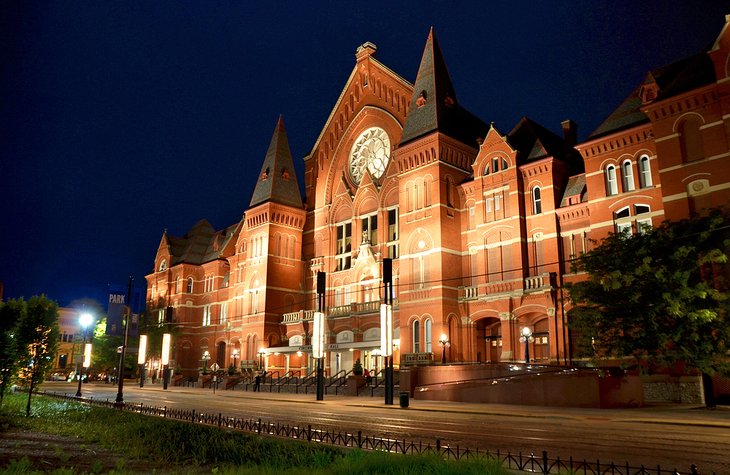 This splendidly renovated 1878 Music Hall is one of the finest buildings in Cincinnati.
The expansive Music Hall is in Cincinnati's reenergized Over-the-Rhine neighborhood at Washington Park, with a stunning presence. The façade contains arched entranceways below one huge round window and is flanked by two square towers.
Take in a performance at The Music Hall, home to the Cincinnati Symphony and Pops Orchestra, Cincinnati Ballet, and Cincinnati Opera. It features two tiers of balconies and an ornate ceiling with decorative panels that give it a particular charm.
The Music Hall Ballroom can accommodate some 1,300 people and is used for events and exhibitions. Events requiring a more intimate setting are held in the Corbett Tower, which holds just 300 people.
Address: 1241 Elm Street, Cincinnati, Ohio
Official site: http://www.cincinnatiarts.org/music-hall
9. Smale Riverfront Park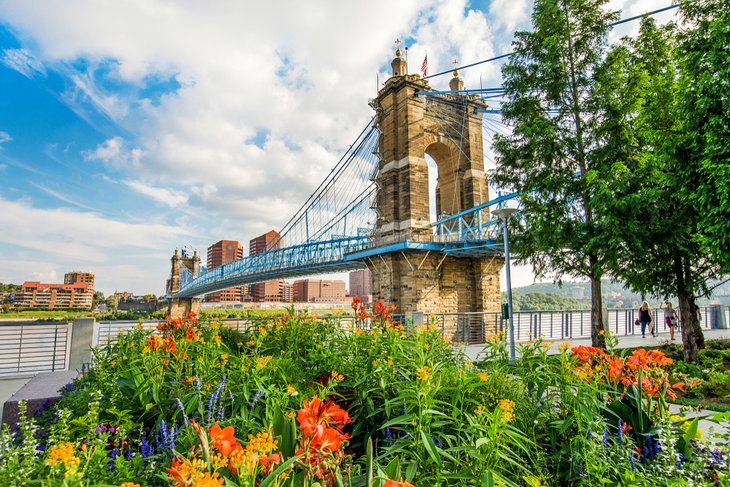 The Smale Riverfront Park in downtown Cincinnati is where you can sit on a bench to enjoy the boat traffic on the Ohio River or schedule a workout on the trails. The park extends along the banks of the river with green spaces, gardens, playgrounds, swings, and art, with the impressive Roebling Bridge in the background.
This is a great place to visit for families who want to spend some time outdoors. The kids can play on the large foot piano or take a ride on Carol Ann's Carousel, which has fun Cincinnati-themed characters and artwork depicting key local landmarks.
Walk or bike on the Ohio River Trail that starts at Smale Riverfront Park and extends for 10 miles. It will eventually be part of a larger trail network in Ohio connecting to the Little Miami Scenic Trail all the way to Lake Erie.
Smale Park is one of the most active places in the city for free public events, including music concerts and yoga sessions. You can even take a guided hike through the gardens with a horticulturalist from the Cincinnati Parks Department.
Address: 166 W Mehring Way, Cincinnati, Ohio
10. Krohn Conservatory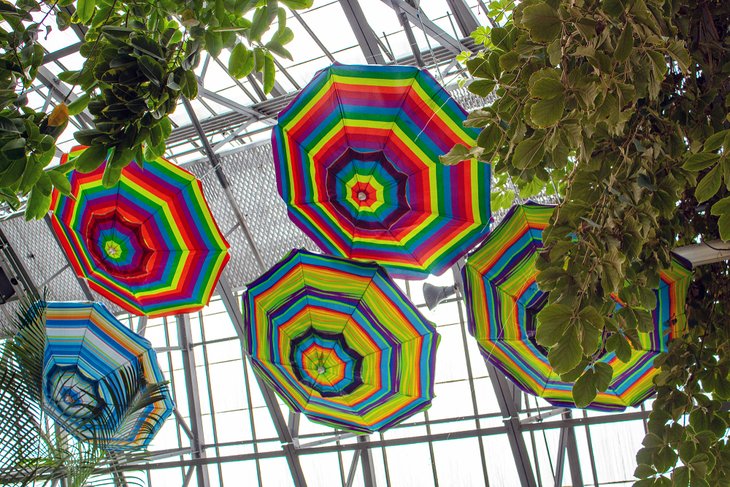 The Krohn Conservatory in Cincinnati has more than 3,500 plant species from all corners of the globe and is a horticultural gem. The conservatory features unique themed houses that include a desert and a tropical rainforest, complete with waterfalls.
Built in 1933 during the Art Deco era, the Krohn Conservatory became known for its unique architecture of aluminum and glass, as well as its diverse species of plants inside the greenhouse. Various "houses" have different plants from around the world and include the Fern House, Palm House, and the Desert House.
Also of interest is the John Carroll Bonsai Gallery of miniature trees and the seasonal floral show room that bursts into color several times a year. It is managed by the City of Cincinnati Parks Department and hosts various events and changing exhibits throughout the year.
Address: 1501 Eden Park Drive, Cincinnati, Ohio
Official site: https://www.cincinnatiparks.com/krohn/
11. Findlay Market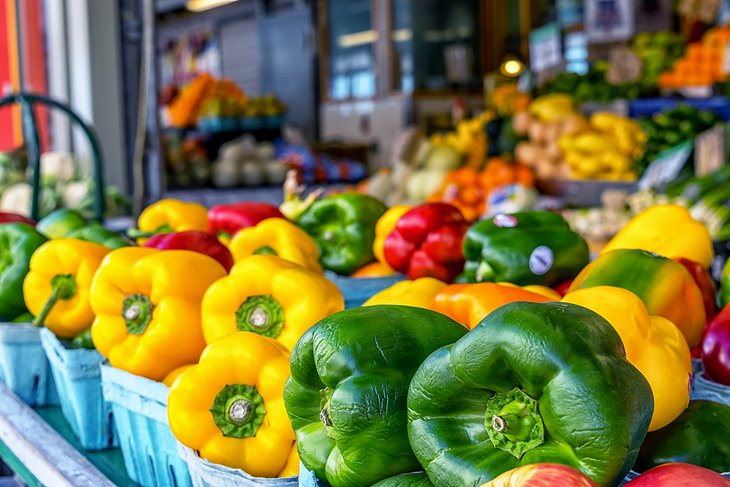 Findlay Market is a Cincinnati tradition that locals and visitors love to experience, and it has been operating in the same building since 1855. It is the central connection between Cincinnati's Uptown and Downtown. The market is where vendors congregate selling locally grown produce and artisan products.
Many of the merchants have roots that go back almost as long as the market has been open, so you are likely to see several generations of workers manning the stalls. Products range from flowers, pierogis, and chocolates, to meats, teas, and pet products.
Stay for a coffee or lunch from one of the food vendors or take a lunch to-go and enjoy the people-watching from a space outside.
You can enhance your visit to Findlay Market by going during one of the Music at the Market events that support local artists, or by reserving space in one of the cooking classes offered. The public market is open every day except Monday.
Address: 801 Race St, Cincinnati, Ohio
Official site: https://www.findlaymarket.org
12. Taft Museum of Art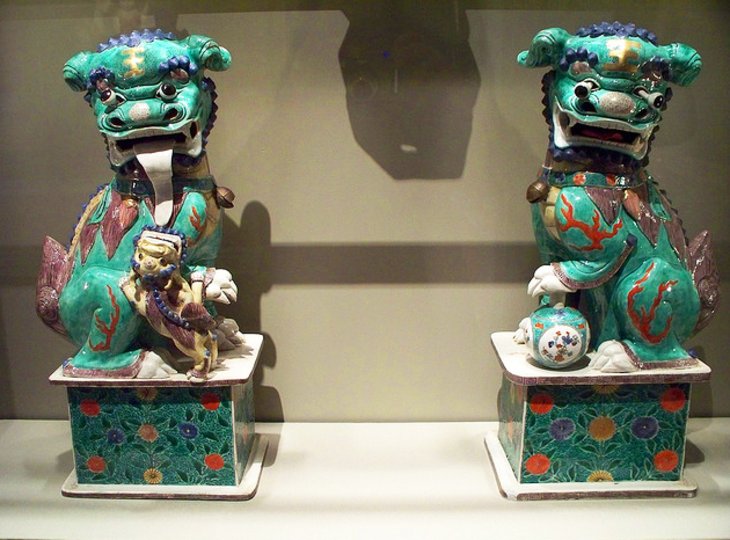 The world-renowned Taft Museum of Art in Cincinnati is housed in a majestic 1820 Palladian-style building called the Baum-Longworth-Taft House. It is listed as a National Historic Landmark and gives a sense of the grandeur of an earlier age.
The museum displays a small but impressive collection of paintings from Old Masters, European decorative arts, sculptures, and furniture, among many other pieces.
In front of the museum is a statue of Abraham Lincoln created by George Grey Barnard in 1917. It is regarded as Barnard's best work but was controversial at the time for its representation.
Barnard had hoped to portray a less-conventional image and show Lincoln more as a man of the people, and consequently the statue revealed Lincoln in a slouched stance wearing common, if not shabby, clothes.
The museum hosts regular educational talks and social events throughout the year.
Address: 316 Pike Street, Cincinnati, Ohio
Official site: http://www.taftmuseum.org
13. American Sign Museum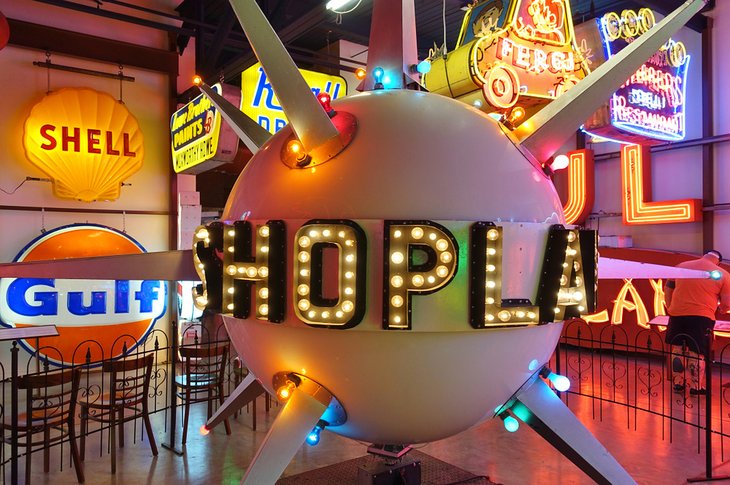 One of the hidden gems in Cincinnati is the American Sign Museum. This unique and colorful museum displays every type of sign imaginable throughout its 20,000 square feet of space. The "neon shop" shows sign makers busy at their craft during weekdays, and a museum tour gives a close-up look at the process.
The brightly lit signs are truly a feast for the eyes and a visual experience unmatched by other museums. Be sure to bring your phone–a self-guided audio tour can be downloaded for free, and headphones are available at the front desk. Alternatively, guided tours are also available.
Address: 1330 Monmouth Street, Cincinnati, Ohio
Official site: http://www.americansignmuseum.org/
Cincinnati, OH - Climate Chart
Average minimum and maximum temperatures for Cincinnati, OH in °C
J
F
M
A
M
J
J
A
S
O
N
D

3

-5

7

-3

13

2

19

6

24

12

28

17

31

19

30

18

26

14

19

8

12

3

6

-3

PlanetWare.com
Average monthly precipitation totals for Cincinnati, OH in mm.

69

58

89

97

114

94

83

88

77

71

89

77
Average minimum and maximum temperatures for Cincinnati, OH in °F
J
F
M
A
M
J
J
A
S
O
N
D

38

23

44

27

55

35

66

43

75

54

83

62

87

67

86

65

79

58

67

46

54

37

43

27

PlanetWare.com
Average monthly precipitation totals for Cincinnati, OH in inches.

2.7

2.3

3.5

3.8

4.5

3.7

3.3

3.5

3.0

2.8

3.5

3.0