12 Top-Rated Things to Do in Bloomington, Indiana
Surrounded by natural attractions and defined in large part by the campus of Indiana University, Bloomington is a landscaped city with many fun things to do. Fifty miles south of Indianapolis, this city of more than 80,000 offers community activities and access to some of the wildest environments in Indiana. Pedestrian-friendly and catering towards tourists, the B-Line Trail is one of the city's most popular places to visit. This converted railway corridor now connects walkers and cyclists to some of the top attractions in the city.
Along the B-Line Trail, places like the WonderLab Museum are worth a visit, and the downtown district, including Fountain Square Mall, is also nearby. Adjacent to Fountain Square Mall, Kirkwood Avenue provides more local establishments to discover and connects to the campus of Indiana University. Home of the Hoosiers, Indiana University Bloomington provides a multitude of community-orientated attractions and events, including Hoosier athletics and the tranquil surroundings of the IU Arboretum. Nationally known outdoor spaces, like McCormick's Creek State Park and Hoosier National Forest, also surround the city, providing easy access to enjoy the scenic nature of south central Indiana. Plan your next trip with our list of the top-rated things to do in Bloomington, Indiana.
1. McCormick's Creek State Park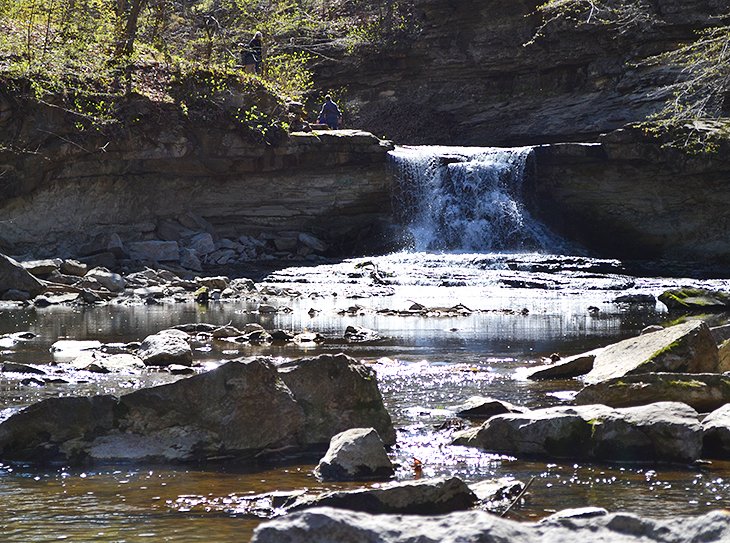 As Indiana's first state park, McCormick's Creek, just 15 miles northwest of Bloomington, provides beautiful scenery to explore. Limestone caves, rushing water, and dense forested landscapes can all be found at McCormick's Creek, as well as a shaded campground. Other popular attractions at the park include an Olympic-sized swimming pool, an exhibit-filled Nature Center, and a variety of accessible hiking trails. Visitors can also enjoy guided horseback rides from the Saddle Barn. Other overnight options besides camping include stays at the Canyon Inn within the state park, complete with lodge furnishings and front-door access to the great outdoors.
Address: 250 McCormick Creek Park Road, Spencer, Indiana
Official site: http://www.in.gov/dnr/parklake/2978.htm
2. Indiana University Bloomington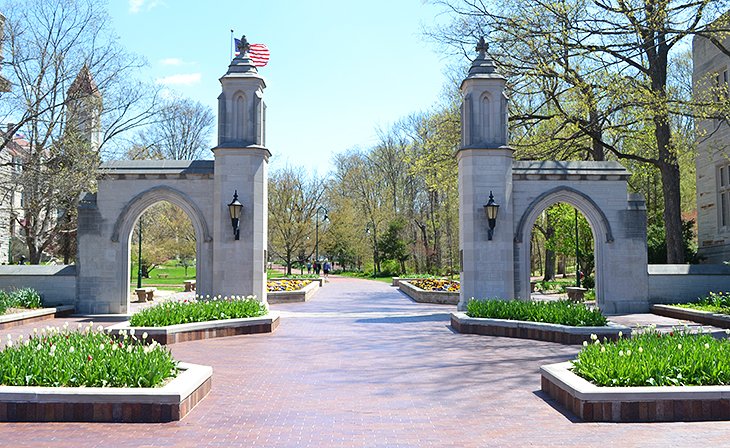 The flagship campus of Indiana University, and home of the Hoosiers, Indiana University Bloomington is a prestigious public institution with a strong connection to the community. The park-like layout of the campus is always fun to visit, with many scenic stops next to fountains, landscaped green spaces, and halls of academia ringing with history. Founded in 1820, Indiana University Bloomington has helped define the community for nearly two centuries, and this research university continues to provide many attractions for the public to enjoy today.
Catching a Saturday Hoosier football game at "the Rock," also known as Memorial Stadium, is a rite of passage for some Hoosier families, and the same can be said about Hoosier basketball at Simon Skjodt Assembly Hall. Interested observers may find themselves enjoying the open houses at the Kirkwood Observatory on campus, near the iconic Sample Gates, and the adjacent Fountain Square Mall and Kirkwood Avenue are popular with students and residents alike. Other inviting community attractions on campus include the Eskenazi Museum of Art, the IU Arboretum, and numerous free concerts that take place throughout the year.
Official site: https://www.indiana.edu/
3. Hoosier National Forest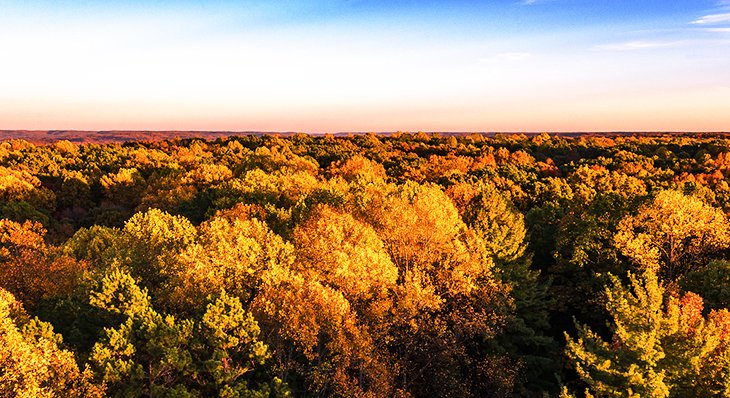 Encompassing more than 200,000 acres of natural habitat, the Hoosier National Forest provides true adventure to South Central Indiana. Spread across nine counties, the Hoosier National Forest is split between two natural regions of the state, with the northern portion easily accessed from Bloomington. This means that for city residents and tourists, escaping into the natural space is an easy thing to do.
The northern portion of Hoosier National Forest near Bloomington caters to a wide variety of recreation, including backpacking, fishing, scenic driving, rock climbing, and wildlife viewing. Numerous campgrounds can be found throughout the entire forest for both RV dwellers and primitive campers. One of the most scenic areas of the entire forest is the Charles C. Deam Wilderness, accessed from Bloomington with a 20-mile drive. Within this 13,000-acre, federally designated wilderness area, the only one of its kind in the state, wild hyacinths are known to bloom throughout the spring, and the roadless forest is ripe for exploration.
Official site: https://www.fs.usda.gov/hoosier/
4. B-Line Trail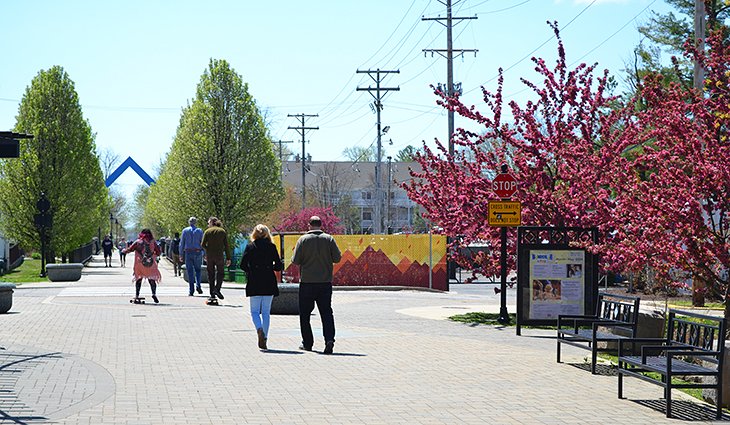 Providing an easy way to navigate the city without a car, the B-Line Trail is a paved pedestrian path, which stretches for 3.1 miles through Bloomington. Once a railway corridor, this 12-foot wide trail connects many of the city's top attractions and natural spaces. Downtown is a prominent stop on the B-Line, and walkers, cyclists, and non-motorized travelers can easily connect with the Farmers' Market, the WonderLab Museum, and countless city events and venues. Alongside the path, energy-efficient lights illuminate the trail from dusk to dawn, and intermittent fitness stations encourage even more exercise. Public art can also be found along the entirety of the trail.
5. Fountain Square Mall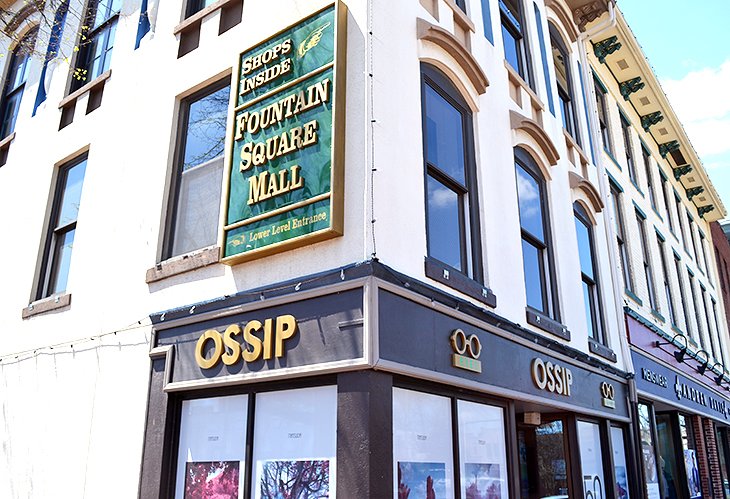 At the heart of downtown, less than a half mile from Sample Gates and the Indiana University campus, Fountain Square Mall is a historic building filled with many local shops to discover. Ranging from fashion and jewelry to health and fitness, including arts and hobbies, nearly every store within Fountain Square Mall is unique to Bloomington. Within the shopping space, a historic ballroom also beckons and can be rented out for special occasions.
Fountain Square Mall receives due credit for revitalizing the downtown area during the 1980s, and during any visit today, it's hard to imagine this bustling district ever needing an economic boost. Stemming in all directions from Fountain Square Mall, particularly on Kirkwood Avenue heading towards the university, a wide variety of storefronts and community institutions can be found. Local eateries, specialty shops, and boutiques line this area of the city, and throngs of students, tourists, and residents fill the sidewalks.
Address: 101 West Kirkwood Avenue, Bloomington, Indiana
Official site: https://www.fountainsquarebloomington.com/
6. WonderLab Museum of Science, Health & Technology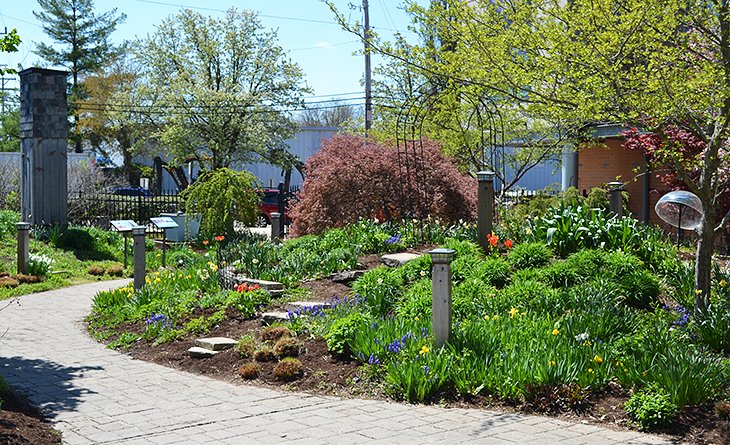 This downtown children's museum sparks the imagination with hands-on science activity and interactive exhibits. Easily accessed via the B-Line Trail, a few of the permanent exhibits at WonderLab include a Kaleidoscope Cave, Bubble Airium, and Hall of Natural Science. Outside on the grounds, the Lester P. Bushnell WonderGarden is a bountiful natural space filled with living exhibits. As part of the mission of this non-profit institution, WonderLab also offers a variety of programs, including STEM-oriented "IDEA Labs," adult social functions, and WonderCamps for kids.
Address: 308 West Fourth Street, Bloomington, Indiana
Official site: http://www.wonderlab.org/
7. Wylie House Museum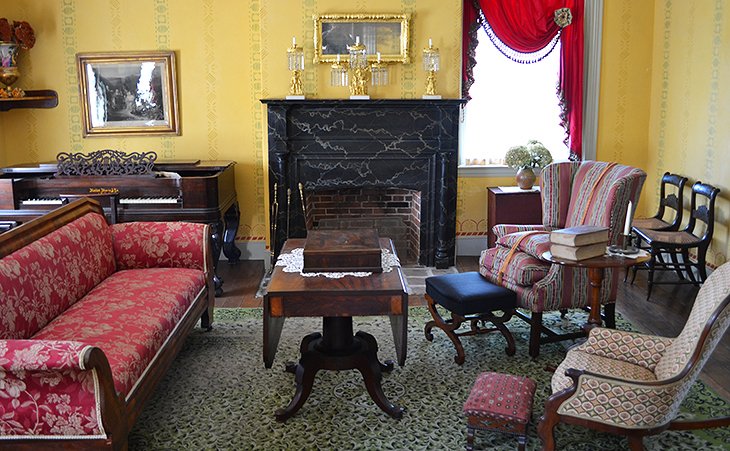 On the southern outskirts of campus, the Wylie House Museum is a historic home built and lived in by Dr. Andrew Wylie, the first president of Indiana University. Free guided tours of this 1835 home occur between 10am and 2pm Tuesday through Saturday. Upon entry to the home, the shock of time travel may occur, for the house still appears to support a 19th-century lifestyle, including many original artifacts. On the grounds outside, an heirloom garden provides even more to admire, and the neighboring Morton C. Bradley, Jr. Education Center provides deeper insight into various influential members of the Wylie family.
Address: 307 East Second Street, Bloomington, Indiana
Official site: https://libraries.indiana.edu/wylie-house-museum
8. Lake Monroe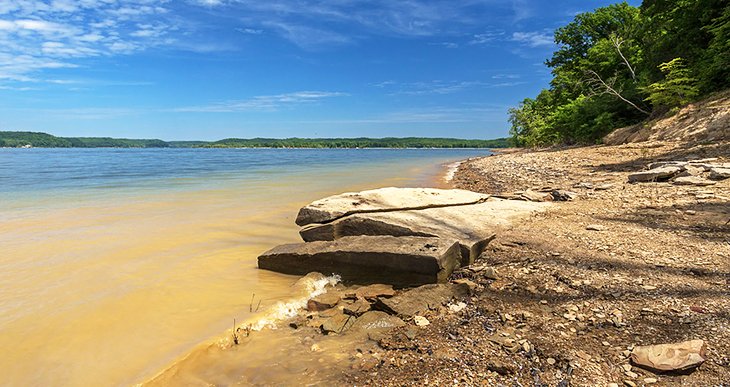 As the state's largest inland lake, Lake Monroe is a popular spot for water activities and exploring the shore. Boating, swimming, and fishing opportunities can be found throughout this massive man-made lake, and hiking trails sprawl throughout the forested environment surrounding the water. Located 15 miles from Bloomington, Fairfax State Recreation Area is a popular shoreside destination, with boat docks, a swimming beach, campgrounds, and resort offerings. Paynetown State Recreation Area is another popular spot near the water, with boat rentals, electric and non-electric campsites, and an interpretive center to learn more about the creation of the lake.
Address: 4850 South State Road 446, Bloomington, Indiana
9. Wapehani Mountain Bike Park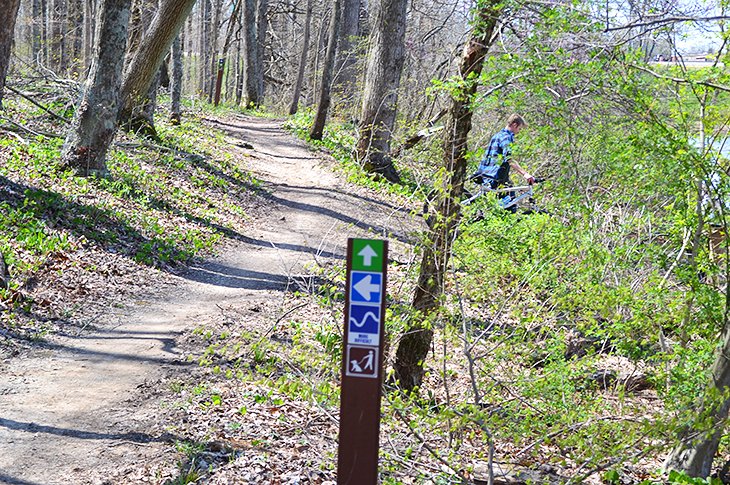 Southeast of downtown and the university campus, Wapehani Mountain Bike Park is one of the first of its kind in Indiana. Tucked away on a quiet 50 acres of land, the mountain bike park also caters to hikers, trail runners, mushroom hunters, and wildlife watchers. With nearly eight miles of trails, ranging from intermediate runs to more advanced downhills and obstacles, Wapehani sees plenty of traffic on the weekends and evenings. If you are planning to bike with friends, carpooling is a great option, as the gravel parking lot has enough room for maybe a dozen cars.
Address: 3401 West Wapehani Road, Bloomington, Indiana
10. Indiana University Arboretum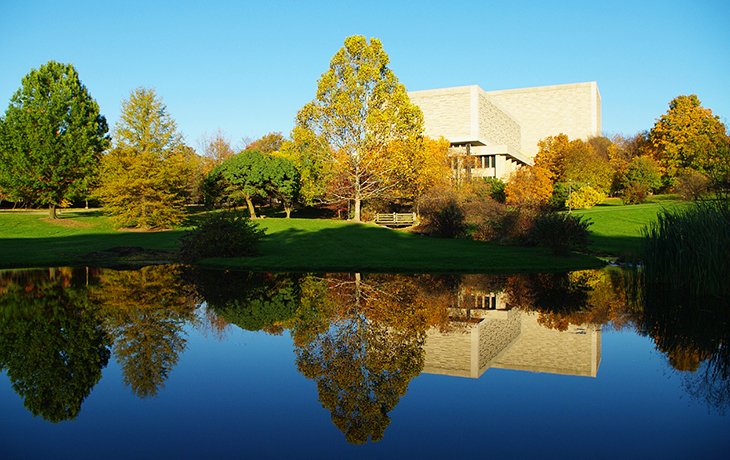 Now a welcoming natural space on campus, the current location of the IU Arboretum was once the site of the original Memorial Stadium. The IU Arboretum was first planted where the old stadium once stood in 1984, and the tranquil attractions of this common area have really grown into the space ever since. Also known as the Jesse H. and Beulah Chanley Cox Arboretum, named after two influential Hoosier alum, the fresh air and open space provide a great place to relax between classes for students and a fun area of campus for all community members to enjoy.
Address: East Tenth Street, Bloomington, Indiana
11. Lower Cascades Park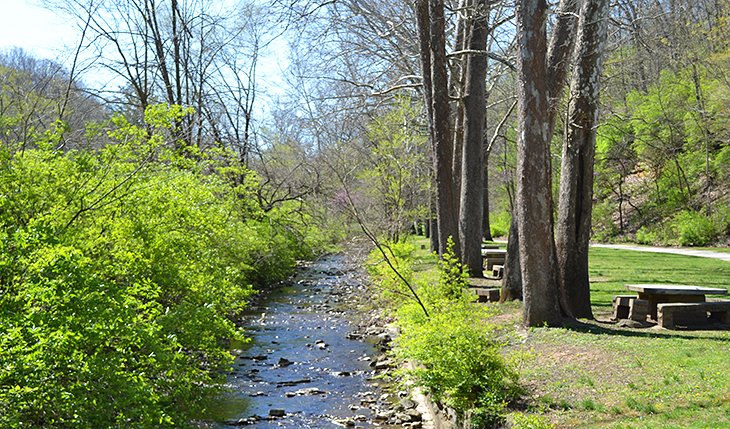 A relaxing space to get away, Lower Cascades Park provides a peaceful setting alongside many recreational outlets for the whole family. Children and kids tend to enjoy the large, fully accessible playground at Lower Cascades, and adults appreciate the rambling views of the landscaped creek nearby. Picnic shelters and creekside picnic tables make for a great place to enjoy a packed lunch, and the variety of open spaces are ideal for throwing a football around and other lawn activities. The Cascades Park Trail is a paved, non-motorized pathway that takes in the natural surroundings of the area.
Address: 2851 North Old State Road 37, Bloomington, Indiana
12. Tibetan Mongolian Buddhist Cultural Center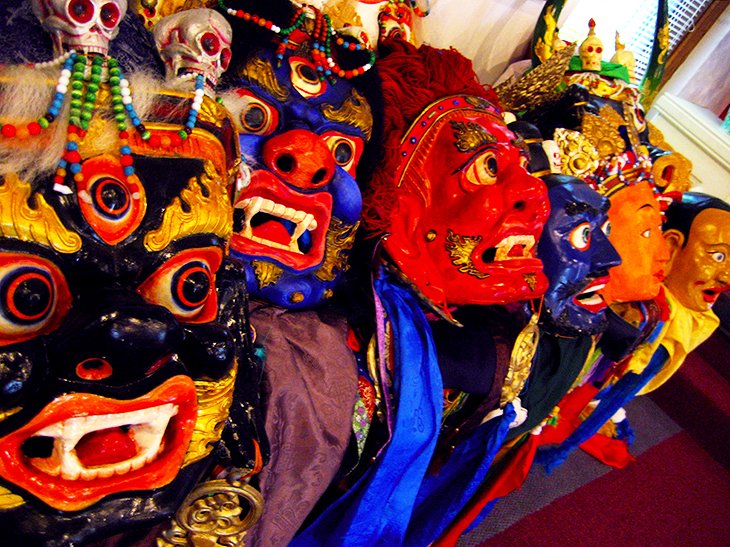 Located southeast of the city, halfway between downtown and Lake Monroe, this cultural center and monastery provides a unique look into a different culture, or for many that visit, a valuable resource to express their values. Founded in 1979, this cultural center has evolved over the years and now strives to preserve and nurture Tibetan and Mongolian culture in the United States. This inspiring campus provides classes, workshops, and opportunities such as summer retreats and weekly teachings including prayer, meditation, and yoga. The intricately decorated grounds are also available to tour and are reputed to provide a tranquil moment during the day.
Address: 3655 South Snoddy Road, Bloomington, Indiana
Official site: https://www.tmbcc.org/
Where to Stay in Bloomington, Indiana for Sightseeing
A good concentration of places to stay can be found directly downtown, with a few options located on the Indiana University campus. North of the city center, near Lower Cascades Park, affordable hotel options can be found, with more than a few offering first-class amenities and service.
Mid-Range Hotels: Located at the center of the city off Kirkwood Avenue, Hyatt Place Bloomington Indiana offers one of the best stays in the city. With a perfect location near the many shops and restaurants of downtown, and less than a mile from the Indiana University campus, Hyatt Place offers pet-friendly suites in stylish settings, as well as an in-house eatery and state-of-the-art fitness center. A few blocks from Hyatt Place, Springhill Suites Bloomington provides similar service with modern suites and a great downtown location. At the heart of the Indiana University campus, the Indiana Memorial Union Biddle Hotel and Conference Center is a historic hotel with superior service and comfortable rooms, as well as instant access to the surrounding university.
Budget Hotels: While not all budget hotels in Bloomington live up to the same standards, places north of the city center, like Cascades Inn, provide first-class service for affordable rates. The clean and comfortable rooms and friendly staff encourage repeat visits. On the east side of the IU campus, the Travelodge by Wyndham Bloomington also has a good reputation as an affordable hotel with first-class amenities like room service and free breakfast in the morning. South of the city, and closer to the Hoosier National Forest, the Economy Inn provides a clean place to stay at an affordable rate, including discounts for a extended visits.