12 Top-Rated Things to Do in Fort Wayne, Indiana
As the second largest city in Indiana, Fort Wayne casts a wide cultural net with many fun things to do. The real heartbeat of culture in the city is brought to life by Arts United of Greater Fort Wayne. Through community support and passionate interests, this organization helps oversee the Cultural District of Fort Wayne. This includes the Fort Wayne Museum of Art, the Arts United Center, and the History Center.
Arts United also helps put on some of the many festivals that take place in Fort Wayne each year, such as the iconic Three Rivers Festival in July.
With other important and attention-grabbing attractions dotting the city, including botanical gardens, baseball parks, and children's zoos, it's easy to see why Fort Wayne has a high rate of turning tourists into long-term residents.
For more ideas on fun places to visit on this leg of your Indiana trip, see our list of the best things to do in Fort Wayne.
See also: Where to Stay in Fort Wayne, Indiana
1. Fort Wayne Museum of Art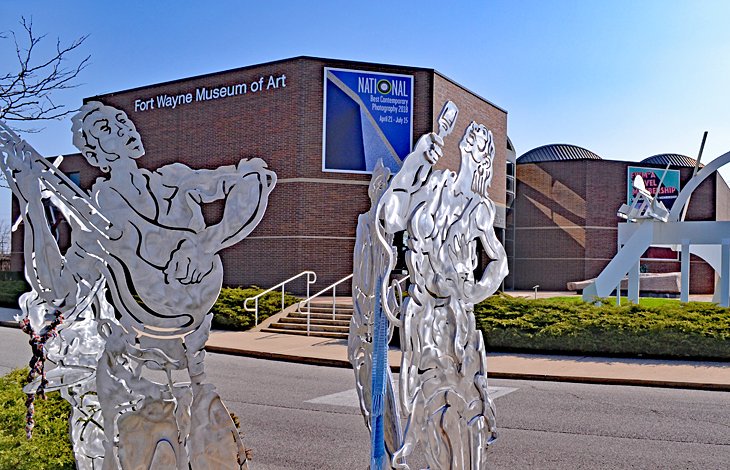 A cornerstone of Fort Wayne's Cultural District, and one of many institutions operated by Arts United of Greater Fort Wayne, the Fort Wayne Museum of Art (FWMoA) highlights a wide range of mediums in American art.
The museum hosts a collection of more than 7,000 paintings, sculptures, and delicate glass. Through its exhibits, FWMoA highlights Indiana Impressionists, world-famous painters, and artisan glass cutters.
FWMoA hosts a wide variety of programs, events, and classes throughout the year. Some of the events include art classes, internships, and a family-friendly Día De Los Muertos celebration every October. The museum also hosts a popular Chalk Walk in conjunction with the Three Rivers Festival every July, which transforms Main Street into a bustling art corridor and is enjoyed by thousands of people each year.
Address: 311 East Main Street, Fort Wayne, Indiana
Official site: https://www.fwmoa.org/
2. Parkview Field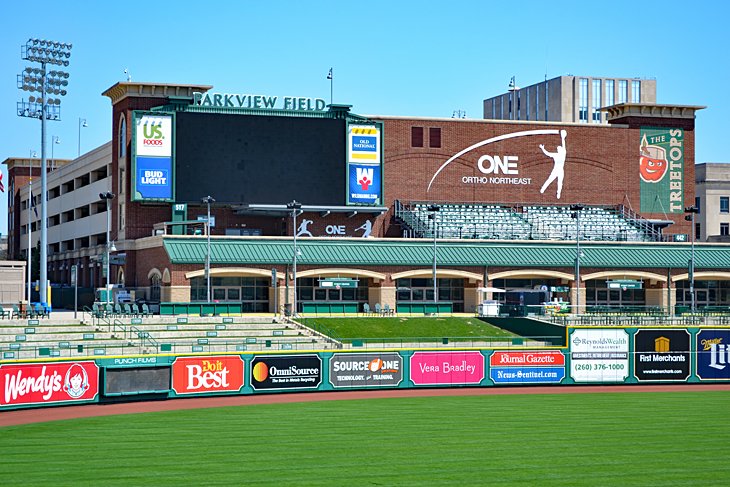 Home to the Fort Wayne TinCaps Minor League Baseball team, Parkview Field was constructed just before the 2009 season and has been a vital component of downtown ever since.
Noted as one of the best minor league baseball experiences in the country, Parkview Field also hosts concerts, fitness festivals, and more than 400 non-baseball events throughout the year.
Weather permitting, the concourse of the baseball stadium is open daily to the public for anyone wanting to stretch their legs on the track. With all the extra amenities this ballpark provides, the number one attraction will always be catching a late evening game under the lights. Extra special game attractions include post-play fireworks and between-innings crowd interactions.
Address: 1301 Ewing Street, Fort Wayne, Indiana
Official site: http://parkviewfield.com/
3. Headwaters Park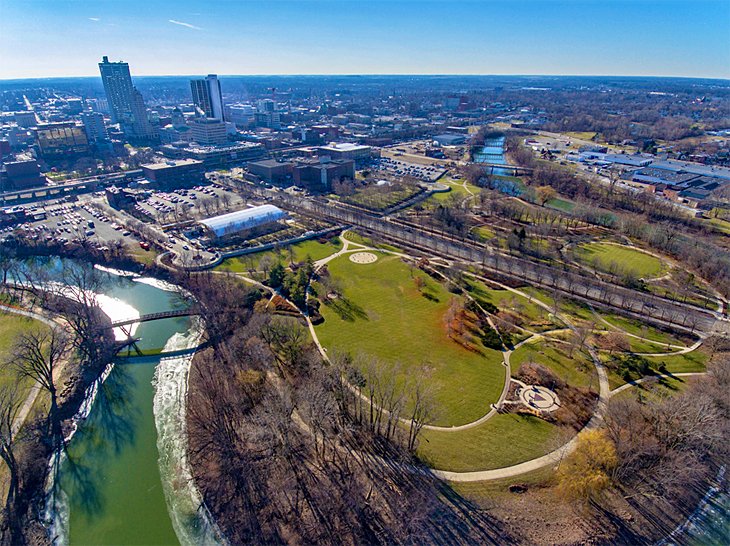 At the confluence of three major rivers, a mile north of downtown, Headwaters Park is a popular natural space often filled with community activity.
In addition to the year-round schedule of concerts and festivals, including the keystone Three Rivers Festival, the 30-acre park is also a popular place to simply enjoy the nice weather and river surroundings.
On-site, the Hamilton Sculpture Garden provides a landscaped space to appreciate. The large open-air pavilion at Headwaters Park can also be rented for private events. Throughout the colder months of the year, the popular Headwaters Ice Skating Rink is a fun place to enjoy the winter chill.
Address: 333 South Clinton Street, Fort Wayne, Indiana
4. Foellinger-Freimann Botanical Conservatory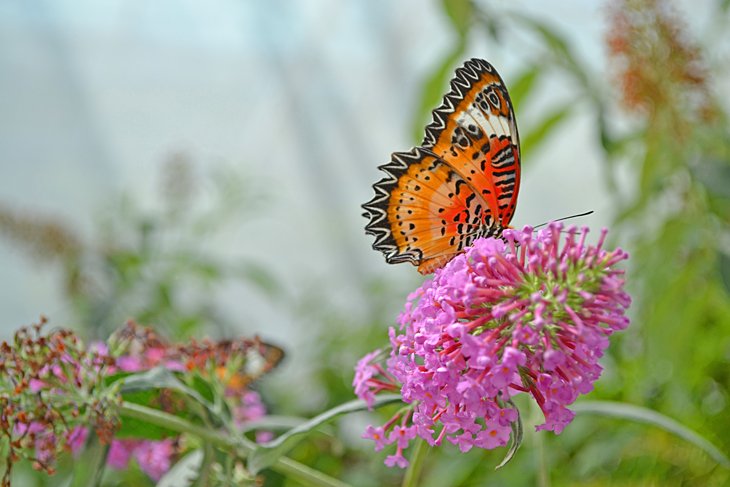 On the southside of downtown, near Parkview Field and the Fort Wayne Firefighters Museum, the Foellinger-Freimann Botanical Conservatory is a year-round tropical attraction. A great place for kids, families, and anyone interested in botanical beauty, this conservatory delivers with three distinct garden areas.
Cacti sprout in the arid environment of the Desert Garden, and the foliage of the Tropical Garden nearly overflows on the walkway adjacent koi ponds and a waterfall. The seasonal Showcase Garden rotates exhibits throughout the year, including an immersive Butterfly Garden in the spring.
Several classes and programs are offered at this botanical center, including plant swaps, artists' receptions, and grow-your-own activities. The Conservatory also hosts a low-cost $1 Night on the first Thursday of every month.
Address: 1100 South Calhoun Street, Fort Wayne, Indiana
Official site: http://www.botanicalconservatory.org/
5. Historic Old Fort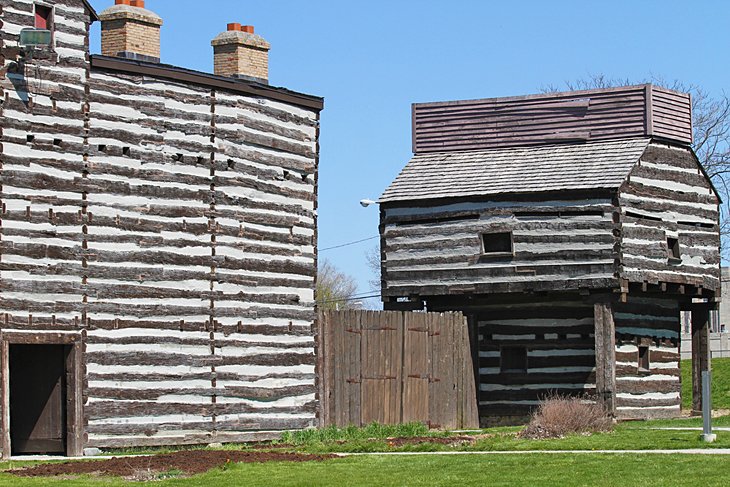 A reconstruction of the original 1815 Fort Wayne, this detailed "Old Fort" provides a fun place to visit and learn about the history of the area. Located across St. Marys River from Headwaters Park, this reconstructed historic fort is only a quarter mile from its original site.
As a public space, anyone is encouraged to explore the grounds on their own. To see the interior of the fort, and to participate in some of the live-action history that it sponsors, the non-profit organization that operates the fort hosts numerous special events throughout the year. Much of those events, like the annual Siege of Ft. Wayne reenactment, include costumed characters and guided tours.
Address: Rivergreenway, Fort Wayne, Indiana
Official site: https://oldfortwayne.org/
6. Arts United Center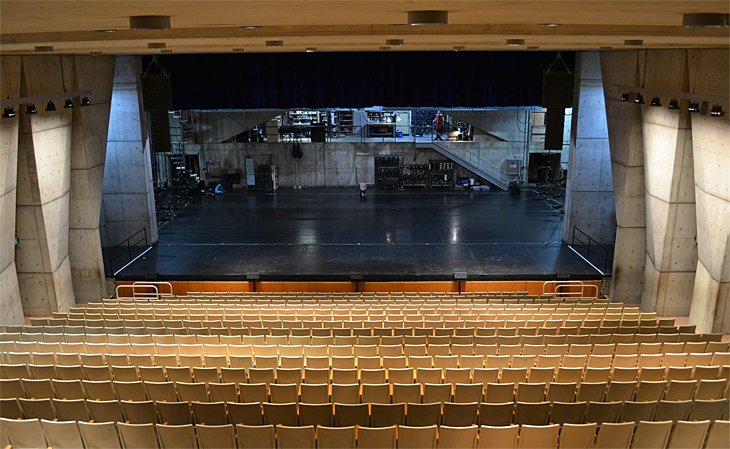 A crown jewel of the downtown Cultural District, the Arts United Center was created by world-famous architect Louis Kahn in 1973. As his last completed theater before his death, Kahn's influential designs are apparent throughout every sunlit corner and brick arch of this performance art and civic theater.
The main stage is surrounded by concrete to create a dramatic and isolating acoustic effect. This brilliant auditorium is home to the Fort Wayne Civic Theatre, the Fort Wayne Ballet, the Fort Wayne Dance Collective, and the Fort Wayne Philharmonic. Backstage tours are available upon request and shed a light on the architecture and design of the theater.
Address: 303 East Main Street, Fort Wayne, Indiana
Official site: http://www.fwcivic.org/
7. Science Central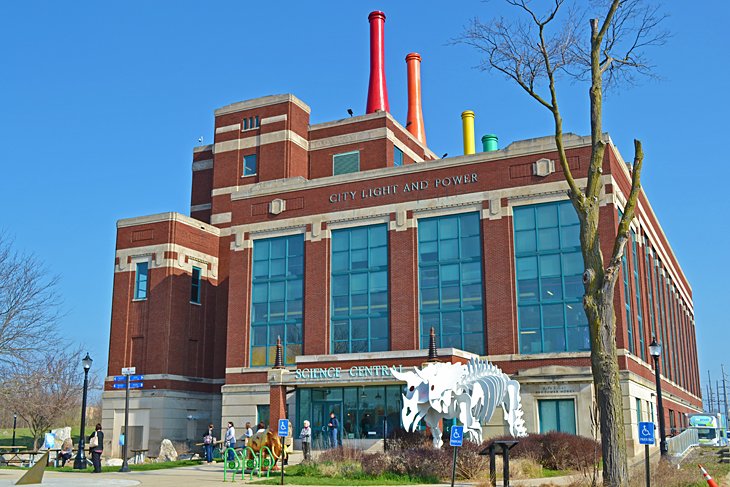 Housed in a retired 1908 coal-burning power plant, Science Central is a hands-on science museum catering to kids and interested members of the community. Science Central from the outside still has the appearance of the power plant it was originally designed as, save for the colorful smokestacks and faux dinosaur skeleton near the front door.
Inside the now historic City Light & Power building, more than 35,000 square feet of space helps introduce concepts of science to young children. One of the most exciting permanent exhibits at Science Central is the High Rail Bike, which safely teaches kids about gravity.
Science Central facilitates several learning activities and events throughout the year. A few of the programs offered at Science Central include STEM Camps, Coding Clubs, and an Afternoon Science Series.
Science Central is closed on Mondays and Tuesdays, and open both days of the weekend.
Address: 1950 North Clinton Street, Fort Wayne, Indiana
Official site: http://sciencecentral.org/
8. Three Rivers Festival
Much in thanks to its busy event calendar throughout the year, Fort Wayne is also referred to as the City of Festivals. From food festivals like the St. Joe Pickle Festival to cultural celebrations like Taste of the Arts and Pride Fest, there's something to enjoy nearly every weekend of the year in Fort Wayne.
Music plays a critical part of every Fort Wayne festival. Certain celebrations like Buskerfest and Middle Waves Music Festival cater specifically to it. Perhaps the biggest of all festivals to hit Fort Wayne, however, is the Three Rivers Festival in July.
With more than 80 scheduled events, the entire Three Rivers Festival takes place at the expansive Headwaters Park. Celebrations at the festival range from music concerts, massive parades, fireworks, to other fun things like pie-eating contests.
As the annual summer celebration of Fort Wayne for nearly 50 years, Three Rivers Festival is a longstanding tradition for residents and tourists from across the country.
Official site: http://threeriversfestival.org/
9. History Center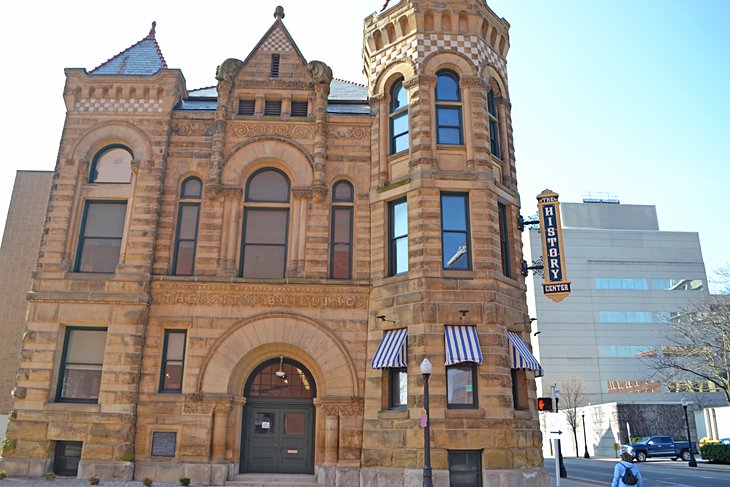 As part of the Arts United cultural campus, the History Center provides a dense collection of regional artifacts and insights. Home of the Allen County-Fort Wayne Historical Society, the museum features a collection containing more than 26,000 artifacts, including the 1893 City Hall building in which it resides.
Detailed exhibits at the museum tell a regional story spanning from native cultures to 20th-century technological innovations. A few of the permanent exhibits include a detailed representation of Miami Indian history in the area, as well as a recreation of a blacksmith shop and foundry. Further exhibits illuminate the more recent innovations to come out of the region, including music equipment and motorcycles.
Five miles south of downtown, the History Center also oversees the tours and events that take place at the Chief Richardville House. This 19th-century residence is the well-preserved mansion of one of Fort Wayne's most influential historical figures.
Address: 302 East Berry Street, Fort Wayne, Indiana
Official site: http://www.fwhistorycenter.com/
10. Fort Wayne Firefighters Museum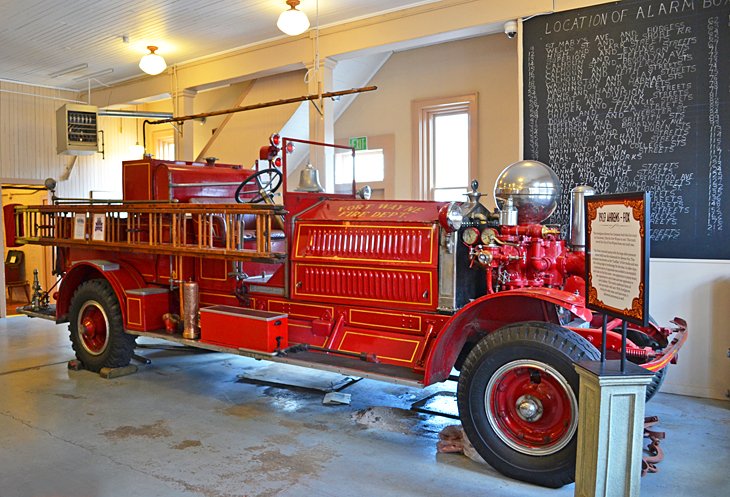 This fascinating museum can be found downtown near Parkview Field and the Foellinger-Freimann Botanical Conservatory, housed in historic Old Station #3.
Immediately upon entering this two-story museum, visitors encounter firefighting relics from a different generation. This includes antique red fire wagons and retired operating systems.
On the second story of the museum, more artifacts can be admired, and visitors can have a look into the lives and living quarters of modern firefighters. Every relic and artifact at the museum is accompanied by a wealth of information about that certain era of firefighting, providing great insight into one of the bravest professions on the street.
Address: 226 West Washington Boulevard, Fort Wayne, Indiana
Official site: http://www.fortwaynefiremuseum.com/
11. Eagle Marsh Nature Preserve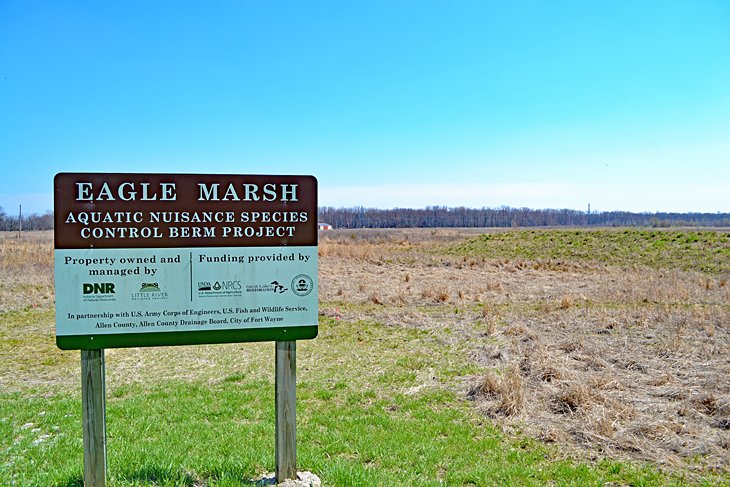 Located on the southwest edge of the city, Eagle Marsh Nature Preserve is a 756-acre restored mix-wetland environment. A great place to visit to spot wildlife in a natural habitat, the nature preserve maintains more than 10 miles of hiking trails to explore the different wetlands, meadows, prairies, and forests that comprise the area.
The preserve is owned and operated by the Little River Wetlands Project, which also oversees other similar preserves surrounding the city. The organization hosts several programs and ways to explore their properties, including organized runs, public hikes, and naturalist-led explorations.
Farther southwest, the Arrowhead Preserve and Arrowhead Prairie are also operated by the Little River Wetlands Project.
Address: 6801 Engle Road, Fort Wayne, Indiana
Official site: https://www.lrwp.org/eaglemarsh
12. Fort Wayne Children's Zoo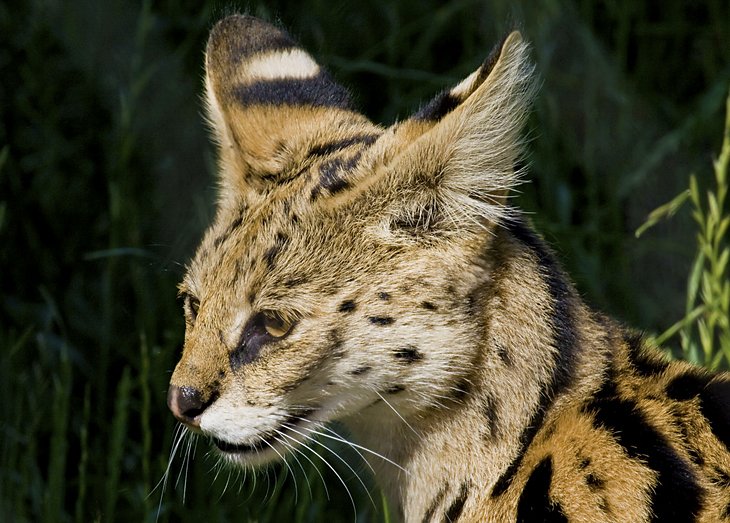 A few miles north of downtown, the Fort Wayne Children's Zoo is one of the area's most popular family-friendly places to visit. Serving the community for more than 50 years, the Children's Zoo has expanded to receive many accolades and more than a half million visitors each year.
Specialty themed areas and attractions at the zoo include an African Journey Safari Trail, an Australian Adventure River Ride, and an immersive Indonesian Rainforest. Some of the resident animals include orangutans, lions, kangaroos, Komodo dragons, zebra sharks, and Tasmanian devils.
Kids and adults can interact with animals through giraffe feedings and other scheduled "Wild Encounters." Other events and special programs offered by the Children's Zoo include Family Wild Nights, Kids Nature Camps, and adult-only galas and fundraisers.
Address: 3411 Sherman Boulevard, Fort Wayne, Indiana
Official site: http://kidszoo.org/
Where to Stay in Fort Wayne, Indiana for Sightseeing
With plenty of reasons to spend the night, Fort Wayne offers many different hotels to choose from. Most of the quality and name-brand hotels of Fort Wayne are in clusters surrounding the city and conveniently located off Interstate 69. Overnight options in downtown are also available and provide a great way to have instant access to the many surrounding attractions.
Mid-Range Hotels: One of the most upscale hotels in downtown Fort Wayne is the Courtyard by Marriott Downtown Fort

Wayne

. Connected to the Grand Wayne Convention Center and kitty-corner to Parkview Field, this nationally recognized hotel brand also offers an indoor pool, restaurant, and fitness center, as well as instant access to downtown.

Slightly south of downtown, Comfort Suites Fort

Wayne

offers another great stay, with spacious suites, free breakfast, and free airport transportation.

Near the Comfort Suites, Homewood Suites by Hilton Fort

Wayne

is another reputable option, with each suite offering kitchenettes, study tables, and plenty of room to spread out your things.
Budget Hotels: In all the hotel groupings of Fort Wayne, budget hotels can be found offering very affordable rates. With places like Extended Stay America - Fort Wayne -

South

, on the south side of the city, you not only receive a favorable rate, but the clean and spacious rooms will always encourage a second visit.

Closer to downtown, Quality

Inn

also delivers with a great rate, and the front desk staff has a good reputation for making sure you stay is comfortable.

On the far northwest side of the city, the WoodSpring Suites Fort

Wayne

offers the most space for the best value, with each modern suite equipped with kitchenettes and comfortable furniture. Special rates are available for extended stays at WoodSpring Suites.