Indiana in Pictures: 18 Beautiful Places to Photograph
With sand dunes, state parks, and a capital city filled with iconic images, the state of Indiana easily catches the eye. Spread throughout the Hoosier State, natural landscapes, including waterfalls, earthen mounds, and intricate caves invite photographers to take striking pictures, and the numerous lakes tend to really glow come sunset.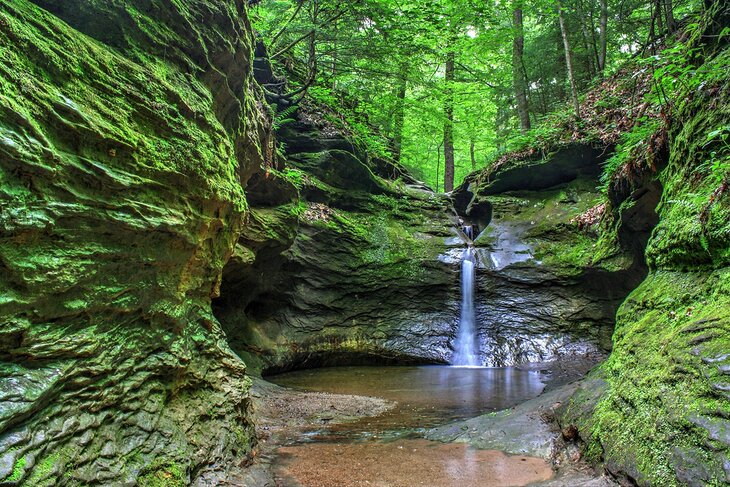 For other postcard-worthy attractions, places like Michigan City come with scenic lighthouses and sandy shores, and the Indiana Statehouse has featured an embellished exterior for over 100 years.
Get ready to capture some stunning pictures after reading our list of Indiana's most beautiful places to photograph.
1. Brown County State Park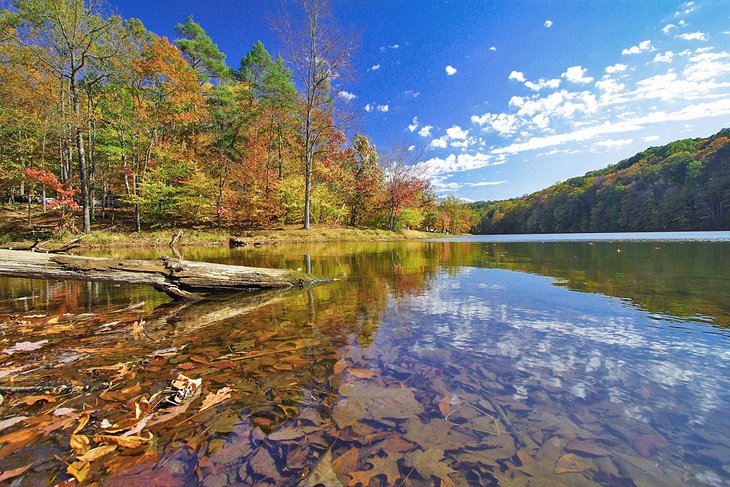 Just outside of Bloomington in the south-central part of the state, Brown County State Park is the largest state park of Indiana. Within this picturesque 16,000 acres of woodlands and waterways, just a few of the popular activities include hiking, camping, and sunset watching.
The area is particularly remarkable come autumn, when the changing foliage has a blended palette of fall colors that makes perfect pictures.
Accommodation: Where to Stay near Brown County State Park
2. Michigan City Lighthouse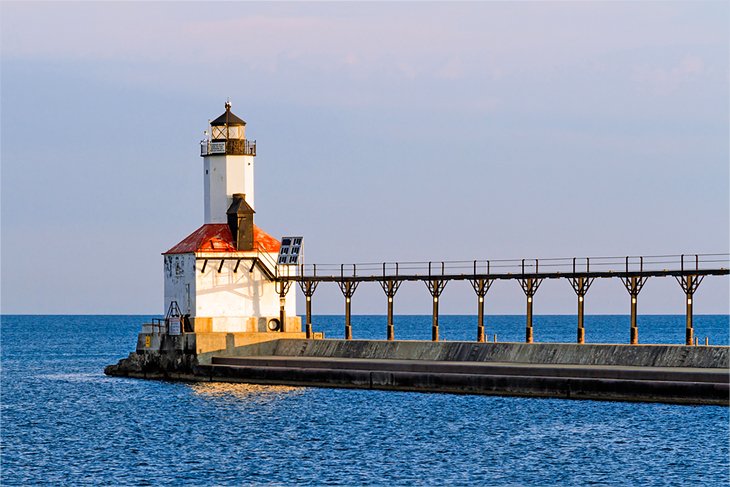 An inspiring symbol for painters, photographers, and anyone who enjoys a view, the Michigan City shoreline on Lake Michigan is nothing short of a postcard image. It's the century-old lighthouse that really adds to the scenic appeal, including an eye-catching "catwalk" used to access the facility.
Still in operation today, the Michigan City Lighthouse guides tourist and visitors to this charming lakeside community.
3. Monument Circle, Indianapolis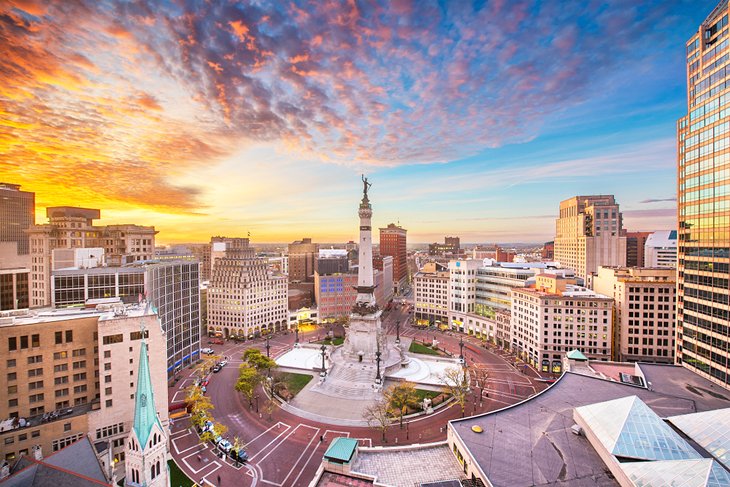 In the heart of Indianapolis, the towering Soldiers & Sailors Monument comprises the iconic downtown Monument Circle and a true symbol of the city. Surrounded by skyscrapers, bustling city streets, and plenty of spots to grab a seat, visitors to the monument can walk up the steps within the monument to access an observation deck with unbeatable views of the city.
Accommodation: Best Hotels in Indianapolis
4. Cataract Falls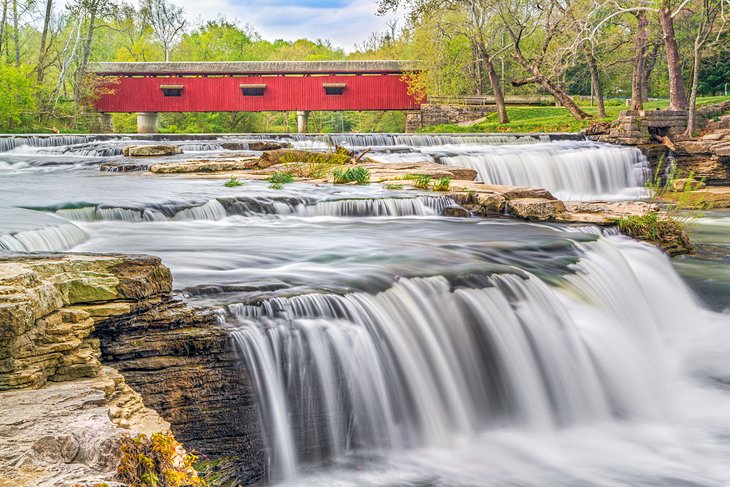 An hour southwest of Indianapolis, Cataract Falls is the largest waterfall in Indiana. Alongside the churning appeal, this set of two cascading waterfalls is surrounded by a scenic environment that takes on new color every season of the year. A covered bridge adds to the landscape and the area's sense of history.
5. Indiana Dunes National Lakeshore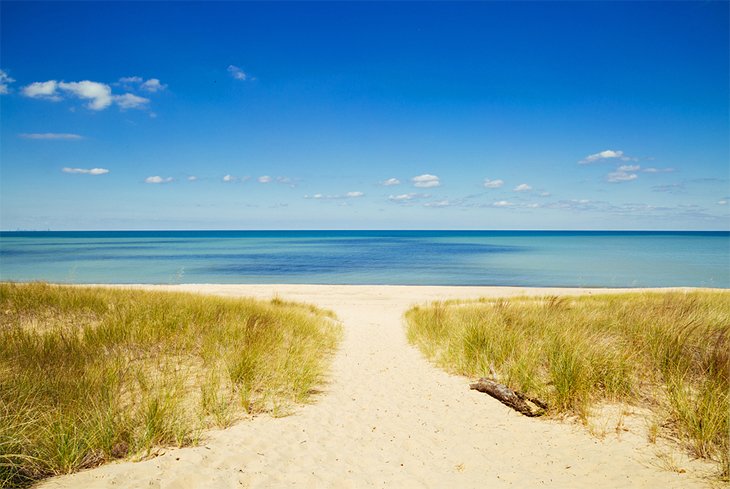 Adjacent to the Lake Michigan shoreline, Indiana Dunes presents a unique landscape found nowhere else in the state. From land-locked surroundings, great sand dunes suddenly appear at this nationally designated playscape, including dramatic views across Lake Michigan with ocean-like vistas. For a fun afternoon in the summer season, simply laying a towel down and enjoying the beach is always a fun way to go.
6. Marengo Cave U.S. National Landmark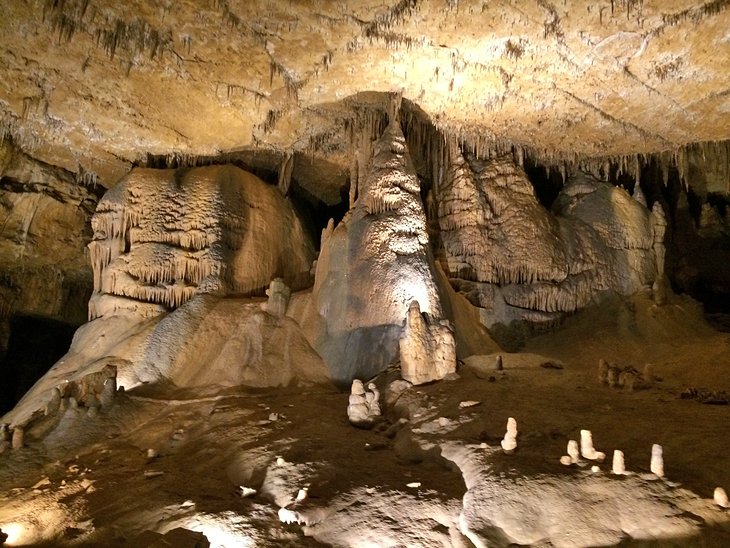 As one of Indiana's most visited natural attractions, Marengo Cave has a lot of appeal. Visitors to this privately-owned cave in the southeastern part of the state have plenty of room to move around on either of the two guided tours available, including trips into the Crystal Palace filled with thousands of cave formations.
Read More: Best Weekend Getaways in Indiana
7. Pokagon State Park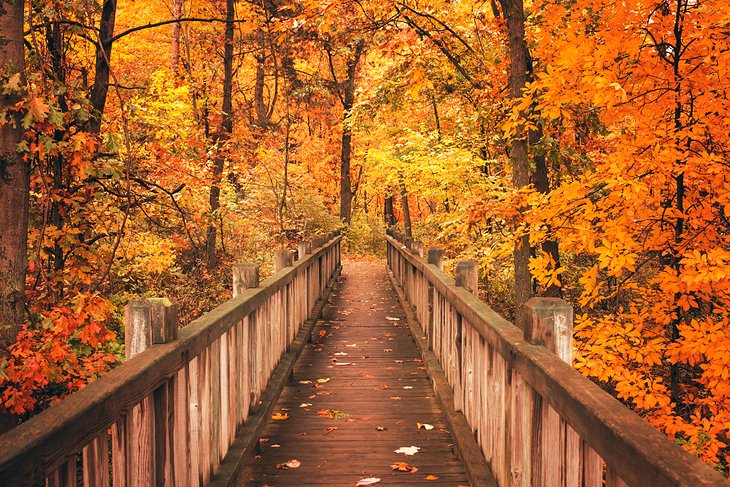 All four seasons of the year highlight the rich beauty of Pokagon State Park and the adjoining Lake James on the far northern border of the state. Come autumn, the dense woodland canopy transforms before winter drops the leaves and ushers in a new season of cross-country skiing and snowshoeing. Spring and summer offer plenty of opportunity to spot wildlife and lush, blooming vegetation.
8. Indiana Statehouse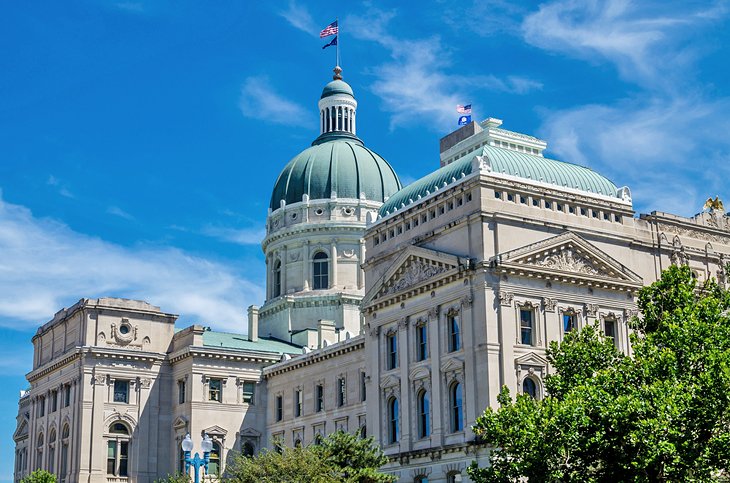 Built with Indiana limestone and white oak, the Indiana Statehouse was first constructed in 1888 with Doric-inspired architecture. Today, this stately government building remains a place of grandeur inside and out. Visitors to the capital city of Indianapolis can enjoy the embellished façade anytime of the day, with guided tours of the ornate interior available throughout the week.
9. Turkey Run State Park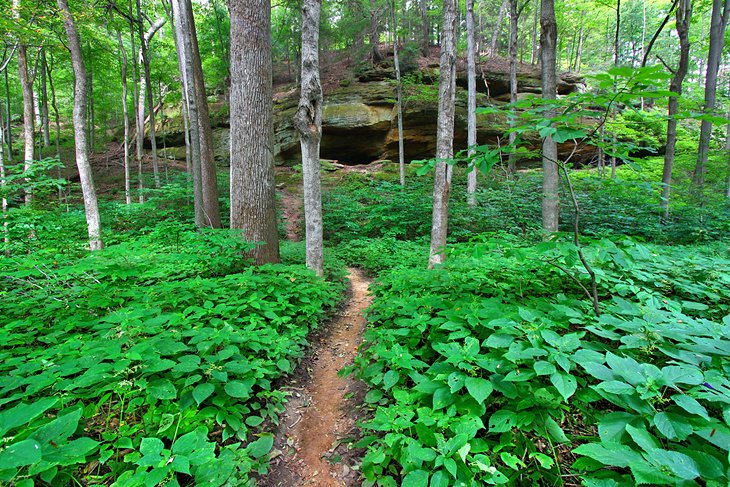 Featuring old-growth trees, deep ravines, and sandstone gorges, Turkey Run State Park is one of the most adventurous places to play in Indiana. In the west-central part of the state, numerous hiking trails cater to all levels of explorers at Turkey Run, including a few rugged options that send travelers down chutes and ladders.
10. Sample Gates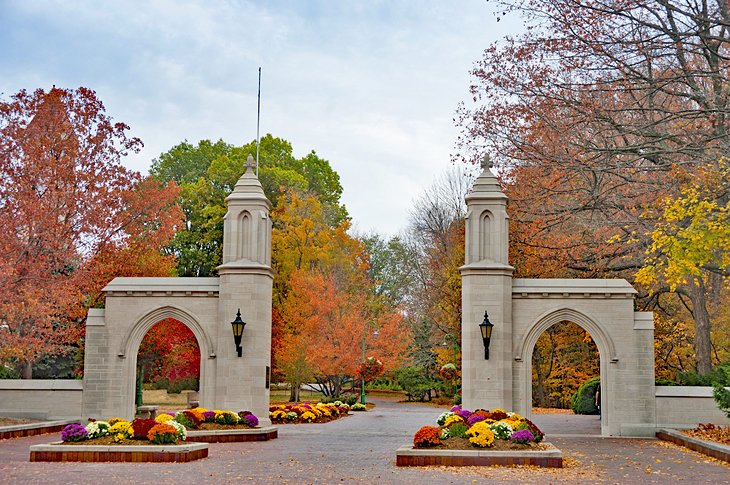 An iconic entranceway to Indiana University in Bloomington, the Sample Gates are admired by students, alumni, and members of the community alike. Surrounded by intricate hardscaping and meticulously tended gardens, Sample Gates leads deeper into the forested campus of Indiana University, including the many surrounding pedestrian trails and shaded spots.
11. McCormick's Creek State Park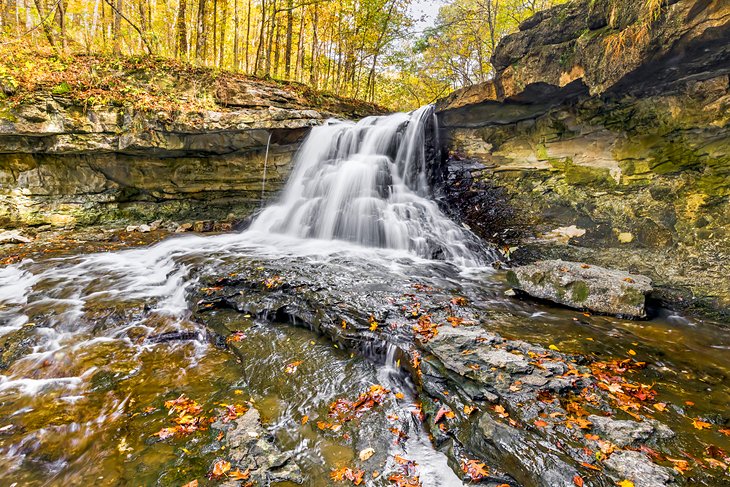 Just outside the scholarly city of Bloomington, McCormick's Creek State Park is a family-favorite destination for exploring outdoors. Featuring numerous eye-catching water features, including the park's namesake attraction, the woodlands of this state park also contain unique rock formations, miles of hiking trails, and some of the best campsites in the state.
12. Indiana Central Canal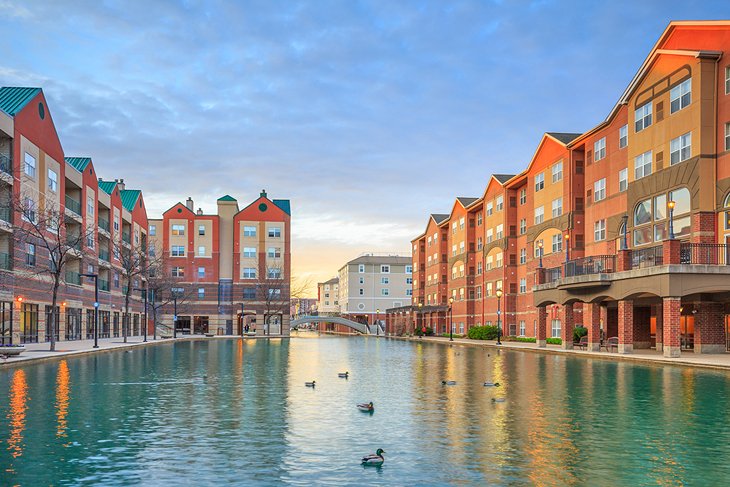 A waterway originally constructed in the 19th century to facilitate interstate traffic, the Indiana Central Canal is now a popular pedestrian corridor with city appeal. The downtown Indianapolis portion of the Indiana Central Canal and adjacent Canal Walk, in particular, is lined with chances to walk, cycle, and pedal-boat through the sights and sounds of the city.
13. Spring Mill State Park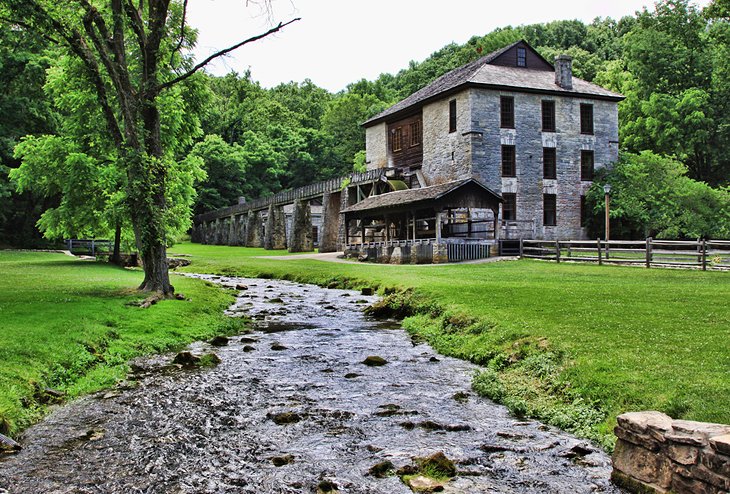 Near Hoosier National Forest in the southern part of the state, Spring Mill State Park offers visitors a vibrant landscape encompassing historic mills and rolling terrain. The summer really shines with color at Spring Mill State Park, as does springtime when everything is in bloom. Of notable eye-catching interest, the restored Pioneer Village within the state park features over 20 historic structures to admire.
14. Clifty Falls State Park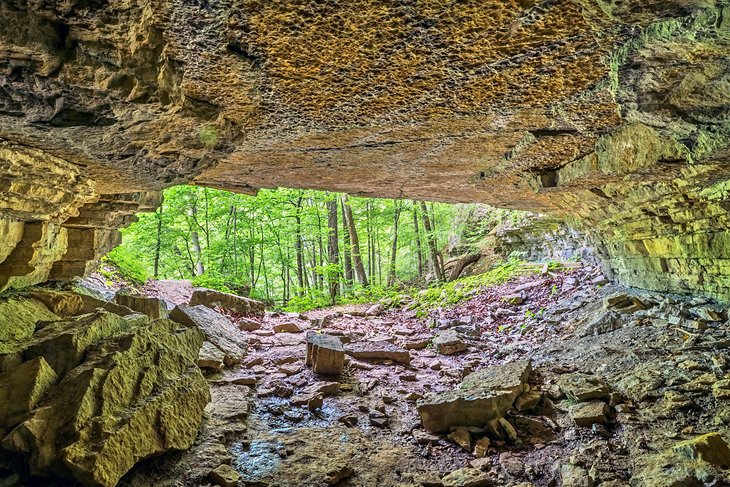 Encompassing nearly 15,000 acres in the southeastern part of the state, Clifty Falls State Park presents some of the best examples of moving water in Indiana. The waterfalls at Clifty Falls tend to adjust alongside the seasons, with spring and winter presenting the biggest flows. All four seasons of the year add scenic appeal to Clifty Falls, though, especially for those interested in hiking trails through lush forestlands.
15. Mounds State Park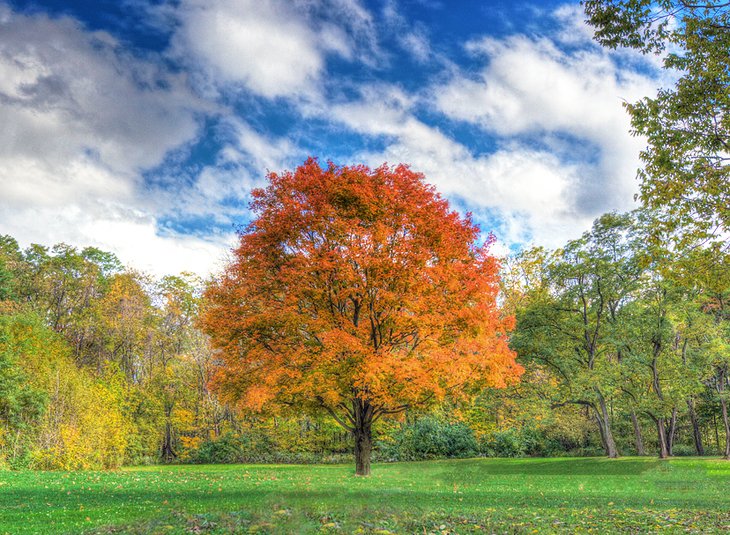 Along the White River in the central part of the state, Mounds State Park presents nine fascinating earthworks constructed by ancient civilizations of the area. Besides the rich history visitors encounter when exploring the forested environment, outstanding nature views inhabit every square mile of this state park. Overnight camping is available, so visitors can experience the entire day at Mounds State Park.
16. Coxhall Gardens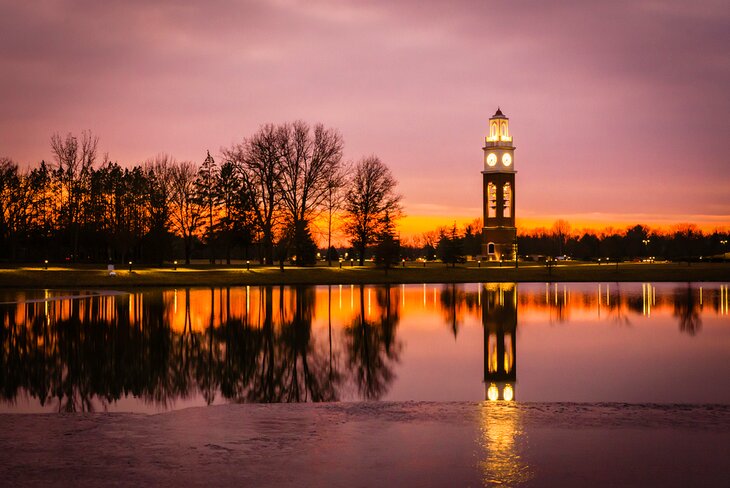 Coxhall Gardens is a beautiful natural space in Hamilton County, approximately 15 miles north of Indianapolis. It has several photogenic features spread throughout its 125 acres, including the gorgeous Centerpiece—a large amphitheater with tiered seating and babbling fountains nearby. Other photo-worthy spots in the park include twin bell towers, shimmering ponds, and several landscaped gardens.
17. Potato Creek State Park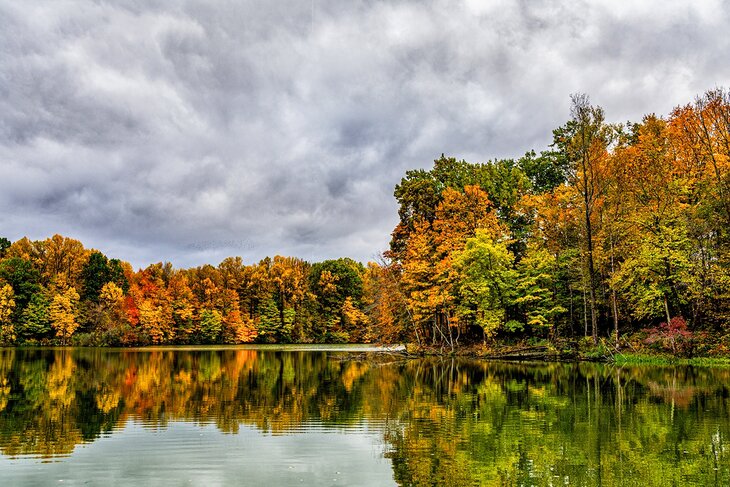 This popular state park encompasses lush scenery less than a 15-mile drive south of South Bend in north-central Indiana. The park's main focal point is the 327-acre Worster Lake. This beautiful body of water poses for pictures throughout the day, often with a reflective quality that captures the abundant foliage lining its banks.
Another surefire way to get some good images at Potato Creek State Park is by navigating its 9.7-miles of trail that explore the verdant woodland.
18. Griffy Lake State Preserve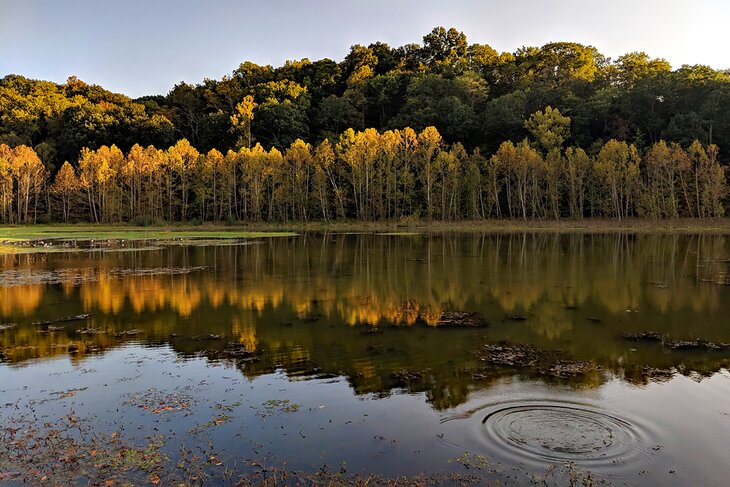 Griffy Lake Nature Preserve, also known as Lake Griffy, offers an easy escape into nature in the central part of the state. This reservoir is a quick 10-minute drive north of Bloomington. The main focal point of many pictures is the 109-acre lake itself, known for its still waters. But, the nature preserve encompasses over 1,000 acres total, adding several woodland scenes to photograph.