12 Top-Rated Things to Do in Lafayette, Indiana
Written by Brad Lane
Originating in 1825 and named after an influential French officer of the Revolutionary War, Lafayette has been attracting settlers, families, and tourists to Indiana for nearly 200 years. A wide array of cultural attractions and rich natural resources draw people to the greater Lafayette area, which also includes West Lafayette on the other side of the Wabash River, home of Purdue University (established in 1869). With its esteemed collegiate connections, deep historical roots, and perhaps most important of all, the friendly community, Lafayette is an inviting city to visit.
To explore some of Lafayette's history, places like Prophetstown State Park, the Tippecanoe Battlefield Memorial and Fort Ouiatenon help paint a picture of the city's past. Purdue University offers plenty of fun things to do for students and community members alike, and any Boilermakers athletic event always delivers on the academic spirit. For a taste of Lafayette culture and homemade goods, the downtown district hosts a variety of shops, restaurants, and community events like the Lafayette Farmer's Market. Surrounding natural attractions, including the Celery Bog Nature Area and the Wabash Heritage Trail, provide even more to explore outside.
1. Prophetstown State Park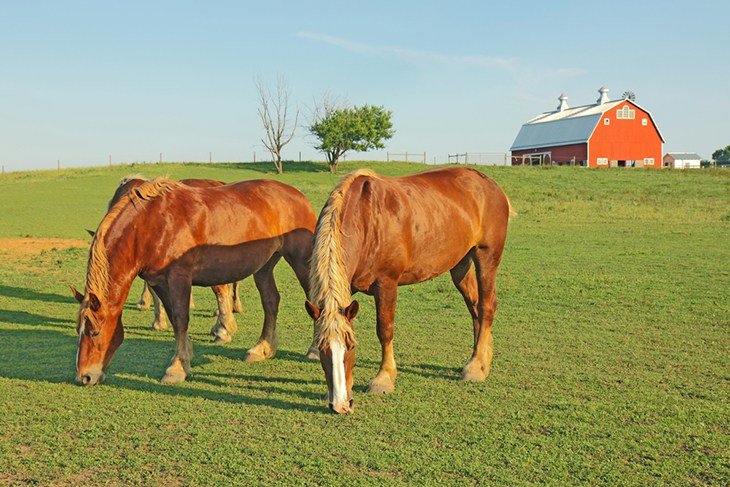 One of the newest additions to the Indiana State Park system, Prophetstown State Park is located less than 10 miles northeast of Lafayette. Family attractions within the state park include The Farm at Prophetstown, a living-history museum that highlights the history of homesteading and native cultures from the area. Prophetstown State Park Aquatic Center is also a popular place to be, especially during the summer, and this 4,200-square-foot leisure pool within the state park is accompanied by waterslides and a lazy river. A year-round campground is available at Prophetstown, with campsites ranging from RV-accessible to primitive tent camping only.
Address: 5545 Swisher Road, West Lafayette, Indiana
Official site: http://www.in.gov/dnr/parklake/2971.htm
2. Purdue University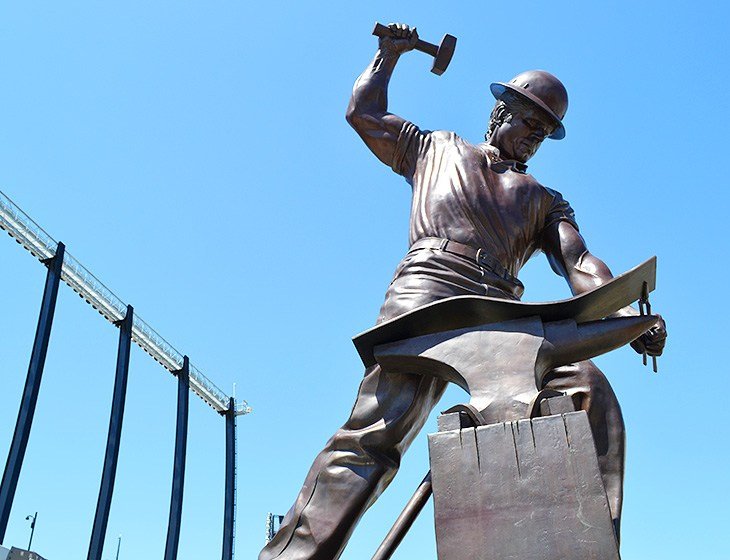 Located in West Lafayette, Purdue University was founded in 1869 and has been enriching the community ever since. This land grant university and flagship campus offers many avenues of education through various degrees and programs, and even more options with their statewide satellite programs. While the education here is top-tier, a large part of the appeal of this public institution is the community and culture that it fosters. From the retention of a young and educated populace to the wide variety of businesses, events, and public spaces that cater to the university crowd, Purdue University is as much a part of the greater Lafayette community as City Hall.
Much of the excitement of Purdue University can be experienced through Boilermakers sporting events. Saturday football games at the Ross-Ade Stadium are a longstanding tradition of the area, as are the home basketball games at Mackey Arena. A fun community event hosted by the university and a great reason to visit, is the annual Spring Fest in April, which features animals, arts, and insects. The Purdue Grand Prix is also a fun spectacle to watch and features students exercising their design and driving skills with custom-made go-karts on a 160-lap Grand Prix track.
Official site: http://www.purdue.edu/
3. Wabash Heritage Trail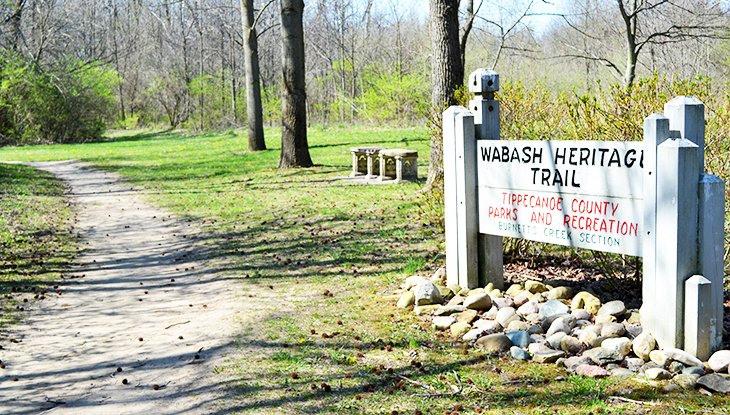 A great way to get outdoors and see some top attractions of the city, the Wabash Heritage Trail is a 13-mile pedestrian path that parallels the Wabash River. Beginning at the Tippecanoe Battlefield Park, the path heads south to connect with other public points of interest before ending at Fort Ouiatenon. Other prominent stops along the trail include Davis Ferry Bridge, McAllister Park, and Happy Hollow Park. With plenty of attractions worth stopping for, part of the fun of this river path is simply the scenic natural space lining the entire route, including a full canopy of tree cover during the summer.
4. Celery Bog Nature Area
Editor's Pick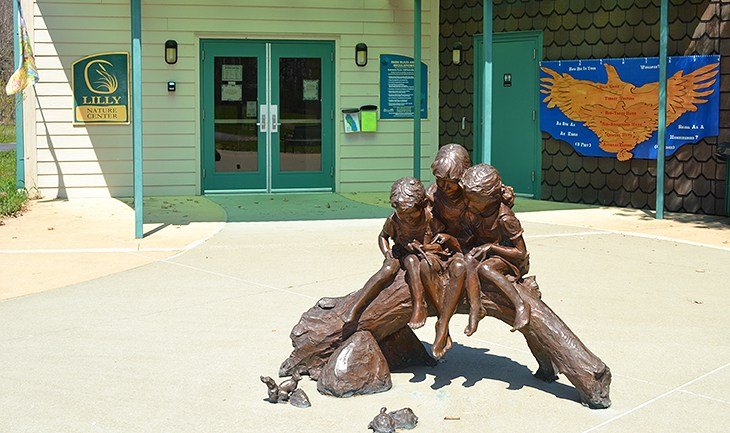 On the western edge of West Lafayette, this 195-acre public park encompasses wetlands, trails, and a nature center. With nearly seven miles of paved and natural trails to explore, many of which lead right to the edge of Celery Bog, it takes less than five minutes of walking to find yourself fully immersed in this nature area. Wildlife sightings of turtles, frogs, beavers, mallards, and herons are common near the water. Adjacent to the parking area of Celery Bog Nature Area, the Lilly Nature Center is open Wednesday through Saturday and provides many hands-on educational programs for kids to learn about the surrounding environment.
Address: 1620 Lindberg Road, West Lafayette, Indiana
5. Tippecanoe Battlefield Park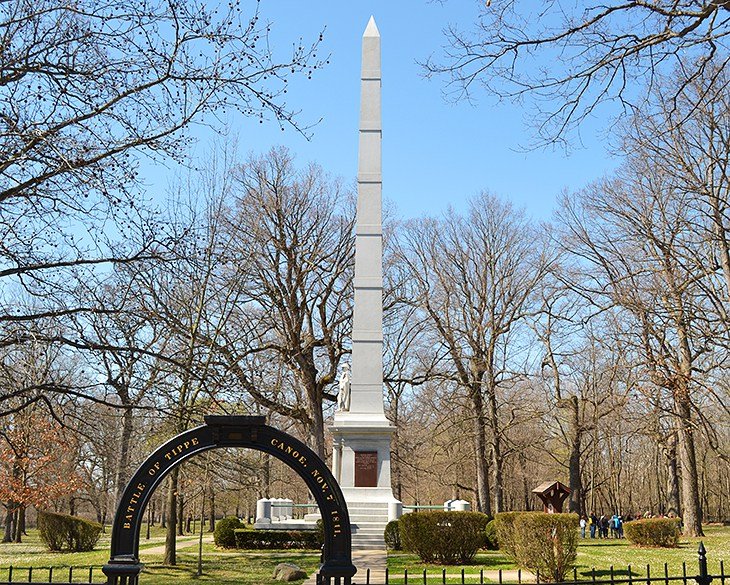 Adjacent to Prophetstown State Park, northeast of the city, the Tippecanoe Battlefield and Museum memorializes an 1811 clash between native inhabitants and new settlers. Now a 96-acre park, the first thing patrons see pulling into this National Historic Landmark is an 85-foot marble obelisk originally constructed in 1908. The on-site museum features exhibits and displays relating to the battle that took place on location more than two centuries ago. Hiking trails, picnic areas, and more interpretive information can be found throughout the park. The Battlefield Park is the northern terminus of the Wabash Nature Trail and is a great place to hop on and head south toward the city.
Address: 200 Battleground Avenue, Battle Ground, Indiana
Official site: https://www.tippecanoehistory.org/our-places/tippecanoe-battlefield-museum/
6. Downtown Lafayette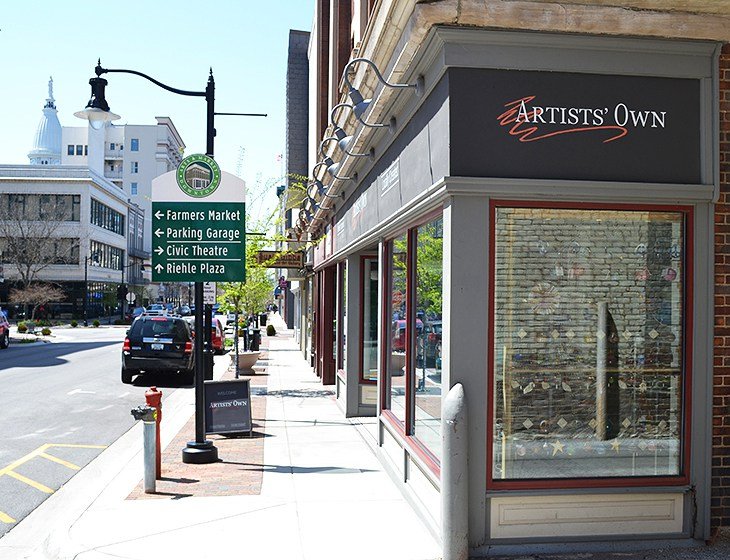 Home to many public events and fun things to do, downtown Lafayette is a foot-traffic friendly space with tons of art and culture to explore. City-commissioned and family-friendly art can be found spray-painted on the sides of buildings, and many colorful local shops and restaurants add to the palette. A popular downtown storefront is McCord Candies, a century-old corner store featuring handmade candies and lunch specials. Artists' Own is another popular venue, featuring a rotating gallery of local artwork and a cooperative work space.
One of the major draws toward the downtown district are the many events that take place throughout the year. The Lafayette Farmer's Market is always fun to check out on Thursday evenings from June through September, and the monthly Blue Monday Blues Jam Session for community fundraising is a great place to let your hair down. A few other well recommended community celebrations to check out include the 2nd Saturday ArtWalks and the various Downtown Alive! musical performances.
Official site: http://www.downtownlafayette.org/
7. Columbian Park Zoo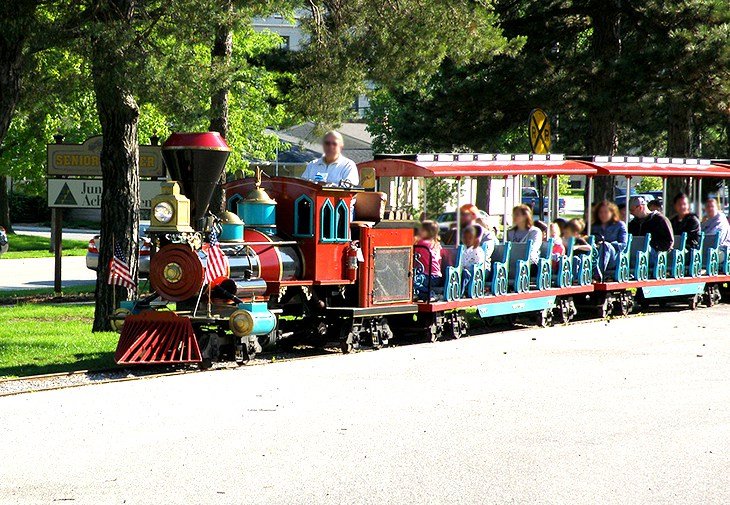 Close to downtown Lafayette, the Columbian Park Zoo has been a popular family attraction for more than 100 years. Throughout all that time, the zoo has received many additions and renovations that add to the rich experience you'll find at the park today. Special "Meet n' Greet" programs allow kids and adults to encounter a variety of species, and other fun attractions include a fountain plaza and the Columbian Park Express Train. Resident animals at the zoo include porcupines, bald eagles, wallabies, and spider monkeys. Adjacent to the zoo, Columbian Park is a fun public space filled with playground equipment and picnic shelters.
Address: 1915 Scott Street, Lafayette, Indiana
Official site: http://columbianparkzoo.org/
8. Wolf Park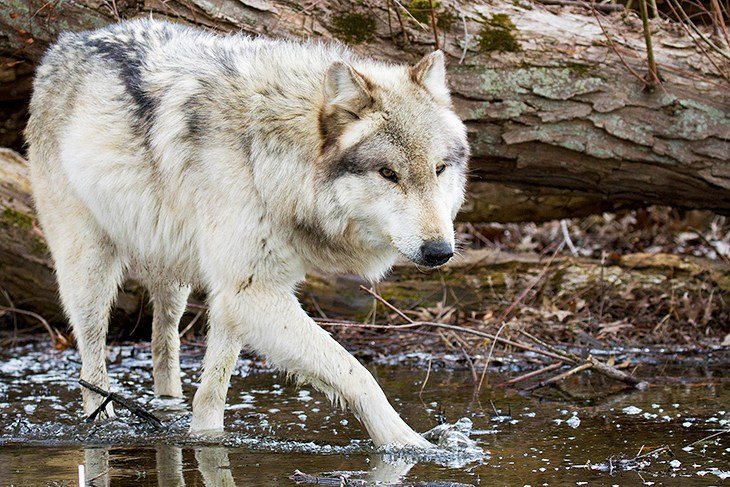 Ten miles north of Lafayette, in the neighboring town of Battle Ground, this research facility studies wolves and their behavior and is happy to share that research with the public. A variety of animals can be seen at Wolf Park, including coyotes, foxes, and bison. The best way to see all the animals is on a half-mile guided walking tour led by a staff member. Other special programming and events include Howl Nights, animal birthday parties, and kids' camps throughout the summer. Photography is allowed and encouraged alongside any tour, and an assortment of volunteer opportunities are offered by the park.
Address: 4004 East 800 North, Battle Ground, Indiana
Official site: http://wolfpark.org/
9. Fort Ouiatenon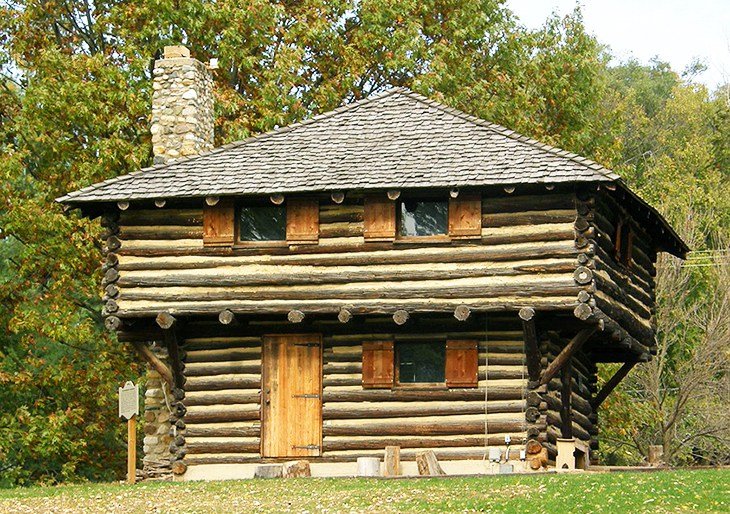 Located southwest of the city center near the Wabash River, this historical park and structure traces its roots back to an early 1700s French fur-trading post. Surrounded by scenic picnic space and shelters, the on-site replica blockhouse also serves as a living-history museum open for guided tours. Operated by the Tippecanoe County Historical Association, Fort Ouiatenon hosts special events throughout the year, including the annual Feast of the Hunter's Moon, which features thousands of costumed characters reenacting a Fall gathering. A concrete boat ramp at the park lends access to the adjacent Wabash River.
Address: 3136 South River Road, West Lafayette, Indiana
10. Clegg Botanic Gardens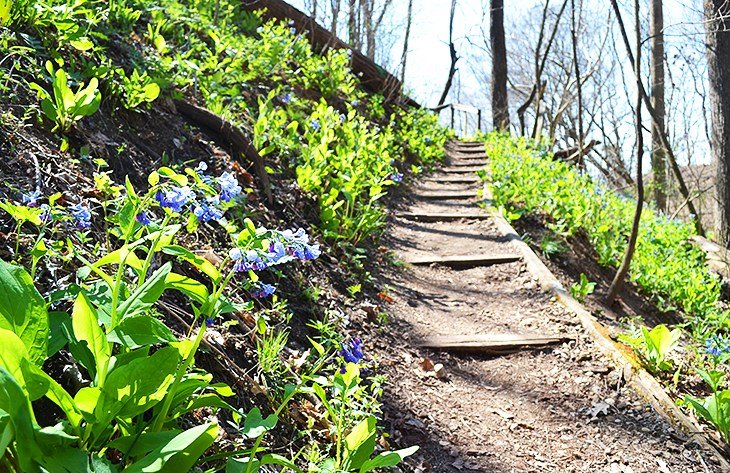 Maintained by the Niches Land Trust, this refreshing natural space can be found overlooking Wildcat Creek on the northeast outskirts of Lafayette. A great space for hiking and walking, the property features eight different trails with interpretive information, as well as viewing platforms. Various landscapes to explore at this admission-free preserve and gardens include woodlands, prairies, and riparian corridors. An abundance of wildlife can be found throughout the property, especially birds, and spring is a notably fun time to visit as the natural space is filled with colorful blooms throughout the season.
Address: North 400 East, Lafayette, Indiana
Official site: http://nicheslandtrust.org/index.php/portfolio/clegggarden/
11. Haan Mansion Museum of Indiana Art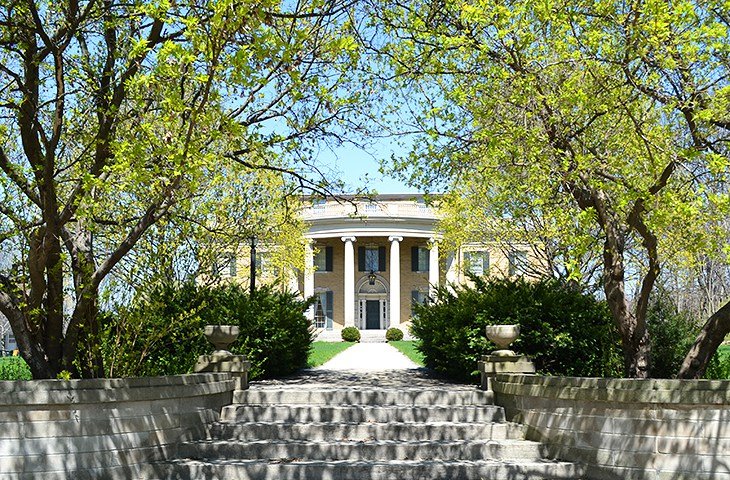 The impressive Haan Mansion that now houses one of the largest collections of Indiana art in the world was first built and used at the St. Louis World Fair in 1904. This 15,000-square-foot mansion was moved to Lafayette soon after, where it served as a personal residence for several years. Over time, an impressive collection of Indiana art began to accumulate in the mansion, and now this historic residence hosts a wide variety of acclaimed artists from across the state. As well as appreciating the art on a self-guided tour, the mansion itself, including the many pieces of 19th-century American-made furniture, is also part of the visiting experience.
Address: 920 East State Street, Lafayette, Indiana
Official site http://haanmuseum.org/index.aspx
12. Happy Hollow Park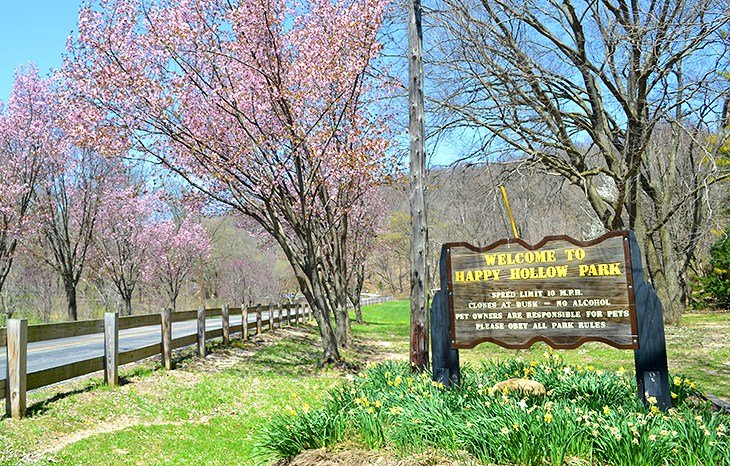 Located in West Lafayette near the Wabash River, Happy Hollow Park is a beautiful natural space perfect for picnicking, playground exploring, and hopping on a nearby trail. The large picnic shelters at Happy Hollow are perfect for a big occasion, and the personal picnic tables provide a good place to read or enjoy time out from the day. The two different playground sets cater towards different age groups, and each have fully accessible equipment. Happy Hollow is a popular spot to hop on the Wabash Nature Trail, and other hiking opportunities can be found nearby.
Address: 1301 Happy Hollow Road, West Lafayette, Indiana
Where to Stay for Sightseeing in Lafayette, Indiana
To accommodate visitors to Purdue University and the many city attractions, Lafayette provides a wide range of hotel options. Many nationally recognized and name-brand hotels can be found east of the city center near Interstate 65, and other great options can be found on both sides of the Wabash River near downtown.
Mid-Range Hotels: Near Interstate 65 and three miles east of downtown, the Courtyard Lafayette is one of the top-rated hotels in the city. The high rankings of this nationally recognized hotel brand come from the consistently clean rooms, friendly front-desk staff, and the overall comfort of the hotel's common spaces. Across the street from the Courtyard, Homewood Suites by Hilton Lafayette provides similar stellar service with even more space to spread out your things. Big enough for the whole family, the rooms at Homewood Suites include kitchenettes, work spaces, and comfortable furniture. On the west side of the Wabash River, closer to Purdue University, Hampton Inn & Suites West Lafayette also provides a quality stay, with an indoor pool, fitness center, and breakfast every morning.
Budget Hotels: Amid the wide selection of hotel options in Lafayette, a few places provide comfortable amenities at an affordable rate. Near Interstate 65, the Red Roof Inn Lafayette is one of the best budget hotels you can book, and thanks to the clean and comfortable rooms at a great value, this national hotel chain receives plenty of repeat visits. Across the street, the Super 8 Lafayette also provides competitive prices and clean rooms, as well as free Wi-Fi, a fridge and microwave, and free breakfast with each stay.