12 Top-Rated Things to Do in Bloomington, Illinois
Bloomington is a diverse city in the heart of Illinois, with a welcoming community. Abraham Lincoln spent time in Bloomington during his career, and the city celebrates that past with historic homes and tons of interpretive information.
The "Main Street of America," also known as Route 66 runs through Bloomington on its way from Chicago to Santa Monica.
With its prominent place in history, Bloomington celebrates its past and offers many fun things to do. A great first stop in Bloomington is the McLean County Museum of History, housed in the architecturally impressive Old Courthouse building.
Encompassing the Museum of History, the larger cultural district of Bloomington provides many other community attractions. Both the Castle Theatre and the Bloomington Center for the Performing Arts are great places to catch a show, and the Bloomington Farmers' Market can be found nearby every Saturday throughout the spring, summer, and fall.
When talking about Bloomington, it's impossible not to mention Normal, Bloomington's twin city to the north. This vibrant neighbor is home to Illinois State University, the Normal Theater, and a cultural "uptown" district that adds even more appeal to the Bloomington-Normal community.
Make the most of your time with our list of things to do in Bloomington, Illinois.
1. McLean County Museum of History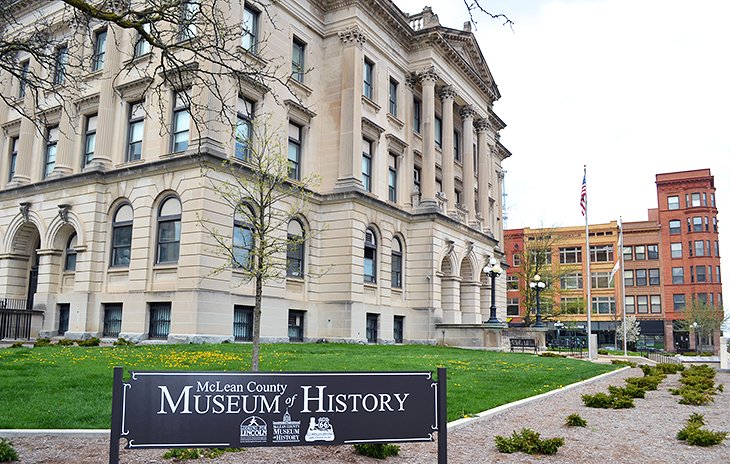 Housed in the early 20th-century old McLean County Courthouse, this cultural museum features five permanent exhibits and two rotating galleries. Over 20,000 historical objects are on display including rare books, historical papers, and a large collection of photos. Each exhibit relates to moments in McLean County history, including Abraham Lincoln's involvement in the area.
There's an exhibit about the Old Courthouse itself, where patrons can learn more about the American Renaissance-style building they find themselves in. On the ground floor of the museum, the Cruisin' With Lincoln on 66 Visitor Center provides a good introduction to the historic highway that passes through the city.
The museum is open seven days of the week and offers free admission every Tuesday.
Address: 200 North Main Street, Bloomington, Illinois
Official site:http://www.mchistory.org/
2. David Davis Mansion State Historic Site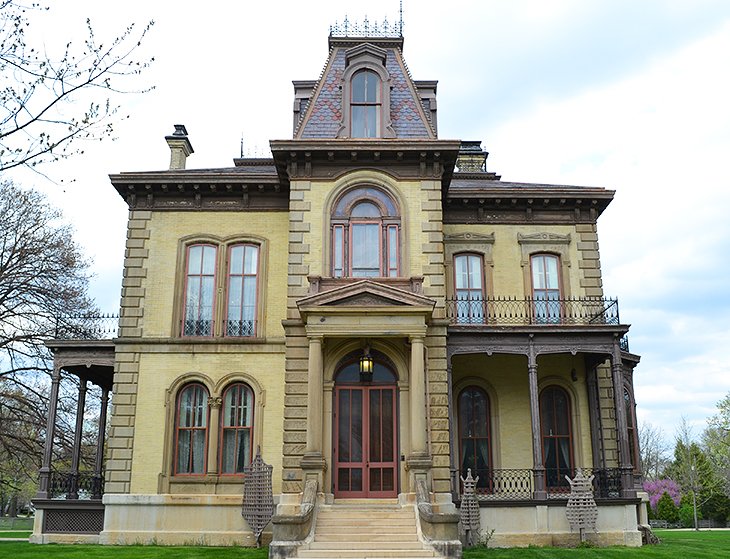 Constructed between 1870 and 1872, this three-story Victorian mansion was once home to a prominent jurist and close ally of Abraham Lincoln.
David Davis spent time as a Supreme Court Judge and United States Senator, with much of his political success connected to his wife, Sarah Davis, who was also an influential member of the community. Together, they lived out their lives at this estate, also known as Clover Lawn, and cemented their legacy for generations to come.
Now on the National Register of Historic Places, you can visit and tour the preserved home Wednesday through Saturdays. Tours include preview of 35 rooms adorned with period antiques and decorative art. Guided tours are available between 9am and 4pm.
Surrounding the historic estate, Sarah's Garden has been tended to meticulously by the city and is reason alone to visit.
Special events and seasonal decorations occur at the mansion throughout the year, including antique auto shows, garden walks, and holiday lights. The annual Glorious Garden Festival Garden Walk each spring is always a popular event in the community.
Address: 1000 Monroe Drive, Bloomington, Illinois
Official site: https://www.daviddavismansion.org/
3. Bloomington Center for the Performing Arts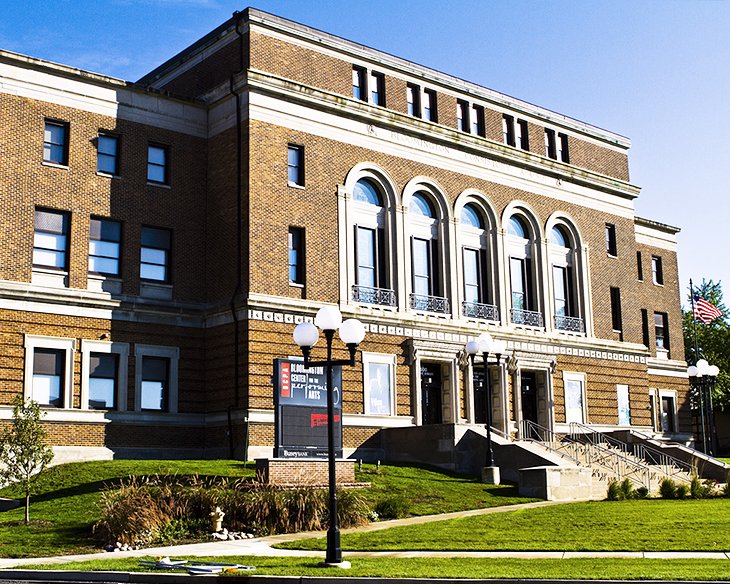 An anchor of the downtown cultural district and home to more than 500 events a year, the Bloomington Center for the Performing Arts (BCPA) provides a stage for local artists and nationally acclaimed performances. A wide range of entertainment can be experienced within the 1,200-seat auditorium, including Summer Solstice Concerts, Broadway shows, and special holiday performances.
The BCPA also hosts a varied arts education series. Curriculum at the Performing Arts Centers includes classes, lectures, and seminars. For aspiring thespians, the BCPA sponsors the annual Miller Park Summer Theatre program and holds auditions for the annual outdoor summer musical.
Address: 600 North East Street, Bloomington, Illinois
Official site: http://www.artsblooming.org/
4. Illinois State University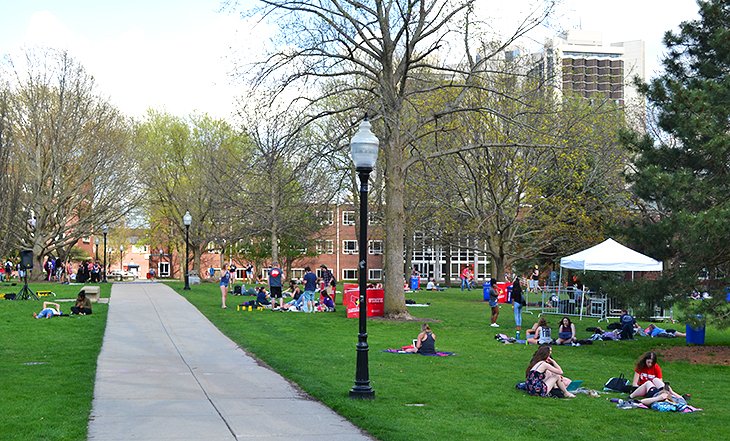 The oldest public university in Illinois, Illinois State University (ISU) helps define the town of Normal just north of Bloomington. The university has also been a key cultural element in Bloomington since its founding in 1857.
Illinois State University is centered around The Quad, a well-manicured green space lined with sidewalks, students, and an abundance of trees. Within the Quad and the rest of campus, thousands of trees and hundreds of species give ISU an aesthetic appeal, as well as an arboretum status and designation as a Tree Campus USA.
Illinois State University Redbird sporting events are always fun, and different festival-type occasions take place at The Quad throughout the year. The University Galleries adjacent to campus provide a premier venue for contemporary art in the Midwest, and the Gamma Phi Circus, the oldest collegiate circus in the country, displays their acrobatic prowess every April.
The town of Normal caters to the college crowd. Throughout the colorful streets are unique record shops, yoga studios, local restaurants, and an indie-movie house known as The Normal Theater. The university also gives the region a notable younger appeal, which is especially apparent downtown on weekends.
Official site: https://illinoisstate.edu/
5. The Castle Theatre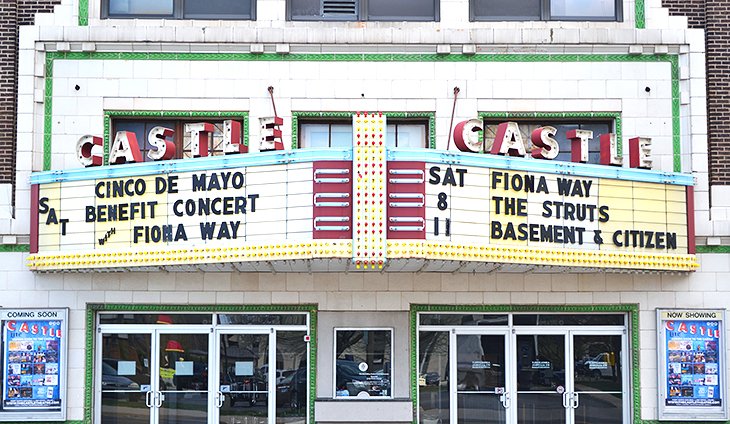 Just a couple of blocks from the McLean County Museum of History in downtown Bloomington, The Castle Theatre is a renovated performance house from the past. Originally constructed in 1916, the theater flourished as a movie palace for many decades and sat unused for a few more, eventually receiving a massive restoration in 2003.
Today, the decadent interior that served as a movie theater is now a sleek concert venue at the heart of the city. The Castle Theatre is a popular stop for regional and emerging national musicians, bringing in a variety of genres, from country to indie and many things in between. Other performances at The Castle Theatre include stand-up comedians, storytellers, and benefit concerts.
Address: 209 East Washington Street, Bloomington, Illinois
Official site: https://www.thecastletheatre.com
6. Bloomington Farmers' Market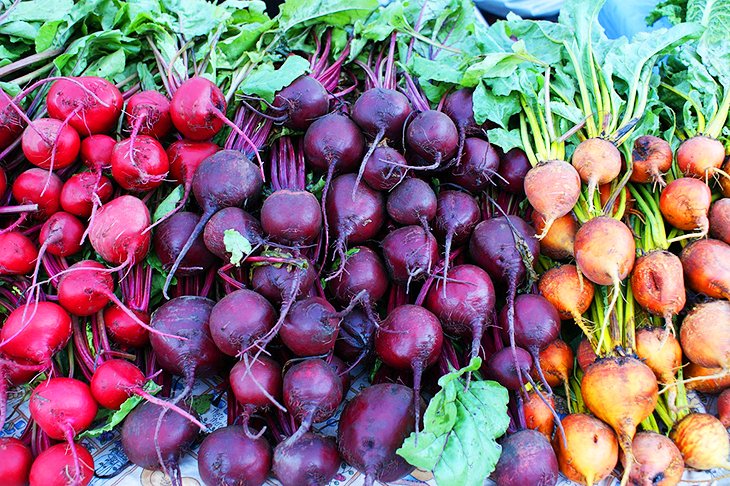 Offering a wide variety of homegrown goods and live music, the Bloomington Farmers' Market takes place every Saturday in historic Museum Square between May and October. Local growers and craft specialists sell their wares, and the community of Bloomington really fills out the space.
Fruits and vegetables, poultry and beef, and a variety of flowers, plants, and baked goods can be found at the farmers market. Museum Square also flourishes with the smell of made-fresh food ready to eat.
Live music adds extra entertainment to the market every week, and the seasonality of the produce means there's something new to try with each visit.
Address: 401 North Morton Street, Bloomington, Illinois
Official site: http://downtownbloomington.org/farmers-market/
7. Miller Park Zoo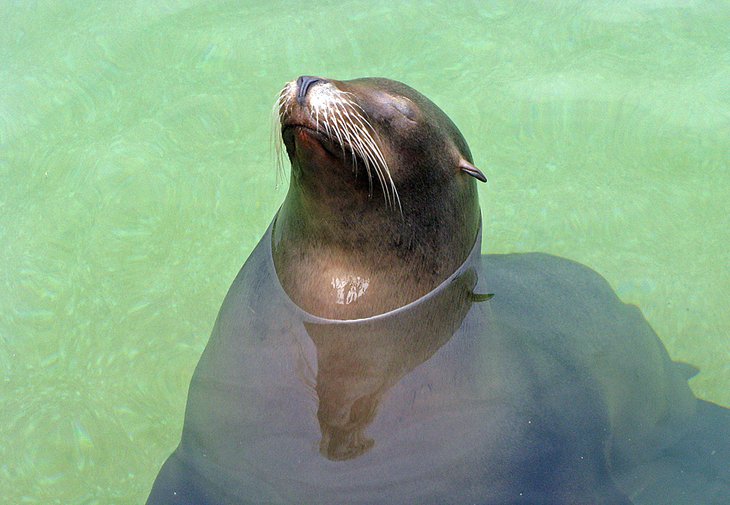 Near the center of the city, Miller Park Zoo is a fun family outing with many chances to interact with animals.
Resident animals at the zoo include pythons, tortoises, harbor seals, cockatoos, and rare red wolves. Daily animal feedings are free with admission, and a special Junior Zookeeper program offers opportunities to learn about animals and how zoos operate.
Available for groups of 15 or more, overnight programs at the zoo provide a unique experience. Other popular attractions in Miller Park include mini-golf, war memorials, and an abundance of walking trails.
The zoo is open seven days a week and provides low-cost admission for children and adults.
Address: 1020 South Morris Avenue, Bloomington, Illinois
Official site:http://www.bloomingtonparks.org/facilities/miller-park-zoo
8. Evergreen Memorial Cemetery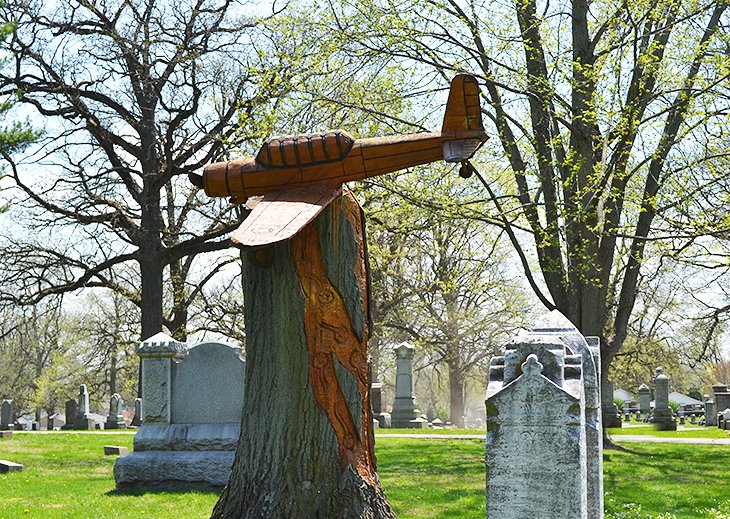 Alongside a storied legacy, Evergreen Memorial Cemetery gives residents and tourists a very peaceful place to spend the day. Simply walking through the landscaped grounds is a fun experience, reading century-old headstones as you go and feeling the history that surrounds this natural space.
Numerous important figures and longstanding community members are buried in Evergreen Memorial Cemetery, a fact that is further memorialized every year during the Evergreen Cemetery Walk. Featuring costumed actors portraying a variety of characters from throughout McLean County's history, this nationally recognized event draws thousands of visitors every year.
Address: 302 East Miller Street, Bloomington, Illinois
Official site: http://www.evergreenmemorialcemetery.com/home
9. Normal Theater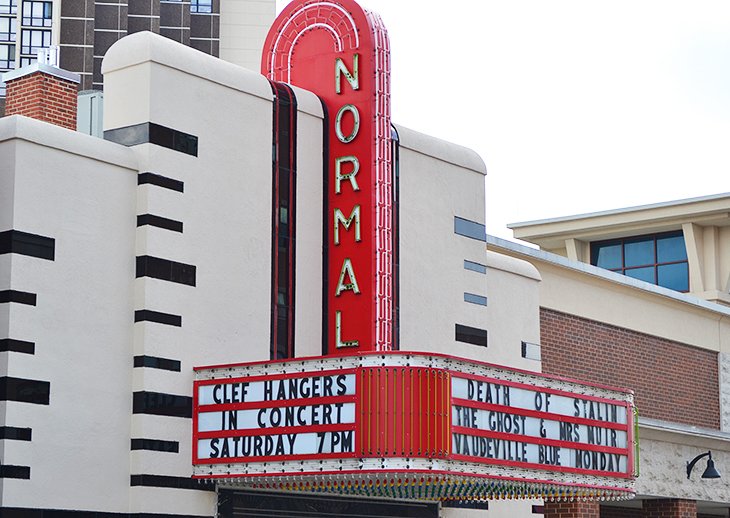 Adjacent to Illinois State University, the Normal Theater is an iconic landmark of Normal's Uptown District. First opened in 1937, this historic theater was extremely popular for many years before shutting down and falling into neglect. Receiving a major revitalization in 1994, the Normal Theater is now the number one spot in the community for classic, independent, and foreign movie showings.
Normal Theater is also a live-performance venue that hosts concerts, comedians, and special lecture series. It's also a central community venue for Normal and a vital cultural outlet for Bloomington, facilitating several neighborhood discussions and events. Much of the experience of attending a show at the Normal Theater, however, is the history that rings from inside the theater.
Address: 209 West North Street, Normal, Illinois
Official site: https://www.normaltheater.com/
10. Prairie Aviation Museum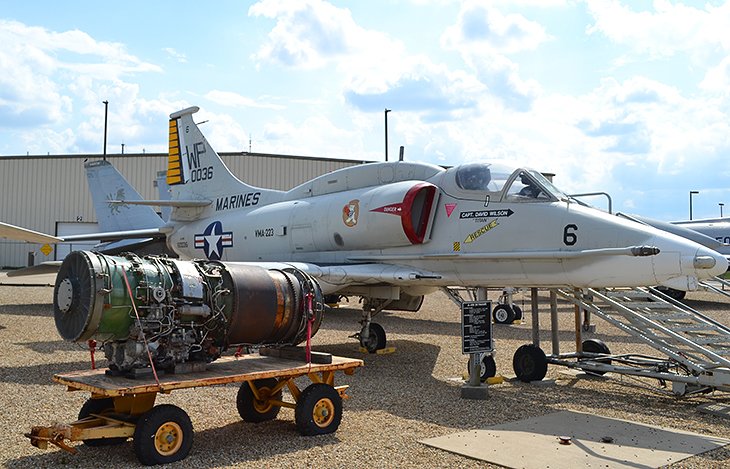 Adjacent to the Central Illinois Regional Airport, the Prairie Aviation Museum showcases restored military and civilian aircraft alongside informative displays. Within the museum itself, a rich history of air and space is told through various exhibits, including pilot simulators.
Hours of operation vary throughout the year, and the museum and grounds are closed through January and February.
The most visible exhibits at the museum are parked on the grounds outside. Patrons to Prairie Aviation Museum can tour up to eight impressive aircrafts and three helicopters on display. During special events, like "Open Cockpit Days," visitors can climb aboard these restored and loaned military vehicles, including jet fighters, an attack helicopter, and a twin-engine Cessna.
Address: 2929 East Empire Street, Bloomington, Illinois
Official site:http://prairieaviationmuseum.org/
11. Ewing Manor Cultural Center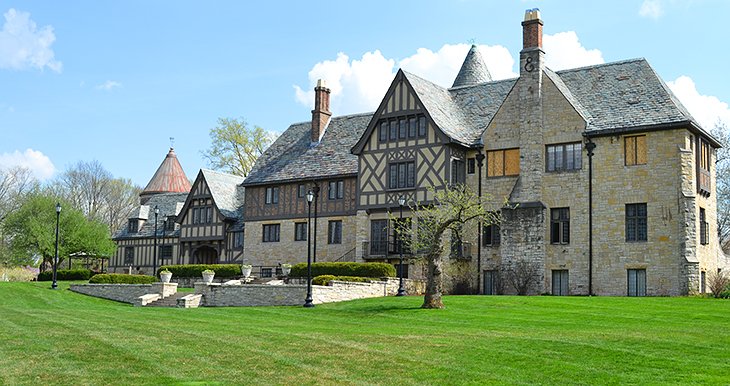 The Ewing Cultural Center is located northeast of downtown off Towanda Avenue. This 6.5-acre estate includes a historic manor, open-air theater, and beautifully landscaped gardens. The Ewing Manor, itself, is a picturesque 1929 Channel-Norman mansion that provides a popular venue for large events and gatherings.
The grounds outside display immaculate gardens and a variety of open-to-the-public plaza areas for anyone to enjoy. The 430-seat outdoor theater is a popular performance spot in Bloomington, and among a variety of local engagements, the open-air stage and theater is also home to the annual Illinois Shakespeare Festival.
Address: 48 Sunset Road, Bloomington, Illinois
Official site: https://ewingmanor.illinoisstate.edu/
12. Ryburn Place at Sprague's Super Service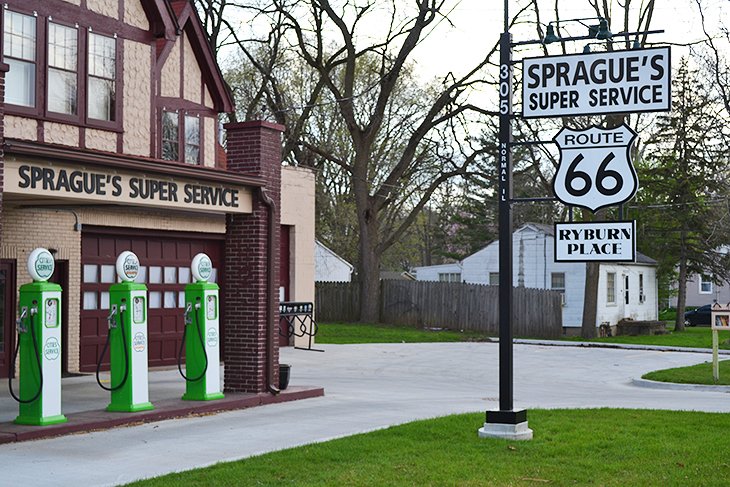 Commemorating the Historic Route 66 that runs through the region, Ryburn Place is a renovated rest area that now serves as an information center and gift shop. Open to the public in 1931 as a gas station, cafe, garage, and overnight rest-stop for travelers on Route 66, this Tudor-Revival building is now on the National Register of Historic Places.
Many signs of yesteryear remain at this city-owned landmark, including the iconic gas sign and pumps outside. Inside the renovated service station, memorabilia and interpretive information shed light on the Mother Road of the U.S. Highway System. This interesting roadside attraction is open Wednesday through Saturdays except major holidays.
Address: 305 Pine Street, Normal, Illinois
Official site: http://www.ryburnplace.com/
Where to Stay in Bloomington for Sightseeing
Mid-Range Hotels: Just east of the downtown cultural district and the David Davis Mansion, Eastland Suites Hotel and Conference

Center

is one of the top-rated hotels in the city. This recommended hotel accommodates longer stays with spacious guest rooms and comfortable suites. Eastland Suites receives many repeat visits thanks to its clean facilities, indoor pool, and complimentary access to the nearby Gold's Gym.

Farther south and within easy access of the rest of the city, Residence Inn

Bloomington

is another popular hotel option. This three-star hotel is known for its excellent service and full-American breakfast bar, and the suites include separate sleeping and living areas, a full kitchen, and luxury linens.

Near the Residence Inn, Double-Tree by

Hilton

is another top-rated, three-star hotel featuring a fitness center, indoor pool, and restaurant.
Budget Hotels: Some of the best budget hotels in Bloomington can be found west of the downtown district near the Bloomington/Normal border. For an affordable hotel with great reviews, Red Roof Inn

Bloomington-Normal/University

delivers on dependable service and a good night's sleep. Besides easy access to the Illinois State University campus, Red Roof Inn has a good reputation for tidy facilities and comfortable rooms.

Near the Red Roof Inn, another great budget hotel worth checking out is Quality Inn &

Suites

. Offering affordable and clean guest rooms, Quality Inn also has spacious suites available, with extra sitting areas and comfortable décor.