12 Top-Rated Things to Do in Rockford, Illinois
In the northern part of the state near the Wisconsin border, Rockford is one of the largest cities in Illinois outside of Chicago. With the charm of a small town, Rockford also provides the cultural and natural attractions of a populous city.
Steeped in regional history and defined in large part by the Rock River, which divides the city and downtown, Rockford is also known as the City of Gardens, and for good reason. With landscaped areas like Anderson Japanese Gardens and the Nicholas Conservatory, there is always something in bloom somewhere in the city.
Alongside colorful gardens to appreciate, the city is home to several other family-friendly attractions. Along the western bank of Rock River, the Riverfront Museum Park, including the Burpee Museum of Natural History, is a popular family outing, as is the nearby Coronado Performing Arts Center.
For a fully immersive natural attraction, tourists and residents alike can find ample outdoor recreation at Rock Cut State Park, slightly north of the city, where a large collection of campsites encourages visitors to spend the night.
Learn more about the best places to visit, with our list of the top things to do in Rockford, Illinois.
See also: Where to Stay in Rockford
1. Anderson Japanese Gardens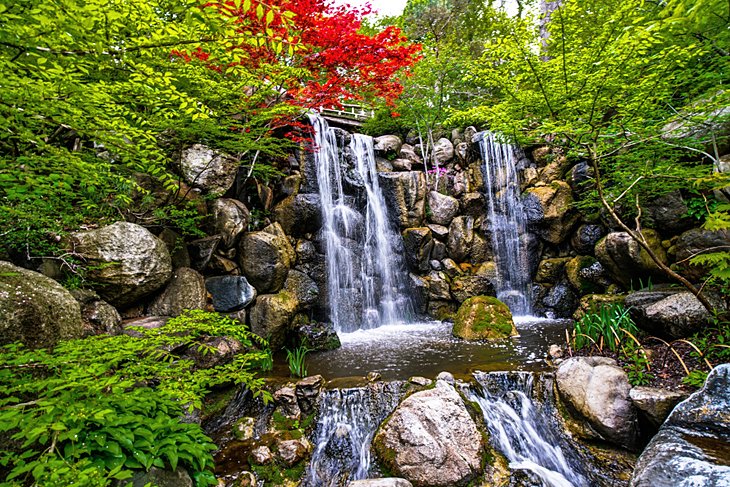 For a beautiful walk on manicured grounds, the Anderson Japanese Gardens provides one of the most tranquil surroundings in Illinois. This non-profit garden space was designed by Hoichi Kurisu, the same landscape designer for the Portland Japanese Garden in Oregon. Landscaped waterfalls; walking paths; and structures like gazebos, pavilions, and tea houses are featured among the many different colorful plants and gardens.
The gardens hold a variety of events throughout the spring, summer, and fall, including a Japanese Summer Festival and Tuesday Evenings in the Gardens. Guided tours are available, though individuals are encouraged to explore the scenic space on their own. Dining is available at the on-site Fresco at the Gardens.
Address: 318 Spring Creek Road, Rockford, Illinois
Official site: https://andersongardens.org/
2. Rockford Art Museum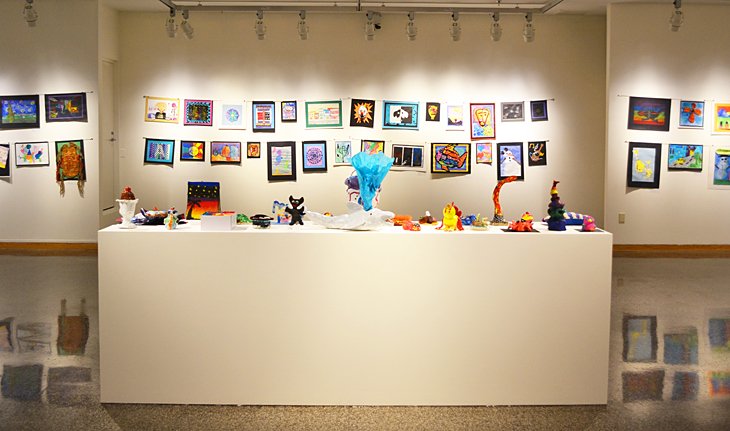 Abutting the Rock River at the heart of the city, this century-old art collection focuses primarily on regional displays. With more than 1,900 pieces of art within their collection, the Rockford Art Museum highlights work from the 19th, 20th, and 21st century. The collection ranges from Impressionist paintings to a wide mix of multi-media productions.
Permanent displays at the museum include modern and contemporary works, photography, and an "American Masters" collection. Work from local artists can also be found on rotating display. The museum hosts regular events and programs like evening socials and summer camps.
As part of the larger Riverfront Museum Park, the building that houses the art collection is also home to other family-friendly attractions. Sharing the same entrance with the Art Museum, the Discovery Center Museum caters to younger explorers with hands-on activities and play areas.
On the other side of the museum campus, the Burpee Museum of Natural History uncovers ancient history within an interactive space.
Address: 711 North Main Street, Rockford, Illinois
Official site: http://www.rockfordartmuseum.org/
3. Burpee Museum of Natural History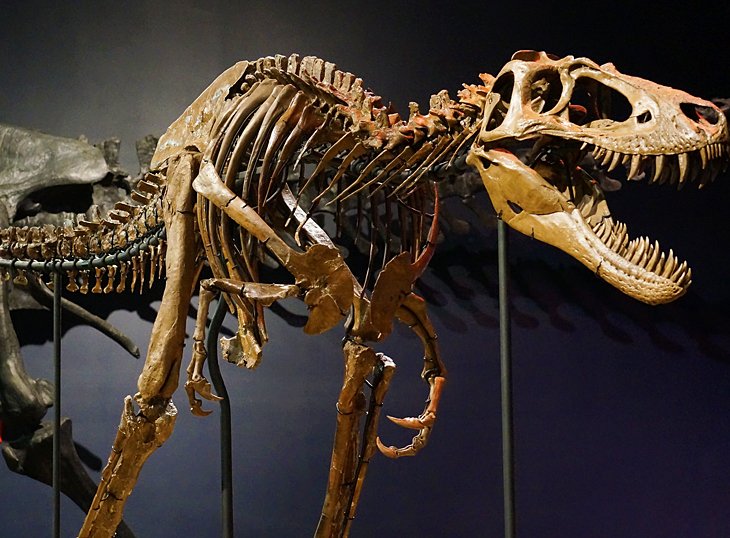 As part of the Riverfront Museum Park, the Burpee Museum of Natural History has been attracting interest since 1942. Permanent showcases at the museum include fully restored dinosaur skeletons, an immersive Carboniferous Coal Forest, and displays relating to the native people and wildlife of the region.
The museum also dives deep into the Rock River Valley environment with their Windows to Wilderness permanent exhibit. The unique Jay and Barbara Brost PaleoLab at Burpee offers insight into the laboratories that prepare the museum's fossil displays.
Programs and events at Burpee cater to every member of the family, including a massive Easter egg hunt in the spring and lecture series throughout the year. The museum also hosts the Music on The Rock summer concert series.
Guided tours are available to provide even more insight on the fascinating exhibits.
Address: 737 North Main Street, Rockford, Illinois
Official site: http://www.burpee.org/
4. Nicholas Conservatory & Gardens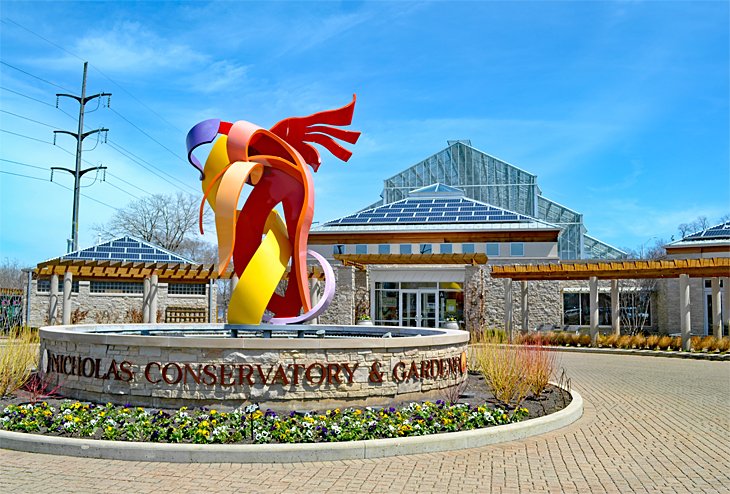 Encompassing more than 11,000 square feet of botanical space, this garden center is the third largest conservatory in Illinois. Tropical and colorful plants are in bloom within the sunlit conservatory throughout the year, including an annual orchid exhibit in the winter. Walking through this verdant space is always a colorful and fun thing to do.
In the gardens outside, pedestrian paths link together sculptures, patio spaces, and scenic areas including the Eclipse Lagoon. The conservatory is home to many special events and programs, including Tunes on the Terrace, a spring butterfly exhibit, and the annual "All Aglow" event featuring thousands of holiday lights.
Address: 1354 North Second Street, Rockford, Illinois
Official site: https://www.nicholasconservatory.com
5. Midway Village Museum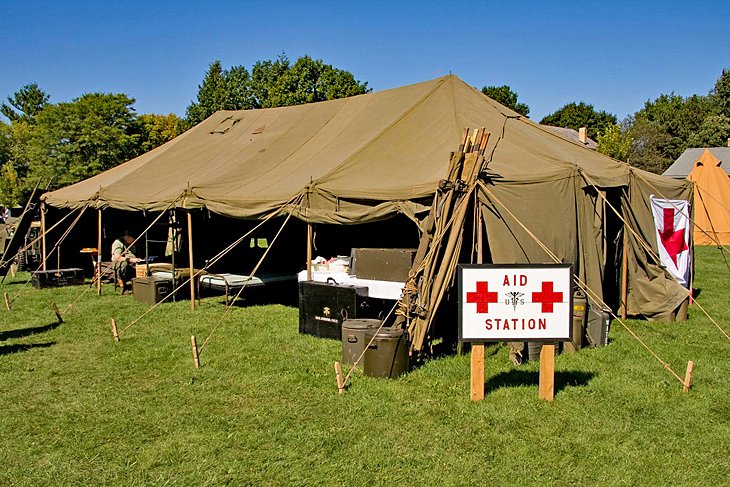 Fifteen minutes east of downtown, the Midway Village Museum is a 148-acre outdoor campus dedicated to the history of the Rockford region. A central attraction of this hands-on history museum is the Main Museum Center with more than 20,000 square feet of exhibit space.
One of the most popular displays at the museum, the "Many Faces, One Community" exhibit, portrays the immigration history that has shaped Rockford.
Adjacent to the Main Museum Center is the Victorian-era Village with 26 historical buildings and thousands of artifacts to explore. The historical buildings include a general store, police station, and schoolhouse.
Costumed characters can often be found working the grounds and providing historical insight, and special events throughout the year, like the annual World War II Days, provide a very immersive visit.
Address: 6799 Guilford Road, Rockford, Illinois
Official site: http://www.midwayvillage.com
6. Rock Cut State Park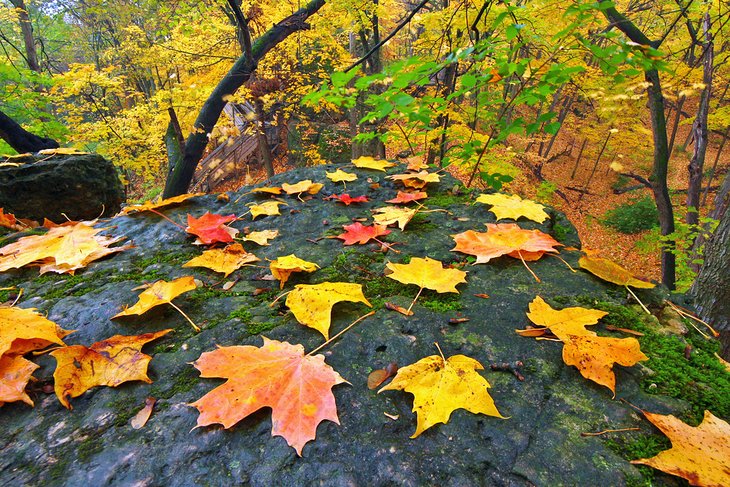 Encompassing more than 3,000 wooded acres and two massive lakes, Rock Cut State Park provides the city's largest natural playground. The state park is accessible from Rockford with less than a 10-mile drive from downtown.
Mountain bikers, hikers, and equestrians all have trails to explore at Rock Cut, and boaters, shoreline anglers, and bird-watchers also have plenty of fun things to do.
It's easy to extend any adventure at Rock Cut State Park, much in thanks to the hundreds of campsites to choose from in the shady campground. Though the spring, fall, and summer are the most popular seasons to visit, with cross-country ski and snowshoe trails in the winter, this state park is a year-round recreation destination.
Address: 7318 Harlem Road, Loves Park, Illinois
Official site: https://www.dnr.illinois.gov/Parks/Pages/RockCut.aspx
7. Klehm Arboretum and Botanic Garden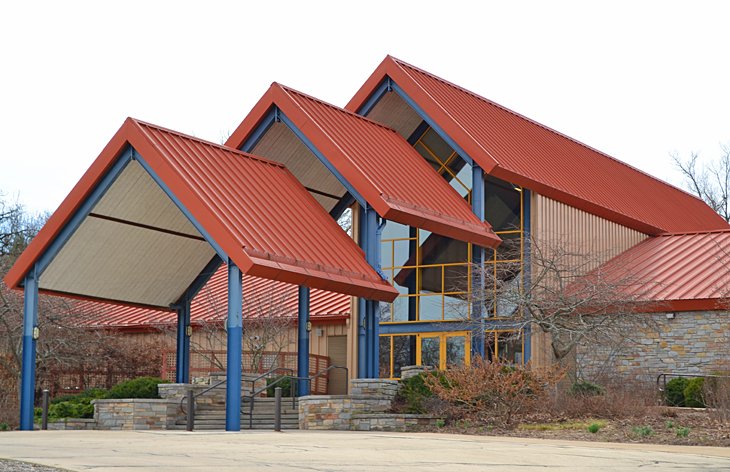 South of downtown, the Klehm Arboretum and Botanic Garden is a living museum offering new displays each month of the year. It features a wide variety of outdoor garden space, as well as a wide-ranging collection of trees throughout the property.
With more than 500 labeled and unique species to discover, Klehm Arboretum is a true sanctuary for trees. On sunny summer weekends, Klehm is also a popular sanctuary for people to explore. A self-guided tour is always encouraged, and scheduled activities like mindfulness practices, annual plant sales, and enchanted story times give more reasons to visit.
Address: 2715 South Main Street, Rockford, Illinois
Official site: http://klehm.org/
8. Coronado Performing Arts Center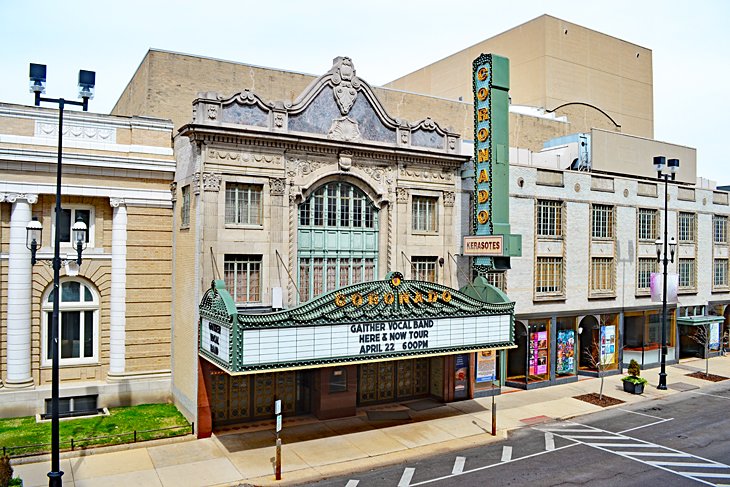 For some great evening entertainment, the Coronado Performing Arts Center, or Coronado Theatre, features a wide variety of performances. Originally constructed in 1927 as an atmospheric theater and movie palace, the Coronado received a massive restoration at the turn of the century to revive its original glamour.
Stage acts at the Coronado today range from nationally touring Broadway musicals to local recitals. The theater also hosts a wide range of other events including national touring musical acts, stand-up comedians, and specialty shows.
Regardless of the performance on stage, one of the biggest appeals of attending a show is the ornate aesthetics of the 2,400-seat auditorium. With modern stage and lighting, the Coronado still reflects its near 100-year history with a stately ambience.
Address: 314 North Main Street, Rockford, Illinois
Official site: http://www.coronadopac.org/
9. Tinker Swiss Cottage Museum and Gardens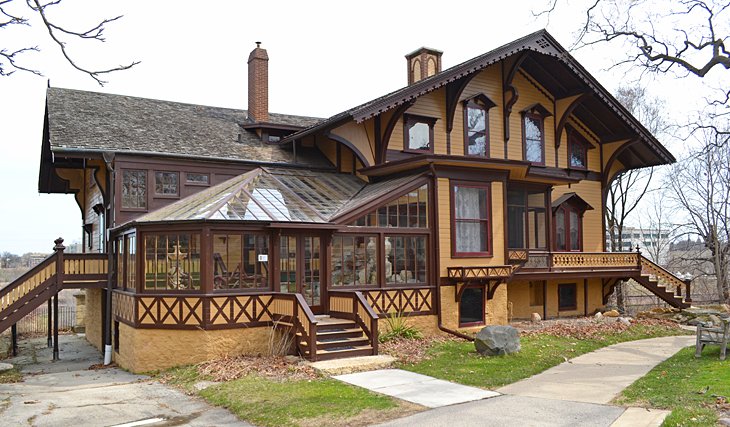 Robert Hall Tinker, the 1875 mayor of Rockford, wore many hats in the development of the Rockford community. Today, one of the most tangible parts of his legacy can be found at his Swiss Cottage overlooking Kent Creek.
Inspired by Swiss architecture from a trip to Europe, Tinker and his family began building the cottage in 1865. The estate covers 27 manicured acres and includes an inspiring view overlooking Kent Creek. This Victorian home is now on the National Register of Historic Places.
Visitors today can take a tour of this historic home Tuesday through Thursday at 1 and 3pm. Guided tours offer the only admission into the Cottage Museum and include the elaborate gardens outside. It's a low cost for jumping on a group tour, and the museum hosts "Donation Days" throughout the week that provide free admission for Illinois residents.
The Tinker Swiss Cottage Museum is far from a stationary exhibit. The event calendar contains plenty of fun activities, including paranormal investigations and variously themed murder mystery parties.
Address: 411 Kent Street, Rockford, Illinois
Official site: http://www.tinkercottage.com/
10. Sinnissippi Park and Golf Course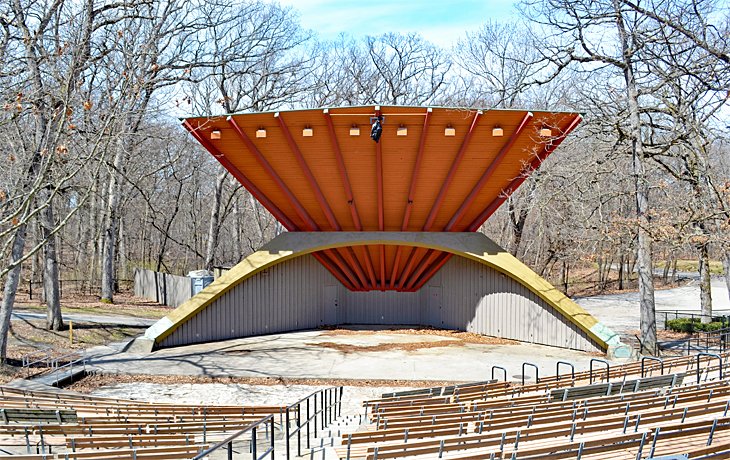 Sinnissippi Park is a sprawling natural space full of family attractions. A great setting to walk, picnic, or use some playground equipment, Sinnissippi Park is also home to the Sinnissippi Music Shell. Dedicated in 1950, this live-music venue can play to more than 3,000 people. The Music Shell has been home to the Music in the Park Summer Concert Series since 1970, among other shows.
Within eyesight of the Music Shell, the Sinnissippi Golf Course provides nine holes of challenging play open to the public. Established in 1912, Sinnissippi Golf Course is the oldest public course in Rockford and is best known for its rolling fairways and big trees lining the rough.
The Sinnissippi Gardens can be found across the street adjoining the Nicholas Conservatory & Gardens. These flowering destinations feature an All-American Rose Garden with more than 60 varieties.
Address: 1401 North Second Street, Rockford, Illinois
11. Volcano Falls Adventure Park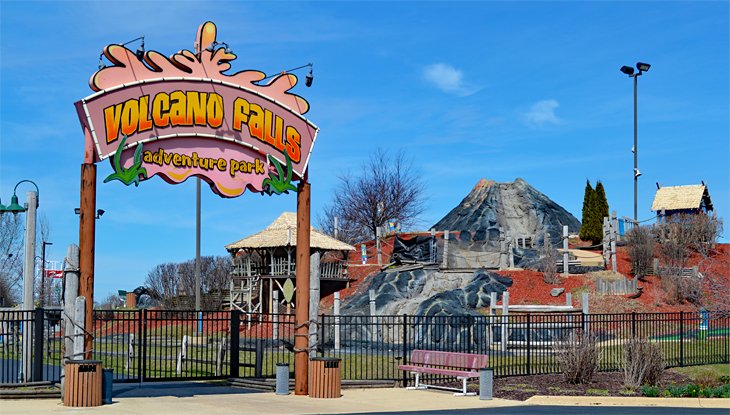 South of Rock Cut State Park on the northeast edge of the city, Volcano Falls Adventure Park appeals to the younger members of the family. With plenty of adventure to be had, Volcano Falls also tends to be fun for the adults who visit.
The most eye-catching attraction at Volcano Falls is the lava-inspired mini-golf course that is universally accessible. The facility also offers a variety of laser games (including a Lazer Maze), as well as multiple go-kart tracks, batting cages, and more than 50 arcade games to choose from.
Open on weekdays from 3pm to 9pm, with extended hours on the weekends, this is a family-friendly attraction that is great for a planned afternoon or impromptu visit. For many, it's a destination to visit after spending the day exploring the woodlands of the nearby Rock Cut State Park.
Address: 7602 Rock Valley Parkway, Loves Park, Illinois
Official site: http://www.volcanofalls.com/
12. Erlander Home Museum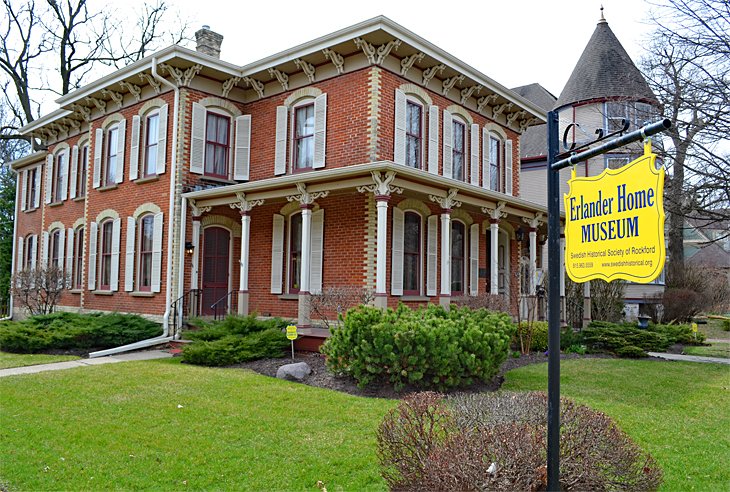 The Erlander Home Museum is operated by the Swedish Historical Society and located in the Haight Village Historic District. This preserved home museum does well to represent the Swedish culture still found in Rockford today.
Once home to Swedish immigrant John Erlander and his family, this historic residence was first built in 1871. Patrons can still see many of the original artifacts and furnishings within the home on a guided tour.
Besides antiques and memorabilia of the 19th century, the house museum also tells the story of Swedish culture and heritage and how it has become integrated into Rockford today. Touring the home is by appointment only, and reservations should be booked a week in advance.
Address: 404 South Third Street, Rockford, Illinois
Official site: https://www.swedishhistorical.org/
Where to Stay in Rockford for Sightseeing
With many reasons to visit and extend your travels in Rockford, it should come as little surprise that the city offers many great hotels. Most familiar hotel brands are a few miles east of downtown Rockford, situated conveniently close to the intersection of Interstate 90 and State Street. With this close location to a main artery, all overnight stays in Rockford provide convenience, comfort, and competitive pricing options.
Mid-Range Hotels: For easy access to Interstate 90 and some of Rockford's top attractions, the Hilton Garden Inn

Rockford

exceeds expectations in both style and comfort. With room service available, a huge swimming pool, and the Garden Grille for breakfast and dinner, it's easy to relax at this recognized hotel brand.

Another top-rated hotel of Rockford, the Hampton Inn

Rockford

is closer to town and is known for its superior service, comfortable rooms, and lavish common areas.

On the other side of State Street from the Hampton Inn, Fairfield Inn & Suites by Marriott

Rockford

provides competitive rates and a complimentary breakfast with each stay, as well as a concierge service, heated pool, and airport transportation.
Budget Hotels: You don't have to sacrifice service and cleanliness when looking for the most affordable places to stay in Rockford. While not all budget hotels live up to the same standards, places like Red Roof Inn

Rockford

near I-90 deliver on a great price and comfortable rooms.

Another great place to stay that won't break the bank is the Alpine

Inn

closer to town, which is sometimes better known as "the best deal in Rockford."

If you are looking for a lengthier stay in the city or are just interested in extra space at an affordable rate, the Extended Stay America - Rockford - State

Street

provides rooms with kitchenettes, desk space, and plenty of room to spread out your things.