13 Top-Rated Things to Do in Peoria, Illinois
Author Brad Lane enjoyed a reporting trip throughout Illinois and visited Peoria.
Peoria is a bustling city of more than 100,000 residents in central Illinois, abutting the Illinois River. This sprawling riverfront city boasts a dense collection of tourist attractions and places to visit. Some of these sightseeing opportunities include botanical gardens and public observatories.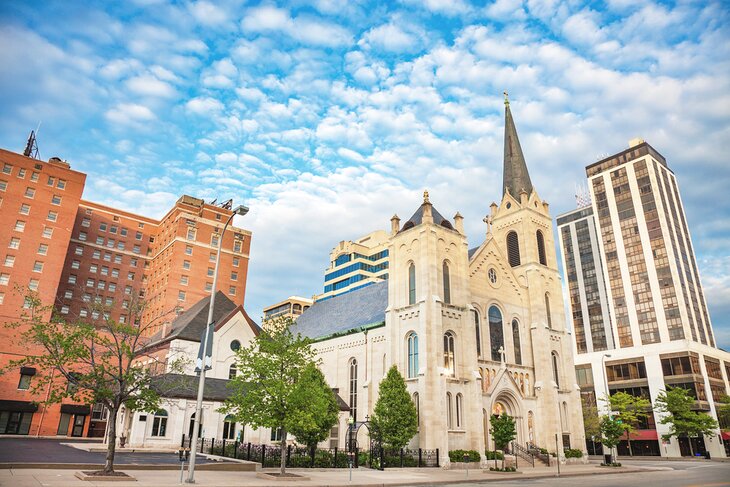 A key cultural feature of the city is the Smithsonian-affiliated Peoria Riverfront Museum. This award-winning museum features nationally touring exhibits and sprawling grounds, including a sculpture garden.
Peoria has an academic feel thanks to the Bradley University campus west of downtown. Peoria also keeps its connection to nature with lovely city parks and open spaces. And the town has several family-friendly ways to spend the day.
Plan your sightseeing with our list of the top things to do in Peoria.
1. Peoria Riverfront Museum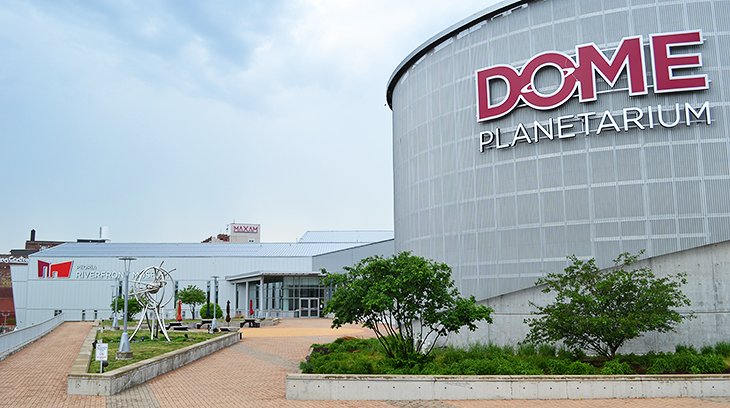 This massive Smithsonian museum overlooks the Illinois River in downtown Peoria.
The rotating galleries at the Peoria Riverfront Museum include internationally touring exhibits from the Smithsonian catalog. These highly detailed exhibits change every year and provide new reasons to visit. Exhibitions are highly varied and range from Da Vinci installations to lessons on bioluminescence.
Permanent exhibits at the museum contain many branches of art and science. The museum features a dense collection of folk and fine art, as well as unique objects like an 1898 Duryea Motor Trap - one of the first gasoline-powered cars on the market.
Outside on the grounds, alongside a towering statue of Abraham Lincoln, the public can also find an eye-catching Sculpture Garden to admire.
The Peoria Holocaust Memorial is also on the grounds. This reflective space offers a quiet atmosphere where past events can be respected and remembered.
Other attractions at the museum include a Giant Screen Theater, which provides quite the backdrop for summer blockbusters, 3D documentaries, and annual film festivals. Patrons can also experience an in-depth look at the night sky with the impressive Dome Planetarium at the museum, as well as 30 different celestial shows to choose from.
As a main cultural source of entertainment in Peoria, the Riverfront Museum also hosts a variety of classes, programs, and adult events every week and throughout the year.
Address: 222 Southwest Washington Street, Peoria, Illinois
2. Grand View Drive and Park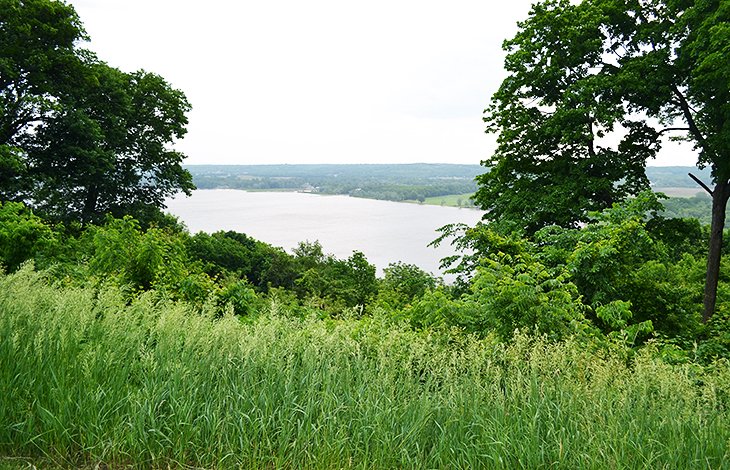 Nicknamed the "world's most beautiful drive" by Theodore Roosevelt upon his visit in 1910, Grand View Drive and the adjacent park still live up to this high reputation today. Stretching for just over 2.5 miles and now located on the National Register of Historic Places, Grand View Drive gives pedestrians and drivers a chance to see the woodlands, water, and historic homes of this Peoria neighborhood.
With an assortment of playgrounds, hiking trails, and benches with a view, Grand View Park is an easy place to visit to spend an afternoon appreciating the surroundings. For exercise enthusiasts, the steep grade of Grand View Drive makes for a great walking, running, or cycling challenge. Expect slow speeds when traversing Grand View Drive, as much of the route passes through a residential neighborhood.
3. Caterpillar Visitors Center & Museum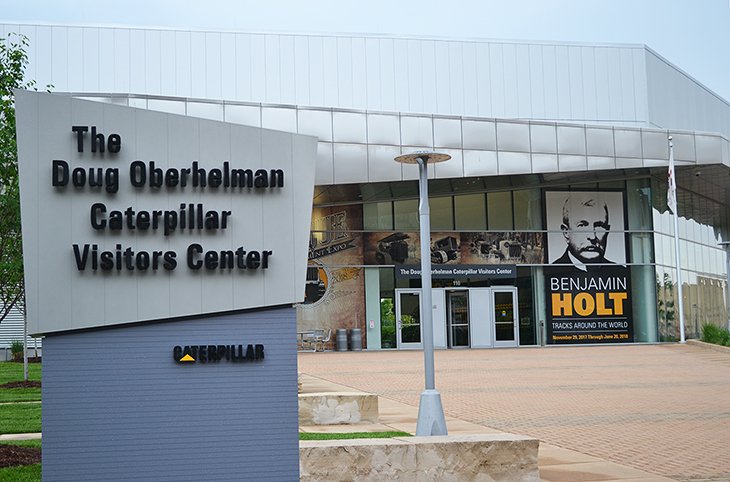 Adjacent to the downtown Riverfront Museum, this 50,000-square-foot visitor center is dedicated to the Peoria-based, world-leading manufacturer of construction and mining equipment: Caterpillar Inc. Open since 2012, the visitor center and museum feature eight galleries, including exhibits on the past, present, and future of the company.
The museum also displays massive Caterpillar machinery from throughout the ages, hard to miss on the exhibit floor including a few that visitors can climb aboard. Other fun features of the museum include a driving simulator and a 3D design technology application.
The Caterpillar Visitors Center is open Tuesday through Saturday during the day. Kids under 12 years old receive free admission. An on-site merchandise center at the Visitor Center features scale-model machines and branded apparel.
Address: 110 Southwest Washington Street, Peoria, Illinois
4. Dozer Park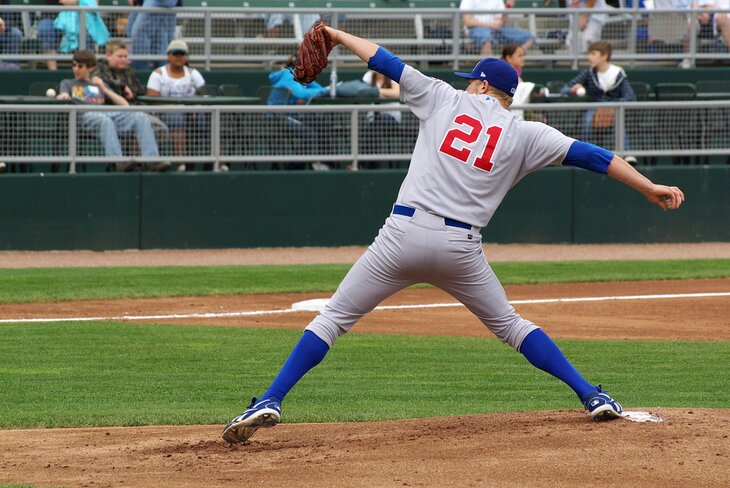 Dozer Park is home to the Peoria Chiefs, a Class A Minor League affiliate of the St. Louis Cardinals. The typical baseball season spans April through September, with a variety of home and away games throughout the week. America's favorite pastime is well served up at this state-of-the-art facility, formerly known as O'Brien Field.
Several of the home games span into the evenings, offering something fun to do at night. These home games often include special themes or celebrations, including veterans' nights and firework displays. Crowd-pleasers like t-shirt cannons and mascot races also provide other entertainment in-between innings.
5. Peoria Zoo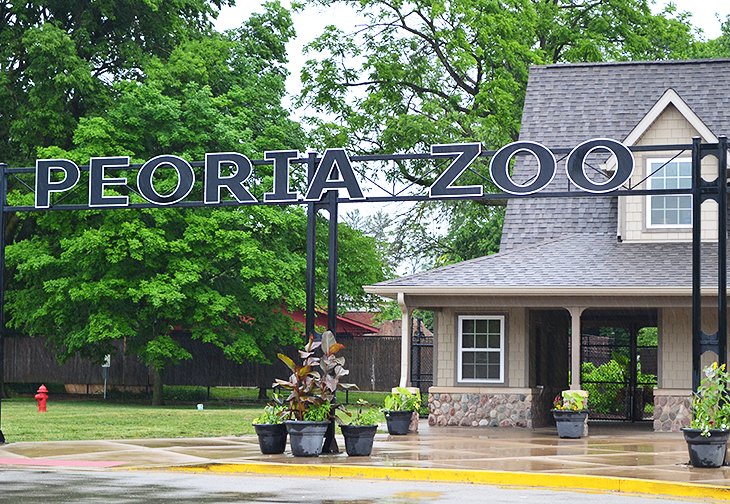 The Peoria Zoo is adjacent to Luthy Botanical Garden in Glen Oak Park. The zoo is operated by the Peoria Park District and has been accredited by the Association of Zoos & Aquariums since 1981. Families and visitors have six unique exhibits to walk through at the zoo, including an Asian Trail, a Tropics Building, and a Conservation Center.
Some of the resident animals at the zoo include rhinos, tigers, and wallabies, as well as tortoises, emus, and boa constrictors. Daily presentations at the zoo facilitate interactions between animals and guests. The zoo also hosts a variety of camps, classes, and summer programs for children and adults.
The Zoo is open daily between 10am and 5pm. Admission is under $12 for adults and under $9 for children younger than 12. Animals are always at the zoo, but during the summer, try visiting outside of the hottest temperatures of the day to see the most activity.
Address: 2320 North Prospect Road, Peoria, Illinois
6. Forest Park Nature Center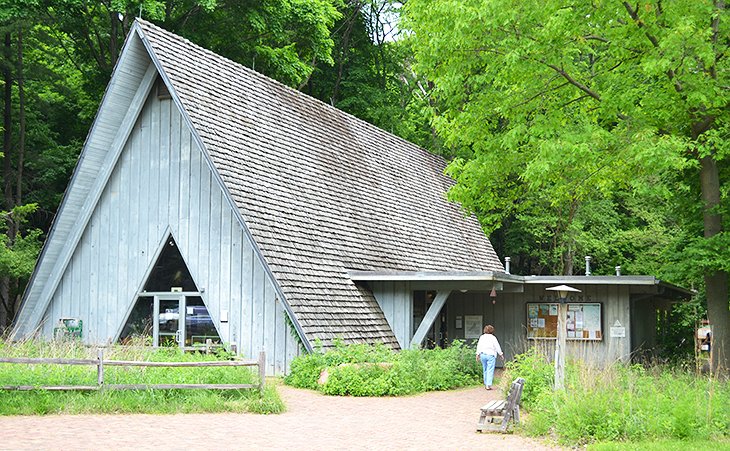 Forest Park Nature Center is a 540-acre forest preserve with a nature center north of downtown and near the Illinois River. The seven miles of trails in the park meander across bluffs, through prairies, and into open woodlands. The mainstay of the trails is easy to follow, with a few branching off to gain a little elevation.
Wildlife sightings are common at Forest Park, particularly at the Nature Center's designated bird-watching station, where more than 100 different species have been documented to visit. Consider bringing some binoculars for a better look. The trails at Forest Park are open every day of the year.
The Nature Center at the preserve is a natural history museum hosting a variety of educational things to do for children and adults, including guided hiking opportunities. The on-site Trailhead Nature Store features fair trade and environmentally friendly items for sale. The Nature Center and Nature Store operates Tuesdays through Saturdays.
Address: 5809 North Forest Park Drive, Peoria Heights, Illinois
7. Peoria Civic Center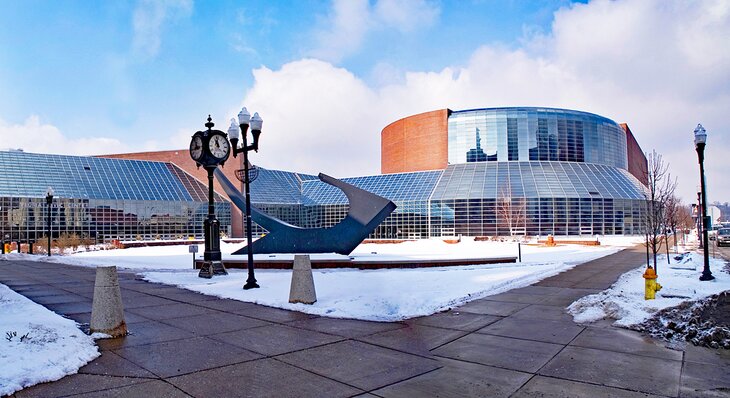 This 11,000-plus-seat arena packs its calendar with a variety of live music, sports, and community events. It's home to the biggest shows and performances in Peoria and features entertainment for every member of the family. Nationally touring musicians often frequent the stage, as well as some of the biggest acts of Broadway currently on tour.
The Bradley University Braves basketball program fills out the Peoria Civic Center seats during the season. The Peoria Rivermen Southern Professional Hockey League team also plays to a packed house. Between November and January, the Civic Center hosts the PNC Winterfest, which features an outdoor ice rink and a 100-foot-long ice slide.
Address: 201 Southwest Jefferson Avenue, Peoria, Illinois
8. Luthy Botanical Garden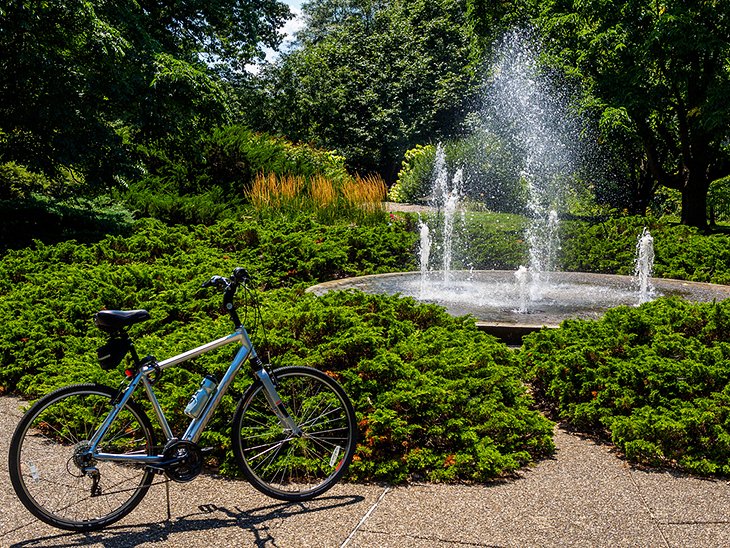 The George L. Luthy Memorial Botanical Garden is a beautifully landscaped space located near the Peoria Zoo within Glen Oak Park. Established in 1951, this botanical center now incorporates more than 15 themed gardens and a tropical conservatory spread out over five acres.
A few of the floral venues include a Rose Garden, Children's Garden, and Herb Garden. Inside the tropical conservatory at the park, visitors find tropical plants like cacti and exotic lilies on display. Luthy Botanical Garden also hosts several floral shows to highlight special varieties, including an annual orchid show.
The botanical garden is a popular venue to rent out for special occasions, and the garden space hosts many educational events and programs throughout the year. Admission is free to this public garden, though donations are greatly appreciated.
Address: 2520 North Prospect Road, Peoria, Illinois
9. Pettengill-Morron House Museum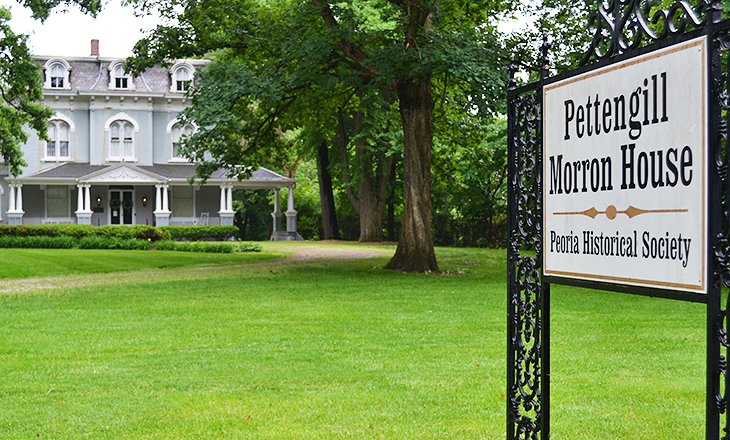 The Pettengill-Morron House is one of two historic homes operated by the Peoria Historical Society. It was originally constructed in 1868 and is now listed on the National Register of Historic Places. This home museum features many original furnishings of the Pettengill and Morron families.
Tours of the historic home are available from 10am to 2pm on Thursdays and otherwise by appointment. Docents leading the tours shine a light on these two historical families and how they became associated with a single house.
Another historical home operated by the Peoria Historical Society, the 1837 John C. Flanagan House Museum, is on the other side of the downtown district and provides other walks through history. Tours of the Flanagan House Museum are by appointment only or during scheduled open houses.
Address: 1212 West Moss Avenue, Peoria, Illinois
10. Laura Bradley Park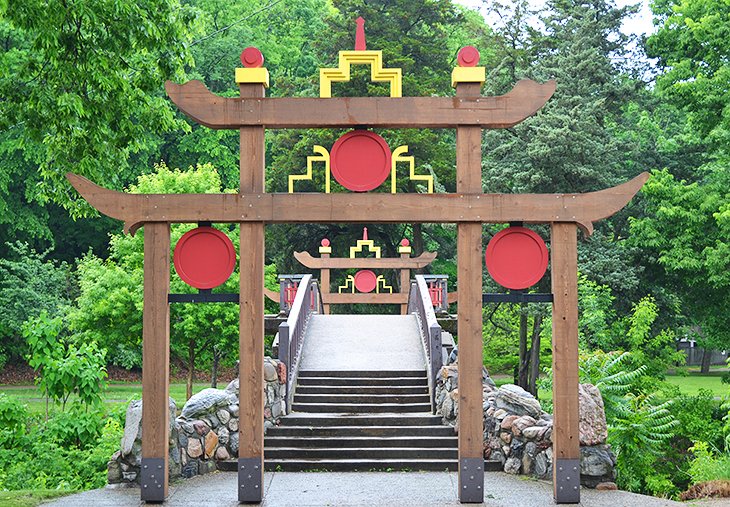 Adjacent to Bradley University, Laura Bradley Park has given Peoria an escape into nature for more than 100 years. Much of the appeal of this public place remains the same today, including a high-bluff woodland landscape and thriving riparian corridor.
Amenities like playground equipment, picnic spaces, and baseball fields surround the natural features of the park and appeal to the whole family. A scenic Japanese bridge is found spanning Dry Run Creek within Laura Bradley, alongside an ornamental shelter surrounded by colorful landscaping.
The Bradley Park disc golf course is one of the more popular in the area, and the off-leash dog park is a favorite among pet owners. The park is open from dawn to dusk every day of the year.
Address: 1317 North Park Road, Peoria, Illinois
11. Northmoor Observatory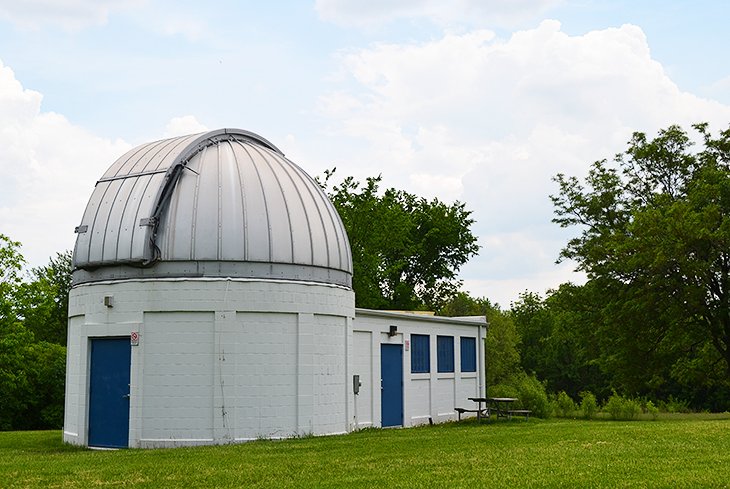 The Northmoor Observatory is maintained by the Peoria Astronomical Society, north of the downtown district in Donovan Park. It features a nine-inch refractor telescope and a rotating dome ceiling. The observatory is open to the public every cloudless Saturday night between May and October. Volunteers at the observatory aid in discovering the cosmos.
Surrounding the Observatory, Donovan Park, formerly Leo Donovan Golf Course, is filled with wide-open green spaces and pedestrian paths. The park is home to a great cross-country course that appeals to runners outside of the winter months.
Cyd's in the Park is also in Donovan Park, featuring a coffee bar, bakery, and takeaway café. This local-favorite eatery specializes in fast, fresh food with a full menu of pastries and brunch items alongside a coffee bar. Plenty of alfresco seating is available.
Address: 5805 North Knoxville Avenue, Peoria, Illinois
12. Wildlife Prairie Park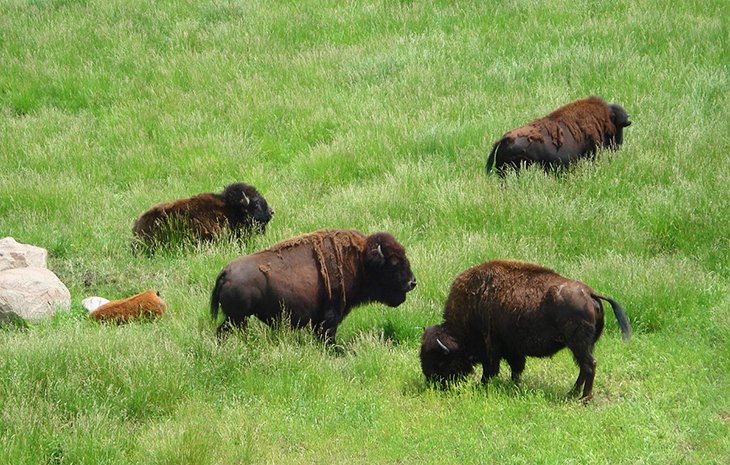 This 2,000-acre zoological park is home to more than 50 different native species of Illinois, under 15 miles west of the city center. Many of the animals at the park have been rescued and would not survive back in the wild. Animals commonly spotted at Wildlife Prairie Park include bison, bobcats, and black bears, as well as foxes, owls, and snakes.
Other attractions offered in this natural space include mountain bike trails, a disc golf course, and an interactive butterfly habitat. Adults and children can also hop aboard the Wildlife Prairie Park Railroad. This engaging wildlife park is open year-round and welcomes visitors Monday through Sunday.
Address: 3826 N. Taylor Road, Hanna City, Illinois
13. Jubilee College State Park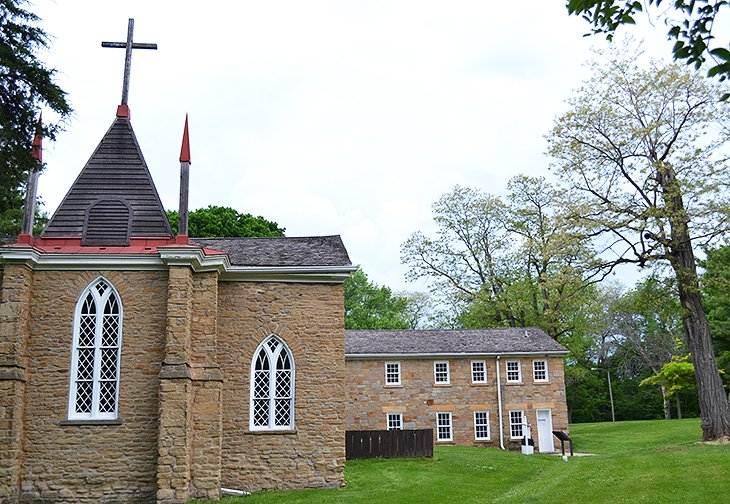 Jubilee College State Park provides an easy natural getaway under 20 miles west of downtown. This state park and designated State Historic Site encompasses more than 3,000 acres surrounding the former location of Jubilee College, one of the earliest educational enterprises in Illinois.
Hikers, mountain bikers, and horseback riders often take advantage of the 40-plus miles of multi-use trails that span the park. Snowmobilers and cross-country skiers use the same corridors during the winter. A seasonal campground at Jubilee College State Park accommodates recreational vehicles and tents.
Address: West Fussner Road, Brimfield, Illinois
Map of Things to Do in Peoria, Illinois