14 Best Weekend Getaways in Indiana
A weekend getaway in Indiana can be filled with high-octane excitement, with bucket-list items like the Indy 500 at the Indianapolis Motor Speedway, or you can have a low-key retreat in nature at the Indiana Dunes National Park.
Indiana has locations famous for sports movies that you can spend an entire weekend visiting if you want to stay active. If you prefer to have no agenda at all, you can spend your time up in Indiana's Amish Country or perusing your way along Richmond's popular Antique Alley.
There are great getaways for families, with both attractions and lodging in downtown Indianapolis, and quiet, out-of-the-way weekends to find in some of the more rural areas in Indiana.
While Indiana has many resorts, it is not difficult to plan a cheap getaway by staying at one of the many campgrounds in the state and taking advantage of the free things to do. You can configure your weekend with whatever suits your mood and budget.
Get started with our list of the top weekend getaways in Indiana.
1. Indy 500 Weekend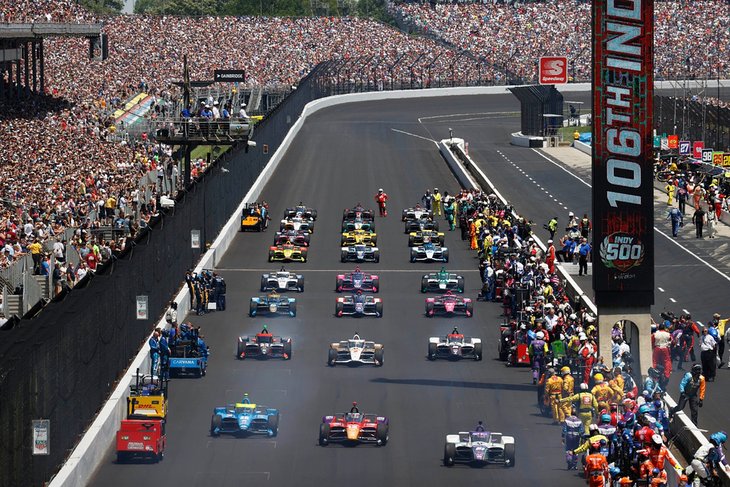 Few things are more iconic in Indiana than the Indianapolis Motor Speedway. For the ultimate high-octane getaway, you can plan the weekend around the Indianapolis 500, which takes place in the spring each year.
There are several days of events leading up to the big race, so you can make a full getaway out of it and be a part of this live ultra-American event. Be prepared to pay a premium for tickets and lodging close to the raceway.
You can make a race-enthusiasts getaway any time of the year, not just around the Indy 500. The Indianapolis Motor Speedway hosts key races throughout the year, so you can plan a weekend getaway around one that interests you.
You can also plan your getaway around an Indy Driving Experience, where you can ride along with driving pros like Mario Andretti.
Round out your weekend with a visit to the Motor Speedway Museum, which is open year-round with behind-the-scenes exhibits related to the history of racing at the speedway.
2. A Weekend Outdoors at Indiana Dunes National Park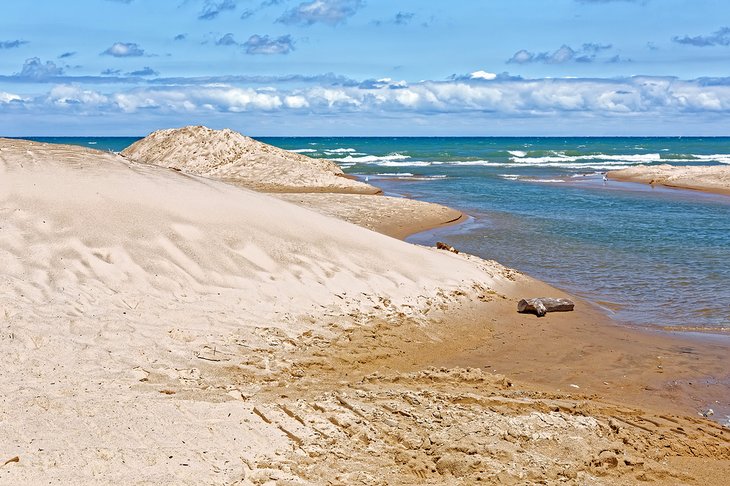 If a weekend enjoying nature is what you are looking for, then plan a getaway along the shores of Lake Michigan at Indiana Dunes National Park.
This park is located in northwestern Indiana near Porter. There are 15 miles of shoreline, and West Beach is where most visitors go for swimming and picnic shelters.
Families can take part in some of the ranger-led programs designed for children and hike along the Dune Ridge Trail. The dunes make a nice couples' getaway, too, as there are vacation rentals located around the national park and a campground.
You can head out for a day on more than 50 miles of hiking trails for birding, exploring the wetlands, or just relaxing near the tall sand dunes. You can also make your way to nearby Michigan City for an afternoon.
3. Sports Movie Weekend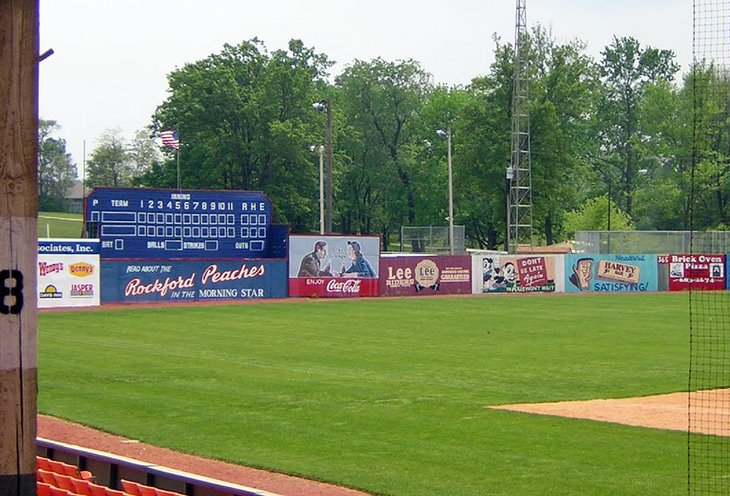 Indiana has some notorious cameos in sports movies–so many, in fact, that you can fill an entire weekend exploring some of these famous baseball fields and gyms featured in Hollywood films.
You can start your trip in Huntingburg, Indiana at League Stadium, where Madonna, Geena Davis, Rosie O'Donnell, and Tom Hanks filmed A League of Their Own. Although the stadium is now home to the Dubois County Bombers baseball team, it still has movie memorabilia and the iconic movie atmosphere.
Make your way to Butler University in Indianapolis, where you can visit the Hinkle Fieldhouse, which was the backdrop in the movie Hoosiers, for the finals of Indiana State Basketball.
While in the area, you can stop into the Hoosier Gym in Knightstown, which was also featured in the movie. Your next stop is the gymnasium at Frankfurt High School in Frankfurt where NBA icons like Dick Vitale and Larry Bird stared in the movie Blue Chips.
Round out your weekend in Notre Dame, where you can re-live one of the most iconic American sports movies of all time, Rudy. You can take a tour and see locations where the movie was filmed, then you can stay to watch a football game with the Fighting Irish at Notre Dame University.
4. Antique Alley in Richmond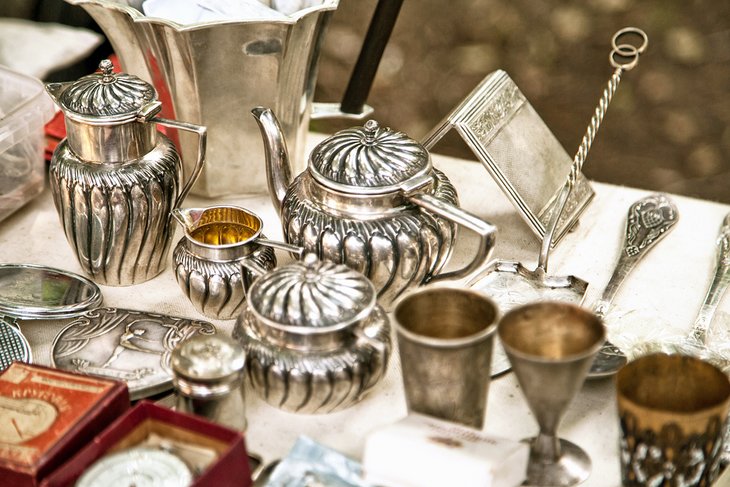 If you love antiquing, a trip along the Old National Road that runs through Richmond, also referred to as Antique Alley in Indiana, is a fun weekend.
This is an easy weekend trip from Indianapolis or Ohio. Antique Alley stretches about 33 miles, and with more than 1,000 shops and dealers along the way, it will take you a full weekend to complete.
Some of the antique shops are rather expansive, with vendor booths, and others are just small roadside shops that have been around for decades. You are certain to run into some colorful characters as you peruse for forgotten goods.
There are many bed and breakfasts along the route, where you can stay and add to the theme of the vintage weekend.
5. Indianapolis Family Weekend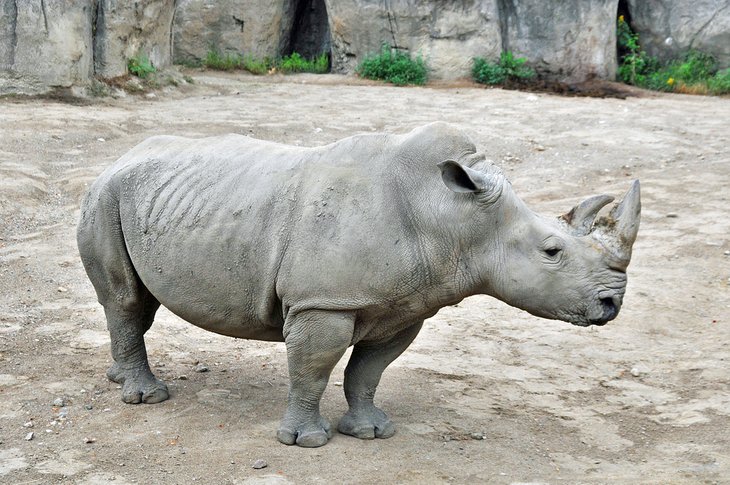 The top family weekend getaway in Indiana is without a doubt in Indianapolis. It is one-stop shopping for families, with entertainment, convenient lodging, and most activities and dining within walking distance.
You can spend a full day at the Children's Museum of Indianapolis, the largest children's museum in the world. The museum has thousands of interactive exhibits, live theater shows, and a seasonal outdoor sports experience.
Spend another day exploring the Indianapolis Zoo or the Newfields art and garden complex. For some time outdoors, you can plan an afternoon enjoying the green space at White River State Park or rent bikes to ride along the Cultural Trail in downtown.
Spend one of your evenings in Indianapolis walking around Mass Avenue for dinner at one of the dozens of local restaurants, then take in a show at the historic Old National Centre.
There are many hotels in downtown Indianapolis, but to add a cool element to your getaway, you can stay in the Crowne Plaza, which is inside the renovated Union Station with many historic reminders of America's railroad history. You can even book a room inside the Pullman Train Car.
6. Amish Countryside in Lagrange-Elkhart Counties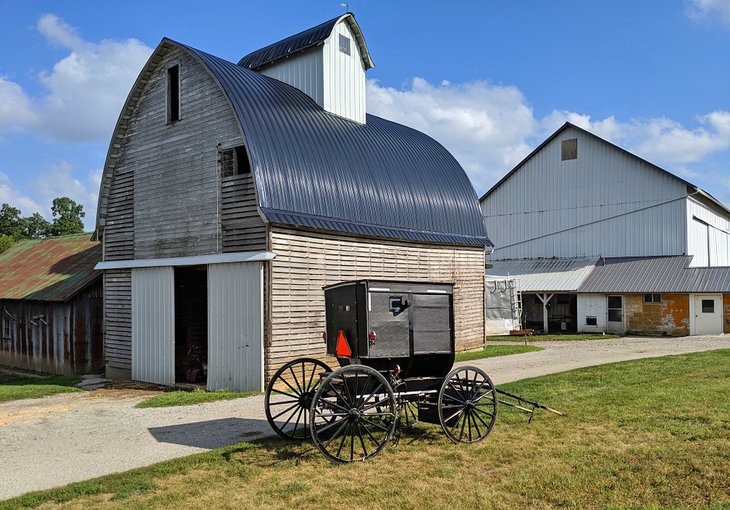 For a quiet or romantic getaway in Indiana, head to the Amish countryside in Lagrange and Elkhart Counties in the northern part of the state. This region is home to the third-largest population of Amish in the world, and the most Amish settlements in the state.
You will share the road with horses and buggies, but the quiet backroads are peaceful. It is nice to stay in a bed and breakfast in the region and just head out each morning in a different direction.
You will see Amish working in the fields, and find small shops selling Amish goods. If you visit from May through October, you should spend one day at the Shipshewana Flea Market, which is usually held on Tuesdays and Wednesdays, with more than 500 vendors.
7. Cave Explorations in Southern Indiana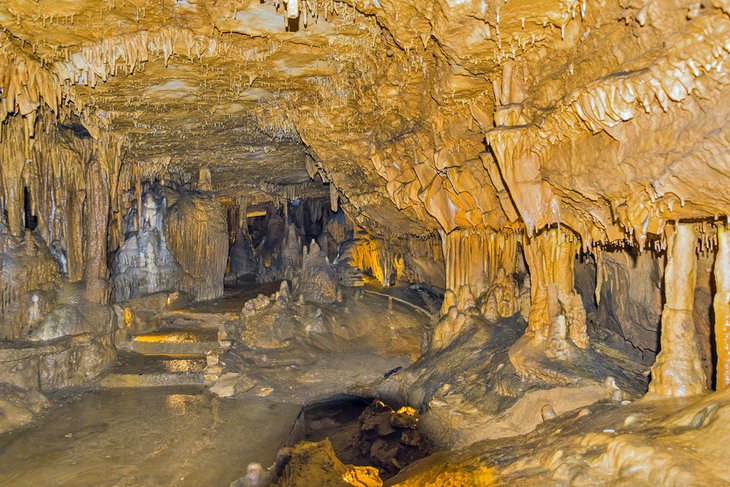 If you are up for cave adventures then you can make a full weekend out of it in southern Indiana as there are several to explore.
This is a great getaway idea for both couples and families. You can start in Mauckport at Squire Boone Caverns, where you can take a tour to see unique rock formations 90 feet below ground. The caverns complex also has ziplining and a log cabin village where you can spend the rest of your day.
The next day, make your way to Leavenworth to Wyandotte Caves. You can explore the stalagmites and stalactites tucked away inside of Harrison Crawford State Forest. After a cave tour, you can hike some of the trails and look for native wildlife.
Spend another day in Marengo at Marengo Cave, which is one of the most visited natural attractions in the state. Take a walking cave tour or suit up in gear for a full adventure through a natural cave.
8. Downtown Madison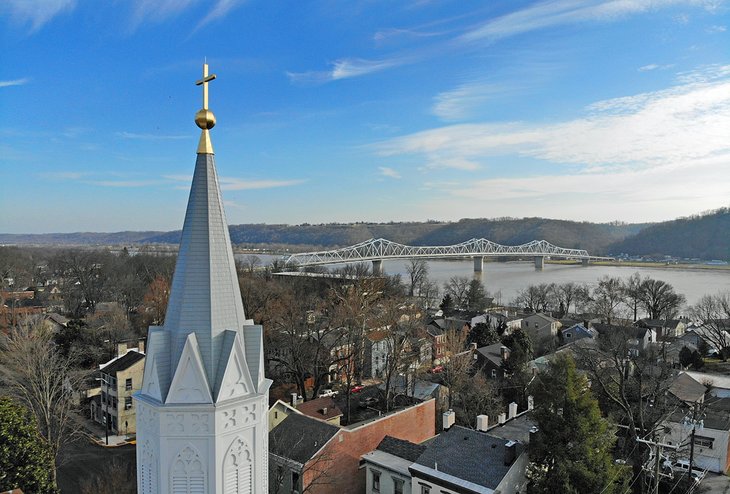 A weekend in the southeastern Indiana city of Madison can include a mix of outdoor adventures and non-scheduled activities. It is located along the Ohio River. Spend a day just strolling along the downtown riverfront looking at antique shops and some of the historic sites.
You can spend a day taking your own walking tour of the more than 133 blocks of historic homes and architecture in the business district. Several homes are open for tours, like the Dr. William Hutchings' Office & Museum and the Lanier Mansion Historic Site.
You can spend another day of your weekend enjoying some of the scenic routes along the Ohio River. One direction takes you along the Ohio River Scenic Route, a National Scenic Byway, where you can take your time driving along the river through the rolling hills and small towns.
The other direction take you along the Michigan Road Historic Byway north and south of Indiana. You will pass through some picturesque countryside of the 14 counties located along the byway.
9. A Whimsical Weekend in Santa Claus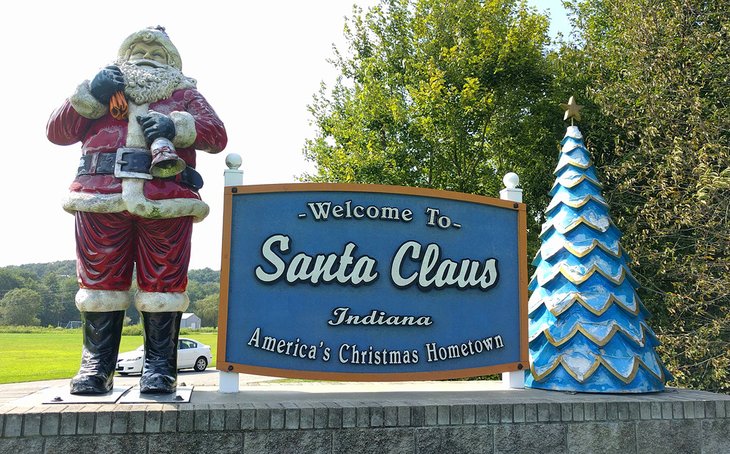 Spend a weekend with the kids or just become a kid again in Santa Claus, Indiana.
This whimsical town is in southwestern Indiana. As you can imagine, it is especially festive in December when the Santa Claus post office becomes one of the best stops to see the many volunteers answering children's Christmas letters. But, Santa Claus is a carefree weekend away any time of the year.
Make one of your first stops at the Santa Claus Museum and Village, where you can experience an 1800s village and vintage Santa Claus statues and memorabilia. You will also want to make a stop in the Candy Castle.
A fun way to explore Santa Claus is to search for all the Santa statues located throughout town. All the restaurants and attractions in town are Santa-themed so you can create a fun itinerary.
Another day in Santa Claus should be spent at the Holiday World and Splashin' Safari, which are basically two theme parks in one location. You can easily spend two days at the park because it has so many things to do. There are roller coasters, water slides, a wave pool, and two water coasters.
Santa Claus is also where you can pick up some unusual one-of-a-kind holiday gifts from the Evergreen Boutique and Christmas Shop.
10. An Edgy Visit to Bloomington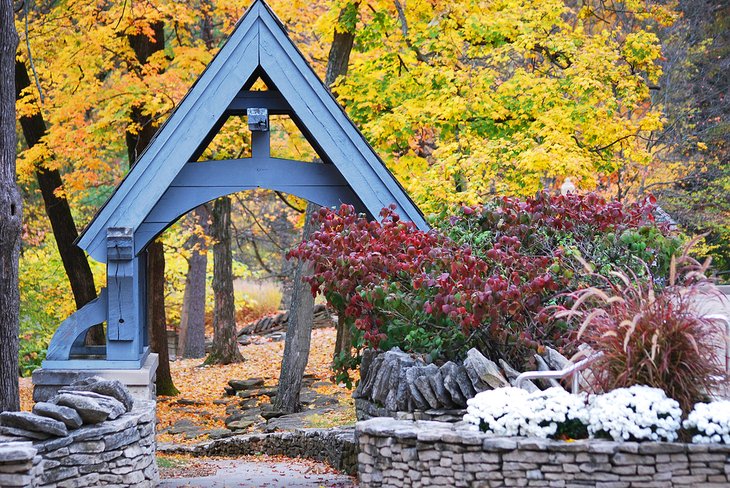 You cannot escape the college vibe in Bloomington, which is home to Indiana University, but that is what makes a weekend visit so fun. If you are looking for a more energetic getaway than a laid-back one, Bloomington is perfect.
You can start your weekend on the cultural side with visits to the WonderLab Museum of Science, Health, and Technology and the Eskenazi Museum of Art. Spend a full day immersed in the arts then head downtown to try some new types of food at dozens of unique restaurants.
You can spend another day outdoors at Monroe Lake, where you can go swimming or kayaking on the water. Monroe Lake also has hiking trails and beautiful scenery, where you can pack a picnic lunch and enjoy the afternoon.
If you go in the summertime, look up the times for the Bloomington Community Farmers Market at the lake and take part in one of the favorite events for locals. In the evenings, you can take in a comedy show or just stroll along the campus pathways at Indiana University, which has beautiful buildings and landscaping.
11. French Lick Getaway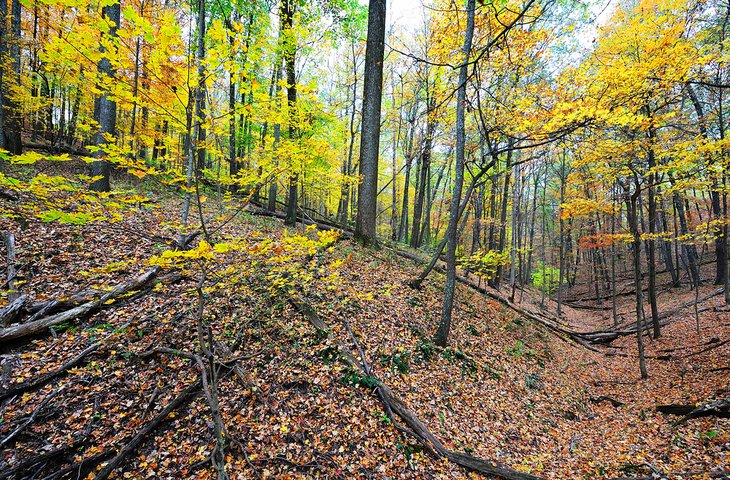 French Lick is a town with a strange name, but it is one of the most beautiful places in Indiana for a romantic getaway.
The southern Indiana town is known for its luxury resorts and spas like French Lick Springs Hotel and the historic West Baden Springs Hotel. You could certainly spend the entire weekend at the resorts, which is what many couples enjoy.
If you want to get out, you can plan a day hiking at Hoosier National Forest. There are more than 250 miles of trails, as well as other activities like horseback riding and rock climbing. If you prefer a rustic adventure to the posh resorts, you can plan your lodging at the campground.
French Lick has plenty of things to do if you just want to spend a couple of days shopping in the boutique stores, visiting the art galleries, and enjoying the area. The French Lick West Baden Museum is a fun stop, with a collection of circus history from the area and the world's largest circus diorama.
For another day of your itinerary, plan a trip on board the French Lick Scenic Railway or take the dinner train to round out the weekend.
12. Arts Weekend in Nashville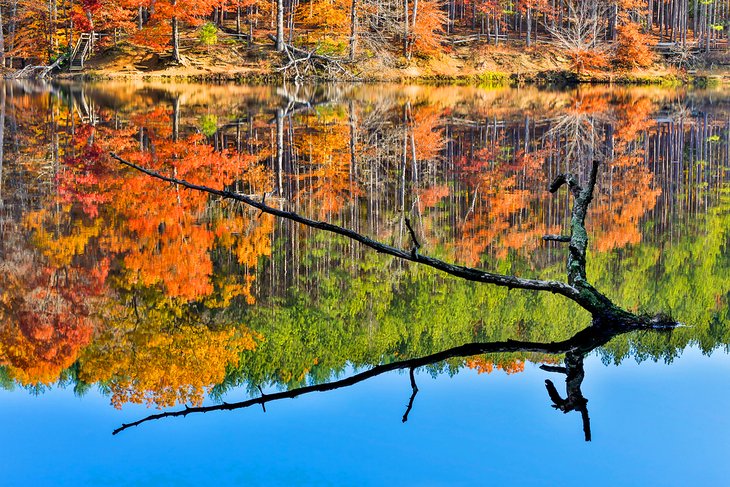 If you are just looking to get away, and you're not after anything in particular, then the south-central Indiana town of Nashville is a nice place to visit. This small village has quaint shops and a hidden arts and crafts scene.
You can spend some time getting to know the Brown County artist colony, as it's known, and see some local artisans at work. Besides the crafts, you can pick and choose from other things to do from the local music and theater venues.
Another day, or even two days of your visit, can be spent at the Brown County State Park or the nearby Yellowstone State Forest. Brown County State Park is often called the "Little Smokies" because it is like a midwestern version of the Great Smoky Mountains. It is great for hiking and scenic drives in the fall, when the leaves change colors on the trees. Yellowstone State Forest has nice hiking trails and a lake with seasonal rowboat rentals.
13. South Bend Weekend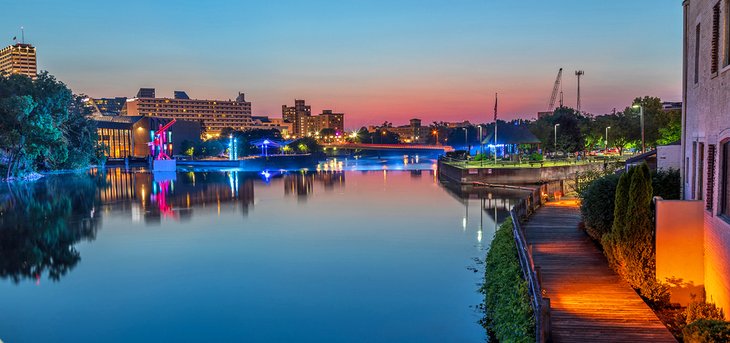 Spend a weekend in South Bend on the riverfront of the St. Joseph River in northern Indiana, enjoying small museums, restaurants, and leisurely activities.
You can start the weekend with a walk on the beautiful campus of Notre Dame University. Take a self-guided walking tour to see the architecture and historic landmarks, and if time permits, take in one of the University's NCAA Division I athletic events.
Plan another day to visit the historical and cultural museums and other tourist attractions in town. The Studebaker National Museum is a must-see for car enthusiasts who want to dive deep into automotive history. It has more than 120 vehicles on display, with the largest collection of U.S. presidential carriages in the world.
Other museums to visit include the Civil Rights History Center, the South Bend Museum of Art and the History Museum.
Schedule some time for outdoor recreation while in South Bend to experience the city's parks. One of the best ways to do this is from the Mishawaka River Walk. You can walk or bike the paved trails along the scenic St. Joseph River and connect to several other parks in the area like Central Park and the Robert C. Beutter Riverfront Park.
14. Digital Detox Weekend on Patoka Lake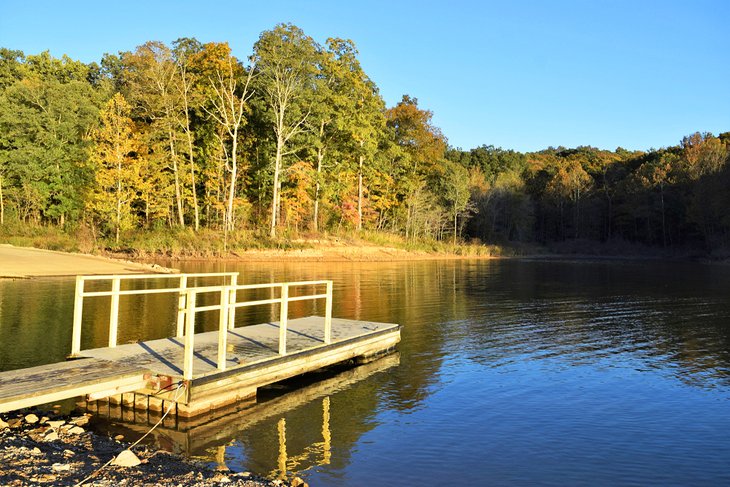 Turn off the phones and social media for a quiet lakeside weekend at Patoka Lake in southern Indiana.
As the second-largest reservoir in the state, this is one of the best places to go for water sports, kicking back to enjoy nature, and some of the best sunset views in Indiana.
Rent a cabin, houseboat, or vacation home by the water and let the outdoors be your weekend entertainment. Patoka Lake also has a spacious campground if you want to be fully immersed in the outdoors. This 8,800-acre lake has areas for swimming, boating, fishing, water skiing, and kayaking.
You can spend one day enjoying water activities and another taking in the natural scenery in the 26,000-acres of land surrounding the lake. There are hiking trails and wildlife viewing opportunities for ospreys and bald eagles.
You can also take part in a naturalist-led programs like a moonlit hike or animal habitat exploration. Boat tours and guides for fishing and water activities are easy to find in the area.
Map of Weekend Getaways in Indiana
More Related Articles on PlanetWare.com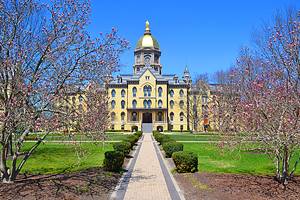 More Places to Visit in Indiana: Another great weekend option to explore in Indiana is Fort Wayne, which has a great cultural scene. If you are looking for great places to photograph in Indiana, you will find options ranging from the natural waterside scene near Michigan City to waterfalls.