12 Top-Rated Tourist Attractions & Things to Do in Indiana
We may earn a commission from affiliate links ()
Home of the Hoosiers and a history that runs deep, all corners of Indiana offer entertainment and attractions. From fun things to do in the state capital, to family-friendly attractions in Fort Wayne, Bloomington, and Lafayette, Indiana has no shortage of exciting places to visit.
Blending fun experiences with educational value, other tourist orientated facilities within the state include the Studebaker National Museum, the WonderLab Science Museum, and the Snite Museum of Art on the University of Notre Dame campus. For those adventurous explorers looking to get outdoors, areas like Prophetstown State Park and Indiana Dunes National Lakeshore provide campsites, hiking trails, and stunning scenery. Plan your visit with our list of the top attractions and things to do in Indiana.
Note: Some businesses may be temporarily closed due to recent global health and safety issues.
1. Eiteljorg Museum of American Indian and Western Art, Indianapolis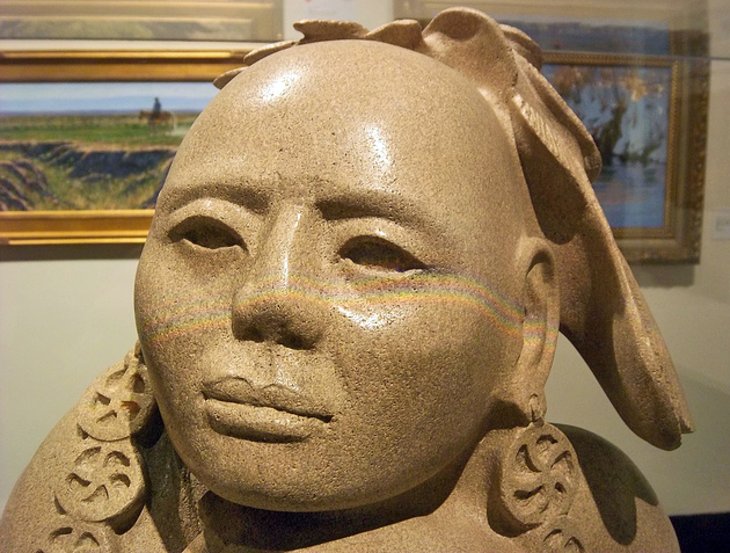 The Eiteljorg Museum of American Indian and Western Art is situated at the entrance to the White River State Park. It holds the remarkable collection assembled by the Indianapolis businessman Harrison Eiteljorg. On display are paintings and sculptures of the west from the early 19th century onwards, including works by the landscapists Albert Bierstadt and Georgia O'Keefe, and pictures and sculpture by the leading Western artists Frederick S. Remington and Charles M. Russell. The museum's most recent installation, Attitudes: The West in American Art, features a diverse collection of artists and cultures of the American West.
On the western edge of downtown Indianapolis, the encompassing White River State Park contains many other gems of the city. Adjacent to the Eiteljorg Museum, the Indiana State Museum features three floors relating stories of Indiana art, science, and culture through interactive exhibits.
Another great add-on experience to the Eiteljorg within White River State Park is the Indiana Zoo, across the banks of the White River. Resident animals include sea lions, cheetahs, and brown bears. White River State Park also features the NCAA Hall of Champions and Victory Field, home to the Indiana Indians minor league baseball team.
Address: 500 West Washington Street, Indianapolis, Indiana
Accommodation: Where to Stay in Indianapolis
2. Fort Wayne Children's Zoo, Fort Wayne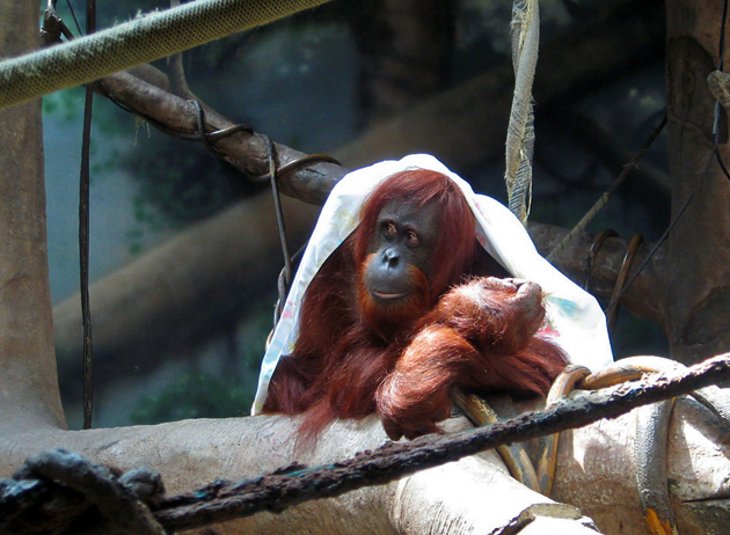 Celebrating over 50 years as one of the top attractions of Fort Wayne, the Fort Wayne Children's Zoo encourages tourists and residents to experience award-winning animal exhibits. Spread throughout distinct ecosystems spanning the African Serengeti to an Indonesian rainforest, a few of the hundreds of animals at the zoo include Amur leopards, Tasmanian devils, red pandas, and Komodo dragons.
Other attractions at the Children's Zoo include family-friendly rides like the Endangered Species Carousel, as well as animal experiences that allow you to interact with giraffes, goats, and ponies. Large-scale renovations to the Children's Zoo have been extremely popular and have given it the national recognition it receives today.
Address: 3411 Sherman Boulevard, Fort Wayne, Indiana
Official site: http://kidszoo.org/
Accommodation: Where to Stay in Fort Wayne
3. Snite Museum of Art, Notre Dame
On the campus of the University of Notre Dame, the Snite Museum of Art offers free admission and a dense collection of 19th- and 20th-century artworks. Spanning different cultures and significant periods of world art history, the collection at Snite includes European painting and sculpture, Mesoamerican effigies, Native American ceramics, and contemporary works. The museum also hosts a constantly rotating selection of new exhibits, including thesis projects by current MFA students at the university.
Operated by the museum a couple of blocks away, the newly instated Charles B. Hayes Sculpture Garden allows visitors to enjoy aesthetic art and nature throughout the year.
The University of Notre Dame offers plenty more to explore for students and community members alike. It's not hard to find inspiration when stepping foot into the Basilica of the Sacred Heart on campus, as well as the adjacent Grotto of Our Lady of Lourdes spiritual shrine. The nearby Compton Family Ice Arena is a great place to catch a hockey game or get on the ice yourself. For many, attending Fighting Irish football games at Notre Dame Stadium is a way of life and much anticipated activity every season.
Address: 100 Moose Krause Circle, Notre Dame
4. Indiana University Bloomington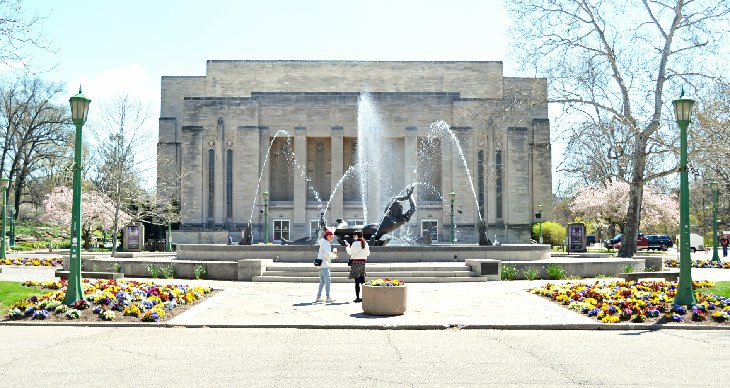 Home to the Hoosiers and nearly 200 years of education history, Bloomington hosts the flagship campus of Indiana University. An air of academia defines the historic lecture halls and pedestrian pathways found on campus, including the iconic Sample Gates, which lead to other campus attractions like the Kirkwood Observatory.
Hoosier sports are intertwined with the identity of the entire state, and both football at Memorial Stadium and basketball at Simon Skjodt Assembly Hall provide true community gathering spots and reasons to cheer.
Cultural institutes like the Eskenazi Museum of Art and the IU Arboretum are popular for students and community members alike and help define Bloomington. For dining and local shops near the university, the neighboring Kirkwood Avenue is a popular spot for afternoon storefront perusing and evening entertainment.
Address: 107 South Indiana Avenue, Bloomington, Indiana
Official site: https://www.indiana.edu/
5. The Children's Museum of Indianapolis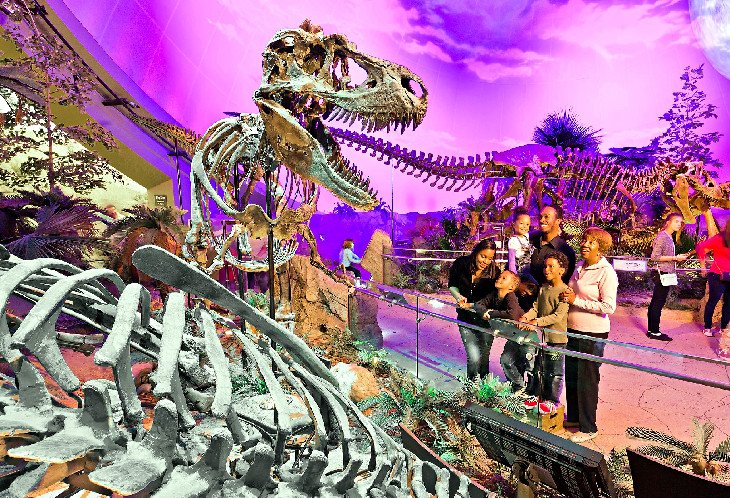 A large and wondrous place the whole family can enjoy, the Children's Museum of Indianapolis encompasses 29 acres in the United Northwest neighborhood of the city. As the largest children's museum in the world, the many different exhibits and hands-on science displays span from the time of the dinosaurs to astronauts living aboard the International Space Station. Including thousands of artifacts, photo opportunities, and interactive experiences, the museum is a sure-fire favorite for children of all ages and an incredible learning experience for adults as well.
Other exhibits at this world-renowned museum include a planetarium, children's theater, and numerous outdoor exhibits including an eye-catching "Tree of Sports" playground. Other areas of eye-catching interest include a 43-foot-tall Dale Chihuly glass sculpture; full-size dinosaur skeletons, including one of the world's few mummified dinosaurs; and an interactive playscape designed specifically for preschoolers.
A full-day family outing, the museum also provides daily events and programs, including costume building workshops, a "Secrets of the Lab" series, and Astronaut Training aboard the International Space Station. For even more fun things to do, the children's museum also features a restored 1917 carousel on the fourth level of this near 475,000-square foot facility.
Address: 3000 North Meridian Street, Indianapolis, Indiana
Official site: https://www.childrensmuseum.org/
6. Prophetstown State Park, West Lafayette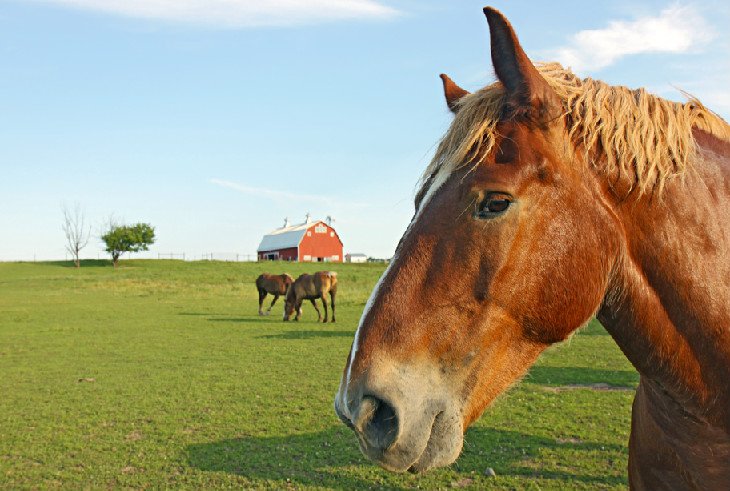 Steeped in natural and cultural history, Prophetstown is a new addition to the Indiana State Park system and features many ways to interact with the environment. Within the state park, the 125-acre Farm at Prophetstown embodies a 1920s motif, including hands-on experiences with homesteading, gardening, and livestock feeding.
At the confluence of the Wabash and Tippecanoe Rivers, Prophetstown also features a variety of hiking trails that cater to all abilities of hikers. An extensive Aquatic Center at the park also draws a lot of warm-weather attention with a zero-depth entry pool, lazy river, and 30-foot waterslide.
Nearby Prophetstown, interested visitors can learn more about the area at the Tippecanoe Battlefield Park, which alongside Prophetstown State Park are two of the most popular tourist attractions of Lafayette.
Address: 5545 Swisher Road, West Lafayette, Indiana
Official site: https://www.in.gov/dnr/parklake/2971.htm
7. Studebaker National Museum, South Bend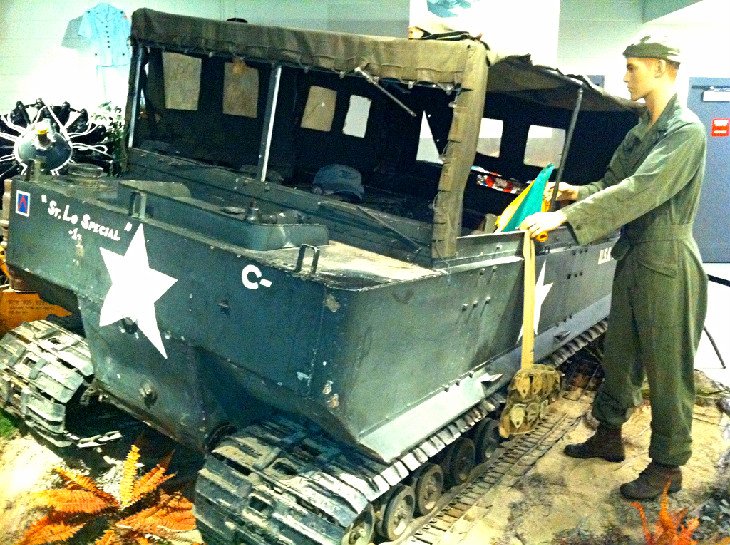 A defining industry and top attraction of South Bend, the American car manufacturer Studebaker has long roots tied to the city. Once the headquarters for manufacturing, South Bend and the Studebaker National Museum now display a wide range of these made-in-Indiana automobiles, including classic models, military vehicles, and the largest collection of Presidential carriages found anywhere in the country.
An interactive area at the museum designed for children, the Super Service Center encourages young visitors to step inside an auto shop to work on kid-size cars. The museum's collection also consists of numerous manufacturing drawings and history relating to the Studebaker Corporation.
Address: 201 Chapin Street, South Bend, Indiana
Official site: https://studebakermuseum.org/
8. WonderLab Museum of Science, Bloomington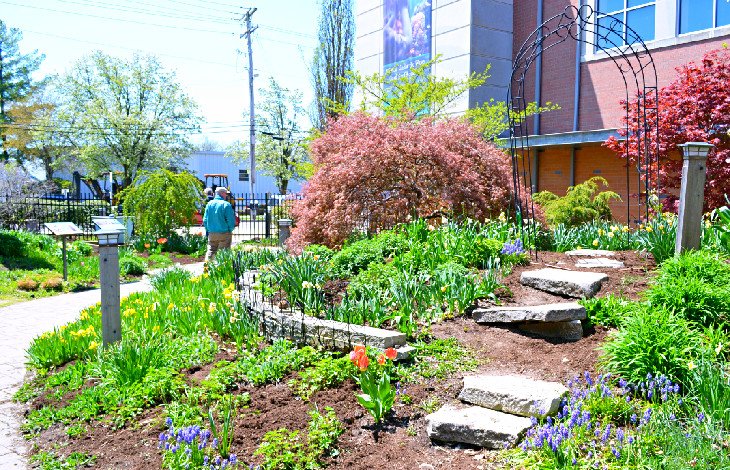 WonderLab is a children's fun center with a focus on science, health, and technology. It's also one of the top-rated attractions of Bloomington for families. Featuring hands-on and immersive learning experiences, WonderLab features popular permanent exhibits, including a Bubble-Airium; the Fitzgerald Hall of Natural Science; and an outdoor WonderGarden, which connects with the nearby pedestrian corridor, the B-Line Trail.
The museum also runs an active events calendar targeted at both adults and children, including science talks, STEM Sundays, and a "WonderLab After Dark" series. Other areas of interest at the museum include a coral reef aquarium, a children's Discovery Garden, and facilities for birthday parties or events.
Address: 308 West Fourth Street, Bloomington, Indiana
Official site: http://www.wonderlab.org/
9. Indiana Dunes National Lakeshore, Porter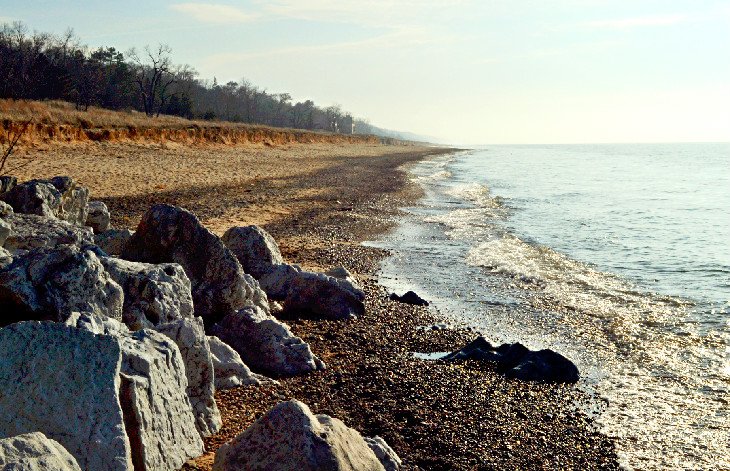 Overlooking the shores of Lake Michigan near the Illinois border, Indiana Dunes presents a unique landscape found no other place in the state. A wide variety of outdoor activities are available at Indiana Dunes National Lakeshore and the adjacent state park of the same name, with hiking, biking, and beach-going as some of the most popular.
During the winter, activities like cross-country skiing and snowshoeing tend to reign supreme. Fishing and boating are also available at the lakeshore, and camping at the seasonal Dunewood Campground is a great way to make a multi-day trip. A recommended experience for any visit, sunsets at Lake Michigan often resonate with brightly changing colors and tones.
Address: 1215 IN-49, Porter, Indiana
Official site: https://www.nps.gov/indu/index.htm
10. Lanier Mansion State Historic Site, Madison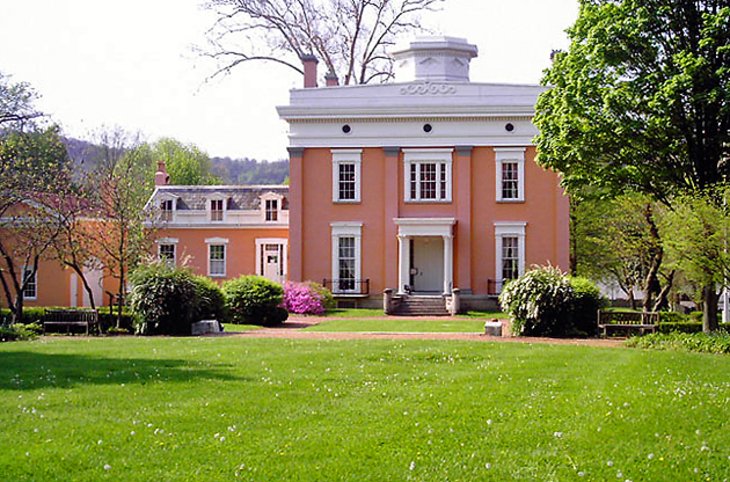 The Lanier Mansion was built for James Franklin Doughty Lanier, a prominent businessman in the state of Indiana around the mid-1800s. The Greek Revival-style house was completed in 1844 and is one of the finest buildings in Madison's National Historic Landmark District. It was designed by architect Francis Costigan. Inside are some of the original furnishings and an impressive three-story spiral staircase. On the grounds are formal gardens showcasing plants and landscape styles of the late 19th century.
Visitors are welcome to tour the historic mansion during daily operating hours, Tuesday through Sunday, with guided tours beginning at the top of every hour. The historic mansion is also home to several events and programs throughout the year, including holiday candlelight tours, early childhood programs, and adults-only 1940s Dance Hall celebrations.
Address: 601 W First Street, Madison, Indiana
11. RV/MH Hall of Fame Museum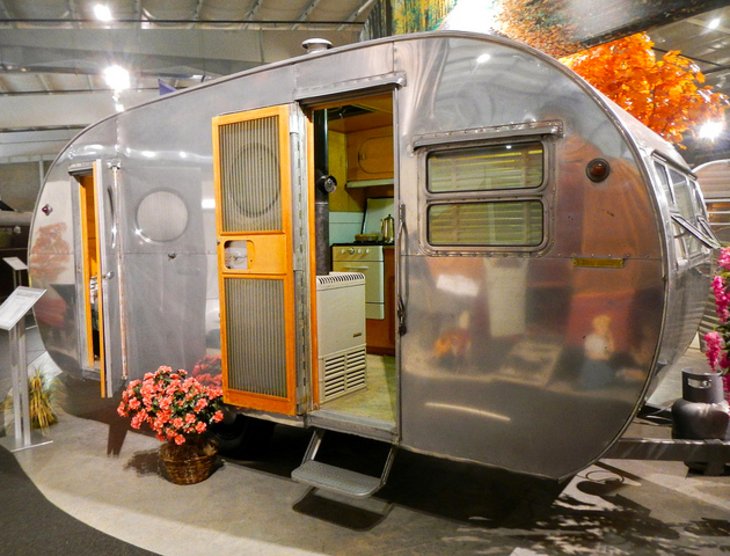 For people with an interest in RVs, or anyone who simply wants to see the classic vehicles that Americans have been driving along the roads and vacationing in for the past 90 years, this place is a must-see. The RV/MV Hall of Fame in Elkhart showcases all kinds of recreational vehicles in all shapes and sizes from the various decades.
Popular vehicles and exhibits on display include Mae West's 1931 Chevrolet Housecar, a "Road Back in Time" walking tour, and a Tennessee Traveler Motorhome. Visitors can also see how the interiors and appliances of recreational vehicles have changed over the years. Located in a huge showroom, the museum displays trailers, motorhomes, photos, and memorabilia dating back to the 1920s.
Address: 21565 Executive Parkway, Elkhart, Indiana
12. First Christian Church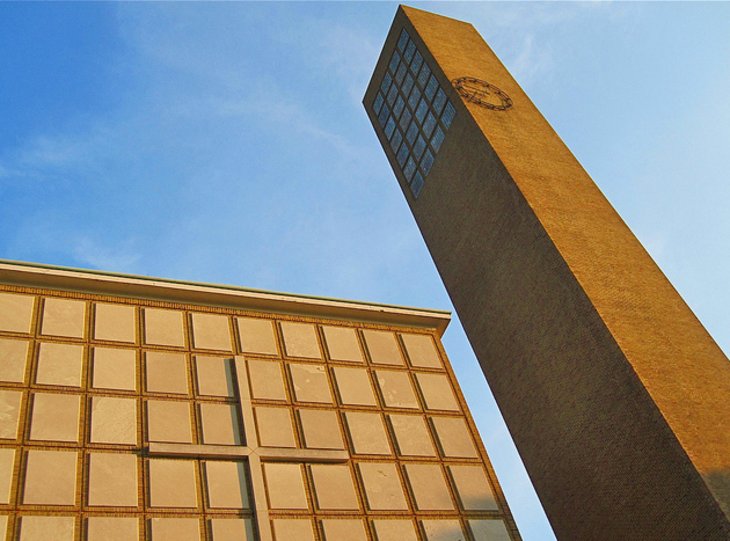 The First Christian Church in Columbus was designed by Eliel Saarinen and completed in 1942. It has a non-traditional look, with rectangular shapes and a rectangular tower, which stands 160 feet high. It is noted to be one of the first churches in the United States built in such contemporary style. The materials, exterior and interior, are mostly buff brick and limestone. The Sanctuary can seat about 900 people.
All members of the public are encouraged to check out the regular services hosted by the church, and this religious establishment provides numerous ways to connect with the surrounding community.
Address: 531 Fifth Street, Columbus, Indiana
Official site: http://www.fccoc.org/