11 Top-Rated Attractions & Things to Do in Mount Airy, NC
Set in the foothills of the beautiful Blue Ridge Mountains, Mount Airy is well-known for being the hometown of Andy Griffith and his inspiration for the fictional town of Mayberry. Many of the town's attractions and things to do are aimed at fans of the Andy Griffith Show, from squad car tours to his namesake theater and museum, but this small town has much more to offer than just nostalgia for this classic show.
Antique shops, the world's largest open-face granite quarry, a lively Main Street, friendly residents, and the scenic surroundings make this a great place to spend a day or two. It's also a convenient stopping point along the Blue Ridge Parkway.
For a more complete look at how to spend your time here, see our list of tourist attractions and things to do in Mount Airy.
1. Mount Airy's Main Street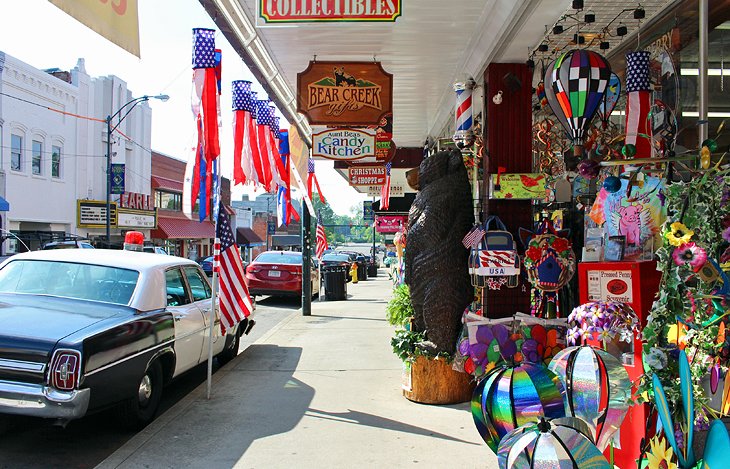 A stroll down Main Street Mount Airy will give you a feel for the charms of this small town. Restored buildings house interesting shops and restaurants. You can find that perfect souvenir, get the kids wired on candy and ice-cream, or catch a show at the famous Earle Theatre.
In summer, many of the stores along Main Street have goods for sale out on the sidewalks. If you work up an appetite, you can find an assortment of ice-cream and dessert shops and interesting diners serving tasty lunches.
For first-time visitors, Main Street is the place to begin your sightseeing.
2. Mayberry Squad Car Tours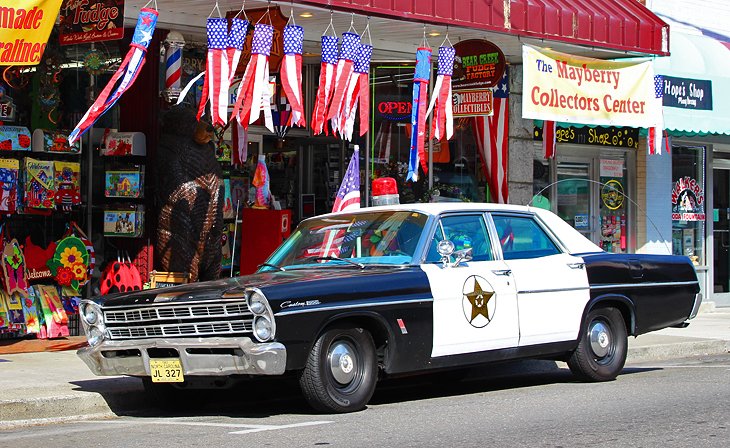 Ideally suited for fans of the Andy Griffith Show, but also a great way to see the sites, the Mayberry Squad Car Tours are a fun way to learn some little-known facts about the show and the fictional town of Mayberry.
The tour is conducted by a local expert, chauffeuring guests around in a vintage Ford Galaxie 500 squad car replica dating from 1962. Stops and highlights on the tour include Floyd's Barbershop, Andy Griffith's birthplace, Snappy Lunch, and the Old Jail, along with several other interesting sites. Tours leave from Wally's Service Station.
Address: 625 South Main Street, Mount Airy, North Carolina
Official site: https://www.tourmayberry.com/
3. Andy Griffith Museum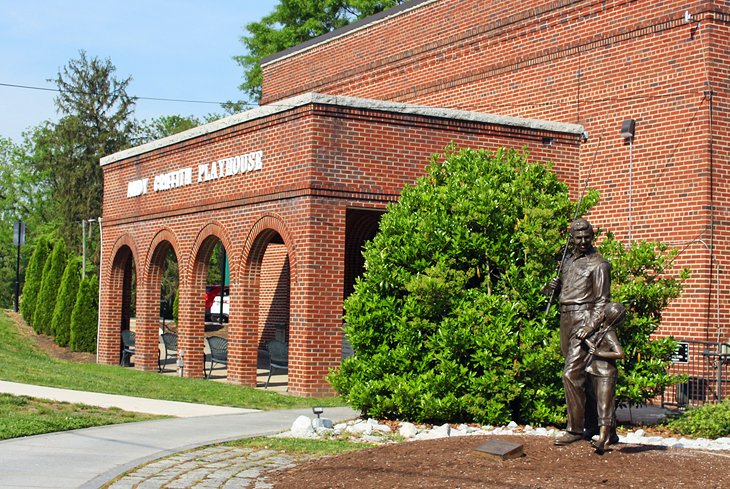 Located a short stroll off Main Street, the Andy Griffith Museum, next to the Andy Griffith Playhouse, is a must-see local attraction. The facility presents a wonderful overview of this famous actor through displays and touchscreens and holds the world's largest collection of Andy Griffith memorabilia. The museum also has an exhibit on Betty Lynn and a Maybury Mural. Out front of the Playhouse is the iconic TV Land statue of Andy and Opie going fishing.
While visiting the museum, be sure to pop in and see the entire floor dedicated to the history of the Siamese conjoined twins, Chang and Eng Bunker, who lived in Mount Airy. Their lives are expertly chronicled from their early days in Siam (modern day Thailand) through their performing years, their retirement and farming period, and finally their passing in 1874 at the age of 63.
The admission fee to the museum also includes a visit to the historic Earle Theatre on Main Street.
Address: 218 Rockford Street, Mount Airy, North Carolina
Official site: http://www.surryarts.org/agmuseum/index.html
4. Mount Airy Museum of Regional History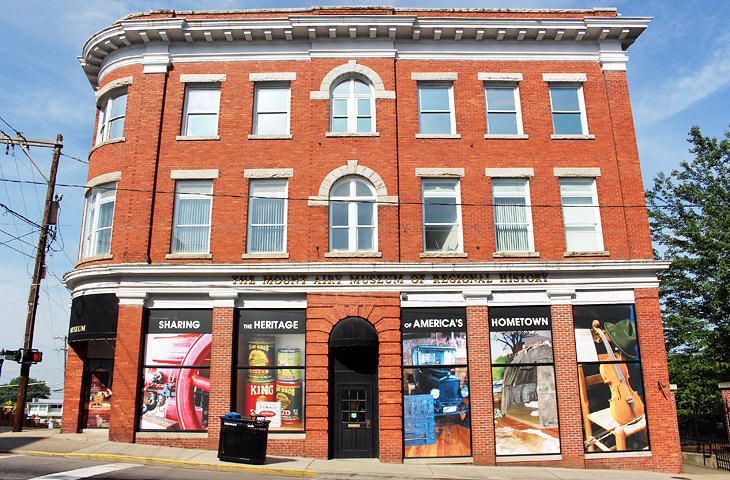 Located right on Main Street, the Mount Airy Museum of Regional History offers four floors of local history on the town and surrounding areas. You'll find exhibits on the first resident Native Americans, early settlers, and hometown heroes.
Of particular note is a turn-of-the-century country store, providing insight into the period and how this key community provider operated. Music fans will enjoy an exhibit on the unique music style native to this area called Old Time, and children will be entertained by the "Hands on History" gallery.
Address: 301 North Main Street, Mount Airy, North Carolina
Official site: http://www.northcarolinamuseum.org/
5. Historic Earle Theatre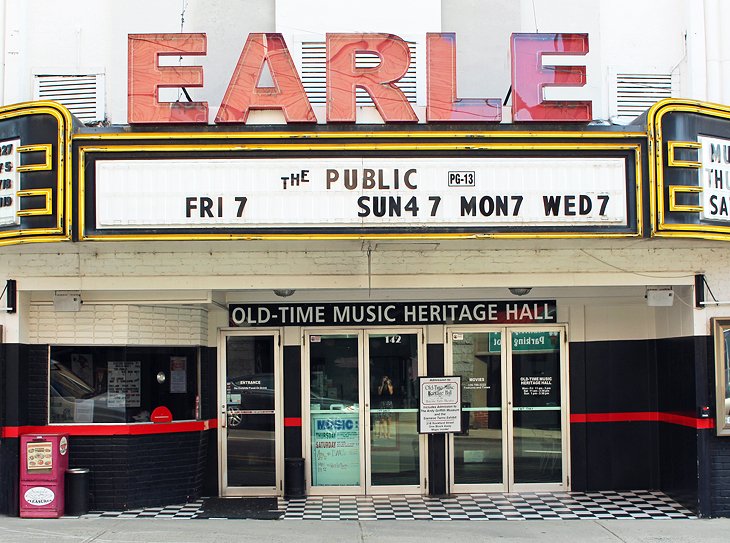 This iconic theater, set on Main Street, has been a fixture in Mount Airy since 1938. The theater has been restored, and films are shown here five days a week. Local musicians host a Thursday Jam Night every week, and admission is free.
If you time it right, you can visit when the WPAQ Merry Go Round radio show is broadcast live from the theater on Saturdays from 11-1:30pm. Housed in the theater is the Old-Time Music Heritage Hall, which showcases old records, microphones, and musical instruments, along with other items.
Address: 142 Main Street, Mount Airy, North Carolina
6. World's Largest Open Pit Granite Quarry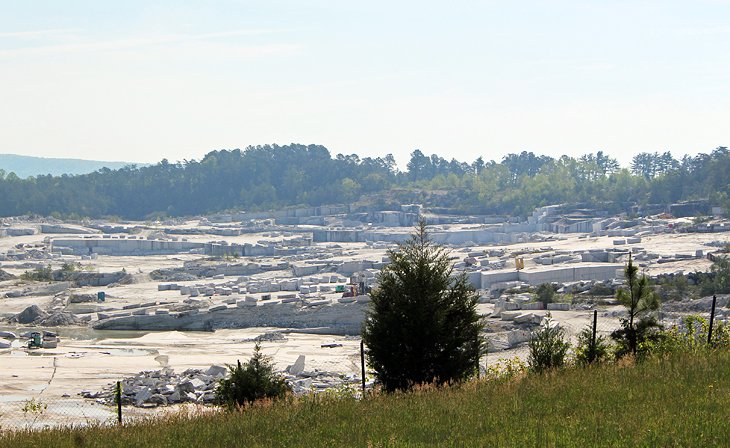 Set just outside of town is a site so large that it can be seen from space: the North Carolina Granite Corporation's quarry. Granite, the official state rock, has been quarried here for over 150 years. Due to federal regulations, the quarry cannot be toured, however an excellent free viewing area, open seven days a week, is located high on a ridge above the excavation site.
If you time it right, you might be lucky enough to see blasting taking place. You can stop in at the main office to get a free sample and an information brochure.
7. Interesting Restaurants & Shops in Mount Airy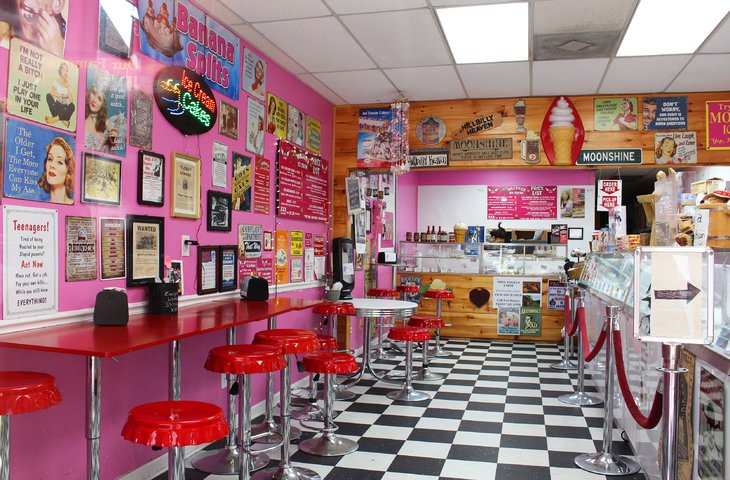 Mount Airy has an assortment of places to eat and shop, some of which are long-running establishments that have become entwined with the town's history. One of the more famous is the Snappy Lunch restaurant, open since 1923, and a place Andy Griffith would come to eat when he was a boy. It's open for breakfast and lunch, and you might want to come early for lunch to avoid a line.
Another good lunch or breakfast option is Leon's Burger Express, an old-style diner and long-running institution in Mount Airy, in the 400 block of Main Street.
For treats, check out Walker's Soda Fountain, where you can enjoy an ice-cream or milkshake and listen to music from the 1950s or 60s, or Hillbilly, another interesting ice-cream and dessert shop with an old-fashioned theme.
The Bear Creek Gifts and Fudge store is the place to visit for souvenirs, fudge, and other fun items. All of these places are conveniently located on Main Street.
8. Antique Stores in Mount Airy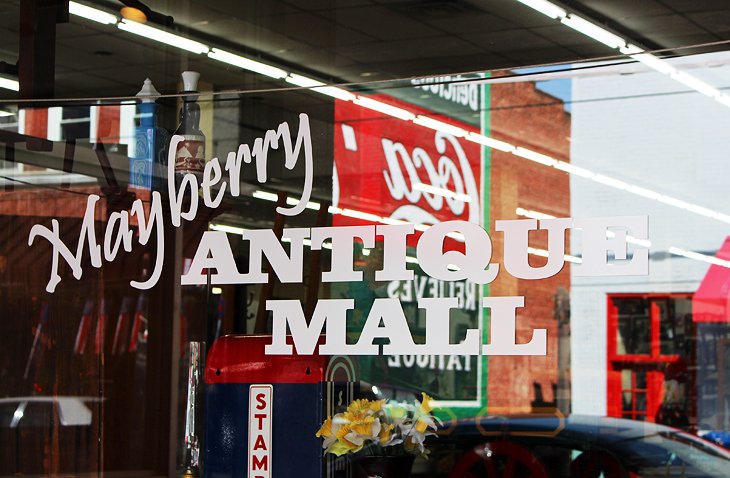 You can't help but be drawn into the antique stores that line Main Street in Mount Airy. These shops are an interesting mix of items and old treasures just waiting to be found by sharp-eyed shoppers. If you know what you are looking for, you may have a very good chance of finding it at one of these unique stores.
The Mayberry Antique Mall features items from over 100 dealers offering collectibles, vintage goods, and antiques. Other places to check out include the Mayberry Antique Hideaway and Memories on Main Antiques and Collectibles.
9. Day Trip to nearby State Parks: Pilot Mountain & Hanging Rock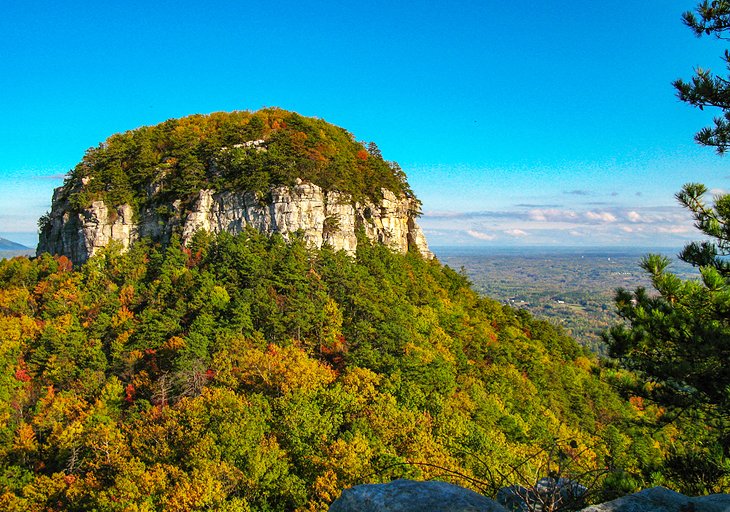 The scenery around Mount Airy is one of the great attractions of this small town. You can easily base yourself in Mount Airy for a night or two and day trip to the nearby mountains to soak up some nature or enjoy a bit of hiking.
From Interstate 77, you can see a large rock outcropping. Rising 2,000 feet into the sky is Pilot Mountain. Pilot Mountain State Park is an easy day trip from Mount Airy, just 13 miles away, and offers 27 miles of hiking, 42 camping spots, 9.8 miles of equestrian trails, along with canoeing, fishing, rock climbing, and rappelling. From the top are stunning views of the surrounding Sauratown and Blue Ridge Mountains. One of the most popular trails is the three-mile hiking route to the top, the Grindstone Trail.
A little farther out is Hanging Rock State Park. Here, you'll find a family-friendly park with 18 miles of hiking trails, some of which take you to scenic overlooks of the surrounding countryside. Owing to the relatively mild climate, these trails can be enjoyed at almost any time of year. Camping is available at one of the 74 sites in the main campground, and day trippers can enjoy the expansive picnic areas.
For paddlers, access points along the Dan River are available, and mountain bikers will find 8.4 miles of rolling trails. Be sure to visit the museum, where the history of the Sauratown Mountains is explained.
10. Blue Ridge Parkway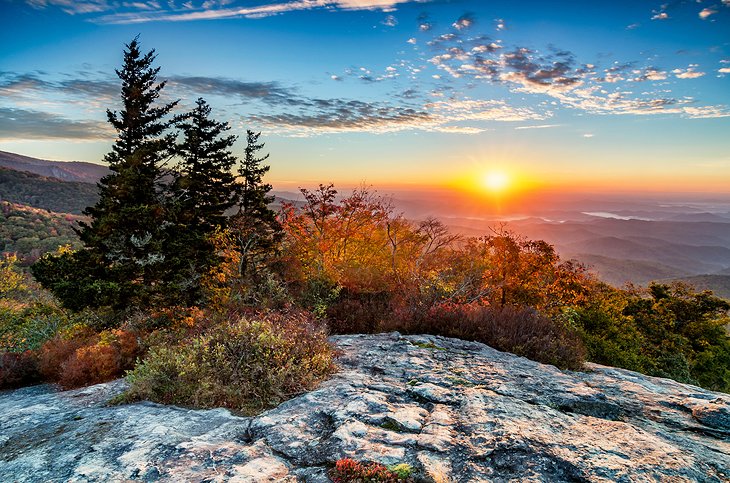 Mount Airy is a great stopping place along the Blue Ridge Parkway. Accommodation here is plentiful, and reasonably priced hotels are easy to find. The Blue Ridge Parkway is only 13 miles north of the town and is accessed easily off highways 671 and 679. Note that the drive up to the Blue Ridge Parkway from Mount Airy is long and steep.
Attractions along the Blue Ridge Parkway in this area include Puckett Cabin, Groundhog Mountain, Mabry Mill, Rocky Gorge Overlook, Blue Ridge Music Center, and the Rocky Knob Visitors Center.
11. Granite City Greenway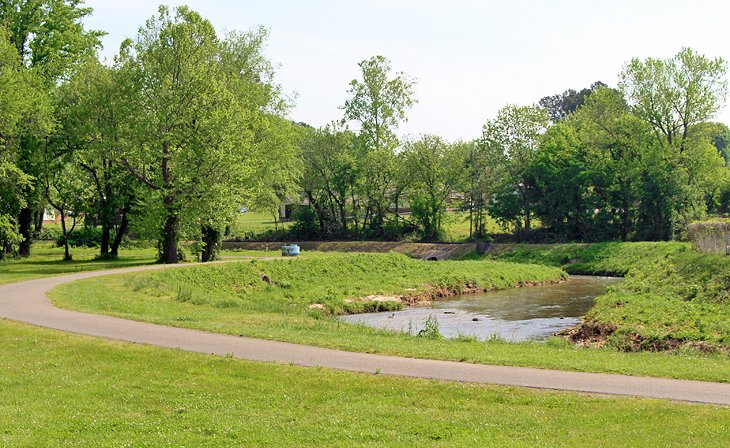 If you feel like getting a bit of exercise while in Mount Airy, the Granite City Greenway with a paved 6.6-mile trail, 10 feet wide, is ideal for walkers, bikers, rollerblades, and children in strollers.
The trail hugs the lush shorelines of Lovill's Creek and the Ararat River. The path starts in Veteran's Park, passes through Tharrington Park, HB Rowe Park, and finally ends at Riverside Park.
Along the way, you'll be able to participate in a variety of pastimes, including fishing at Westwood Park, perhaps a game of basketball or pickle ball at Riverside Park, or even a round of disc golf. If just plain strolling along listening to music is more your speed, this is the perfect place to do it.
Map of Attractions & Things to Do in Mount Airy, NC
Mount Airy, NC - Climate Chart
Average minimum and maximum temperatures for Mount Airy, NC in °C
J
F
M
A
M
J
J
A
S
O
N
D

7

-4

10

-4

15

1

20

4

24

11

28

16

30

18

29

17

26

13

21

6

15

1

9

-3

PlanetWare.com
Average monthly precipitation totals for Mount Airy, NC in mm.

102

85

113

98

118

102

112

97

110

85

88

84

Average monthly snowfall totals for Mount Airy, NC in cm.

11

10

4

0

0

0

0

0

0

0

1

4
Average minimum and maximum temperatures for Mount Airy, NC in °F
J
F
M
A
M
J
J
A
S
O
N
D

45

24

50

25

59

33

68

40

76

51

82

60

86

64

85

62

79

56

70

43

59

34

49

27

PlanetWare.com
Average monthly precipitation totals for Mount Airy, NC in inches.

4.0

3.4

4.4

3.9

4.7

4.0

4.4

3.8

4.3

3.4

3.5

3.3

Average monthly snowfall totals for Mount Airy, NC in inches.

4.4

4.0

1.4

0

0

0

0

0

0

0

0.2

1.7
More Related Articles on PlanetWare.com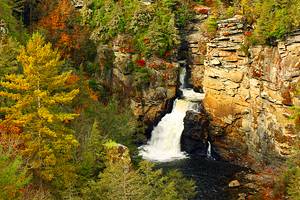 Mountain Towns in North Carolina: South of Mount Airy, in the Blue Ridge Mountains, you can find a number of interesting and welcoming small mountain towns. Depending on your interests and the time of year, these make great bases for hiking or skiing vacations, or places to spend a weekend getaway. Not far from Asheville is Hendersonville, a small town worth a stop in summer or winter.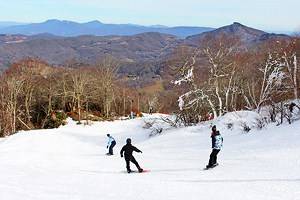 Skiing in North Carolina: Less than a two-hour drive from Mount Airy, you can find yourself in the heart of North Carolina's ski country. To find out about the best places to hit the slopes and where to base yourself nearby, have a read through our list of Top Ski Resorts in North Carolina.