9 Top-Rated Attractions & Things to Do in Roanoke, VA
We may earn a commission from affiliate links ()
Roanoke is an attractive place to visit for tourists, whether you're a culture vulture looking to explore great museums and quirky attractions or an active vacationer who places outdoor adventures high on their holiday must-do list. Situated in the scenic Roanoke Valley in southwestern Virginia, the city is a four-season destination for avid hikers, rock climbers, recreational boaters, and lovers of sportfishing. Urban explorers are equally rewarded with pleasant in-town greenways, cultural diversions, varied dining, and shopping discoveries unique to the region. Regardless of your vacation style, be sure to refer often to our list of the top attractions and things to do in Roanoke.
See also: Where to Stay in Roanoke
Note: Some businesses may be temporarily closed due to recent global health and safety issues.
1. Mill Mountain Park & the Roanoke Star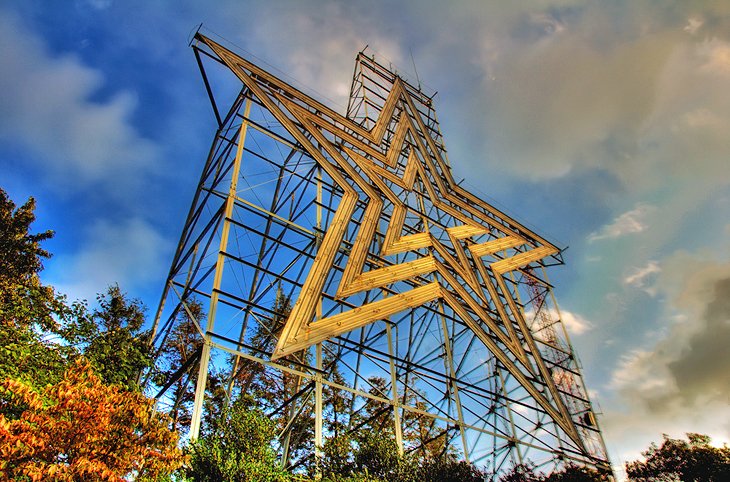 The 568-acre Mill Mountain Park — home to the famous Roanoke Star (also known as the Mill Mountain Star) — has more than 10 miles of multi-use trails (hiking, walking, and biking), where visitors can explore the all-season natural beauty of the region.
For a moderately challenging hike, take the Mill Mountain Star Trail, a 3.5-mile round-trip from the base trail, and head along the nearby Roanoke River to the peak of Mill Mountain, the highest point in the city at 1,703 feet. Hikers experience an 838-foot rise in elevation and are rewarded with two scenic overlooks atop the mountain. Find ample free parking and good directional signage at the Star Trail parking lot just off Riverland Road SE at the Star/Wood Thrush Connector.
Connect with the short Watchtower Trail for the best panoramic views and photos directly at the base of one of Virginia's most legendary sites, the Roanoke Star. This quirky landmark, built in 1949 as a temporary Christmas decoration by the local merchants association, is today listed in the National Register of Historic Landmarks. At 89 feet high, the giant star is the largest star in America. It is illuminated each evening until midnight and is seen up to 60 miles away.
Hikers are welcome to bring their leashed dogs and will find picnic tables, restrooms, and water at the top and nearby along the Mill Mountain Spur Trail en route to Discovery Center, a naturalist center featuring exhibitions on the park, local wildlife, and trail maps. Children of all ages will love the Mill Mountain Zoo, a small but lively enclave, with local critters like the Indian crested porcupine, the red wolf, and the yellow-spotted side-necked turtle.
Address: 2198 Mill Mountain Spur, Roanoke, Virginia
Official site: www.playroanoke.com/parks-facilities/mill-mountain-park
2. Carvins Cove Natural Reserve
In-the-know visitors acknowledge Carvins Cove Natural Reserve as a haven for off-road mountain biking, with more than 60 miles surrounding an 800-acre reservoir. The second largest municipal park in the United States, the reserve encompasses almost 13,000 acres, the majority of which are protected by the largest conservation easement in the history of the state of Virginia.
First-time visitors are well served by making an initial visit to Just The Right Gear, a cycling shop close to the Bennett Springs parking lot (one of three reserve entrances — Marina and Timber View being the others), where trail maps are available for purchase, and bikers can get local advice on which trails are best suited for their experience level. High-end bike and gear rentals are also available.
Beginners will find a gentler rise and more flats along Easy Street, Kit & Kaboodle, The Skillet, and Enchanted Forest trails. Bikers looking for tougher challenges will get all they bargained for on the Comet, Gauntlet, Hoe Trail, and Clownshead. Expect up to 2,400 feet rise in elevation along the most difficult trails.
Riders will find packed dirt, loose gravel, and tamped soil along these well-maintained trails. Carvins Cove is also popular for its canoe activities (equipment rentals and instruction available), and fishing.
Official site: www.playroanoke.com/carvins-cove/
3. Smith Mountain Lake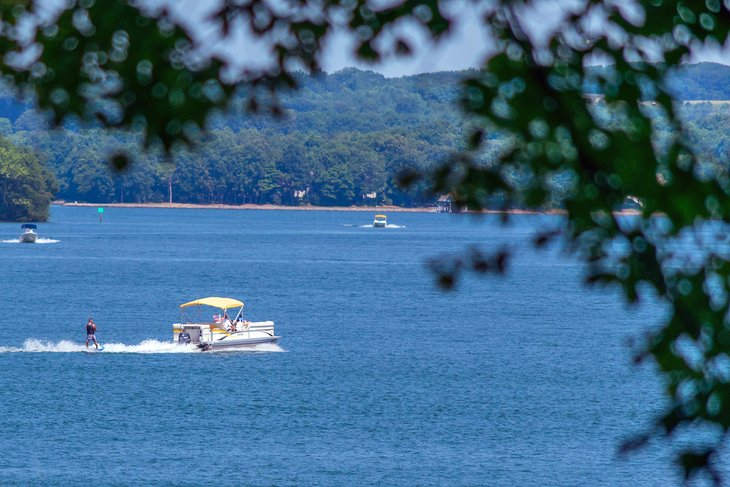 One of Virginia's most popular lakes — and the state's biggest — Smith Mountain Lake has nearly 500 miles of shoreline, earning the well-deserved moniker of the Jewel of the Blue Ridge Mountains. SML, as it's known by locals, has a particularly impressive striped bass population, as state fisheries keep the lake well stocked. Visiting anglers can arrange for half- or full-day charters with a number of fishing professionals offering licensed guide services and plenty of experience traversing the 21,000-acre lake. They'll provide bait, gear, and all the expertise necessary to ensure those fishing have a safe and enjoyable experience on the lake.
In addition to stripers, lake goers may hook crappies, bluegills, or largemouth and smallmouth bass — all good eating fish that make freshwater fishing at SML a top tourist attraction for visitors.
Other fun things to do on the lake include water-skiing and wakeboarding, boating and sailing, and jet skiing. There's also a family-friendly beach for swimming, plus a number of nearby golf courses.
4. Roanoke Valley Greenways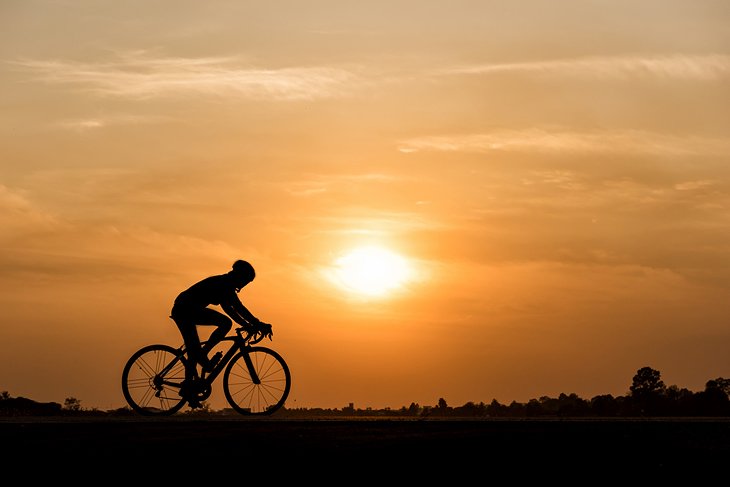 Safe, well-populated, and well-maintained, the interconnected Roanoke Valley Greenway allows visitors to experience the city up close and personal by walking or biking along the miles of trails found in its environs. In and around the city of Roanoke, a favored trail is right along the Roanoke River, where even in town it is not unusual to spot deer, herons, geese, and other creatures that navigate the urban waterway. A great starting point for exploration is at Vic Thomas Park, just off Memorial Drive south of the river, where you can easily pick up the Roanoke River Greenway.
The renowned Black Dog Salvage is less than a block away. The nationally recognized purveyor of reclaimed architectural, commercial, and industrial fixtures and elements delivers on an intriguing, one-of-a-kind inventory that differs with every visit. Black Dog specializes in doors, windows, wrought iron, period lighting, garden statuary, and all manner of specialty home components that draw visitors from all 50 states.
After visiting Black Dog, head southeast on the Roanoke River Greenway towards Wasena Park. Check out the kids hanging ten on their long-boards at the Wasena Skate Park. The park is always a hub of activity, and it's fun to see the fancy footwork displayed by the locals on their boards and blades.
Continuing on the greenway, you'll cross the Mill Mountain Greenway en route to the Tinker Creek Greenway. Follow that north for less than a mile and reward yourself with a packed lunch at the picnic facilities at Fallon Park.
Official site: http://greenways.org/
5. Taubman Museum of Art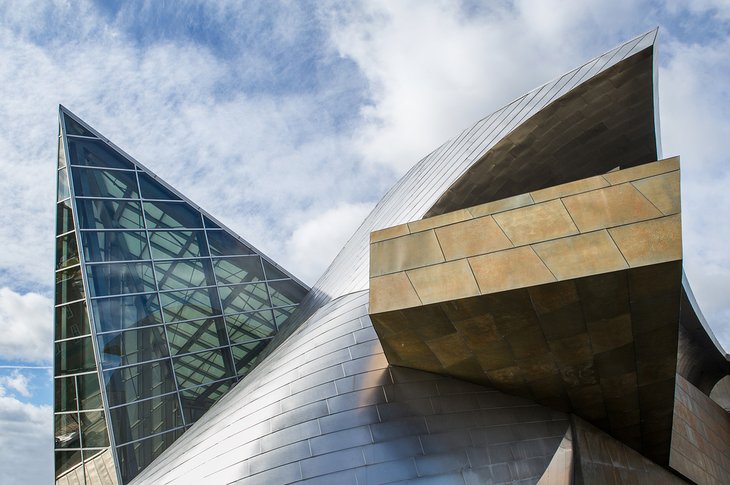 One of the newer attractions in downtown Roanoke (it opened in 2008), the Taubman Museum of Art is a must-visit whether you're an art aficionado or simply a casual consumer of culture. Housed in a stunning modern design by notable architect Randall Stout, the museum's permanent collection of some 2,000 unique pieces are spread across 11 different galleries, including works by Thomas Cowperthwaite Eakins, Purvis Young, and John Cage.
A program of visiting exhibits including artwork from some of the country's top artists such as John James Audubon and Norman Rockwell, to name but two, are a frequent occurrence. Other highlights include displays of photography, folk art, and design-related material.
If traveling with kids, be sure to check out the availability of kids programs, including hands-on workshops and interactive displays. A café is also located on-site.
Address: 110 Salem Ave SE, Roanoke, Virginia
Official site: www.taubmanmuseum.org
6. McAfee Knob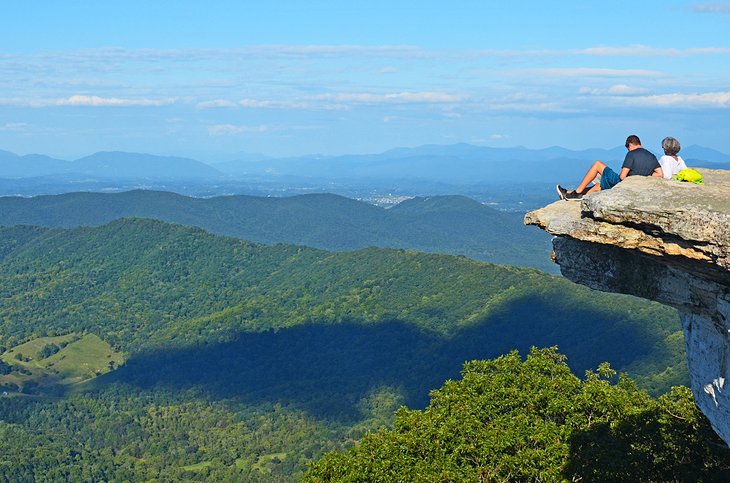 With its incredible vistas and spectacular rock overhang perch, McAfee Knob is one of the most photographed spots on the entire Appalachian Trail. Many enjoy hiking here on the 3.5-plus miles of intermediate-to-difficult trails from the Virginia 311 parking lot leading up to the knob.
Climbers know it for the more than 70 challenging boulders of gnarly sandstone and slick quartzite that make for days of mini-summits to tackle. Most boulders are between 10 and 20 feet high with many offering plenty of vertical, lots of crimps, jugs, pockets, and edges. Bring pads, lunch, and a buddy; it's never a good idea to tackle the rocks solo, and McAfee is often deserted.
The recently re-opened Explore Park just off the Blue Ridge parkway is another popular recreational area in Roanoke that offers plenty of adventures. The park consists of 1,100 acres of spectacular scenery, plenty of walking and hiking trails, along with thrilling ziplines and a treetop adventure course suitable for families with younger kids. It also features camping and rustic cabins, a visitor center, plus a gift shop.
7. Bottom Creek Gorge Preserve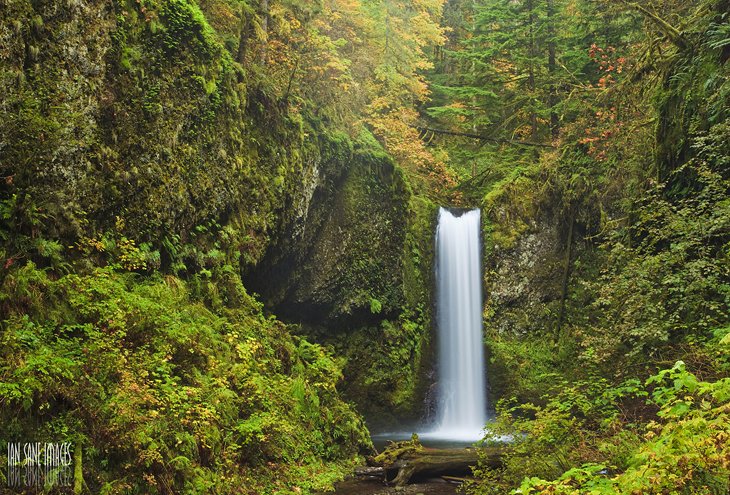 Birders, nature lovers, and outdoor photography enthusiasts love the scenic Bottom Creek Gorge Preserve. Less than 20 miles south of Roanoke, Bottom Creek is one of the important headwaters feeding the Roanoke River and offers visitors several well-marked trails to take in the vast hardwood forest, unspoiled landscape, and Virginia's second highest waterfall.
Photography enthusiasts will want to take the Red Trail (the longest trail here, at five miles round-trip) for the best vantage point to capture the 200-foot cascading waterfall, the second tallest in Virginia. Be sure to bring a long/telephoto lens as the overlook at the end of the trail provides a clear, open shot, but the falls are some distance away. Other falls vantage points are down a side path off the Yellow Trail.
Wild turkeys, owls, and numerous bird species can be spotted in the wildflower meadows and unique topography of the gorge.
Official site: www.nature.org/ourinitiatives/regions/northamerica/unitedstates/virginia/placesweprotect/bottom-creek-gorge.xml
8. Roanoke City Market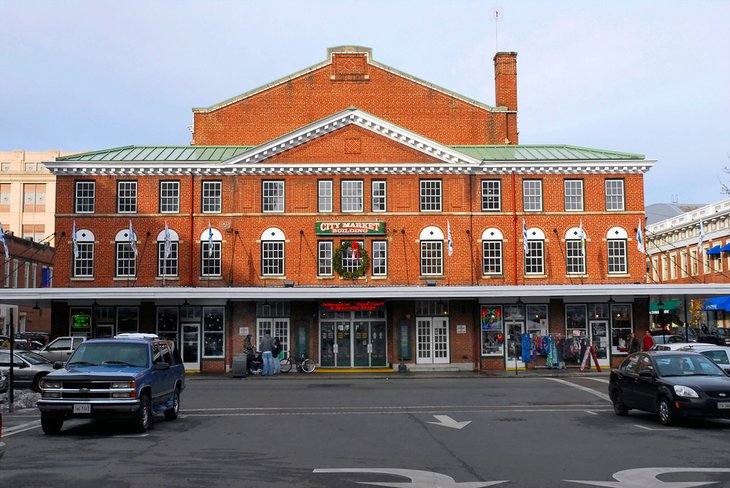 Visitors feel the pulse of Roanoke at the historic City Market — known by locals as the Farmers' Market — all year-round, with boutique shopping, local produce, flowers, meat and cheese, local dining favorites, and some of the best people-watching in Virginia. Pay close attention to the market's four mosaic tiled entrances, each revealing a little of the history of this storied public space in more than 2,000 pounds of porcelain tiles.
Located in the heart of the city's Market District, the old market building was built in 1922 and is a great spot for lunch and to admire the architectural gem, renovated in 2011. Fork in the Market is a local favorite with wood-fired pizzas, gourmet hot dogs, and some of the best burgers in town.
Address: Market Square SE, Roanoke, Virginia
Official site: www.citymarketbuilding.com
9. Center in the Square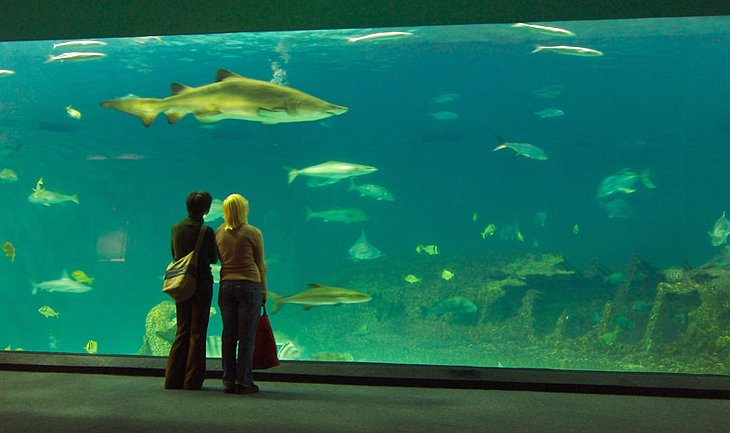 Find an 8,000-gallon Living-Coral Reef Aquarium, indoor multi-story Butterfly Garden, and unique museums including the Science Museum of Western Virginia, all at Center in the Square in the heart of downtown Roanoke.
But don't try and see everything in one visit to the Square; this central location also houses the Harrison Museum of African American Culture, Rooftop Gardens, shops, and even a games room for kids. Weekends offer the best crowd-watching, but midweek visits leave more opportunities to linger in exhibitions.
At the Roanoke Pinball Museum, visitors can try their hand at vintage machines from the 1930s all the way up to the classics of today — no quarters needed!
Another great downtown museum to visit is the Virginia Museum of Transportation. Highlights of this museum's large collection include vintage automobiles, aircraft, along with a number of unique steam engines and rolling stock. Most notable among the museum's displays is the iconic Norfolk & Western Class J-611 steam engine, an elegant machine designed and built right here in Roanoke.
Address: 1 Market Square SE, Roanoke, Virginia
Official site: www.centerinthesquare.org
Where to Stay in Roanoke for Sightseeing
To get the most out of your stay in this lovely part of Virginia, we recommend these highly rated Roanoke hotels near top attractions like Mill Mountain Park and the City Market:
Luxury Hotels: Those seeking a great luxury hotel experience should check for deals at The Hotel Roanoke & Conference Center, Curio Collection by

Hilton

. This elegant 4-star historic hotel was built in 1882 and features a heated outdoor swimming pool, elegant décor throughout, and plenty of meeting space.
The romantic King George

Inn

is perfect for couples and is set in a charming old home with just four rooms (some with real fireplaces) and a great homemade breakfast.
Also worth checking out, Roanoke Boutique

Hotel

is a B&B -style establishment set in a quiet neighborhood close to downtown with bike storage and a garden.
Budget Hotels: A good choice of budget hotel, the Econo Lodge Civic

Center

is located close to downtown Roanoke and features clean rooms and a complimentary continental breakfast.
Although set a little farther from the downtown area, the cheap hotel prices available at Motel 6

Troutville

make it a contender for those on a fixed budget.
In the same area, Days Inn by Wyndham Roanoke Near

I-81

offers a mix of rooms and suites, plus a free continental breakfast.
More Related Articles on PlanetWare.com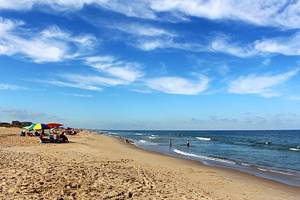 Vacationing in Virginia: The beautiful state of Virginia offers no shortage of other fun things to do and places to visit for vacationers. Heading our list is Shenandoah National Park, an area of outstanding natural beauty that contains a portion of the famous Appalachian Trail. Charlottesville, Virginia is another great destination for outdoor fans, as popular for biking as it is for sports such as golf and trail riding. And if you're looking for a great family seaside vacation, consider stopping for a few days in Virginia Beach, famous for its long boardwalk, parks, and long stretches of sand.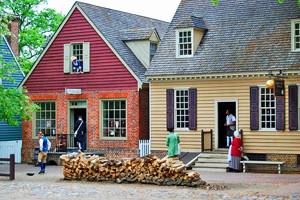 Historic Virginia: Your list of historic sites and places to visit in Virginia should include the state capital of Richmond, which served as the Confederate capital in the Civil War and also played a major role in the country's struggle for independence. Then of course there's Colonial Williamsburg, a "living-history" town that perfectly portrays life here during the 1700s. The naval town of Norfolk, too, is also worth exploring, especially around the harbor area where the battleship Wisconsin is docked.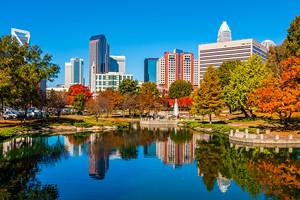 Nearby States: From Virginia, it's easy to get a taste of some of the top tourist attractions and fun things to do in neighboring states. For adventure seekers, West Virginia offers some of the best trout fishing in the country. And North Carolina is a good idea, too, as it shares the same striking scenery in the Blue Ridge Mountains but also offers urban adventures in its capital city of Charlotte. And, of course, you should include a visit to Washington DC, the country's capital and home to no end of museums and attractions worth seeing.