11 Top-Rated Attractions & Things to Do in Charlottesville, VA
We may earn a commission from affiliate links ()
Located in the very heart of central Virginia's Piedmont region, historic Charlottesville offers tourists active adventures along the Blue Ridge Mountains, as well as scenic gardens, renowned Neoclassical architecture, great museums and art installations such as IX Art Park, as well as numerous important Civil War sites. Along the way, you'll discover one of the longest pedestrian malls in the USA, the Downtown Mall, a brick-paved people-friendly thoroughfare covering eight blocks of boutique shops and restaurants.
This thriving university town, set in what Thomas Jefferson referred to as the "Eden of the United States," welcomes visitors with family-friendly activities, warm hospitality, and meandering mountain drives, where the journey is the destination.
To get the most out of your sightseeing here, be sure to check out our list of the top attractions and things to do in Charlottesville, Virginia.
Note: Some businesses may be temporarily closed due to recent global health and safety issues.
1. Thomas Jefferson's Monticello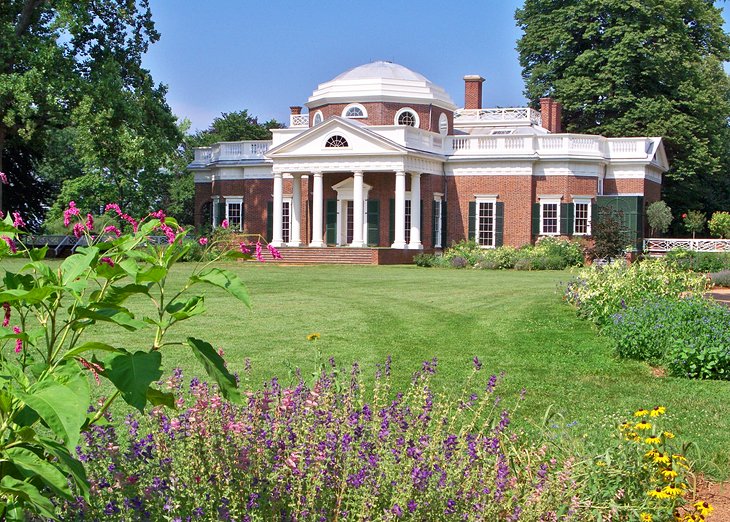 Jefferson chose the "little mountain" of Monticello as home for his expansive plantation, working farm, and homestead upon completing his term as the third President of the United States. Today a UNESCO World Heritage Site, Monticello tops must-see places to visit lists for good reason: the site houses thousands of artifacts and rare Jefferson ephemera.
Guided tours of his home and grounds allow up-close inspection of his papers, books, and furniture. Take special note of the period polygraph letter copying machine in his study, a device Jefferson called "the finest invention of the present age."
Monticello offers a variety of different tour options. House and garden tours provide a comprehensive look into daily life here, and historical accuracy finds Monticello tackling challenging issues head on, such as Jefferson's use of slaves.
Visitors should make time to explore Mulberry Row in order to more fully appreciate slave conditions in existence at the time. Slave living quarters and the industrial hub of the plantation are at the "Row," and special "Slavery at Monticello" tours are also available. It's best to avoid large crowds by scheduling visits late in the day.
Address: 931 Thomas Jefferson Pkwy, Charlottesville, Virginia
Official site: www.monticello.org
2. Explore the Historic Downtown Mall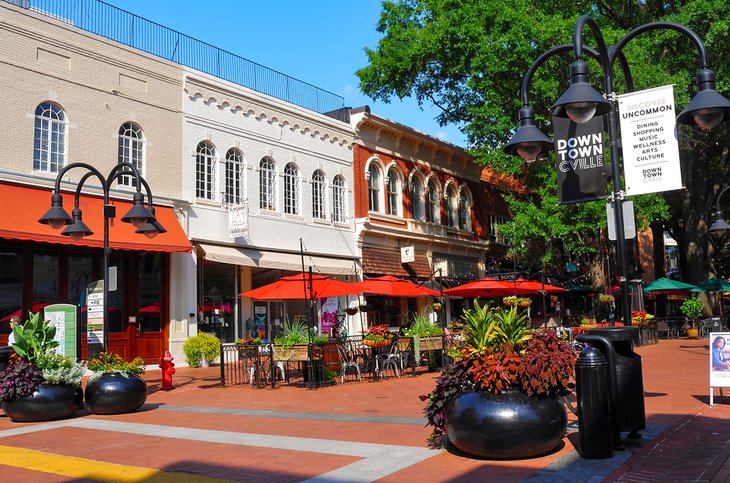 Charlottesville's Downtown Mall is a pedestrian-only area that occupies a seven-block span along historic East Main Street in the heart of the city. If you're getting peckish but not sure what you're in the mood for, this is the place to visit for inspiration, with over three dozen cafés, restaurants, and miscellaneous eateries to satisfy every taste.
It's also the center of Charlottesville's arts scene, home to numerous galleries and performance venues, including the music hall at The Jefferson Theater and performances of all kinds at Paramount Theater.
There's plenty of shopping, too, with two book stores (one for the pre-loved and one for the shiny new books), a vinyl record shop, gift boutiques, an upscale pawn shop, and even a day spa.
Address: 108 5th Street NE, Charlottesville, Virginia
Official site: www.downtowncharlottesville.com
3. University of Virginia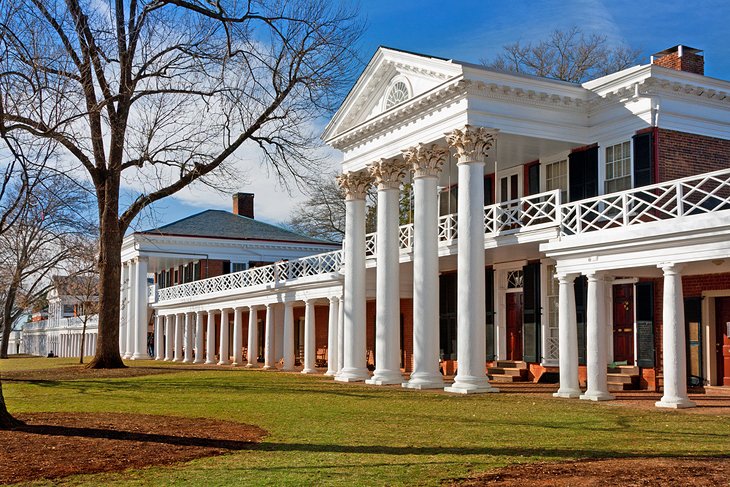 The University of Virginia (UVA) is the cornerstone of Thomas Jefferson's legacy and lifelong commitment to education, and the grounds and Neoclassical architecture trace back to his intimate plans.
The university provides free daily tours of the grounds while classes are in session. The hour-long tours, led by student volunteers, begin in the Rotunda, the center of Jefferson's "Academical Village," the core of the university's original campus. Modeled upon the Roman second-century Pantheon, the Rotunda has served as the iconic symbol of the university since its construction in 1826.
Visitors can stroll along the arcades and corridors on the Lawn, the enormous grassy courtyard surrounded by 10 pavilions housing both students and faculty.
Several UVA gardens are easily accessed when touring the campus. Gardens along the east and west pavilions incorporate intricate geometric designs; ornate boxwood patterns; and native trees, shrubs, and plantings favored by Jefferson. Pavilion Garden X, in the east pavilion, is one of the largest at more than 150 feet wide — the large oval design with "elephant ears" was based upon a Jefferson plan for a similar garden at Monticello.
Also worth visiting, if you have time, are the Fralin Museum of Art; Kluge-Ruhe Aboriginal Art Collection of UVA, with its large collection of Australian Aboriginal artworks; and the McCormick Observatory, which offers regular night programs for the public.
Official site: www.uvaguides.org
4. Historic Civil War Sites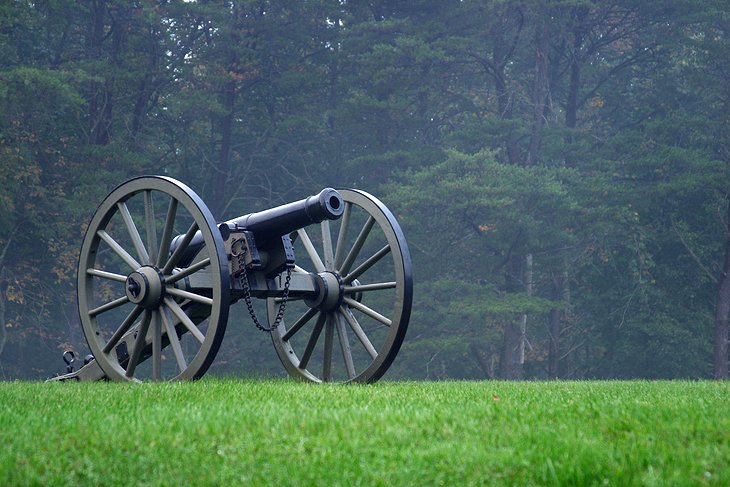 Central Virginia figured prominently in a number of key battles and historically significant actions during the Civil War. Just 50 miles from Charlottesville, tourists can explore Appomattox Court House National Historic Park, the site of the surrender of Robert E. Lee (General of the Army of Northern Virginia) to Ulysses S. Grant. The park includes a period recreation of the small village found in the mid-1800s, architectural walking tours, and the Appomattox County Historical Museum.
The Exchange Hotel Civil War Medical Museum in nearby Gordonsville provides visitors with the remarkable history of this property as a Civil War Receiving Hospital. Featuring numerous medical and Civil War artifacts, the building is the only surviving such hospital left standing in the state of Virginia.
Fredericksburg Battlefield is the site of one of the most devastating of all Civil War engagements. The Fredericksburg Battlefield Visitor Center houses two floors of memorabilia and artifacts that help tell the story of the "war between the states." Look out for the actual drum carried into battle by the 28th Massachusetts Volunteer Regiment of the Irish Brigade.
Visitors can also learn about the Battle of Chancellorsville, only 12 miles south of Fredericksburg, where Stonewall Jackson lost his life to friendly fire in that fateful conflict.
5. Skyline Drive Scenic Highway in Shenandoah National Park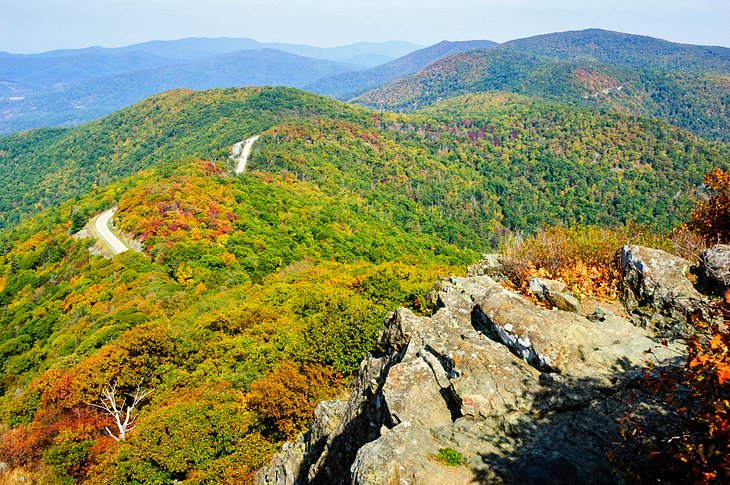 Skyline Drive is designated a National Scenic Byway and National Historic Landmark, listed in the Register of Historic Places. This legendary American drive is easily accessible from Charlottesville and offers one of the most scenic and enjoyable mountain rides in the country, no matter the season. A 105-mile linear road, Skyline Drive is less than 30 minutes from Charlottesville and accessed via the northern Parkway terminus at Interstate 64 and Skyline Drive.
Head north from the terminus near Waynesboro towards the fabled Blue Ridge Mountains, running virtually the entire length of Shenandoah National Park, where there are some fantastic hiking opportunities. Bring the camera and prepare for a relaxed pace as there are 75 lookouts along the route to Front Royal.
Plan at least three hours to traverse the entire length of the drive, but don't be surprised if it takes longer as there are ample opportunities to stop, take photos, and enjoy the remarkable views of the Shenandoah Valley. Thorofare Mountain Overlook, at milepost 40.5, is a favored spot for early morning vistas.
Official site: https://visitskylinedrive.org
6. James Monroe's Highland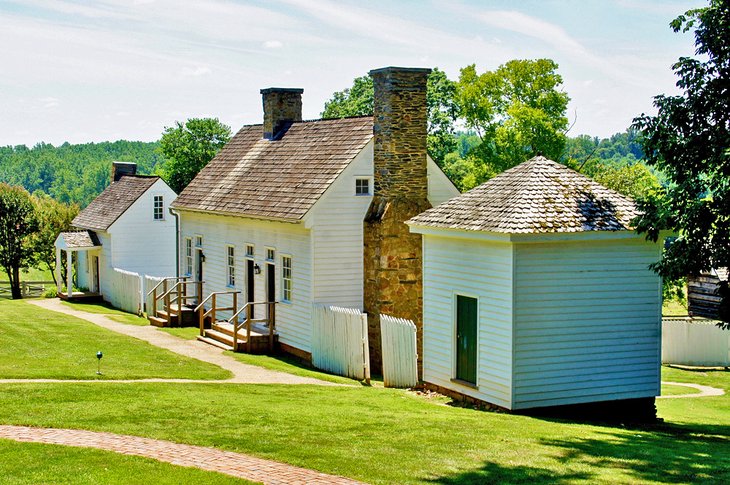 Highland, the plantation home of US President James Monroe from 1799 to 1823, is another important landmark that should be included on your Charlottesville travel itinerary. Located just minutes away from Thomas Jefferson's Monticello, this extremely pretty property has been much preserved as it would have been in Monroe's time. It's now a working farm and museum.
A visit will enable you to explore a variety of buildings in addition to the main wood-sided abode, including a guesthouse dating from 1818, plus additions erected later that century, including a farmhouse.
Other notable features include reconstructions of an ice storage house, a smokehouse, an overseers cabin, plus slave quarters. Be sure to spend time walking the property's trails for some of the most picturesque rural scenery anywhere in the state. Guided tours are available, and a stop in the museum shop is recommended.
Address: 2050 James Monroe Pkwy, Charlottesville, Virginia
Official site: https://highland.org
7. Virginia Discovery Museum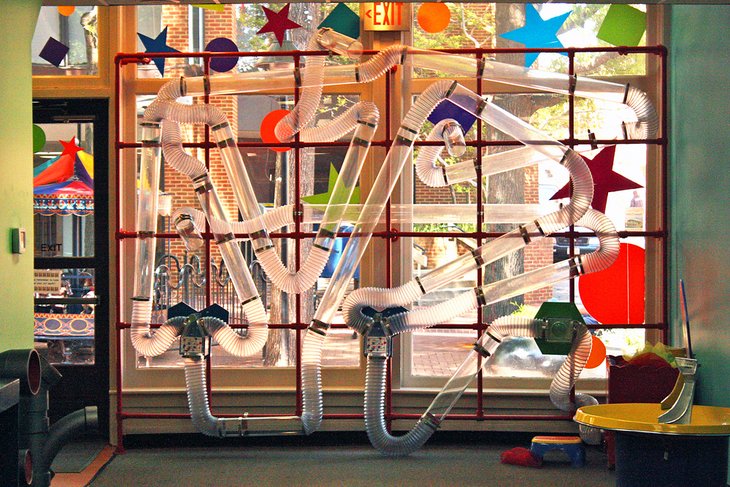 Families looking for a nice diversion will want to visit the Virginia Discovery Museum, conveniently located at the eastern end of the Downtown Mall. Designed for children zero to eight years old, the museum is home to over a dozen hands-on exhibits that encourage learning through play and interaction.
For the youngest visitors, the Sensory Studio features a play area for ages newborn to two, including a separate area for nursing moms and easy access to the restrooms. Nearby, a giant Light Bright wall encourages fine motor skills and color recognition, and the Showalter Cabin sparks an interest in history as kids pretend to live in an authentic 18th-century cabin.
Other exhibits include STEM labs; a Literacy Lounge; a sound and music studio; and several themed imaginative play areas, including a bakery, a farm, and a post office.
Address: 524 East Main Street, Charlottesville, Virginia
Official site: https://vadm.org/
8. Walnut Creek Park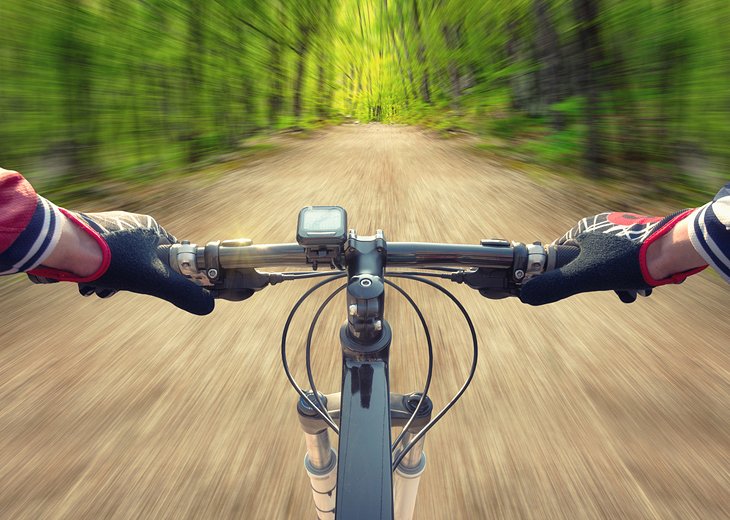 Walnut Creek Park is a favorite area for outdoor enthusiasts. This 525-acre state park is heavily wooded, with several well-marked hiking trails surrounding Walnut Creek Lake and a well-stocked fishing hole with largemouth bass, sunfish, crappies, and catfish. Canoe rentals are available here, and seasonal swimming is possible at the park's two beaches.
Walnut Creek is also extremely popular among mountain bikers. Best for intermediate to expert riders, the bike trails here are often steep, with sharp climbs and rapid descents. Riders will be rewarded with a great workout but need to be watchful for exposed roots and loose rock. The longest and perhaps most scenic trail is Wilkins Way, measuring out at just more than four miles. The loop follows the perimeter of the lake and is easily accessed from the main parking lot, just off Hwy 631 south of Old Lynchburg Road.
The park is also home to an 18-hole Disc Golf Course, one of only 23 in Virginia. Frisbee "shooters" at the Walnut Creek Course find plenty to challenge their arm and strategic approach. Beginners are well advised to avoid the water on the second hole and opt for the longer, but less risky, approach along dry land.
Address: 4250 Walnut Creek Park Road, North Garden, Virginia
9. Keswick Hall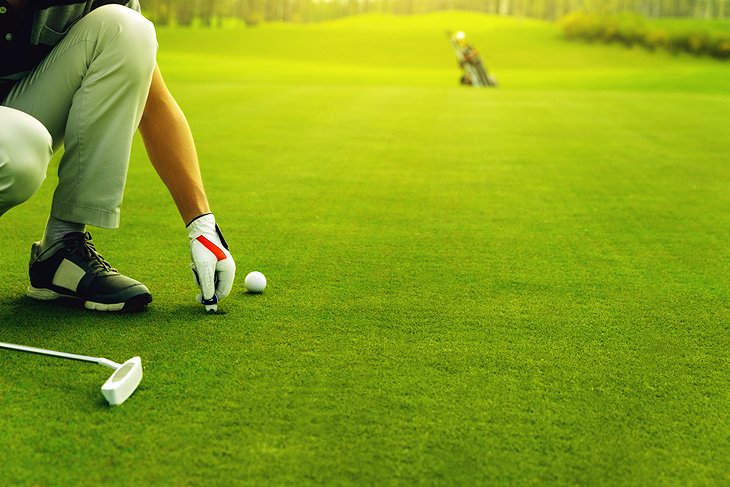 Golf enjoys a storied history at Charlottesville's Keswick Hall. The original Italianate-styled manse was built in 1912 as Villa Crawford, home to a local society couple and their family. Reestablished as Keswick Country Club in 1948, the grounds have been home to spectacular golf ever since, twice hosting the Virginia Open.
Completely renovated in 2014 by World Golf Hall of Fame architect Pete Dye, the course today is known as Full Cry, in homage to fox hunts that are still conducted on the grounds — sans fox — with guided walking tours accompanied by the hounds.
The daily-fee course has a complete practice facility, locker rooms, and access to a full-service spa. Visually stunning, the layout appeals to scratch golfers and high handicappers alike, with alternative routings, multiple tee boxes, and fast but true putting surfaces.
Dining after the round includes a casual meal at the adjacent Club Grill or at Keswick's signature restaurant, Fossett's, which boasts regional southern-inspired fare. Guests can enjoy archery, croquet, tennis, and garden walks — all located on the grounds.
Official site: www.keswick.com
10. Blue Ridge Mountains Ballooning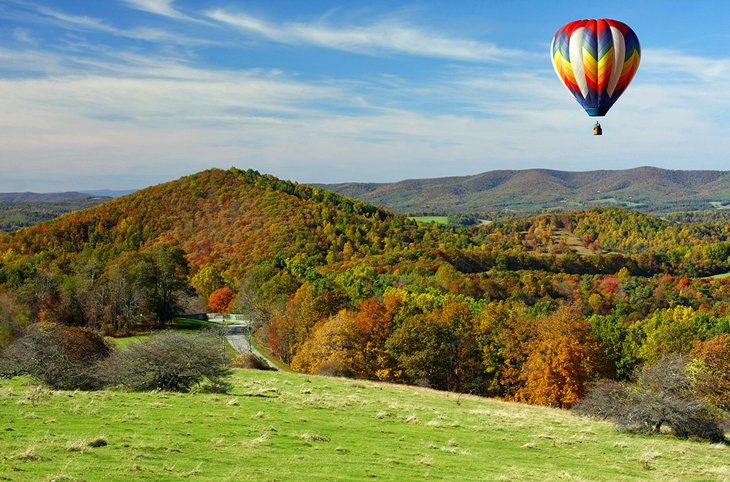 It's hard to beat the breathtaking vistas of the central Virginia Blue Ridge Mountains from 1,500 feet above it all in a hot air balloon. This four-season adventure delivers stunning views of rolling foothills and magnificent farmland that form the patchwork quilt of Albemarle County. Rides range from 60 to 90 minutes and include return ground transport to launch sites.
Monticello County Ballooning and Blue Ridge Balloon are among the local operators available to create the perfect ride for guests. Don't overdress, as the weather at soaring height is quite similar to that on the ground; you'll be comfortable in casual clothes and sneakers.
11. Trail Riding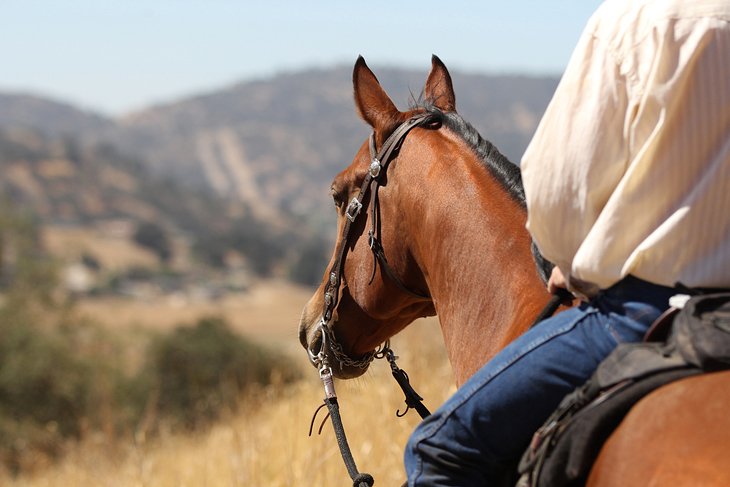 Charlottesville is truly horse country, and bridlepaths are easily found and appeal to the most discerning riders. One of the best known providers of these fun equestrian adventures is Indian Summer Guide Service, who will custom design rides along a number of trails throughout Charlottesville. Well-mannered and trained horses are appropriate for beginner through expert riders, including children over the age of 12.
Indian Summer Guide Service has access to some of the most breathtaking farm trails in the region, and their 60- to 90-minute rides are available year-round.
Official site: http://indiansummerguideservice.com
Where to Stay in Charlottesville for Sightseeing
To ensure you get the most out of your time spent in scenic Charlottesville, we've put together the following list of highly recommended hotels and resorts close to the city's top attractions.
Luxury Hotels:
The exquisite 4-star boutique hotel The Inn at Court

Square

is set in buildings erected in 1785. Just a few minutes' walk from the Downtown Mall area, its 10 charming rooms feature antique furnishings and four-poster beds, with homemade cookies provided (there's also a fine dining restaurant on-site).
Equally charming, The

Townsman

boasts chic rooms with balconies and allows guests access to a rooftop terrace with great vistas over the city.
If you're looking for something larger, the Omni Charlottesville

Hotel

features classy rooms with marble bathrooms, two swimming pools, plus a great location within walking distance of the downtown area.
Mid-Range Hotels:
Budget Hotels:
Those seeking a good quality yet cheap hotel in Charlottesville should consider the Fairhaven

Guesthouse

, offering B&B-style accommodations with shared bathrooms, access to a garden, and a free continental breakfast.
Looking for something from a brand name? Check for deals at the Comfort Inn

Monticello

, a good choice for its clean, comfortable rooms and amenities including an indoor pool.
The Sleep Inn & Suites

Monticello

offers a good night's sleep an easy drive from the top attractions in Charlottesville.
More Related Articles on PlanetWare.com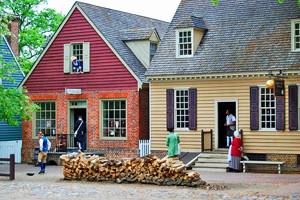 The Best of Virginia: Be sure to include the state capital of Richmond in your Virginia travel itinerary, a must-visit for its museums, galleries, and gardens. Historic Williamsburg is particularly popular with families, especially for its reproductions of colonial-era homes and businesses in Colonial Williamsburg. And just a short drive away, the historic naval yards in Norfolk will keep visitors busy for hours as they explore the Battleship Wisconsin and the Nautilus Maritime Center.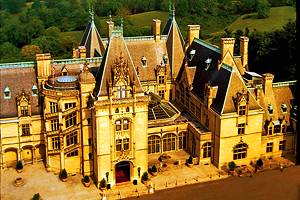 Neighboring Places to Visit: The state capital of Charleston makes a visit to West Virginia a must, with the State Capitol being the city's top-visited attraction. The state of North Carolina also offers plenty of sightseeing opportunities, particularly along the Blue Ridge Parkway and in the charming town of Asheville, home to the lovely Biltmore Estate. The US capital of Washington, D.C. is another must-visit, and is home to some of the country's most important museums and memorials, including the iconic Lincoln Memorial.