4 Best Ski Resorts in Virginia, 2023
The rolling hills of Virginia are perfect for family skiing fun. Easily accessible from some of the nation's largest cities, these ski resorts make for perfect weekend getaways. The resorts are set at lower altitudes than resorts to the west and north, which ensures that the days are generally warm and pleasant.
Extensive snowmaking is the norm, and sophisticated systems make the most of every opportunity to create the white gold that skiers and riders crave. Your ski day can stretch into the evening, with night skiing on offer as well.
The ski resorts of Virginia are more than just traditional ski hills – they offer a wide variety of things to do off the slopes. These include tubing hills, ice-skating rinks, hot springs, and indoor water parks.
For a look at all the details, see our list of the best ski resorts in Virginia.
1. Wintergreen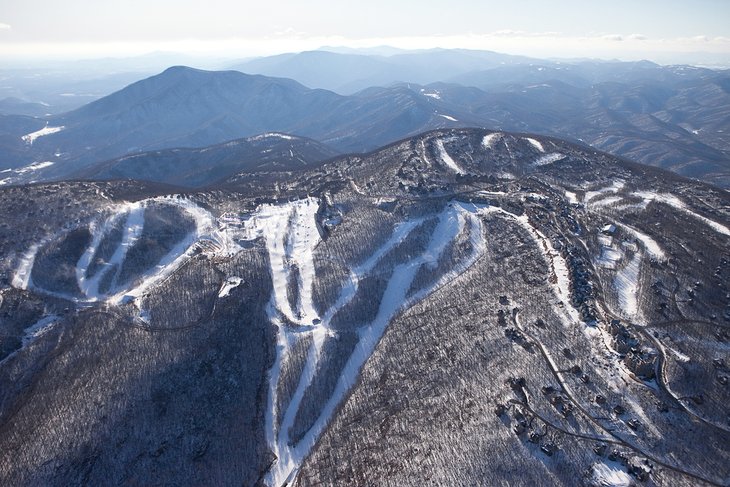 Wintergreen ski resort is just over 1.5 hours from Richmond and is one of the top resorts in the region. This resort has 26 runs that provide a bit of fun for everyone. Although the runs are not long, this doesn't matter because the resort has two six-person high-speed lifts in addition to six more lifts that get you right back up to the top in mere minutes.
A terrain park has over 40 features, including jumps, rails, boxes, and whatever the mountain can dream up. A big bonus for boarders and freestylers at Wintergreen is that the terrain park has its own dedicated lift, so you lap endlessly and quickly.
Snow is plentiful at Wintergreen. Mother Nature is backed up with a state-of-the-art snowmaking system with over 400 snowguns ready to coat the hill when the weather is right.
Wintergreen is a great place to test your skiing skills, and the latest addition to mountain fun is the NASTAR race course. Zip down through gates, and race against the clock (or your buddy) in the parallel course. Day passes are available, but after you try it once, you'll probably want to sign up for the season pass. You'll need to get a free NASTAR number first online. Once you have that, your race records will be kept and, if you are good enough, you may qualify for the national championships!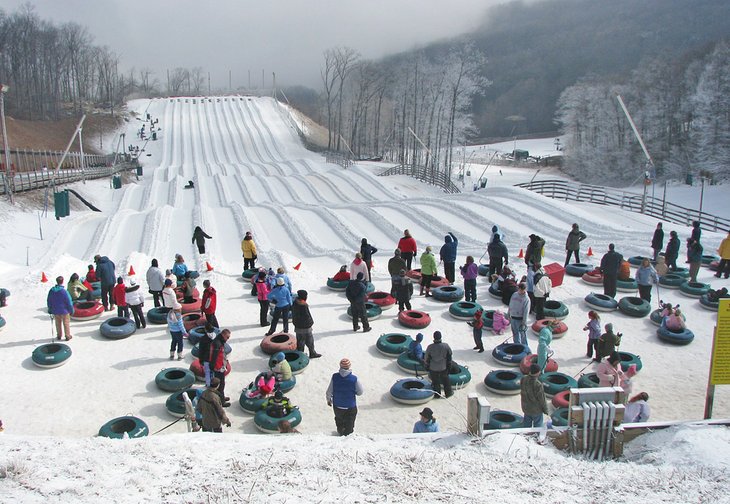 Wintergreen also has Virginia's largest tubing park. This massive hill is 100 feet high, and riders can hit speeds of 30 miles per hour on their way down. A separate ticket is required to ride here.
Skiing can certainly help you work up an appetite and, fortunately, the resort has you covered with seven choices, including an upscale dining option on the mountaintop at the Devil's Grill.
Skiing at Wintergreen is a perfect family outing. Lessons are available to get kids started and to help them develop a love for skiing. Skiing as a family is even more fun when you spend time in Ridgley's Fun Park, with a small tubing park, a friendly roaming bear, toboggans, and more.
Official site: https://www.wintergreenresort.com/Winter-Home/
2. Massanutten Resort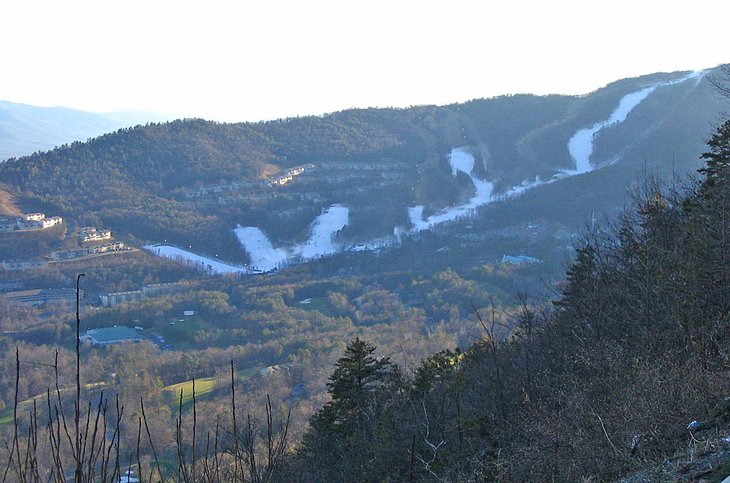 Massanutten Resort has you covered for winter fun with activities on and off the ski hill. The ski resort has 13 runs, eight lifts, and two terrain parks.
New in 2022/23, you'll find more of the wonderful white stuff Massanutten is known for. The resort has recently invested in 50 new snowmaking guns to improve conditions on the Diamond Jim and Paradise runs. In addition, four tower-mounted snowmakers have been added to the Southern Comfort trail.
Some old-timers may shed a tear when they hear that the J-Bar lift is being retired. One of the original lifts on the mountain, it has been replaced with the much more user-friendly SunKid conveyer lift stretching for 650 feet.
Massanutten has also carved out a few new runs for advanced skiers. One of the new runs will be found under Chair 5, and two others off Chair 6. Stay tuned for the new names, still yet to be released.
Off the ski hill, a 16-lane tubing park provides hours of entertainment. The run is 900 feet long with a 120-foot drop. Two conveyer surface lifts scoot you up quickly, so you can zip down again. For something completely different, try the park at night. During this time, they crank up the tunes and turn on the crazy neon lights for an unforgettable experience.
You can warm up and grab a bite at the spectacular base lodge building with its massive floor-to-ceiling windows. Or, if you prefer, pull up a chair and soak up the sun on the 5,000-square-foot patio deck.
Massanutten is an excellent family resort destination, not only for the snow sports but because it has a water park. A perfect day can be had by hitting the slopes in the morning and then heading to the water park in the afternoon.
If that weren't enough, ice-skating is also available. Located just outside the Fitness and Recreation Center nearly 5,000 square feet of skating area accommodates up to 130 skaters. This ice rink has a cooling system, so the ice stays even if the weather warms up.
Official site: https://www.massresort.com/
3. Bryce Resort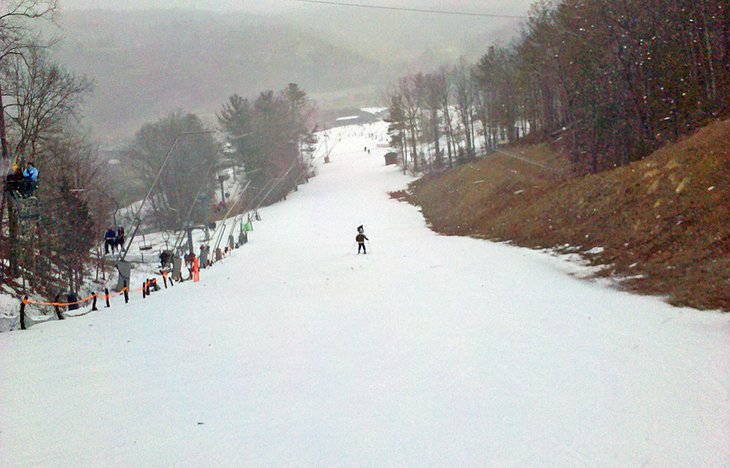 If you live in Washington, D.C. and love skiing, Bryce Resort is only two hours away. This small resort has eight runs and two lifts plus a magic carpet surface lift. This is an ideal place for families and those wishing to learn how to ski.
The runs are short and fun and a great way to spend a weekend afternoon. The excellent ski school has a team of friendly and patient instructors that will have you gliding down the slopes safely.
As your ski levels improve, consider signing up for one of the racing teams. Racing training can be as relaxed or as intense as you want. Just feel like a fun race against your ski buddy? Sign up in advance for NASTAR and make your way through the gates and see who finishes first. Feel like trying out for the national team? Sign up for lessons and get great tips and techniques from the talented instructors at the ski school. Lessons are available for all ages.
The tubing hill is just off to the left of the main base area, and here you'll find 800 feet of slip-sliding fun complete with a conveyer belt surface lift to get you right back up to the top.
Accommodation is in nearby Woodstock or through one of the agencies specializing in home rentals.
Official site: https://bryceresort.com/
4. The Omni Homestead Resort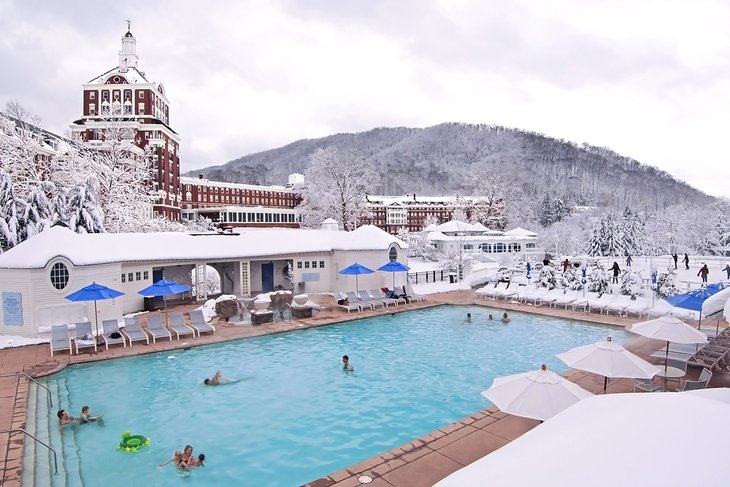 Mix a bit of history and luxury into your Virginia ski trip with a stay at the Omni Homestead Resort. This beautiful hotel, dating from the early 1900s, sits at the base area and makes this resort unlike any other. People have been skiing here for over 60 years. Unlike other resorts, you can sit in your room, warm and cozy, and watch the skiers descend the slopes.
This resort is the smallest of the Virginia ski areas, with two lifts, but don't let that deter you from visiting. Nine runs, including one over half a mile long, spread out over 42 acres and provide lots of variety and fun.
Homestead is a great place to learn how to ski, with specific programs designed to get you and your family skiing in no time. For children aged five to 11, the Little Penguins program is a fun and interactive way to start loving the sport.
If you or your crew has had enough skiing and want to try something that requires virtually no skills, head to the tubing hill. A fun after-dinner activity is ice-skating on the rink right out front of the main hotel building.
Renting mini snowmobiles is another child-friendly activity that will have them telling their friends how much fun the trip was. Children aged five to 12 can zip around a pre-set course on these miniature machines.
After a tough day doing everything above, hit the hot springs and soothe your muscles while recapturing your inner bliss.
The ski hill is open Thursday through Sunday.
Official site: https://www.omnihotels.com/hotels/homestead-virginia
Map of Ski Resorts in Virginia
Frequently Asked Questions
When is the best time to ski in Virginia?
The best time to ski in Virginia is from late December through until mid-March. With the important Thanksgiving Day weekend in late November, many resorts try their best to be open by this date. If they get an early season storm or two and cold temperatures, they can usually leverage their immense snowmaking capabilities to coat the hills with a layer of wonderful white snow.
The skiing and conditions get progressively better throughout the season and usually peak in late January with the deepest snow on the runs. This is an ideal time to ski, as you'll get the best conditions, the only downside is that it can be a bit chilly, and the days tend to be short. If you like longer days with sunny skies and warmer temperatures, plan a trip for mid-February into mid-March. At this time of year, the days warm up fast, and the snow becomes sugary soft, ideal for any impromptu and unplanned falls.
Is skiing in Virginia expensive?
Skiing in Virginia is not expensive and makes for an ideal family vacation. However, room prices are higher on the weekends when the folks from Washington road trip down for a bit of fun. The resorts have extensive accommodation options and are always looking to fill rooms mid-week, so if you can get away from Monday to Friday, you'll have the places to yourself and save yourself a tidy sum.