16 Top-Rated Beaches in Virginia
When you think of beaches in Virginia, it is natural to think of Virginia Beach first, on the shores of the Atlantic Ocean, because it is one of the most popular beach vacation spots in the state. Virginia has a stunning coastline on the Atlantic Ocean but also has sandy beaches along the Chesapeake Bay and the many stretches of smaller beaches in the state.
Virginia also has quality beaches all along the Eastern Shore coastline, as well as inland public beaches located in the state parks and recreational areas. The variety of beaches in Virginia range from large to small, ocean to freshwater, and some that include the thrill of enjoying nearby small-town eateries or a pet-friendly day on the sand.
Find the top places to visit for your day in the sun with our list of the best beaches in Virginia.
1. Virginia Beach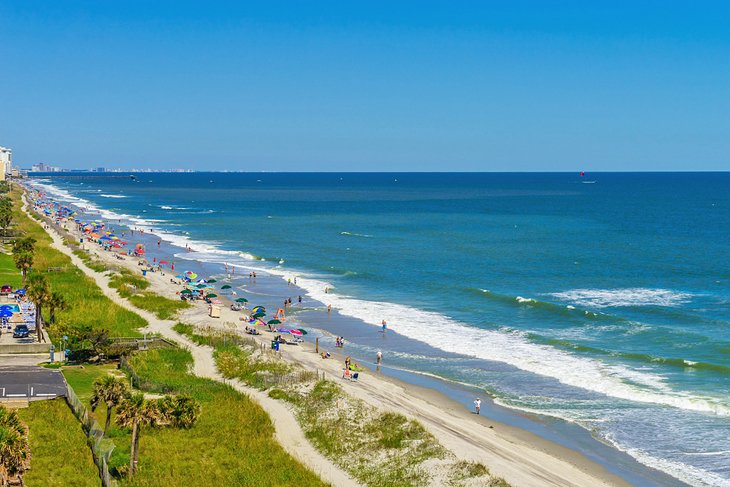 No beach in Virginia is as famous as Virginia Beach. Vacationers love the access to the Atlantic Ocean. It is close to the Chesapeake Bay, which gives the area extra charm when it comes to the food scene and activities beyond building sandcastles.
The diversity of water and land experiences at Virginia Beach is one of the reasons it is so popular with locals and out-of-towners. Sit beachside as you watch a surfing competition. Listen to live music or watch a game of sand volleyball.
Get active by learning how to snorkel, or rent a bike to ride along the trails in the Back Bay National Refuge. Be sure to take a stroll along the three-mile boardwalk, as you listen to the waves crash into the shoreline, and visit the many shops and restaurants that line the main drag.
There are many good-value hotels along the beachfront, but if you are looking for more luxury accommodations during your stay, the historic Cavalier Hotel is part of the Marriott five-star Autograph Collection, with rooms that have oceanfront views and upscale renovated spaces.
Accommodation: Where to Stay in Virginia Beach: Best Areas & Hotels
2. Sandbridge Beach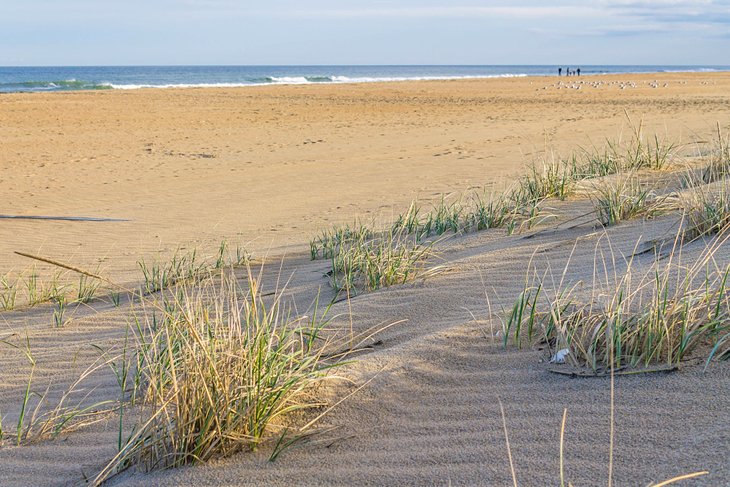 If you like the idea of Virginia Beach but not so much the crowds that often come with it, then Sandbridge Beach might be a smart option for you. It is still considered part of Virginia Beach, but it has its own 4.5-mile stretch of shoreline.
Sandbridge Beach is less popular and less crowded than Virginia Beach but it offers a quieter experience that is great for families and beachgoers who just like fewer people.
While Sandbridge Beach does not have as many hotels, restaurants, or shops, it still has all of the reasons vacationers love to go to the beach, including the sand dunes, spectacular sunsets, and impressive Atlantic Ocean waves. If you are looking for other outdoor activities close to Sandbridge Beach, you can take some time to go kayaking, fishing, or hiking at nearby False Cape State Park.
3. Colonial Beach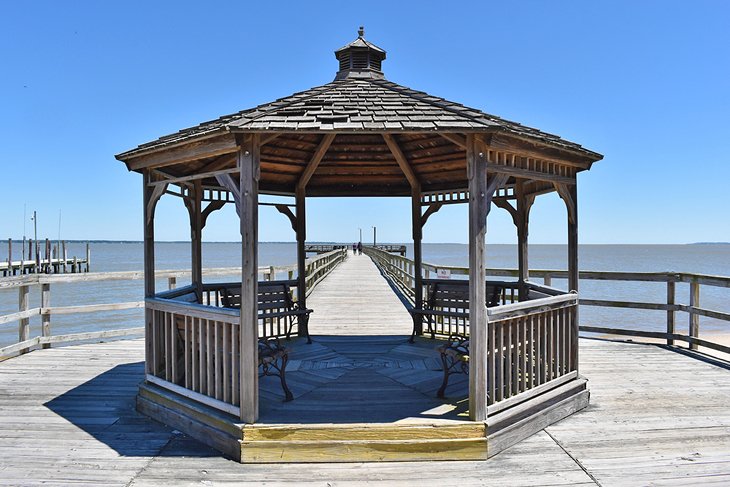 Northern Virginia has Colonial Beach, which is located between the Potomac River and Monroe Bay. There are several marinas nearby, so you can plan a full beach itinerary with different activities during your stay, from swimming and water sports to boating and fishing.
Colonial Beach is pet-friendly from October 1 through March 31, as long as pets are on a leash. The surrounding town of Colonial Beach is one of the only seaport towns left on the Potomac River, so it has a small-town charm and historical significance.
4. Assateague Island National Seashore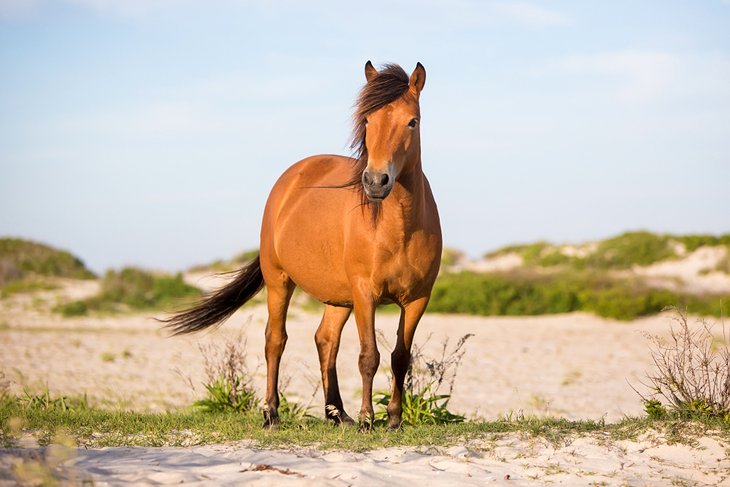 A beach that is almost as famous for its wild ponies and natural landscape as it is for its beautiful ocean waters is on the Assateague Island National Seashore. The 37 miles of sandy shoreline stretches from Virginia to Maryland, with a landscape and ecosystem that is unique.
The area is known for the wild Chincoteague Ponies that were made famous by the book, Misty of Chincoteague. This beach has plenty of space for catching up on your zzz's in the sun and other activities for when you need a break.
Pack some binoculars and watch for rare migratory birds that fly past the area, or just close your eyes and listen for the sound of the ponies. If you feel like some exercise, you can climb to the top of the 1867 Assateague Lighthouse for a panoramic view of the oceanside and some of the most preserved natural scenery in the state.
5. Cape Charles Beach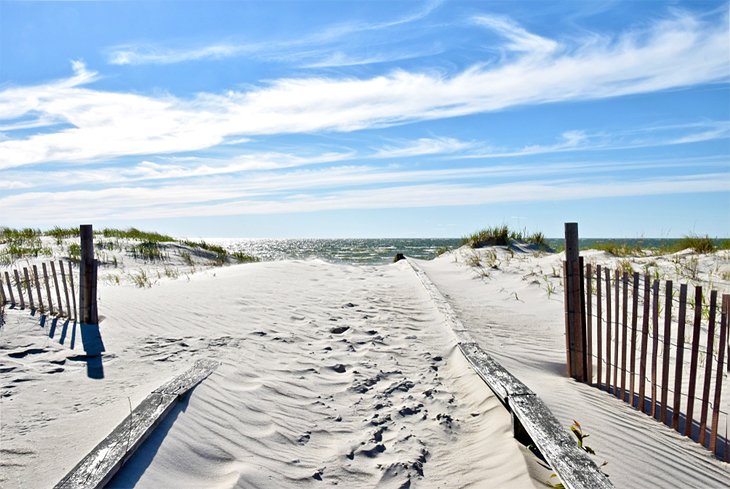 Cape Charles Beach is one of the lesser known beaches in Virginia, which is why it is one of the best to visit. It is located on the Eastern Shore on the Chesapeake Bay. The public beach has calm, shallow waters, so it is nice for families and for visitors who do not want to swim in the ocean waves.
If you are looking for a beach that offers easy accessibility to water sports, Cape Charles Beach has several local outfitters that can book excursions for you. The outfitters also have kayaks for rent if you prefer to plan your own paddle outing in the bay waters.
The beach is just 10 miles north of the Chesapeake Bay Bridge Tunnel, which is easy to find. It is pet-friendly with varied hours during different times of the year, so you will want to check before you go.
The Kiptopeke State Park is nearby, which also has a public beach and a bathhouse. The town of Cape Charles is a historic town with small restaurants and boutique shops. The lodging options are mostly small bed-and-breakfasts in Cape Charles, like the Alyssa House Bed and Breakfast in a renovated century-old home.
6. Buckroe Beach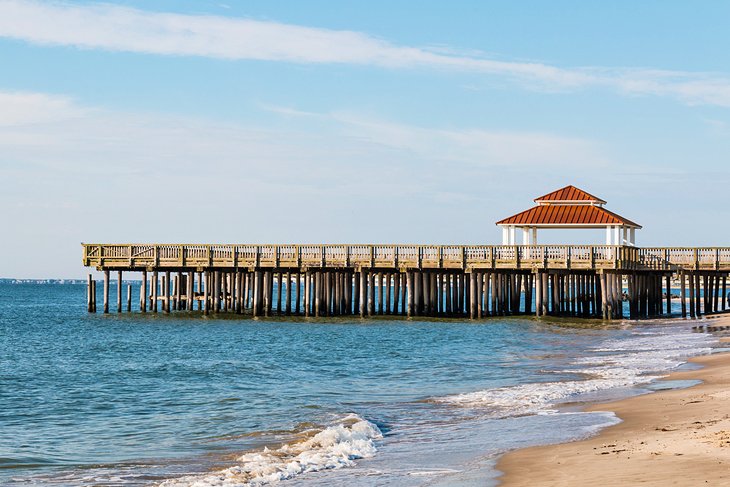 A nice alternative to Virginia Beach is Buckroe Beach, located in Hampton in Coastal Virginia. Buckroe Beach has a coastline of nearly a mile, with incredible views of the Chesapeake Bay. The public beach is not as crowded as Virginia Beach, and the surf is not as rough.
There are lifeguards on duty during the summer season. This beach spot is perfect for catching sunsets, watching ocean wildlife, and observing the ships preparing to arrive at port. Buckroe Beach is a convenient beach with easy parking and a retail shop on-site to pick up sunscreen, water, and snacks.
If you want to spend a day out on the water, you can book a Jet Ski tour or rent a kayak or paddleboard from Hampton Watersports. There are plenty of hotels in Hampton, and many that offer the convenience of breakfast included, like the Hampton Inn Hampton-Newport News.
7. Belle Isle Beach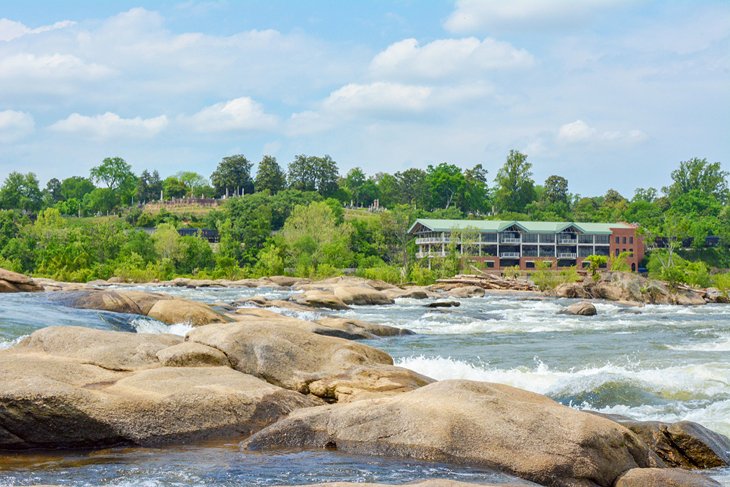 For a truly unusual "beach" experience in Virginia, Belle Isle Beach in Richmond is tops. It is considered an urban beach because instead of sand and ocean waves, it has natural flat rocks that the locals love to use for lying in the sun.
While swimming is not advised because of the swift rapids, it is a great option if you just want to be around water and dip your feet in to cool off. The landscape around Belle Isle Beach has cliffs and small, calm shallow pools of water.
Belle Isle Beach is located in the middle of Belle Isle Historic Park in downtown Richmond. It is a nice option if you do not have the time to devote to driving to the ocean and spending the day.
The park itself is a 54-acre island that was once a Native American fishing village. In addition to the spectacular urban beach there are hiking trails and some historic locations to visit.
8. Ocean View Beach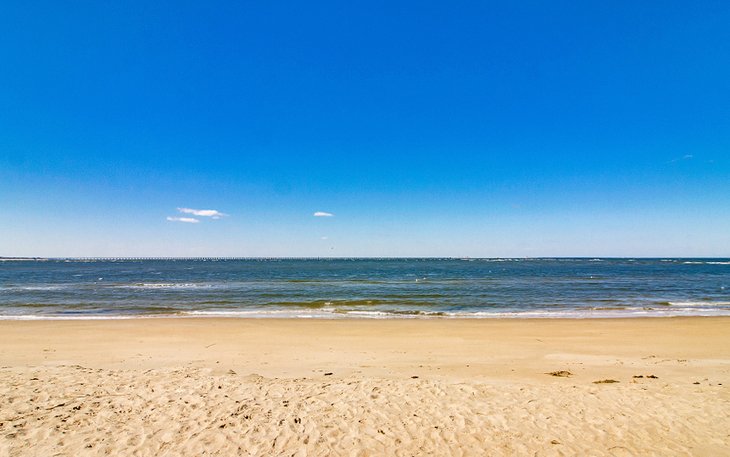 Ocean View Beach in Norfolk is actually a 7.5-mile stretch that is made up of a series of beaches. There's plenty of coastline for sunbathing, swimming, beachcombing, and building sandcastles.
It is easy to find a nice public beach if you want the convenience of parking, restaurants, beach access, lodging, and swimming all in close proximity. The nearby Ocean View Park has a bathhouse and picnic tables if you plan to make a full day at the beach.
There are fishing piers and tackle rentals available if you want to fish. If not, the Ocean View piers will offer some of the best Norfolk people-watching you can find.
9. Jamestown Beach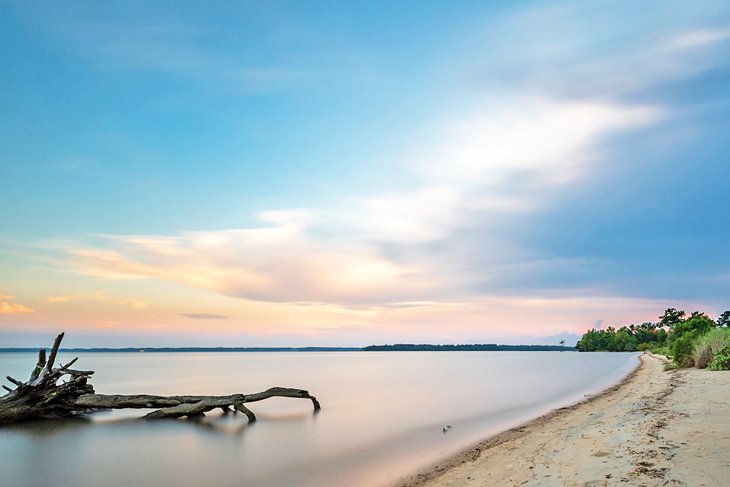 One of the best kept beach secrets in Virginia is Jamestown Beach, located close to the historic Jamestown Settlement. There is a beachfront park with conveniences like concessions, a pier, picnic areas, restrooms, and shaded areas. It is a family-friendly beach with lagoons and a nice park when you need time out of the sun.
Jamestown Beach is a perfect add-on option if you are already visiting Historic Jamestowne or Busch Gardens Williamsburg. The park does charge non-residents a small day-fee for access.
10. Kerr Lake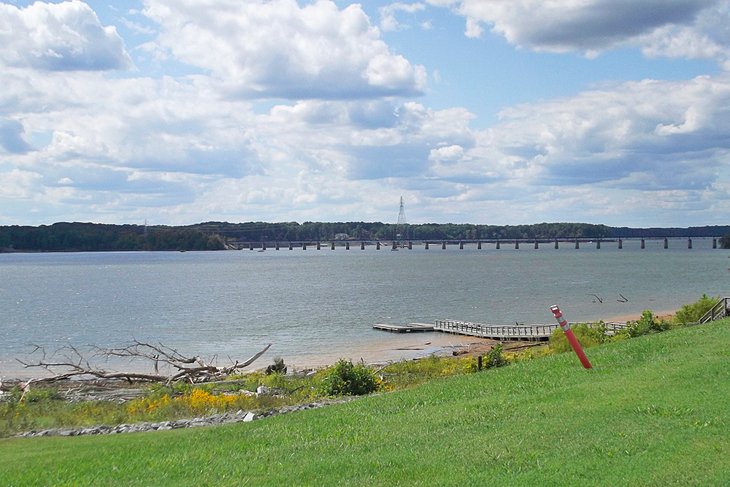 If you prefer lake beaches to ocean beaches then Kerr Lake on Buggs Island in Clarksville is your best bet. It is the largest lake in Virginia, with 50,000-acres of water. You can find tucked-away coves and more than 800 miles of shoreline stretching around the lake.
There are many swimming spots and water sport options like water skiing, boating, and sailing. The enormity of Kerr Lake means that you have a lot of options for finding the right stretch of waterway to suit your interests.
If you are camping, there are several parks surrounding the lake with amenities, including Ivy Hill Park, Buffalo Park, North Bend Park, Rudds Creek, Palmer Point Park, and Longwood Park.
11. Bethel Beach
If your goal is to smell the salty air and feel the ocean breeze then Bethel Beach offers that and more. It is located in the Bethel Beach Natural Area Preserve, which is surrounded by sandy dunes and a narrow coastline.
What is unique about this coastline is that it constantly changes due to the winds that come through the area. The pristine beach is a considered a preservation area, so while you will find ideal beach conditions by the water and protected habitats, you will not find restrooms, trash facilities, or changing areas.
Bethel Beach is best enjoyed for a few hours versus an all-day beach visit. You are likely to spot some rare wildlife while you are here because the lagoons, bay waters, and small channels are home to 185 species of native and migrating birds. Bethel Beach is open to the public and there is parking on nearby gravel areas.
12. Smith Mountain Lake Beach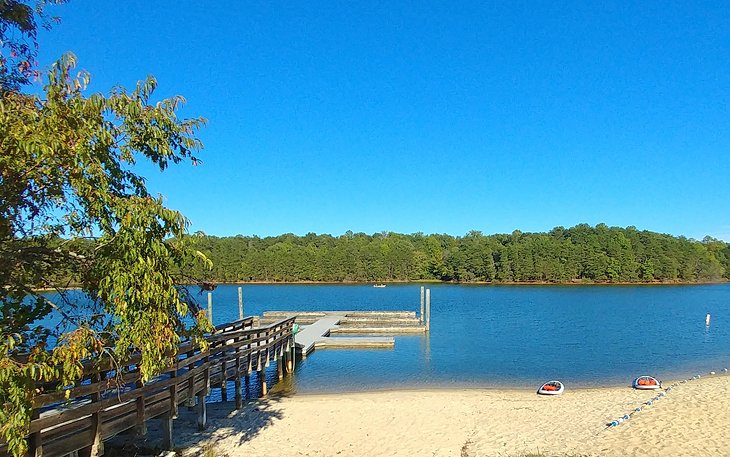 One of the most popular in-shore beaches in Virginia is Smith Mountain Lake. It is the second-largest lake in the state and it is surrounded by a cottage community. The freshwater beaches on the lake are great for families and water sports enthusiasts.
There are many swimming areas, and the lake is suitable for jet skiing, boating, and fishing. There is a public fishing pier and many picnic areas. Smith Mountain Lake has camping facilities and plenty of trees where you can hang a hammock in the shade after a day on the water.
13. Lake Anna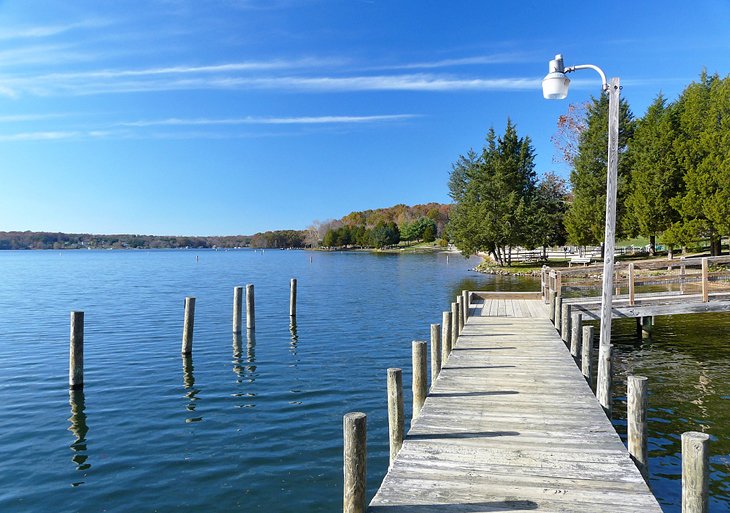 With 200 miles of shoreline, Lake Anna in northern Virginia is the third largest lake in the state. There is a public beach with nice white sands. You will think you are on the ocean, except for the lack of waves. Lake Anna has clean water, so it is a nice place to swim and relax on the shoreline.
The lake is also popular for water sports like wake boarding, water skiing, and boating. There are several outfitters and marinas around the lake where you can buy supplies for the day or book a lesson to learn a new water sport like wake boarding.
14. Yorktown Beach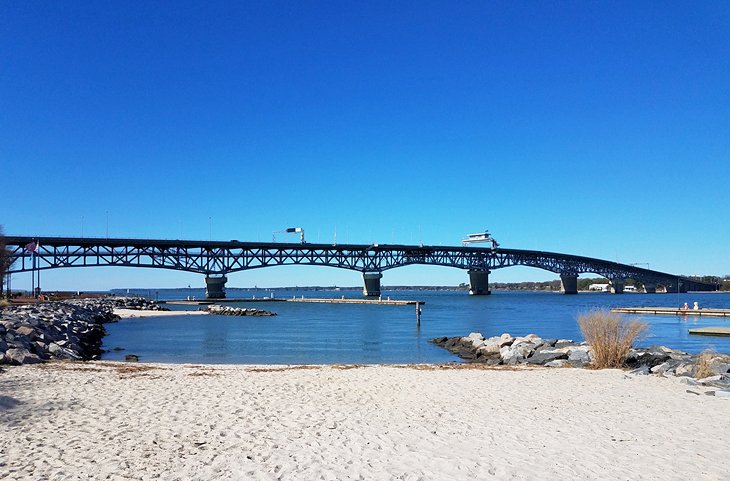 The small shoreline of Yorktown Beach is a two-acre public beach located in historic Yorktown. This small beach is nice for families since there are conveniences nearby like restrooms and restaurants. In addition to the beachfront there is a fishing pier and comfortable picnic areas.
Access to Yorktown Beach is easy. You can park in public lots located in Yorktown and take a complimentary shuttle to the beach. Swimming is the most popular activity at the beach, but kayaks and paddleboards are available for rent from a local outfitter.
For an extra beach excursion, you can also take a sunset sail or a historical boat trip on the York River.
15. First Landing State Park Beach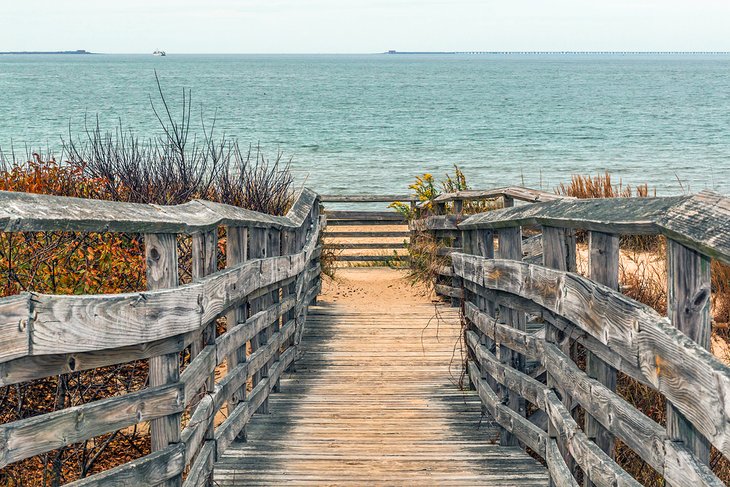 One of the only public access points to the beach on the Chesapeake Bay is through First Landing State Park. This beach is a nice option for families or anyone who wants a day at the beach but not the surf of the Atlantic Ocean. This beach is also less crowded than other beaches in Virginia.
The beach at First Landing State Park is more naturally scenic than the hotel-lined coastlines that you will find along the Atlantic Ocean beaches in Virginia. The coastline here is bordered by sand dunes, maritime forest, and natural vegetation like shrubs. Given the more natural elements at this beach, it is more prone to insects, so you will want to pack repellant in your beach bag.
Beach access is easy, with four boardwalks that cross the dunes to the waterfront. One of the main boardwalks is located at the Chesapeake Bay Center, where you can access parking and bathrooms.
16. Chincoteague Island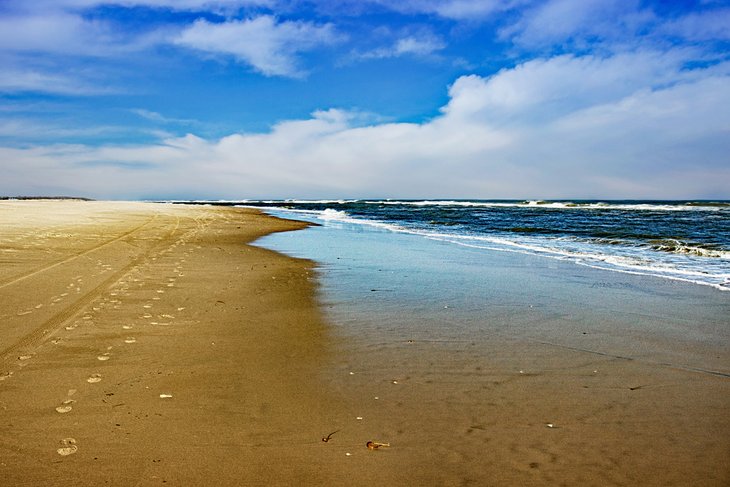 One of the most unique beach experiences in Virginia is on Chincoteague Island on the Eastern shore where the ocean and natural wildlife will enhance your day on the water. Chincoteague Island is a National Wildlife Refuge where you will see wild horses out for a swim and native birds flying overhead.
The island is one of the most popular in Virginia and is close to Assateague Island, which is also known for wild horses. Chincoteague is a barrier island, so the topography is defined by naturally placed dunes and grasses, and it is one of the most scenic in the state.
The beach is managed by the National Park Service and is ideal for swimming, sunbathing, beachcombing, and birding. There are always events and programs happening on the island, which can add a little excitement to your day at the beach. The most anticipated event on the island is the annual Pony Swim in the summer. This is when wild horses swim from the Assateague Channel to the island with a roster of activities surrounding the event.
More Related Articles on PlanetWare.com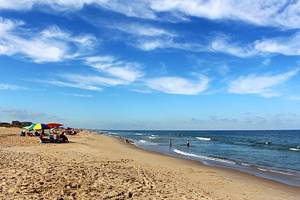 Virginia Beach: If you are planning a summer vacation, Virginia Beach has many attractions beyond the beach and lots of lodging options, from luxury hotels and resorts to family and romantic options.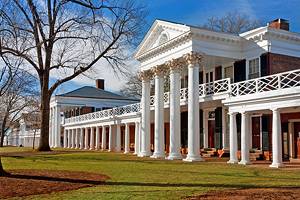 More of Virginia: If you are looking for a weekend getaway in Virginia, you might consider going to George Washington and Jefferson National Forests or Colonial Williamsburg. Other Virginia destinations include exploring the naval history in Norfolk, enjoying the great outdoors near the Blue Ridge Mountains in Charlottesville or hiking in Shenandoah National Park, a historic visit to the state capital of Richmond, and uncovering the best scenic views in the state near Roanoke.