14 Best Beaches near Washington, D.C.
The coastal states of Maryland, Virginia, and Delaware offer many options for those hoping to escape the sweltering summer heat in the nation's capital. Maryland offers the closest options, with several excellent saltwater beaches along its protected shores, as well as some freshwater beaches at interior state parks.
Delaware beaches facing the Atlantic are a longer drive, but offer bigger waves for surfing and bodyboarding. Virginia offers some great options close to the city on the Potomac River, and those willing to spend a few hours in the car can enjoy the iconic Virginia Beach.
Get out of the city and chill out on the beach with our list of the best beaches near Washington, D.C.
1. Sandy Point State Park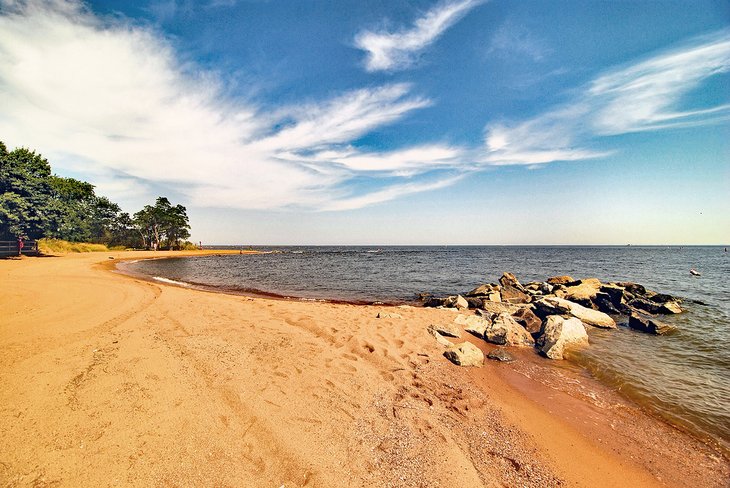 Sandy Point State Park sits on the northwestern shore of Chesapeake Bay in Maryland, only a little over an hour's drive from Washington, D.C. The park has one mile of sandy beach, which is staffed with lifeguards during the summer season, from Memorial Day through Labor Day, making this a good option for families with children.
In addition to swimming, visitors can enjoy a variety of water sports, and there are boat rentals available on-site. Fishing is also allowed here, and there are many nice hiking trails throughout the 786-acre park. Those looking for an overnight getaway will find campsites, many with lovely views over the bay.
Park amenities include a bathhouse with restrooms and showers, as well as a supply shop that offers everything from beach basics and fishing supplies to snacks and picnic food. Picnic shelters and pavilions can be reserved for larger groups.
2. Colonial Beach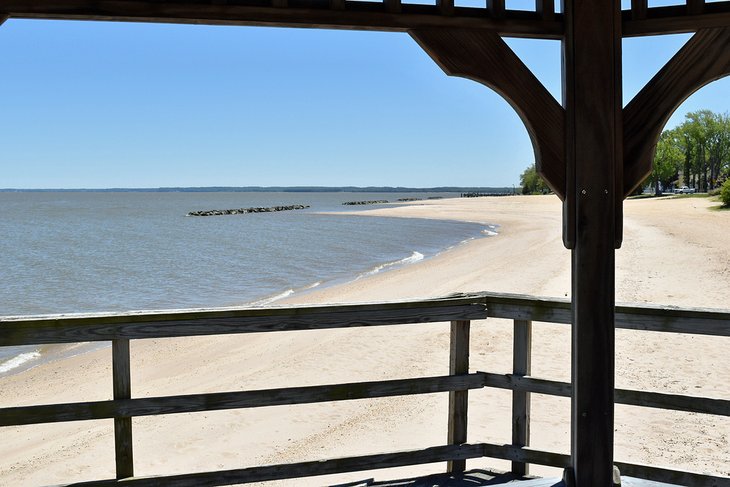 Located approximately an hour and 45 minutes from Washington, D.C., Colonial Beach is in the historic town of the same name. This family-friendly beach is the second longest in the state, sitting on the shores of the Potomac River opposite Monroe Bay.
The public beach has a boardwalk, which allows easy travel to the various amenities along the shore, including a well-stocked beach shop and a waterside restaurant that offers live entertainment and outdoor seating by a fire pit. The beach has restrooms, changing rooms, and a spray-off station, as well as an access path for wheelchairs.
Boat and water sports rentals are available at many of the numerous marinas near the beach. Those who prefer to relax and let someone else drive can enjoy sightseeing and dinner cruises, as well as charter fishing trips. These, as well as bike tours, can be booked at Ferry Landing Pier (formerly known as Fisherman's Pier).
Visitors should plan overnight trips to enjoy local festivities held on Town Commons, including the Potomac River Festival, Market Days, the Boardwalk Arts & Crafts Festival, Bluemont Concerts, and family movie nights.
In the off-season, October through March, leashed dogs with well-behaved humans are welcome on the beach.
3. Ocean City Beach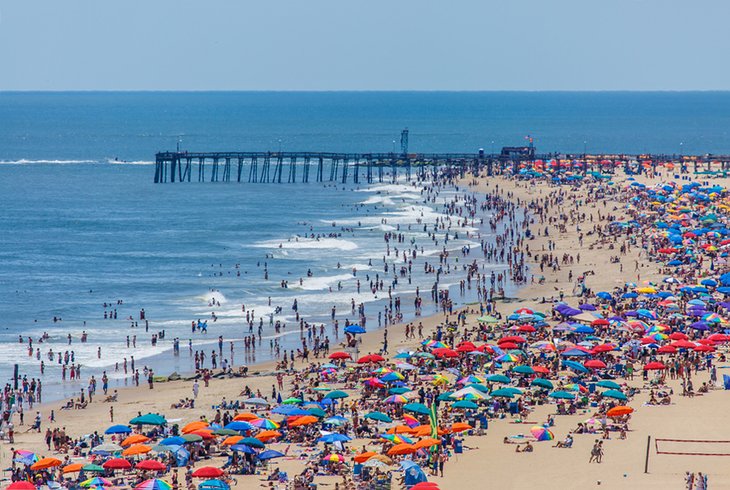 Ocean City Beach is a family favorite, a classic resort area home to plenty of seaside attractions and activities. The three-mile Boardwalk is lined with shops and diversions, as well as many of the city's restaurants.
One of the most iconic places along the boardwalk is Trimper's Rides and Amusements, home to a beautiful historic carousel that features 45 hand-carved animals.
In addition to sunbathing and swimming, visitors can enjoy a full range of water sports, with rental shops along the shore. Off-beach activities include the Jolly Roger Amusement Park, mini golf, and the bizarre world of Ripley's Believe it or Not!
Ocean City is also popular with fishing enthusiasts. It was nicknamed the "White Marlin Capital of the World" by President Franklin Roosevelt after he had a particularly good day on the water. Since 1974, Ocean City has hosted the White Marlin Open, a major fishing tournament that involves thousands of contestants and millions of dollars in prize money for the best catches in several categories. The tournament lasts one week and is held every year in mid-August.
One of the best beaches in Maryland, Ocean City is just under three hours by car from D.C.
4. Rehoboth Beach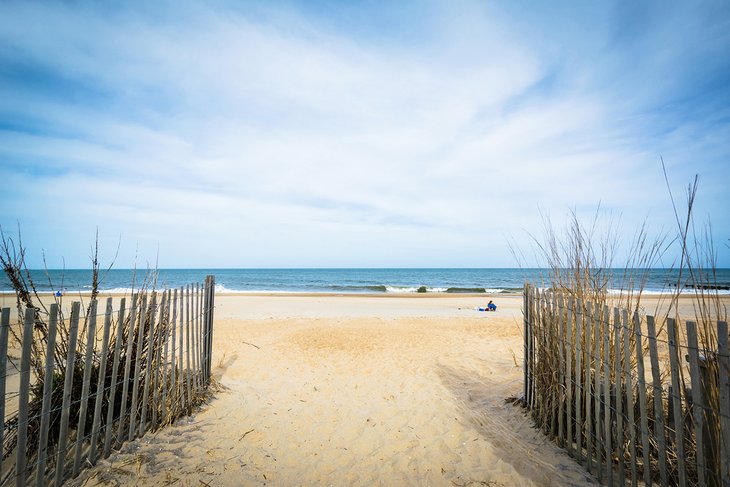 Although the drive to Rehoboth Beach averages two and a half hours from the city, it's still a favorite for both day and overnight beach getaways thanks to its nostalgic boardwalk and plentiful activities. This resort town's activity is concentrated around the Boardwalk, an area full of restaurants, sweet shops, and souvenir shops. Unlike many beach towns, Rehoboth is also home to many high-end boutiques and galleries.
The Boardwalk is also home to the Funland amusement park and Beach Arcade. Funland offers a variety of games and rides, including classic bumper cars, a carousel, spinning teacups, and even some thrill rides for the more adventurous kids. In addition to the plentiful carnival-style food vendors in and around the park, there are several excellent restaurants near the beach.
One of the best beaches in Delaware, Rehoboth Beach is open to the public at no charge, providing lifeguards during the summer season. Basic amenities, including restrooms and showers, are available. There are several large hotels right on the beach as well.
5. Lewes Beach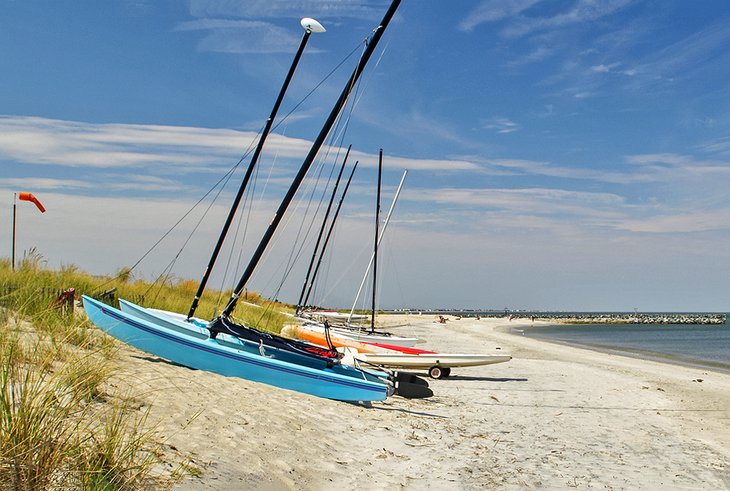 Lewes Beach sits on Delaware Bay adjacent to Cape Henlopen State Park, protected from the open waters of the Atlantic. The beach enjoys calm water with minimal undertow and a gradual slope, making it a favorite for families with younger swimmers.
Although it is located about two and a half hours from D.C., this low-key beach offers affordable parking and well-maintained amenities, including a bathhouse.
Lifeguards are on duty during the summer season, and concession stands dot the beach. Visitors will also find some small stores and a good ice cream shop within walking distance of the beach, and there are many good restaurants to choose from in the center of town.
6. Brownie's Beach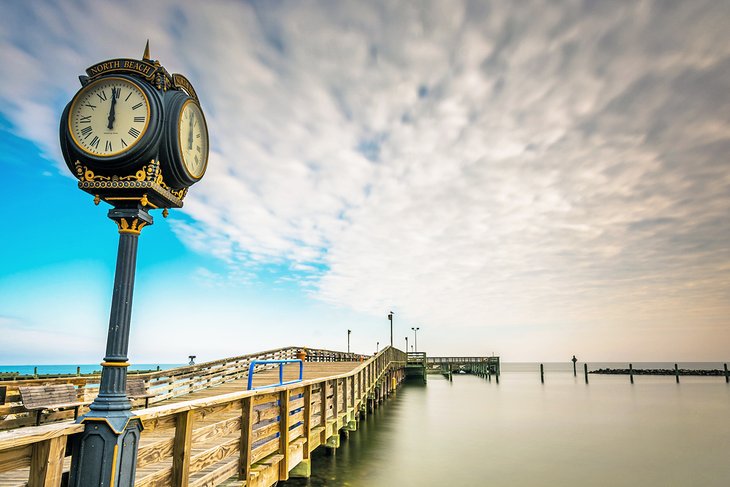 By car, it takes about an hour to reach the town of Chesapeake Beach, located 45 miles from Washington, D.C. This makes it an ideal place to bring the kids on a hot summer day without spending half of it on the road.
The actual beach is called Brownie's Beach, located within Bay Front Park. The shoreline is relatively small but shallow and perfect for little ones. Kids also love sifting through the sand here, which often yields tiny shark tooth fossils.
If the park is too crowded, visit the Chesapeake Beach Municipal Water Park - a family-friendly water park that features a lazy river, waterslide, splash zones, and multiple pools. The park also offers cabana rentals, swimming lessons, and plenty of food options.
Fishing is not permitted at Bay Front Park, however there are several local companies that offer fishing charters and group fishing trips. There is also a public boat ramp with reasonable launch fees.
Other local activities include the Chesapeake Beach Heritage trail and the Chesapeake Beach Railway Trail. The Railway Trail is a nature trail that features naturalist exhibits along the way, as well as osprey platforms. Train aficionados will want to set aside some time to visit the Chesapeake Beach Railway Museum.
7. Bethany Beach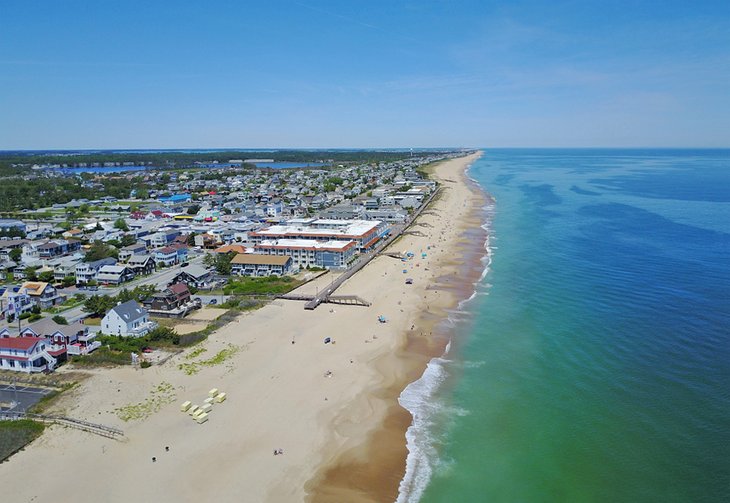 Although the drive from D.C. to Bethany Beach is just under three hours in normal traffic, it's still a favorite for those looking to get out of the city and onto the sand. One of the best parts of Bethany Beach is its Boardwalk, a wide wooden walkway that stretches a half-mile along the shore. Spray stations are located along the boardwalk for beachgoers to clean off the sand before hitting the shops.
There are a good number of quality food vendors selling typical seaside fare and cold treats, as well as several shops. The Bethany Surf Shop is the place to go for any beach supplies, from sunscreen to surfboards. Visitors can also rent equipment, and there is a bike rental shop, as well as Jet Ski rentals on the beach; there is also mini-golf nearby.
8. Assateague Island National Seashore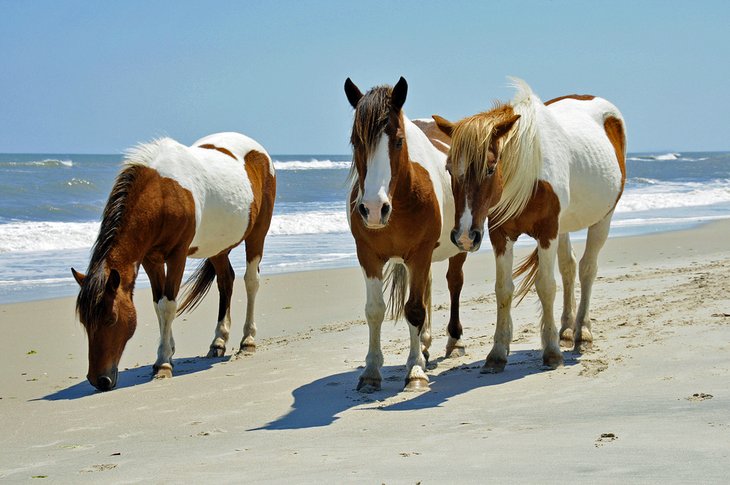 Assateague Island is best known for the wild horses that have called the area their home for hundreds of years. It's not uncommon to see them taking a seaside walk along the water's edge, and they don't seem to mind sharing the space with visiting sunbathers. Even if it's just a day trip to see the horses, it's well worth the 2.5-hour drive from the city.
The beach faces the Atlantic along the edge of this narrow 37-mile barrier island, and it's a popular place with surfers due to the plentiful space and good waves. Sea kayaking is also popular here, and many enjoy spending a few nights camping so there is time to explore the trails. This is also a great place for bird-watching, and tourists will find amazing panoramic views from atop the 1867 Assateague Lighthouse.
Assateague State Park is one of Maryland's top tourist attractions, accessible via Verrazano Bridge; tourists visiting Ocean City can easily take a quick 25-minute detour to visit the park.
9. Dewey Beach, Delaware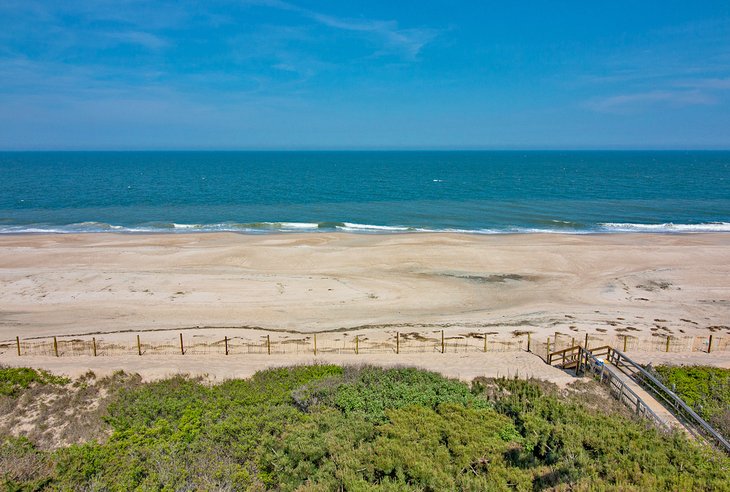 Located just south of Rehoboth Beach, Dewey Beach is known best for its special events and entertainment, including several annual music festivals and live music on the beach every night during the summer. It also hosts several annual music festivals, including the Fiddler's Festival and the Elvis Festival, as well as concerts by top-tier artists.
In addition to the music, visitors can enjoy organized activities like seaside yoga and a variety of educational programs for all ages. The town, which is within walking distance of the beach, is home to many restaurants and boutiques.
Visitors can also find water sports equipment rentals here, from paddleboards and kayaks to pontoon boats and Jet Skis. Those who aren't comfortable out in the open water of the Atlantic can launch from Lighthouse Cove to explore the calm, protected waters of Rehoboth Bay.
Read More: Top-Rated Beaches in Delaware
10. Cunningham Falls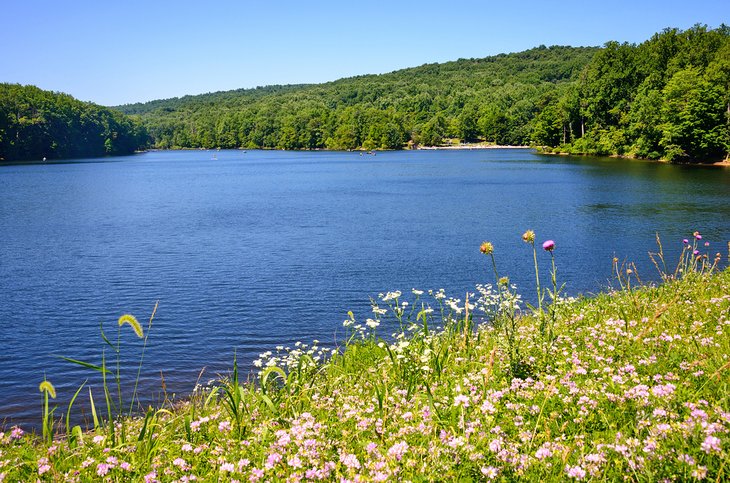 Just around an hour and a quarter drive from D.C., Cunningham Falls State Park is a great option for those seeking a freshwater beach. The beach itself sits on the shores of a small lake and offers basic amenities, including toilets and grill stations.
In addition to swimming, visitors can enjoy hiking trails in the Catoctin Mountain that lead to some of Maryland's largest waterfalls, as well as some great views. Camping is available for those who want to spend the night, and there is also an aviary at the park that is well worth a visit.
Read More: Top-Rated Beaches in Maryland
11. Hammerman Beach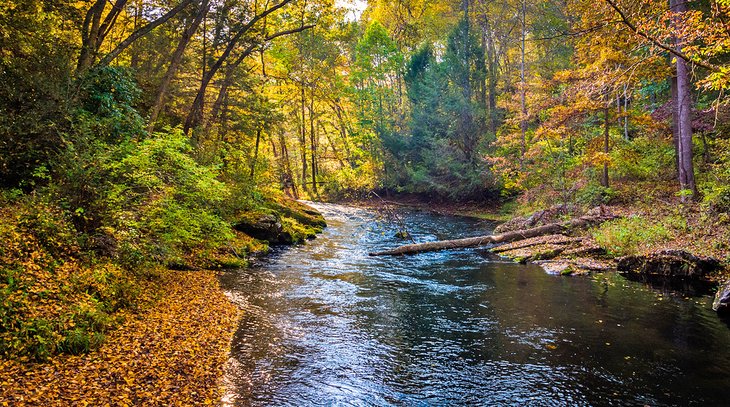 Hammerman Beach is located within Maryland's Gunpowder Falls State Park, an 18,000-acre park that is home to several impressive waterfalls. The beach sits on the shores of the massive Gunpowder River, and is a family favorite thanks to the plentiful shade of trees in the picnic area. There is also a pavilion with a concessions stand that offers burgers, hot dogs, and snacks, as well as beverages and last-minute beach needs. There are also playgrounds, and canoe and kayak rentals are available.
There are horseback riding trails and hiking trails that weave throughout the park. Visitors can also enjoy fishing from the shore, and there is also an area to launch your kayak or other non-motorized craft. Beach parking is limited, so be sure to get here early if you are going in peak season.
12. Point Lookout State Park, Maryland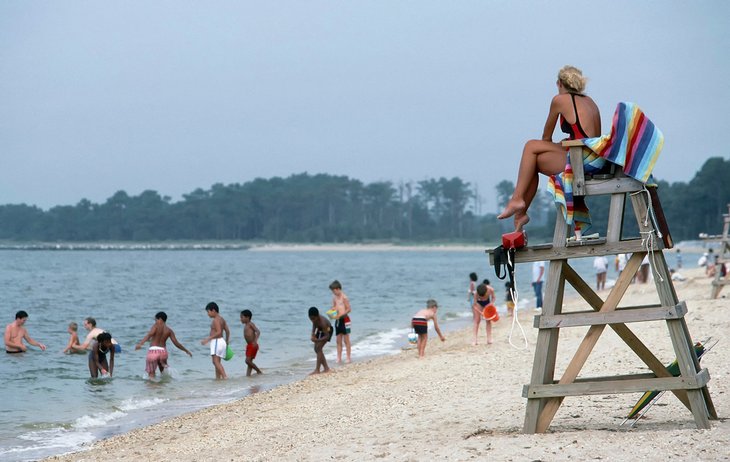 Located at the southern end of the peninsula which separates the Potomac and Chesapeake Bay, this beautiful park is approximately two hours' drive from D.C. The beach is open through the summer season, offering a picnic area, grills, a playground, and a large pavilion that can be reserved for large groups. There are also toilet and shower facilities, although it is not regularly staffed with lifeguards.
There is a park store that carries a wide range of supplies, from snacks and cold treats to bait and camping supplies. There are also canoe rentals available here, as well as boating supplies. Visitors can also enjoy the Marshland Nature center, as well as the Civil War Museum, which explores the site's former use as a prison camp of Confederate soldiers.
13. Breezy Point Beach
Located in Maryland on Chesapeake Bay, this half-mile stretch of sand is popular with families with younger children, thanks to a swimming area protected by netting, and a good playground. The beach offers basic amenities here, including picnic tables and grills, and visitors can fish off the 200-foot pier.
For those who don't want to drive there and back in one day, there are campsites available that accommodate both tents and RVs. Only a little over an hour from Washington, D.C., the beach can fill up fast on summer weekends. There is a limit to the number of visitors allowed in the park, so plan to arrive early to ensure a spot.
Address: 5300 Breezy Point Road, Maryland
14. Virginia Beach, Virginia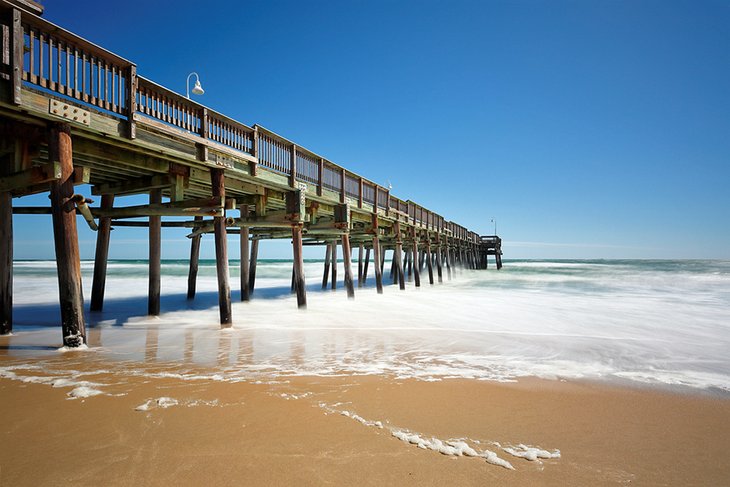 Although the drive from Washington, D.C. is around four hours with normal traffic, Virginia Beach is still a popular destination for weekend beach getaways. This lively seaside resort town is known for its plethora of activities and attractions, and it is full of good hotels. Located by Chesapeake Bay, the town is also home to many excellent seafood restaurants.
The three-mile boardwalk is the center of beach activity, home to candy stores selling freshly pulled saltwater taffy, kitschy souvenir stands, and a good variety of interesting shops. Virginia Beach hosts many special events throughout the year, including sandcastle contests and live music events in the summer.
Map of Beaches near Washington, D.C.
Washington, DC - Climate Chart
Average minimum and maximum temperatures for Washington, DC in °C
J
F
M
A
M
J
J
A
S
O
N
D

6

-3

8

-1

13

3

19

8

24

13

29

18

31

21

30

21

26

17

20

10

14

4

8

0

PlanetWare.com
Average monthly precipitation totals for Washington, DC in mm.

82

67

91

70

97

80

93

87

96

82

77

78