10 Top-Rated Tourist Attractions in Norfolk, VA
Set on the shores of Chesapeake Bay and part of the Hampton Roads metropolitan area, Norfolk is a historical city with a long standing connection to the ocean and is known in particular for Naval Station Norfolk, the largest naval base in the world.
In the vibrant downtown area, visitors can experience some of the history first-hand by visiting Nauticus and touring the Battleship Wisconsin, stopping by the Hampton Roads Naval Museum, taking a Naval Base Cruise, or hopping aboard a tall ship for a quick sail.
For those looking to enjoy the outdoors, the Norfolk Botanical Garden is an absolute must-see attraction, and the Virginia Zoo is an excellent family outing. In addition, art lovers will find the Chrysler Museum of Art is a treat, with some outstanding collections, including a fascinating glass collection. For visitors staying in nearby Virginia Beach, a day trip to Norfolk is well worth the short drive.
Plan your visit with our list of top tourist attractions and things to do in Norfolk.
1. Walk through Norfolk Botanical Garden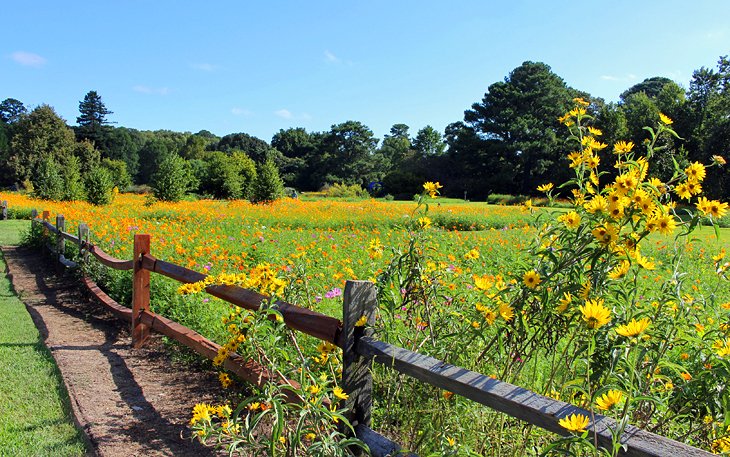 The Norfolk Botanical Garden is a beautiful outdoor nature retreat just minutes from downtown, next to the airport. This a wonderful place to visit to enjoy a walk in the forest, admire colorful gardens, or bring the kids on a hot summer day to frolic in the splash pad. The more than 60 theme gardens, on 175 acres, feature a wide range of plants that provide a unique experience throughout the year.
The garden was started in the late 1930s and began with the planting of thousands of azaleas and rhododendrons, as well as other trees and shrubs. Although it expanded over the years, what visitors see today is a mature garden, carefully tended to by staff and a large number of volunteers.
This unique property is surrounded by water on three sides, with canals running through the interior. Consequently, boat tours, as well as tram tours, are offered during the spring and summer and provide a leisurely option for exploring the grounds.
Seasonal events are held throughout the year and are very popular, particularly the annual Dominion Garden of Lights, beginning in late November and running until the New Year. Something new in 2021 are Sunday Dog Days, when dogs are admitted free of charge and have free run of the gardens (on leash). Check the Botanical Garden's calendar for upcoming events.
Address: 6700 Azalea Garden Road, Norfolk, Virginia
Official site: http://norfolkbotanicalgarden.org/
2. Visit the Chrysler Museum of Art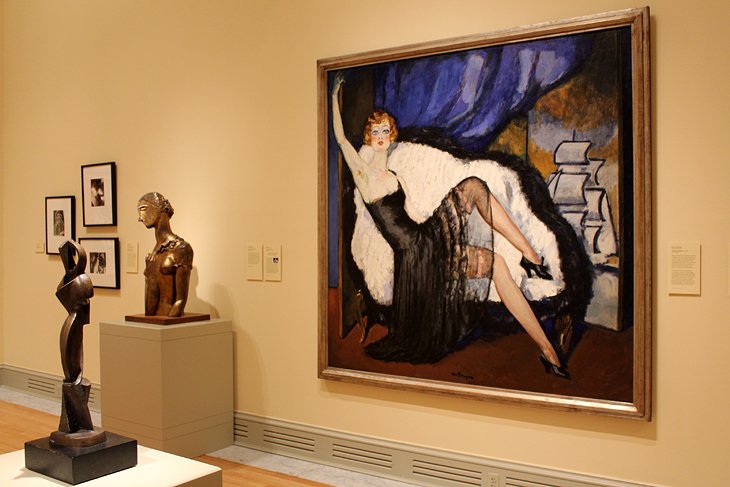 The Chrysler Museum of Art is a rare gem, with inspirational collections of art and antiquities, all well laid out in a lovely building, which was renovated in 2014. This free museum has one of the country's leading glass collections. Even visitors who are not interested in art cannot help but be impressed by the beauty and creativity found in this collection.
The museum features European and American painting and sculpture, modern art, contemporary art, photography, decorative arts, and ancient art. From Henri Matisse to Andy Warhol, the museum's permanent collection offers a bit of everything, and temporary exhibitions ensure return visits are in order.
Next door to the main museum is the Chrysler Museum Glass Studio (Perry Glass Studio), where artists come to work at their craft, and guests can see demonstrations in glass blowing. Classes and workshops are also available.
Address: One Memorial Place, Norfolk
Official site: http://www.chrysler.org/
3. Tour Battleship Wisconsin and the Nauticus Maritime Center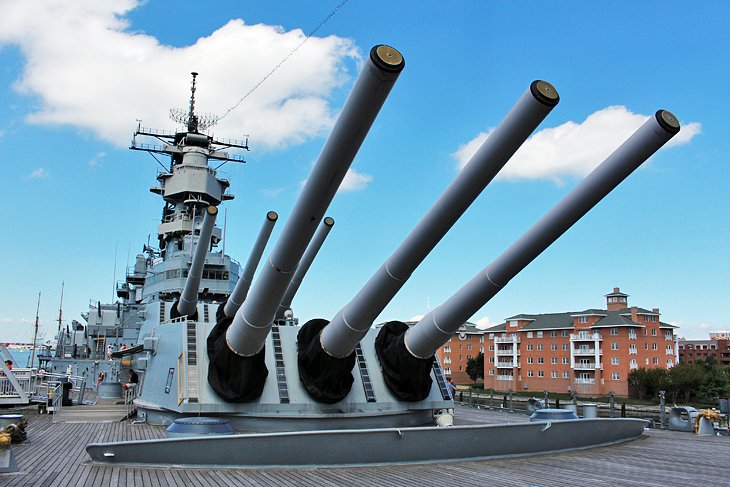 Conveniently located on the waterfront in downtown Norfolk is the decommissioned WWII Battleship, USS Wisconsin, operated by Nauticus. While the ship is impressive on many fronts, it is one of the largest battleships ever built by the U.S. Navy, and it is an imposing presence on the Norfolk waterfront. Launched in December of 1943, it was also one of the last battleships ever built by the U.S Navy. Wisconsin was active in WWII, the Korean War, and Operation Desert Storm in 1991, and also served as a training ship in between active duty.
Visitors first walk through the Nauticus building, with an extensive and well-thought-out series of displays related to the history and layout of the ship, before walking out onto the deck. Once on the ship, it's possible to walk from one end to the other, climb stairs to some of the upper levels, and explore large sections of the Wisconsin on a self-guided tour. Recent changes have allowed previously closed areas to now be open to the public unescorted. Some of these new spaces include, but are not limited to, the CPO Lounge, Ship's Library, Galley, and even the Brig.
Guided tours are also available. One of the best is the Top of the World tour, which takes visitors to the exterior command center. This perch in the sky provides expansive views out over the ship and Norfolk. The From Foc'sle to Fantail provides an in-depth look at everything on the main deck from bow to stern.
Address: 1 Waterside Drive, Norfolk, Virginia
Official site: http://www.nauticus.org/
4. MacArthur Memorial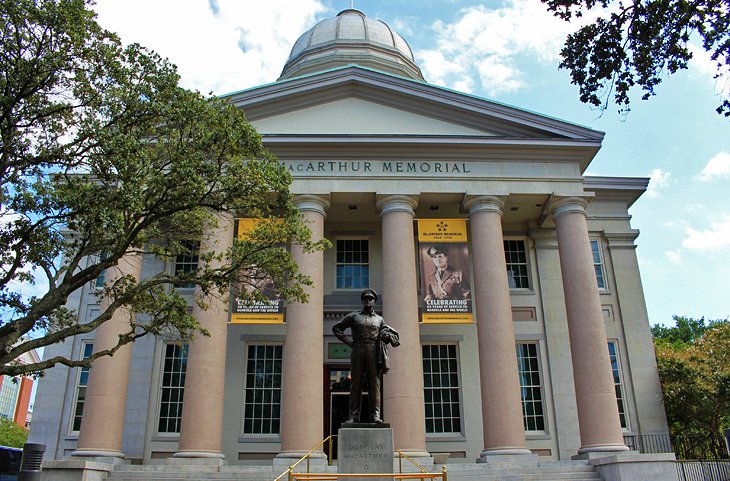 Another important tourist attraction in Norfolk, the MacArthur Memorial honors Douglas MacArthur, a US general and Chief of Staff of the United States Army, as well as Americans who served in the Civil War, Spanish American War, World War I, World War II, the Occupation of Japan and the Korean War.
The Memorial is housed in a grand old courthouse building, but the complex consists of both the memorial building and a large visitors center located next door. Visitors enter through this building, with a gift shop and several displays, including MacArthur's staff car, and then walk through a courtyard to the courthouse building.
The memorial building contains the tombs of General and Mrs. MacArthur, in the center of the building directly below the huge dome. Galleries on the main and upper level are laid out by year and chronical MacArthur's life and events of the time period.
Address: 198 Bank Street, Norfolk, Virginia
Official site: http://www.macarthurmemorial.org/
5. The Virginia Zoo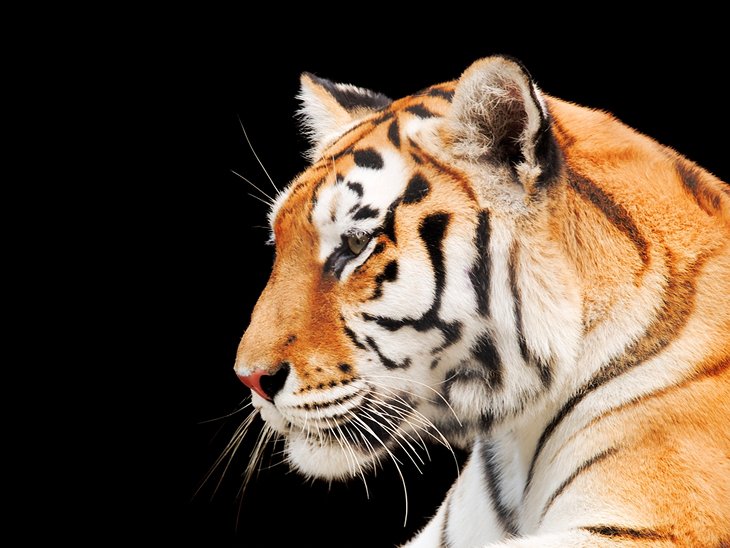 With all the big name animals, the Virginia Zoo is a definite favorite with locals and tourists. Elephants, giraffes, lions, tigers, rhinos, orangutans, kangaroos, and all kinds of other wildlife can be found here in well-spaced, large enclosures.
Some of the animals can be viewed from elevated boardwalks that allow for a bird's-eye view or an almost face-to-face encounter with a giraffe. Touring the zoo can be a hot excursion during summer afternoons, so visitors may want to arrive in the morning. There is a cafeteria-style restaurant on-site along with three other fast food outlets serving take away drinks and snacks.
Address: 3500 Granby Street, Norfolk, Virginia
Official site: http://virginiazoo.org/
6. Take a Victory Rover Naval Base Cruise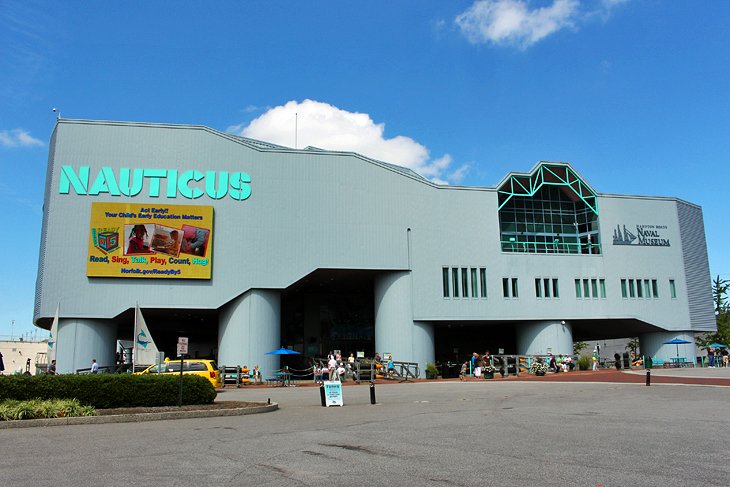 On the downtown waterfront at Nauticus, the Victory Rover Naval Base Cruises are a great way to explore the area by sea. These narrated tours cruise past the Battleship Wisconsin, downtown Norfolk, shipyards, the Portsmouth Naval Hospital, the Portsmouth Coast Guard Station, and the Norfolk Naval Station, and numerous other sights along the way. The Norfolk Naval Station is the largest of its kind in the world, and this is a rare opportunity to see this type of site.
The 150-passenger boat has an open-air upper level and a closed cabin with air conditioning. Food is available for sale at the snack bar. Cruises operate regularly from March to November, with limited sailings in December.
Address: Nauticus, 1 Waterside Drive, Norfolk, Virginia
Official site: http://www.navalbasecruises.com/
7. American Rover
Docked in downtown Norfolk, not far from Nauticus, is the tall ship, American Rover. This three-masted schooner offers sailing cruises on the Elizabeth River and Hampton Roads Harbor, with fantastic views of the city and surroundings. These narrated cruises last an hour and a half to two hours and run from April to October.
Guests can help with the sailing if they want a little hands-on experience, or simply enjoy the ride. Snacks and beverages are sold on the ship, but guests are also welcome to bring their own food on with them if they choose.
Cruises can be booked 30 days in advance, but it is often possible to get tickets at the last minute. Afternoon and sunset cruises are available, and occasionally special sailings are scheduled, including night cruises.
Address: 333 Waterside Drive, Norfolk, Virginia
Official site: http://www.americanrover.com/
8. Hampton Roads Naval Museum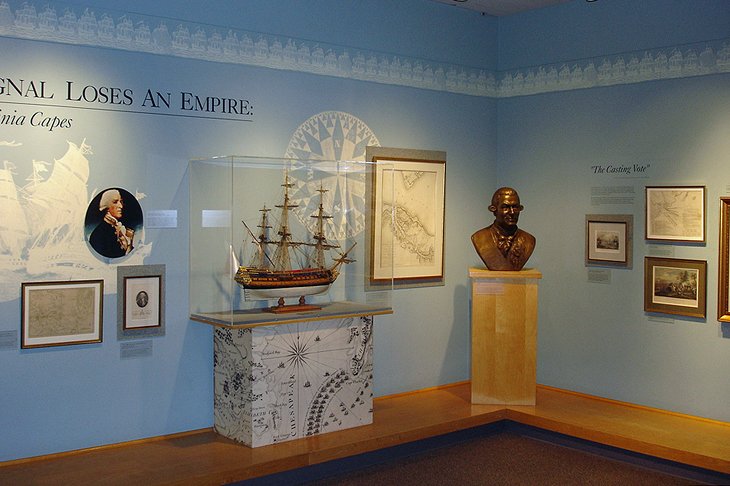 The Hampton Roads Naval Museum is in the Nauticus building, although operated separately, and can be visited as you walk through the main building to board the Battleship Wisconsin. This is a free museum and well worth a stop. The focus of the museum is on the history of the U.S. Navy in Virginia and the local area, from the Civil War through to the Cold War.
The museum is small, but displays are well done, with model ships, uniforms and other apparel, an example of a mine used against German U-boats, and all kinds of historical information.
Address: Second Floor of Nauticus, 1 Waterside Drive, Norfolk
Official site: http://www.history.navy.mil/museums/hrnm/index.html
9. Hermitage Museum & Gardens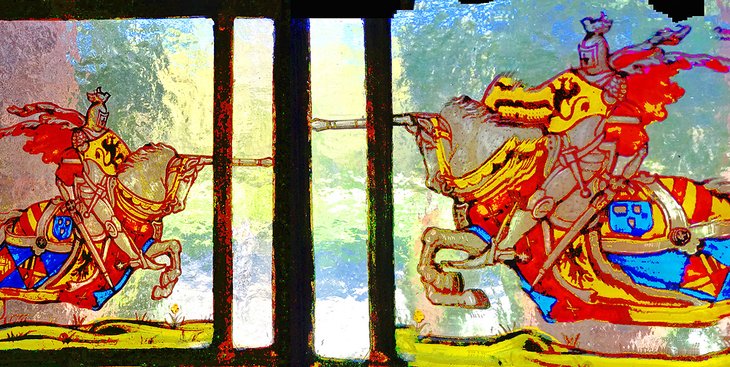 For an escape from the city, the Hermitage Museum offers a nice retreat, with open green spaces, cool areas for strolling along the waterfront, a rambling house to explore, and unique art displays to admire. This 1895 Arts-and-Crafts-style waterfront house was built by William and Florence Sloane as a summer residence. The house eventually became the Sloane's main residence and underwent some additions over the years. The house now has 42 rooms and has remained relatively unchanged since 1936. Today, the museum showcases not only the old furnishings but works of art, both indoors and out.
On Thursday evenings throughout the summer, the museum hosts a concert series known as Sunsets on the River. Bring your lawn chairs and blankets and set up on the grass beside the river to listen to bands. Dogs on leashes are welcome.
Address: 7637 North Shore Road, Norfolk
Official site: http://www.thehermitagemuseum.org/
10. Children's Museum of Virginia
The Children's Museum of Virginia is one of the best things to do as a family when visiting Norfolk. Inside you'll find interactive displays, including a bubble-blowing station, a musical store, a bank, and a grocery store right through to a miniature port. In addition to these displays, kids will also find hours of entertainment in the full-sized tugboat, city bus, and fire truck cab.
One of the museum's main attractions is the incredible train exhibit. On display are eight main trainlines and over 800 trains all beautifully laid out in a miniature setting showcasing the cities of Portsmouth, Roanoke, Richmond, and the area surrounding the Blue Ridge Mountains.
The museum makes learning about the stars and space fun in the newly upgraded Beazley Planetarium. It now boasts of 4K video quality and incredible sound with a new Dolby 7.1 audio system.
Although the museum is technically not in Norfolk, it's a short drive over one of the bridges leaving Norfolk.
Address: 221 High Street, Portsmouth, Virginia
Official site: https://childrensmuseumvirginia.com/
Map of Attractions & Things to Do in Norfolk, VA
Norfolk, VA - Climate Chart
Average minimum and maximum temperatures for Norfolk, VA in °C
J
F
M
A
M
J
J
A
S
O
N
D

9

0

10

1

14

4

19

9

24

14

28

19

31

22

29

21

26

18

21

12

16

7

11

2

PlanetWare.com
Average monthly precipitation totals for Norfolk, VA in mm.

100

85

104

86

95

96

131

122

103

88

76

77

Average monthly snowfall totals for Norfolk, VA in cm.

8

10

3

0

0

0

0

0

0

0

0

1
Average minimum and maximum temperatures for Norfolk, VA in °F
J
F
M
A
M
J
J
A
S
O
N
D

48

32

50

34

58

40

67

48

75

58

83

66

87

71

85

70

79

65

69

53

61

44

52

36

PlanetWare.com
Average monthly precipitation totals for Norfolk, VA in inches.

3.9

3.3

4.1

3.4

3.7

3.8

5.2

4.8

4.1

3.5

3.0

3.0

Average monthly snowfall totals for Norfolk, VA in inches.

3.1

3.9

1.2

0.1

0

0

0

0

0

0

0

0.5
More Related Articles on PlanetWare.com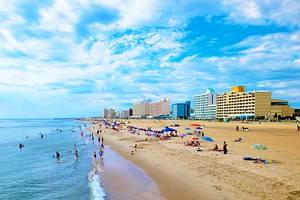 Virginia Beach: Nearby, Virginia Beach is a great place to enjoy some time at the beach or a little fun with the family. For ideas on why you should visit, see our guide to the Top Attractions in Virginia Beach.