9 Best Caverns in Virginia
The cool thing about visiting Virginia's caverns is that no matter what the temperature is outside, it is always around 55 degrees Fahrenheit below ground. Most caverns are open year-round, which makes exploring them a nice activity that is not dependent on the seasons.
Even better is that most of the caverns, like Luray Caverns and Shenandoah Caverns, two of Virginia's most popular, offer other attractions and activities besides the tours below ground.
Oftentimes people confuse caverns and caves, and while Virginia features both, it is important to understand the difference. A cavern is a cave that is naturally formed from soluble rock that enables the development of formations like stalactites and stalagmites. A cave is a hollow below the ground that cannot get direct sunlight.
There are nine caverns in Virginia, and each has unique formations inside and tours available. With so many caverns in the state, you can pick one or several that suit your interests and plan a day at each.
Some of the caverns have amenities like elevators or paved walkways that make it easier for people who have trouble with stairs and uneven terrain to visit these natural wonders. Discover some of the highlights with our list of the best caverns in Virginia.
1. Luray Caverns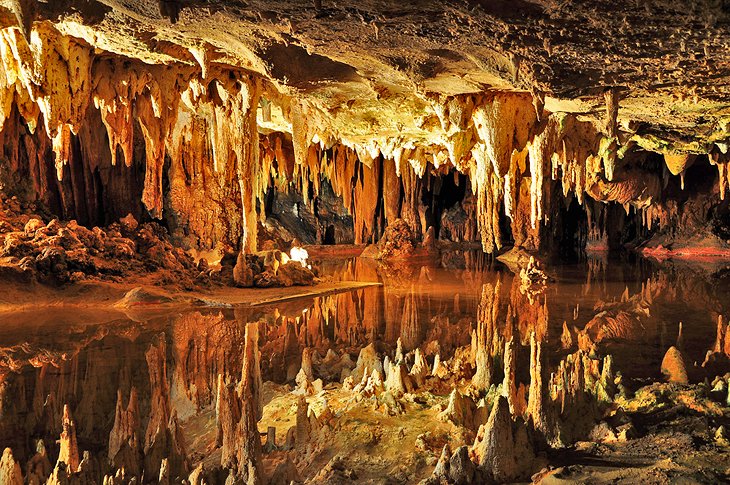 The underground matrix of tunnels in Luray Caverns is the most expansive in the eastern United States. The caverns, located in Luray, is a designated National Landmark and should be on the top of your list of place to visit in Virginia. It is known for its massive chambers, including some that are 10 stories high. The calcium carbonate drips throughout the caverns create jaw-dropping stalactites and stalagmites.
The Luray Caverns has some special qualities in addition to its famous formations. Besides the large chambers, the caverns has lakes, small waterways, and golden stone columns that surround the walkways and sectioned-off areas like Giant's Hall. The cavern is one of the best places to photograph in Virginia.
One of the most notable formations in Luray Caverns is the world's only known "Stalacpipe Organ." The natural stalactite organ pipes cover 3.5 acres and bellow music through the caverns that sounds like a symphony concert. The organ is played during each tour.
Other formations in the caverns worth noting are Titania's Veil, a white formation created by tiny crystalline drips, and the Empress Column, which is a massive formation identified by a stalactite coming down from the cavern ceiling connecting with a stalagmite formation protruding from the cavern floor. Another formation to look for is the Frozen Fountain, a white flowstone that is a large, rounded crystallization.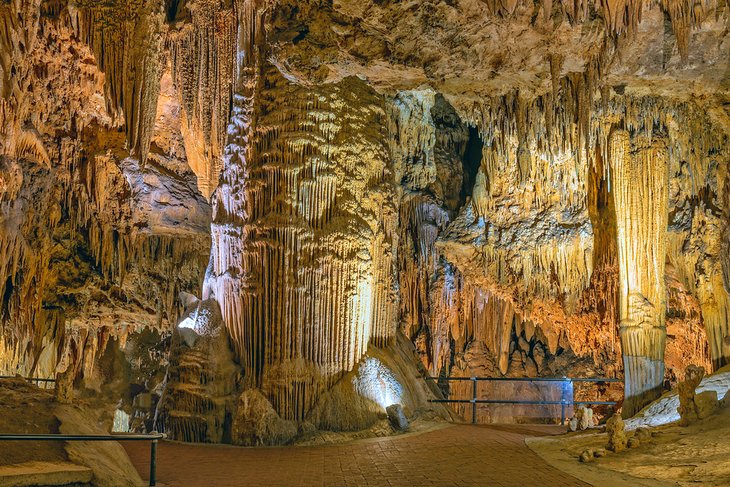 Luray Caverns is open year-round, and the caverns remain at a steady 54 degrees Fahrenheit regardless of the temperature above ground. These caverns are unique because they have no steps for any part of the 1.25-mile tour. Most caverns require steps down into the passageways and have an uneven landscape throughout. The walkways at Luray Caverns are paved, so getting through to the various chambers is easy.
Luray Caverns does offer discount tickets for students, groups, and the military, and children under the age of five are free. Check the Luray Caverns website for discount details. There are several lodging options around Luray Caverns if you plan to make several days out of it. You can find cabin rentals, motels, and a KOA campground nearby.
Other Things to Do: You can spend an entire day at Luray Caverns with the other attractions that are included with your admission ticket. The Luray Car and Carriage Caravan Museum is fun for automotive buffs, with its collection of vintage cars like the 1908 Baker Electric.
Toy Town Junction is a history lesson and nostalgic visit to exhibits with vintage toys and trains. The Luray Valley Museum is a collection of historic items from the Shenandoah Valley that explain local culture and local settlers.
For kids, the caverns property has gem mining, a rope adventure park, a melodic bell tower, and a grand garden maze. Since you should plan on spending a full day at Luray Caverns, you can stop for lunch or a snack at one of the two cafés on-site.
Address: 970 U.S. Highway 211 West, Luray, Virginia
Official site: https://luraycaverns.com
2. Shenandoah Caverns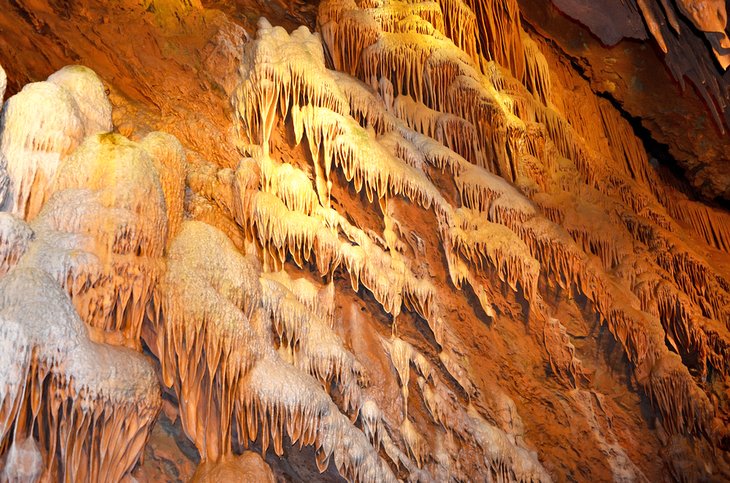 One of the most popular caverns to visit is Shenandoah Caverns located in Quicksburg. It is located just off the I-81 highway between Mt. Jackson and New Market, so it is easy to get to. The Shenandoah Caverns have operated tours for more than 90 years, and they are noted for their 17 accessible underground rooms filled with a wide variety of crystalized formations.
Some of the cavern rooms have cathedral-like ceilings, like the Long View Hall and Grotto of the Gods. While there are dozens of popular formations inside the caverns, one of the most famous is the Breakfast Bacon formation, because it resembles, you guessed it, bacon. Another popular crystal formation is the Diamond Cascade, made from shimmering, white calcite crystals.
While your tour travels through tunnels bordered by stalactites and stalagmites, some of the more unique formations to look for in Shenandoah Caverns are Capitol Dome and Beyond the Veil, which is an intricate curtain-like design formed from many thin orange drips. Beyond the Veil oftentimes has LED lighting on it to showcase the dramatic effect of the formations.
The one-mile tour through Shenandoah Caverns will take you past Rainbow Lake, which has beautiful iridescent drips. The caverns does have an elevator for those who cannot walk down the stairs and a café for lunch after your tour.
Other Things to Do: The Shenandoah Caverns has a number of other attractions on-site. The Main Street of Yesteryear is an old-school department store filled with antiques and store displays dating back to the 1940s and 50s. There is an American Celebration on Parade attraction that has many floats and props from the Rose Parade and other notable parades.
The Yellow Barn houses antique carriages, and there is a hands-on gemstone mining area on-site for children, where they can sift for their own gemstones.
Address: 261 Caverns Road, Shenandoah Caverns, Virginia
Official site: https://shenandoahcaverns.com
3. Grand Caverns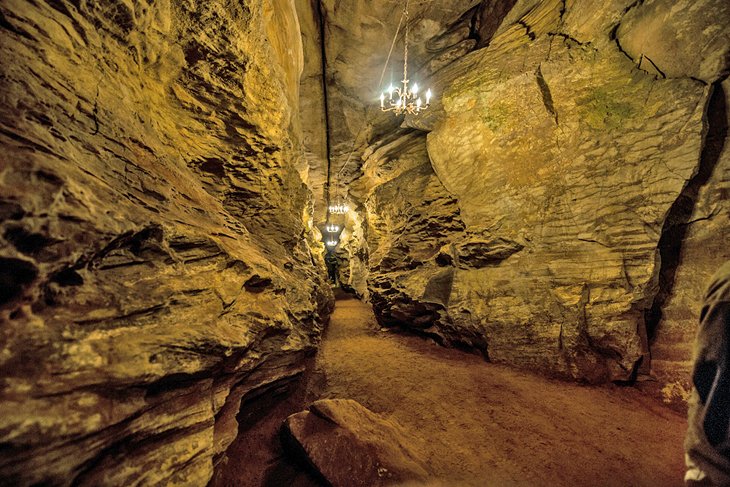 Grand Caverns is a National Natural Landmark and a stunning caverns system to explore. These caverns opened for tours in 1806 making them the oldest operating cave system for visitors in the United States. The caverns are open year-round with hours that change for the summer and winter seasons. There are several types of tours available at Grand Caverns depending on how adventurous and dirty you want to get exploring.
The main tours at the caverns last a little more than an hour, and you walk about a mile through the cave complex to learn about the rock formations. For those who want to feel a bit more like the original cave explorers, the Historic Trail Tour gives you the full caving experience. You are outfitted with a helmet, headlamp, and kneepads to prep you for crawling through some of the original pathways of the cave.
Extreme adventurers can take the two-hour Fountain Cave tour, which also includes caving equipment to explore an old commercial cave that was closed for more than a century. The caverns stay at 54 degrees Fahrenheit, so if you do a more extensive tour climbing through the passageways, you will want to dress in comfortable clothing and in layers, as you may get damp and cold.
The formations inside of Grand Caverns range from columns and flowstones to many shield formations made of limestone and dolomite. There are large rooms, like the nearly 280-foot-long and 70-feet-high Cathedral Room. It is one of the largest cavern rooms in the entire eastern United States.
The other notable formations you will see are Stonewall Jackson's Horse, Bridal Veil, Dante's Inferno, and Tapestry Room. Be sure to see the Rainbow Room, which is illuminated by colored lights on the massive stalactites and stalagmites.
Other Things to Do: The topography of this area is beautiful, and there are many hiking and biking trails, so you can plan some time above ground, too. You can pack lunch and have a picnic in one of the shelters on the grounds or take up a game of miniature golf. Fitness buffs can get in a scenic workout on the park's dedicated fitness trail, which has exercise stations at each stop.
There is a lot of Civil War history in the area of Grand Caverns, so if you enjoy history, you will want to spend some time learning about the nearby landscape. Be sure to stop at the gift shop to look through some of the natural stones, gems, and educational books.
Address: 5 Grand Caverns Drive, Grottoes, Virginia
Official site: https://www.grandcaverns.com/
4. Skyline Caverns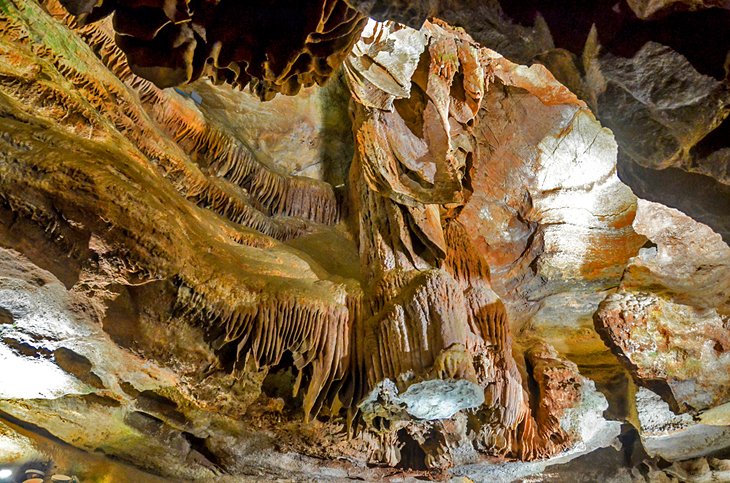 Skyline Caverns near Front Royal opened in 1939 and has become known as an exceptional cavern experience, particularly because it is one of the only places in the world where you can see anthodite formations. These rare mineral formations have a distinct structure and look like white flowers with many calcium carbonate spikes. Skyline Caverns is home to Chandelier, an 18-inch anthodite that is the oldest and largest known to exist.
The tours through Skyline Caverns last an hour and include stops at many other visually stunning formations with geological information from a guide. Some of the other rooms and formations to note at Skyline Caverns are the Capital Dome; Painted Desert; Rainbow Trails; Fairyland Lake; and the Shrine, which is a popular backdrop for weddings.
The caverns also have three underground streams visible to visitors and a waterfall that is 37 feet high, called the Rainbow Waterfall. You can visit the caverns year-round for tours.
Other Things to Do: The Skyline Caverns is at the base of the Blue Ridge Mountains, so the area is naturally beautiful. While at the caverns, you can walk on a nature trail to observe local plant and wildlife. The caverns also has a miniature train ride and a mirror maze that are fun activities for kids.
Address: U.S. Highway 340, 10344 Stonewall Jackson Highway, Front Royal, Virginia
Official site: https://skylinecaverns.com
5. Natural Bridge Caverns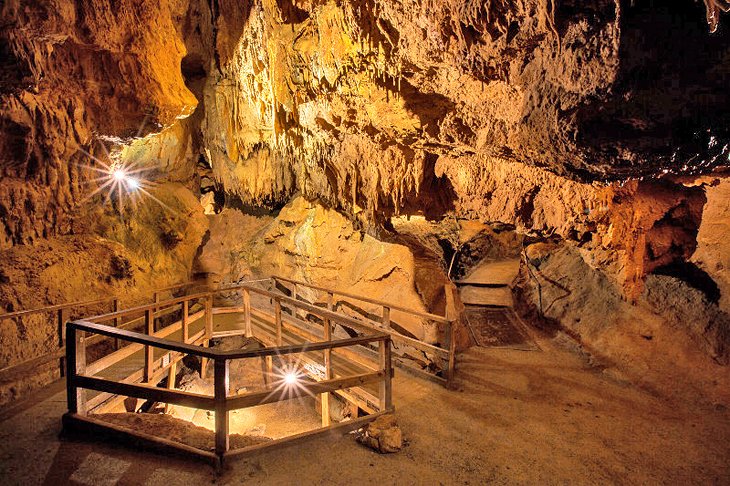 All caverns are stunning for their natural elements but the Natural Bridge Caverns has an added wow factor. At 34 stories underground, Natural Bridge Caverns are the deepest on the east coast. The caverns opened to the public in 1977. It is open year-round, but hours change seasonally.
There are many points of interest on the 45-minute tour of the Natural Bridge Caverns, particularly the Colossal Dome Room. This massive room naturally formed over 1,000 years as water moved through cracks and crevices in the mountainside and left natural mineral deposits to form and change inside the caverns.
What you see in the caverns is one of the largest flowstone masses on the East Coast. Some of the formations and points of interest in the Natural Bridge Caverns are Mirror Lake, the Canyon Room, Flowstone Cascade, and the Wishing Well. You will observe formations like stalactites and stalagmites, flowstones, pools, and draperies throughout the caverns.
Other Things to Do: The Natural Bridge Caverns are close to the Natural Bridge State Park, where you can spend part of your day before or after the caverns tour taking a hike or having a picnic in the area. The Natural Bridge Caverns has a historic hotel on the property if you want to make a weekend stay out of your Virginia caverns trip.
Address: 15 Appledore Lane, Natural Bridge, Virginia
Official site: https://www.naturalbridgeva.com/caverns.html
6. Endless Caverns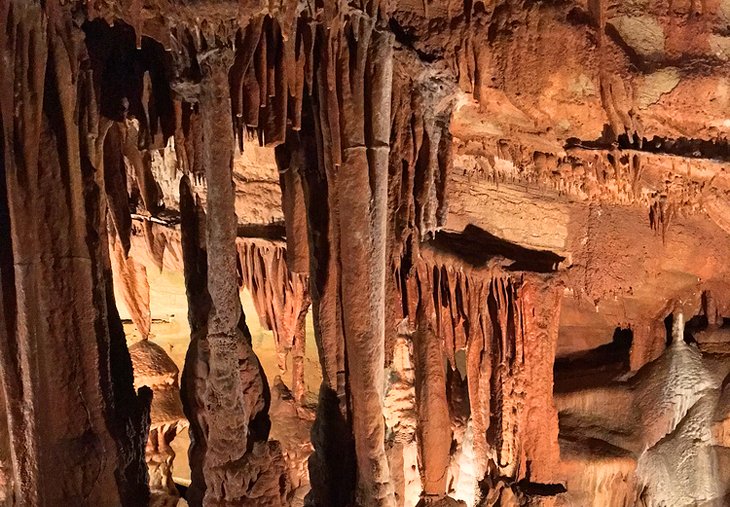 The name Endless Caverns, hidden behind the Massanutten Mountain range near Harrisburg, is an indicator of what to expect when you visit. The caverns complex made up of underground tunnels and passageways is said to be approximately six miles long.
These caverns were uncovered in 1879 and are home to more than just rock and crystalized formations. Endless Caverns might be most known as the place that uncovered a fossilized wooly mammoth's tooth.
A 75-minute guided tour through the caverns will introduce you to the many geological finds in the passageways of the system and how they were discovered. You will see various types of formations in rooms named after them, like the Cathedral Room and the Curtain Room. Other rooms that stand out on the tour are the Blue Room and the Yosemite Room.
Other Things to Do: For an extra special adventure, you can book a campsite near the Endless Caverns and experience a night away in the Shenandoah Valley. If you are just visiting for the day, you may want to head into the town of New Market, which has a number of attractions. There are also several nearby parks in the Shenandoah National Park, where you can hike, bike, and look for wildlife.
Address: 1800 Endless Caverns Road, New Market, Virginia
Official site: http://endlesscaverns.com
7. Dixie Caverns
The Dixie Caverns are located in western Virginia in Salem and have been open since 1923. The main attraction at these caverns is the Magic Mirror Room. While stalactites and stalagmites are common in caverns, the Magic Mirror Room is where these stunning formations are reflected in a mineral pool making for a beautiful natural experience.
The caverns are open year-round, with guided tours every day of the week except for a few holidays. During the tour, you will want to take note of some of the unique formations in this cavern. The Turkey Wing is especially interesting, as it is a large golden formation shaped like a turkey wing. Fairy Land is a layered formation with tiny stalactites protruding over large stalagmites.
Other Things to Do: Dixie Caverns has a large antique mall on the grounds with more than 44 vendors selling collectibles, vintage toys, and furniture. There is also a great rock shop at Dixie Caverns with a large selection of minerals from around the world. It is worth a stop if you are a collector or just looking for something unique to take home from your trip.
Address: 5753 W. Main Street, Salem, Virginia
Official site: https://www.dixiecaverns.com
8. Gap Caverns
Located inside the Cumberland Gap National Historical Park is Gap Caverns in Ewing. There are guided tours available from knowledgeable park rangers, who will share information about the geology of the caverns and the area. The caverns tour is approximately two hours, taking you on a 1.5-mile trek through pathways and underground rooms.
The cave entrance welcomes you with 183 steps that take you down five levels. These lantern-led tours are the only ones of this kind in the state and add an extra adventurous element. One of the most prominent features in Gap Caverns is the Pillar of Hercules, which is one of the largest stalagmites in the world.
Other Things to Do: Since you are inside the Cumberland Gap National Historical Park, you should plan on spending the day exploring the area. There are many things to do in the park, from hiking trails to historical features. If you enjoy caverns and caves, make time to see Sand Cave in the park noted for its array of 21 colors visible on the cave ceiling.
Address: Route 58, Ewing, Virginia
9. Natural Tunnel State Park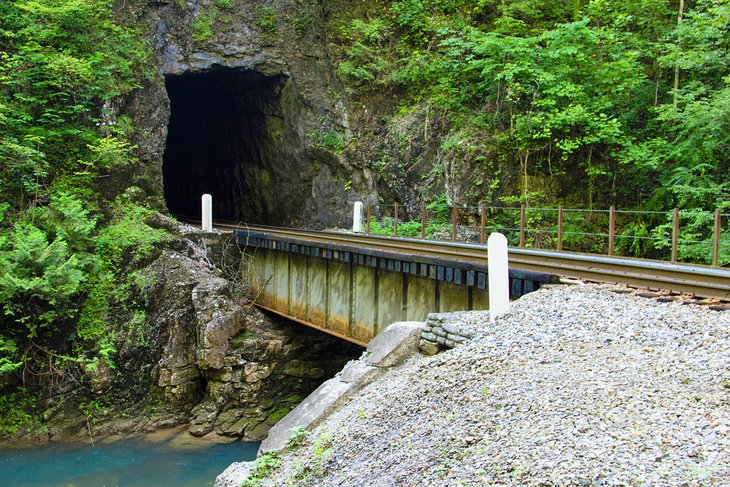 For cave and cavern enthusiasts who make the trek to Virginia, the Natural Tunnel State Park in southwest Virginia near Duffield is a must-see. The natural tunnel was formed by glaciers over a million years ago. Water seeped through the small crevices of the bedrock made from dolomite and limestone, forming a large cave and waterway called Stock Creek.
The tunnel itself is over 850 feet long and 10 stories high. Its size made it an easy option to utilize as a railroad. Today, it is a park for visitors to enjoy and marvel at the natural wonder formed thousands of years ago. You can take cave tours or ride on the chairlift 530 feet into the Stock Creek Gorge.
Other Things to Do: You can plan a full day exploring Natural Tunnel State Park. The park offers camping, swimming, and interpretive programs. There are seven hiking trails in the park, and each offers a different experience with various habitats, including an Arboretum Trail. Take your time to walk the grounds, enjoy the scenic overlooks, forests, limestone formations, and the abundant wildlife that lives near the park.
Address: 1420 Natural Tunnel Pkwy, Duffield, Virginia
More Related Articles on PlanetWare.com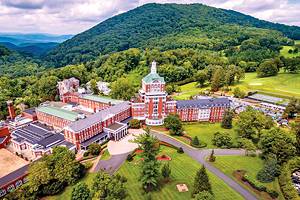 Where to Stay: During your Virginia caverns getaway, you can rough it at some of the campsites available at several of the caverns, or you can base yourself at one of the resorts in Virginia for extra pampering after your underground explorations. If you plan on visiting the capital of Richmond to see the museums and historical sites book a stay at one of these Richmond hotels.