14 Best Things to Do in West Virginia
We may earn a commission from affiliate links ()
West Virginia is a breathtaking state to visit, with so many things to do and stunning views in every direction. The Mountain State is known for its world-class outdoor adventures like white water rafting on the New River Gorge, fishing, hiking on the Appalachian Trail, and downhill skiing.
The adrenaline that the state offers is balanced by the serenity found on its scenic byways and in its parks with steep gorges and towering waterfalls. West Virginia's rich history is intriguing, with opportunities to get up close to its coal mining and railroad roots, and living history experiences in Harper's Ferry National Historical Park.
The open landscape in West Virginia makes it easy to head off for a weekend getaway or vacation, and see where inspiration takes you.

For some ideas to start your trip review our list of the top things to do in West Virginia.
1. Go Back in Time in Harpers Ferry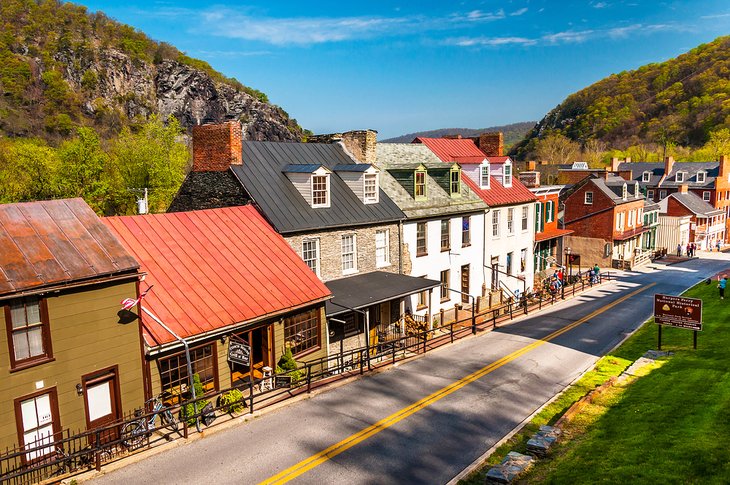 A visit to Harpers Ferry is like stepping back into yesteryear, and it's one of the best places to visit to experience the nature and history of West Virginia. Harpers Ferry is a small historical community that sits at the confluence of the Shenandoah and Potomac Rivers.
Harpers Ferry is where abolitionist John Brown initiated a raid in 1859 on a United States arsenal. The Harpers Ferry National Historical Park is the best place to start your visit to understand the area's significance to the Civil War. You can visit some of the resorted 19th-century buildings in the historic town, as well as museums and attractions like John Brown's Fort. You can also hike to Murphy Farm, Schoolhouse Ridge, and Camp Hill.
There are more than 22 miles of hiking trails with plenty of scenic overlooks, so be sure to take your camera. Harpers Ferry can get quite crowded with tourists on the weekends, so plan your visit during a weekday if possible.
Address: 171 Shoreline Drive, Harpers Ferry, West Virginia
Official site: https://www.nps.gov/hafe/index.htm
Accommodation: Where to Stay in Harpers Ferry
2. Visit America's Newest National Park: New River Gorge National Park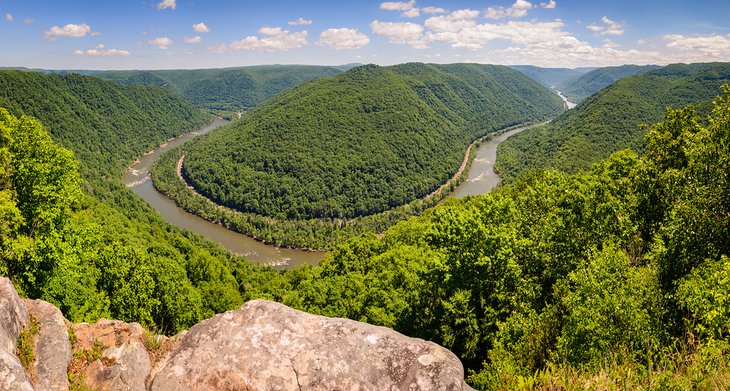 There are so many great places to hike in West Virginia, so if you are looking for a starting point, plan a visit to New River Gorge National Park and Preserve, America's newest National Park. The park is an outdoor enthusiast's dream, with 70,000 acres of outdoor exploration and more than 100 miles of hiking trails suitable for every skill level.
Trails range from .25 miles to seven miles through various terrain, taking you through mature forests, past wildflowers and wildlife, and to stunning overlooks. Some notable trails are the Glade Creek Trails that go to impressive waterfalls, and the Fayetteville Trails that go to some of the best gorge overlooks in the area.
The national park is 53 miles long, so it is easy to spend several day enjoying activities like rock climbing, biking, fishing, and white water rafting along the New River. It is a great place for camping and wilderness backpacking.
If you are opting for a more primitive and remote experience, be sure to pick up a park map from the visitor center.
Address: 104 Main Street, Glen Jean, West Virginia
Official site: https://www.nps.gov/neri/index.htm
3. Spot the Orchids at the Huntington Museum of Art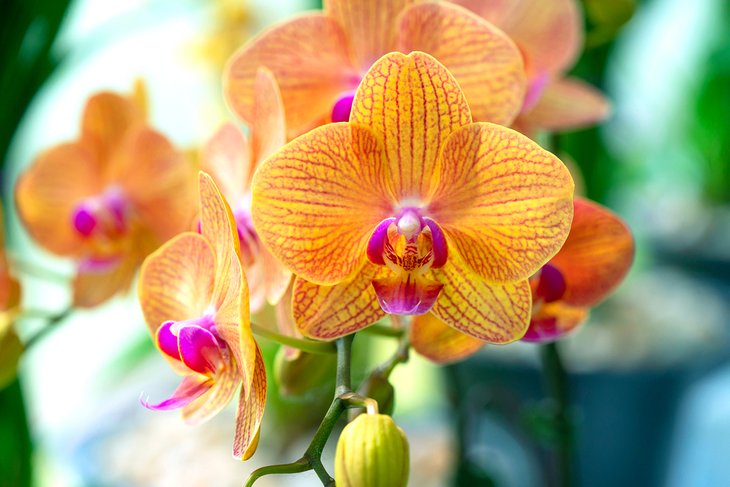 Hidden within the complex of the Huntington Museum of Art is the state's only plant conservatory, with many natural treasures. Besides showcasing artwork, the museum has a unique mission to preserve and feature nature, which is such an important element of West Virginia.
The tropical and subtropical plants in the conservatory cover four areas that include more than 100 varieties of orchids, fragrant species of plants like white ginger, agriculturally important plants like bananas, and a collection of unusual species.
The art museum has permanent collections of American, Asian, European, and Caribbean artwork. Enjoy the other areas of the museum, like the outdoor sculpture gardens and surrounding hiking trails.
Address: 2033 McCoy Road, Huntington, West Virginia
Official site: https://www.hmoa.org
4. Tour the West Virginia Penitentiary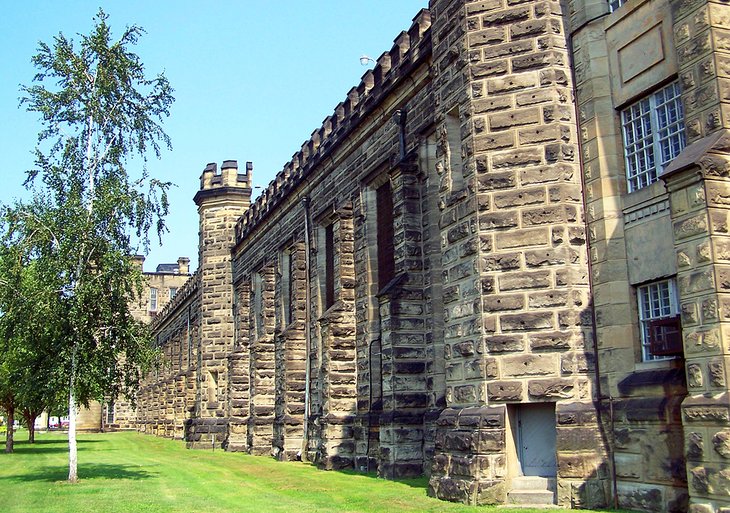 You might think that adding a stop to the West Virginia Penitentiary on your vacation is an odd idea, but for those who like quirky and non-traditional experiences and want to see the state's edgier history, this is a great place to visit.
The Gothic-style architecture of the prison sets the tone for what you will see inside on a tour of the facility. It had more than 1,000 prisoners at any given time while operating from 1876 to 1995. The prison earned a rough reputation for the unruly events that unfolded within those walls, from prisoner escapes and riots to its executions.
There are several ways to experience the prison. Day tours are offered that give you a chance to see the tiny five-by-seven-foot cells; there are twilight and even paranormal tours and a self-guided photography tour.
Address: 818 Jefferson Ave, Moundsville, West Virginia
Official site: http://www.wvpentours.com
5. White Water Rafting on the New River Gorge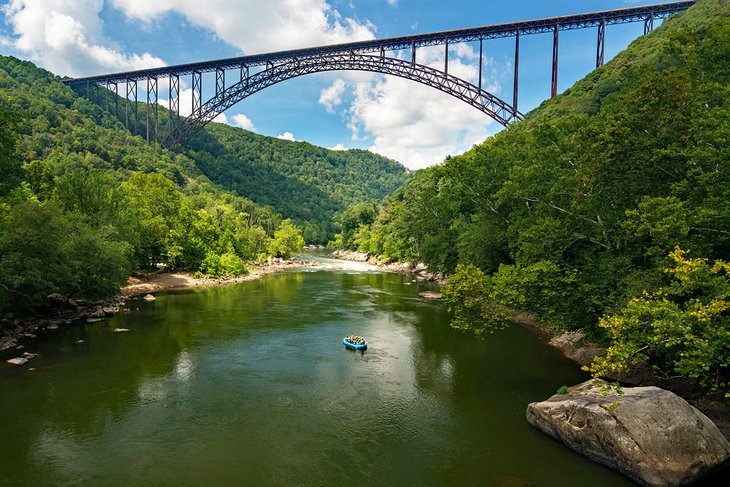 The New River Gorge is one of the top white water rafting rivers in West Virginia, with some of the best rapids east of the Mississippi River. The river has diverse topography that courses through deep narrow gorges and navigates around large boulders, creating an unparalleled white water experience.
One of the reasons this is such a preferred location for rafting is that there are sections of river to accommodate every skill level.
The Upper New River welcomes novice rafters and those who mostly want to enjoy the view on slower water. The Lower New River offers a combination of long stretches of calm water to challenging class IV rapids, especially in the spring after the snowmelt.
The lower Gauley is a 17-mile stretch of river with more than 70 rapids, ranging from class III to class V. The 13-mile stretch of the Upper Gauley is considered one of the top rafting rivers in the world, with aggressive class IV and V rapids. It is where experienced rafters can get the trip of a lifetime tackling the "Big 5," a heart-pounding trip of back-to-back class V rapids through steep drops.
6. Go Underground in the Beckley Coal Mine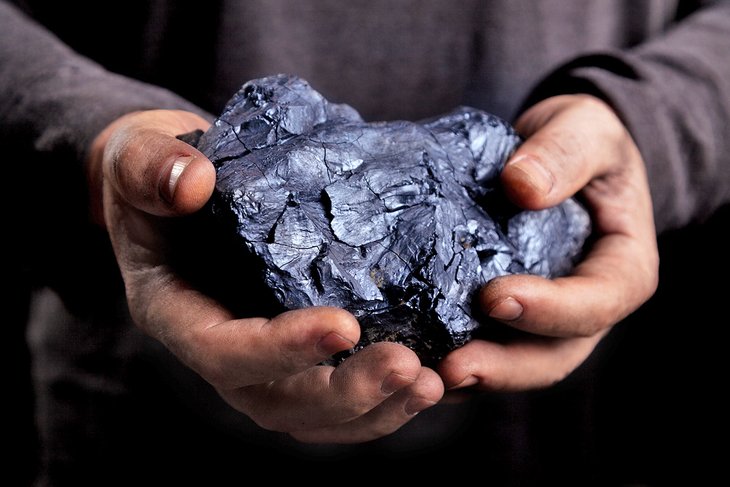 Coal mining is such an important part of West Virginia's history and economy. While many of the mines have dried up, you can experience what the mining life was like in the state with a visit and tour at the Exhibition Coal Mine in Beckley.
Take a trip below ground on a guided tour with a former miner, who shares real-life experiences in the tight corridors of the mines. Learn about the history and importance of coal mining in the region as you experience a trip along the tracks.
Besides the underground tour, you can visit some of the other areas related to mining, like the coal camp buildings, the Pemberton Coal Camp Church and the Helen Coal Camp School.
Address: 513 Ewart Avenue, Beckley, West Virginia
Official site: https://beckley.org/coal-mine/
7. Hit the Slopes at Snowshoe Mountain Resort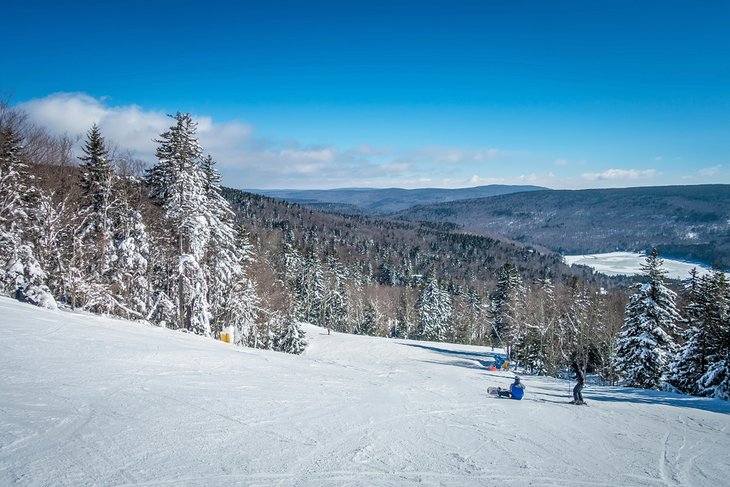 It is no surprise that the steep mountain ranges in West Virginia come with some of the best terrain for downhill skiing, especially at Snowshoe Mountain Resort. The resort sits on the top of a mountain ridge, with 11,000 acres of rugged outdoor recreation space and some of the best skiing in West Virginia.
Snowshoe has three ski areas, five terrain parks, and more than 60 trails. The skiing and snowboarding experiences can be customized to your skill level, and ski lessons are offered for every type of visitor.
Outside of ski season, the resort caters to the hard-core mountain adventurer with mountain biking, off-roading tours, and horseback riding. Since Snowshoe Resort is its own mountaintop village, there is also great shopping, dining, and spa services available.
Address: 10 Snowshoe Drive, Snowshoe, West Virginia
Official site: http://www.snowshoemtn.com
8. Walk a Section of the Appalachian Trail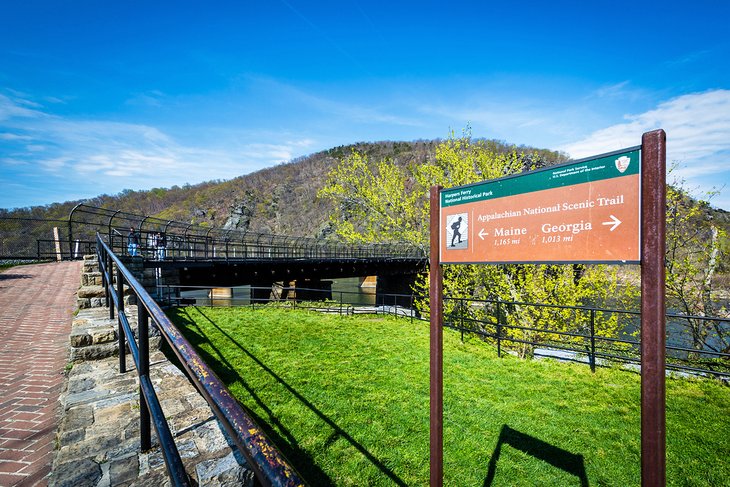 Saying that you have tackled part of the Appalachian Trail comes with a bit of prestige, so why not collect your own bragging rights with a trip on the trail in West Virginia? The section of the Appalachian Trail that goes through Harpers Ferry is considered the midway point.
The full trail is more than 2,100 miles and goes through 14 states stretching from Maine to Georgia. The allure of the Appalachian Trail is its rugged and intimate experience with nature, so be sure to pack water, sunscreen, and snacks.
9. Marvel at the State's Top Waterfalls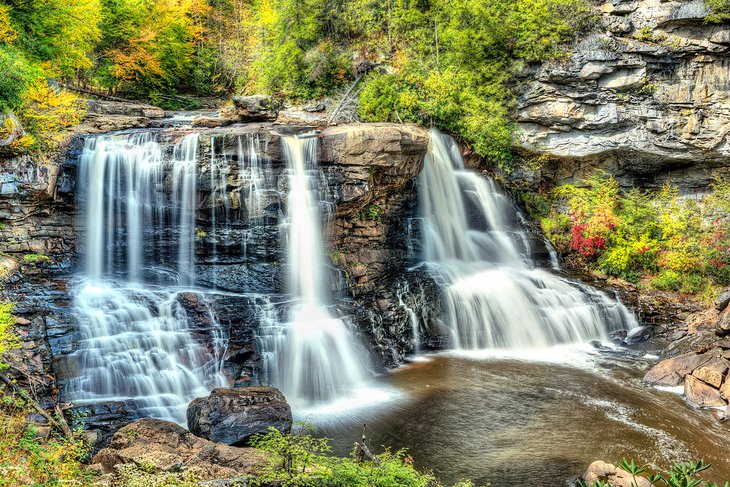 Blackwater Falls State Park in Davis has some of the most spectacular waterfalls in the state. The main falls, Blackwater Falls cascades in a 57-foot drop over steep ledges that pour into the eight-mile gorge below.
Blackwater Falls gets its name from the water's dark hue, created from the tannic acid found in the red spruce needles and hemlocks that have fallen into the water. Another waterfall to enjoy in the park is Elakala Falls. It is a series of four stunning waterfalls that cascade into the Blackwater Canyon.
The park has 20 miles of hiking trails and many scenic overlook platforms. For a unique way to see Blackwater Falls State Park, you can take a train ride through the park seasonally.
Address: 1584 Blackwater Lodge Road, Davis, West Virginia
Official site: http://www.blackwaterfalls.com/
10. Descend into the Seneca Caverns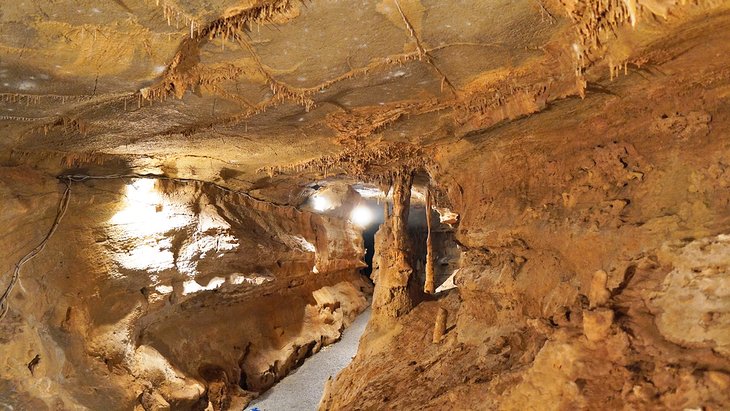 West Virginia is just as naturally surprising and impressive below ground as it is above ground, and nowhere is that more evident than at Seneca Caverns. The limestone caverns are believed to have been formed more than 460 million years ago.
The caverns were used as shelter by the Seneca people in the 1400s and were eventually discovered by a farmer in the mid 1700s. They opened as show caves in 1930 and remain an exciting place to marvel at the unique geological formations.
Take a guided tour through the caverns that extend to depths of 165 feet below ground, and see the various chambers and formations, including the largest flowstone formation in West Virginia.
Address: 3328 Germany Valley Road, Riverton, West Virginia
Official site: http://www.senecacaverns.com
11. Ride the Rails on a Scenic Journey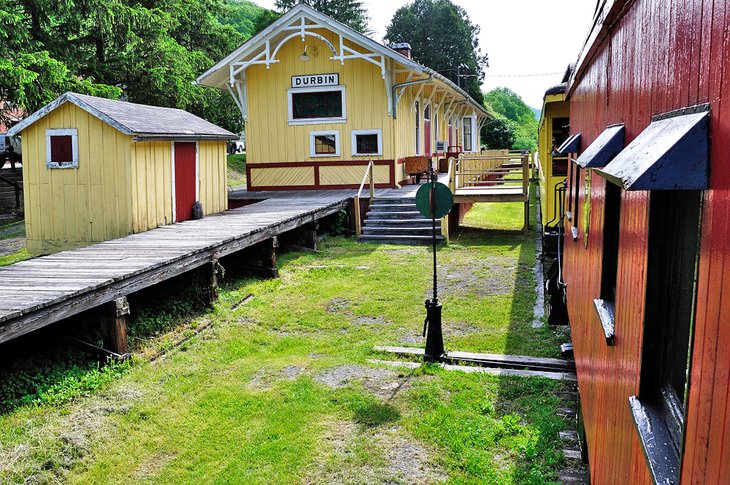 If you think West Virginia is fun to explore on foot, you should plan a train excursion to take the adventure to another level. Mountain Rail Adventures has railroad trips from April through December that depart from Elkins, Cass, and Durbin.
There are several types of locomotive trips available. Cass Scenic Railroad trips go through remote West Virginia; the Tygart Flyer tackles an S-curve tunnel and tall bridges; and the Durbin Rocket, a coal-fired steam engine pulling restored 1920s-era coach cars rides along the Greenbrier River.
For a truly unique railroad getaway, you can book an overnight on the Castaway Caboose. There are also themed train excursions throughout the year, like Wild West living history experiences and photography-focused rides.
Address: 315 Railroad Avenue, Elkins, West Virginia
Official site: https://mountainrailwv.com
12. Bathe in Mineral Springs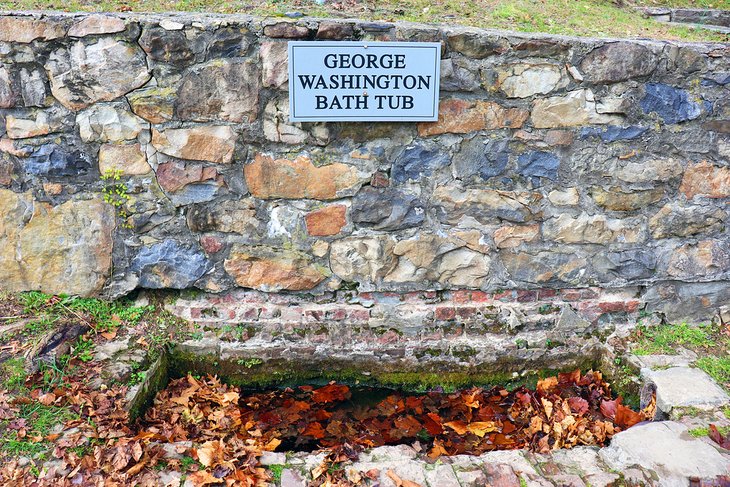 There is a reason that George Washington frequented the therapeutic natural springs in Berkeley Springs, and now that restorative experience can be enjoyed by visitors. Berkeley Springs State Park houses two historic bathhouses that date back to 1930.
The Old Roman Bath House and Main Bath House located in the state park let you enjoy a relaxing whirlpool bath as you soak in 750 gallons of 102-degree therapeutic mineral water.
The private bath facilities are a fun way to literally soak in the natural elements that West Virginia is known for. Soaks last about 30 minutes, and additional services like a sauna visit or massage can be added.
Address: 2 S. Washington Street, Berkeley Springs, West Virginia

Official site: https://wvstateparks.com/park/berkeley-springs-state-park/
13. Go Shopping at the Charleston Capitol Market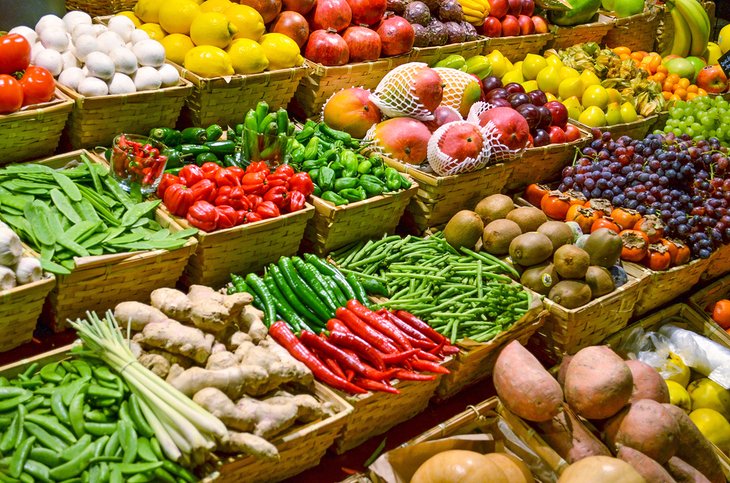 The Charleston Capitol Market is a fun way to shop and buy local. The market in Charleston is housed in the transfer docks of the old Kanawha and Michigan Railroad that was prominent in the area in the 1800s.
Spend time shopping at the indoor-outdoor retail complex that features products like meat, produce, flowers, and spices. Plan to stay for lunch, and try some of the local fare as you enjoy the people watching at one of West Virginia's most charming markets.
The market supports local growers and vendors. Some of the best times to visit are in the spring during garden planting events and in the fall, when a visit can include picking the perfect pumpkin from the garden.
Address: 800 Smith Street, Charleston, West Virginia
Official site: https://capitolmarket.net
14. Drive the Highland Scenic Highway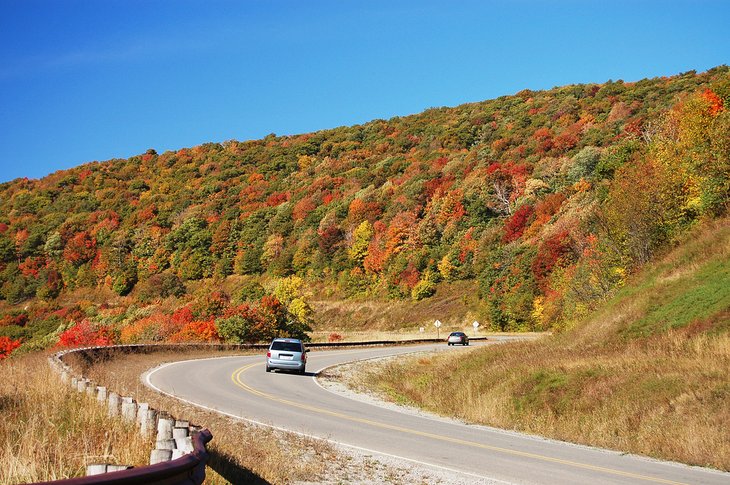 Scenic drives are the best way to soak in the incredible views in West Virginia. One of the most popular drives is along the Highland Scenic Highway. Designated as a National Scenic Byway, the road is 43 miles of two-lane highway between Richwood and US Route 219 near Marlinton.
The drive takes you through the mountains and Allegheny Highlands, with opportunities to stop at several scenic overlooks with panoramic views of the forests and steep gorges. One of the best times to take the drive is in the fall, when the leaves are changing into dramatic colors on the trees.