4 Top-Rated Ski Resorts in West Virginia, 2023
West Virginia is a small state but hits above its weight when it comes to downhill skiing. Three of the four ski resorts, namely Snowshoe, Timberline, and Caanan Valley, service some of the largest cities in the Northeast USA, including Pittsburgh; Washington, D.C.; Baltimore; and Richmond, VA. The fourth resort, Winterplace, is located to the south and services smaller cities nearby such as Lexington.
Perched high in the Appalachian Mountains, these four resorts catch any snow that is destined to fall in the area. That coupled with extensive snowmaking capabilities ensures the slopes are well covered early and late into the season. The resorts are well suited to weekend crowds with good uphill capacity and comfortable accommodations either slopeside or in nearby towns.
Skiing in West Virginia is similar in nature to skiing in North Carolina, as you'll typically find moderate winter temperatures, unlike resorts to the north and west, where on-hill conditions can be bone-numbingly cold.
Vertical drops are decent for the Mid Atlantic region, and range from 1,500 feet at Snowshoe through to 650 feet at Winterplace.
Start planning your ski trip with our list of the best ski resorts in West Virginia.
1. Snowshoe Mountain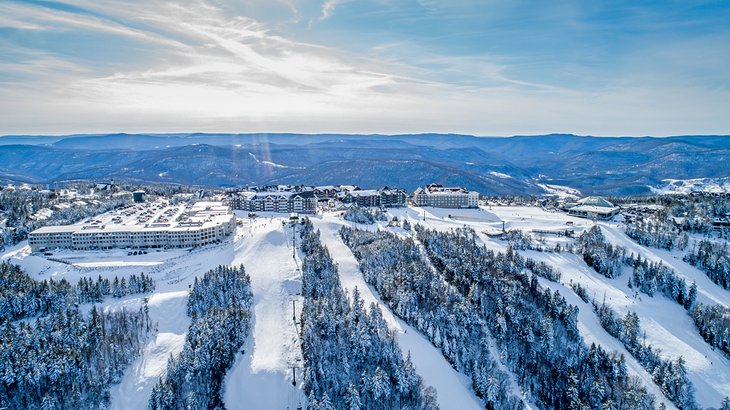 Snowshoe Mountain is really three areas combined into one, so everyone in your group can find their favorite run. Whether you choose to cruise calmly in the Snowshoe Basin, explore the Silver Creek area, or go down some steep or deep runs over in the Western Territory, you'll all have stories to share at the end of the ski day.
The ski resort has over 60 trails, from long blue and green cruisers to some steeper runs and glade skiing that will challenge even the boldest skier. The resort is an ideal place for intermediate and beginner skiers with nearly 75 percent of the runs rated at green or blue levels.
Fourteen lifts will whisk you back to the top in no time flat, and with a drop ranging from 800 to 1,500 feet, you'll be bagging lots of vertical.
Snowshoe Mountain is located on the two highest peaks in West Virginia, and it is this great position that ensures it receives plenty of snow each year. The resort gets on average 15 feet of snow each season, and owing to the 4,848-foot summit elevation, much of it is light and fluffy.
The resort doesn't take any chances, though; what Mother Nature doesn't supply, the world-class snowmaking system will more than make up for. In fact, the resort has recently invested over four million dollars in new equipment to ensure 100 percent of the mountain remains white. At Snowshoe they are so confident they offer a snow guarantee: if they don't have more snow than any other resort in the Southeast, you'll get a free lift ticket for your next visit.
Snowshoe Mountain takes grooming seriously, and each morning, you'll find endless corduroy across the hill just waiting to be shredded. If you are a snowboarder, five terrain parks with all the latest features are just waiting for you.
If you want to keep going as the daylight fades, don't worry, night skiing is offered on 12 runs in the Silver Creek area. If skiing is not your thing or your legs are wobbly from pounding down the runs, head on over to the tubing center and slip-slide down the chutes.
After your ski day, the village awaits. Here, you'll find inviting, sunny patios just perfect for people watching. If you find your ski outfit is looking a bit dated, the latest designs and fashions are available from a wide array of retail shops.
Recently, the resort has made significant investments off the slopes as well. Those with a hunger for some red meat after a hard day on the slopes will be pleased to know that the high-end steakhouse called 10 Prime in the Soaring Eagle Lodge is open and ready to satisfy all cravings.
The season typically runs from November 25th for the Snowshoe area and December 18th for the Silver Creek area and runs to the middle of March. IKON pass holders are welcome here.
Stay tuned for more developments and improvements at Snowshoe. The resort is now owned by ski resort giant Alterra and is part of a family of 15 marquee resorts, including Steamboat Springs, Mammoth Mountain, Palisades Tahoe (formerly Squaw Valley), and many more.
Official site: https://www.snowshoemtn.com/
2. Canaan Valley Ski Resort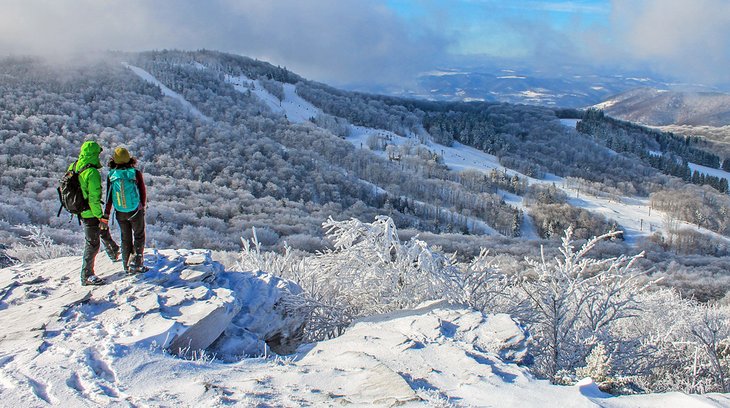 Canaan Valley Ski Resort is a smaller ski hill with a strong and loyal following. The reason for this is the wonderful combination of beginner/intermediate terrain and advanced trails. You can learn to ski here and know that you won't run out of increasingly difficult runs to test your growing skills.
Set at 4,280 feet on a mountaintop, Canaan Valley receives just over 13 feet of snow a year and has snowmaking on 75 percent of the runs. The vertical drop at Canaan is 850 feet, and three lifts provide an impressive uphill capacity of 6,000 people per hour.
The resort has 47 named trails and a brand new snowboarding park.
Canaan Valley has the longest snow tubing runs in West Virginia. With a 1,200-foot-long runway and a dedicated magic carpet lift, you'll be doing endless loops. The resort tends to open from the second week of December; the tubing park and the skating rink are usually open by Thanksgiving.
If you want to stay close to the mountain, the Canaan Valley Resort is just a short drive away. Here, you'll find 23 cabins, perfect for a big group or family, and 160 regular rooms, perfect for a couple's ski vacation. With four restaurants on-site, there's no need to drive anywhere. Dining options range from full-service meals in the Hickory Dining Room (see if you can get a table by the big fireplace in the center), through to more casual fare at Seasons Café.
Quenchers is located right on the mountain, making it a perfect spot to recharge without having to take your ski boots off. For a more relaxed environment, swing by Laurel.
Indy Pass holders are welcome here.
Official site: https://www.canaanresort.com/
3. Timberline Mountain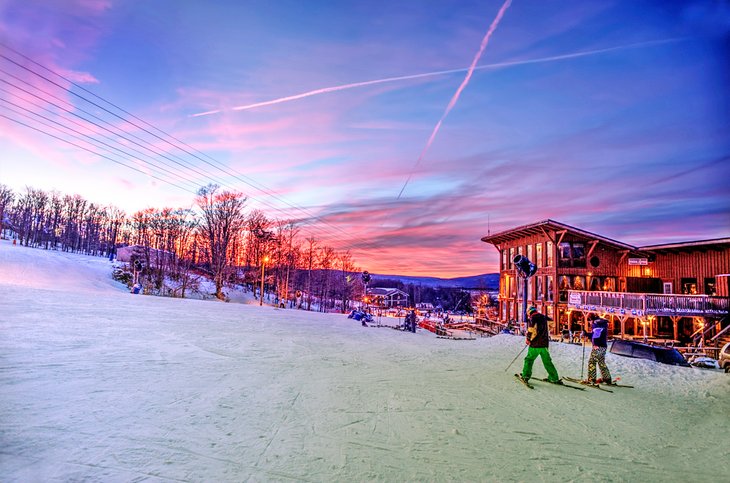 Exciting things are happening at Timberline Mountain ski area. The mountain has new owners, and over 10 million dollars has been spent on infrastructure improvements over the past couple of seasons.
The most significant improvements are two brand new chairlifts, including West Virginia's first detachable "six-pack" high-speed chairlift and a fixed-grip quad. A new surface lift has also been installed in the Ski School area.
These impressive additions to the uphill capacity will whisk skiers to the top of the mountain quickly and ensure that record amounts of vertical can be bagged.
This vertical is courtesy of a 1,000-foot drop from the peak at 4,268 feet high to the base area at 3,268. The resort has just over 40 runs skewed towards beginner and intermediate skiers, along with a terrain park.
Night skiing is also available each weekend, so you can start your weekend ski trip by hitting the slopes on a Friday night.
Timberline receives about 13 feet of snow each year and has a snowmaking system to help keep things white.
Timberline is located just down the road from Canaan Valley resort, so it's possible to ski both locations in a weekend.
Accommodation is available near the base area or in the town of Davis, 15 minutes away. The resort usually opens mid-December and runs until mid-March.
Official site:https://www.timberlinelodge.com/
4. Winterplace Ski Resort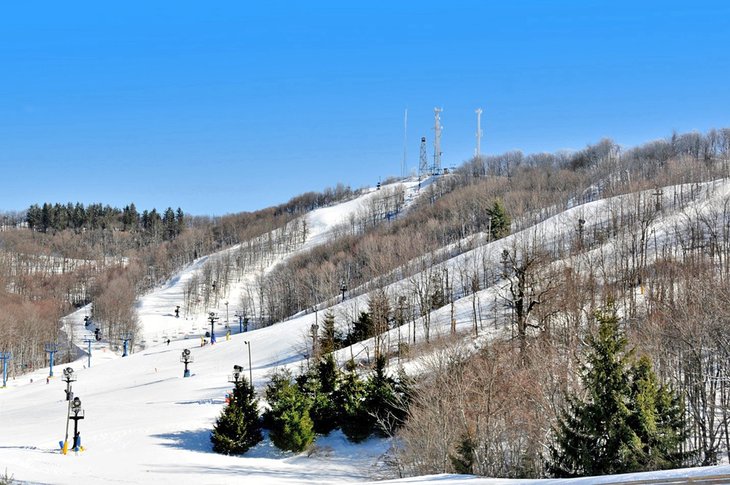 Off on its own, south of the other three resorts, is Winterplace Ski Resort. This is a smaller, more intimate resort with 27 runs but an impressive 10 lifts, so you'll be back up to the top quickly with few lineups. For those who like to spend their time snowboarding, a terrain park with all the latest features is also available.
This is a great place to learn how to ski. A well-regarded ski school can take even the clumsiest skier and turn them into a downhill dynamo in no time flat.
The ski hill has a vertical drop of 603 feet and is spread out over 90 acres of skiable terrain, and they get just under nine feet of snow a year, supplemented by 100 percent snowmaking coverage.
Winterplace has five restaurants, ranging from cafeteria style right through to casual places showing non-stop ski videos. Perhaps the best place to soak up the sun and watch the action on the hill is the appropriately named The Deck at Winterplace.
Night skiing is available on 26 of the 27 runs and is included with the price of your day lift ticket. Be sure to buy your lift tickets in advance – the walk up rate is much higher than the online advance one.
If you've had enough skiing or skiing is not your thing, Winterplace has West Virginia's largest snow tubing park, serviced by two surface lifts. The run is 800 feet long and has 20 chutes.
Winterplace is easily accessible right off Interstate 77 near Ghent. Accommodation is available right at the hill or in nearby Ghent. The ski season runs from mid-December until mid-March.
Official site: https://www.winterplace.com/
Map of Ski Resorts in West Virginia
Frequently Asked Questions
When is the best time to ski in West Virginia?
The best time to ski in West Virginia is from mid-December through until early March. Most resorts try to open in time for Thanksgiving, and with the powerful snowmaking capabilities and a bit of help from Mother Nature in the form of cold temps, they usually succeed. You'll find the best conditions in mid-January through mid-February, when cold temperatures and the occasional storm keep the slopes well covered.
If you like warm, sunny days and soft sugary snow, consider a trip in late February or March. At this time of year, the days are longer and the sun a bit more intense, leading to warm days on the slopes. It's also a perfect time to spend less time skiing and more time on the patio.
Is skiing in West Virginia expensive?
In general, skiing in West Virginia is a relative bargain compared to resorts farther north and in the Rockies. A family ski trip here is affordable and fun, with lots of off hill activities to keep the youngest of your crew entertained. Many of the resorts have rooms with small kitchens, making self-catering possible. In addition, the resorts offer ski-and-stay packages with significant discounts on lift tickets and lessons.