12 Top-Rated Things to Do in Morgantown, WV
Come to Morgantown to get active. Here, you have all the essential ingredients: The infectious spirit of athletic youth in a sporty university town, and natural surroundings along trails that run parallel to the Monongahela River (aka "The Mon") into the leafy hills of West Virginia. Morgantown will encourage you to get outside and exercise. Get ready to use your laughing muscles, too, because Morgantown was home to everyone's favorite 1960s Hollywood comic klutz, Don Knotts.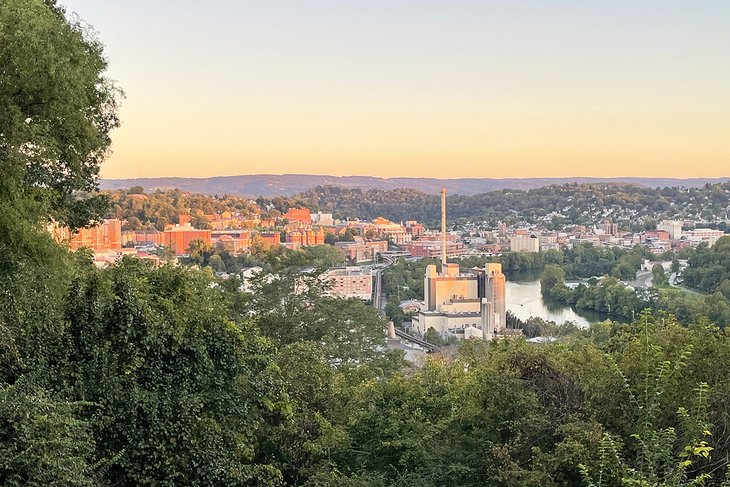 Morgantown embraces West Virginia's Appalachian culture. This small city exudes big mountain energy with its rich history in coal mining and steel forging. You will hear the rallying cry of the Mountaineer mascot throughout your visit, and see it symbolized in the state colors of gold and blue on banners, flags, and storefronts. This celebration of culture is reflected in old-time music and traditional food and drink, which will fortify you for hikes in the countryside and floats down mountain rivers.
You will be spellbound by the beauty of Morgantown's natural heritage. Take any side road to find narrow passageways leading to majestic oak and maple forests; crystalline blue lakes, rivers, and streams; and inspirational lookouts with views that run for miles and are heavenly high. To get you started on your journey as a mountaineer, take a close look at our list of things to do in Morgantown.
1. West Virginia University and Mountaineer Field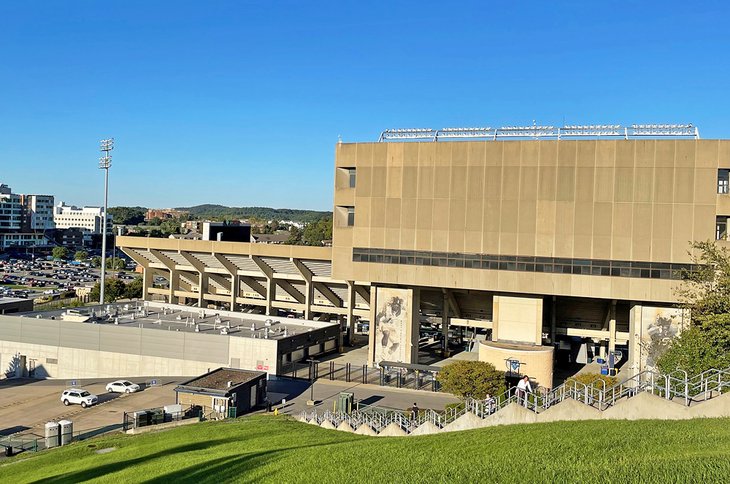 The best way to prime yourself as a mountaineer is to time your visit for a football or basketball game at West Virginia University (WVU). With seats for more than 63,000 football enthusiasts, Mountaineer Field in Milan Puskar Stadium is the place to visit. Every time the home team scores a touchdown, fans musically rock Morgantown when they belt out John Denver's Take Me Home, Country Roads.
Not into football? Be sure to catch a concert under the stars during the summer months.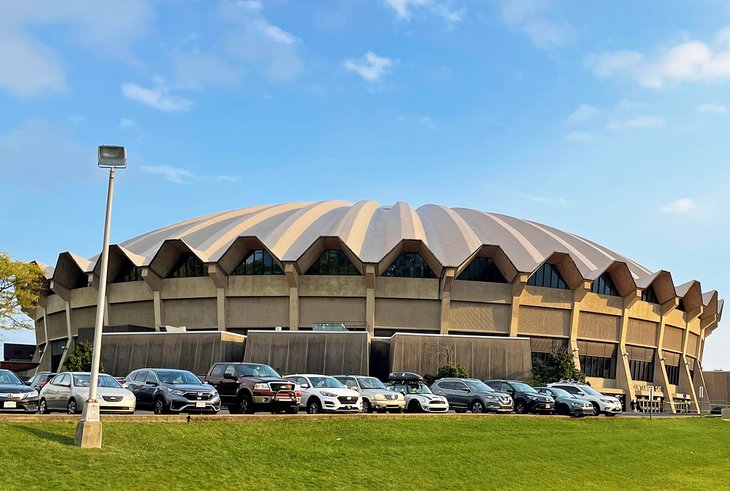 Make your way to the WVU Coliseum for indoor sports action. The Coliseum is home base for the men and women's WVU Mountaineers basketball teams, as well as college wrestling, volleyball, and gymnastics. If you like to experience the booming sound of cheering on a winning team, get your tickets and join in the fun for the whole family. The Coliseum's large seating capacity for 14,000 people makes it Morgantown's premier venue for big-name concerts throughout the year.
Official site: https://wvusports.com/
2. Walk in Paradise at West Virginia Botanic Garden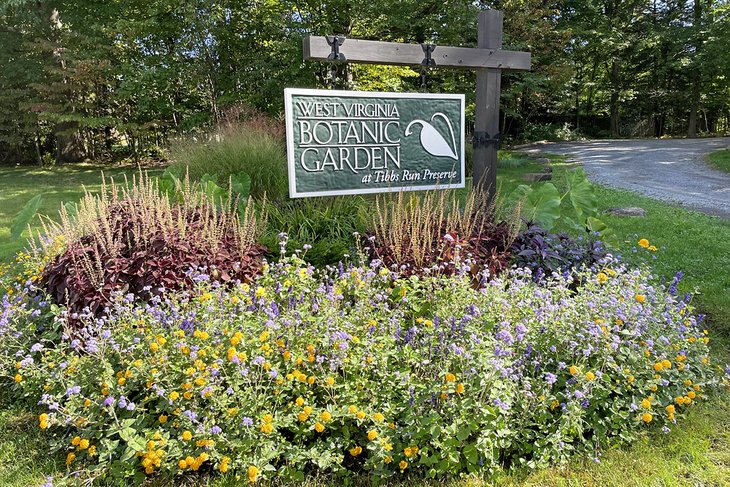 What was once Morgantown's first and cleanest source of fresh drinking water is now a veritable paradise of trails, gardens, and a prized collection of plants and trees. The West Virginia Botanic Garden offers a peaceful space for a walk in nature, a visit with family and friends, and personal contemplation.
Surrounding the former reservoir and protected wetland, visitors enjoy open green space and wooded hiking trails. The diversity of environments on the 82-acre property is only six miles from downtown. Given its location, the Botanic Garden is an accessible spot to escape the city and learn about native plant species; ecology; and resident insects, birds, and mammals.
Walk along a creek festooned with massive rhododendron, wander through mature stands of conifers and deciduous trees, and find a cool rock to sit on in the meditation garden. Kids of all ages can search for leprechauns in a garden that is home to mystical fairies. Every member of your family will feel at home here, and grow in appreciation of Appalachia's natural bounty. Admission is free, and donations to the nonprofit society that supports the garden are appreciated.
Official site: https://www.wvbg.org/
3. Find the Best View at Coopers Rock State Forest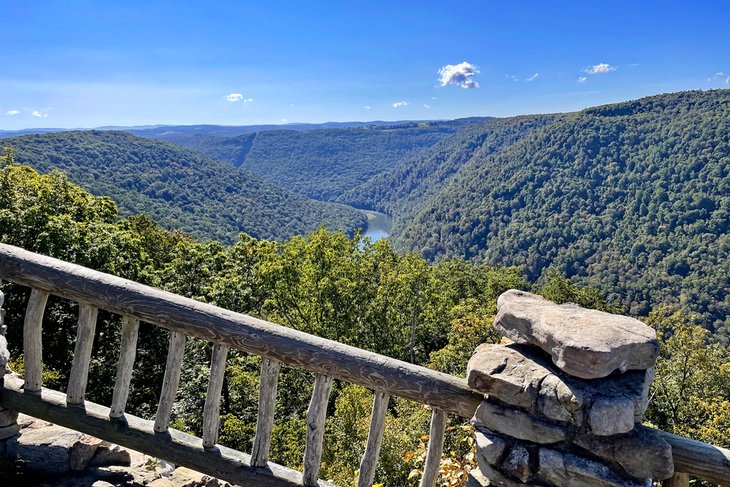 In Mountaineer Country, the overlook at Coopers Rock is a favorite place to visit for an eye-popping photograph and a place to pop a life-changing proposal to your sweetheart. With almost 13,000 acres and 50 miles of trails, Coopers Rock State Forest is a haven for visitors who hike, rock climb, camp, mountain bike, picnic, and fish. The best thing is that it's only a 20-minute drive to get here from downtown.
This recreation area tugs on your heartstrings, especially while you traipse along one of its 21 nature and hiking trails, hang by your fingertips while bouldering, or rappel off a limestone cliff. This is a great opportunity to try ziplining at the WVU Outdoor Education Center. Coopers Rock State Forest features a 36-mile water trail on the Cheat River for people who paddle, swim, and fish.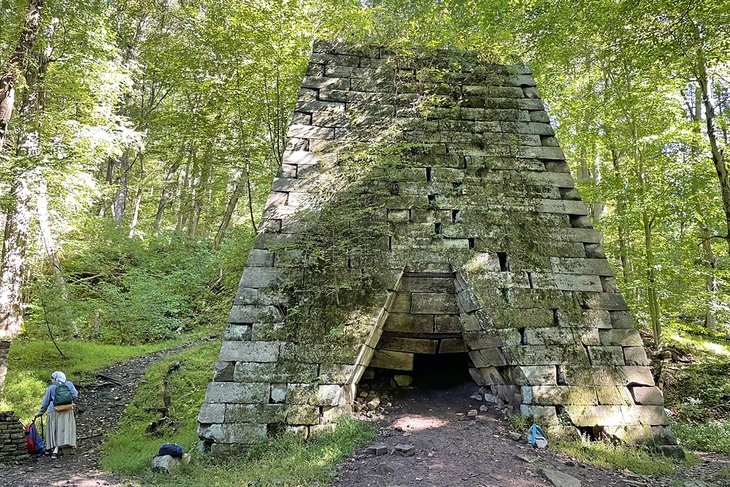 A short one-mile hike in the forest takes you to the Henry Clay Iron Furnace. At the base of the trail, the stack of the former steam-powered furnace comes into view. Surrounded by temperate rainforest, this remnant of forging iron from limestone appears out of place. Almost 200 years ago, the furnace employed 200 workers and supported a community with a school, general store, and church. Today, the site is an artifact of America's industrial age.
Official site: https://wvstateparks.com/park/coopers-rock-state-forest/
4. Capture a Selfie at the Don Knotts statue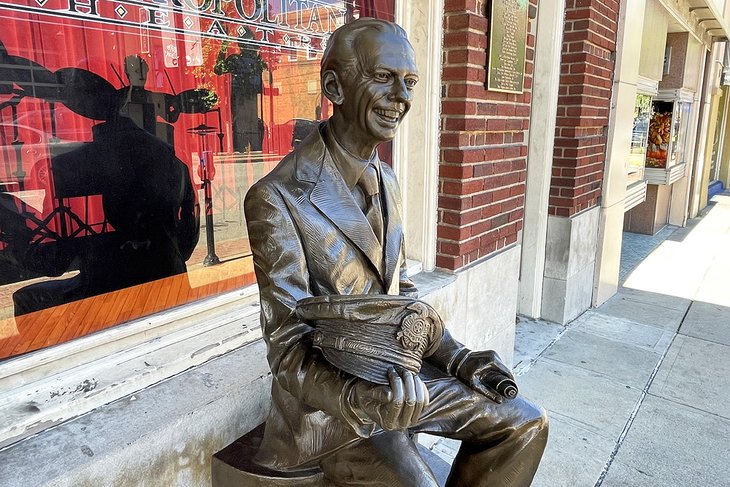 Morgantown offers family photo opportunities with picturesque locations in its historic downtown and natural settings. The most popular spot to snap a selfie is standing side by side with funny man Don Knotts. You can act as goofy as you want beside the Don Knotts statue. If you know Don, he won't mind a bit!
Don Knotts was born and raised in Morgantown before heading to the bright lights of New York and Hollywood. He received five Emmy Awards for his most memorable role as deputy sheriff on the 1960s sitcom, The Andy Griffith Show. The life-size bronze statue in front of the Metropolitan Theater on High Street honors Morgantown's best-known and funniest personality.
5. Stroll the WVU Core Arboretum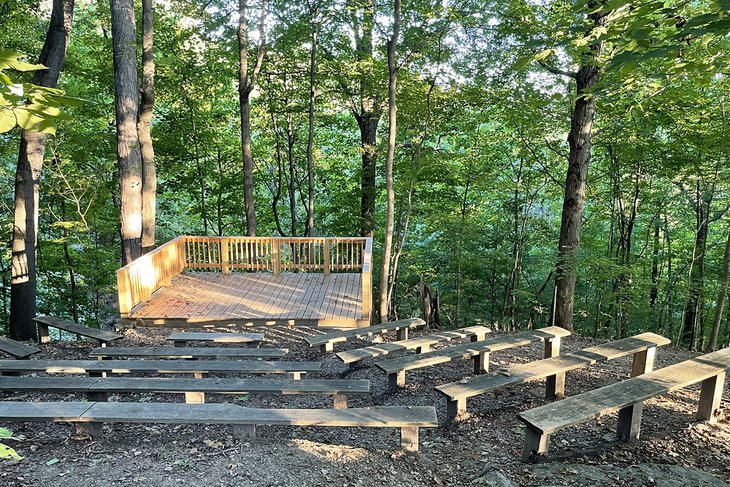 The WVU Core Arboretum sits hundreds of feet above the Monongahela River on the forested bluff of the university district. Otherwise known as the Earl L. Core Arboretum, this 91-acre parcel of land features more than three miles of well-trod walking trails with benches, interpretive signs, and an amphitheater.
Managed by the WVU Department of Biology, and maintained by volunteers and university students, the arboretum showcases old-growth native tree species. According to what is written on the welcome sign, 300 species of trees and 300 species of plants live in four areas, including a riparian zone along the river. The arboretum is home to birdlife; more than 180 species have been spotted in this park-like setting.
City folk flock here to enjoy spring wildflowers in full bloom. Accessed from the parking lot of the WVU Coliseum, the trails of the arboretum attract Morgantown residents who like an exercising walk to the Caperton Trail beside the Mon River. There is no admission charge to visit the arboretum, and it is open every day of the year during daylight hours. Free parking at the gate is available.
6. Find Your Stride on the Caperton Trail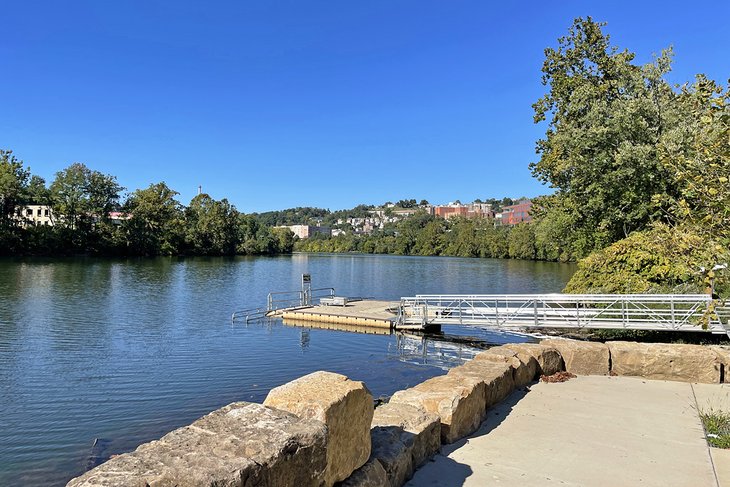 Caperton Trail runs parallel to the Mon River and is built on a retired rail bed that carted forged iron to distant markets during yesteryears. Today, Caperton safely delivers adults and kids traveling on foot. People also rollerblade and cycle to family-friendly destinations such as the Caperton Trail Park, Hazel Ruby McQuain Riverfront Park and event amphitheater, WVU Core Arboretum, and Edith Barill Park.
Locals use the six-mile paved trail for daily exercise and access to the downtown core without a driving a vehicle. The trail connects with the Monongahela River Trail, which goes all the way north to the West Virginia-Pennsylvania state line and beyond.
Official site: MonTrails.org
7. Immerse Yourself in the Past at Morgantown History Museum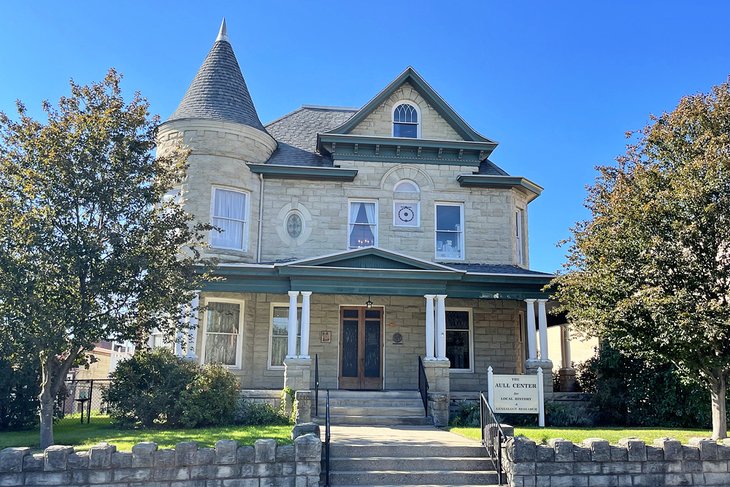 Wandering the streets of Morgantown, you see evidence of history in its architecture, the layout of its streets, and relics related to the glory days of mining and steel production. Expand your knowledge about the past and how it helped shape the town of today by stopping by the Morgantown History Museum.
Admission is free. Exhibits explore a spectrum of topics including the Indigenous Monongahela, early prospectors and pioneers, Civil War incursions, and Morgantown exports such as comic actor Don Knotts.
To extend your immersion in local history, visit the Aull Center for Local History and Genealogy Research downtown. Situated in the beautiful home of the Garlow family, the Aull Center is an annex of the Morgantown Public Library. Here, you will have access to a precious collection of genealogical records about local and regional inhabitants.
Official site: http://morgantownhistorymuseum.org/
8. Meet Local Growers at Morgantown Farmers Market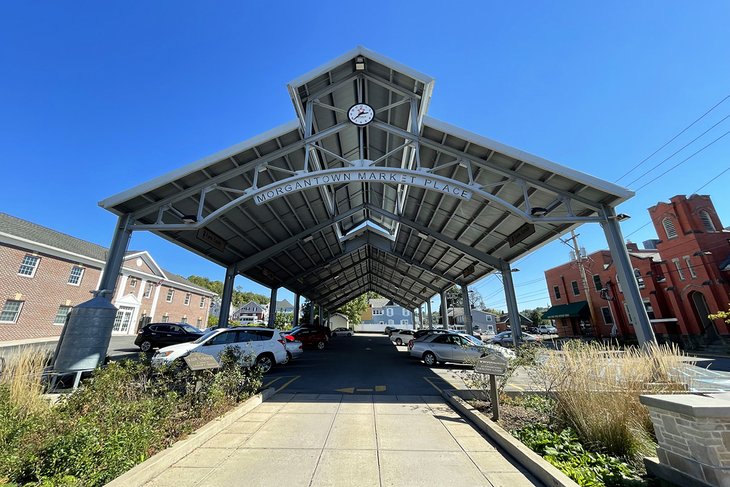 Every Saturday morning from May to November, locals meet locals at the Morgantown Farmers Market. This a great way to introduce your kids–and yourselves–to people who bring good things to your table from 30 area farms.
In addition to honest-to-goodness food from the freshest sources, you will experience demonstrations about how to prepare delicious recipes at home.
You never know who else might turn up at this community market. Area musicians are frequent spontaneous additions to the soundscape of active buying, selling, and visiting. Market organizers always welcome new ideas to make this weekly event a major social happening.
Official site: https://www.morgantownfarmersmarket.org/
9. Pack a Picnic for Cheat Lake Park and Cheat Lake Trail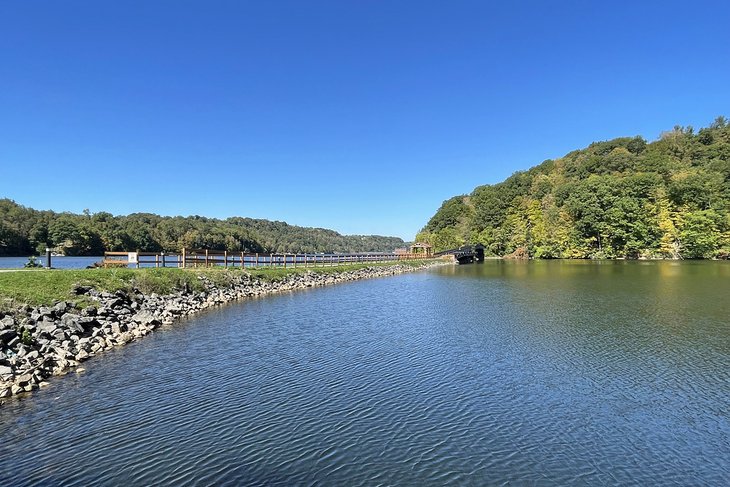 Cheat Lake Park is only 10 miles from downtown, but this lakeside retreat feels like a getaway to cottage country. The park gives you boat ramp access to the lake, and has all the facilities and services to ensure a pleasant experience for the entire family.
Whether you like to cast from the fishing platform or hang out with your kids at the playground, Cheat Lake Park is an enjoyable and scenic place to visit for a few hours or an entire afternoon.
Picnic tables are perfectly situated to maximize views up and down Cheat Lake, and restrooms are nearby. Be sure to walk on the 4.5-mile Cheat Lake Trail, even if you don't do the whole thing. From the park, pedestrian bridges lead you to a well-maintained wide path that is flat, shaded, and suitable for strollers and bicycles. The path follows alongside the lake. At the south end of the trail, you are rewarded with a preserved wildlife habitat and viewing area.
Official site: https://www.cheatlake.com/cheat-lake-park
10. Rent a Pontoon Boat at Sunset Beach Marina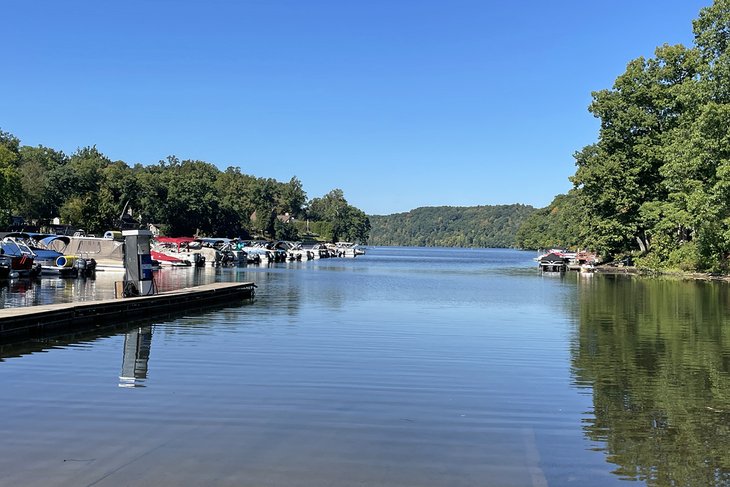 One of the best ways to experience the beauty of Cheat Lake is to be in the middle of it. Abandon all worries onshore and get cruising! At Sunset Beach Marina, rent a pontoon boat for a couple of hours or longer. Pack a lunch and hop aboard.
Traveling by pontoon boat is a safe and easy way to navigate the tranquil waters of Cheat Lake. Once you are on your way, sail north to Lake Lynn Dam. Along the way, you can jump in the water for a swim, or drop a fishing line overboard.
Non-powered options are available through rentals of stand up paddleboards and kayaks. Paddles and lifejackets are provided. The marina's location in a sheltered cove provides a protected waterway for paddlers who are new to this activity.
Plenty of parking is available on the marina property. If you have your own boat, a concrete launch and dock are located next to the rental facility.
11. Make Creative Connections at the Art Museum of WVU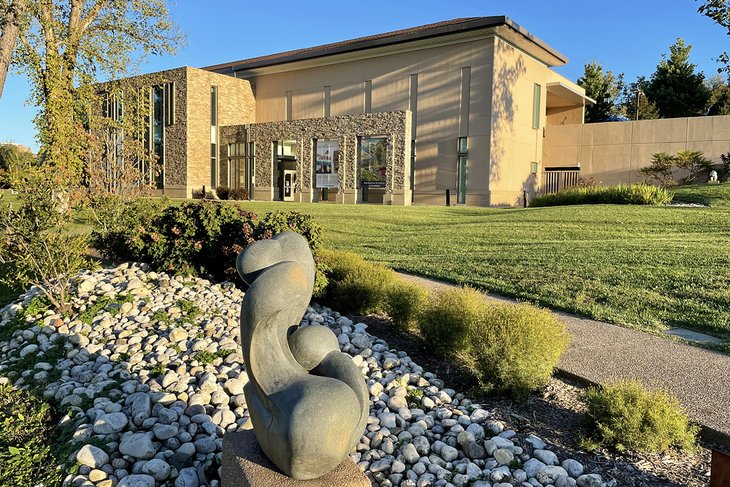 The Art Museum of WVU puts its stamp on West Virginia fine arts by adding its 4,000-item collection to visiting exhibitions. Installations from the United States and around the world inhabit rooms of this worthwhile tourist attraction. By extension, the museum engages visitors with workshops and presentations. Performance and concerts are part of the diverse mandate of this university-based arts institution.
There is no cost to visit the museum. Before entering the indoor galleries, be sure to stroll through the landscaped art garden outside. The 2.5-acre Nath Sculpture Garden artfully fuses human and natural creations.
Official site: https://artmuseum.wvu.edu/art
12. Land an Ace in Frisbee Golf at Dorsey's Knob Park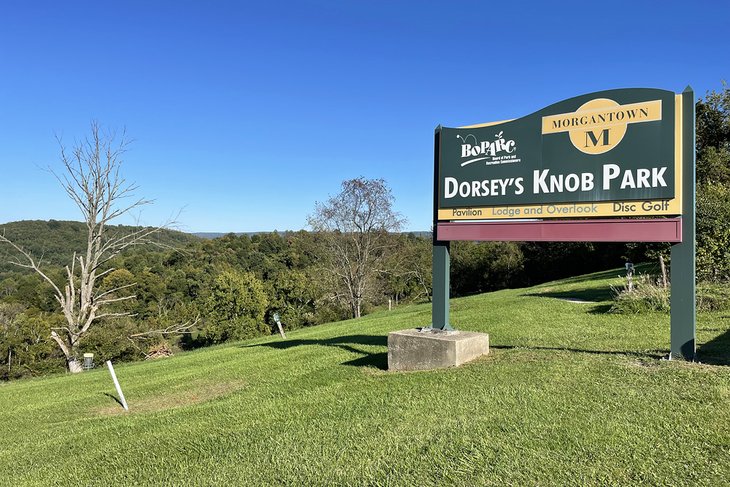 In a suburb near downtown Morgantown, the disc golf course is a new feature at Dorsey's Knob Park. Popular for frisbee buffs to show off their skills on 18 holes, the course is known for its demanding downhill and uphill shots on hilly terrain. With practice, you might bag a hole-in-one shot or what disc golfers refer to as an "ace."
Dorsey's Knob Park is a favorite site for family and community picnics. Built around Sky Rock–a sandstone monolith that was significant to the Indigenous Monongahela population–this 71-acre park provides a scenic view for miles around. In addition to a playground and large picnic shelter, the park has Dorsey's Knob Lodge for catered events with overnight accommodation.
Official site: http://www.boparc.org/dorseys-knob-park.html
Morgantown, WV - Climate Chart
Average minimum and maximum temperatures for Morgantown, WV in °C
J
F
M
A
M
J
J
A
S
O
N
D

4

-6

6

-4

12

0

18

4

23

10

27

15

28

18

28

17

24

13

18

7

12

2

7

-3

PlanetWare.com
Average monthly precipitation totals for Morgantown, WV in mm.

83

73

97

94

111

103

108

101

85

73

90

83