13 Top-Rated Rivers & Lakes for Trout Fishing in West Virginia
Author Anietra Hamper is an avid angler who has spent time on some of the best waterways for fishing in West Virginia.
West Virginia is an angler's paradise, not just because of the vast number of lakes, streams, and rivers flowing through the state, but for the variety of trout fishing opportunities available. The brook trout is the only native trout species in the state, but due to a robust stocking program through the West Virginia Division of Natural Resources (WVDNR), anglers can also catch rainbow, brown, and the unusual golden rainbow trout that originated in the Mountain State.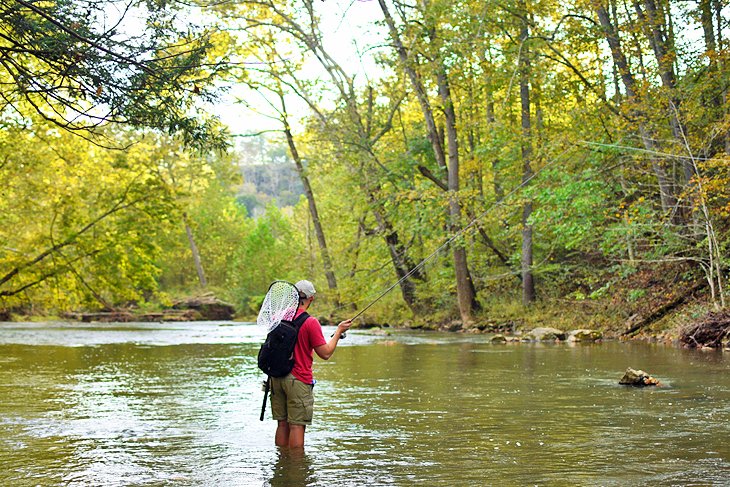 There are sections of waterways specifically designated for catch and release that appeal to recreational and fly rod anglers. Some sections of waterways are fly-fishing only, and some are designated as "general," which means anglers can fish year-round and harvest their catch. There is even a new stocking program geared specifically to float fishing anglers, for more access and more opportunities to catch trout in West Virginia waters.
Fish Stocks: More than 200 waterways are stocked throughout West Virginia, many of them in the mountainous eastern part of the state. The WVDNR stocking program is multi-faceted: to stock some waters with trout that are sizable to harvest, to supplement the natural stock with fingerlings to help with trout reproduction, and to stock areas that have depleted populations by reintroducing trout.
While West Virginia has a robust stocking program in place, especially for rainbow, golden rainbow, and brook trout, a number of streams, including the Cranberry, Williams, and Greenbrier River, are not stocked with brown trout since they are predatory toward other fish species. Brown trout are predatory toward the endangered candy darter for which these streams provide critical habitat.
The stocking schedule is different for every waterway and every year, so anglers should consult current schedules in each area.
"The stocking program provides a lot of fishing opportunities. We distribute it around the state, so folks have a location not too far from where they live to have access to trout fishing. Our goal is to not only provide fishing opportunities but a variety of fishing opportunities," says Jim Hedrick, Hatchery Program Manager for the West Virginia Division of Natural Resources.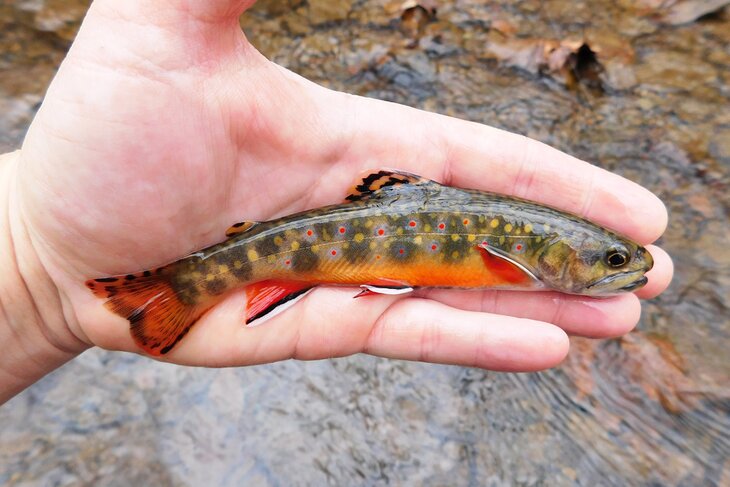 The most unique trout in West Virginia waters is the golden rainbow trout. It is unique to West Virginia and originated in the state when one trout with golden bands was discovered in the 1950s. Over a period of reproductive years, a stock of 300 completely gold trout emerged and have been reproducing ever since.
You can find golden rainbow trout throughout the year, but anglers can also get in on "The Goldrush Program," which takes place each spring. It is designed to encourage kids to fish and celebrate the state's unusual, completely gold-colored, trout. One week each spring, certain streams are heavily stocked with golden rainbow trout. An angler who catches a tagged trout gets a T-shirt and bragging rights.
Anglers will get a lot of use out of the state's interactive map of rivers, streams, and lakes for targeting trout. You can identify stocked sections, access points, and regulations about bait and catch-and-release or fly-only sections. Do not forget to get a state fishing license and review current fishing information at wvdnr.gov.
Narrow down your fishing options in West Virginia, with our list of the top rivers and lakes for trout in West Virginia.
1. Cranberry River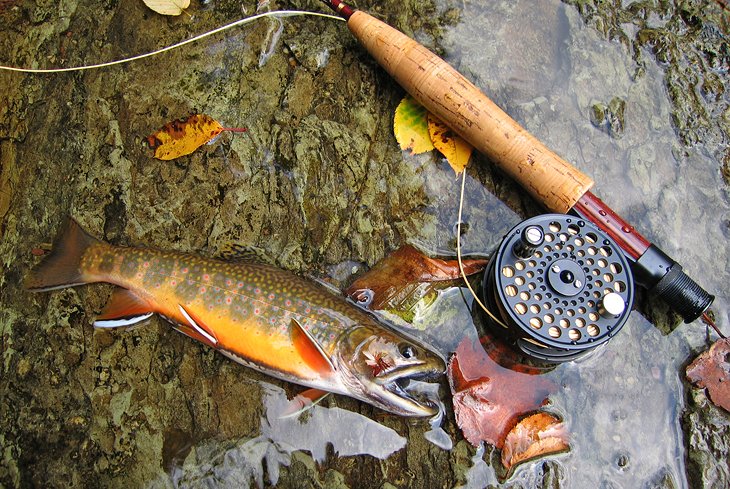 The centrally located Cranberry River is surrounded by forest service land and is a remote wilderness area. The large river is a prime location for trout anglers who want a more rustic experience, especially for fly rod anglers in search of wild brook trout.
The catch-and-release, fly-fishing-only section is located upstream of the stocked waters in areas like Dogway Fork. This area is only accessible on foot or by bike. The stocked section of Cranberry River is a nearly 15-mile stretch that runs parallel to Cranberry River Road, so there are many access points in the area.
This section is stocked with rainbow, golden rainbow, and brook trout that can be harvested. Since these sections of river are wilderness areas, some anglers pack a tent and make a week-long vacation out of it.
2. Williams River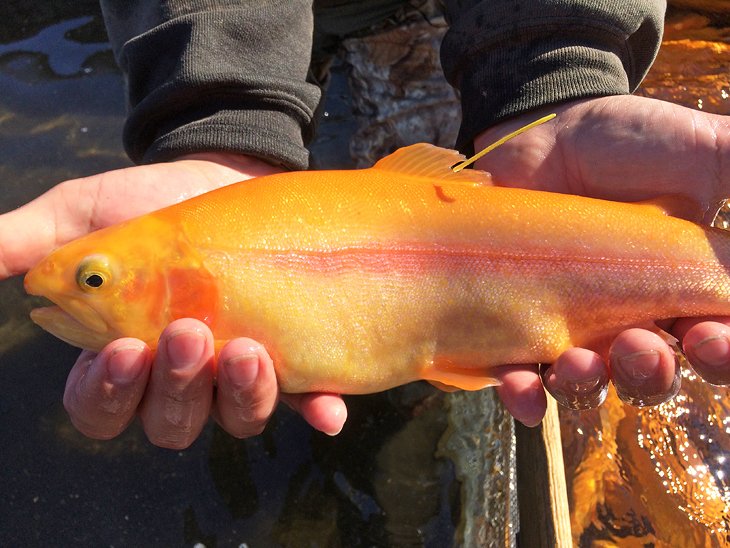 Another top trout waterway in West Virginia, the Williams River, is also in a wilderness area. The larger river system and backwoods experience appeals to trout anglers who are looking as much for the primitive outdoor challenge as they are the stellar day of fishing on the water.
The nearly 20-mile stretch of stocked waterway runs parallel to Williams River Road between North Cove Run and Swago Road. Rainbow, golden rainbow, and brook trout are stocked regularly in the fall, winter, and early spring.
While many sections are general and available for harvest catches, there are some catch-and-release-only sections of this waterway, so refer to the state regulations before planning your outing.
3. South Branch of the Potomac River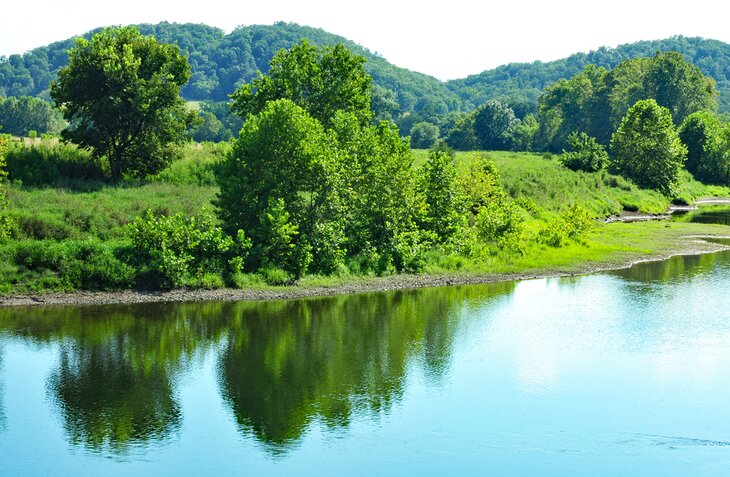 An exciting new opportunity for anglers in West Virginia is the South Branch section of the Potomac River that extends for 11 miles from the Route 220 bridge in downtown Petersburg (Grant County) to Brighton Park in Moorefield (Hardy County). The WVDNR is now stocking all species of trout in this section from January through April, specifically to appeal to float fishing anglers.
Typically, the WVDNR would not stock a stream this large, but the waterway provides many great access points for anglers who want to fish from a raft or kayak, which can be difficult in other, smaller trout streams. Given the increase in popularity of float fishing, this stretch of water is ideal, especially if you are new to West Virginia river systems.
There are four public boating access points along this stretch where anglers can launch their watercraft, with parking available at each location. The float designations are: Petersburg to Welton Park (3 Miles), Welton Park to Fisher Bridge South (5.5 Miles), and Fisher Bridge South to Brighton Park (2.5 Miles).
4. Shavers Fork River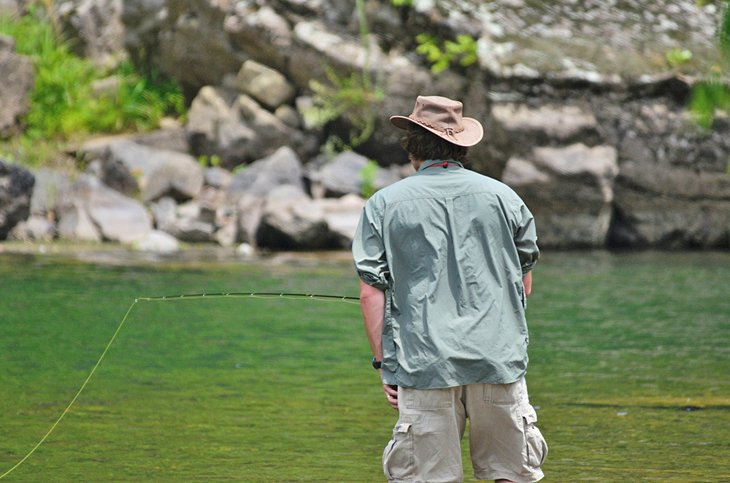 The waters at Shavers Fork River are preferred for trout fishing because there are multiple stream sections that feed into the main river that are also stocked with rainbow, golden rainbow, brook and brown trout. Most of the stocked river sections flow through Randolph County near Elkins. The main section starts on Spruce Knob, which is the highest point of the state, with nearly 50 miles of stocked water.
There are both general designation sections for harvesting trout, as well as catch-and-release-only sections. This river is versatile for almost any level of angler because there are both remote sections, as well as general designation sections that are easily accessible by the road.
During certain times of the year, trout are transported by train and stocked near Spruce Knob, which is a beautiful area for anglers who want to enjoy one of the most scenic spots in the state during their fishing trip.
5. Elk River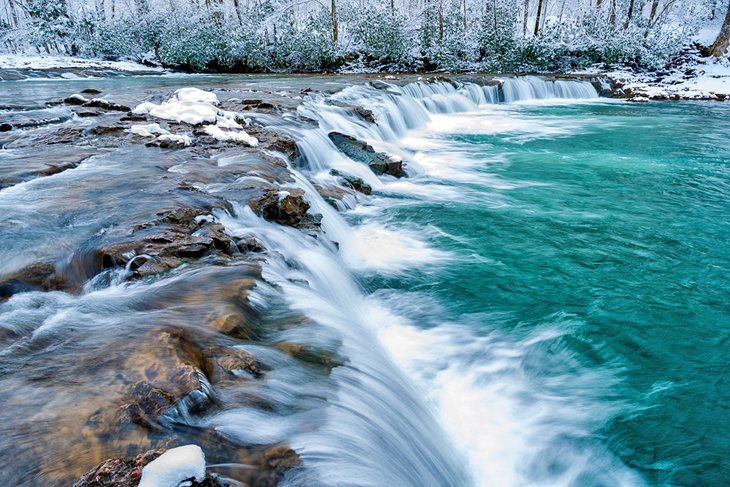 The Elk River offers a wide range of trout fishing opportunities for golden rainbow, rainbow, brook, and brown trout. This is one of the top fly fishing waterways in West Virginia, especially in the upper section that is known to produce some of the best trout fishing opportunities in the state. Anglers can catch decent-sized brook, brown, rainbow, and even golden trout in this section—some have been reported at over 20 inches.
There is a catch-and-release-only section and a long stretch of general designation waters downstream. The river is pleasant and scenic and easily accessible.
There are multiple public access points at the Back Fork of Elk River, the Elk River Rail Road Bridge, Webster Springs Park, Baltimore Run, Jim Compton WMA, and access at the scenic Whitaker Falls. One of the conveniences of the Elk River is the lodge and fly shop in Elk Springs. Anglers have easy access to fly rod lessons, equipment, and lodging right near the water.
6. North Fork River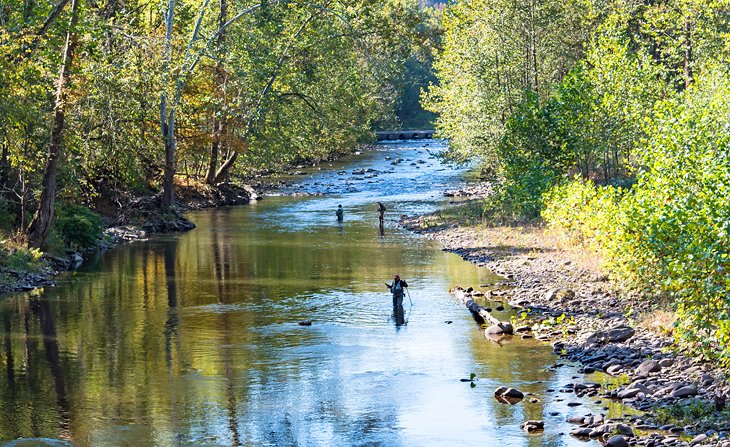 The North Fork River presents lots of trout opportunities for all of the stocked species, including rainbow, golden rainbow, and brown and brook trout. There are 40 miles of stocked areas with general designation available for harvest.
One of the most popular public access areas with easy water accessibility is near Smoke Hole Caverns. This spot is also nice if you want to do a little excursion at the caverns after your day of fishing.
There is one small half-mile section of catch-and-release only located at Seneca Rocks that is best for anglers who are looking to fish for wild rainbow and brook trout. Seneca Creek empties into this area, bringing with it additional trout opportunities.
7. Blackwater River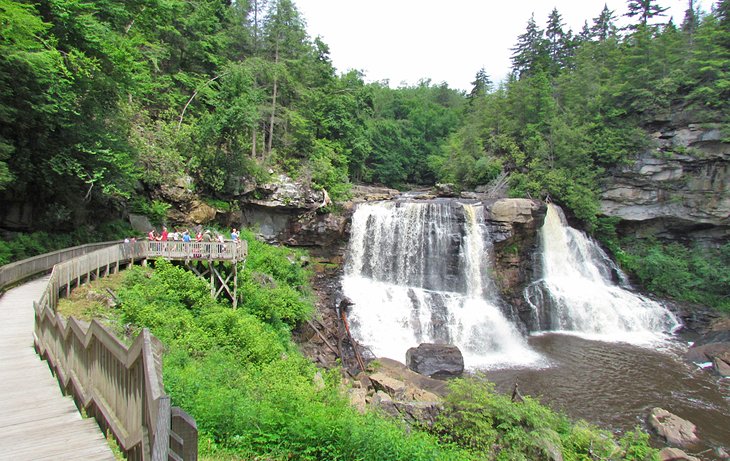 The Blackwater River is an ideal waterway for anglers and families that want to get kids into fishing and who are looking for an easy experience. There are large sections upstream of Blackwater Falls that are stocked with rainbow, golden rainbow, and brook and brown trout with a general designation, so fish are available to harvest.
There is also a stocked lake at Blackwater Falls in Blackwater Falls State Park. There are many nearby amenities, attractions, and lodging if you want to turn it into a vacation and do some sightseeing.
8. South Branch River — Smoke Hole Area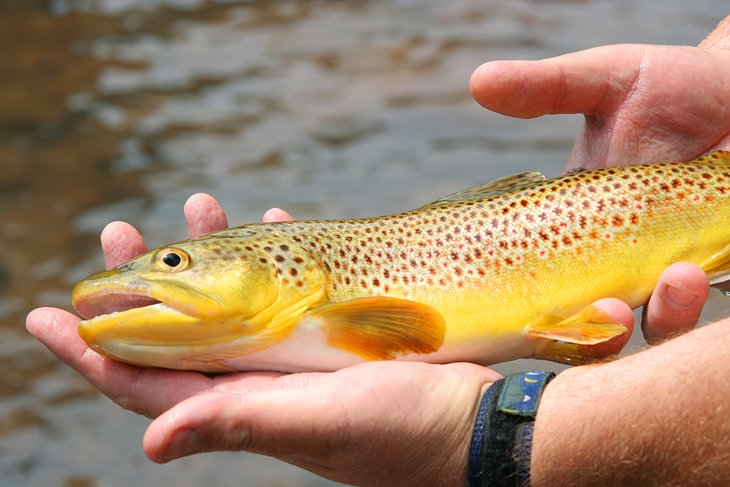 The Smoke Hole section of the South Branch River features natural forest land but it is not as remote as the trout sections of the Cranberry and Williams River systems. It is a bit more accessible for anglers looking for a rugged experience but it is not remote wilderness.
A 9.3-mile section of the South Branch River running parallel to Smoke Hole Road is stocked with rainbow, golden rainbow, brook and brown trout marked as general regulations except for one-mile section in the middle near Pretty Ridge Road that is catch-and-release only. The Smoke Hole section of river is located near the Virginia state line, and you are surrounded by the stunning view of the mountains.
9. Pipestem Resort State Park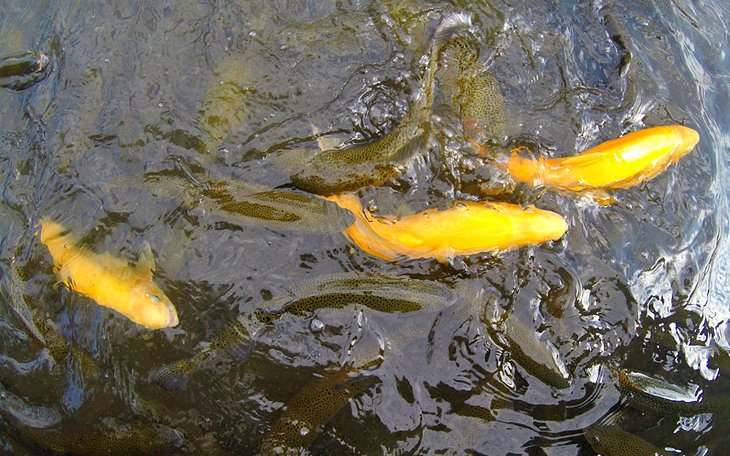 The lake in Pipestem Resort State Park is a public fishing lake that is stocked with trout, as well as other game species. Trout anglers can target rainbow and golden rainbow trout earlier in the stocking season, and brown and brook trout later. The lake has a general designation, so trout can be harvested.
This lake is accessible from the banks, and there is a public access area with restrooms and parking located at Long Branch Lake. Also nearby are hiking trails and a tram that goes across Blue Stone Canyon.
Trout fishing from the park is also available along the Bluestone River Gorge, which is stocked with brown and rainbow trout. This is an easily accessible spot, especially for newer anglers, because there are amenities like restrooms nearby and guided fishing trips that are offered through the Pipestem Mountain Creek Lodge located at the park.
10. Reservoir Tailwater Area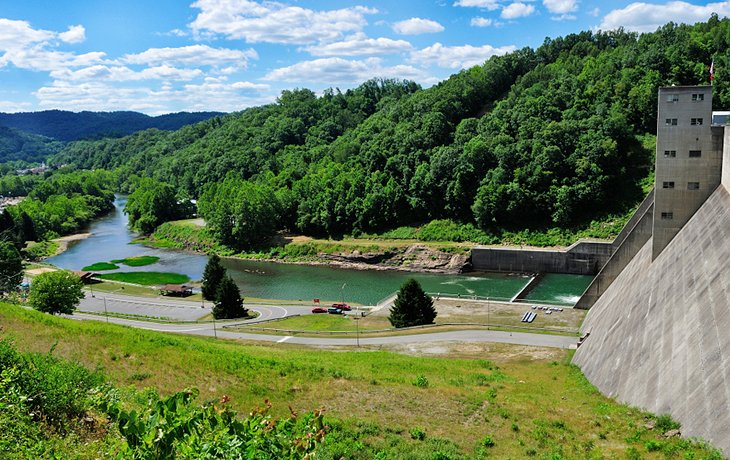 There are a number of reservoir tailwater areas in the state that have prime trout fishing for rainbow, golden rainbow, brook, and brown trout. The top tailwater areas are Sutton Lake, Summersville Lake, Stonewall Jackson Lake, and Burnsville and Tygart Lake and state park. All of these areas have dams where you can target trout just below them, as well as fishing piers and nearby amenities.
The one advantage that these tailwater areas have, especially for novice trout anglers, is easy access to big water. While all are located in different areas, they are all in close proximity to interstates. This makes it easy to plan a day of trout fishing that does not involve a long trek to the water or a big time commitment. Jackson Lake has a resort nearby if you want to plan a longer trip.
11. Greenbrier River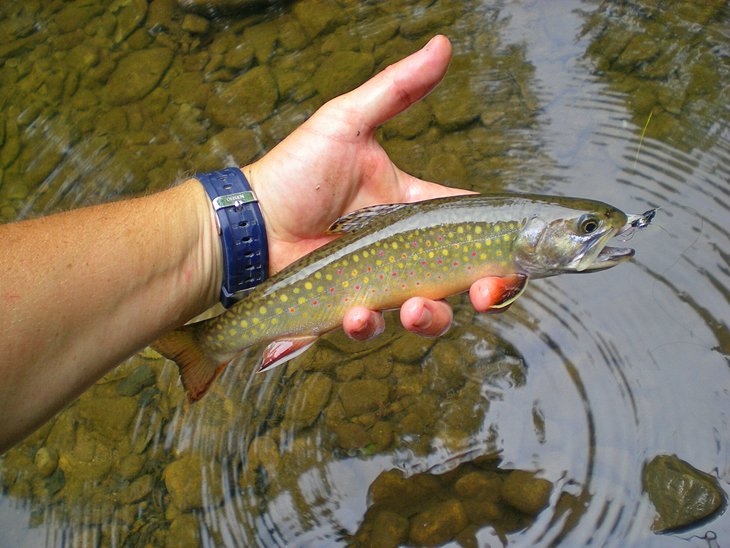 An exciting trout fishing area in West Virginia is on the Greenbrier River, which is stocked with rainbow, golden rainbow, and brook trout. The section starts at the Cass Scenic Railroad at the park with stocked areas following the rail trail for several miles.
This section of water has several access points with parking areas that are right next to the stream. There are also a few sections that require walk-in or bike-in accessibility for anglers looking for that additional outdoor challenge. The stocked areas are general designation, so fish are available for harvest.
12. Cacapon State Park Lakes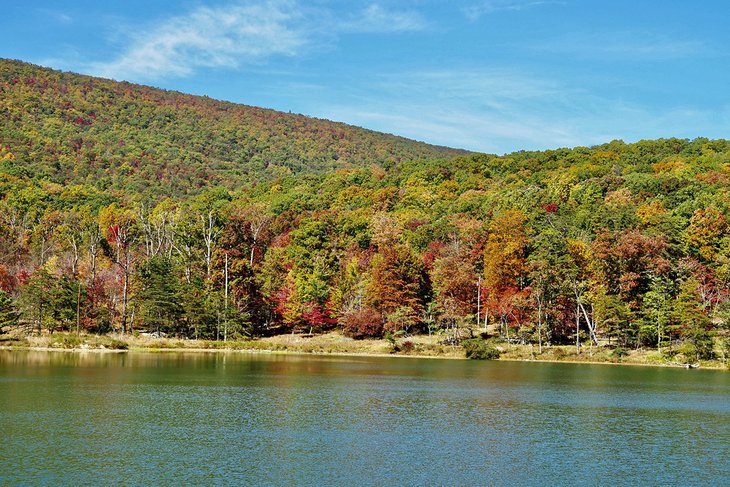 The Cacapon State Park lakes sit in the shadow of Cacapon Mountain in the eastern panhandle of West Virginia. Two lakes within the park are stocked each spring with rainbow, golden rainbow, brook, and brown trout. These are recreational fishing lakes, so you will also see anglers fishing for bass, catfish, and bluegill.
The lakes at Cacapon State Park are not as secluded as other trout fishing areas in West Virginia, but they are easily accessible for anglers who do not want to venture into remote wilderness areas. The park is located near the town of Berkeley Springs, where you can base yourself if you do not plan to book a cabin or lodge within the state park.
13. Spruce Knob Lake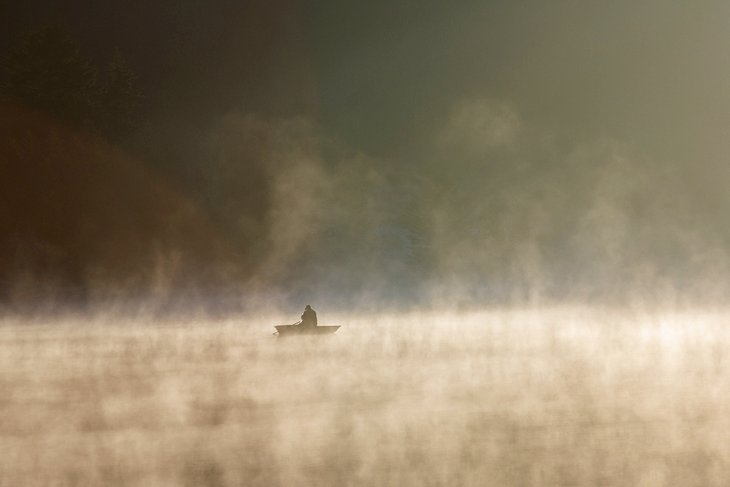 The scenery at Spruce Knob Lake is as impressive as its trout fishing. It is a 23-acre impoundment lake, which is stocked regularly with rainbow, golden rainbow, brook, and brown trout. Due to its high elevation, Spruce Knob Lake water stays cool and is an excellent trout fishery from the spring into the summer.
Spruce Knob Lake is more remote than other West Virginia trout waters, but it has gained a reputation as an excellent trout-fishing waterway. It is a productive trout fishery, and a number of trophy-sized trout have been recorded from these waters. Anglers are able to launch and fish from small boats or kayaks or fish from the shore.
Map of Rivers & Lakes for Trout Fishing in West Virginia
More Related Articles on PlanetWare.com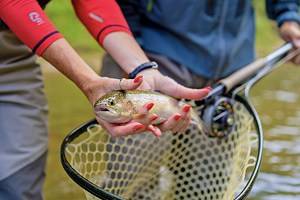 Fishing in Nearby States: For more trout fishing opportunities, consider heading to the mountains of North Carolina and use our article on the Best Rivers for Trout Fishing in North Carolina as your guide. This will not only point you in the right direction but also provide useful tips. Also see our piece on the Best Fly Fishing Destinations in Tennessee.