17 Best Weekend Getaways in West Virginia
Author Anietra Hamper has explored many corners of West Virginia, including its quaint small towns.
West Virginia beckons the kind of weekend getaway that can soothe the soul with natural scenic beauty and quiet time away from the bigger cities. There is so much to do in the Mountain State, from hiking along the Appalachian National Scenic Trail near Harpers Ferry to hitting the white water rapids in the New River and exploring America's newest national park, the New River Gorge National Park.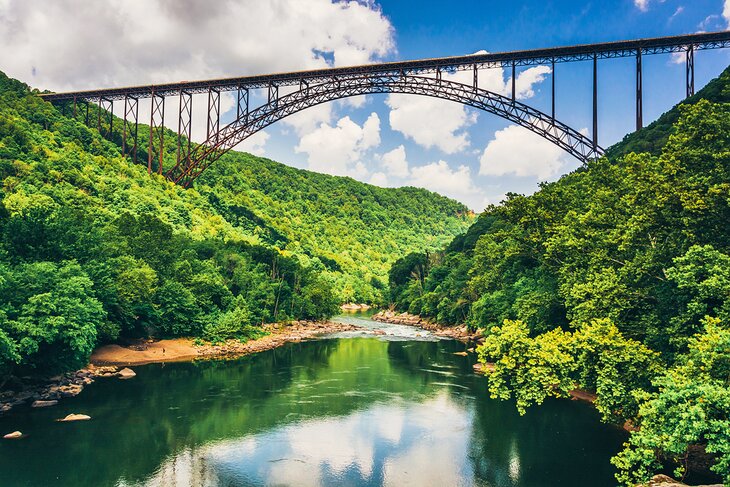 If a scenic drive is more your pace, you may want to plan your weekend getaway around a visit to one of the bigger cities, or plan a themed weekend that includes golf, fall foliage, antiquing, or uncovering West Virginia's rich military history.
For ideas on places to visit, see our list of the best weekend getaways in West Virginia.
1. Drive the Highland Scenic Highway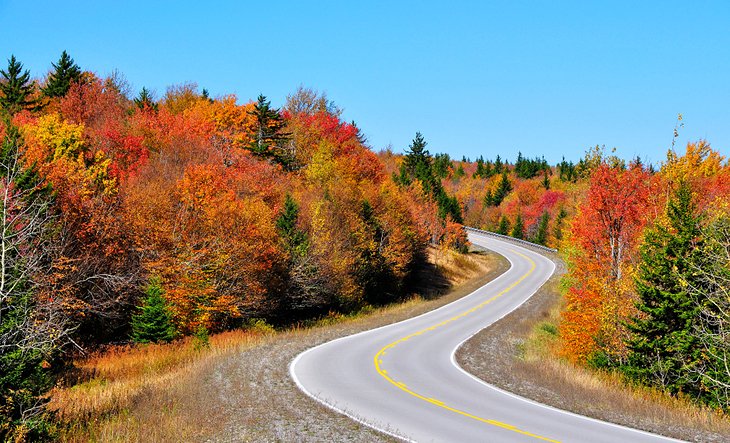 West Virginia's country roads are some of the most scenic in the United States. Forest floors blooming with wildflowers, raging rivers flowing, and the dramatic peaks and valleys of this mountainous region are some of the things to see.
The Highland Scenic Highway is a National Scenic Byway that goes through the Monongahela National Forest, which is hands-down one of the best places to visit in the state. There are many scenic overlooks during the 43-mile drive where you can stop to enjoy the view and capture some beautiful images.
You will start in Richwood, making your way to U.S. Route 219, increasing your elevation along the way from 2,325 feet to 4,500 feet on the mountain road. Pack a picnic for your drive because you will find many picnic shelters where you can stop as you make your way through the Allegheny Highlands.
2. A Weekend in Morgantown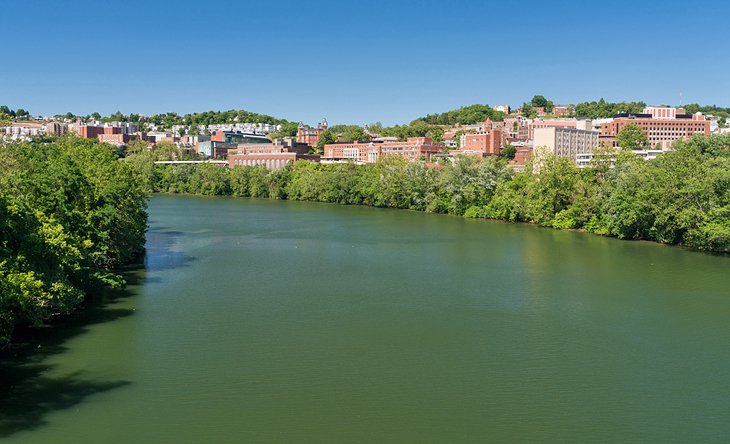 Morgantown is rooted deep in Appalachian history, and it has lots of things to do including spectacular outdoor opportunities, so you can spend a weekend with a mix of culture and adventure. The town is situated along the Monongahela River, so whether you want to try some fly fishing on the water or just enjoy a stunning West Virginia sunset while you try the local food, Morgantown is a low-key weekend.
Plan to spend a day at the Cook Hayman Pharmacy Museum to see the collection of 18th-century pharmacy items and then make your way to the Easton Roller Mill. The mill showcases early tools used to grind wheat, and there is an antique steam engine on display.
To get your adrenaline going while in Morgantown, spend a day enjoying the outdoors. Take a hike on Cheat Lake Trail, which stretches around a lake, or set out on one of the trails at Coopers Rock State Forest, where you can snap some photos from the scenic overlook that stands 1,200 feet above the Cheat River Canyon.
You can then spend a half day on a white water rafting trip along the Cheat River, where both beginner and advanced rafters can find a suitable trip.
3. A White Water Rafting Weekend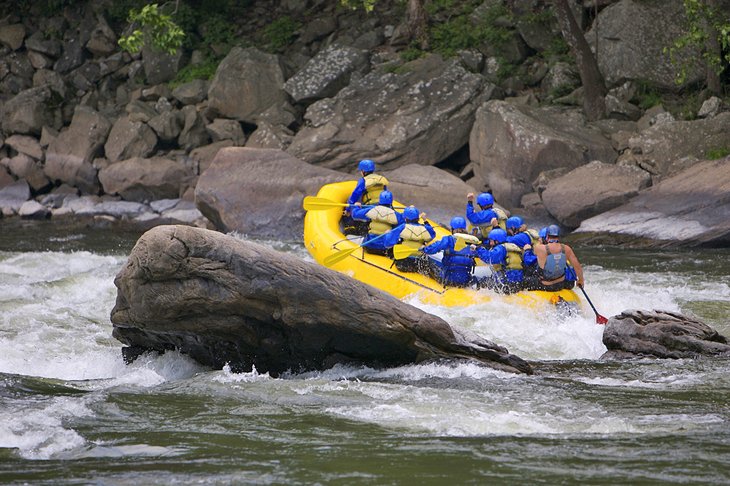 The rapids in West Virginia are some of the best in the nation to tackle white water rafting. No matter what your skill level, you can find the right trip to suit your tolerance for adventure, from beginners to experts. Given the dynamic range of rafting opportunities here, it's no wonder it is one of the top outdoor adventures in West Virginia.
If you are new to rafting, you will want to consider trips along the Cheat River, Tygart River, or the Potomac River, where the waters and guided trips are more suited for beginner and intermediate rafters. For a hard-core rafting weekend, head to the New River, which offers several rafting levels, including exciting Class V rapids on the Gauley River.
This is an adventurous way to take in some of the scenic beauty of the New River Gorge National Park. Some guide companies, like Adventures on the Gorge, offer overnight rafting trips that include camping and are perfect for a full adventure-filled weekend.
4. A Golf Weekend in Wheeling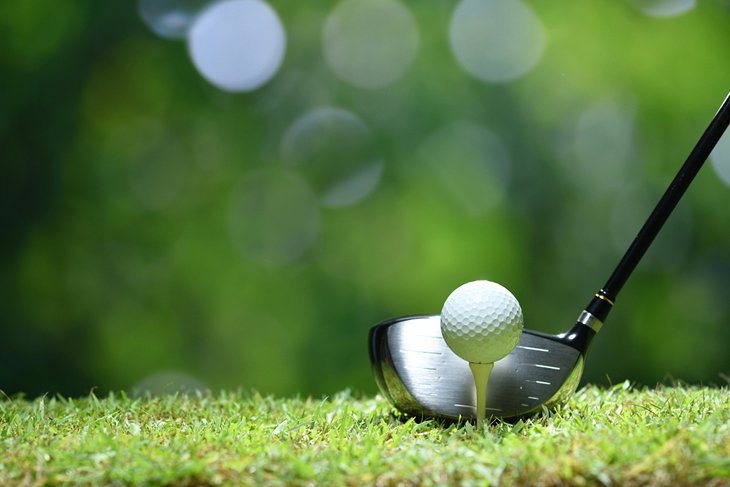 The city of Wheeling, West Virginia has six golf courses and several more just a few miles beyond the city. A golf weekend in Wheeling means that you can hit the links on the rolling hills that make up the landscape with a new course every day. Wilson Lodge at Oglebay Resort in Wheeling has several courses on the property.
The Crispin Golf Course is a regular for tournaments and a favorite of golfers for 50 years. The Palmer and Jones courses at Oglebay are championship courses inspired by golf legends Arnold Palmer and Robert Trent Jones.
Other golf options in Wheeling include the Wheeling Country Club, which has an 18-hole course and offers lessons for those new to the sport. There are courses at Wheeling Park as well.
5. A Nature Weekend at America's Newest National Park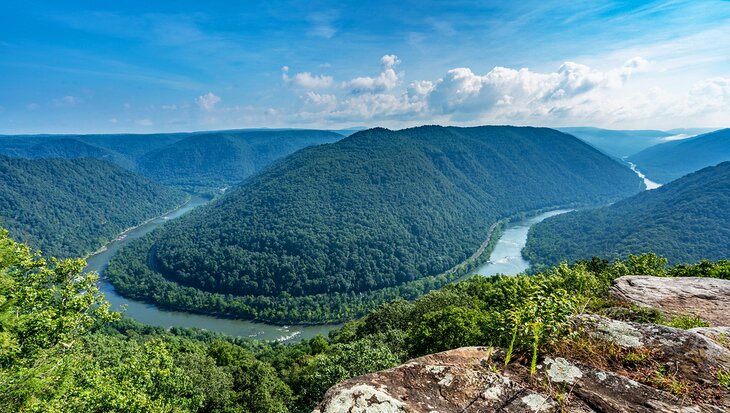 There are so many ways to enjoy the outdoors in West Virginia, but few weekend getaways are going to match a visit to New River Gorge National Park and Preserve, one of the best things to do in West Virginia.
This is the newest designated national park in the United States, and the ways to experience it would take far more than a weekend, but that is just enough time to get a taste of its spectacular beauty.
Start your trip at the Canyon Rim Visitor Center to get information on the trails, activities, scenic viewpoints, and wildlife that are in the 70,000-acre park. The visitor center rangers can advise you on the best trails and things to do depending on whether you have a half-day, full-day, or several days to explore.
There are more than 100 miles of hiking trails, bike trails, scenic drives, fishing, night sky viewing, and whitewater activities, so you will want to plan to get the most out of your time.
You might also try one of the free guided activities available from park rangers. The area surrounding the national park is not short of forest-view cabins to rent, so you can wrap up your outdoor days at the park by relaxing in a hot tub under the stars.
6. A West Virginia Crafts Weekend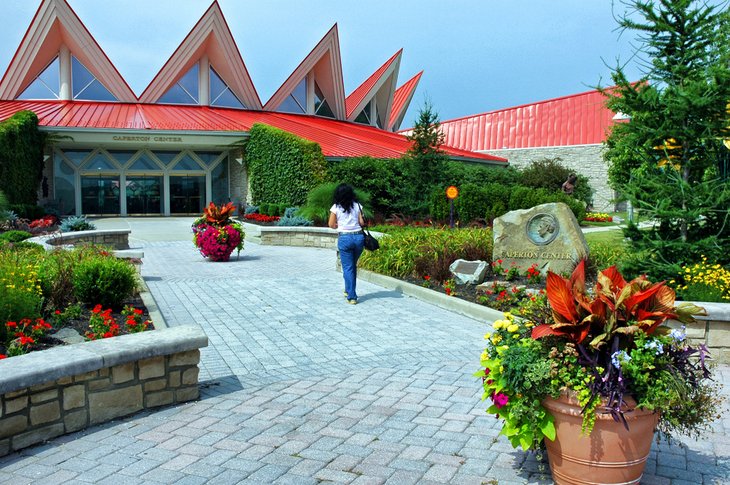 The artistically inclined will enjoy a full weekend of uncovering some of the unique handcrafts from artists around the state. In fact, on any given weekend you are likely to find a craft fair, art show, or street fair with regional artists.
Your weekend will start at Tamarack in Beckley, West Virginia, which is a facility that showcases the West Virginia arts and Appalachian culture through retail handicrafts for sale, music, food, and visual arts.
Tamarack features 2,800 artists representing every county in the state. You will find entertainment and galleries to fill a day. Spend another day driving around the region to explore the local arts in other West Virginia cities like Fayetteville or Berkley Springs.
Address: 1 Tamarack Park, Beckley, West Virginia
7. A Fall Foliage Weekend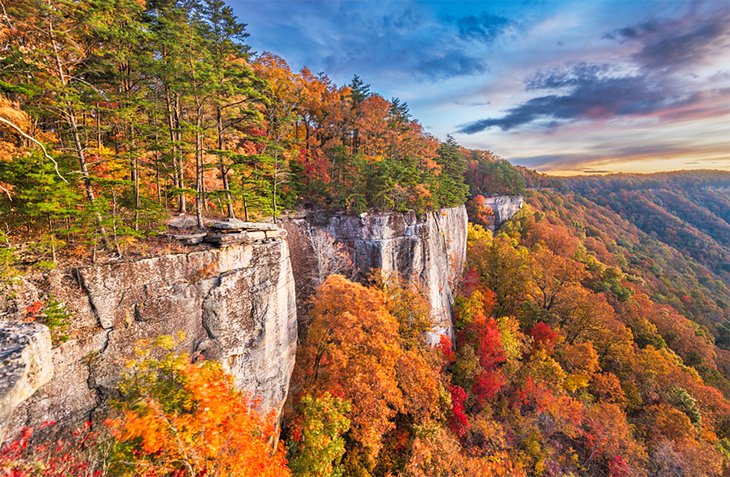 Due to the dense forest land and the steep hills and valleys that make up West Virginia's landscape, leaf peeping in the fall is a spectacular experience as the red, orange, and purple colors pop on the trees. A fall foliage weekend will be unforgettable as you road trip through some of the most scenic spots.
You can plan a scenic drive that starts at Coopers Rock State Forest, where there is a spectacular overlook, and drive south until you get to Grandview. This scenic route will take you through some of the most picturesque forests and gorges in the state.
Along the way, you will pass Blackwater Falls State Park, which has stunning waterfalls; Summersville Lake; the Canyon Rim Visitor Center; Monongahela National Forest; Elkins Train Depot; and the New River Gorge Bridge, where you can see the colorful rolling valleys that go on for miles.
Since fall is a popular time for leaf viewing in the parks, you should book your lodging at least four to six months in advance.
8. Hike on the Appalachian Trail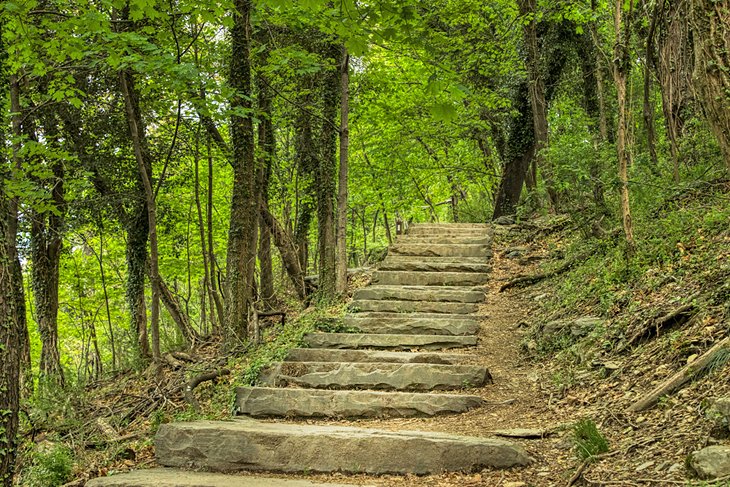 Serious hikers will love a weekend getaway to hike a section of the Appalachian National Scenic Trail. You can get on a stretch of the trail out of Harpers Ferry and visit the trail headquarters to get more information on where to go for the time that you have available.
If you are a novice hiker, do not let the idea of the Appalachian Trail intimidate you. This is a great chance to give it a try without the commitment of backpacking in the wilderness for weeks.
The entire Appalachian Trail is more than 2,000 miles long and goes from Georgia to Maine. The access point in West Virginia is considered the halfway mark for hikers who are trekking the full route. The West Virginia portion of the trail is four miles long, so you can do the full section or just a portion of it.
When you are done, you can enjoy the historic town of Harpers Ferry, which can easily fill another day as you explore the Harpers Ferry National Historical Park or watch the trains pass at Harpers Ferry Station.
9. A Charleston Weekend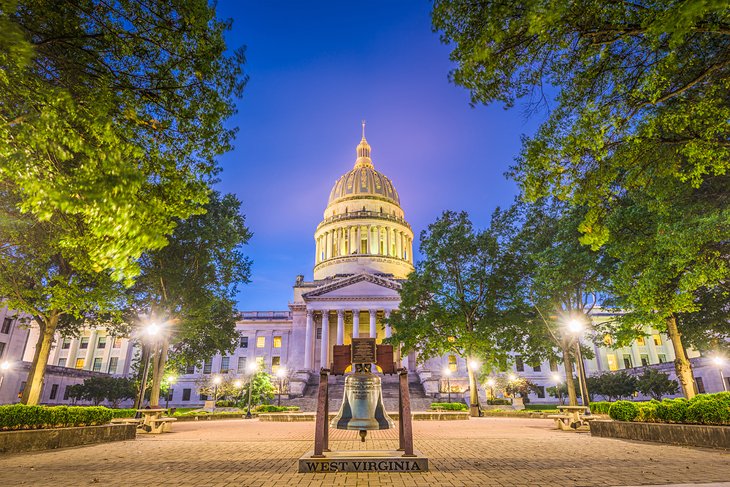 The state capital of Charleston offers things to do that inspire more of a modern and urban weekend getaway compared to the outdoor scene in many of the other cities in the state. Your weekend exploration can be a mix of historic, scenic, and cultural experiences.
Plan a stop to tour the State Capitol building, where the shiny gold rotunda will catch your eye. The capitol complex has many statues and historic buildings to visit. Add the West Virginia Culture Center and State Museum to your itinerary to check out the telescope George Washington used to scout the land in the state, and see other exhibits about the state's history.
A visit to Capitol Market is a must. It is a farmers market with local vendors, located inside of an 1800s railyard that once belonged to the Kanawha and Michigan Railroad, where you can buy fresh produce, cheeses, and local goods.
You can schedule some downtime to visit the picturesque Kanawha State Forest. It is just a few minutes outside of Charleston. It is a recreational area with trails for hiking and biking and plenty of areas to relax, listen to the water, and just watch for native wildlife.
10. An Antiquing Weekend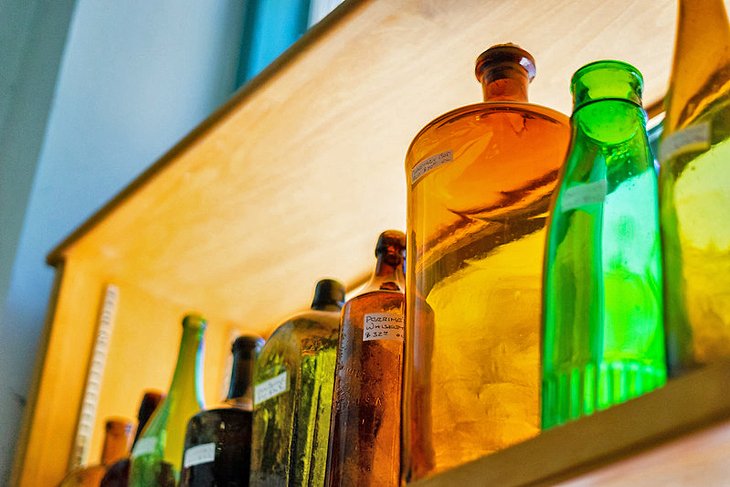 There are several ways to enjoy an antiquing weekend in West Virginia. You can just pick a direction and drive for a leisurely and nostalgic road trip with treasures that you find in the antique stores in quaint towns with stops for home-cooking restaurants along the way.
You can also target a couple of key areas like Charleston and the New River Gorge region, where there are clusters of antique stores together. In Charleston, there is the South Charleston Antique Mall, which is a popular spot for vintage finds with 70 dealers.
Another great spot is the Stray Dog Antiques store, which has three floors full of antiques, jewelry, glassware, and vintage clothing.
In the New River Gorge area, you can find revolving antique inventory at the New River Antique Mall, with many vendor booths and the Antiques at Aides store, which is inside an old local department store. Stop for lunch at the Cathedral Café in nearby Fayetteville, which is inside of an old church.
11. A Quiet Getaway in Parkersburg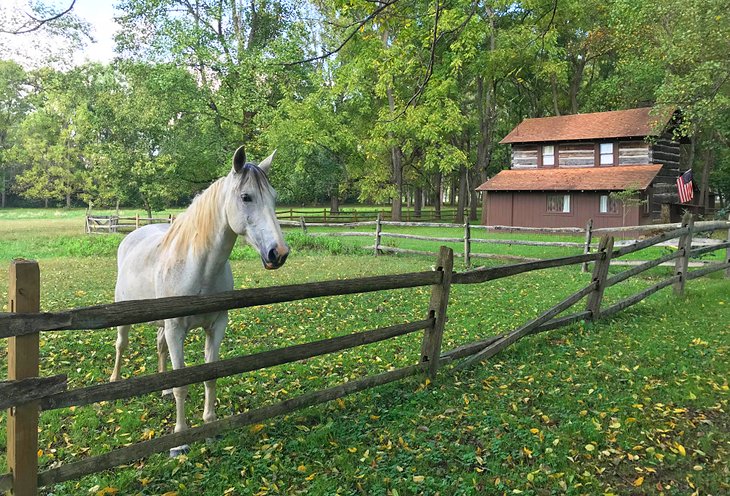 While so many areas of West Virginia are peaceful, Parkersburg offers a unique kind of quiet that is nice if you are just looking to be away from the regular business of the city and retreat to a slower pace.
One of the highlights during your Parkersburg weekend will be a trip by sternwheeler riverboat to the Blennerhassett Island Historical State Park. The small island is located on the Ohio River and has a stunning mansion, gardens, and museum with exhibits about the local history. You can visit the island from May through October and catch the ferry from Point Park in Parkersburg.
Spend some time on the waterfront at Point Park, where you can watch the boats go by and enjoy the sunset. Another park to visit in town is Fort Boreman Park, which is a reconstruction of a Civil War Fort. There are trails and scenic views from the park out onto the city and waterfront.
Parkersburg is also home to a unique little museum called the Oil and Gas Museum, which is worth visiting. It has three floors of everything related to the history of oil and gas and how those industries influenced the development of West Virginia.
12. A Military History Weekend in Martinsburg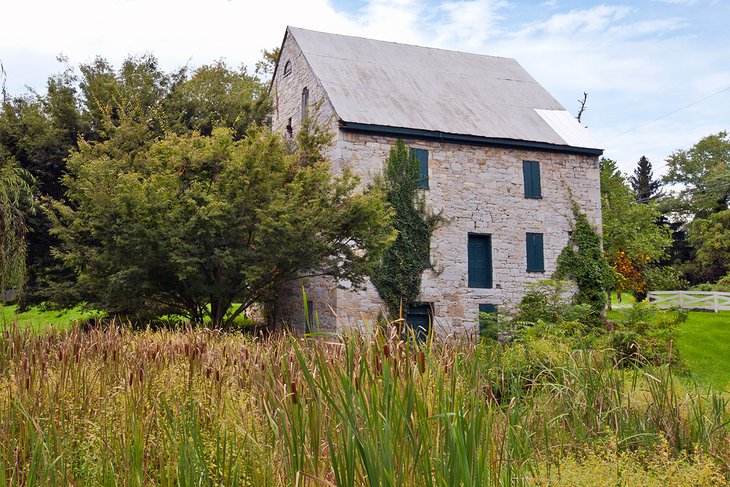 West Virginia is a great place for history buffs, and you can make an entire weekend out of it with a visit to Martinsburg. It is a small town, but there is quite a bit of military history due to the number of battles that took place here.
Learn about Martinsburg's role in military efforts during the Civil War, Revolutionary War, and the French and Indian War. There are many historical buildings around town that you can explore at your own pace.
One of the more notable must-sees is the Adam Stephen House, a 1700s stone house that you can tour for a glimpse of 18th-century life in Martinsburg. Another is the Martinsburg Roundhouse, a center that once housed machine shops for the B&O Railroad in the 1800s.
The museum showcases how the railroad that came through this town played such an important factor in why Martinsburg had a prominent military presence in so many historical battles.
13. A Weekend on the Water at Summersville Lake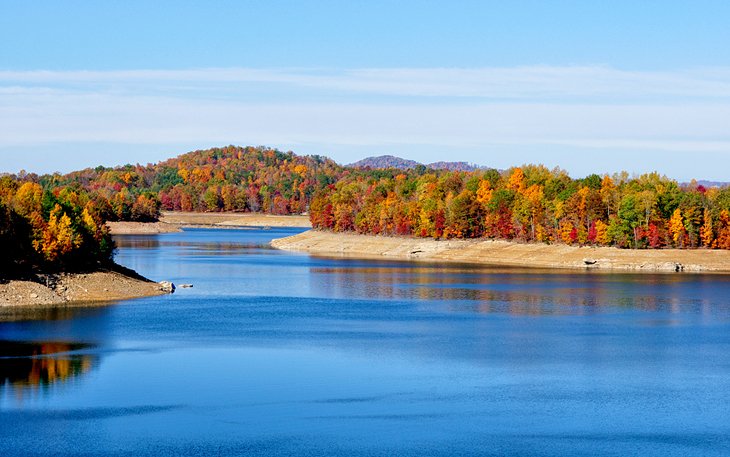 Summersville Lake is popular with campers, so if you want to pitch a tent, cook s'mores over the fire, and wear yourself out swimming, kayaking, and rock climbing, then this is your weekend.
You can take your pick from things to do at Summersville Lake. There are both guided trips for activities like rock climbing and boating, or you can bring your own equipment and plan your trips independently on the water.
Fishing is one of the other popular things to do at the lake. You can catch bass, walleye, and bluegill. With more than 60 miles of shoreline, it is a great lake for kayaking, where you can get up close to the tall rock ledges that tower over the water.
There are several launch ramps for boating, so you can get in some waterskiing. There is a swimming beach located in the Battle Run area on the lake, which is also where campsites are available.
14. A Winter Ski Weekend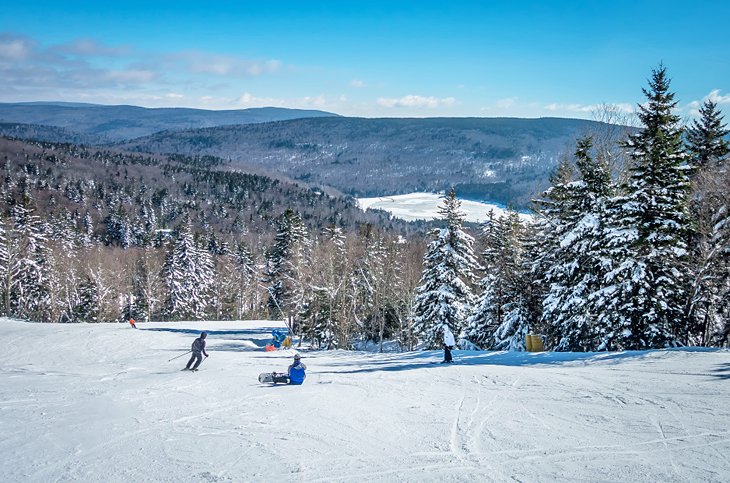 West Virginia is a year-round outdoor recreation state, and while it is beautiful to experience in the spring, summer, and fall, winter introduces outstanding opportunities for a weekend ski getaway because of the mountains.
There are a number of ski resorts throughout the state that accommodate every skill level. Some resorts have downhill slopes only, and others also have terrain parks where snow acrobats can hone their skills on obstacles and ski jumps.
The Canaan Valley Resort has popular ski trails as does Oglebay Resort. These large resorts usually offer ski and lodging packages that can provide some savings for your getaway. There is also Snowshoe Mountain Ski Resort, Winterplace Ski Resort, and Timberline Mountain, which all have slopes. If you are new to skiing, most of the resorts offer beginner classes.
15. A West Virginia Kayaking Weekend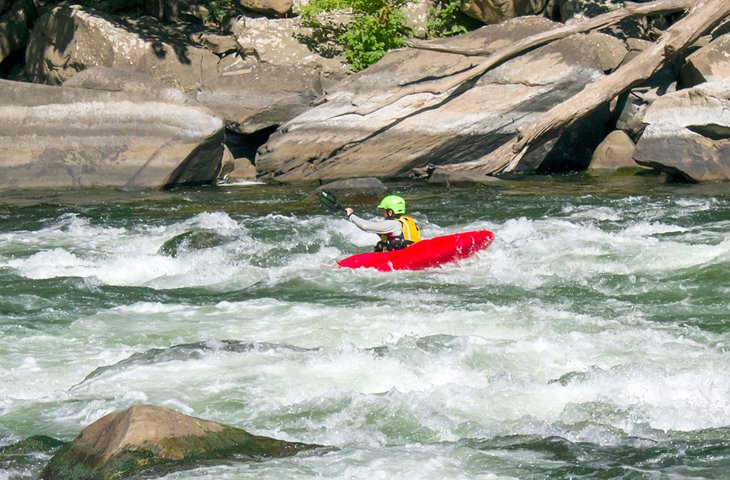 West Virginia is a popular place for kayaking mostly because there are so many great waterways and a wide range of water conditions to test your adrenaline. From the calm lakes to raging rapids, you can map out a varied kayaking weekend.
West Virginia has some wonderful water trails, which make it easy to figure out where to go and what to expect when you get here. Some of the most scenic waters are at Summersville Lake, Sutton Lake, and Beach Fork Lake. These are calmer waters where you can explore cliffs and coves and spend an entire day on the water.
If you are looking for a bit more of a challenge, you will want to consider some of the mild rapids on the water trails on the Cheat River, Elk River, and Coal River. These are more aggressive trails but there are plenty of stopping points on them where you can rest or have a picnic.
16. Historic Harpers Ferry Weekend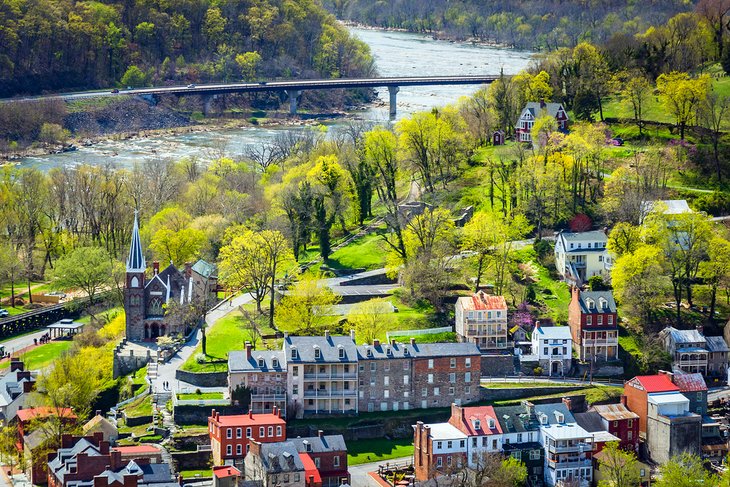 While Harpers Ferry is a destination for adventure-seekers, it is also one of the best places in West Virginia to enjoy a weekend of historic immersion. Your first stop in Harpers Ferry should be Harpers Ferry National Historic Park, where you can spend a day or several days visiting museums with Civil War history, and other sites like John Brown Fort.
There are several nearby battlefields if you want to spend a day just visiting these historic sites. Shepherdstown Battlefield in nearby Shepherdstown and Summit Point Battlefield in Charles Town are two close options.
Since Harpers Ferry sits at the confluence of the Potomac and Shenandoah Rivers, you can get a scenic perspective of the area from the Maryland Heights Overlook, where the view is especially beautiful at sunset. Fall is the busiest time on Harpers Ferry, so if you are planning to visit then, you will want to make reservations early for lodging and attractions that require tickets.
17. Spa Weekend in Berkeley Springs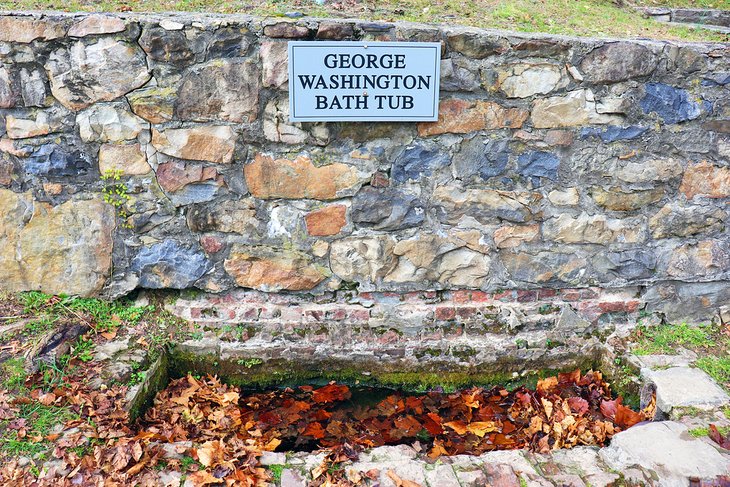 The small town of Berkeley Springs lays claim to the first spa in the United States. Tucked into the West Virginia mountains, Berkeley Springs has a number of spa centers, mineral springs, and historic spas including George Washington's bathtub.
When you are ready to explore after a relaxing massage or mineral bath, make a stop at Berkeley Springs State Park, where you can see mineral springs and visit the historic Roman Bath House, which offers private walk-in tubs available by the half hour. For some outdoor recreation, you can take advantage of the park's golf course, hiking trails, and lake.
Berkeley Springs is an artsy town, so there are many local art galleries and cultural exhibits to experience. You can wrap up your relaxing weekend with a quiet dinner at one of the many locally owned restaurants in town.
Map of Weekend Getaways in West Virginia
More Related Articles on PlanetWare.com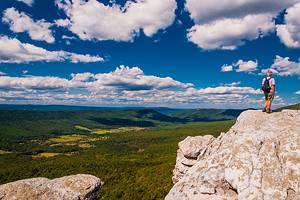 West Virginia Adventures: West Virginia has so many outdoor opportunities, from trout fishing and whitewater rafting to other outdoor adventures, like ziplining and paragliding. If you are looking for lodging in the state, you can book a cabin retreat in one of the state forests or relax in one of the luxury resorts in West Virginia. If you are looking for additional ideas for your getaway, you will be interested in some of the top-rated tourist attractions in West Virginia, which you may want to add to your agenda.