14 Best Lakes in Tennessee
Tennessee is blessed by an abundance of lakes. Many of them are also known as reservoirs–the result of dams built on rivers, but the result is the same. Whether it's a lake or a reservoir, locals and visitors alike flock to these larger bodies of water for recreational activities, from boating to fishing and swimming.
Although many of the state's lakes are in remote locations, several are clustered around cities. Percy Priest, Old Hickory, and Radnor are some of the main lakes near Nashville. The first two have multiple campgrounds and day use areas, while Radnor is more of a nature preserve that is only accessible for day use. Closer to Knoxville, enjoy camping at Cherokee Lake, Douglas Lake, and Norris Dam State Park.
In Tennessee, you'll find picturesque places where you can launch your kayak, enjoy a refreshing dip on a hot day, and lounge on the dock of the bay. From Reelfoot Lake in the northwest to Watauga Lake in the east and Tims Ford Lake in the south, discover some of the top places to visit for aquatic fun with our list of the best lakes in Tennessee.
1. Norris Lake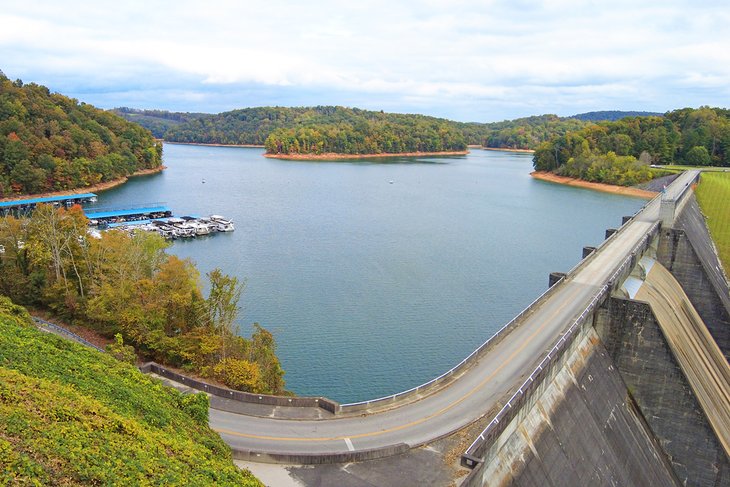 Norris Lake is close to Rocky Top in East Tennessee. Located 55 miles north of Knoxville, Norris Lake is easily accessed from Norris Dam State Park. This 4,000-acre park dates back to the early 1930s as a project of the Civilian Conservation Corps. With 800 miles of shoreline, you'll easily be able to indulge in whatever recreational pursuits you fancy: Camping, swimming, hiking, boating, fishing. Big Ridge and Cove Lake State Parks also have access to Norris Lake.
If you're into boating and related water activities, go water skiing and wakeboarding at this reservoir. Houseboats and pontoon boats can be rented at one of the marinas. Other rental options, such as hydro bikes, and guiding services are also available.
Fishing is popular at Norris Lake, which is stocked with more than a dozen species, including several kinds of bass, trout, rockfish, walleye, crappie, catfish, and bluegill. Notice the clear water–the lake is reputed to be the cleanest in Tennessee. It's also the largest and deepest.
2. Douglas Lake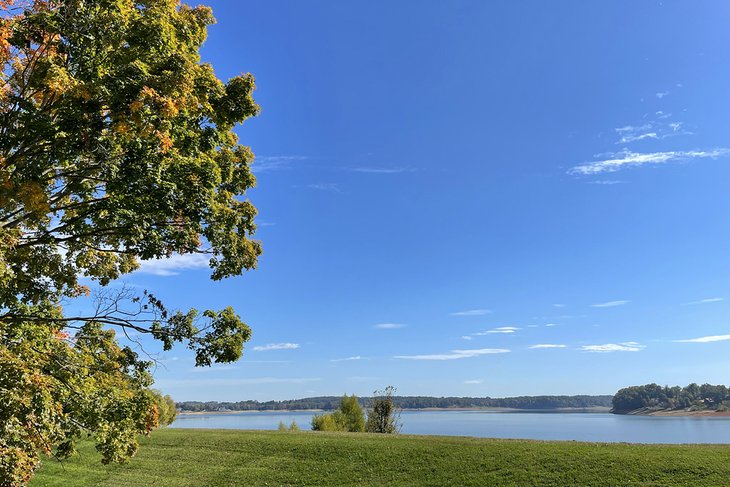 Douglas Lake is a large body of water created from the French Broad River. It's located between Sevierville and Dandridge in East Tennessee. With 513 miles of shoreline and almost 30,000 acres of water, Douglas Lake is one of the largest lakes in Tennessee. It is surrounded by the foothills of the Smoky Mountains and within easy reach of tourist attractions in Pigeon Forge and Gatlinburg.
You'll find plenty of recreational opportunities at Douglas Lake. From downtown Dandridge–the second oldest town in Tennessee–cross the bridge and head for the dock to launch your boat. Fishing tournaments are held here, so cast your line and try your luck for a black bass or crappie. Enjoy water sports such as jet skiing, paddleboarding, and swimming.
If you don't have a boat, you can rent a pontoon or fishing boat (as well as Jet Skis) from one of the outfitters. If you're lucky enough to be at Douglas Lake between late July and October, watch for shorebird migration.
3. Reelfoot Lake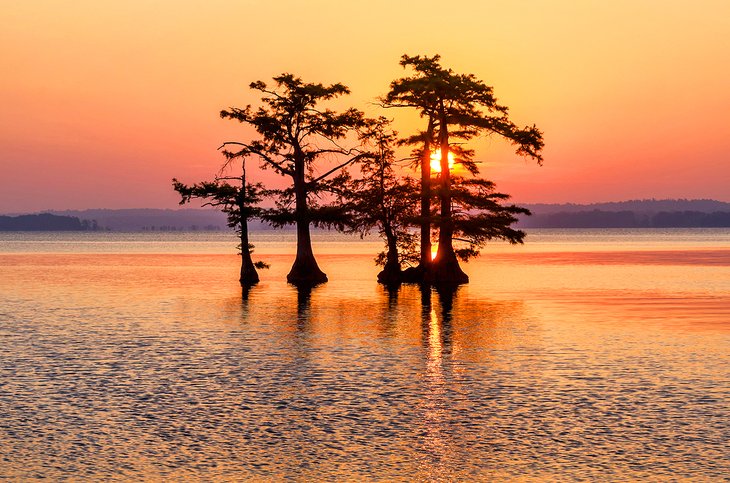 Reelfoot Lake State Park is located close to Kentucky and Arkansas in northwest Tennessee. Despite its remote location, Reelfoot Lake deserves your attention. For one thing, the 18,000-acre body of water is the largest natural lake in Tennessee. In other ways, this shallow lake is like no other in the state. It was created by earthquakes that occurred more than 200 years ago and caused a backflow of the Mississippi River. Huge, bald cypress trees, some of which are partially submerged, rise out of the lake and its bayous.
This scenic body of water is one to visit any time of the year. Enjoy pontoon boat cruises May through September and guided deep swamp canoe floats in March and April. During January and February, watch for bald eagles who make their wintering ground at Reelfoot Lake. Hundreds of white pelicans are seen during their fall migration along the Mississippi River flyway.
Take your time to embrace the beauty by camping at Reelfoot Lake State Park. If camping isn't your style, rent one of seven comfortable cabins with lakeside views. With approximately 50 species of fish, Reelfoot Lake is an angler's idea of paradise.
4. Cherokee Lake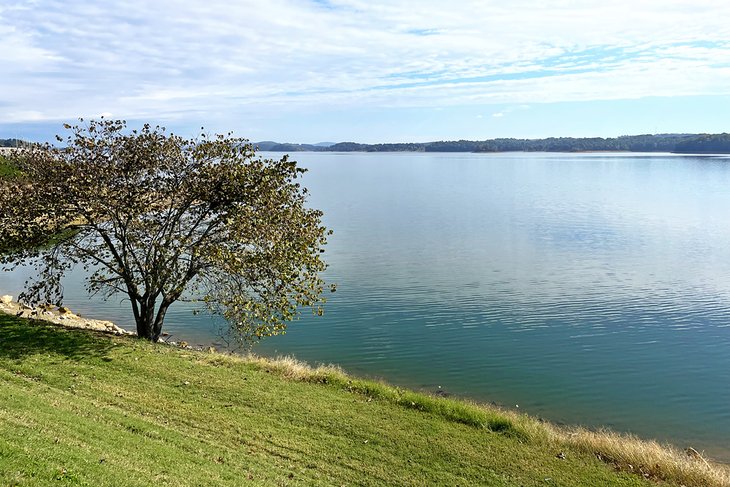 Cherokee Lake is located in a historic area with top-notch scenery. It was named after the Cherokee who are indigenous to the area and resided here more than 200 years ago. The closest community is Morristown, located 30 miles east of Knoxville in the foothills of the Clinch Mountains.
This picturesque lake was created by damming the Holston River. Cherokee is a vast island-studded lake with recreational amenities to match, such as pontoon boating and fishing. Enjoy what it has to offer by visiting the boat launches, going for a picnic, hiking the trails, and mountain biking. Beside the Cherokee Dam Campground, discover a sand beach. For a more in-depth experience of the lake, go camping at Panther Creek State Park or Cherokee Dam Campground. Cabins and vacation homes are also available for rent.
5. Dale Hollow Lake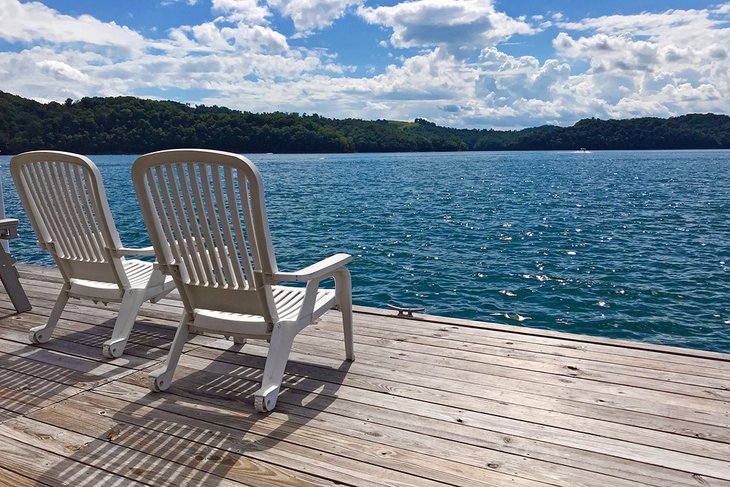 Dale Hollow Lake crosses state boundaries to claim location rights in two states. Approximately one-quarter of the lake is in Kentucky with the remainder located in Tennessee. The lake was created by damming the Obey River above where it connects with the Cumberland River. Some of the lake also covers the Wolf River.
One of the more unusual things you can do at Dale Hollow Lake is rent a houseboat from one of several marinas and resorts. You can also savor the serenity of being on the water by renting a lakeside cabin.
If you like to fish, this is the number one thing to do at Dale Hollow. It holds the world record for largest small-mouth bass. The fish you are most likely to catch include crappie; species of bass and trout; muskellunge; and sauger, which resembles walleye. Other activities to pursue at Dale Hollow Lake include swimming, wakeboarding, jet skiing, and sailing.
6. Tellico Lake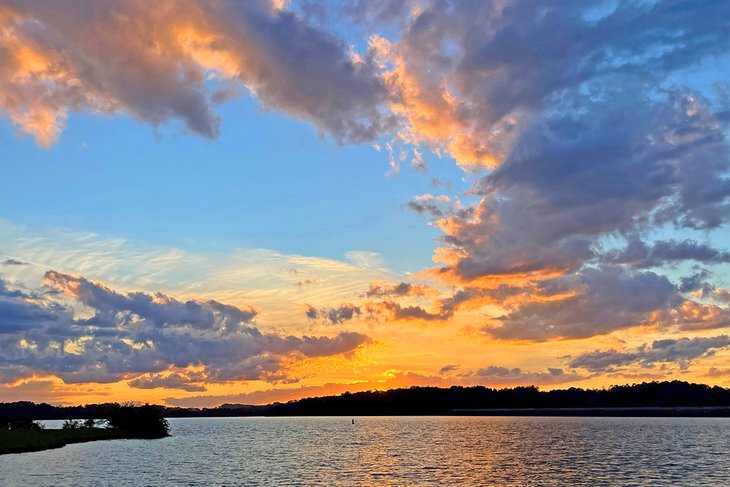 Tellico Lake is located 30 miles southwest of Knoxville on the northern boundary of Cherokee National Forest. An offshoot of the Little Tennessee River, Tellico Lake is linked by canal to Lake Fort Loudoun. Tellico Lake has 357 miles of shoreline and more than 15,000 acres of water surface. Tellico Village, the oldest settlement on the lake, claims 40 miles of shoreline.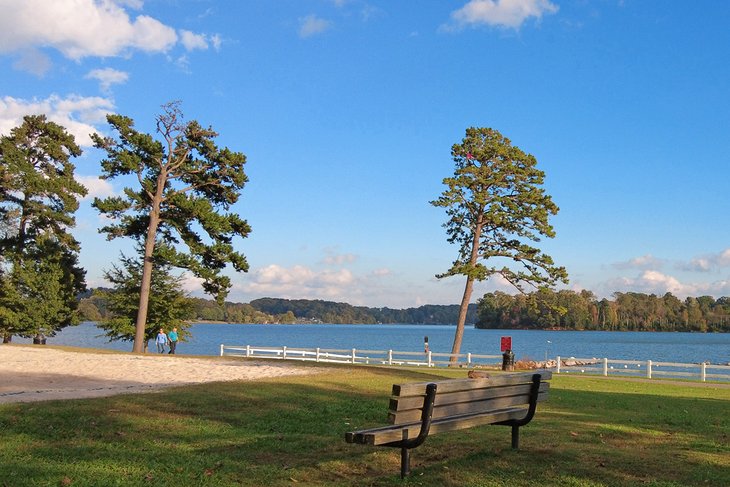 Recreational opportunities abound on this clean body of water–clean because its waters flow from national forests and Great Smoky Mountains National Park. Boating, paddling, swimming, picnicking, and fishing are avidly pursued. There's a ramp for boat access, as well as piers for fishing at Lotterdale Cove and Fort Loudoun Park. Walleye and rainbow trout are among the best quality catches.
7. Boone Lake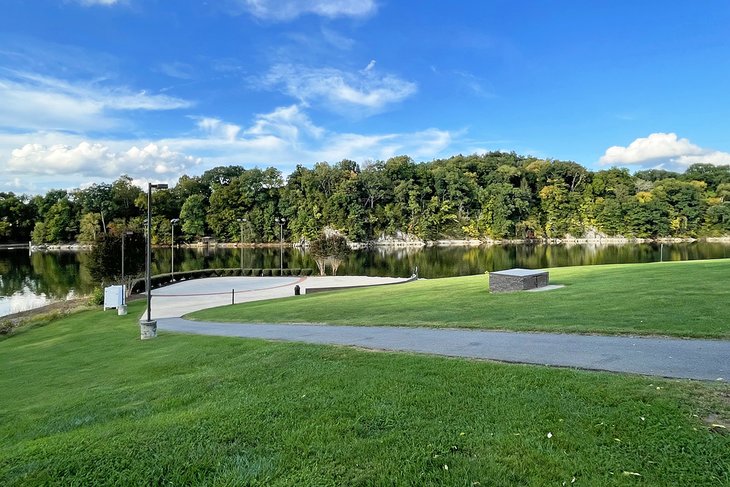 Boone Lake is located in the northeast corner of Tennessee near Johnson City. It was formed by the South Fork Holston River and Watauga River behind Boone Dam. A swimming area is located above the dam. There is a paved ramp at Winged Deer Park on Watauga River and Boone Dam Reservation.
In addition to swimming and boating, Boone Lake is popular for recreational water activities, such as water skiing. Fishing is another popular activity that you can enjoy during a visit to Boone Lake, which has 131 miles of shoreline and an average depth of 44 feet. Bass, catfish, and trout are all stocked to improve your chances of catching fresh fish for dinner.
8. Radnor Lake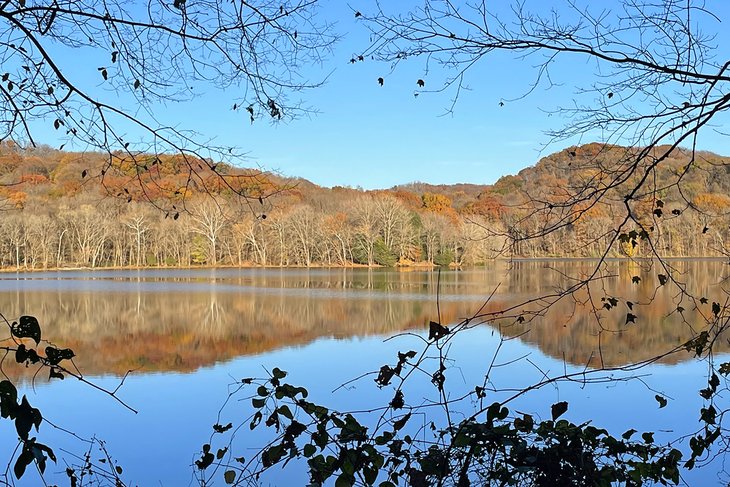 Radnor Lake is always popular due to its proximity to Nashville. From downtown south to the lake, the distance is only 12 miles. The 1,368-acre state park at Radnor Lake is a nature preserve for day use only. Swimming, picnicking, and fishing are not permitted. Cyclists and pets are not allowed on the 1.3-mile trail that skirts the lake.
With less interference by humans and their dogs, visitors to Radnor Lake will encounter a tranquil setting where it's more likely to view birds and wildlife in their habitat. Observation points are set up along the trail to provide vistas of the 85-acre lake and maximize opportunities for seeing wildlife. Radnor Lake is the perfect place to paddle a canoe or kayak. Sit quietly and see what comes to you.
9. Percy Priest Lake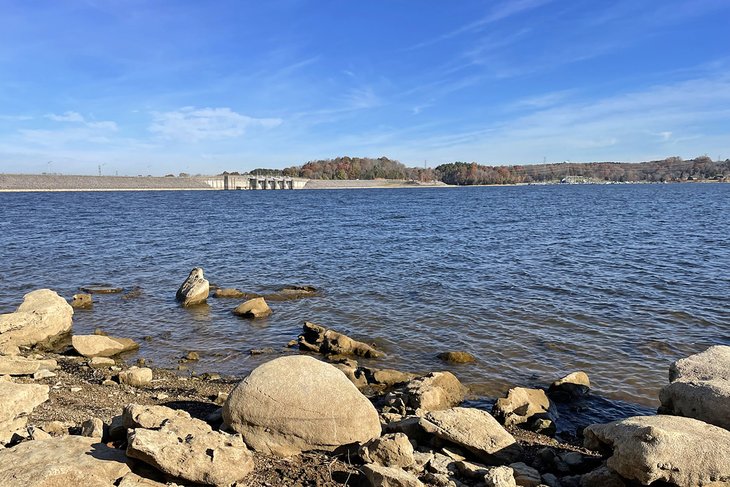 With something in the range of five million visitors a year, Percy Priest Lake is popular in part because it is only 11.5 miles away from Nashville. With all those visitors, you can be sure that there are amenities that cater to recreational users and keep them coming back for more.
Consider, for example, the facilities: Three campgrounds, 11 picnic areas, 12 boat ramps, and eight marinas. There are also sailing, yachting, and rowing clubs located on the lake. It's no surprise, the lake is popular with boaters; campers; day trippers on a picnic; and people into water recreation, from swimming to water skiing.
Long Hunter State Park claims almost 3,000 acres of Percy Priest Lake's shoreline.
10. Tims Ford Lake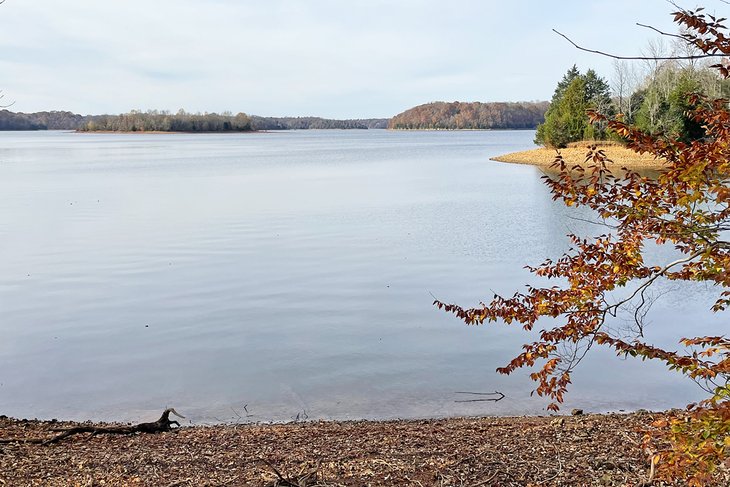 Tims Ford Lake is a scenic 10,700-acre body of water on the Cumberland Plateau of south-central Tennessee. The lake is easily accessed by two marinas and eight public boat docks managed by Tims Ford State Park. Both marinas rent boats, and one of them operates a floating restaurant for a distinctive dining experience.
Anglers can catch bass, catfish, bluegill, and crappie. Other visitors can relax at a lakeside picnic at one of the day use areas within the 1,300-acre park. The lake figures prominently, with campsites located on six islands. These popular sites are accessible only by paddling to them. Another option is to rent one of the 20 cabins on bluffs above the lake. Tims Ford Lake is close to Winchester, 35 miles north of the Alabama state line.
11. Old Hickory Lake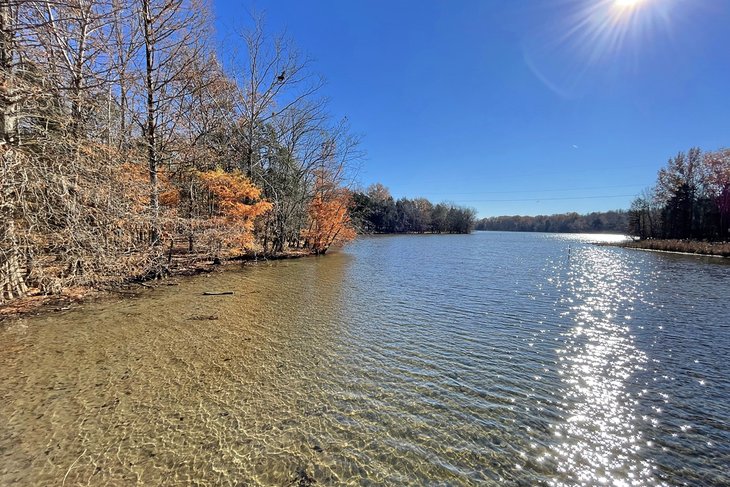 Less than 30 miles northeast of Nashville, Old Hickory Lake has plenty of amenities to serve the boating public. With eight public marinas and more than 40 boat access sites, you can launch your own vessel or rent from one of several operators. Pontoon boats are among the options that you can rent to explore this 22,500-acre lake connected to the Cumberland River.
You can also rent a lakeside cabin or, if you prefer, camp at one of two campgrounds operated by the US Army Corps of Engineers: Cedar Creek and Cages Bend. Fishing and boating are popular activities at Bledsoe Creek State Park, located on a tributary of Old Hickory Lake.
Although there is an arboretum on the lake, it isn't named for a hickory tree but the nickname given to "tough guy" former President Andrew Jackson. Hendersonville is the closest community to Old Hickory Lake.
12. Watauga Lake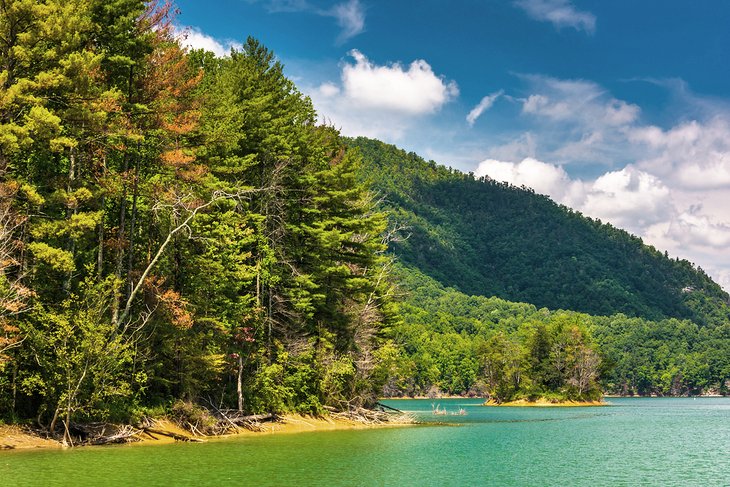 In its setting within the Appalachian Mountains and Cherokee National Forest, Watauga Lake is renowned for its scenic beauty. Another claim to fame: it's the highest elevation lake in Tennessee. Located near Elizabethton in the northeast corner of the state, Watauga Lake is 10 miles west of the North Carolina border and 45 miles south of the Virginia state line.
Recreational opportunities can be pursued from the comfort of rental cabins and vacation rental homes, as well as several campgrounds.
Marinas and boat launches enhance recreational activities that can be enjoyed on the lake. They include fishing, water-skiing, floating, cruising, and kayaking. Pontoon boats, speedboats, and stand up paddleboards are among the rental options available at marinas and resorts. The lake comprises 6,340 acres and has 105 miles of shoreline for everyone to follow their boating passion.
13. Chickamauga Lake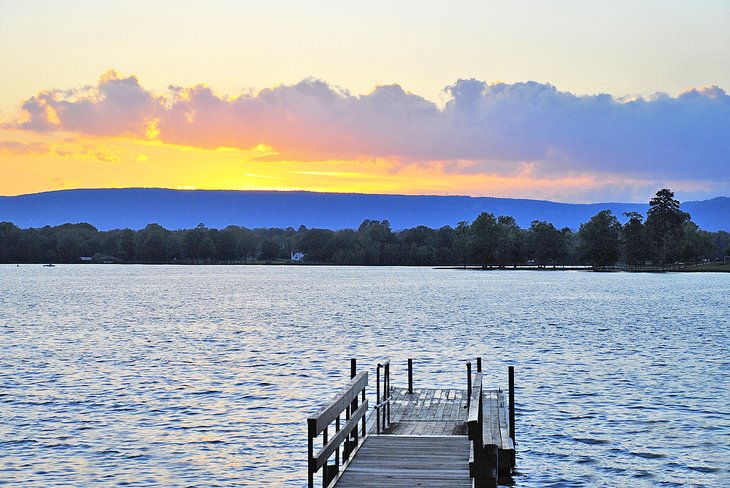 Chickamauga Lake is considered one of the best lakes in Tennessee for bass fishing. A champion 15-pound largemouth bass was caught in 2015. Best time to fish for bass is late winter and early spring. Anglers can also catch catfish and bluegill in Chickamauga, which spans more than 36,000 acres.
With 810 miles of shoreline, there is abundant habitat for wildlife, plus interpretation at two wildlife centers. Pontoon boating is popular here, and marina facilities are available to boaters–especially at the southern end. Enjoy water and jet-skiing, wakeboarding, and the designated swimming area upstream from Chickamauga Dam.
The lake is a feature of two state parks: Harrison Bay near Harrison and Booker T. Washington close to Chattanooga. The Hiwassee River (traveling via Georgia and North Carolina to Tennessee) empties into Chickamauga Lake. The lake is so vast, it is traversed by two bridges and crosses five counties.
14. Cove Lake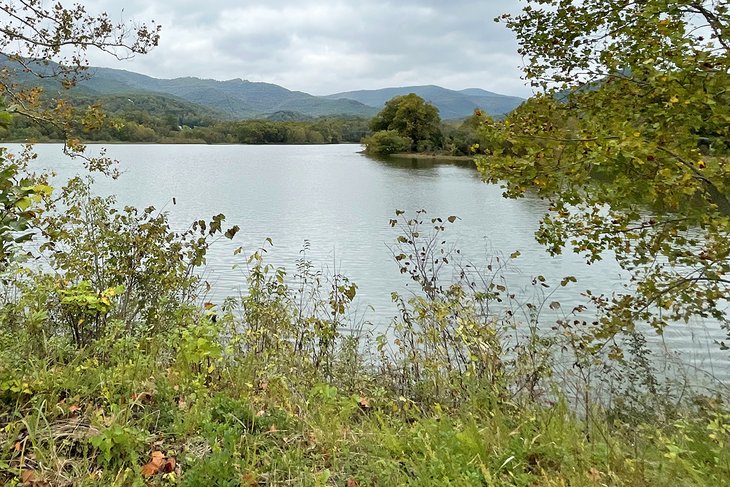 There are much larger lakes on this list than Cove Lake, but this one is a keeper due to its location in a scenic valley surrounded by the Cumberland Mountains. Cove Lake is an arm of Norris Lake, first named on our list, located 30 miles northwest of Knoxville. The 210-acre lake is the recreational centerpiece of 606-acre Cove Lake State Park. For maximum enjoyment of recreational opportunities, consider camping at one of the 100 campsites within the park.
Skirting part of the lake is a half-mile, paved loop trail. From the trail, you can access the wildlife viewing tower for glimpses of migrating birds. There's also a fishing pier and boat ramp. If you don't have your own kayak or canoe, you can rent a "jon" (type of aluminum fishing boat) from the park. Anglers may be rewarded with catches of crappie, bass and bluegill.