12 Top-Rated Things to Do in Jackson, TN
Halfway between Memphis and Nashville, you'll find another city with many claims to music fame. It's the birthplace of rockabilly music, and the hometown of singers Carl Perkins, Big Maybelle, and Lolo. It's where the co-founder of the Hard Rock Café and House of Blues was born. It's the title of the tune made famous by Johnny Cash and June Carter. Not to be confused with the capital of Mississippi, this is Jackson, Tennessee, a city that is famous for music and so much more.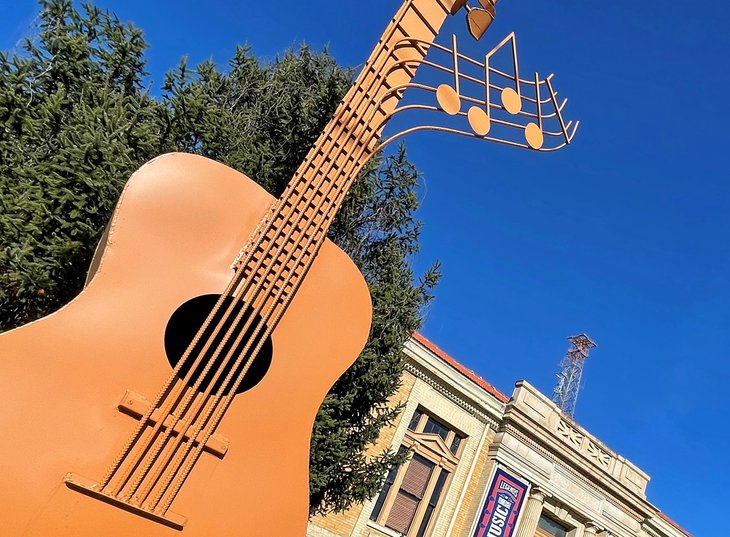 Thanks to Casey Jones, America's legendary hero at the locomotive, Jackson is associated with railway culture. Learn more during a visit to the complex that includes his home and a museum. In fact, get ready to tour museums in Jackson, not just about trains and automobiles but — what else? — about musical legends and rockabilly culture.
Attend a show at the civic auditorium while you're in Jackson, admire costumes worn by Tina Turner, and go horseback riding on a side trip to Chickasaw State Park.
Welcome to a city that invites visitors to enjoy outdoor recreation. Jackson is home to 20 public parks, eight public education and recreation facilities, and one public golf course. Smooth your way to a satisfying stay and plan your sightseeing with our list of the top things to do in Jackson, Tennessee.
1. Casey Jones Home & Railroad Museum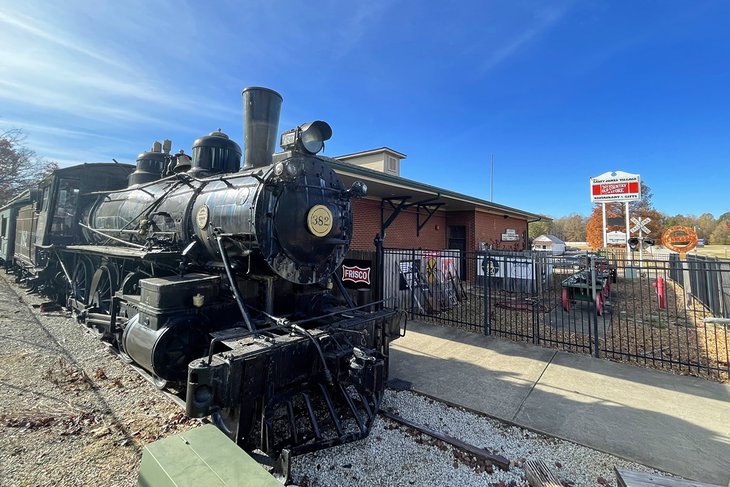 Highlights: Learn about railroad history and ring the bell of a 35-ton locomotive
Visit the historic home of Casey Jones, then amble over to the railroad museum next door. This is where you can read all about the life and times of America's folk hero of the locomotive, memorialized in song.
Watch a short film about how Casey the engineer saved the lives of other people while losing his own life in a head-on train crash. Visit the Jackson Room to learn about the role of the railroad in the history of Jackson. Pause at the exhibit explaining the importance of railroads in Tennessee during the Civil War.
When children see the 35-ton locomotive modeled after Casey's famous engine, they might be tempted to get on board and play the part of the guy who runs the train. They are welcome to ring the bell. According to legend, Casey Jones died with one hand on the whistle and the other on the brake.
N C & St. L Depot & Railroad Museum (standing for Nashville, Chattanooga, and St. Louis) has been integrated into the Casey Jones Home & Railroad Museum. There is 8,000 square feet of exhibition space. If you're a railroad fan, prepare yourself for a fascinating ride down the memory lane of rails.
Address: 30 Casey Jones Lane, Jackson, Tennessee
2. Take a Tour at Rusty's TV & Movie Car Museum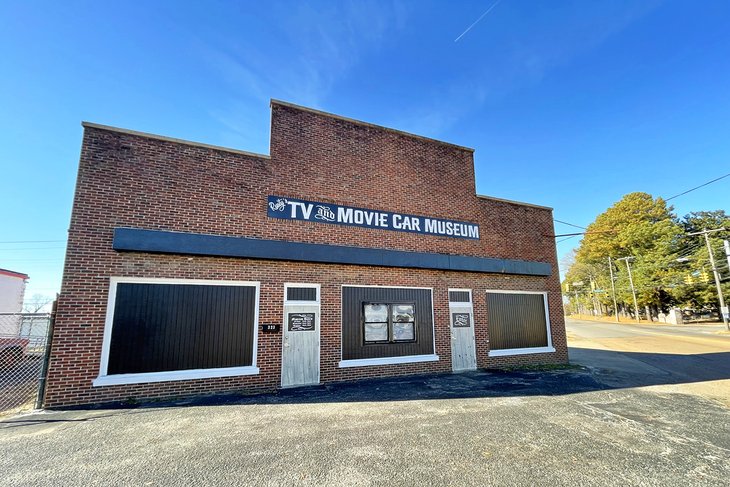 Highlights: Get up close to 50 vehicles made famous in movies and TV shows
To think it all got started when Rusty Robinson picked up a crayon and made his first drawing of a car. By the age of 14, Rusty had acquired the first car in his collection—a blue '66 Mustang Coupe. A quarter-century later, Rusty owns and hosts a museum showcasing 50 cars, trucks, and motorcycles that have been in movies and TV shows.
Visit Rusty's TV & Movie Car Museum to see what you recognize, and learn more about the famous vehicles that are Rusty's passion. The museum is open Friday through Sunday 9am to 5pm, with the last tour at 4:30pm.
Address: 323 Hollywood Drive, Jackson, Tennessee
3. Visit the Legends of Tennessee Music Museum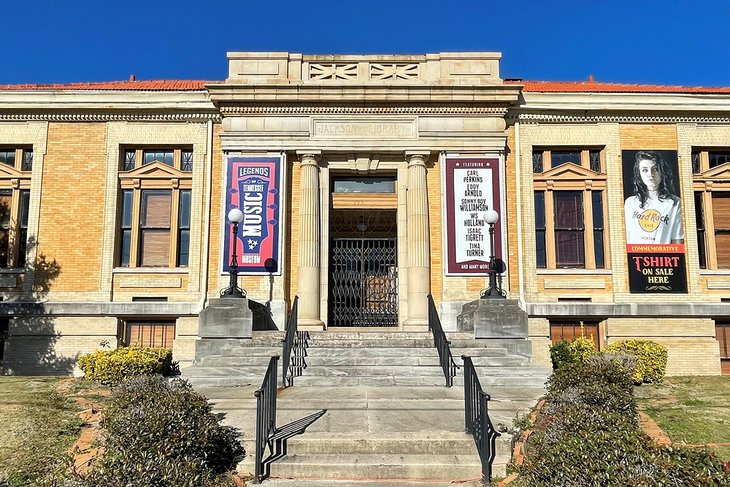 Highlights: An extensive collection of music memorabilia, including instruments and costumes
The imposing Carnegie building opened its doors in 1903 as the first public library in Jackson. The first floor of what is now the Legends of Tennessee Music Museum houses an impressive array of collectibles associated with Carl Perkins, including his first electric guitar, costumes, records, and photographs. Other music legends and careers celebrated at the museum are blues harmonica player Sonny Boy Williamson, and singers Tina Turner, Eddy Arnold, and Denise LaSalle.
You might not have heard of Isaac Tigrett, but he's a native son of Jackson, most famous for co-founding the Hard Rock Café and later the House of Blues. (Tigrett less famously married Maureen Starkey, who married Ringo Starr during the glory days of The Beatles.) Many artifacts on display at the Legends of Tennessee Music Museum were collected by Tigrett. He also interprets the influence of west Tennessee music and culture on the Hard Rock Café (first established in Jackson after its debut in London) and House of Blues.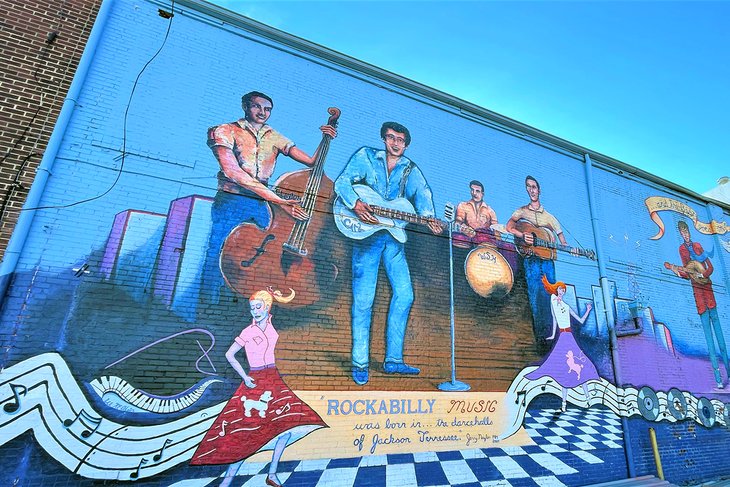 The collection of the former International Rock-A-Billy Hall of Fame and Museum (now closed) was donated to Carnegie Legends Museum. In the former location of the Rock-A-Billy Museum is the 28 by 70-foot mural on the outside wall. Beneath the painting of the Carl Perkins band and a gal wearing a 1950s poodle skirt is the caption: "Rockabilly was born in the dance halls of Tennessee."
Carnegie Legends Museum welcomes individuals and groups to explore its exhibits Wednesday through Saturday from 10am to 4pm.
Address: 305 E. College Street, Jackson, Tennessee
4. Learn about Injured Raptors at Cypress Grove Nature Park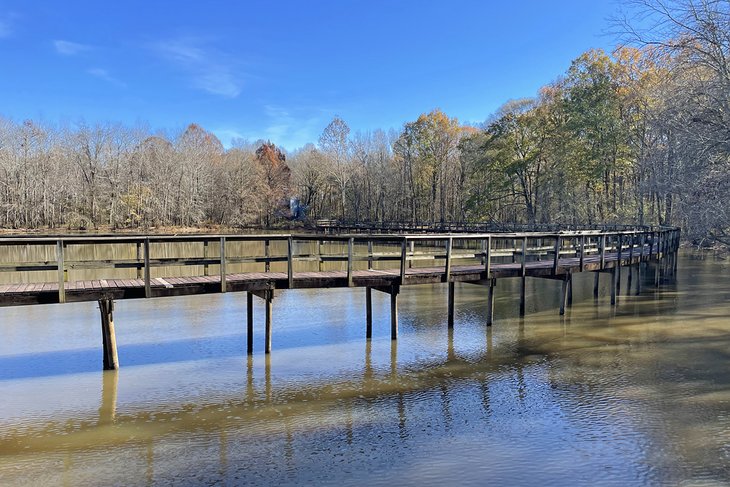 Highlights: A serene boardwalk, raptor sanctuary, a 25-acre lake, and an observation tower
Go for a peaceful walk through a swamp at Cypress Grove Nature Park. Your feet will never get wet because the entire walk is on a boardwalk. Veer off to the half dozen enclosed shelters housing wounded and recovering hawks and owls. This is the Aerie Trail Raptor Center, a sanctuary for injured birds of prey.
The mission of the raptor center and nature park is to educate people about wildlife, ecology, and our relationship to nature. There is no charge for admission.
Located a short drive from downtown Jackson, the nature park is home to plants and trees, birds, and wildlife. Apart from the boardwalk, the tourist attractions include a pond, a 25-acre lake, and an observation tower. These features enhance appreciation for the natural world and insight into how all the parts depend on one another for survival. Through classes and programs held at the nature center, in combination with spending time in parks such as Cypress Grove, we learn to value nature.
Reflect on your experience at one of the benches and viewing platforms along the walkway. Bird blinds are ideal for observing waterfowl such as ducks and herons, and wildlife such as beaver and deer. A heron silhouetted on the pond at the turnaround point creates a mesmerizing photo.
Address: 866 Airways Blvd, Jackson, Tennessee
5. Catch a Show at Carl Perkins Civic Center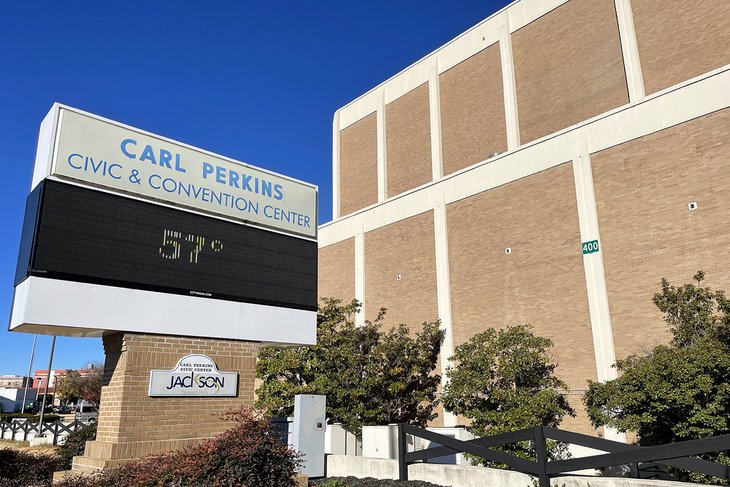 Highlight: Catch performances from big-name acts in a 2,200-seat auditorium
The Civic Center, named for bluesman and native son Carl Perkins, features a 2,200-seat auditorium that is the main venue for performing arts in Jackson. This is the place to catch the Jackson Symphony, Jackson Ballet Arts, or a stage show. This venue is also home to the Miss Tennessee Volunteer pageant.
Since its opening in 1973, several big-name acts have performed at the civic center. These performers include The Temptations, Ricky Skaggs, and Alison Krauss. Look at the lineup of upcoming events on the official website. Attending a show at the civic center, located on the southern fringe of downtown, is a memorable way to spend an evening out in Jackson.
Address: 400 South Highland Avenue, Jackson, Tennessee
6. Enjoy Quiet Time at Liberty Garden Arboretum and Park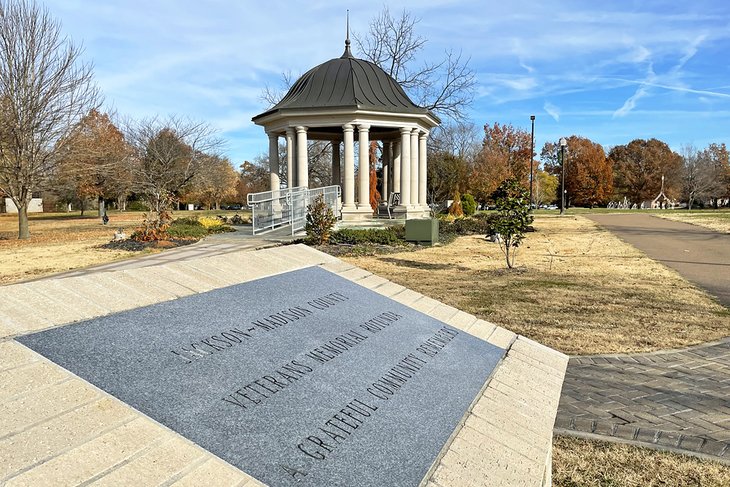 Highlights: Nearly 15 acres of green space with monuments and memorial trees for soldiers
Liberty Garden Arboretum and Park is a 14.5-acre green space that encourages walking while reflecting on the lives of soldiers who died in service to the nation. A paved pathway leads to a sitting area in the gazebo. Pathways lead through memorial trees to the Veterans Memorial Rotunda, where "a grateful community remembers."
The memorial wall honors American veterans from the first two world wars, in addition to wars in Korea, Vietnam, and Afghanistan. The Freedom Plaza displays Charters of American Freedom, including President Roosevelt's 1941 State of the Union Address, President Kennedy's 1961 inaugural address, and Martin Luther King Jr.'s "I have a dream" speech from 1963.
Other features of the monument include a 5,000-pound Howitzer gun, a bronze battlefield cross (boots, helmet, and gun) with the Oath of Enlistment, and chimes at the Children's Garden. Parking is located at Stonebridge Boulevard and Channing Way.
Address: 24 Channing Way, Jackson, Tennessee
7. Hike, Ride, Paddle, Camp, or Golf at Chickasaw State Park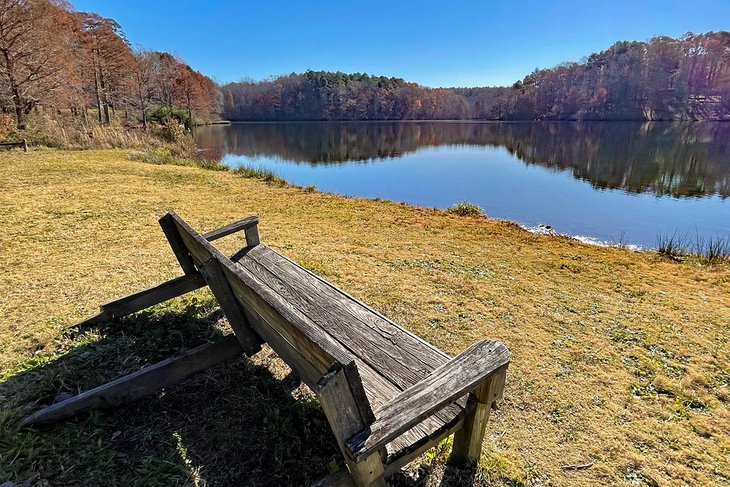 Highlights: Fishing, paddling, golfing, walking, and horseback riding at a popular state park
Only 22 miles south of Jackson, you can easily access Chickasaw State Park, a 1,378-acre chunk of land that was occupied by the Chickasaw—an Indigenous people of the southeastern woodlands— before it was purchased by the federal government in 1818. Chickasaw is one of the most popular parks in the western part of Tennessee because there are so many things to do. Start with Placid Lake, which is a tranquil setting for fishing and paddling. The least energetic thing to do is walk across the pedestrian causeway—all lit up at certain times of the year—and admire the views.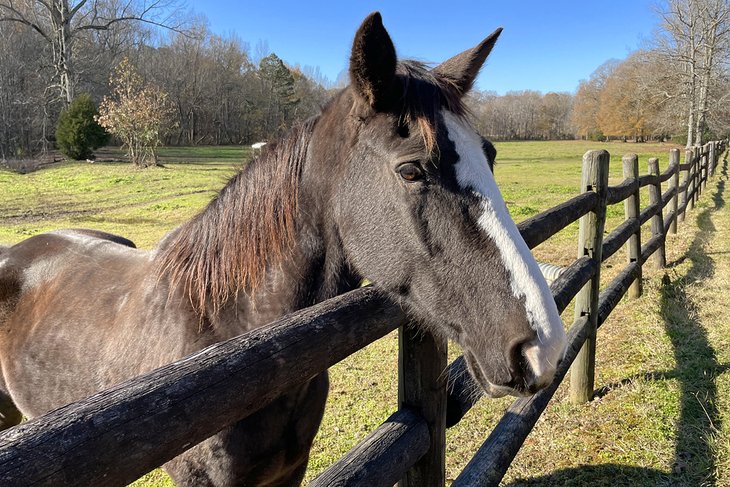 You can hit the links at Bear Trace, a Jack Nicklaus signature golf course while you're at Chickasaw. What if you want to go horseback riding but don't have a horse? No problem–several friendly animals await your arrival at the stables for one-hour outings.
Stay at the Wrangler Campground loop if you're into riding. Nearby is the 53-site RV campground for rigs up to 94 feet. Some sites have full-service hookups. The 29-site tent campground is located on Lake Placid. Waterfront cabins can also be booked on Lake Placid.
Address: 20 Cabin Lane, Henderson, Tennessee
8. Go Bowling at Jackson Bowling & Skating Family Fun Center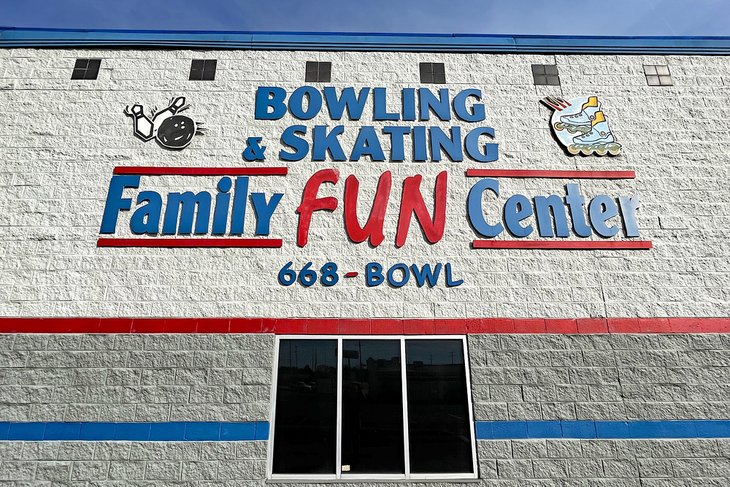 Highlights: Bowling, skating, go-karts, mini-golf, laser tag, and video games
Take your family and friends to Jackson Bowling & Skating Family Fun Center for a night of bowling and skating. The location is ordinary, and you won't find it by following bright lights and neon, yet people have been playing here for 25 years.
Ride the go-karts, and play mini-golf, laser tag, and arcade games. Check out the virtual roller coaster. Food and beverages are available for sale to keep you fueled for hours of fun.
This playhouse for grownups and kids can be booked for birthday parties and company celebrations. Call in advance to receive discounts for Wednesday night skates, three-hour "bowling until closing" deals on Thursdays, and bowling from midnight to 3am on Friday and Saturday nights.
Address: 59 Bowling Drive, Jackson, Tennessee
9. View the Second Highest Mound in America at Pinson Mounds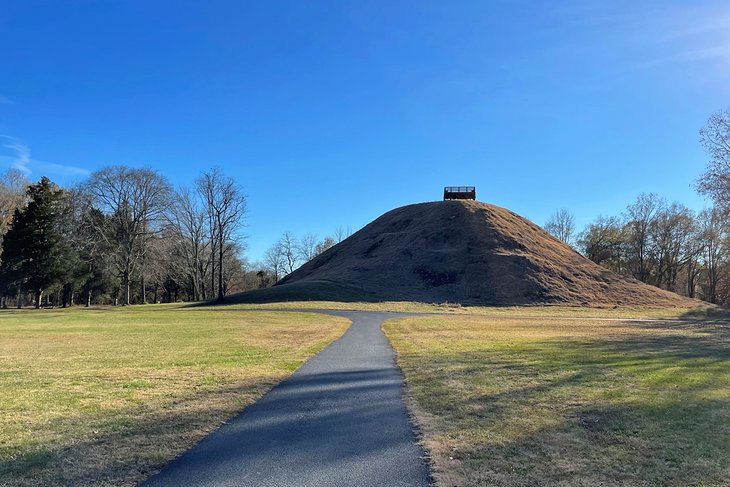 Highlights: See impressive pre-historic excavations, including a 72-foot-high mound
At Pinson Mounds State Archaeological Park, a 14-mile drive from Jackson, you can view the second-highest mound in the United States — 72-foot-high Sauls Mound. As explained in the short video screened in the park's comfy 80-seat theater, mounds are pre-historic excavations made by First Peoples. Some mounds served a ceremonial purpose, while others were marker mounds to track the movement of the sun. Twin Mounds served as burial sites for cremated remains.
At least 17 mounds can be seen at the 1,300-acre park. View some of the mounds while you're walking or biking on the trails. The paved portion of the trail is wheelchair accessible. The boardwalk loop partially follows the Forked Deer River and links up with the one-mile nature trail.
Obtain a map of the trails at the interpretive center and museum, which is designed to resemble a mound. The park film complements the interpretive displays that explain how and why the mounds were created between 200 BCE to 500 CE.
Address: 460 Ozier Road, Pinson, Tennessee
10. Be Dazzled by Glittery Costumes at the Tina Turner Museum in Brownsville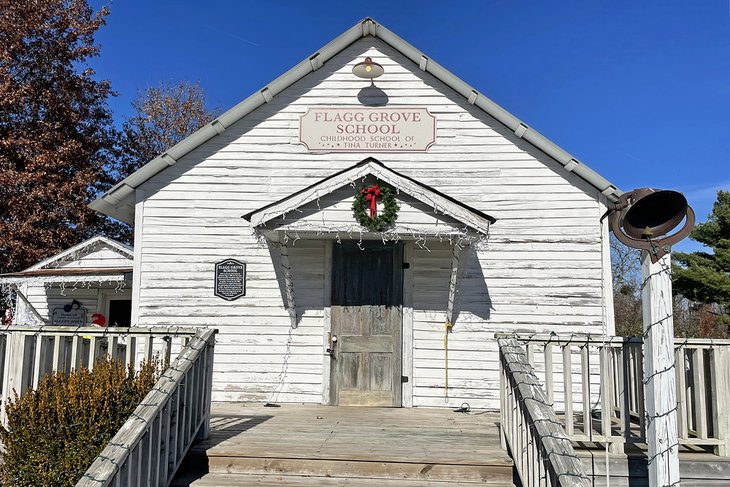 Highlights: Displays of Tina Turner's flashy costumes, vintage photos, and records
When you visit the museum dedicated to Tina Turner, you're also stepping into the one-room schoolhouse she attended. Flagg Grove School—a segregated school—was occupied until the 1960s. Moved to this site from Tina's hometown of Nutbush, it's now used to honor the Queen of Rock 'n Roll.
Exhibits showcase Tina's flashiest costumes, along with photographs and the gold and platinum records of her career.
Next door to the schoolhouse is the humble home of "legendary blues pioneer" Sleepy John Estes. West Tennessee Delta Heritage Center, which faces these buildings, worked with Tina to set up the museum. Tina, who was born Anna Mae Bullock, provided artifacts and commentary.
There's no charge, but check to make sure it's open before you visit.
Address: 121 Sunny Hill Cove, Brownsville, Tennessee
11. Visit Exotic Animals at the Tennessee­ Safari Park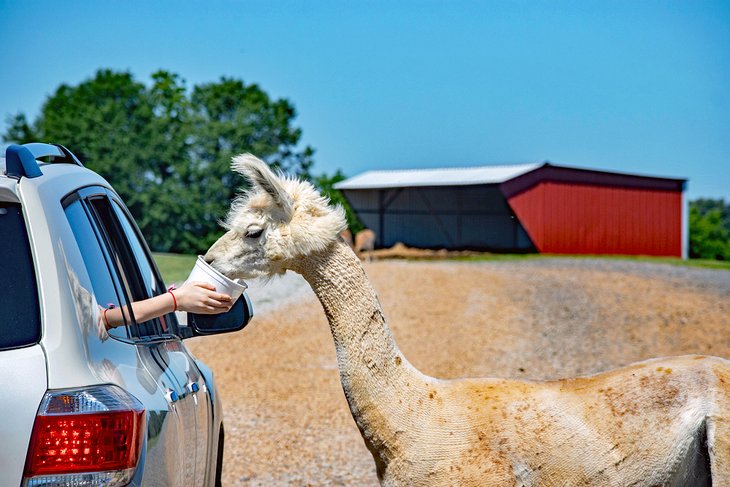 Highlights: Get up close to exotic animals, including llamas, camels, monkeys, and wallabies
At Tennessee Safari Park, you buy buckets of snacks that you feed exotic animals from your vehicle. Folks who are first-timers quickly discover that camels and llamas don't hold back, so visitors need to or they will run out of grub.
During the 5.5-mile safari, you will see antelope, deer, bison, ostriches, emus, and zebras. You'll also meet Jackson the giraffe, who is fond of carrots. It goes without saying that this is a popular family and children's activity.
Post-safari, go on a walkabout to engage with monkeys, foxes, wallabies, and kookaburras. Don't miss the petting zoo. Baby goats are always a hit with visitors who want to make contact with wholesome farm animals. When you're all done with real animals, you can head to the gift shop to find a souvenir stuffie of your favorite.
Address: 618 Conley Road, Alamo, Tennessee
12. Get Fresh at West Tennessee Farmers' Market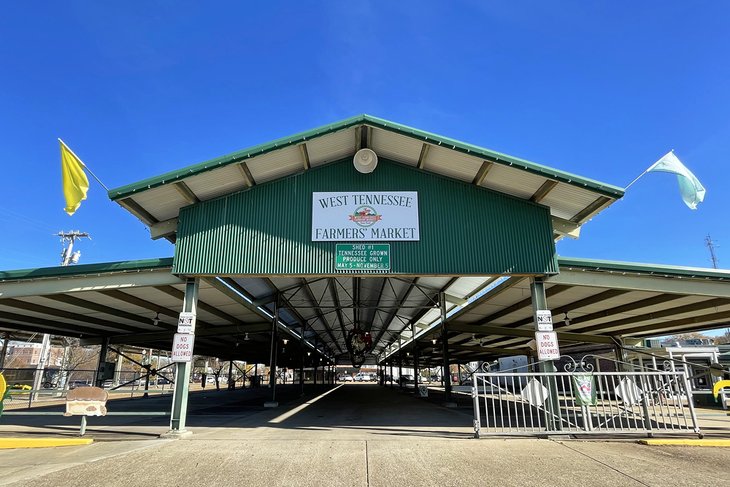 Highlights: Two sheds brimming with local produce and ready-to-eat treats
West Tennessee Farmers' Market, located between Jaxon Recording Studio and Anderson Park, is open from May to November, Tuesday to Saturday from 7am to 4pm. Purchase fresh Tennessee produce in Shed #1. Shed #2 is for Tennessee and out-of-state products.
Shelia's Sweet Secrets, one of the fixtures of the market, advertises itself as the "home of strawberry cream cheese rolls." It's also a place to purchase hot takeout, such as catfish. When the timing is right, you might find southern vegetables, such as okra and collard greens. As for southern fruit, it's hard to beat fresh peaches.
With 70,000 or so people served each year, the market is one of the most wholesome places to visit in Jackson to meet local people and people watch.
Address: 91 New Market Street, Jackson, Tennessee
Best Time to Visit Jackson, TN - Historical Climate Averages
Average minimum and maximum temperatures for Jackson, TN in °C
J
F
M
A
M
J
J
A
S
O
N
D

8

-2

11

0

16

5

22

9

26

14

30

19

32

21

32

20

28

16

23

9

16

4

10

-1

PlanetWare.com
Average monthly precipitation totals for Jackson, TN in mm.

110

106

137

122

147

127

120

74

99

86

130

136

Average monthly snowfall totals for Jackson, TN in cm.

6

5

2

0

0

0

0

0

0

0

0

2
Average minimum and maximum temperatures for Jackson, TN in °F
J
F
M
A
M
J
J
A
S
O
N
D

46

28

52

32

61

41

71

48

78

58

86

66

89

70

89

68

83

61

73

48

61

40

50

31

PlanetWare.com
Average monthly precipitation totals for Jackson, TN in inches.

4.3

4.2

5.4

4.8

5.8

5.0

4.7

2.9

3.9

3.4

5.1

5.4

Average monthly snowfall totals for Jackson, TN in inches.

2.3

2.1

0.9

0

0

0

0

0

0

0

0.1

0.7
The best time to visit Jackson, TN, is in the summer, including June, July, and August. During this time of year, it typically warms up to the high 80s Fahrenheit during the day and drops to the high 60s at night, so you may not even need to pack a jacket.
Expect lots of hot, sunny days with little risk of rain showers—the perfect weather for enjoying outdoor attractions in and around Jackson, including Cypress Grove Nature Park, Liberty Garden Arboretum and Park, Chickasaw State Park, and Pinson Mounds.
You can still enjoy wonderful weather in Jackson during its spring and fall shoulder seasons. Visit in April or May for daytime temperatures in the 70s. Summer temperatures linger through September, which has an average daily high temperature of 83 degrees Fahrenheit. The daytime high temperature drops another 10 degrees in October, making for beautifully temperate days with lots of sunshine.