10 Top-Rated Tourist Attractions in Kansas City, Kansas
Kansas City, Kansas is a 127-mile metropolitan area that caters to sports enthusiasts, vacationers, and those looking for a little urban adventure. The third largest city in the 'Sunflower State' of Kansas appeals to all age ranges and activity levels. In a visit to Kansas City, you can satisfy your inner historical buff and your need for speed, as well as enjoy some retail therapy.
Tucked away beyond the city lights are less obvious attractions that have gained popularity among tourists. Find wildflowers and hiking trails along the riverfront, with a full view of the city skyline, or search for Native American ancestors in the archives of history that live just beyond the roar of the speedway.
All these fun things to do in Kansas City, Kansas, are just a few of the many reasons it remains one of the best places to visit in the US for family fun and adventure!
Note: Some businesses may be temporarily closed due to recent global health and safety issues.
1. Kansas Speedway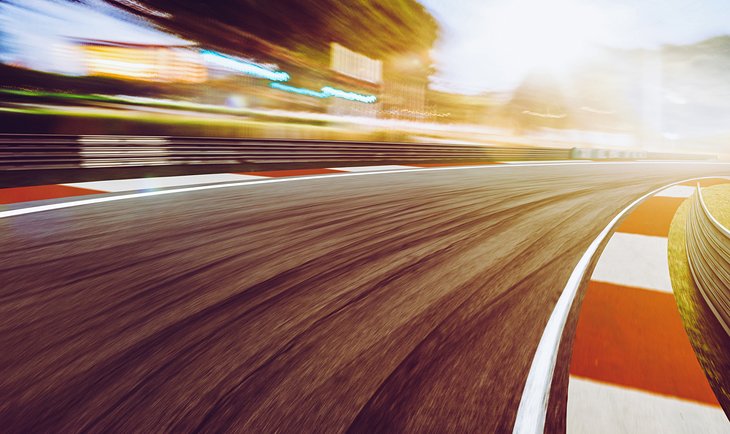 If you're a NASCAR fanatic, a night at the Kansas Speedway is one of the top things to do in the city. The 1.5-mile track and road course hosts several types of racing, including two NASCAR Sprint Race Series. For an insider's experience of the action, you can rent scanners to listen to the drivers and pit crews during the race. If you purchase a FanWalk pass, you can access the garage and infield, where you can watch car inspections, see driver introductions, and enjoy a prime view of the pre-race concert.
If you are a first-timer, be sure to read the venue regulations on what you can bring with you. A small bag and small soft-sided cooler are permitted, but there are other restrictions that you will want to know before you get on-site. For RVers seeking an additional thrill, consider booking a spot in one of the trackside camp grounds; you'll be rewarded with a front row seat to all the race action for the duration of your stay.
Address: 400 Speedway Boulevard, Kansas City, Kansas
Official site: www.kansasspeedway.com
2. Sporting Kansas City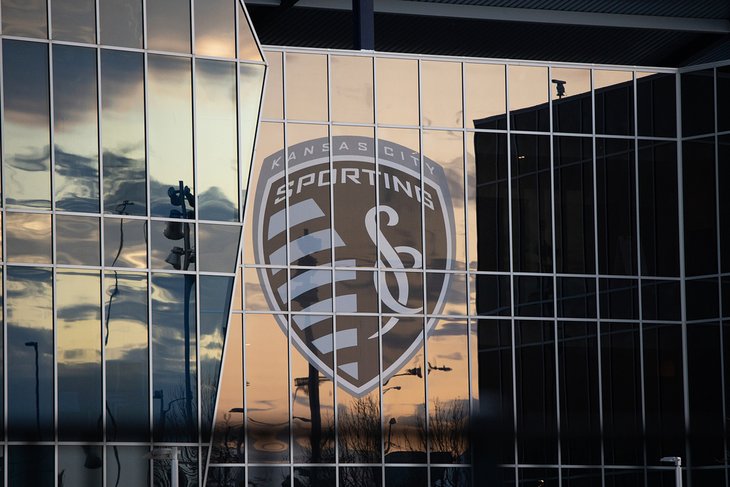 You can enjoy the ultimate Major League Soccer fan experience at a Sporting Kansas City (or 'KC') game at Children's Mercy Park. The successful MLS team has made Kansas City the soccer capital of America and the home of some of the most electric MLS fans. The venue is comfortable and has a 145,000 square-foot canopy roof covering all sections.
The state-of-the-art stadium also has a 2,016-square-foot high-definition video board on the south end and a 550-square-foot HD video board on the north end, so you never miss any of the action.
With Kansas City being home to one of the founding clubs of Major League Soccer, almost every game is a sellout. Sporting KC is a must-see if you want to capture the heart of professional Kansas City sports. The fanfare areas come alive in the stadium. You will want to prep yourself on popular fan chants before hitting a game to take full advantage of the experience.
Address: One Sporting Way, Kansas City, Kansas
Official site: www.sportingkc.com
3. Legends Outlets Kansas City
You'll find lots of things to do in Kansas City, but a shop-'til-you-drop trip to the Legends Outlets Kansas City is in order if you visit. Pack a little extra cash and comfortable shoes as you experience the more than 100 stores and outdoor shopping located here. Along with shopping for big name brands like Nike, Skechers, Gucci, and Fossil, you can also enjoy a meal or snack at any one of the many restaurants on-site.
Be sure to also stop by the Legends office for a free coupon book filled with shopping and dining discounts, as well as a handy Legends Outlet map to help you find your way about (it's big!). In addition to the outlet stores, you'll find entertainment options, including a movie theater and a Dave & Buster's game venue. You can even learn about legendary Kansans that are featured throughout the venue with a free audio tour or scavenger hunt.
Address: 1843 Village West Parkway, Kansas City, Kansas
Official site: ww.legendsshopping.com/
4. Kansas City T-Bones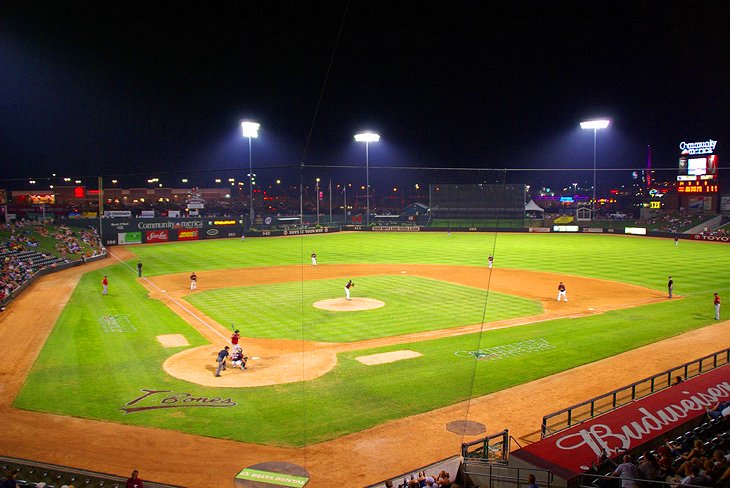 You can enjoy a great American night out at the ballpark watching professional baseball with the Kansas City T-Bones. Games are played at the recently renovated CommunityAmerica Ballpark with inexpensive game tickets and free parking. All seats are close to the field, which makes for a great fan experience since you can hear and see every play.
Also popular are the activities and entertainment between innings, with nightly promotions and giveaways. The kids' play area is also in full view of the ballfield, so you won't miss a home run if you need to find extra entertainment for the little ones. Add to this the fact it's a budget-friendly and memorable night out for families, you'll definitely want to add a game to your list of things to do in Kansas City.
All games start with skydivers and end with fireworks. If you go, stop by the promotions table before the game to sign up for contests and a chance to win prizes between innings. Also, check the team's website for news of other events, including special theme nights.
Address: 1800 Village West Parkway, Kansas City, Kansas
Official site: www.tbonesbaseball.com
5. Zip KC Zip Line Park
At the only zipline park in the Kansas City area, you'll find a full menu of outdoor recreation options at Zip KC. This sprawling 143-acre adventure park offers zipline tours ranging from beginner to advanced skill levels.
Traditional zipline tours include a hike and zip tour. For a unique date night, try the Sunset Zip Line Tour and to up the adrenaline factor, book a glow-in-the-dark Night Flight Tour. This zany and cool zipline experience unfolds as you grab a glow stick and soar along five ziplines illuminated with color changing LED lights.
Tours are most comfortable when you can avoid the blistering heat of the day, so book in the early morning or later in the afternoon.Extend your stay by joining one of the attraction's guided hiking tours, which include the chance to tackle fun obstacle courses.
Address: 12829 Loring Dr., Bonner Springs, Kansas
Official site: www.zipkc.com
6. Richard Petty Driving Experience
If you find yourself swept up in the thrilling NASCAR energy that seems to be everywhere in Kansas City, why not take part in your own racing moment at the Richard Petty Driving Experience? If you do, you'll enjoy the thrill of a lifetime as you ride shotgun or take the driver's seat in a stock car zooming up to 155 miles per hour around the Kansas Speedway.
You'll never watch NASCAR races the same way again as you experience three laps around the speedway. You get to see first-hand what professional drivers experience as they compete for a position on the racetrack. Several types of driving experiences are available as well as packages for Junior Rides in the stock cars.
Adding the video or photo option to your package is well worth it, so you can relive your once-in-a-lifetime experience at home. Also, be sure to check into the availability of the special 'Race Day Experiences'. These packages feature additional excitement including the chance to hit the track when the pros are there.
Address: 400 Speedway Boulevard, Kansas City, Kansas
Official site: www.drivepetty.com
7. Kaw Point Park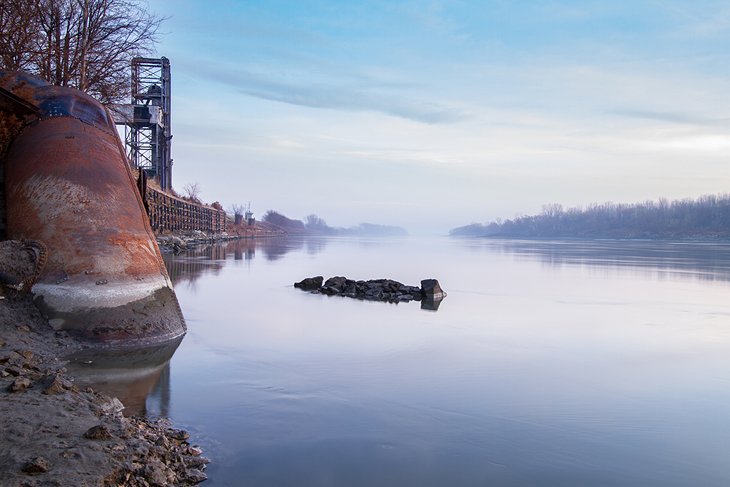 History buffs will enjoy tracing the steps of the Lewis and Clark Expedition at Kaw Point Park. Set in the urban center of Kansas City, this site at the convergence of the Kansas and Missouri Rivers is a historical and educational tribute to the duo's historic 1804 expedition. Kaw Point has several wooded trails, including the Lewis and Clark Heritage Trail, biking trails, and a boat ramp for kayaks, canoes, and motorized boats.
If you plan a visit during a scheduled performing arts or reenactment event, you can enjoy the outdoor encampment theater on the site where Lewis and Clark camped for three days. Unique features of the theater are its 500 limestone seats. The park also offers great views of downtown Kansas City, an especially popular sight at night.
Address: 1 River City Drive, Kansas City, Kansas
8. Lakeside Speedway
First opened in 1955, the half-mile dirt track at Lakeside Speedway is where you'll find fans of dirt modified car racing. Depending on the night, the lineup includes USRA Mods, Grand nationals, USRA B-mods, and factory stock cars. Get into the fan action in the grandstands as drivers race to win the purse.
For an added fan experience, you can take advantage of the campground next to the facility that is specifically designed for racing fans. Races generally run weekly from April to September (check their official site below for the race schedule).
Address: 5615 Wolcott Drive, Kansas City, Kansas
Official site: www.lakesidespeedway.net
9. Wyandotte County Historical Museum
You can experience one of the finest collections of archeological Native American artifacts at the Wyandotte County Historical Museum. Designed as a research and educational center, the collections of more than 75,000 artifacts offer a rich history of the Kansas City region, some dating back more than 3,000 years. The museum also hosts temporary exhibits, too, so be sure to check their official website below for details of these and other special upcoming events.
If you have Native American ancestry, visit the center's research archives. You'll find indexed historical photographs, obituaries, and marriage licenses, along with troves of personal artifacts, like yearbooks and newspapers from the people of Wyandotte County. The museum also boasts an auditorium and hosts occasional lectures and learning program. Guided tours are available, and for kids, can include a number of fun hands-on activities. Admission to the museum is free.
Address: 631 N. 126th Street, Bonner Springs, Kansas
Official site: www.wycokck.org/wycomuseum
10. Spicin Foods
It is almost impossible to pass through Kansas City without experiencing the hottest place in town at Spicin Foods. Formerly known as 'Original Juan Specialty Foods', the 60,000 square-foot facility is really a hot sauce factory, but it has become a popular tourist stop just for the novelty... and of course to buy some of the best hot sauces you'll ever have!
Spicin Foods creates some of the spiciest concoctions available on the market, including 'The Source', which is the world's hottest sauce that ranks at 7.1-million on the scoville scale. In addition to hot sauces with artistic labels, the factory produces locally made sauces, marinades, dips, and other specialty food items.
This is a great spot to find souvenirs that are specific to the area. Be sure to taste the samples and stop by the clearance rack for deals on products.
Address: 111 Southwest Boulevard, Kansas City, Kansas
Official site: www.spicinfoods.com