The Vacation Posts Americans Are Tired of Seeing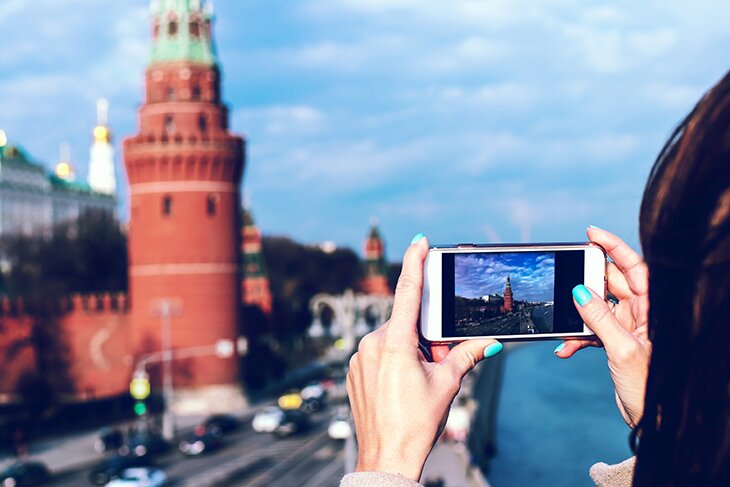 55% of Americans are tired of seeing your vacation thirst traps
Sharing vacation photos and videos on social media is nothing new. For years, people have taken to all different types of platforms to showcase their favorite memories from their getaways. Like any social media trend, however, certain poses and themes have become overdone.
With summer vacations in full swing, our team set out to find which posts you're better off skipping this vacation season. We surveyed Americans who regularly use social media and asked a variety of questions based on their own experiences and preferences. Read on to see which types of posts have Americans questioning who they follow online.
Key Takeaways
Americans' least favorite posts are thirst traps (55%), vacation countdowns (54%), and throwback posts (53%).
Vacation posts can be annoying, according to 1 in 3 Americans.
The most annoying types of vacation posts are daily status updates (61%).
Jealousy is real, with 53% of Americans having felt jealous of others' vacation posts.
Most Americans (55%) know someone who makes vacation posts just to show off.
The Vacation Posts Americans Find Most Annoying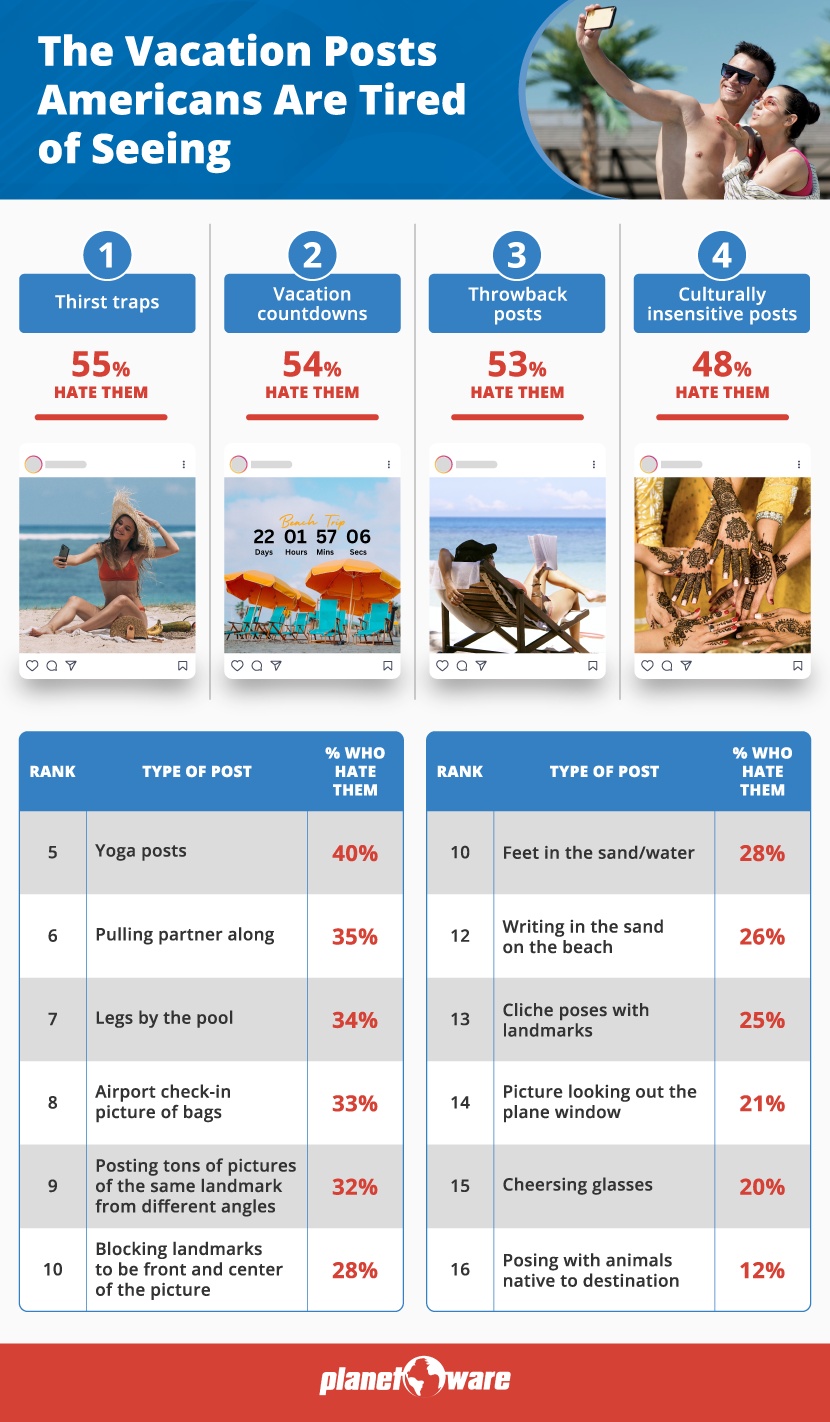 Summer is upon us and with the season comes travel, and that means you may want to share your adventures on your social media timeline. If you care about your followers' opinions, you may want to make note of the posts Americans find most annoying before posting after your vacation.
Thirst traps — sexy or flirty photos or videos that are posted to gain attention from viewers — top the list. Although 1 in 2 people find these posts annoying, if you have posted one, you're not alone. Even celebrities have joined the game with actors, athletes, musicians, and more posting their most scandalous photos and videos on social media when on vacation.
Coming in second and third on our list are vacation countdowns (54%) and throwback posts to vacation (53%). Perhaps these types of posts are most annoying to the 1 in 4 Americans who do not plan on going on vacation this year. Or maybe jealousy is a factor since 53% of Americans admit to feeling jealous when they see other people's vacation posts.
A recurring theme we found in our data was posting too often — a surefire way to annoy those on your timeline. Posting daily could even lead to losing followers (49%). In addition, nearly 1 in 5 Americans say they have unfollowed or muted someone for posting too many vacation photos.
Not all vacation posts are deemed annoying, however, 70% of Americans say videos on social media showing must-do activities in specific cities or vacation destinations are helpful when planning their own trips. Similarly, 44% appreciate when others share what they regret doing on vacation, so they can avoid making the same mistake.
The Vacation Posts Americans Are Guilty of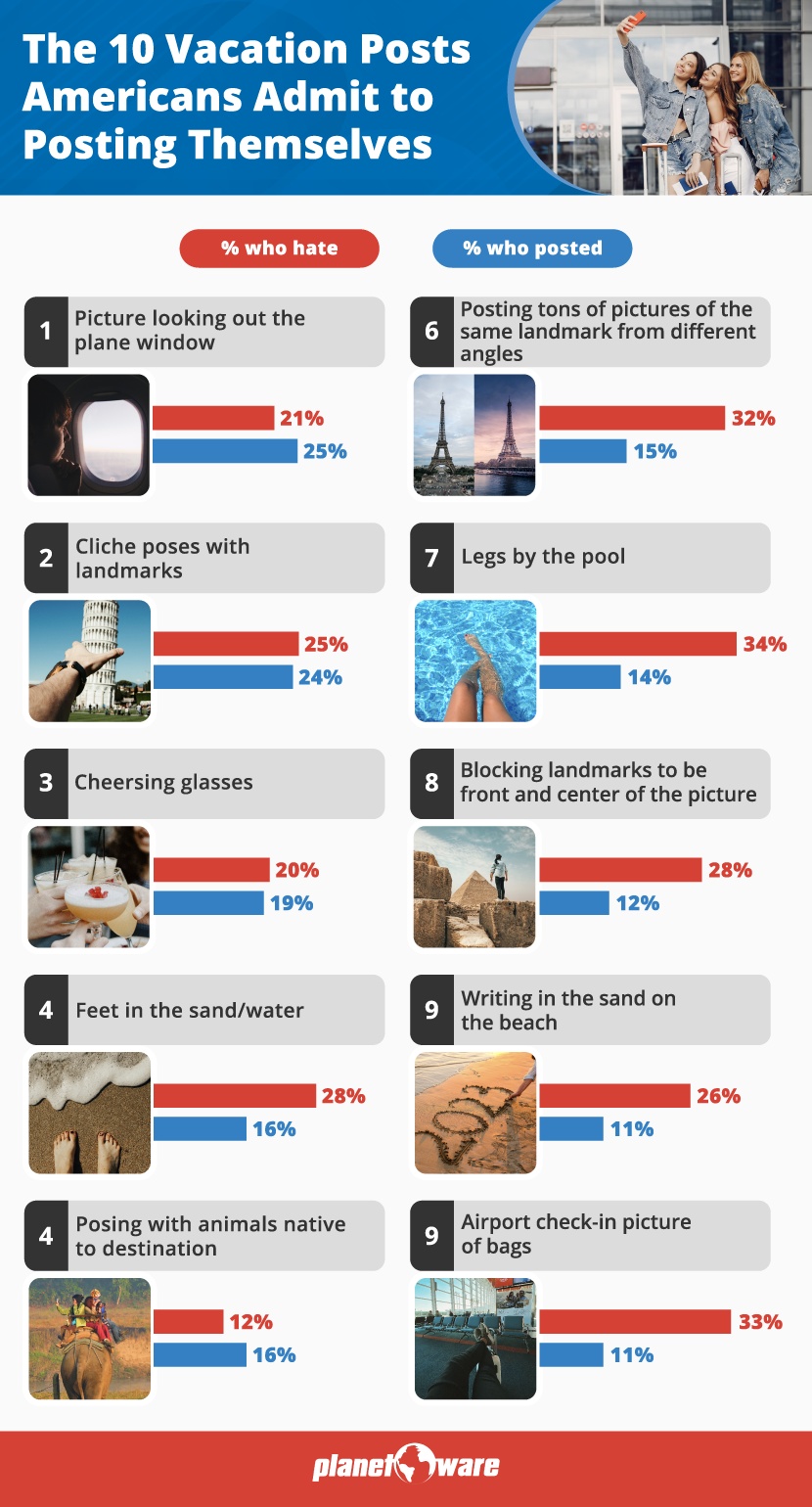 Although you can do what you like to express yourself on social media, you may be creating posts that annoy others. So we asked Americans what they might be guilty of posting whether they realize it or not.
The most common vacation post people are guilty of is a photo of someone looking out of a plane window, with 25% admitting to posting it. Nearly 1 in 4 Americans find those cliche poses with landmarks overdone, but 24% of people are guilty of doing it.
Third on our list with 19% of people saying they have posted it, is the typical toasting to show off your colorful cocktails. And fourth are photos of someone's feet in the sand or water, which 16% of people say they have posted before.
Our study found 55% of Americans say they know someone who makes vacation posts just to show off. On the other hand, 1 in 6 Americans admits they have felt pressured to take more photos on vacation so they can post them on social media.
Regardless of whether you take hundreds of photos and videos or none at all, just make sure you take time to enjoy your vacation. It can be easy to get caught up in trying to capture the moment, rather than truly experiencing it. As our study found, 3 in 4 Americans have felt people taking an excessive amount of photos on vacation has detracted from the experience in the past.
Conclusion
While there are many types of posts people claim to be tired of, there are still many that vacationers find helpful. At PlanetWare, our travel experts create guides for destinations just like those you find from time to time when scrolling through social media.
As you begin to plan your next getaway, don't trouble yourself by trying to find an influencer who has visited your destination, rather check out the travel guides our team has created to ensure you have the best possible experience!
Methodology
In this study, we surveyed more than 1,000 Americans who use social media to determine which vacation posts people are tired of seeing and which people are guilty of posting themselves. Of our respondents, 49% identified as female, 49% as male, and 1% nonbinary. Respondents' ages ranged from 18 to 77 years old; 14% Gen Z, 53% millennials, 22% Gen X, and 10% baby boomers.
In addition to questions about specific types of posts, we also asked questions about how often respondents see others post about vacations online, the types of posts that they find helpful when planning a vacation if they ever feel jealous seeing others' vacation posts, and more.